Spanish Version
By Greg Mellen
With a pair of noted musicians performing jazz favorites and dancing students following in a Second Line Parade it could have been Mardi Gras.
However, this wasn't Bourbon Street, it was La Cresta Drive. It wasn't New Orleans, it was Dana Point.
Devon "TubaRed" Taylor, fresh off a Super Bowl halftime performance with Dr. Dre, and banjo and guitar player Johann Stein, took the stage to highlight an event billed as a "wrap" party for a 10-week American Music History program offered to fifth graders at RH Dana Elementary by the Music Preserves Foundation.
Taylor and Stein, amid their numerous gigs, are part of the Gumbo Brothers, which performs New Orleans Jazz across the Southland and Orange County.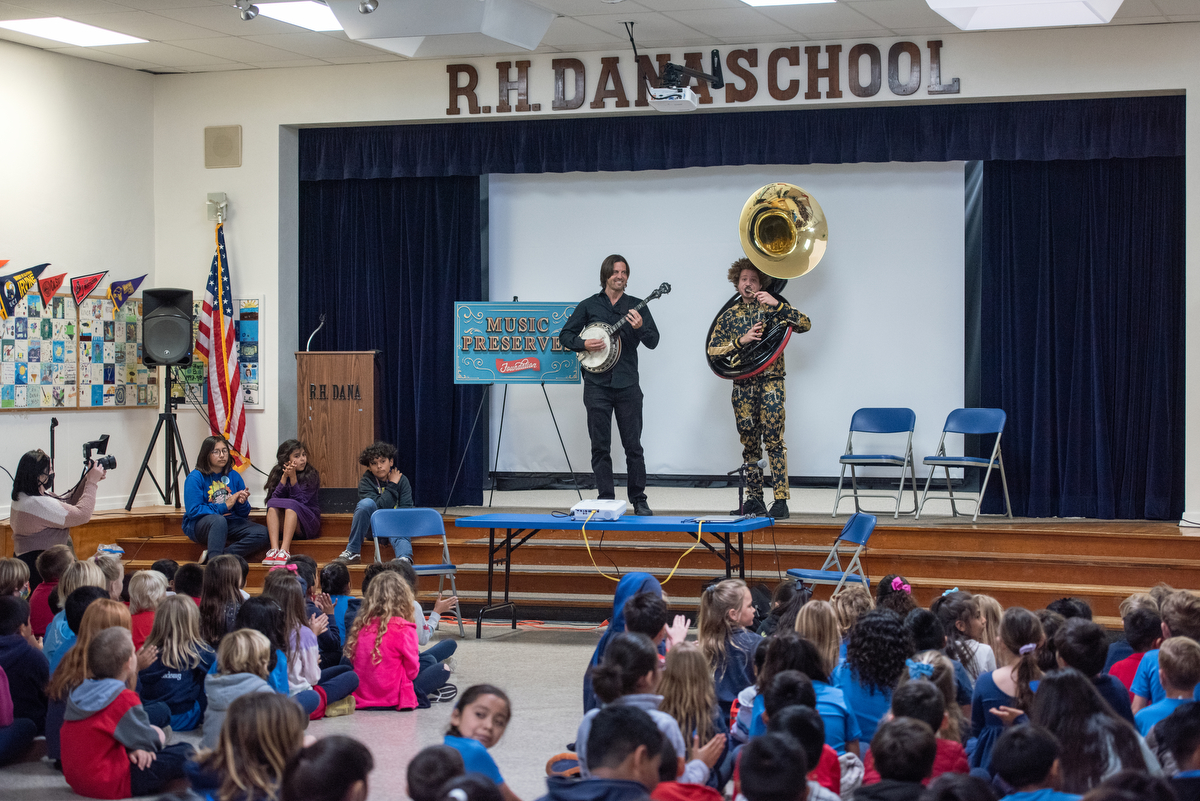 Music Preserves, a nonprofit group founded in 2019 in Dana Point, brought the duo to a school assembly to celebrate the close of the semester and as a thank you to the school for hosting its history series.
Music Preserves offers music and cultural history classes throughout Orange County at the high school, middle school and elementary level.
On this day, however, TubaRed was the main attraction. Delighting the kids with antics such as wearing the bell of his sousaphone as a hat before the performance, Taylor played the lead instrument in the jazzy duo.
That's right. How often do you see a sousaphone as the featured instrument?
Taylor's star turn came in February, when he appeared with a band backing rap legends such as Dr. Dre, Snoop Dogg, Eminem and others at SoFi Stadium at halftime of Super Bowl LVI.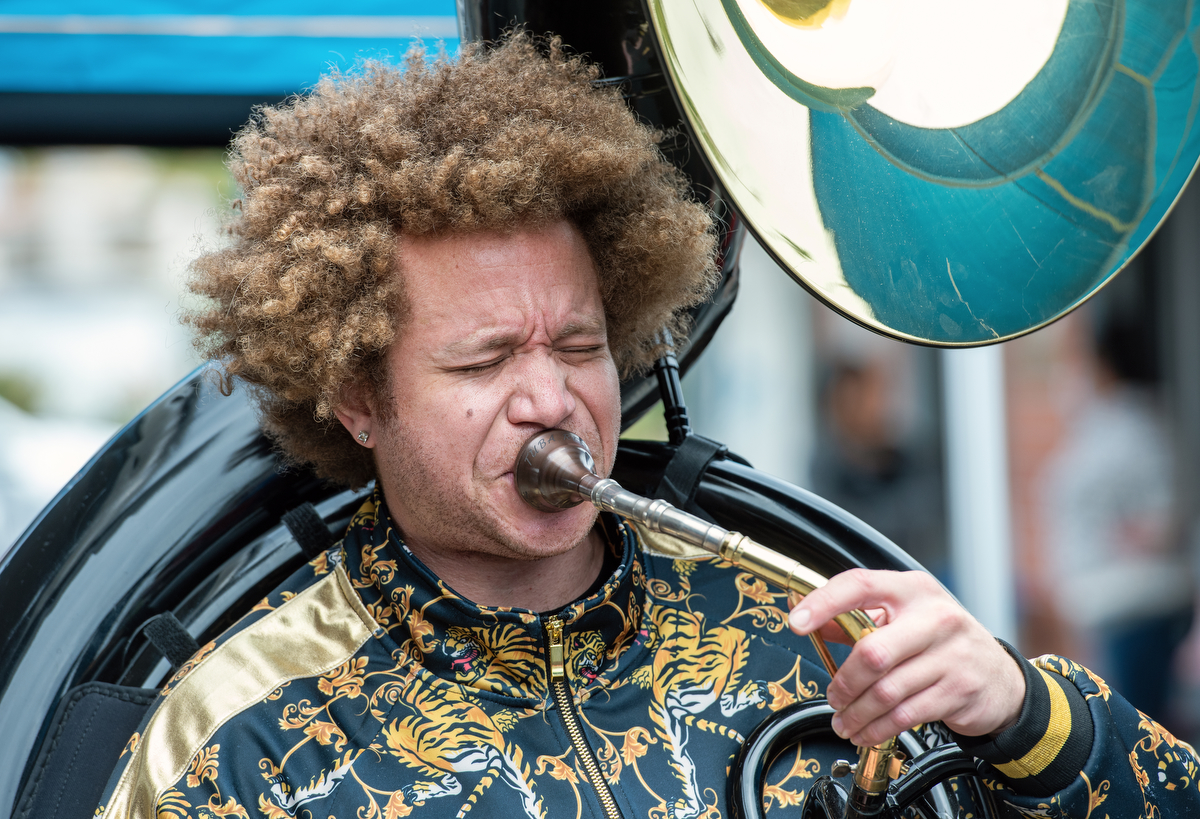 Asked about the gig, Taylor said, "I'd like to say it was hard work and preparation," he said with a laugh.
The truth was a little more serendipitous. Taylor said he bumped into a friend playing in Venice. As luck would have it, the friend said a sousaphone and bass trombone player was needed for the show.
When not playing Super Bowls, Taylor records and produces from home, teaches music lessons, and plays gigs with a variety of bands.
Reflecting on the vagaries of the music business, he said, "I was in the biggest show in the world and the next day I'm in an elementary school. I wish it didn't have to end."
At the RH Dana Elementary show as the "Gumbo Brothers," among their selections Stein and Taylor played Professor Longhair's "Go to the Mardi Gras," and the turn-of-the-century singalong "Goodbye Liza Jane."
The Second Line Parade, a tradition in New Orleans for funerals and weddings, concluded, fittingly, with "When the Saints Go Marching In."
After the performance, Taylor hung around and played a couple of solo songs for a group of preschoolers.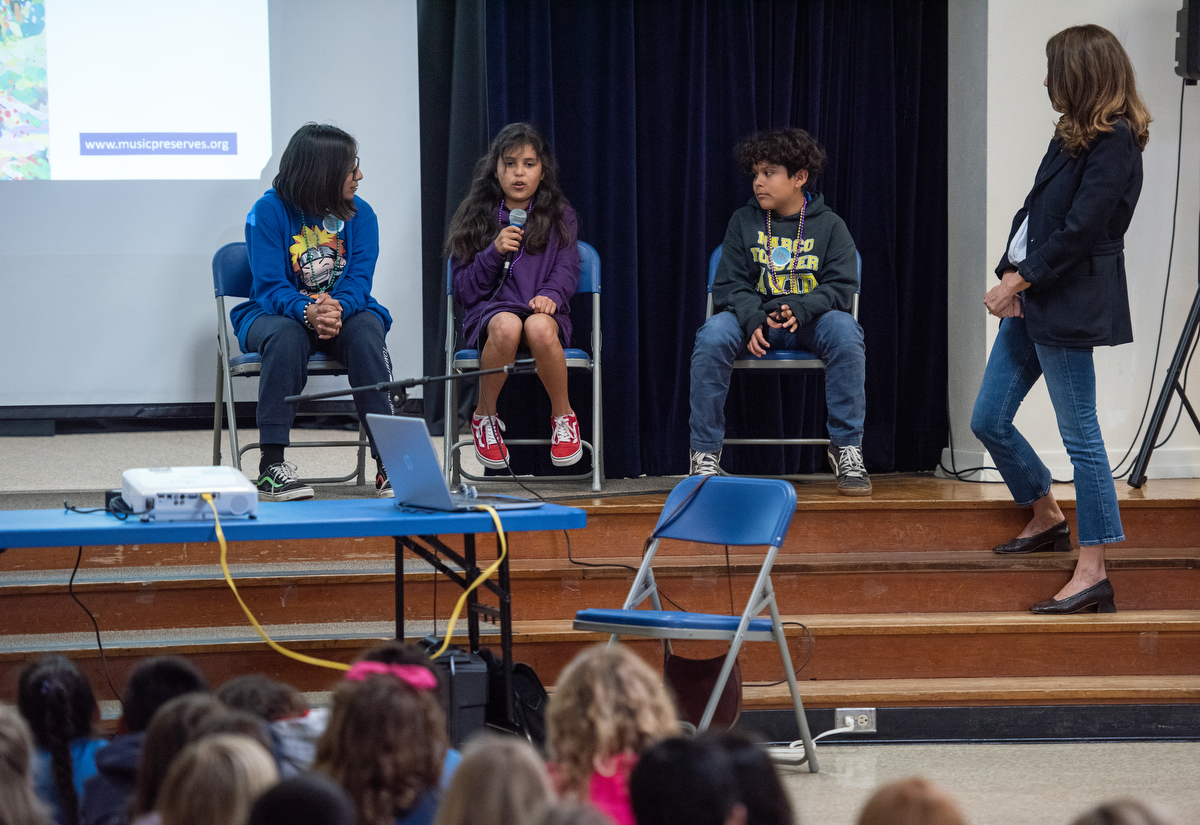 Music as history
The music history class was the brainchild of Patti Compton and Anthony Small, co-founders of Music Preserves. In addition to teaching in classrooms, the group has made presentations at large events such as the Doheny Blues Festival and the Ohana Festival.
This July, Music Preserves will partner with Ocean Institute for a "Summer Jams" music series and The Gumbo Brothers are slated to perform.
The fifth-grade class consisted of 10 half-hour classes that traced the development of the country's musical heritage.
"It's cultural history from the perspective of the artists and musicians," said Compton, who is also president of Music Preserves.
The classes roughly travel in a linear procession through the years from the blues of the Deep South to modern rock and rap.
Compton likens American music to a tree, with roots music and blues as its base.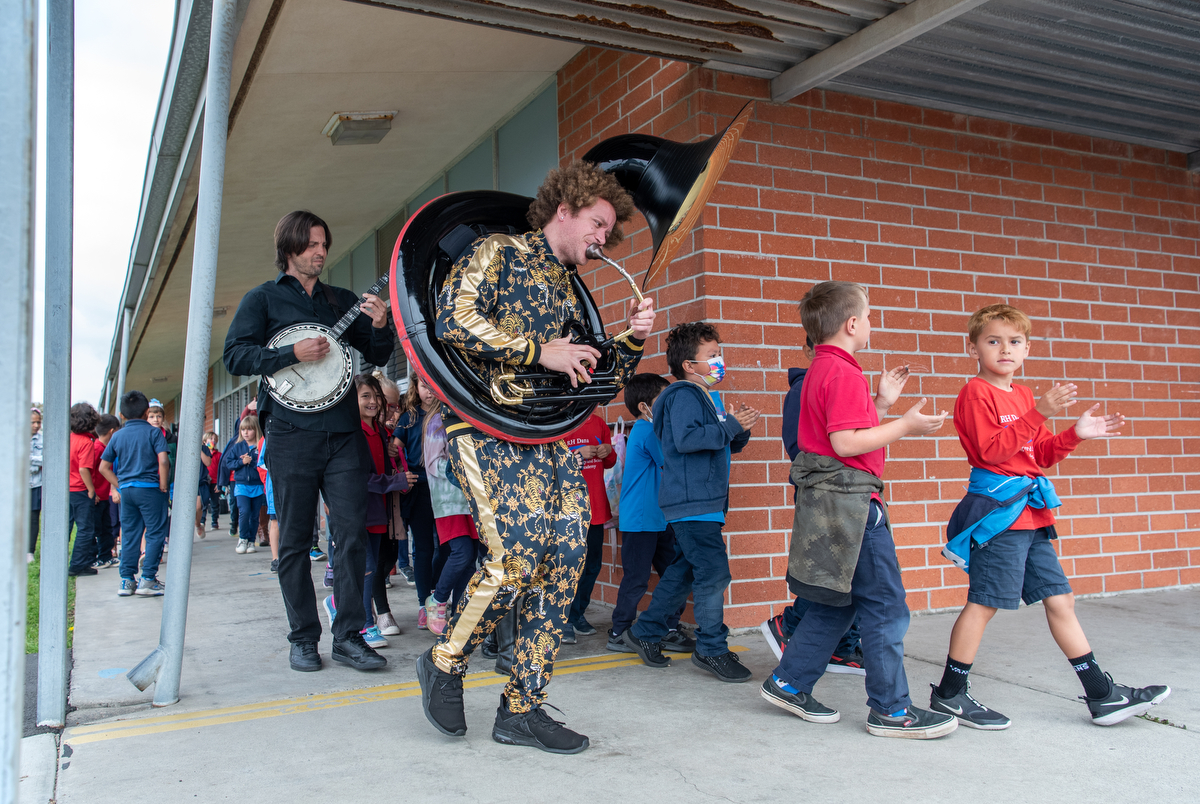 Children first learned about call-and-response songs and field hollers with their roots in traditional African music that formed the basis for the blues. The lessons carry students up the river and through time with the dawn of jazz, electric blues, all the way to rock and rap.
"The kids love it because it's history from a different perspective," Compton said.
Music Preserves has a "bullpen" of 16 multimedia modules with featured artists. All add depth, culture, and context to the times the children study. There are even segments on surf music and songwriters.
"It reinforced our American history," said fifth-grade teacher Elizabeth Gabriel. "They knew a lot of the history so they could relate to it."
In addition to learning about the music, Gabriel said there were fun activities, such as when the kids made up call-and-response field songs.
Fifth-grader Avery Bravo said she particularly liked New Orleans jazz and listening to how all the instruments came together.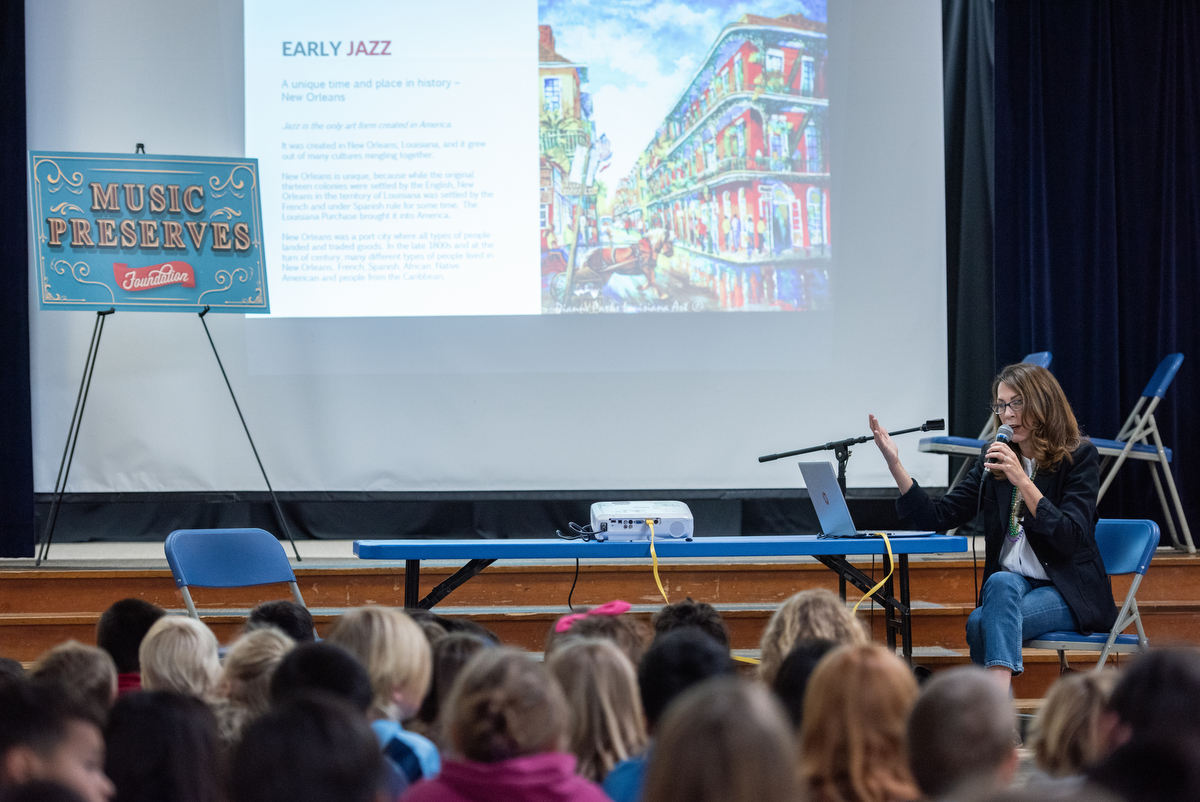 A uniquely American art form
Compton chose New Orleans jazz to present at the school assembly because jazz is a uniquely American form of music.
She said New Orleans jazz is especially relevant because of its diversity with Spanish, French, German, Irish, and African elements.
"They created something new," Compton said of the music that arose from 19th century New Orleans. "Nowhere else could that have happened but in that time and that place."
Stein and Taylor are both veterans of the New Orleans jazz and Los Angeles music scenes, having played Preservation Hall and with noted New Orleans groups such as the James Martin Band, which is how they met Compton and Small.
Stein was impressed with the Music Preserves concept and class.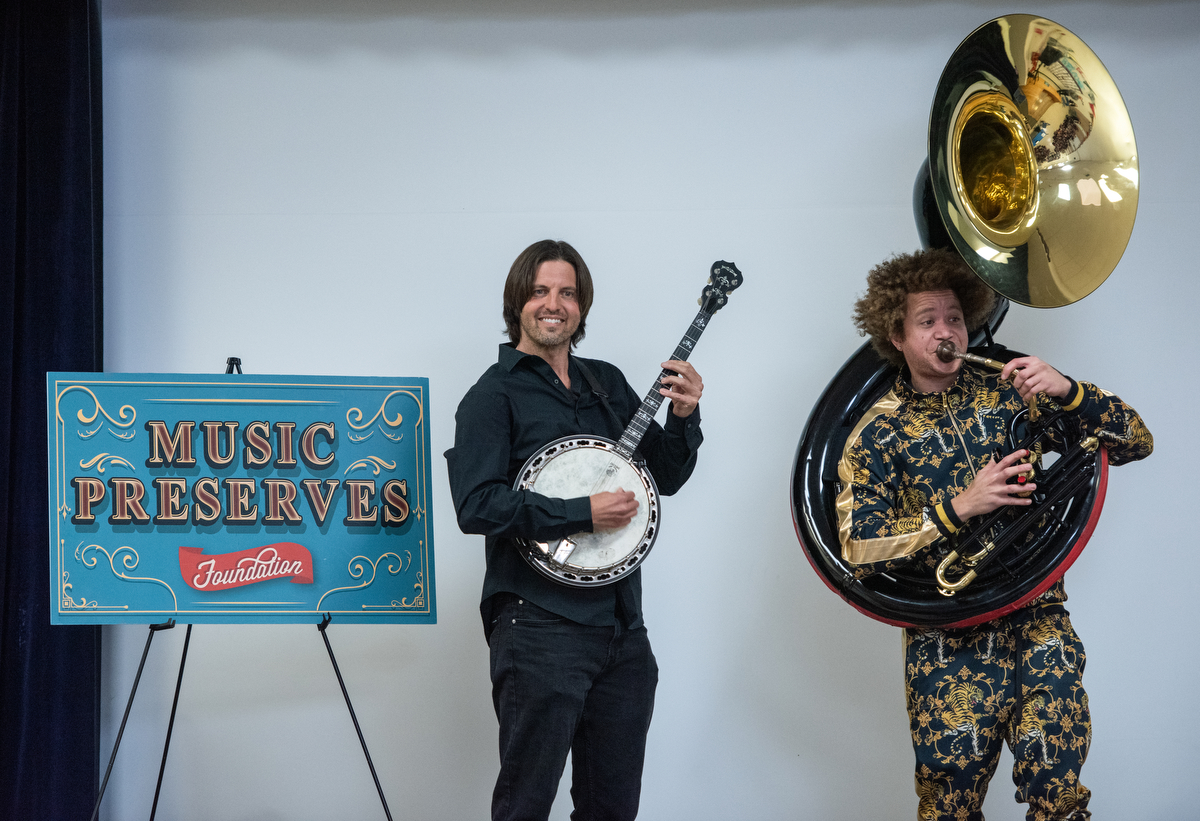 "It's a generous and noble cause," he said. "Most schools are not teaching this kind of information."
Music is a big part of the education at RH Dana Elementary, Principal Kristen Nelson said.
Before the school assembly, the wavering sounds of violins could be heard emanating from Jeff Long's fourth and fifth grade strings class.
"It was so nice to be back in front of the students, actually in person, seeing their eyes light up as they learn this exciting take on American history," Small said.
The executive director of Music Preserves also made a point of thanking civic groups and events, such as the Chamber of Commerce and the Turkey Trot race for supporting the Music Preserves foundation.
Small said he believes music and arts will play a key role in post-pandemic recovery.
"I believe that's where the healing starts," Small said, "with community gatherings and the arts threaded through that."
For more info or to support  Music Preserves programs, please visit musicpreserves.org.
More stories: