SPANISH VERSION
By CUSD Insider staff
Martha McNicholas, President of the Board of Trustees for the Capistrano Unified School District, was recently recognized by Congresswoman Michelle Steel with a 2022 Women of Distinction award.
McNicholas, first elected to the board in 2014 and currently serving her third one-year term as president, was one of 18 women recognized during a special ceremony on March 14 by Steel, who represents the 48th Congressional District. The women came from varied professional fields, including education, health and wellness, nonprofits, public service, and veterans' services.
"For decades, Martha has served our community's students, youth and families," Steel said. "I am honored to recognize her ongoing commitment to our community as she serves her third term as board president for the Capistrano Unified School District. We are grateful for her service to our students!"
McNicholas' roots in the district run deep, starting with her two children's enrollment at George White Elementary, Niguel Hills Middle and Dana Hills High. For each campus, she served on PTA boards, volunteered in classrooms and had leadership roles. She has been and still is involved in PTA's advocacy program, traveling to Sacramento and meeting with legislators to lobby for support for schools.
"My PTA leadership experience prepared me well for my service on the school board," McNicholas said. "I'm still a member of all three of those PTAs, and probably about five others. I still attend meetings."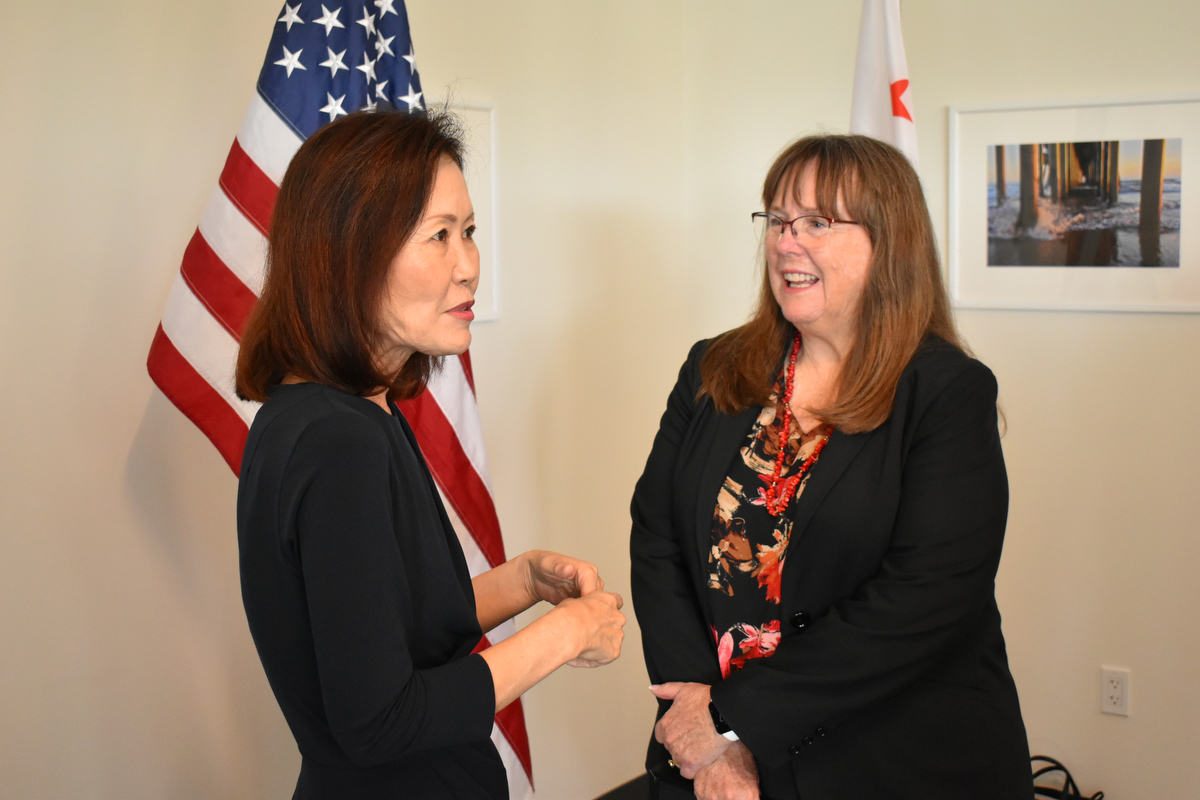 Professionally, McNicholas has worked as a mechanical engineer, with over 30 years of experience, primarily in the medical device industry.
"I have been able to do both things, engineering and education, both of which are a passion for me," McNicholas said.
McNicholas has been serving on Congresswoman Steel's education advisory board, and serves on CUSD's STEM Advisory Board.
One of her longtime goals is to prepare the next generation for the workplace of the 21st century — and even the 22nd.
"I love to get more kids involved in STEM, girls especially," McNicholas said.
To receive the Women of Distinction award, McNicholas received multiple nominations, including one from Crystal Kochendorfer, a former Capistrano Unified board member whom McNicholas considers a mentor.
In her nomination form, Kochendorfer credited McNicholas for her leadership during the COVID-19 pandemic, improving sports fields, developing safe walking paths to school, STEM curriculum implementation and improving school facilities.
"The public and public schools need leaders like Martha," Kochendorfer wrote. "She understands that good governance is necessary to sustain a thriving democracy, to provide a qualified workforce and to maintain our nation's global leadership. Martha is deserving of recognition as a Woman of Distinction because she is instrumental in making her community better while maintaining her oath of office."
McNicholas said she was surprised to receive Steel's award, and has remained humble about it, especially when considering the high achievements of the other recipients.
"I am so proud to be in company of these outstanding women," she said, "who are contributing to their community."