By Greg Mellen
As the clock ticked down, the long wait was nearly over for a possible return to in-person competition after the COVID-19 pandemic wiped out parts of two seasons.
At 10 a.m. on Saturday, Jan. 8, as students on Team 5199, the Robot Dolphins from Outer Space, gathered at Capistrano Valley High School, the game field and theme of the coming FIRST Robotics Competition Season were revealed.
The students are thrilled for the opportunity to get back onto the field of play after a year of virtual competitions in which teams filmed their bots performing challenges.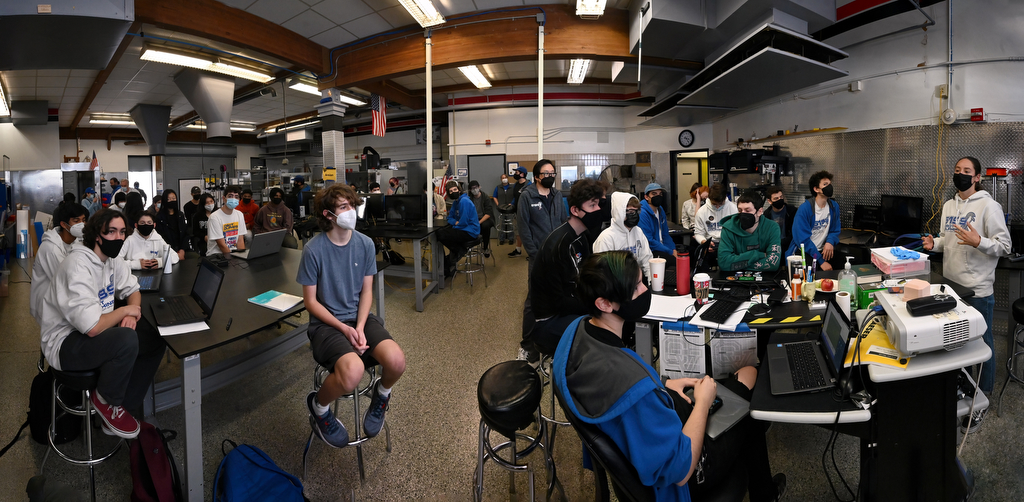 The official kick-off event was a big part of that.
"I feel we didn't have the full experience of kick-off," said Morganne Malloy, the CUSD Robot Dolphins team president. "We've done mock and virtual kick-offs, but it wasn't the same. It was fun to see. Everyone was super excited."
This year's theme is First Forward, in which students, according to organizers, will "reimagine a path forward and invent the future of transportation."
Prior to the pandemic the FIRST Robotics competitions had seasons with a Steampunk theme, got Medieval knocking down castle walls and capturing towers, and featured a Star Wars-like scenario.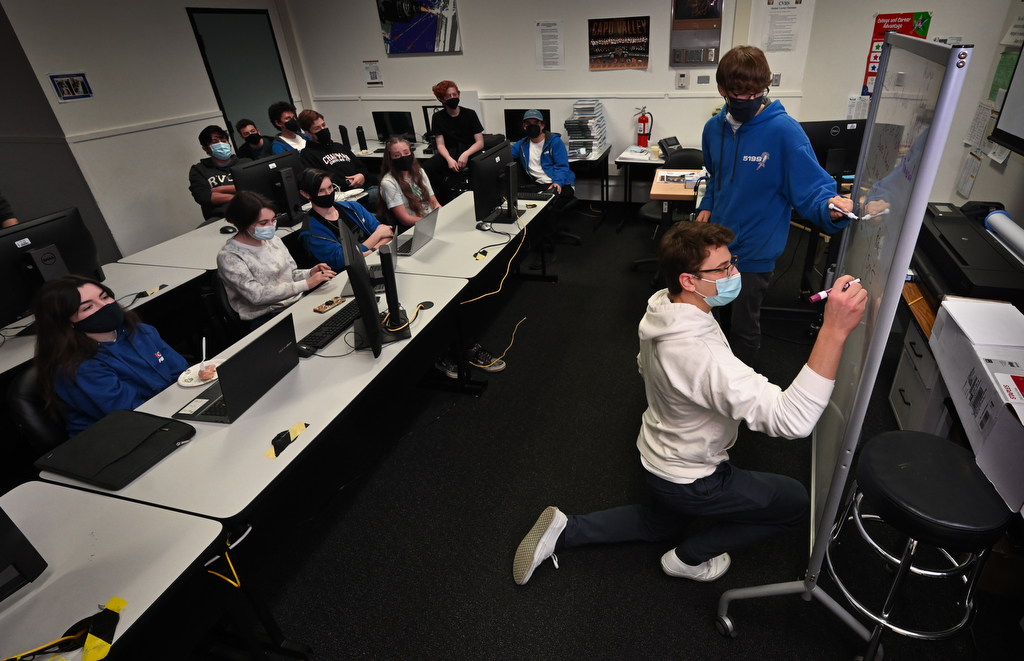 Richard Jung, coach of the CUSD team, described the reaction to the big reveal as "sort of mixed."
A true engineer, Malloy said she never puts much thought to the narrative and theme of the different games, and is more interested in solving the practical challenges.
In this year's game, the robots will be tasked with either dropping or shooting oversized 9-inch tennis balls into lower or upper "cargo" funnels and concluding with a climb up and over a series of horizontal metal bars.
"We weren't overwhelmed," Jung said of the theme and challenges. "We were sort of relieved that it wasn't totally crazy."
The challenges, Malloy said, were different enough to provide unique problems and challenges.
"I really like the climbing," she added, noting that it would be fun to see how Team 5199 and others solve the challenge.
In the past, Jung said, CUSD has been at its best when called upon to engineer innovative designs.
As soon as the season and theme were announced, the team immediately got to work devising game strategies and rules and studying robot specifications. The team worked until after 8:30 p.m. the first day and returned for a 10-hour day on Sunday.
"It's been a really good start," Malloy said.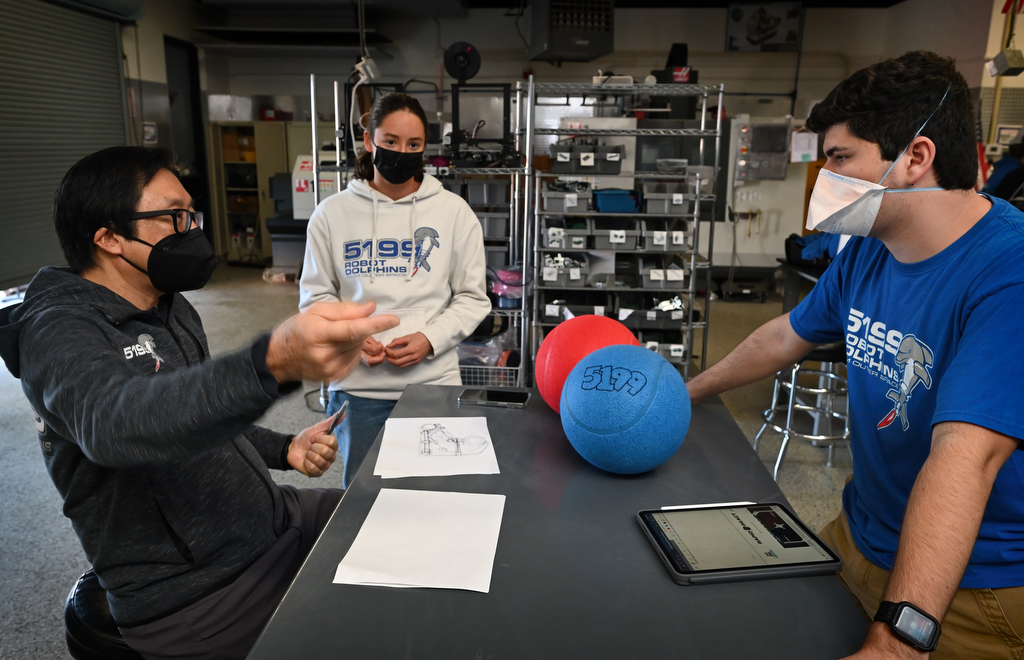 Team 5199's former robot, nicknamed "Nessie," was a particularly good climber, according to Jung, and the team had been fine-tuning its throwing aim, giving the CUSD team an early leg up.
"We were a little ahead of the game with some of our prototypes," Jung said.
Because many of the skills required in this year's competitions build off recent years, Jung says teams like the Robot Dolphins with strong track records should do well.
Team 5199 is a district-wide effort and draws students from campuses across the Capistrano Unified School District. The team has about 35 students. Jung describes the squad as young but promising.
"I think we have some of the best rookies we've had," he said. "Our success has attracted more people, but this is the least experienced team in the last five years."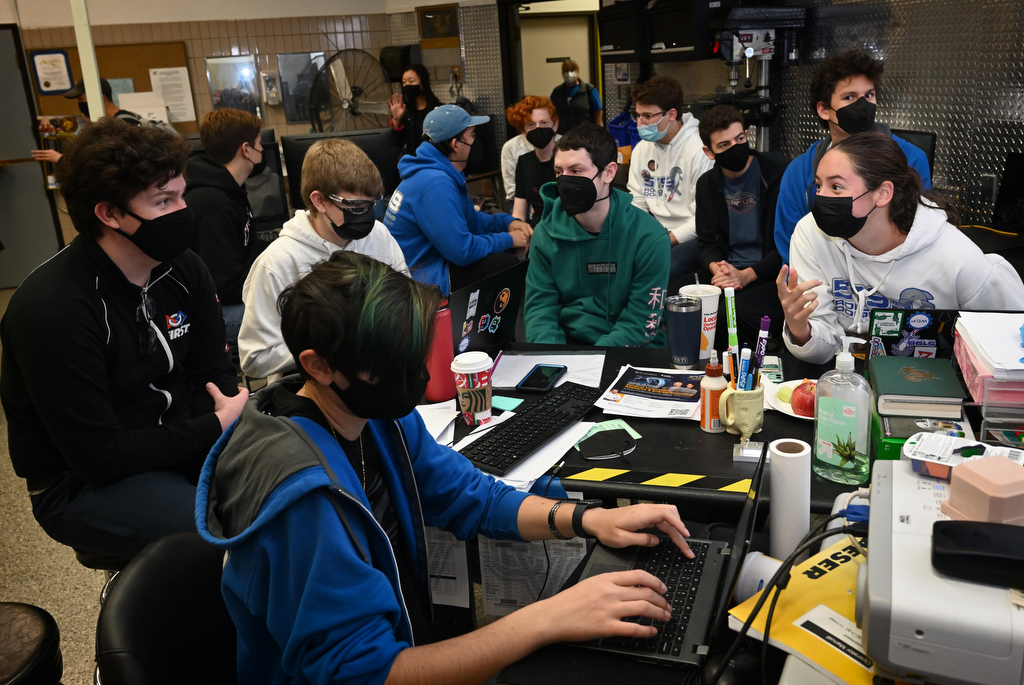 That said, Jung is particularly impressed by the team's senior leadership, including Malloy, Roux Lake, director of operations; and Kylee Sullivan.
Each year the team gives its robot a nickname. In keeping with the Robot Dolphins team name, the robot is always given a maritime name. Past robots have been Kraken, Leviathan, Tsunami, and Poseidon.
Robotics has become a mainstay in the Capistrano Unified School District's Science, Technology, Engineering, and Math (STEM) education, from high school down through primary education. Robotics combines engineering, building, programming and strategy.
Each year, students from across the country and internationally build robots to compete in games designed by FIRST (For Inspiration and Recognition of Science and Technology). According to the company, FIRST reaches about 679,000 students in 110 countries annually.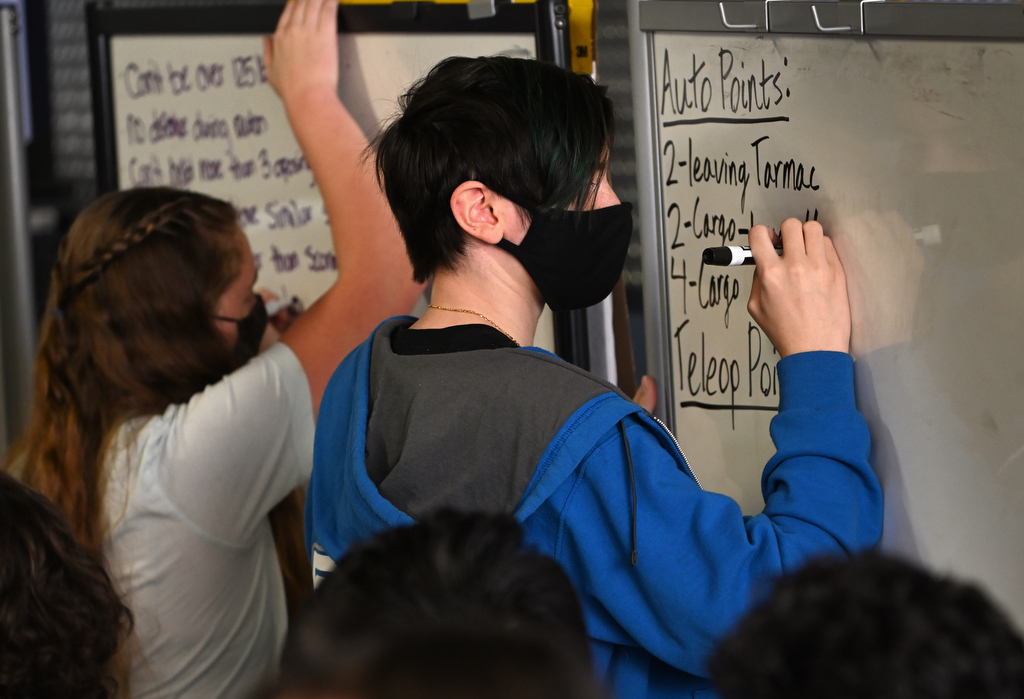 Last year's World Championships were staged virtually.
Nessie and Team 5199 took second place in the 30-team Argon division and 18th in all divisions, which included 1,412 teams.
This year, Team 5199 will open the competition season in late February in Ventura.
Malloy said the goal of that meet will be to work through any bugs so that Team 5199 will be in prime form and ready to represent when they compete on home turf in the Orange County regional in Costa Mesa. The regional competitions end with the Aerospace Valley Regional in Lancaster.
Typically, teams of three, called alliances, face off in games. The top two teams in the winner and runner-up alliances automatically will qualify for the World Championships in Houston in April.
In 2019, CUSD's Robot Dolphins advanced to the World Championships, finishing second in its group behind powerhouse Team 254, Cheesy Poofs, a NASA-backed team out of Bellarmine Preparatory School in San Jose.
More on the Robot Dolphins:
Robot Dolphins turn to virtual robotics events, learning, helping during pandemic