By Greg Mellen
There were tables with all manner of gears and sprockets. There were Rubik's cubes and other dimensional puzzles. Imaginative student submissions for the OC Maker Challenge were on display.
Sphero robots and electronic devices scurried around on the floor. In "the pit" there was a simulated airplane cockpit. And on stage, "Kracken," an award-winning competitive robot, showed off its skills.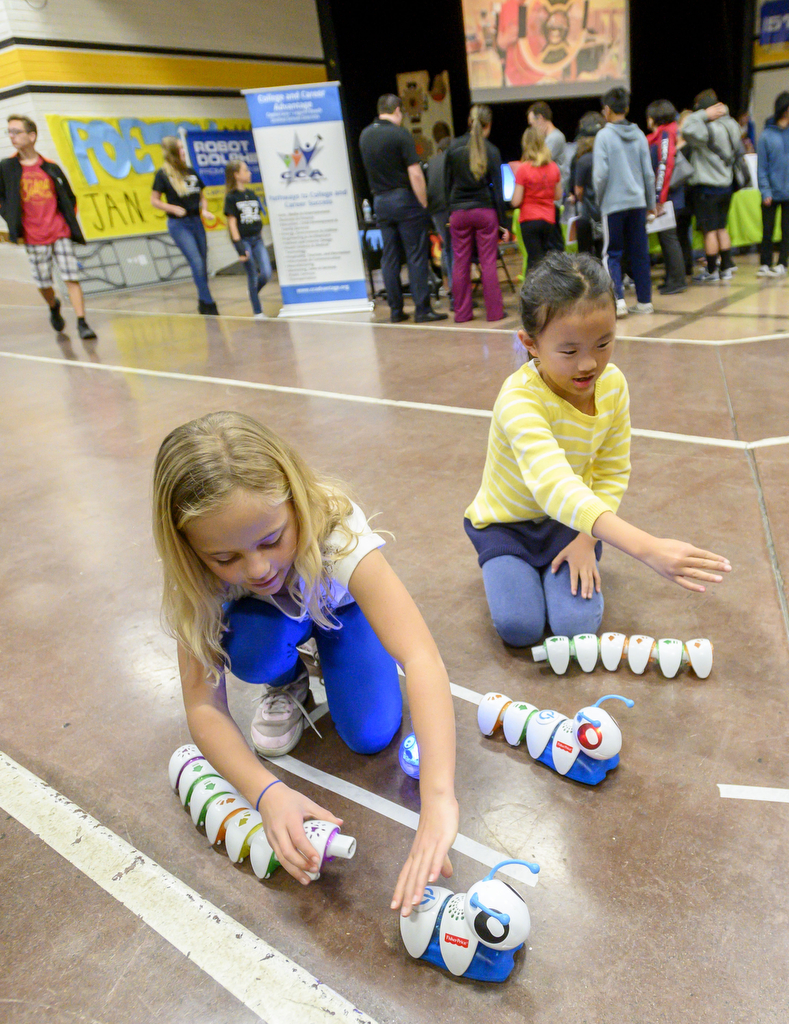 As a banner at the entrance to Cougar Hall read, "Innovators, come in."
This was all part of the third annual Innovation Showcase, held Monday, January 27, 2020, at Capistrano Valley High School. The drop-in event, presented by the Capistrano Unified School District, was open to families and children between kindergarten and 12th grade.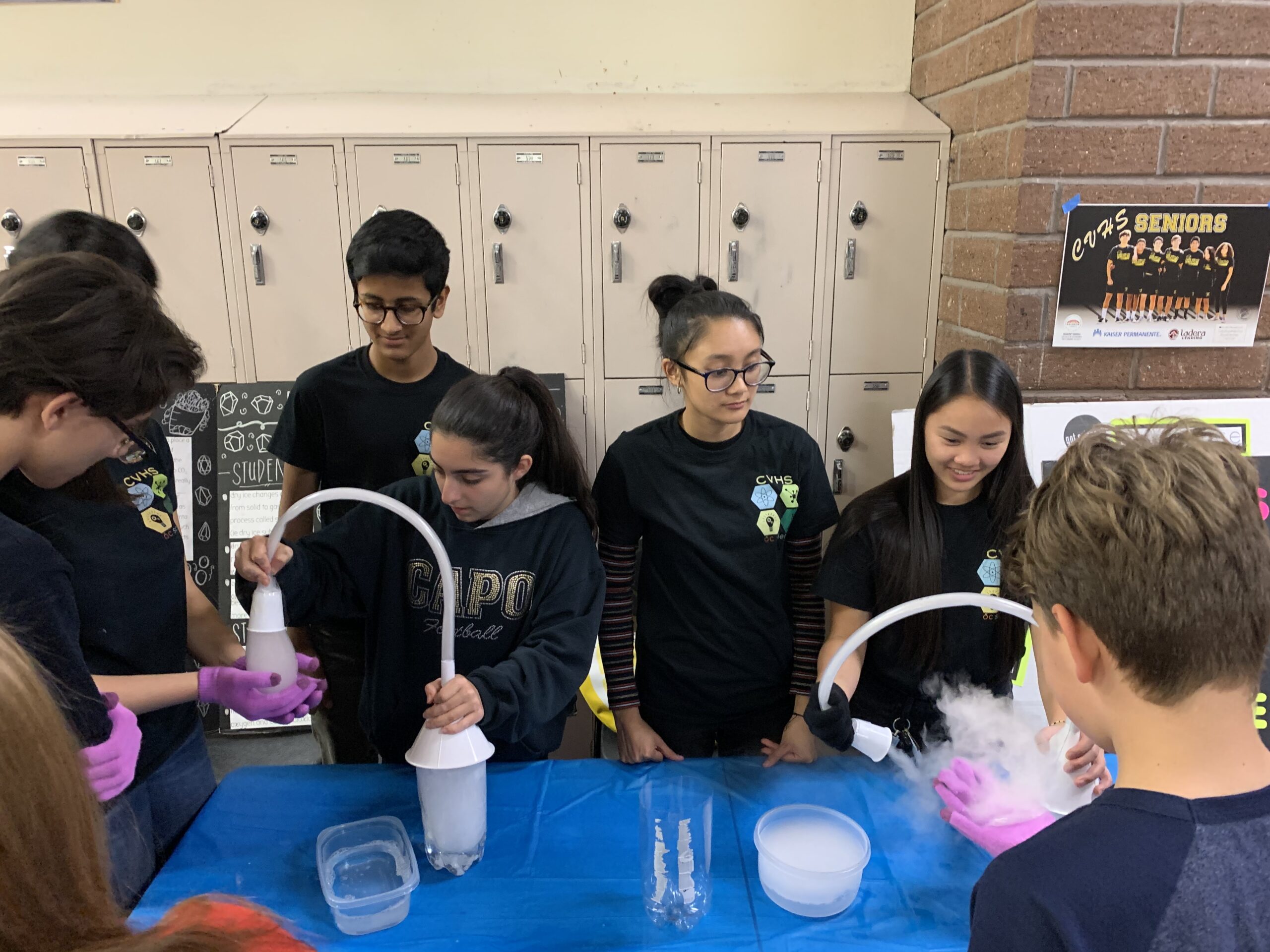 A similar event is slated for 6 p.m. to 8 p.m. Monday, Feb. 10, 2020, at San Clemente High.
With a theme of "Moving Full-Steam Ahead," the open house overflowed with hands-on activities, innovative learning labs and displays, breakout sessions, and demonstrations intended to showcase local STEM (science, technology, engineering, and math) and STEAM (science, technology, engineering, arts, and math) education and the district's commitment to and successes in implementing programs across all grades on more than 50 campuses across the district.
This year, the event expanded for the first time to highlight all elementary and middle school programs.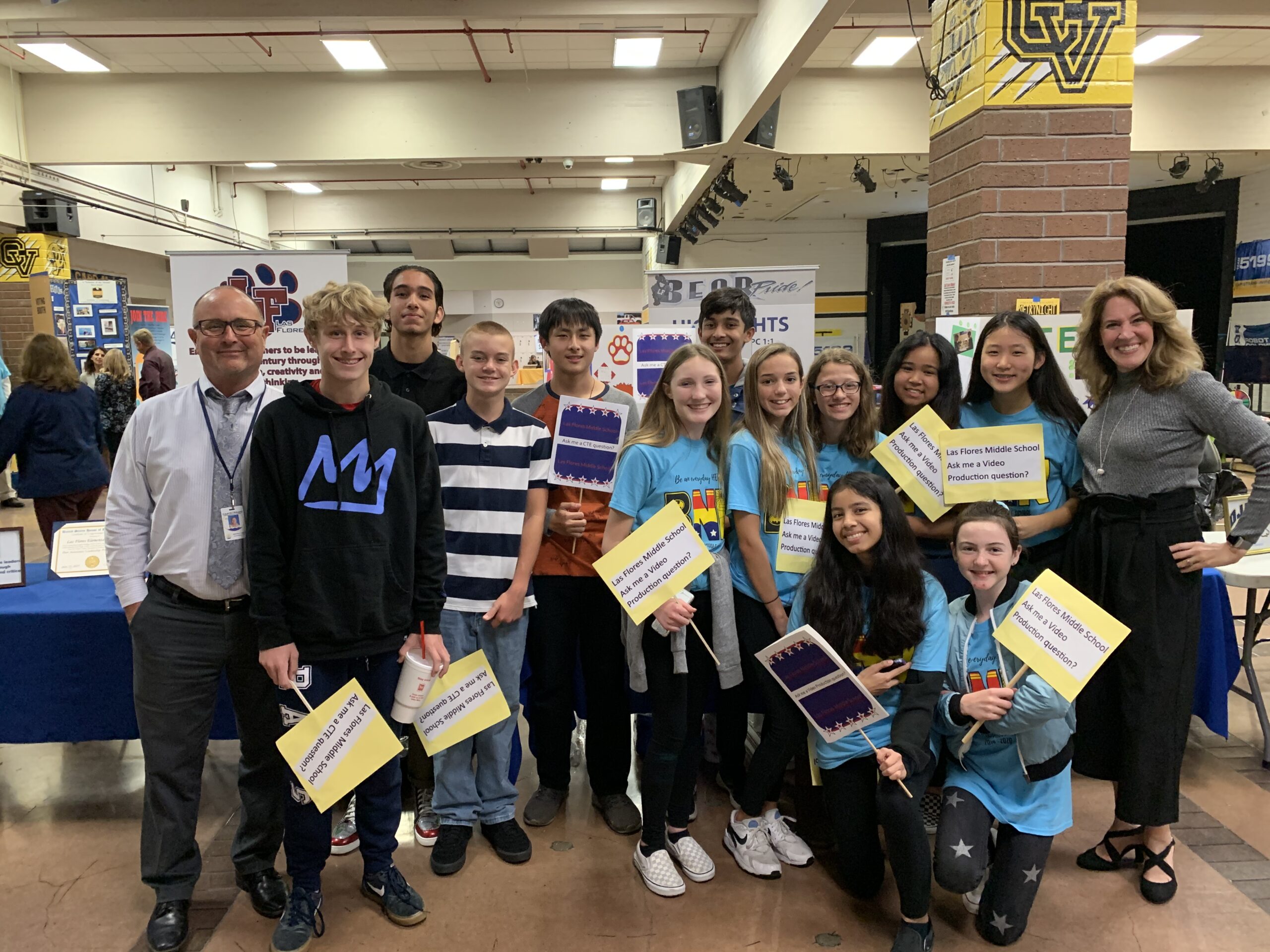 Preparing for future careers
Stephanie Avera, the district's director of education technology, said in these times of technical upheaval and revolution, teachers face the challenge of preparing students for "careers that have not been invented yet."
STEM and STEAM education have been popular models since the early 2000s. They were developed in part as a way to address a perceived decline in the sciences in the classroom as well as to spur technological innovation.
"Through a hands-on approach to learning, CUSD is preparing students to be college and career-ready," according to the district's literature. The district offers 28 career pathways and has over 500 college and career partnerships offered through College and Career Advantage. EMT students were on site at the event showing off their skills by taking vital signs.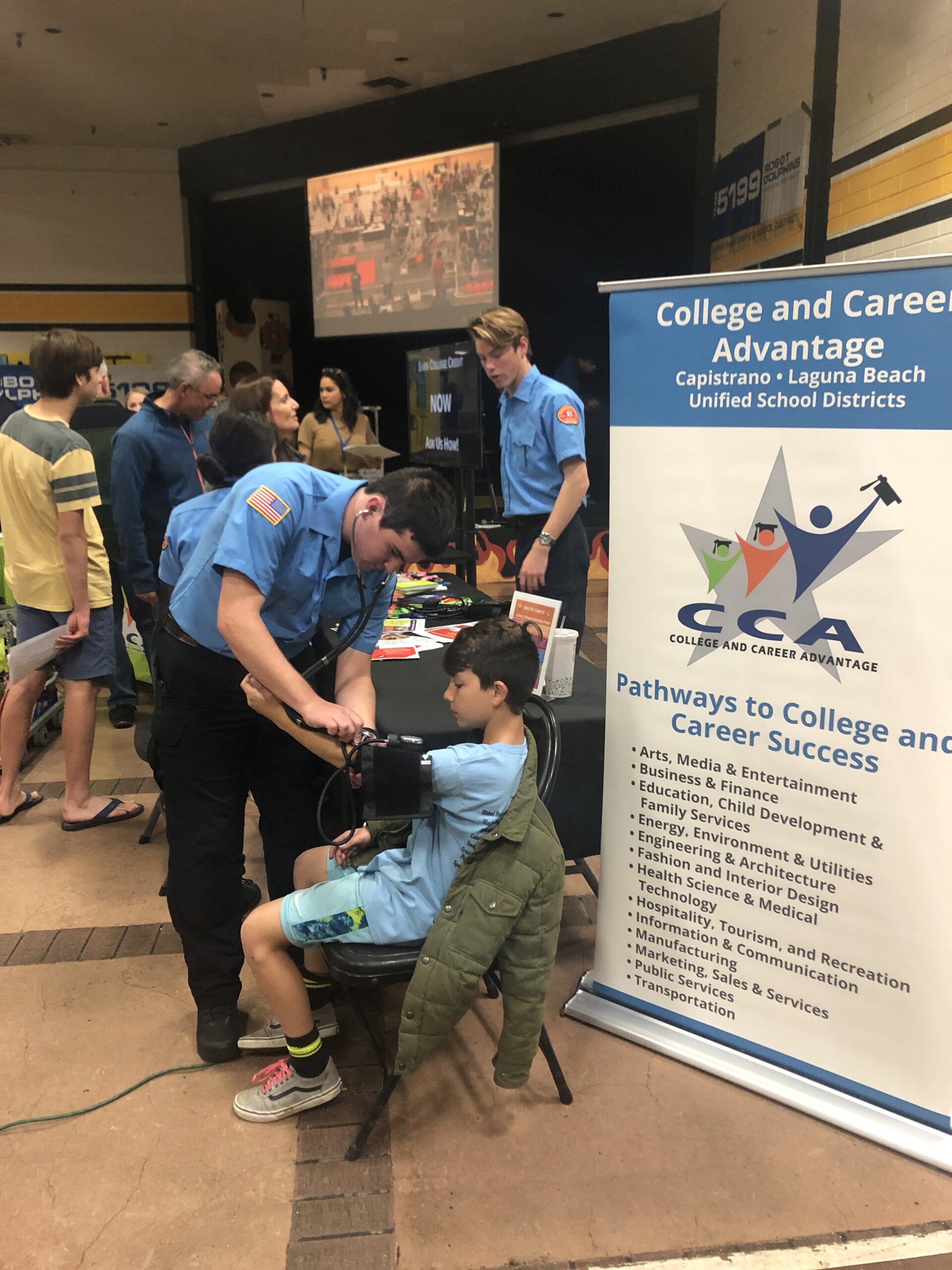 Through STEAM programs, students have access to technology labs, Chromebooks, 3D printers, robotics programs, and gardens.
Avera said Capistrano Unified dove into STEM in a big way six years ago, when it distributed 35,000 Chromebooks to students. Since, the district has continued to up its game, adopting new science and math curricula.
"We're trying to get students prepared either for a career right away, or the next step of their education," Avera said. "We just want students to be prepared."
All 36 elementary schools, about half of which were represented at the Monday event, have innovation labs. There are 12 Career Technical Education labs in the middle schools.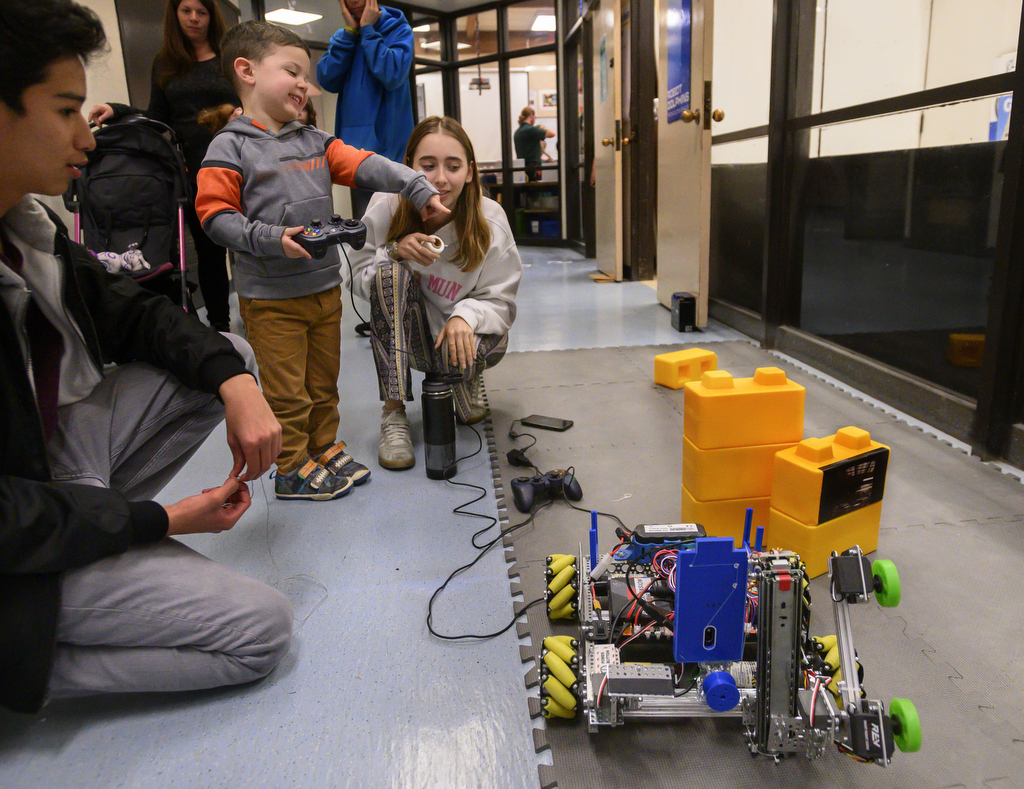 At the high school level, students have a wide array of specialty areas, with each school having concentrations in areas ranging from robotics, to programming and coding, to fashion design, to culinary arts.
Anthony Russomanno, coordinator of Futureology, the CUSD college and career counseling program, said the effects of STEM on his program have been profound.
"About 40 percent of the kids who come to us want to go into engineering," he said.
Advising students and parents about STEM-based opportunities is "a large part of what we do," he said.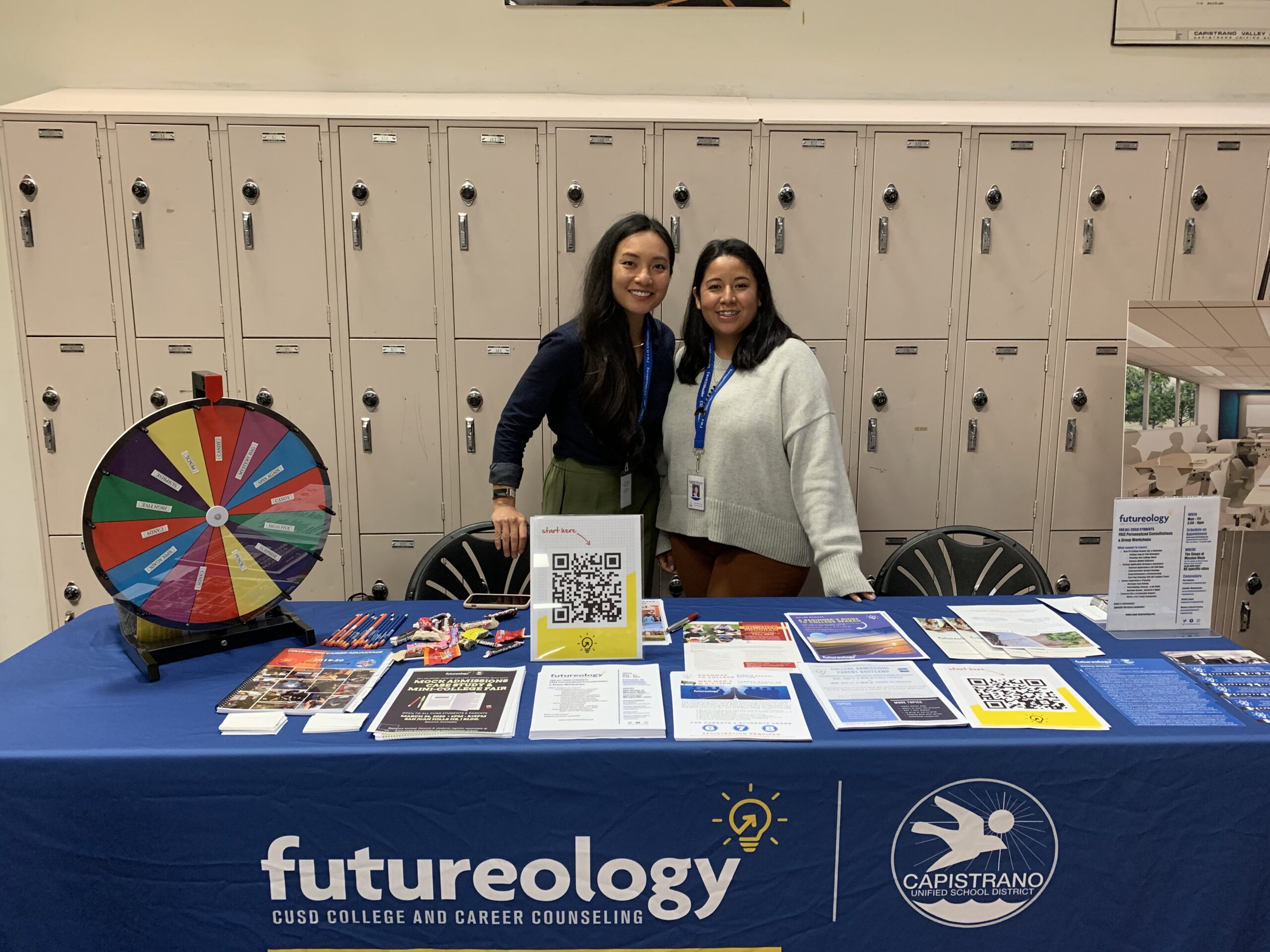 The district's robot champions
The district's championship robotics team, the Robot Dolphins from Outer Space, Team 5199, was front and center during the Innovation Showcase. The team presented several demonstrations on the main stage of Cougar Hall.
Capistrano High senior Taylor Null, president of the Robotics Club and lead driver of the robot, laughed at, but didn't dispute, the description of his team and robot as the "rock stars" of the local STEM community.
"They came to us and said, 'You're our prize possession,'" Null said of being approached by the district to stage demonstrations at the event.
"They're trying to educate kids for the future," Null said, "That's what we're doing."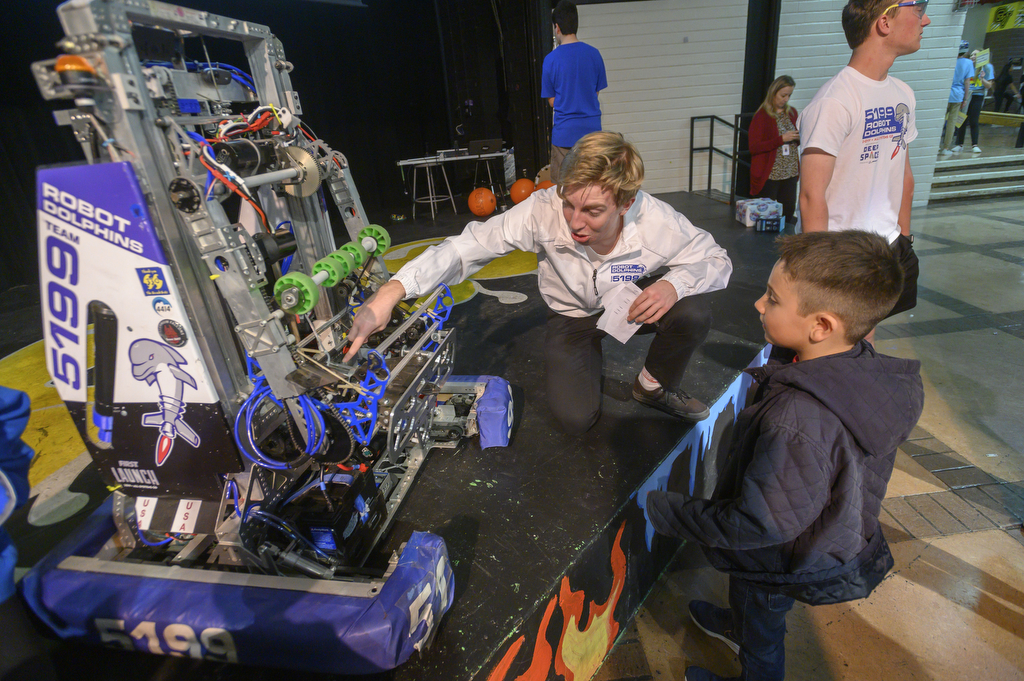 Null said in its way, robotics encapsulates much of what STEM is about in its integrated, hands-on learning process. The team tackles complex problems, like designing robots for specific competitions and tasks, then not only plans, but builds, programs, and competes with the creations.
Team members not only learn about complex electronics, pneumatics, and computer-assisted design, but how to operate band saws, drills, and welding.
Last year, the team took second place in its division in the FIRST world championships in Houston, Texas, at Minute Maid Park, home of the Houston Astros.
At Monday's STEM event, the team demonstrated the robot's ability to pick up different kinds of objects used in competition play and load them into a rocket. The robot also has the ability to climb a wall. While the demonstration was on, a video screen showed highlights from previous competitions.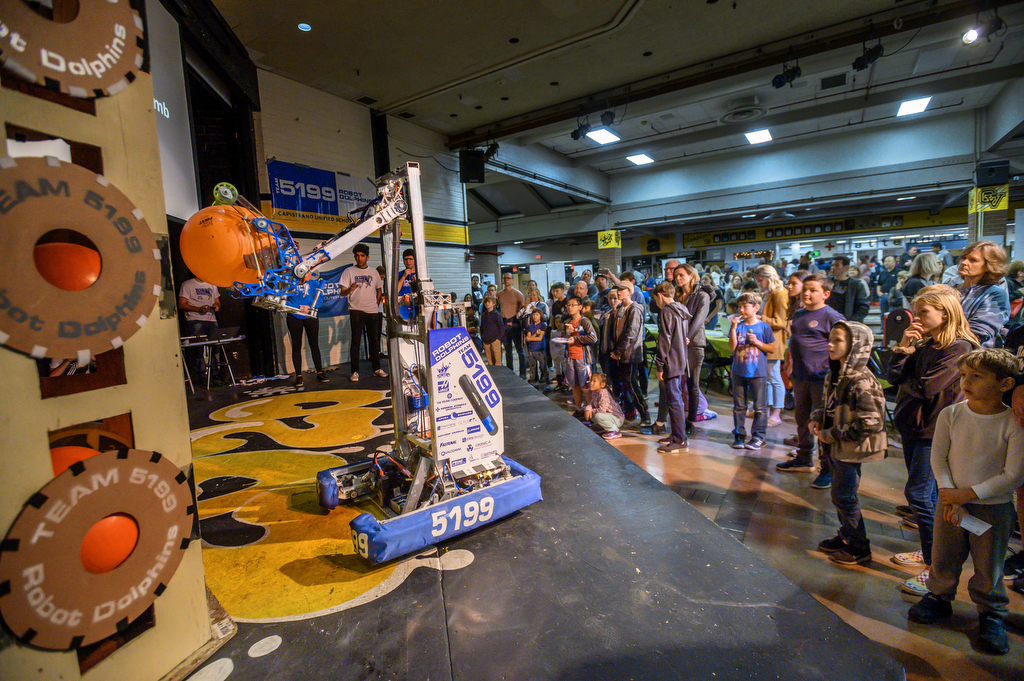 The Robot Dolphins from Outer Space are currently deep into the six-week "plan and build" session for the 2020 robotics competitive season.
Throughout the event, a steady stream of visitors cycled through the robotics room for a behind-the-scenes look.
Scott and Tammy Arthurs brought their boys, Henry, 10, and Charlie, 8.
Asked why it was important to get his kids involved in STEM at a young age, Scott Arthurs said, "just because the world is being driven by technology, apps and robots."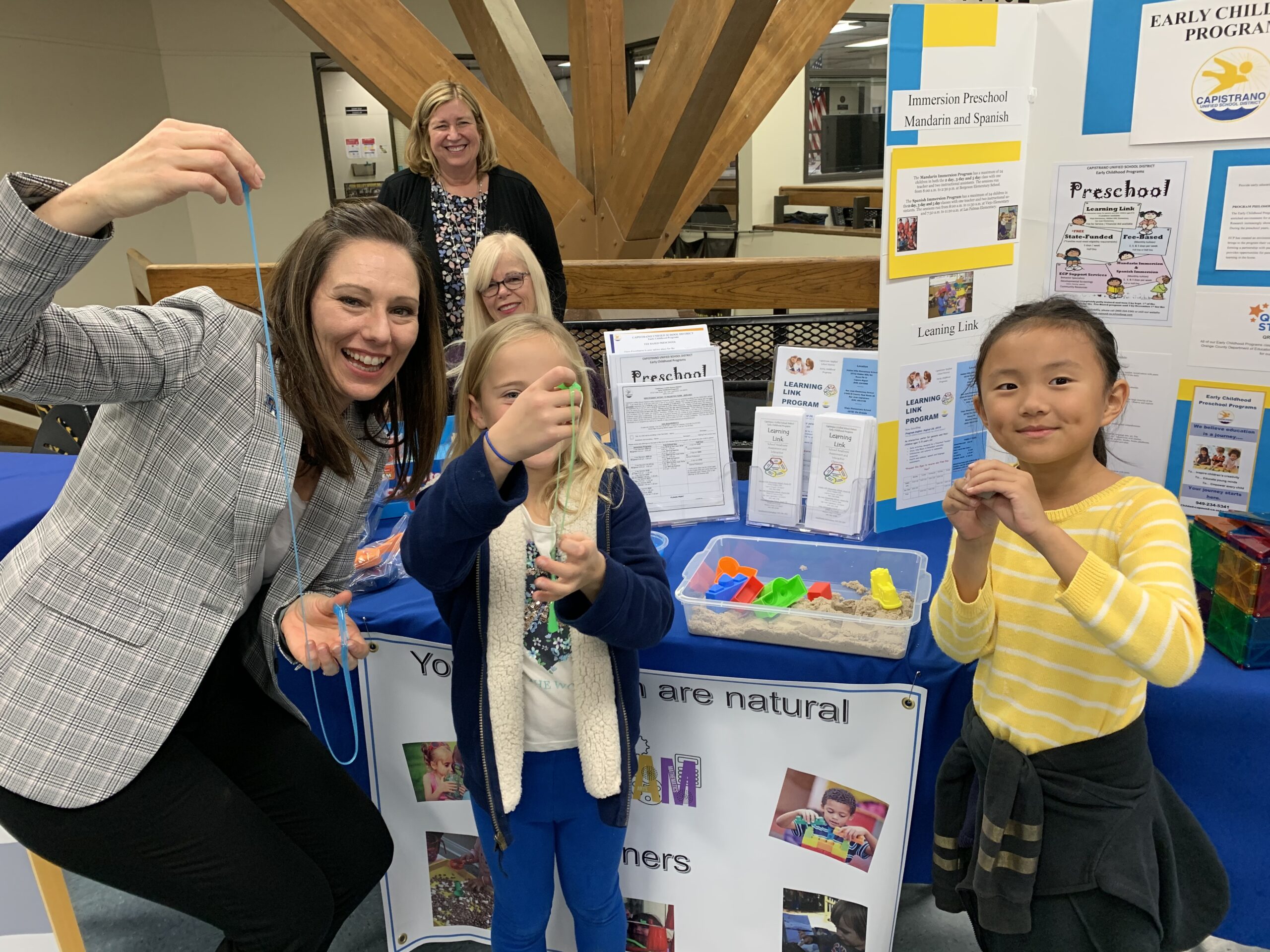 Henry, a fifth grader and student council president at Oak Grove Elementary in Aliso Viejo was impressed by the robotics lab.
"I just like how it's science and it's what we'll be doing in the future," he said.
While participation in STEM and robotics continues to be male dominated, a group from Marco Foster Middle School in San Juan Capistrano was proving girls can rule in robotics.
Eighth grader Lydia Gordon, 13, and seventh graders Nevaeh Champ, 12, and London Waler, 12, were part of what they said was the first all-girls team to win medals in the Vex Challenge, a robotics building, designing and game-playing competition.
While they talked about their team's success, the girls operated several of their robots.
"We're adapting to a new world where everyone should be equal," said Champ, who hope to be part of the district's high school team after she graduates from middle school.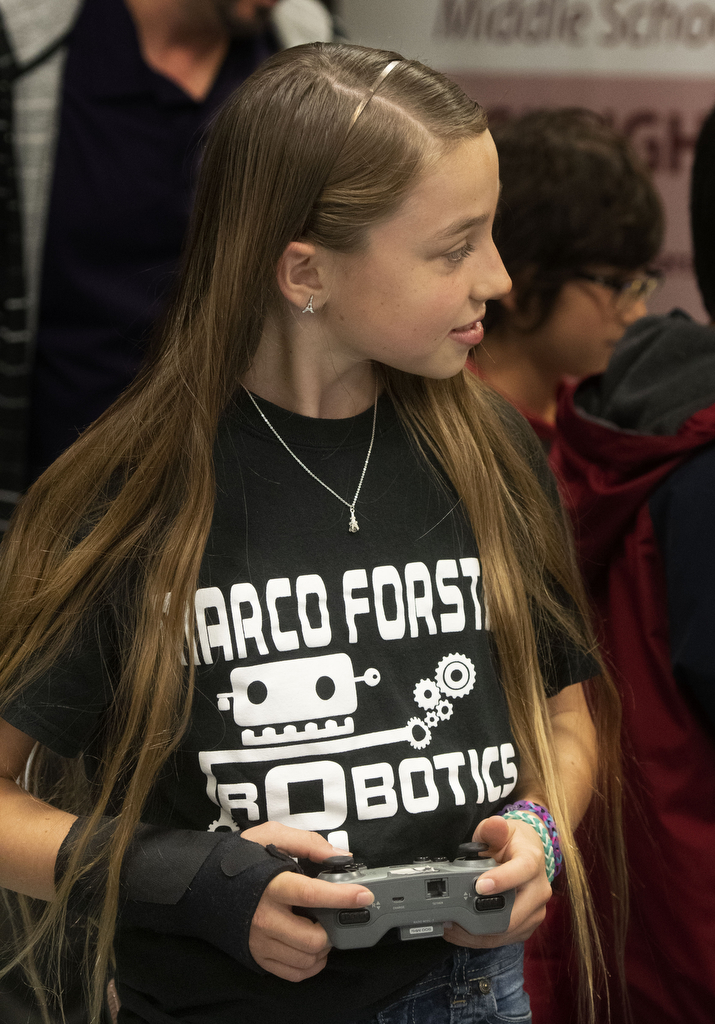 Brent Lewis, who teaches an evening aviation class in its second year, brought a Redbird flight simulator on which kids attempted to land at a virtual John Wayne Airport.
Lewis said the class not only gives students a jump start learning about being pilots, it is also a useful introduction to "the whole gamut" of aviation occupations.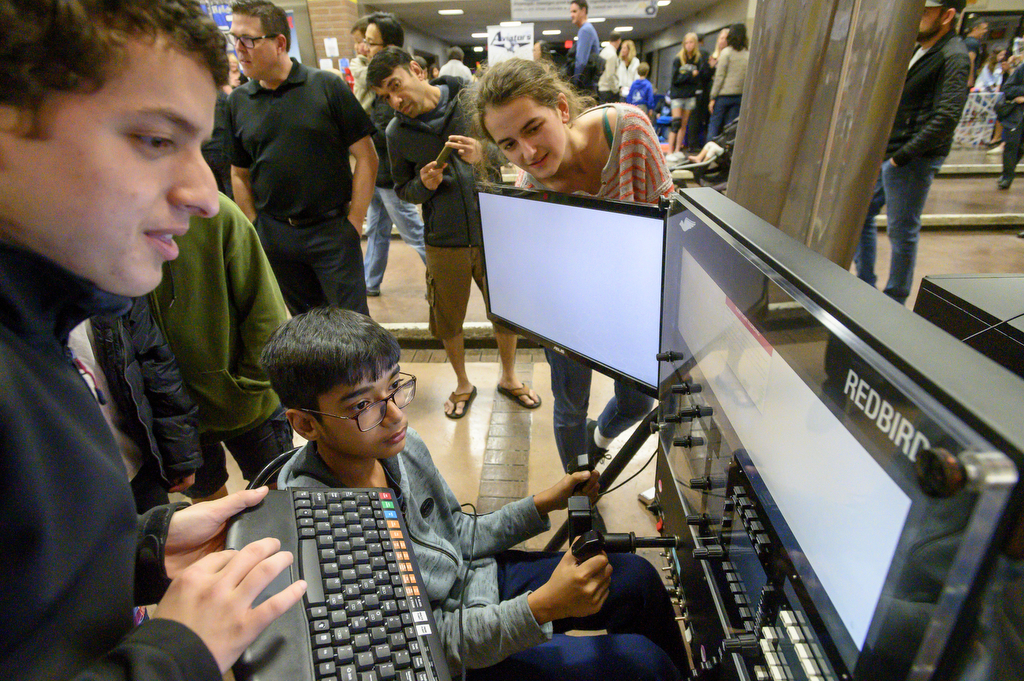 "I think there's a whole lot of interest," he said, adding that he is hoping to get the word out, especially to girls and women, who are in short supply in the aviation industry.
Not all the displays were STEM-related. Marian Bergeson Elementary School of Laguna Niguel, for example, promoted the often overlooked "A" in STEAM.
Each year, the elementary school puts on high-level productions of Broadway musicals. This year, they are working on a production of "Peter Pan."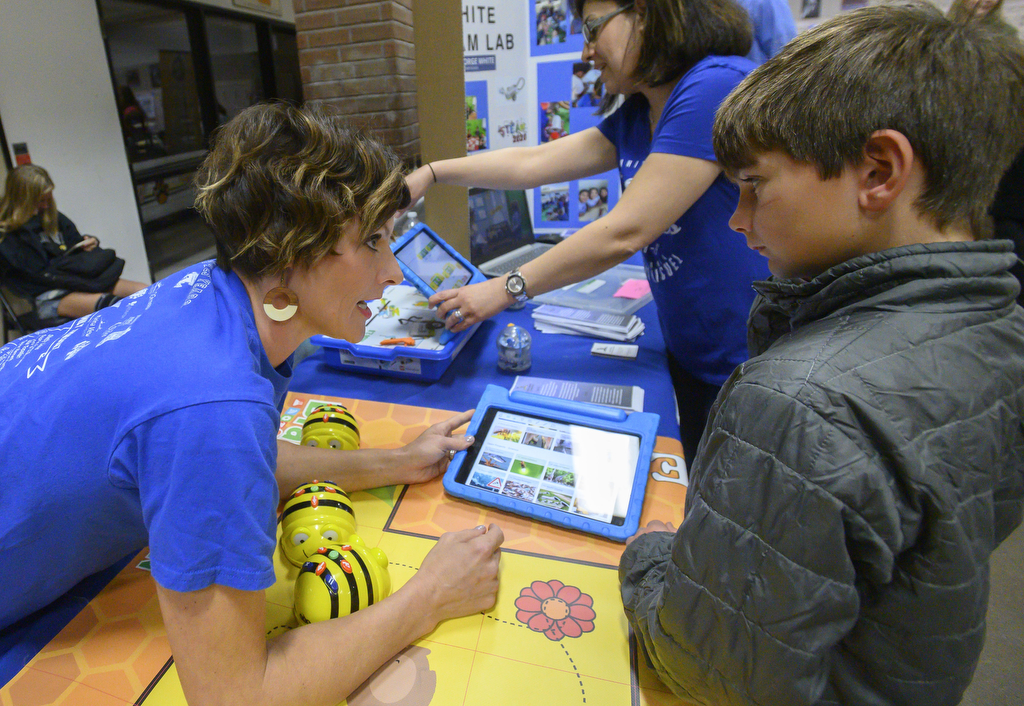 Parent volunteer Sara Wheaton said she is proud to be an advocate of the arts and the school's Drama Dawgs program.
Arts and sciences not only co-exist but enhance each other in stimulating different parts of the brain and spirit, she said.
"There is space for beauty and meaning as well as functionality," she said.
The world outside the classroom
The district has partnered with local groups such as the Discovery Cube, Inside the Outdoors, Crystal Cove Conservancy, and the Child Creativity Lab to provide additional opportunities for students to learn and grow outside of the traditional classroom model.
In a room off the main hall, Kelly Ellis of Inside the Outdoors and her companion, a bearded dragon named Lucy, greeted students.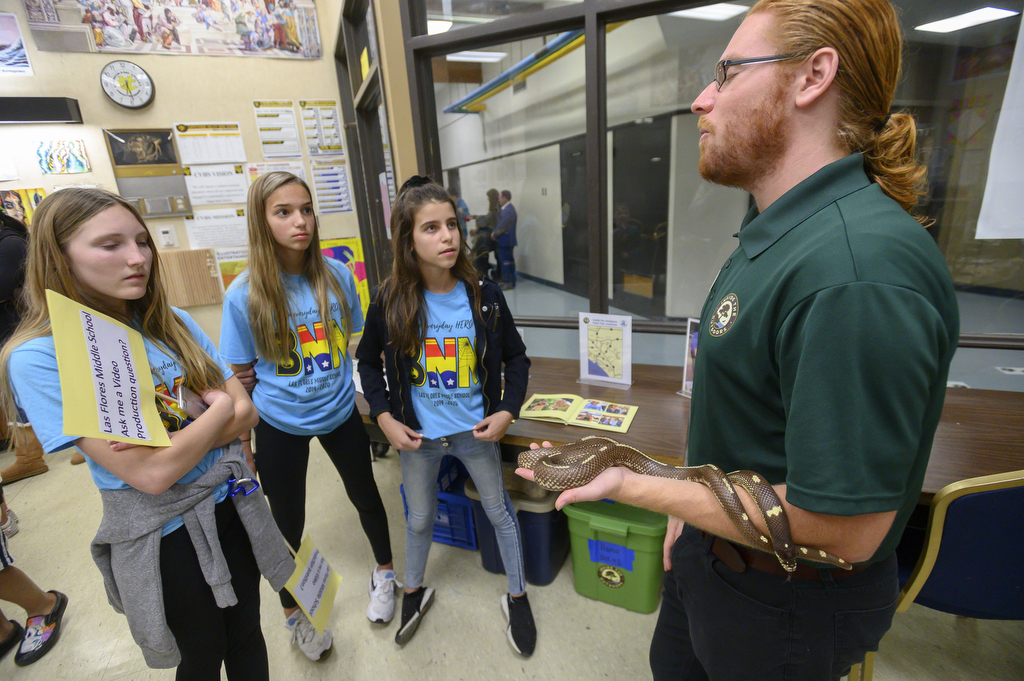 Inside the Outdoors is on a mission to introduce students to a world of science outside the classroom. Ellis said there are plenty of instances where wildlife and science intersect.
"Science has its place in our world," she said, noting that it takes science to understand clean air, water and balanced ecosystems. "There are a lot of opportunities to help with wildlife by using science and technology."
Families evaluated the morphological characteristics of different species of plans in the Crystal Cove Conservancy plant morphology experience. Students had the opportunity to vote for which plants they think should be planted in a particular area of Crystal Cove State Park.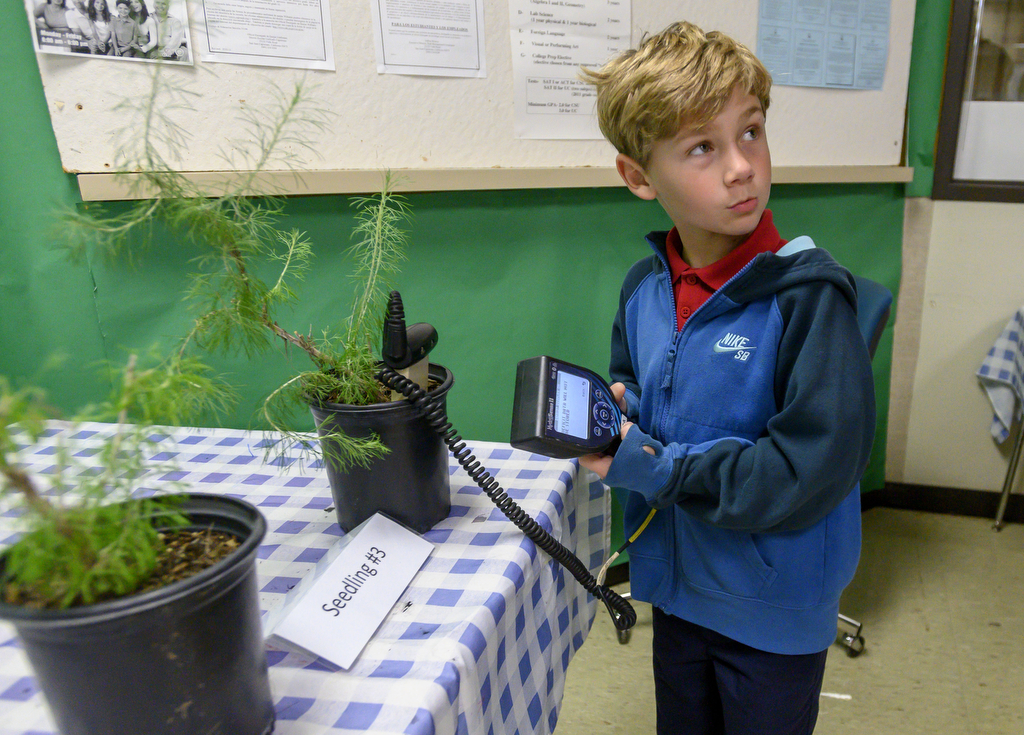 The second Innovation Showcase will be held from 6-8 p.m. Feb. 10 at San Clemente High School, 700 Avenida Pico, San Clemente, CA 92673.