By Cathi Douglas
When Dana Hills High School students were confined to home with a virtual curriculum, teachers were forced to think differently about teaching, lessons, and instruction.
For Natalie Hribar-Kelly, modifying visual arts instruction has meant many things – including dealing with the 1,000 pounds of clay her 11th- and 12th-grade students needed to study ceramics.
Hribar-Kelly, Visual/Performing Arts Department chair, teaches digital photography and AP Studio Art in addition to ceramics. Together with painting teacher Chau Tran, the team is creatively approaching the visual arts curriculum.
"COVID-19 has meant determining which classes can and can't be offered virtually," she observes. "Classes like biology, chemistry, and physical education and the arts require a different way of thinking."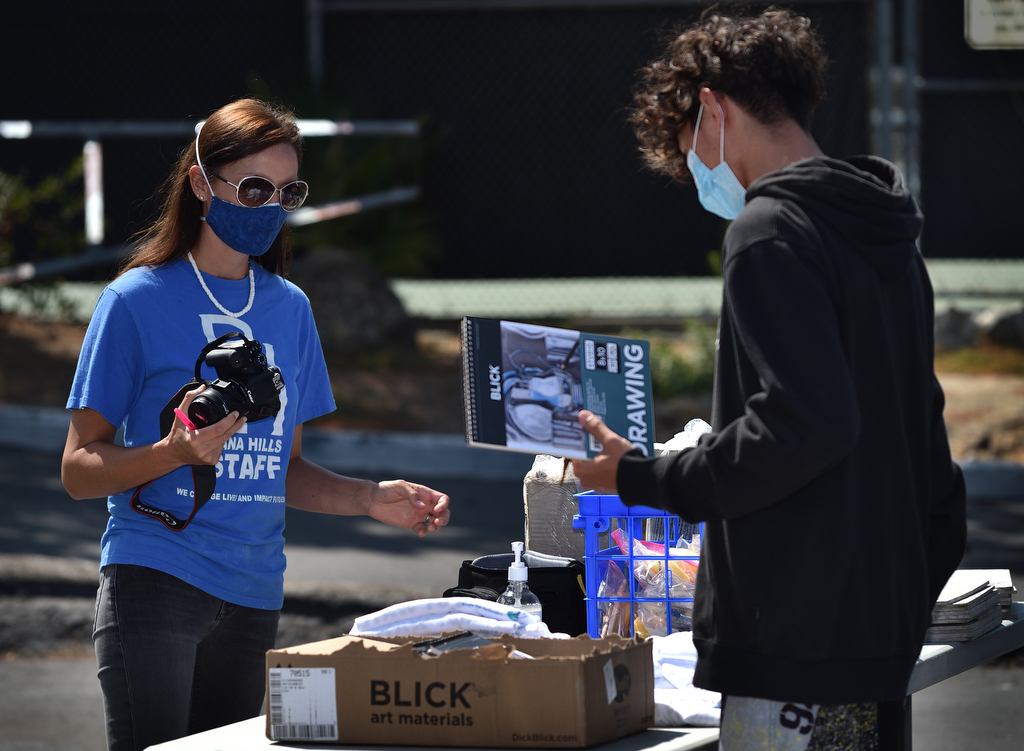 To address the specific needs of her ceramics students, Hribar-Kelly enlisted the janitorial staff and her 12-year-old daughter to move the ton of clay into the staff parking lot and break it into 25-pound packets to pair with the necessary tools.
When it was time, her ceramics students picked up the clay packets, and at the same time her photography students received SRL cameras and sketchbooks.
"We've had to modify the classes and the requirements because of the COVID-19 pandemic, so the ceramics students will do their sculptures at home," she explains. "With the proper guidelines, videos, and demonstrations they will do fine. They are motivated to do well."
Studying the arts is important during the coronavirus pandemic, she notes, because it provides students with important opportunities for self-expression.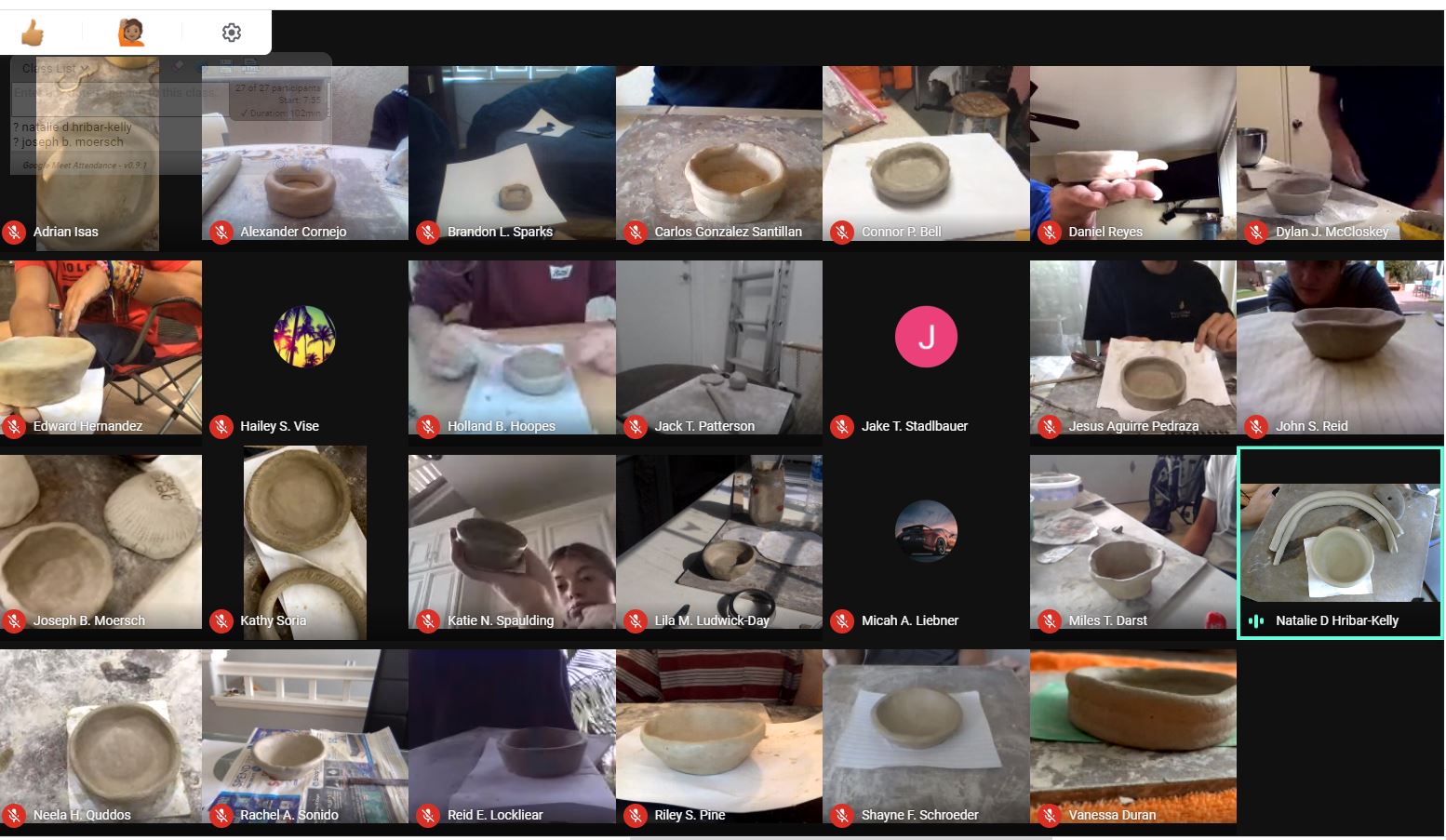 "Art is almost like therapy for them," she says. "I noticed it first last March when distance learning began. The photos they were creating were so expressive, so emotional, so beautiful – they needed that avenue to be creative and to think outside the box."
"Art offers us flexibility when we are living in a time of no flexibility," she adds. "It gives them a bit of freedom when they don't have a lot of freedom."
One of the photography students' first assignments was to take a self-portrait and share it with the class.
"It was so nice to put faces to their names," she recalls. "And it was neat to watch them engage with each other on the discussion board."
The students' reactions to online instruction in the visual arts have been positive.
"I was shocked," she says. "I didn't know what to expect in terms of them showing up. There were many days when every kid was there. I was impressed."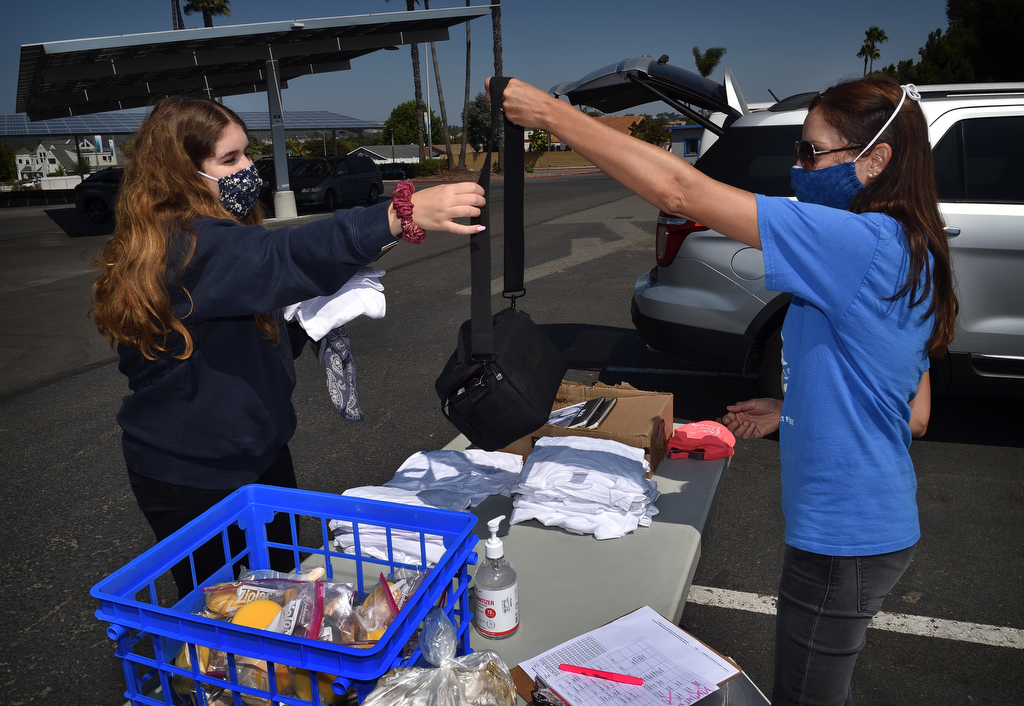 Art students usually go on several field trips, including visits to places like the Getty Museum, Hribar-Kelly says, so instead she is arranging for a series of guest speakers and virtual visits.
"I actually feel pretty good about our distance learning," she says. "We have a great curriculum and we can modify it and the kids are excited. We have the potential to make great stuff."