By Cathi Douglas
When Sophia Annaloro answered an early morning knock recently, the seventh-grader never expected to see Shorecliffs Middle School's Seahawk mascot and principal on her doorstep.
When the 12-year-old saw her lawn full of signs bearing the school's logo, Sophia found out she was the first recipient of Shorecliffs' new Fly By program.
"She was very surprised," said Kristin Annaloro, Sophia's mother. "I didn't tell the rest of the family because I wanted it to be a compete surprise. We live on a busy street, and it was cool to have all these people driving by and honking when they saw all the signs."
Dr. Chris Davis, Shorecliffs' principal, says the school's new Fly By program is just the most recent effort by administrators, teachers and students to boost engagement and recognize achievement.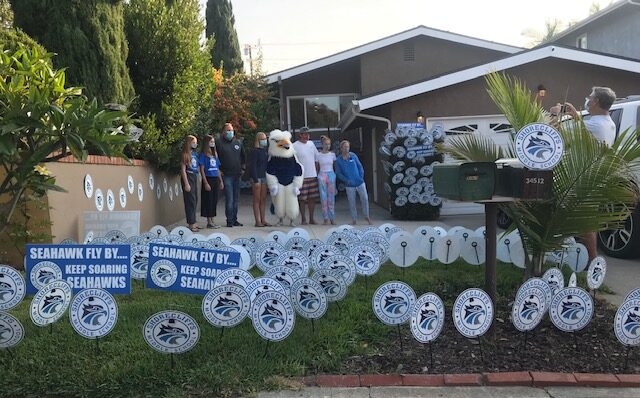 "Since March, distance learning means that kids aren't feeling connected to school," Davis said, adding that he came up with the Fly By idea when he saw a lawn full of flamingoes near his mother-in-law's house, where residents had been "flocked."
"We've been working to brand Shorecliffs with our logo, and I thought we could make signs with it and use them to do a fly-by with our mascot," he said. "We want the connection with Shorecliffs to be visible in the community."
As part of the school's ongoing PBIS commitment – it stands for Positive Behavior Intervention and Supports – to promote positive behavior, the Fly By program both recognizes students and generate funds for the school's other recognition campaigns.
"We want to reward students for doing the right thing," Davis said. In addition to the Fly Bys, which parents can order for $40, the school offers meals at local restaurants for students and their families, breakfasts with teachers, and credits the students can earn that can be used to purchase items in the school's store.
Stephanie Zenisek, Shorecliffs' media technician, is "the heart and soul of the SOAR ambassador program," Davis said.
SOAR, which encourages students to practice Safety, On-Task, Achieve and Respect, is a program created to implement the PBIS plan. Zenisek manages a team of student "ambassadors" who, together with officers in the student body, re-teach, reward and reinforce positive behavior. She manages the Fly Bys, the online SOAR bucks and store, and other recognition activities.
"The SOAR activities are important now because we've been able to ensure that students still feel connected to the school, their teachers, and each other," Zenisek said. "The students look forward to these things – they really need the lift."
When the giant Seahawk mascot knocks on a student's door and they see their lawn flocked with Shorecliffs signs, "they are really kind of speechless, to be honest," she said. "We say, 'congratulations, you are soaring with your online learning, or encourage you to engage online, or to celebrate your success on a test. You are still a Seahawk.'
"We are a school that goes above and beyond with activities, and the students miss that with distance learning. This program gives them joy and helps them feel connected."