By Fernando M. Donado
It's a rainy Monday afternoon in the multipurpose room in the Upper Campus of San Clemente High School, but that doesn't stop the Tritons Stunt Cheer team.
Not whatsoever.
In spite of winning the SoCal Stunt Tournament (hosted in San Clemente), along with the Joust Tournament organized at California Baptist University, the intensity doesn't drop one bit, according to program Head Coach Amber Smith-Stanco, who leads one of the few Stunt programs in south Orange County, and the only one within the Capistrano Unified School District.
Stunt is currently one of the biggest growing women's sports in the United States, according to stuntthesport.org, and incorporates skills derived from cheerleading. Stunt involves head-to-head matchups against other teams/schools, with various categories such as partner stunts, jumps and tumbling, pyramids and tosses, and routines.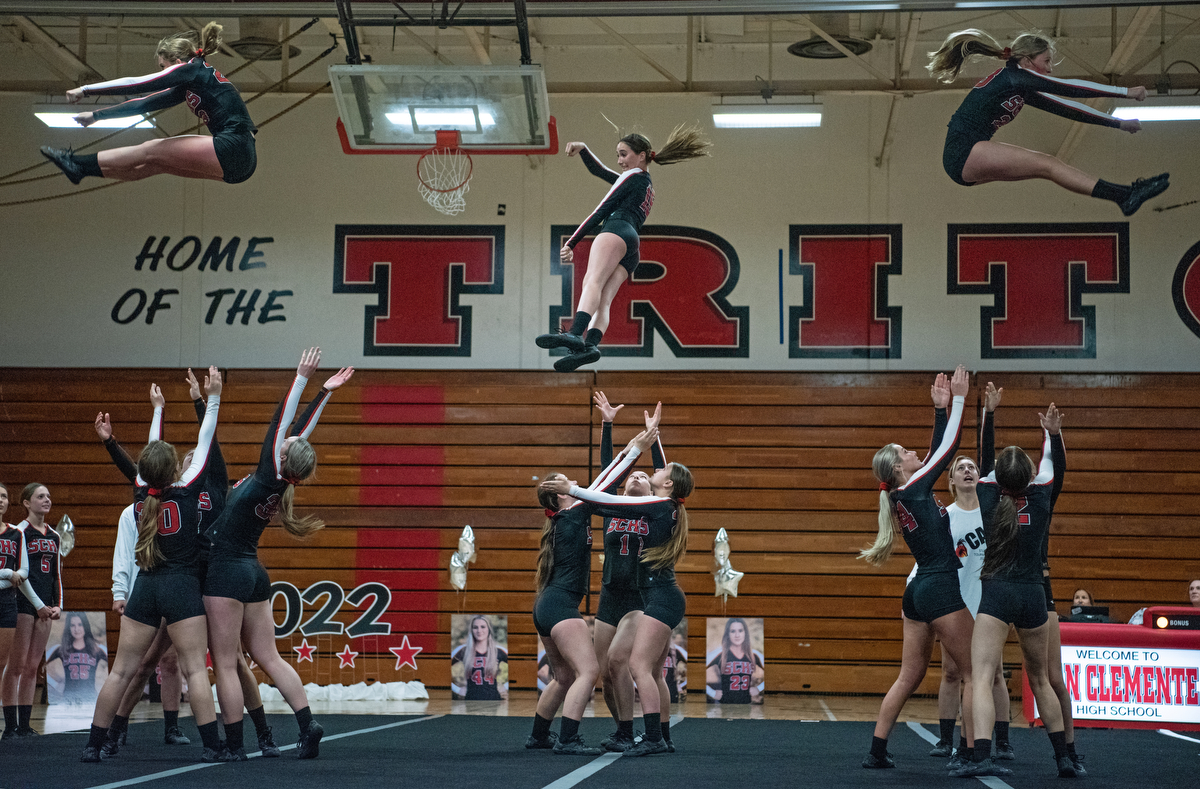 The Stunt program was adopted by San Clemente in 2018, and since then Smith-Stanco has seen a progression in the Tritons' performances and results.
"It's been a lot of work and it's been a building process for our program. We just started competing in both traditional cheer and stunt, the sport, four years ago," Smith-Stanco said. "This is our fourth season, so most of these schools have been doing this for a whole lot longer. I'm really happy with the success that we are seeing at this point."
The head coach is quick to recognize that none of the progression would be possible without dedication from the Triton athletes. The team practices six days a week early in the morning and in the evenings outside of school hours.
"It takes a lot from the girls," she said, adding that the team is now competitive with legacy programs. "It's a big commitment… They're definitely in it, and their mentality is in a really good place. I think we're in a position where we can continue to see them grow and be more successful."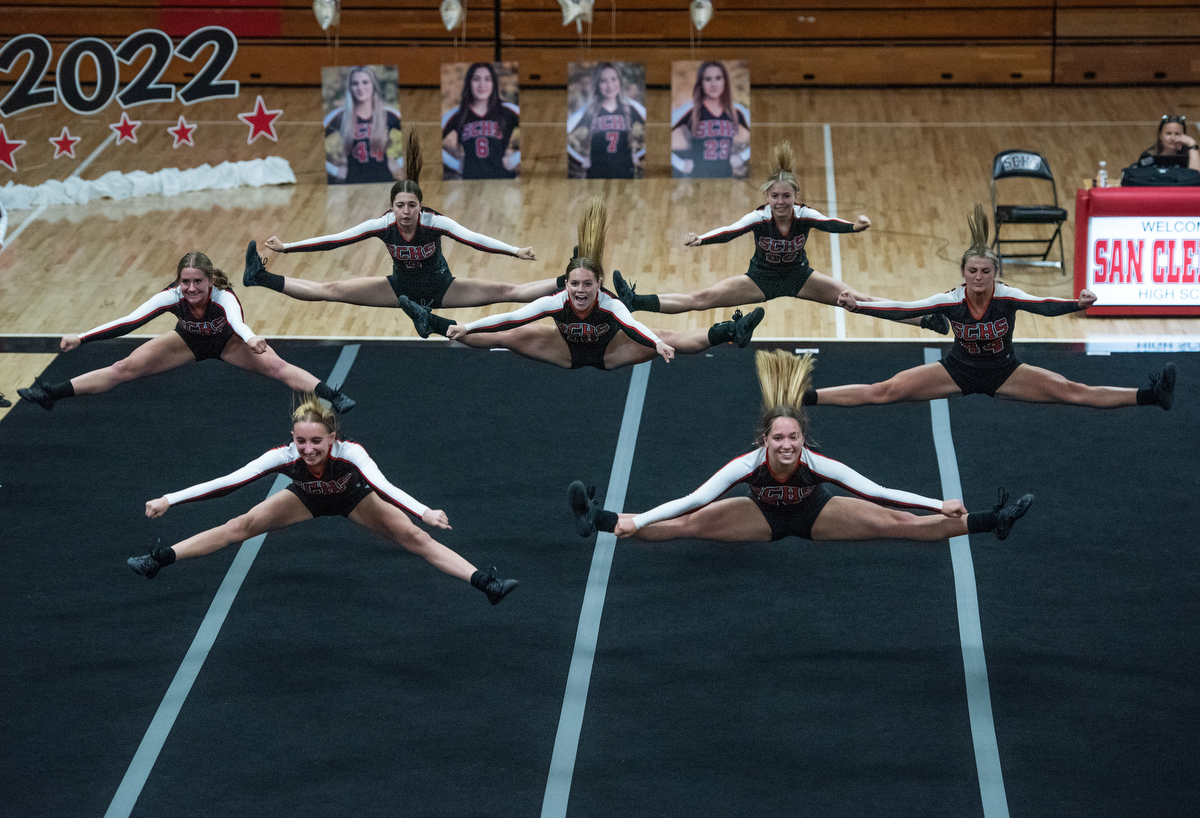 Currently the Tritons compete in the Golden West League, where they post a 2-0 record as of March 30, and they compete against Godinez (Santa Ana), Segerstrom, Westminster, and Orange Lutheran. Those teams are all in the northern Orange County region, which is something Smith-Stanco hopes can change if more south Orange County schools add Stunt teams.
"Stunt really is its own sport," said Smith-Stanco. "It's such an incredible opportunity for these girls to be recognized as athletes, to play in a game like athletes, to look at college opportunities like athletes."
The team hopes to make the CIF SS playoffs for the very first time.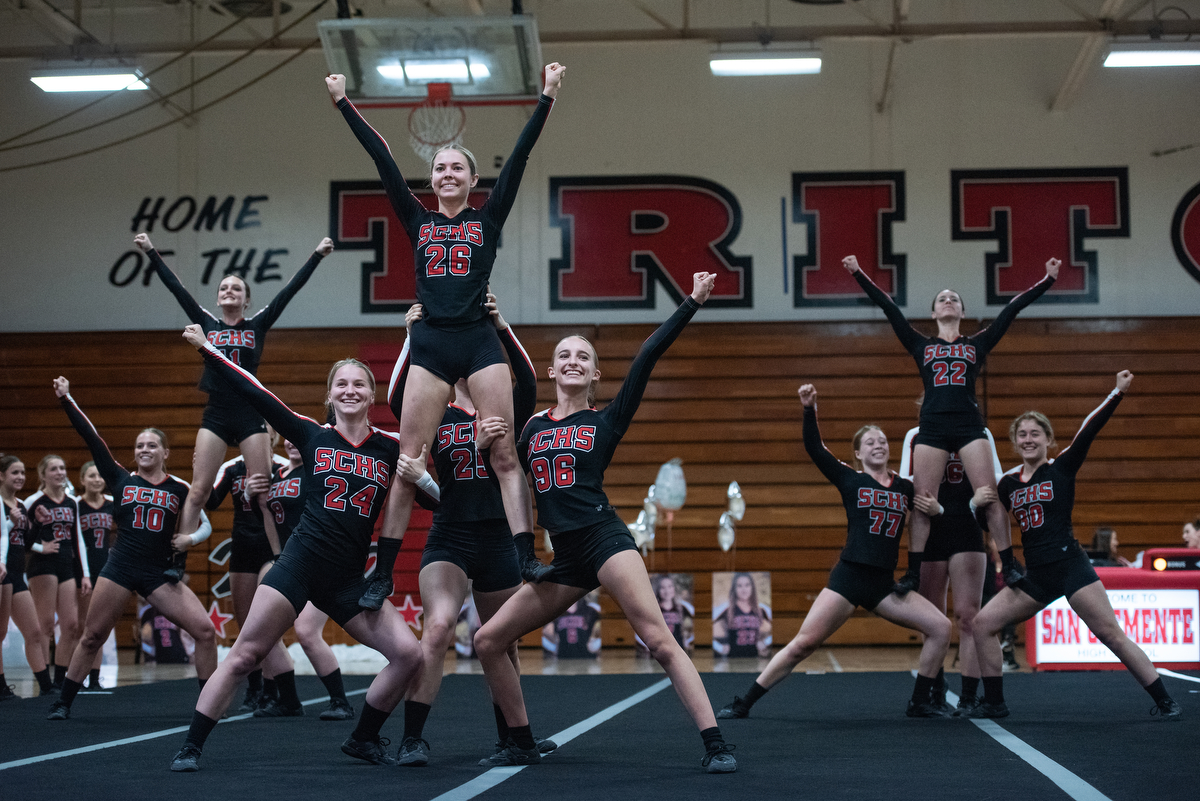 The Stunt team is led by senior captains Makayla Coelho and Julia Miranda. There are a total of seven seniors, of which four have been involved since their freshman year. Senior Emilie Heckenkamp is leading the team's stats currently and is weighing her options for continuing to cheer next year, Smith-Stanco said.
The program began in 2018 with 15 members, and has since expanded to 32.
"We want to spread more awareness of what stunt, the sport, is, and see if we can get other districts involved and other schools in our district, too," said Miranda.
Miranda said the CBU tournament was one of the best experiences of the season thus far.
"It was absolutely insane," she said. "I wasn't expecting to be with all of those other college athletes, too. Just getting the opportunity to see them in action, and see what our team can become, was very inspiring for us for sure."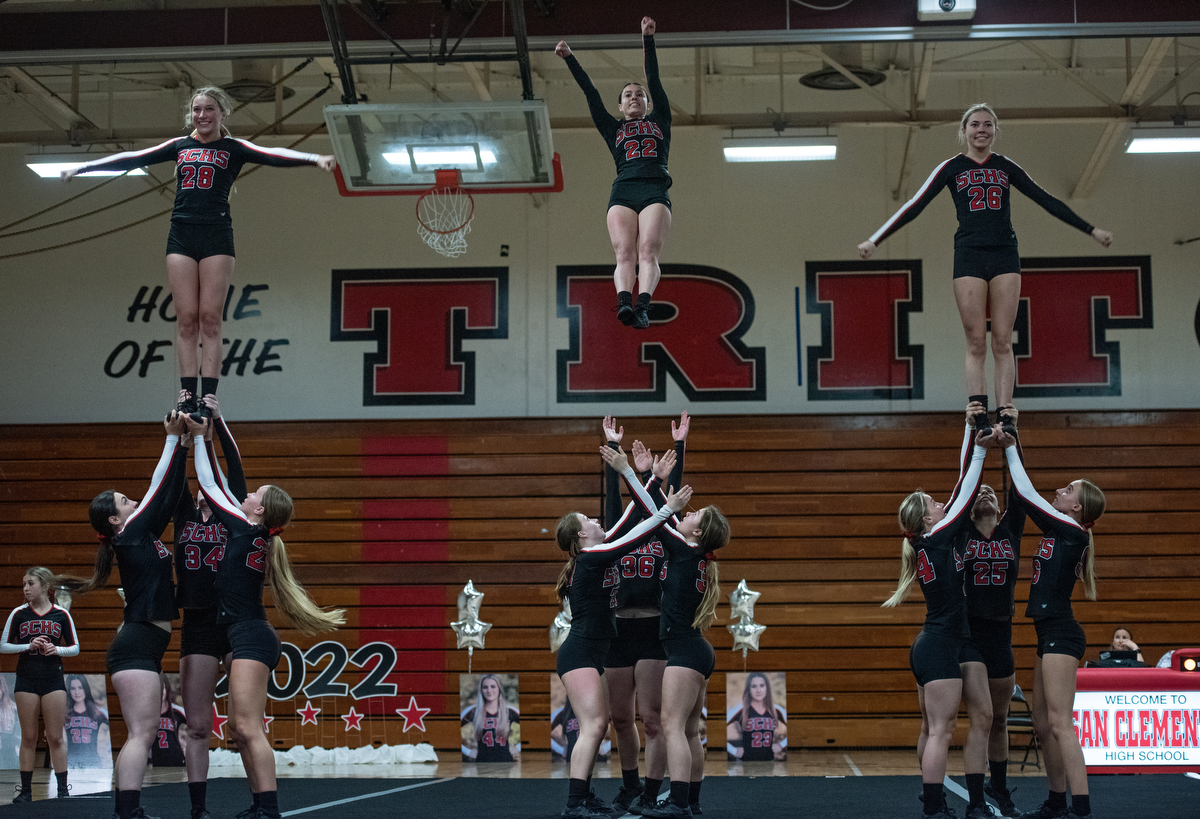 Next year Miranda will be performing for the Cal State Fullerton Sideline team (the Titans do not carry a Stunt program), while Coehlo will be playing at Vanguard University in Costa Mesa.
"I'm just excited to grow, and use what I learned in high school to branch off to college, and beyond that as well," Miranda said. "It's very overwhelming, but it's all worth it when we win competitions and we win tournaments, and we make those bonds with our team. It's a very great experience to get to know our teammates, and grow that insider knowledge on stunt, comp, and sideline altogether."
In terms of growth expectations in the near and extended future, Smith-Stanco sees nothing but positive things happening for the team. In the future, she hopes the team can mentor other schools that are newly starting programs.
"I see us winning league this year for sure," she said. "I think that we're at a skill level where we can start to be competitive out of our league," Smith-Stanco said. "We are really looking forward to section playoffs at the end of April, and State playoffs are mid-May. I think we have the chance to take this to a State level. So, in the next five years, absolutely, that will be the goal."
The coach also sees growth in Stunt, the sport. She sees great potential and positive elements coming out of it locally as well as nationally as more women become involved.
"You're seeing new college programs added every year," she said. "The University of Kentucky is one of the bigger schools that's just picked up a stunt program. College and high school wise it's the fastest growing women's sport in the nation. It's such an incredible opportunity."
Learn more: https://cheerschs.com/
More cheer stories: