By Lou Ponsi
For every championship season, there seems to be a turning point … a defining moment.
It's the instance you look back on and say that's when the season began to evolve.
For the CIF SS Division 4 champion San Juan Hills football team, that moment actually came after a 20-3 loss to rival Tesoro in the fourth game of the season.
The Stallions didn't play particularly well in that contest, not to mention linebacker Jonah Johnson, one of their best defensive players, was injured on the very first play of the game.
"I was so excited for weeks and months prior to play against them and to be hurt like that on the first play was really devastating," Johnson recalled.
Coach Robert Frith and every member of the team collectively vowed to not lose another game.
For the next nine weeks, they didn't.
The Stallions went on to crush every Sea View League opponent and defeat their first three playoff opponents on their way to the school's first ever CIF SS championship – a 21-15 victory over Loyola of Los Angeles on Nov. 30.
"To win CIF, it's like one of those dream seasons," Frith said. "It is just something I thought all of my coaching career. In order to have a good team, you have to have a good senior class, and we had a fantastic senior class… Our guys did a great job. They owned this team in terms of accountability, character, and work ethic. They set this tone as soon as last year ended."
Some on the team point to a Week-1 contest against Orange Lutheran as perhaps the season's telling sign that something special might happen.
The Stallions went toe-to-toe against the Trinity League's Lancers and despite losing 27-21 proved they could compete against some of the county's top teams.
"I'd say that set the tone," said Utah-bound defensive end Tyler Wegis, the Sea View League's Co-MVP on defense. "Throughout the whole off-season, we knew Orange Lutheran would be a tough opponent. When we came out there and competed and got close to the win, it was a morale booster."
"At the end of the day, we had that confidence that we could go out and play against anybody," Frith said.
The Stallions came away with 25-3 and 42-7 victories over Capistrano Valley and South Hills, respectively, over the next two weeks before losing 24-17 to Edison, another quality opponent.
After the defeat against Tesoro, the Stallions dominated Great Oak 35-7, and then defeated their four league opponents by a combined score of 176-34.
San Juan Hills then won playoff games against Murrieta Mesa, Hart, and Paramount, setting the stage for the CIF SS championship victory over Loyola.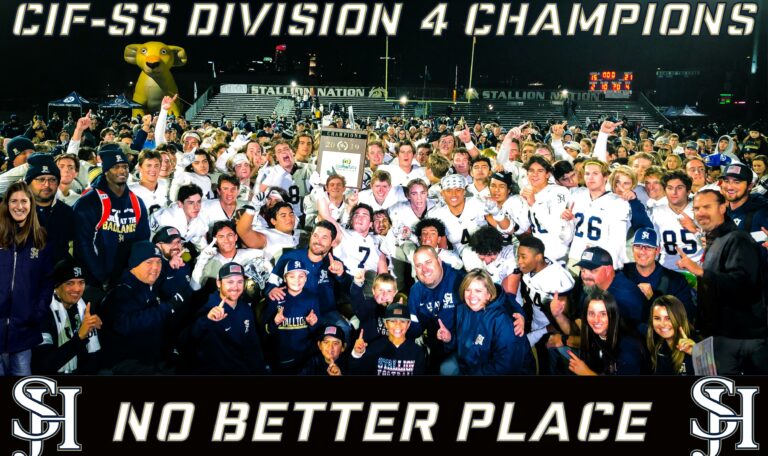 A week after capturing the Division 4 title, the Stallions advanced to a CIF Division 2-AA state playoff where their season ended with a 24-10 loss against Aquinas of San Bernardino.
"This season was definitely the most fun of all the years we've been here," said Washington State-bound receiver/safety Joey Hobert, the Sea View League's MVP. "There was the least amount of drama and we all connected in a different way and we backed each other up, no matter what. Even if we lost, we kept each other's heads up and never blamed each other on the field."
Austin Hogan, also earned accolades this season, and was named the league's Co-MVP on offense.
Parker Whitham, James Gaines, and Hudson Jones were also named to the Sea View League's First Team Offense.
"At the beginning of the year we played some tough competition," Frith said. "There was a time there where we had more losses than wins. Then we went on that nine-game winning streak and we really found our identity in all three phases of the game during that process."
First Team Defense honorees included Jonah Johnson, Bryce Crider, Jake Hall and Elliot De Groote.
"I just kind of thought that all of our hard work paid off," said Hall after the Stallions won the Division 4 title. "It was a very emotional season, so I'm glad we got the ring."