Students in the Capistrano Unified School District have a secret weapon when it comes to planning for post-high school life: Futureology.
The program, in its third year, helps students navigate their options, choose the right course for their individual goals, and provides an abundance of resources to keep students and parents informed.
Next month, Futureology, along with CUSD PTSA will host the annual College Fair on October 7. The event provides the opportunity for high school students and their families to learn about the many outstanding programs and options available at schools and institutions across the country!
"We're really small but we make a big impact," said Anthony Russomanno, College and Career Coordinator for CUSD.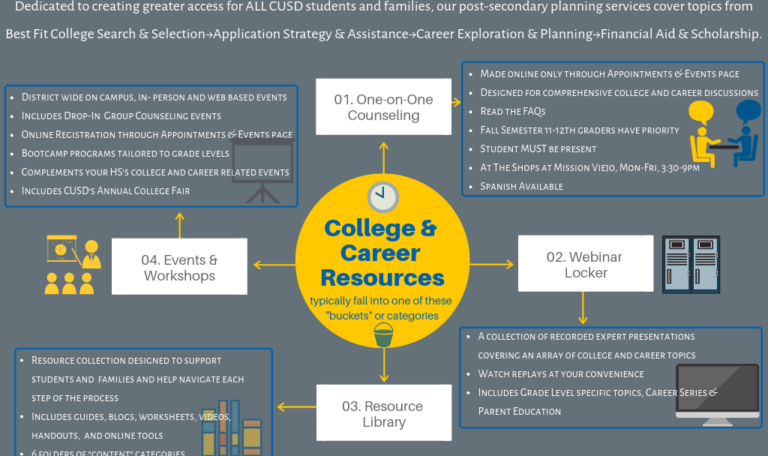 The four Futureology college and career counselors are based out of The Shops at Mission Viejo mall, but also visit high school campuses and hold webinars in order to be easily accessible. They also coordinate with counselors and advisors at the high schools.
"It's a wonderful relationship," said Assistant Principal Adam Ochwat of Capistrano Valley High School. Ochwat oversees the school's guidance program and recommends all students use Futureology. "It's a great resource for parents and students to get to that second level."
The Futureologists provide a mix of one-on-one counseling with parents and students after school hours, hold online workshops and webinars, group workshops, and presentations.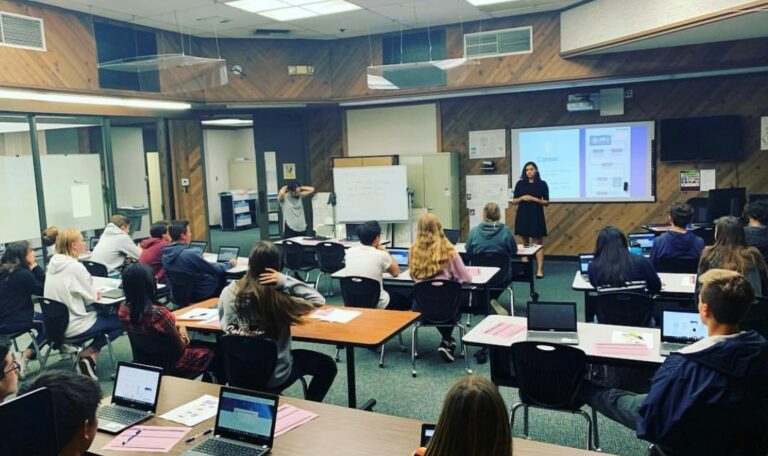 "For a lot of folks there is this anxiety around the process," Russomanno said. "They don't know if they're doing it right or they're on the right track on the timeline. Going to something that gives them that plan is probably the most helpful."
The Futureologists are especially helpful with choosing the right college for each individual.
"We try to give them the most options they can have," Russomanno said. "We can help guide them. We find out what's important to them, what experience they want, and make sure that school matches the experience they want to have."
For example, a student who wants to attend nursing school, prefers small class sizes, and enjoys city life can tailor their applications to nursing programs in large cities with limited class sizes. And Futureology can help them identify those campuses.
"Most kids that work with us are getting into 85 percent of the schools they apply to," Russomanno said. "That's part of the strategy. There's a lot of science to that instead of randomly picking schools."
The counselors are prolific — in just the last year they held 150 different presentations and workshops, Russomanno said, ranging in topic from creating resumes to athletic recruiting to career/technical education to college admissions.
That's more than double the number from the previous year, he said, in addition to the nearly 800 one-on-one meetings held in the 2018-19 school year.
"The workshops are a great way to check in and make sure they're on the right path," Russomanno said.
Most of the 30-minute to hour-long webinars and presentations are stored in the program's Webinar Locker for later viewing.
"We were definitely very, very busy," Russomanno said. "And just because you missed it doesn't mean you can't get that information. People are so busy nowadays they can't always make the live presentation."
When Ochwat gives school tours, he suggests parents and high schoolers review at least one webinar a week from the Futureology archives.
"Futureology is an area that really benefits kids, really benefits parents, and it benefits us at the schools," Ochwat said. "They can go deeper, broader, than we're able to do at the schools. They find a way to meet that need."
For more information, visit the Futureology webiste.
Tips from the Futureologists
Use the FAQ section of the Futureology website to determine when to make an appointment.
Come to your Futureology appointment with an idea of what you want to do after high school. "Before you pick your college you should have an idea of what you're interested in," Russomanno said.
Use the Resource Library to learn what needs to be done and when to meet your goals.
Don't miss the CUSD College Fair on October 7 at Capistrano Valley High School from 6-8:30 p.m. Representatives from over 150 Universities and Colleges, Technical and Trade Schools, Art and Film Schools, and Military Academies will be in attendance! Click here for more information.