By Lou Ponsi
Leah West made history recently when she became the first female football player ever from Dana Hills High School to score a point in a varsity football game.
West, an 18-year old senior, accomplished the feat when she kicked the extra point in the Dolphins 34-7 victory over Woodbridge on March 26.
The history making moment came in the second quarter after quarterback Bo Kelly's touchdown run gave the Dolphins a 26-0 lead.
West, who stands 5 feet, 6 inches, ran onto the field and drilled the PAT through the uprights to make the score 27-0.
"I was so focused," West said. "I don't remember doing it for the most part. I was in shock at first."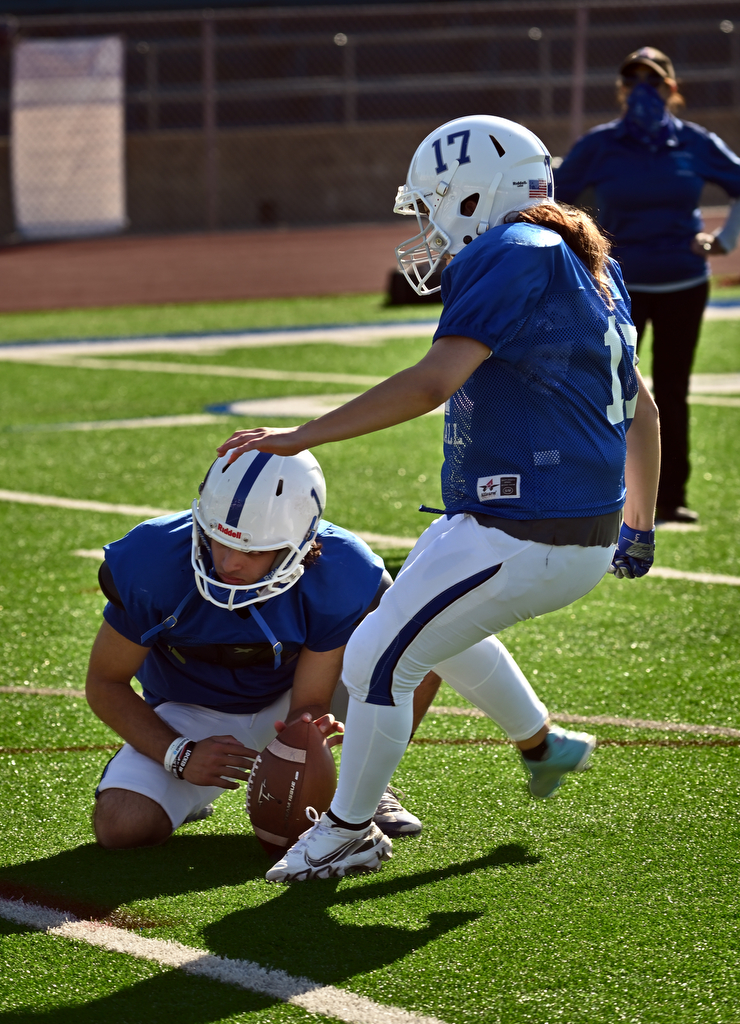 She does, however, recall headbutting with her holder, Kian Afrookhteh.
She got high-fives from teammates.
Her mother got the news and sent text messages to all her coworkers.
"Sometimes you just want a new challenge," said West, who comes from a soccer family and has played soccer most of life. "I'm always looking for something new to try. This is something that I know I will never forget and I just want to make as many memories as possible."
It was at the Dolphins homecoming game in 2019 where West's desire to play football was born.
"I felt the electricity of the entire event that was in the air and the excitement all around us," West said. "It felt really familiar to me. It felt like home and I said, 'I want to play this game so badly.'"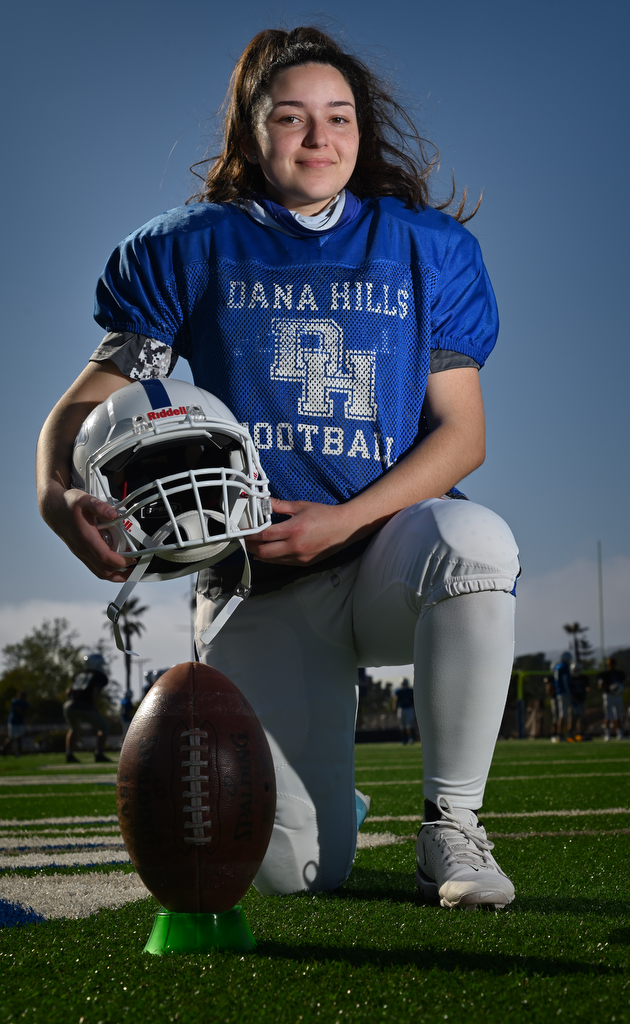 The week after the homecoming game, she bought a football and started practicing.
A few months later, West and a few friends approached one of the football coaches about joining the team.
"I told her right from the beginning that this is a sport that takes a lot of dedication," said Micki St. Germaine, the Dolphins' special teams coach. "I said, 'you are going to have a lot of obstacles up and down but you know what, you can do anything you want. It depends how badly you want to stick it out and how badly you want it.'"
Afrookhteh, the Dolphins' starting kicker, has taught West some of the finer points of the position while also serving as a mentor. Being a kicker can be pretty lonely sometimes, Afrookhteh said, so having another kicker around has been a joy.
"I think the big thing is that we just treated her as part of the team," Afrookhteh said. "She is probably at every lift and every meeting. I don't think she has missed one."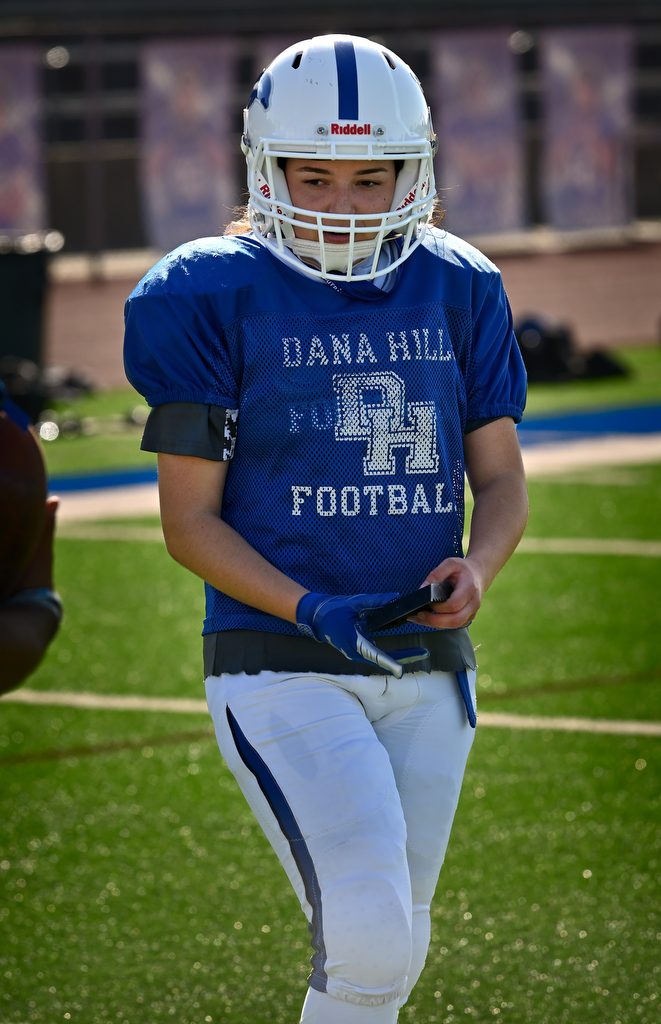 West hasn't given up soccer, either, and currently plays on an under-19 AYSO team.
On some days, West attends football practice and lifts weights with the team, then heads to soccer practice.
When the coronavirus surged in 2020, West's desire to play football was nearly derailed months before the season even started. Many weren't sure there would even be a season.
"I really never gave up hope," West said. "I never really set in stone that we weren't going to have a season. I couldn't imagine that."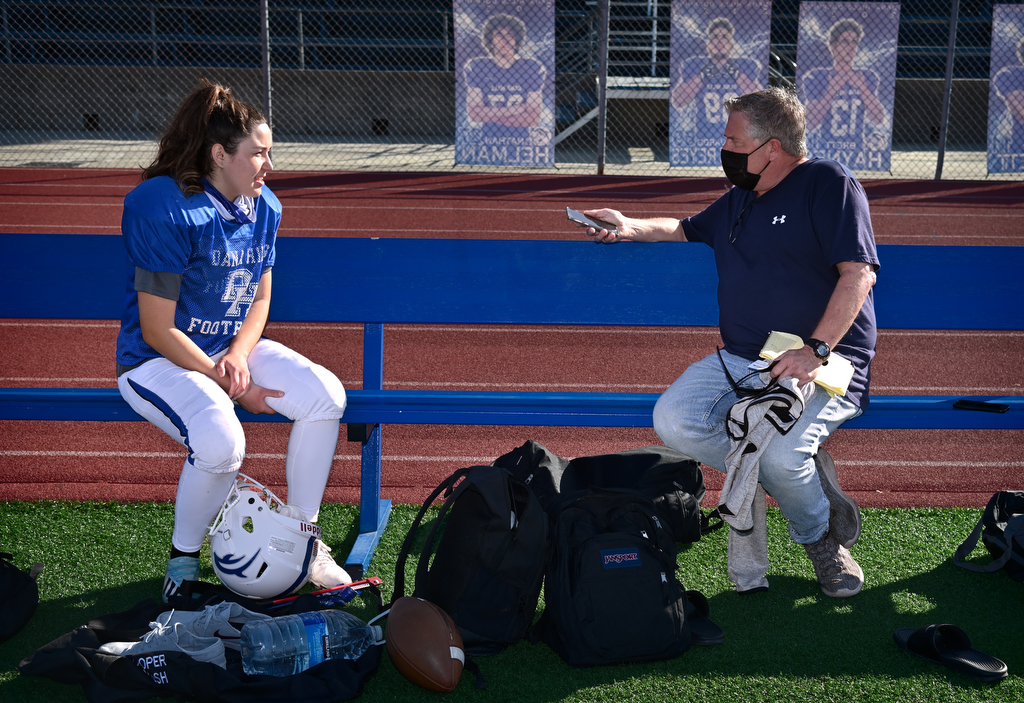 West wants another shot at kicking an extra point. But more than that, she also hopes to punt at least once during a game — even though punters are often in the position to make a tackle during a play.
"I'd love to make a tackle," West said. "It would be really fun. I don't know why, but I'm not scared."
Women before West have also made their mark playing football.
On Dec. 25, 2002, while playing in the Las Vegas Bowl for the University of New Mexico, Katie Hnida became the first woman to attempt an extra point during a Division I college football game. That kick was blocked, but then on Aug. 30, 2003, Hnida became the first woman to score in a Division I game when she kicked two extra points in New Mexico's 72-8 victory over Texas State.
"A lot of women are stepping up and we're trying to break different glass ceilings," St. Germaine said. "They are realizing they can pretty much do anything they want."