By Lou Ponsi
In only its fourth year of existence, the Capistrano Unified School District robotics team has showed it can not only compete, but excel, finishing first in multiple competitions.
When the coronavirus struck, CUSD's Team 5199 Robot Dolphins from Outer Space was forced to shift gears. In pre-pandemic times, competitions consisted of robots performing a variety of skills on outdoor fields against other schools. But in 2021, competitions were held virtually and instead of competing in real time, teams were required to produce videos of their robots performing each skill.
At the prestigious international FIRST Robotics Competition held virtually in April, Team 5199 and its bot "Ness" came in second place in the 30-team Argon division and finished 18th amongst all divisions combined — that includes 1,412 teams.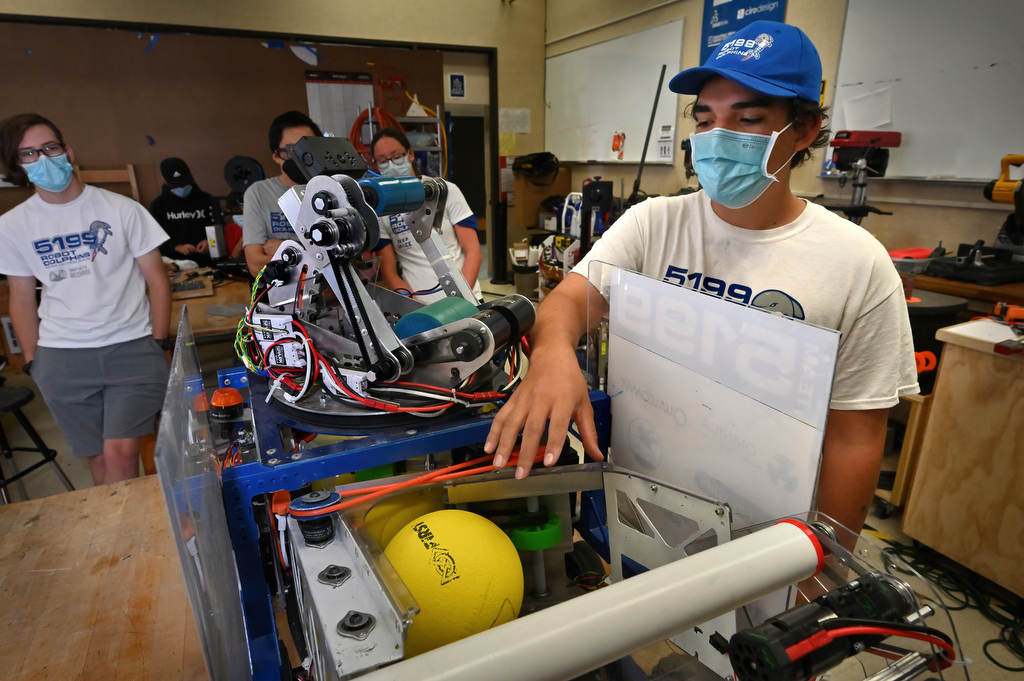 The team includes students from Aliso Niguel High School, Capistrano Valley High School, Dana Hills High School, San Clemente High School, San Juan Hills High School, and Tesoro High School. The team also includes students from Laguna Beach High School, which is in the Laguna Beach Unified School District.
Heading into the 2020-2021 school year, Team 5199 had captured first place finishes at regional robotics competitions in Los Angeles and Ventura and finished second place in its division in at Minute Maid Park in Houston.
Competitions typically require teams to maneuver their robot around a course within a certain period of time or shoot balls at a target. In some events, the robots are pre-programmed to perform routines without being controlled by a human. Teams usually participate in five categories, with scores being determined by tallying the best scores in three of the five categories.
While competitions are fun, the true purpose of the robotics program is to prepare participants for careers in science, technology, engineering and math, commonly called STEM, said Richard Jung, the head robotics coach of Team 5199.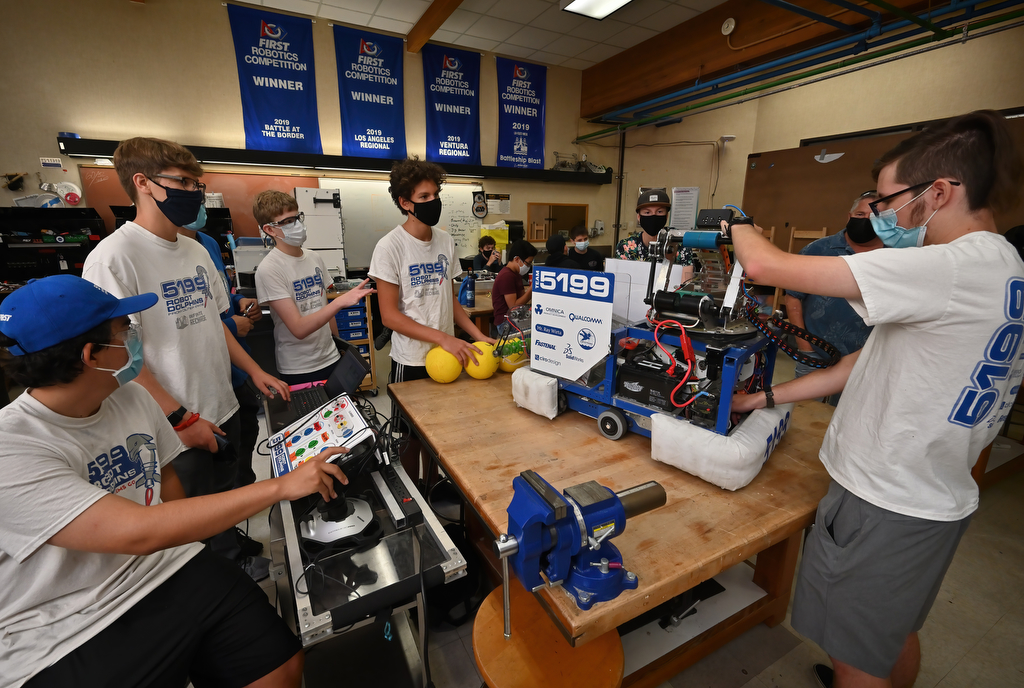 Robotics students learn hands-on fabrication, engineering and CAD skills and are exposed to electronics, programming and pneumatics systems.
"This is the premier program for almost anybody going into STEM or engineering," Jung said.
Capistrano Valley High senior Morginne Malloy, who has been a member of Team 5199 since her freshman year, said engineering and robotics have always been passions for her, and she knew her involvement with the robotics team would give her plenty of hands-on experience going into college.
"When I saw how big the robots were, I was hooked," said Malloy, who will attend UCLA. "I feel like it really prepared me for college. I feel like everything I learned off of this will be very good for clubs, for internships, and really for jobs and just getting in with a head start. All of the other students who haven't done this, I feel like I have a leg up against them, because I know how to pretty much build a robot."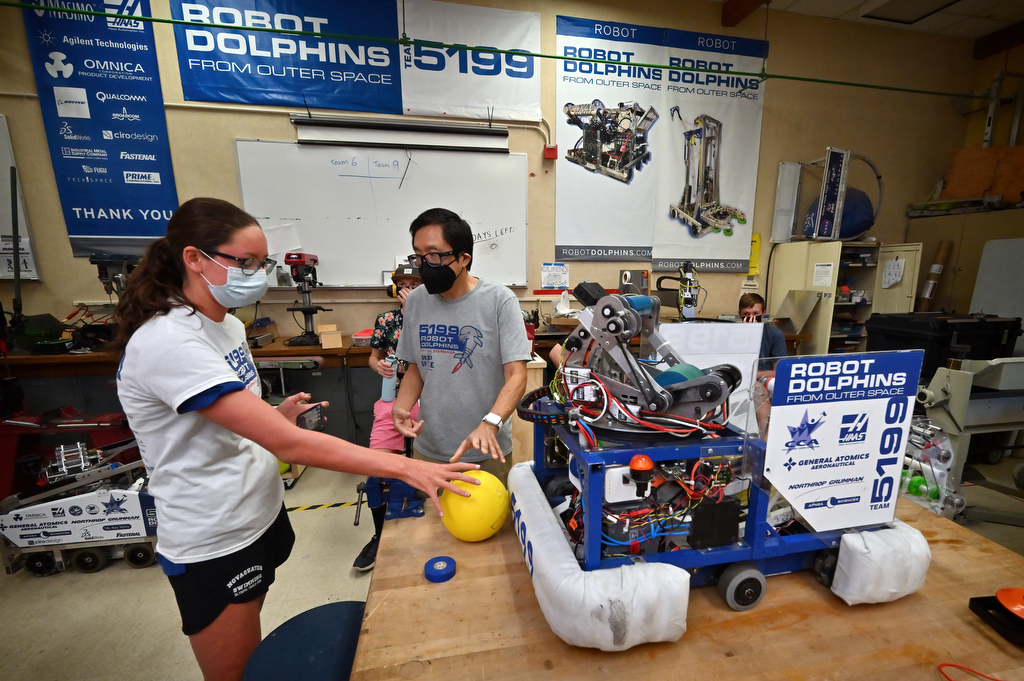 As technical director for Team 5199, Capistrano Valley senior Vaughn Schaaf's responsibilities include making sure Ness is ready for competitions. Wanting to pursue a career in mechatronics, Vaughn said being part of the Robot Dolphins has given him the skills to work with a team toward a common goal.
"As soon as I saw the program, I knew I wanted to do it," Schaaf said. "I think just the complexity of the bots and being able to make such a great complex mechanical masterpiece from nothing."
In the same way the members of a pit crew vehicles on racetracks, robotics teams have a pit nearby to keep their robots in top form during competitions.
Hunter Johnston manages the pit for Team 5199. Johnston graduated from Capistrano Valley High School last year and returned to serve as a mentor for the team.
"I've always been fascinated with what a pile of scrap can become," Johnston said.
The CUSD robotics program offers beginning and advanced classes with both levels being taught at Capistrano Valley High School.
Check out more stories about CUSD's Team 5199, Robot Dolphins from Outer Space:
Robot Dolphins turn to virtual robotics events, learning, helping during pandemic
Following a successful year, Robot Dolphins Robotics Team prepares for competition

Innovation Showcase provides educational fun, from robots to bearded dragons
Districtwide Robotics Team has Most Successful Season to Date
Districtwide Robotics Team Wins 1st Place at L.A. Regionals
CAPISTRANO UNIFIED ROBOTICS TEAM QUALIFIES FOR WORLD CHAMPIONSHIP