By Greg Mellen
In the 2019-2020 school year, in just its second year of existence, the San Juan Hills High Business Management Pathway shocked observers by qualifying for the Virtual Enterprise national championships, where high schools build faux companies, bring them to would-be markets, and pitch them to real business investors..
San Juan Hills' dark horse days are ancient history now, as the program completed its third consecutive foray into national competition in April at the 2021 Youth Business Summit. The event is the foremost competition in the country designed to teach future entrepreneurs how to build viable businesses.
Last year, the program rode the idea of an eco-friendly footwear company, called Sole Purpose, to new heights, winning a top $10,000 prize in the national competition, as well as claiming the state title at the California State Conference & Exhibitions. The contest is put on by the nonprofit Virtual Enterprises International.
San Juan Hills' rapid climb was an unexpected success story for a program in only its third year. However, in business, as in life, you are only as good as your latest success. So, at the ripe old age of four, somewhere between callow and wizened, San Juan was back at it during the turbulent pandemic year earning yet another appearance at the national finals.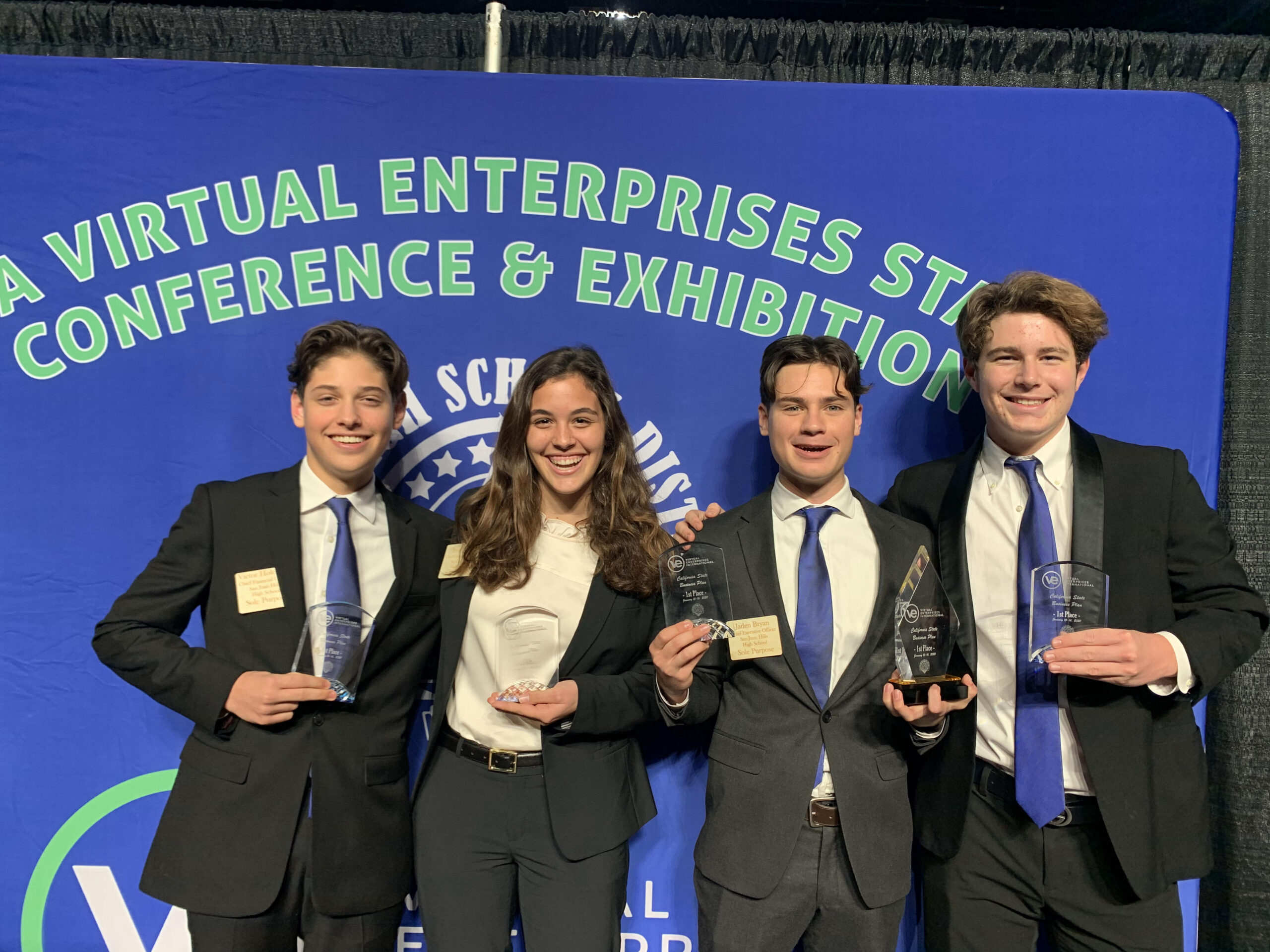 For the second straight year, the competition, which had been staged in New York in pre-COVID years, was held virtually.
San Juan captured the crown with a hastily created 2020 VE Social Impact Pitch.
With the victory and the $10,000, which could have been used as seed money, Sole Purpose had dreams of launching an actual shoe line or partnering with a local shoemaker, such as Orange County's Vans. However, the pandemic essentially wiped out that idea.
This year's squad again qualified for the nationals with a new iteration of Sole Purpose, and put together a full virtual business proposal before a panel of industry leaders. While the business plan team did not reach the top six in its competition, the marketing team claimed a top six finish and the finance team reached the nationals in the Quickbooks challenge.
From a fledgling program, the business pathway at San Juan Hills has already entrenched itself as a perennial contender.
Jeremey Wooten, who leads the school's business program, said for the school to reach the nationals in the business plan category, the toughest and most competitive of the divisions, three straight years is quite a feat.
"That's the big one and the most difficult because you have to be top six in your state," he said of the business plan competition, which requires across-the-board excellence in all phases of business.
The high school program, which can be taken across multiple years, began with just one virtual enterprise class of 14 students. That has now doubled, which ensures a rotation of kids who know what it takes to succeed.
This year's marketing team of juniors Ryan Mossbarger and Sam Gugliuzza are expected to return as seniors and will give the program a leg up heading into the competition season. This is invaluable, according to Wooten.
"It's hard to explain until you go through it," Wooten said. "They help teach new students what it takes. They take leadership roles."
It's tempting to want to call this year's virtual enterprise effort from San Juan Hills High "Re-Sole" or maybe "Sole Purpose 2.0."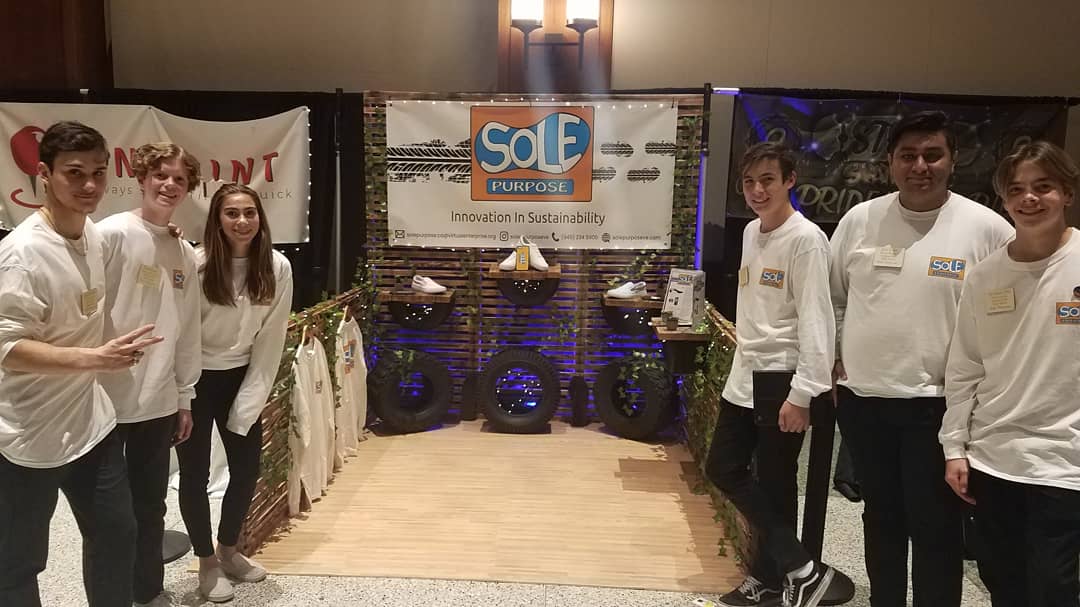 Wooten said in Virtual Enterprise competitions, products often have a shelf life of two years, and the running shoe idea, which recycled rubber from disposed tires, certainly had legs. The first year is about creation and launch. In the second year, teams often modify and polish the product. For example, this year Sole Purpose changed its manufacturing and moved the process from China to the local economy. The group also had to look at new machinery to break down and repurpose the used tire rubber that makes up the sole of the shoe. There was also rebranding and the introduction of new shoes to the line.
"They had a lot to do rescaling costs," Wooten said, "just trying to figure short, intermediate and long term goals."
The business program is part of Career Technical Education (CTE) for the school district. College and Career Advantage is the regional occupational program (ROP) that provides CTE for the district including the Virtual Enterprise/Business program at San Juan Hills High School.
The College and Career Advantage program – a joint partnership of Capistrano Unified and Laguna Beach Unified School Districts – provides high quality, relevant and engaging career technical education across the region that prepares students for career and academic success.
CCA offers hundreds of classes in sectors ranging from engineering, aviation and robotics to design graphics and broadcast journalism.
In addition to the awards and opportunities, the business program's classes fulfill the mission to prepare students for college or a career. The school district describes the Virtual Enterprise classes as "a collaborative learning environment that offers students hands-on, real-world experience in business."
Students begin with Business 1, which provides an overview of business concepts and practices, including "forms of ownership, management, finance, marketing, production, competition, technologies, global business, entrepreneurship, legal considerations."
Next year, the Sole Purpose alumni will have some big shoes to fill as they will have to find a new purpose. Previously San Juan Hills launched a mock stock market business (InVEst) using cryptocurrency. Their maiden voyage, with a company called "Ex Nihilo," which is Latin for "out of nothing," was a subscription service venture.
"We'll get together in August and see the issues they want to tackle," Wooten said.