By Bradley Zint
With some Capistrano Unified School District students participating in online learning during the coronavirus pandemic, school counselors are finding innovative ways to engage with students navigating an online learning world.
New this fall, that effort now features virtual office spaces populated by friendly Bitmoji versions of the counselors themselves. Bitmoji is a popular online system that lets users create their own cartoon likeness.
The offices, which are accessible by both students and parents, share some similarities but are still customized. Counselors have used the software to make their offices an inviting place to hang out in, with some containing calm down centers and mindfulness exercises.
What's more, they're chock full of essential resources that students need, from digital books to inspirational messaging like, "You're awake. You're awesome. Live like it." Students and parents can click on various links to explore the spaces.
How the Bitmoji offices came to be involved some trial and error from last spring.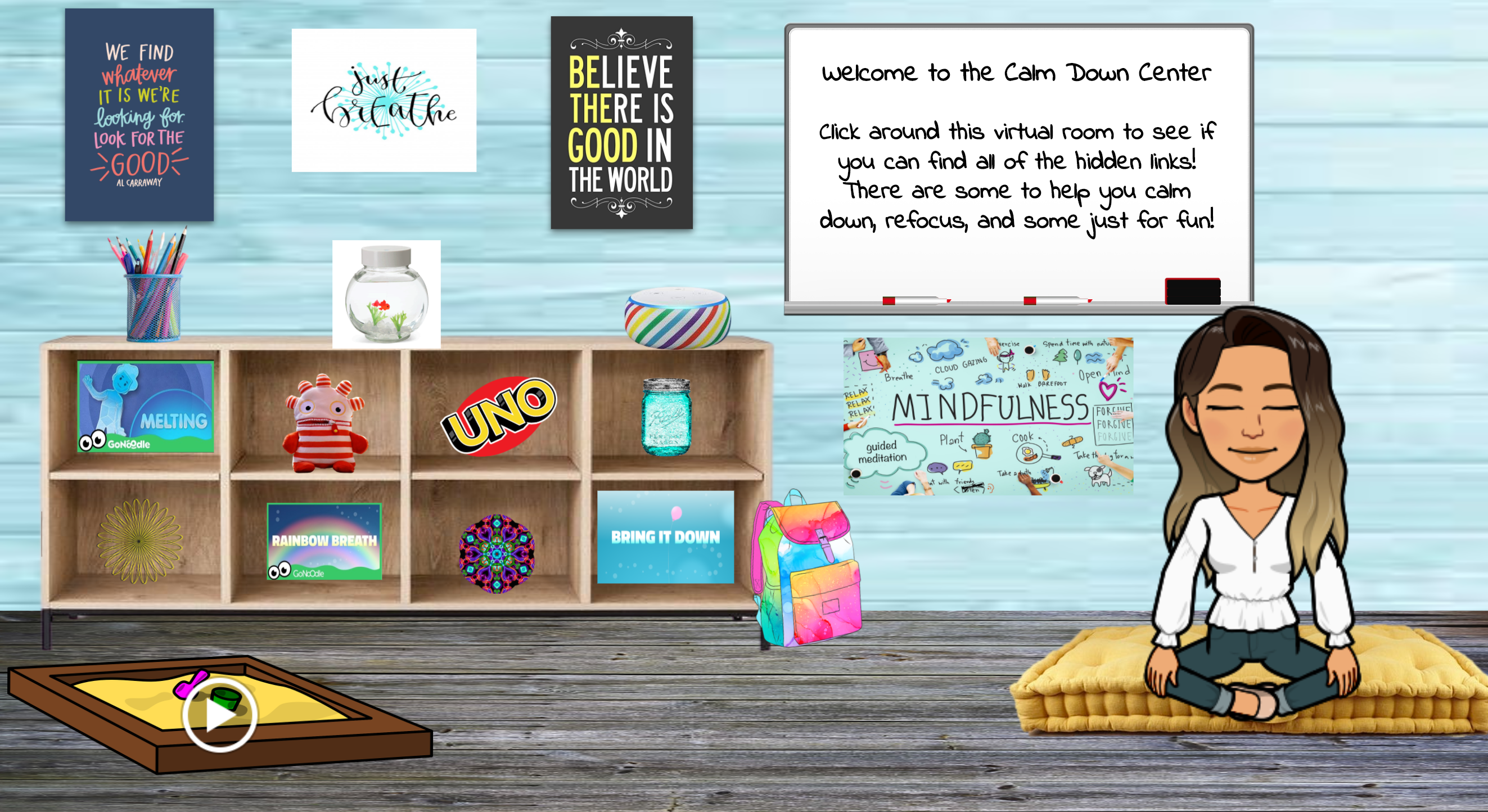 Rebecca Pianta, Capo Unified's coordinator of counseling and student support, said her team noticed something was wrong last school year, when the district was forced to close its campuses and shift everyone to an online-learning basis.
Counselors' normal outreach methods weren't working, so the counselor team looked at alternatives.
"For some students, it was super hard to engage them," Pianta said, "so we had to think about ways to get their attention."
Counselor-related rules in the digital world remain the same as those in the physical world, school officials noted. With few exceptions, that includes what is said in the room stays in the room.
Lorena Salter, counselor at Don Juan Avila Middle School, personalized her Bitmoji office with some cameos of her German shepherd, Ace, and a section introducing herself. These are alongside all the other resources. 
"It's so visual. A lot of students gravitate to it," Salter said. "With distance learning, we don't get that face-to-face interaction, so we try to make it as personable as possible."
Pianta added that customizing the Bitmoji offices allows counselors to feel less intimating for students and more like everyday, normal people.
"We really want to make it a point for counselors to share parts of themselves to the students," Pianta added. "It reduces some of the stigma."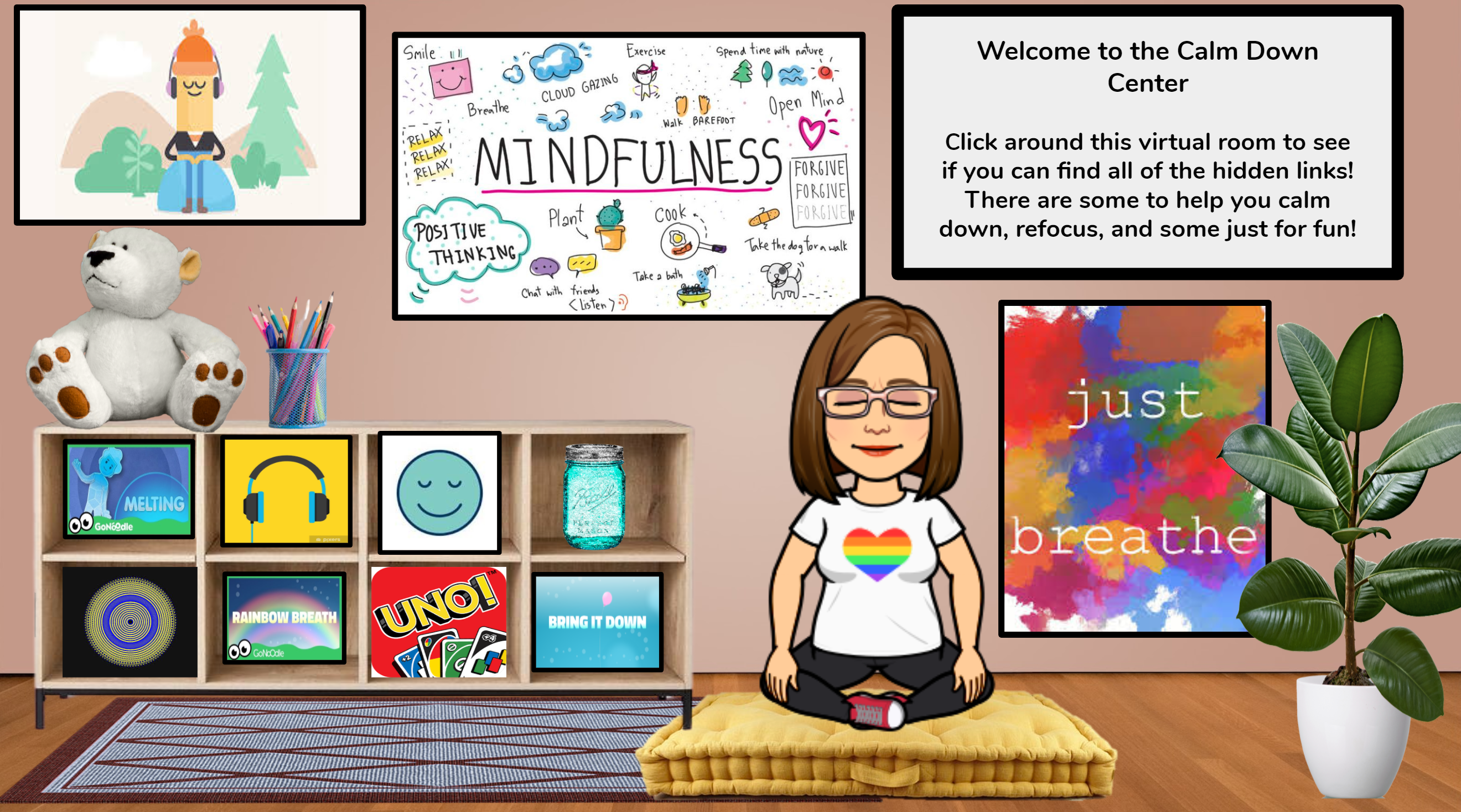 For her office, Trisha Calkins, counselor at Marian Bergeson and Ambuehl elementary schools, put an image of her Bitmoji dancing in mid-air, with a boom box nearby. 
Her space contains a "growth mindset" room with books focusing on that initiative about never giving up and knowing one's endless potential. It also has "second step" section, which focuses on building emotional skills like empathy and problem solving, and a "calm down center" with mindfulness exercises available.
"It's a lot of fun," Calkins said of her space.
Alex Todd, counselor at Oso Grande and Esencia elementary schools, offers a parent counseling resource center in her Bitmoji office. 
Pianta said the response to the Bitmoji offices has been positive so far. Students explore the spaces during their extended learning time, and take advantage of the calming and reading rooms.
Julie Chutuk, Kinoshita Elementary's counselor, added a social justice space to her room.
"Never be afraid of things you don't understand," her room declares. "Instead, have empathy and seek to learn."