By Lou Ponsi
San Clemente High School's AVID students are being accepted into college in record numbers.
The school launched its AVID program 20 years ago with the goal of providing an underserved population of students, many with virtually no chance to get a post-secondary education, with the tools and initiative to earn admission to a college or university.
In the 2021-22 school year, 100 percent of the students in Erin Dollar's AVID class were accepted to two or more colleges and received more than $16.3 million in combined in financial aid offers from colleges — nearly twice as much as the previous year, said Dollar, AVID Coordinator at San Clemente.
Of the students going on to college, 85 percent earned enough scholarship money to go directly to a four-year school, which far exceeds the national average, Dollar said.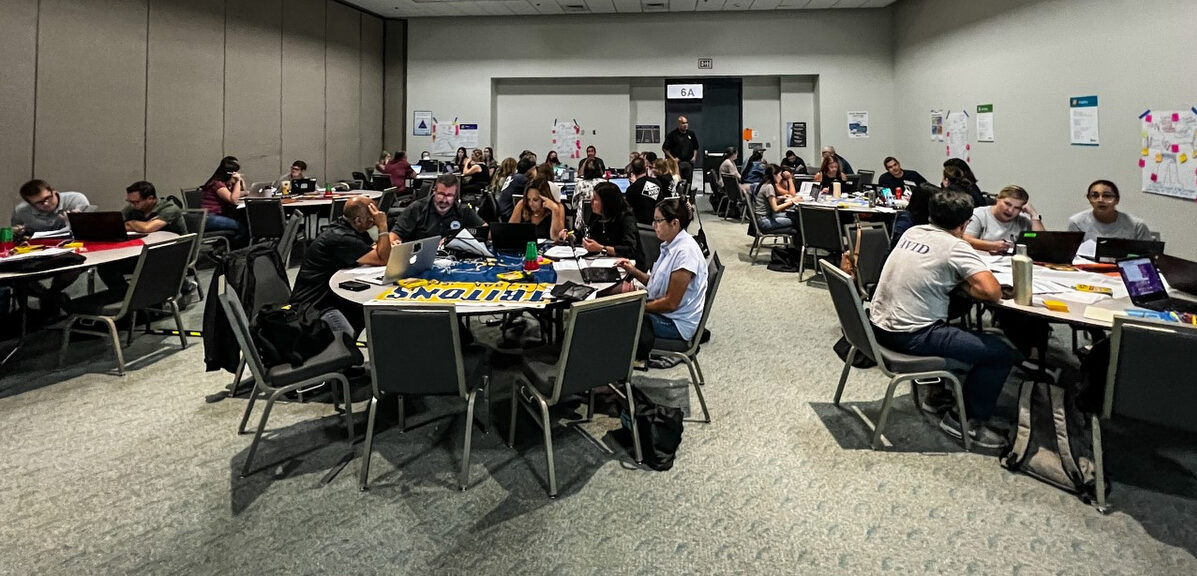 AVID, which is an acronym for Advancement Via Individual Determination, has proven to be so successful at San Clemente that the curriculum now is being taught at all but one high school, two middle schools, and two elementary schools in the Capistrano Unified School District.
Students in AVID learn brick-and-mortar skills such as note taking, class selection, and essay writing, Dollar said, while also learning intangibles such as self-advocacy and responsibility.
"It is really based in that individual determination aspect for the student," Dollar said. "So, we ask the students to be the ones emailing the teachers, the students to be the ones seeking out or signing up for community service opportunities."
Dollar has many stories of AVID students who entered the program with seemingly limited educational opportunities who then found multiple college acceptance letters in their inboxes and mailboxes.
Among the most inspirational examples of AVID success is 2022 San Clemente graduate Lexi Phalen, 18, who was born on the East Coast to teenage, drug-addicted parents and was shuttled from one toxic, abusive situation to another. Phalen had poor grades and made her own unhealthy choices before finding stability with an adoptive, loving family in Capistrano Beach.
Having come through the AVID program, Phalen became an Honor Roll student and is now days away from starting college at Samford University in Birmingham, Alabama. She was chosen to be a keynote speaker at the AVID Summer Institute Conference held in June in San Diego. Phalen delivered her speech in front of 5,000 educators, including 82 from CUSD.
"Four years ago, I didn't believe myself capable of graduating high school, let alone enrolling in advanced classes and being recognized on the Honor Roll," she told the audience. "Joining AVID quickly became the best decision I ever made. The amount of support I received from my AVID teacher, Ms. Dollar, is beyond what I could ever ask for from anyone. Walking into the AVID classroom every day throughout the years felt like a home away from home, the same room, the same students, allowing me to be comfortable and learn to value and take pride in my learning."
Early on, Dollar was the only AVID teacher and could accept only about half of the 80 freshmen who applied for the program at San Clemente High. Another section was added to enable the program to expand, San Clemente Principal Chris Carter said. Currently, there are about 80 AVID students in each of the four grade levels.
"Your child will have the tools necessary and all the prerequisite work done so that when it comes to application time, you're ready to go," Carter said. "And parents realize that. It's a lot cheaper putting a student in AVID than paying for a private counselor. AVID will do it for you. It really teaches the kids how to be prepared."
San Clemente is currently going through the rigorous application process of becoming an AVID National Demonstration School, which would allow representatives from other schools and school districts to visit San Clemente High to see AVID in action.
Teacher Lindsay Mariani has been teaching AVID at San Clemente for four years and just saw her first group of four-year AVID students graduate from high school.
The most rewarding aspect of shepherding the same group of students for all four years of high school is watching them push past the self-doubt and fear and going on to accomplish what they thought was impossible, Mariani said. All 27 of Mariani's students have been accepted to college.
"I can kind of compare it to the way that a parent sees their own child just kind of blossom and flourish," Mariani said. "(Seeing them) accomplish it and just seeing them take pride in themselves, it's incredible. It was really amazing. Becoming an AVID instructor is the single best decision I made since going into public education 17 years ago."
AVID students get a grade, which is based on their participating in the class itself, along with their efforts in their other classes and at least 50 hours of community service. Students are in the AVID class for five hours per week and are tasked with researching colleges and scholarship opportunities and understanding college-connected vocabulary. Students learn that the choices they make as freshmen will impact their academic opportunities as seniors, Dollar said.
"We have to start the conversation that early because it is so much and it is so multifaceted," she said. "It is a big concept to ask them to understand, and to understand that it is only a couple of years away."
AVID was founded in San Diego in the early 1980s for first-generation, low-income students who were potentially high achieving.
"Our core group is always going to be students in that first-generation or historically underrepresented," Dollar said, "but they have opened that up to all students now and that is a great thing."