As the marine layer began to obscure the sun above LeBard Stadium at Orange Coast College on Tuesday afternoon, the graduating Class of 2019 from Tesoro High School began filling the seats on the field to warm cheers from their loved ones in the stands.
The speeches at the commencement ceremony in Costa Mesa touched upon themes common to all graduating high-schoolers: how time quickly passes, relishing achievements, the huge question of what's to come.
But the ceremony was uniquely Titan.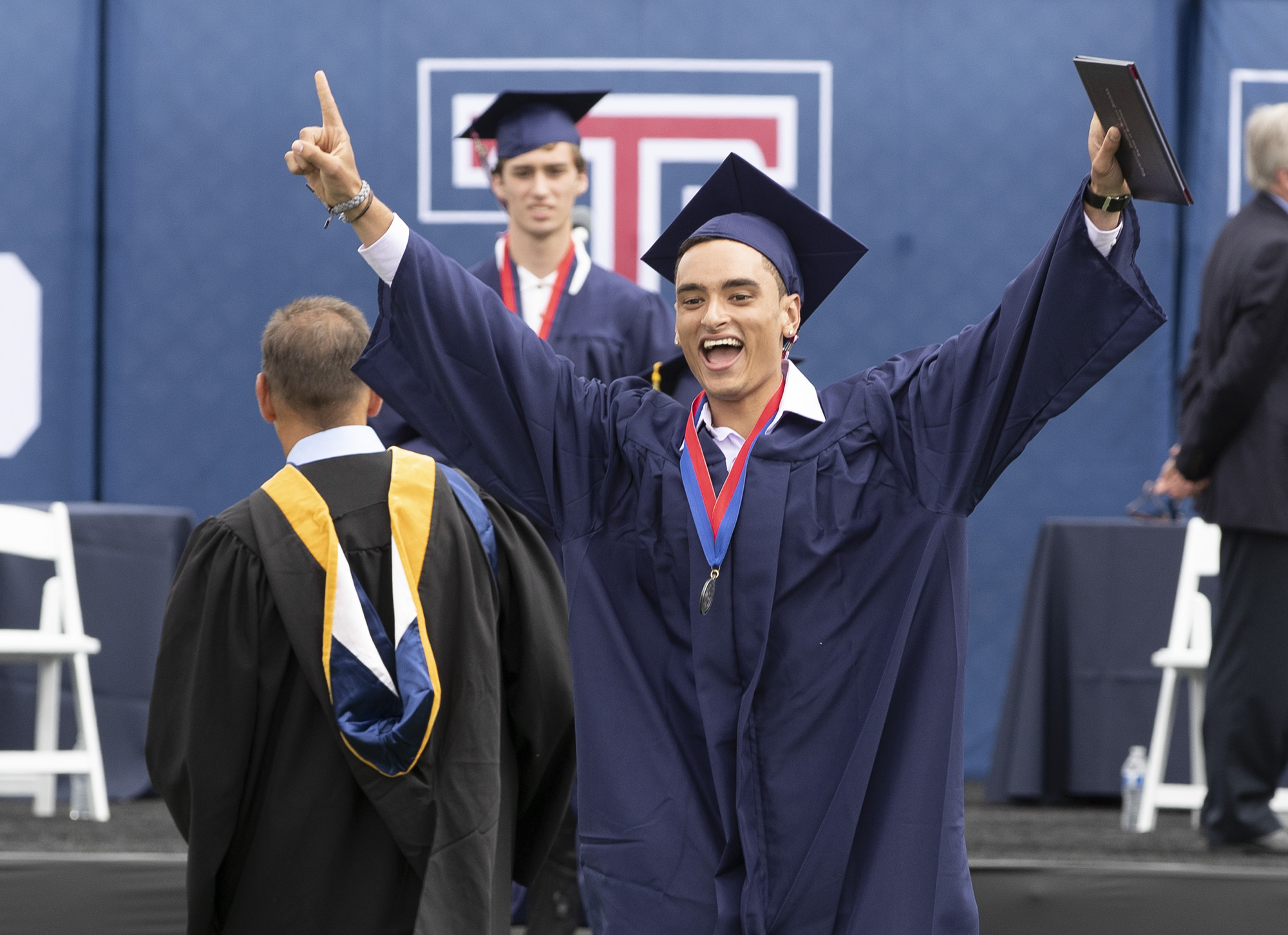 "Senior year treated us well," Olivia McLeese, one of numerous Tesoro High valedictorians (4.0 GPA or higher), said in her commencement address.
"We got a new building with big kid lockers," McLeese said. "Unlike junior year, we finally all got parking."
Jim Reardon, board member, Capistrano Unified School District, presented the diplomas.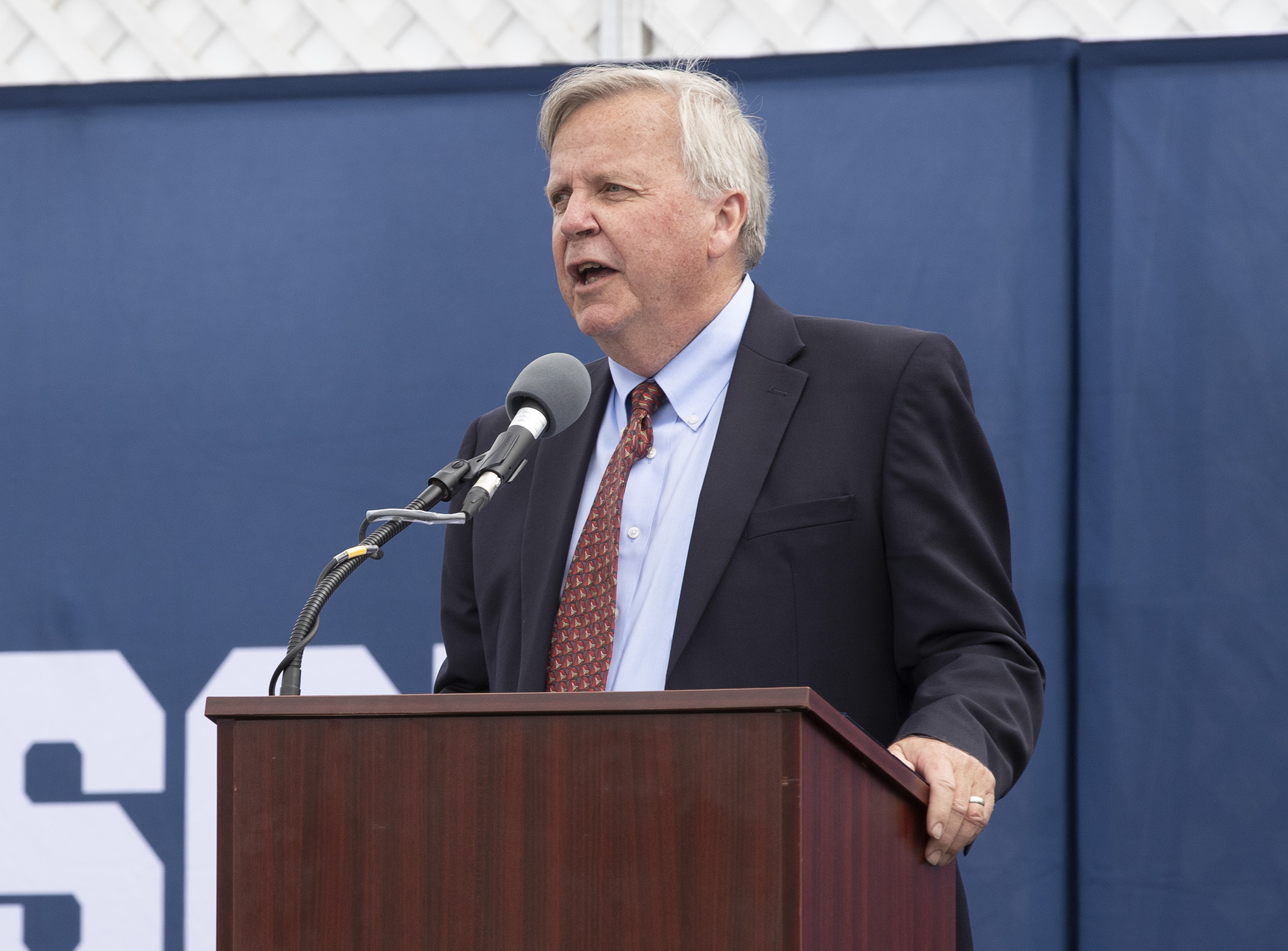 Tim Brooks, associate superintendent, Capistrano Unified School District, Human Resource Services, assisted Reardon, along with Bradley J. McGirr, mayor pro tem, Rancho Santa Margarita.
Valedictorians wore white gowns with yellow sashes. Brigette Deneault, Scholar of Scholars, wore cardinal red. The other graduates wore blue gowns.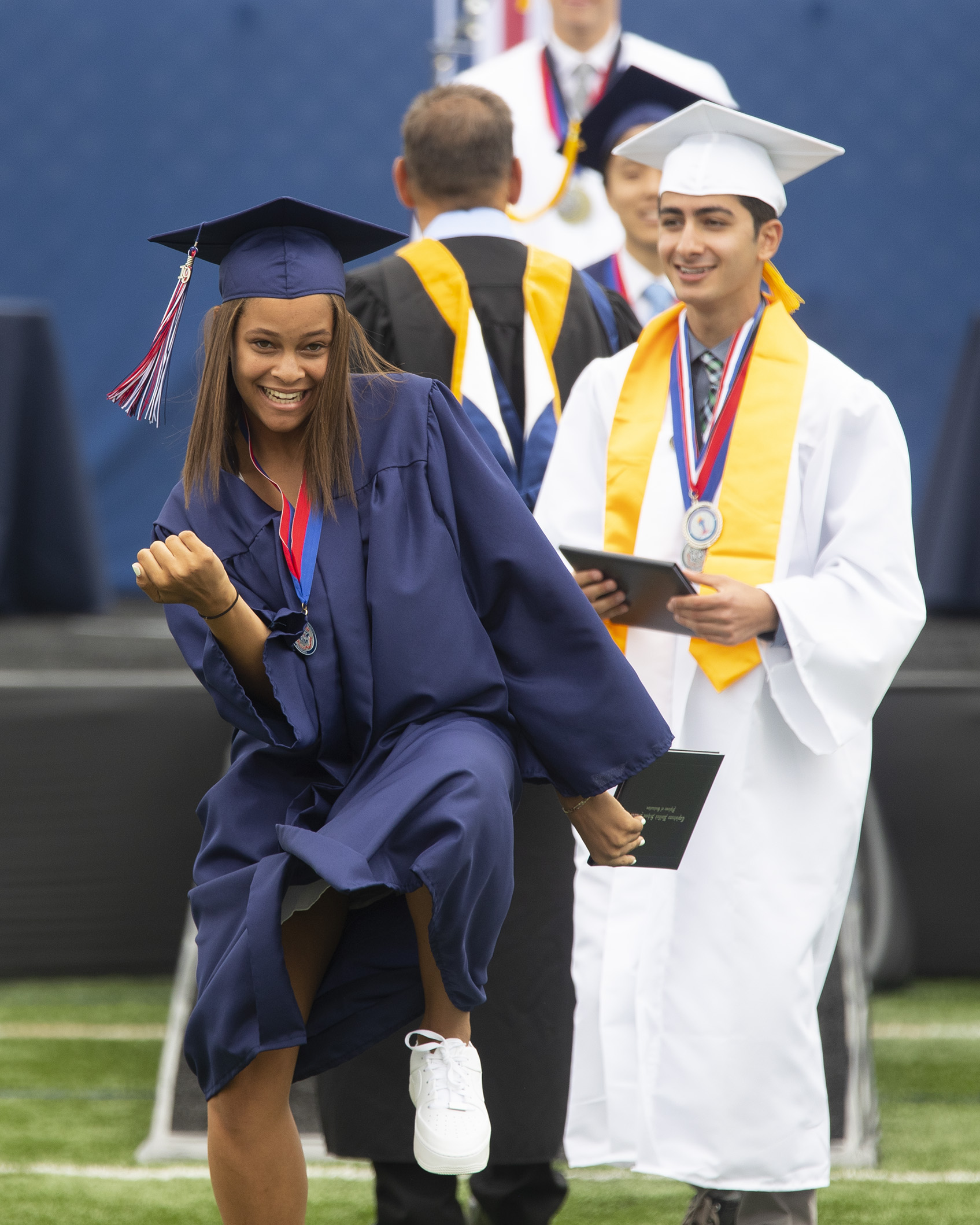 At Tuesday's ceremony, Erica Tran led the Pledge of Allegiance, and Natalie Pappalardo sang the National Anthem.
Tesoro Principal Ken Ezratty delivered a welcoming address.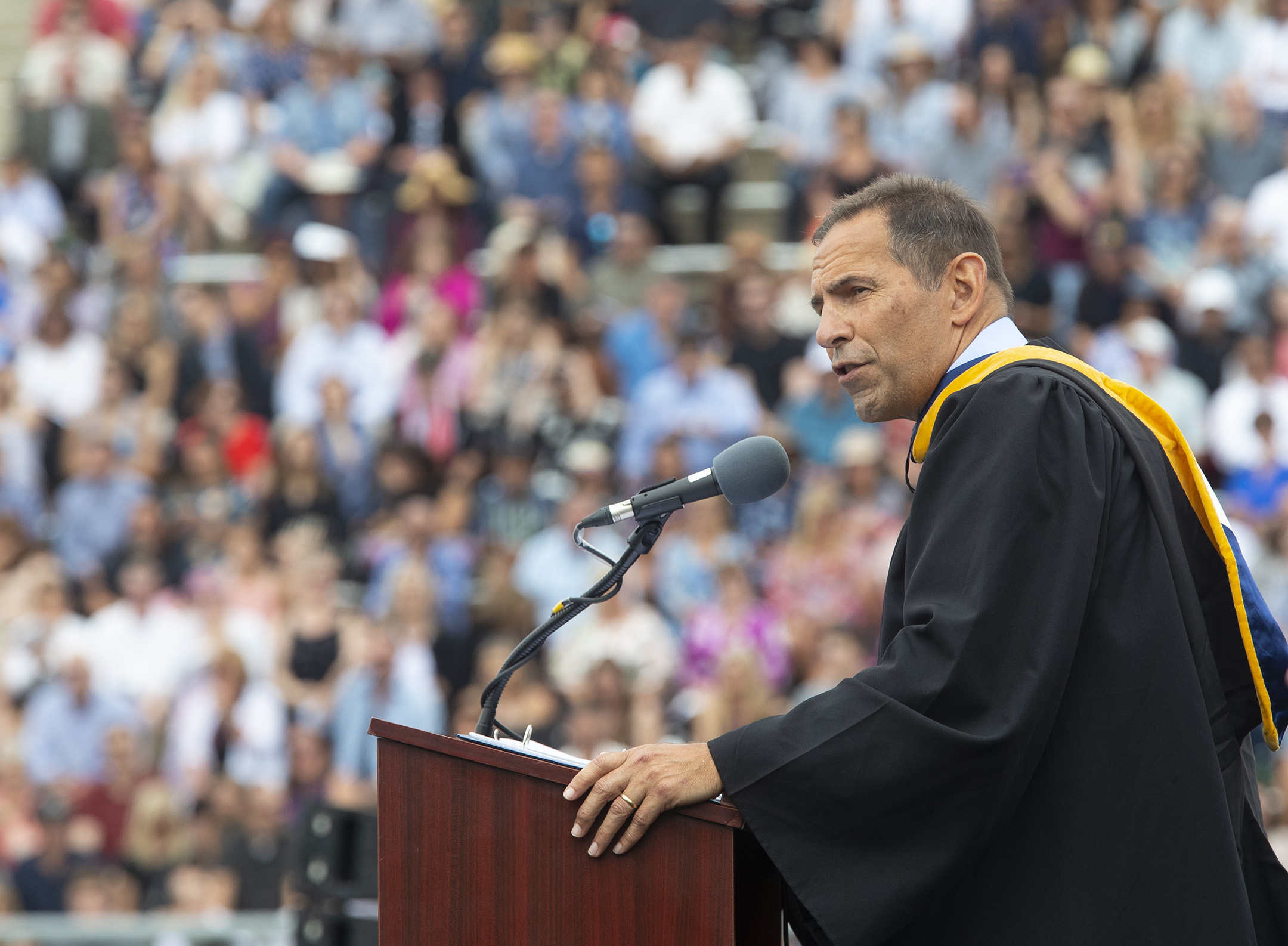 "Thank you for sharing your wisdom, strength and honor with me in my inaugural year at Tesoro," Ezratty told the students. "I know this has been home to most of you for the past four years, and I am so fortunate you welcomed me with open arms and showed me what it's like to be a Titan. I wish I could have spent four years with all of you."
Ezratty called the milestone of graduating from high school a time of remembrance, excitement, and a little trepidation.
"Trepidation because milestones are not just about the past, or the present, but they are about the future," Ezratty said. "Mixed with remembering the past and the excitement of today is a sense of transition for what is coming next.
"What has been familiar for the past four years will be replaced with uncertainty. Daily patterns and roles will be stripped, new friendships will be formed, while other relationships will evolve or dissipate…..
"So embrace this metamorphosis. You will have setbacks, but that is how we grow and evolve."
In her commencement address, Deneault told her classmates that if they make the right choices, they can have everything they want.
"The catch is," Deneault said, "you have to be willing to work for it."
She noted that the Class of 2019 has many "overachieving" students.
"There were lots of tears, but then there were also a lot of smiles," Deneault said. "In the end, I know we will all be happy wherever we end up."
Deneault ended her speech with a favorite saying she calls her life motto:
"Never let anyone dull your sparkle."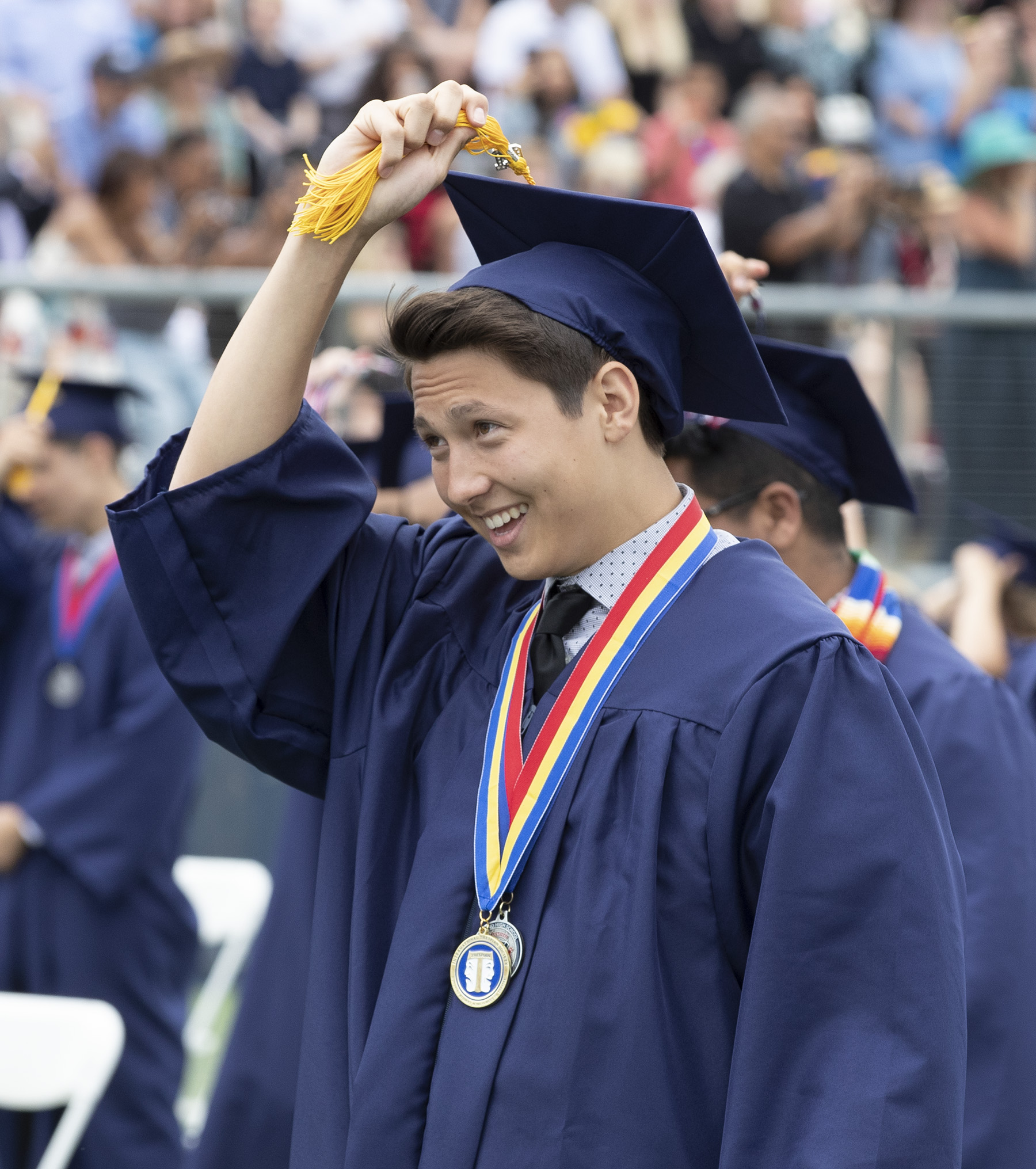 In the third and final commencement speech by a student, Collin McGregor, one of five Titan of the Year finalists, recalled his initial impressions of the school:
"As I drove down Oso (Parkway), I glanced down into the valley and saw daunting gray walls, an enormous concrete lot, and a sea of portables surrounded by hills that marched on forever.
"I looked at my mom and remarked, "You're sending me to prison."
McGregor now calls Tesoro High his family.
"I owe so many things to Tesoro and I guess it's suitable that I call it my home because there have definitely been times where I've spent more time here than at my own house," McGregor said.
Counselor Erin McMichael then introduced the graduates, along with Academic Advisor Linda O'Donovan.
After Reardon, Brooks and McGirr awarded the diplomas, Ezraty presented the Class of 2019. Reardon then accepted the Class of 2019.
Senior Class President Francisco "Paco" Hernandez and Senior Class Vice President Avery Roldan led the Turning of the Tassel.
For more graduation coverage, visit CUSDInsider.org.