The speeches delivered by Capistrano Valley High School graduates on Thursday, June 6 were a bit unconventional, but that only made them more inspiring to their fellow graduates along with 3,000 relatives and friends who filled the school's stadium for the commencement ceremony.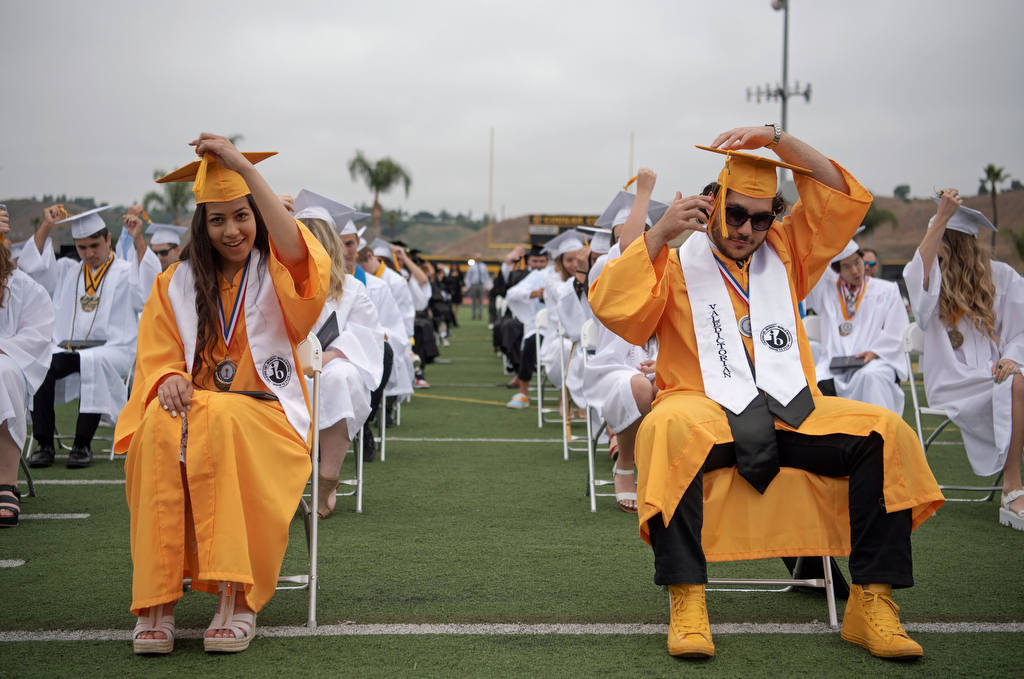 Capistrano Valley High graduates and supporters heard from Scholar of Scholars Saam Kazemi, as well as William Burks and Paria Honardoust, two of the school's 158 valedictorians.
And then there was graduate Tatum Boone, who also delivered a commencement address and was quick to acknowledge being anything but a model student, while overcoming tremendous odds to earn her spot at the podium.
"I am not a valedictorian, and I do not have perfect attendance and I can confidently say that I have no idea what I'm doing for college," Boone said. "I guess you could say that I don't particularly like school, so I am a little embarrassed to say that I have grown an attachment to this one."
Boone talked openly about the shame of being expelled during her junior year followed by the gratitude she felt for being able to return for the second part of her senior year.
The graduate then talked about being stabbed in the stomach by a mentally ill relative and enduring a month in the hospital and two surgeries as a result.
"Life is short, anything can happen in an instant," Boone said. "Whatever you do, please just do something that makes you happy. We are all capable of thriving no matter what has happened or will happen."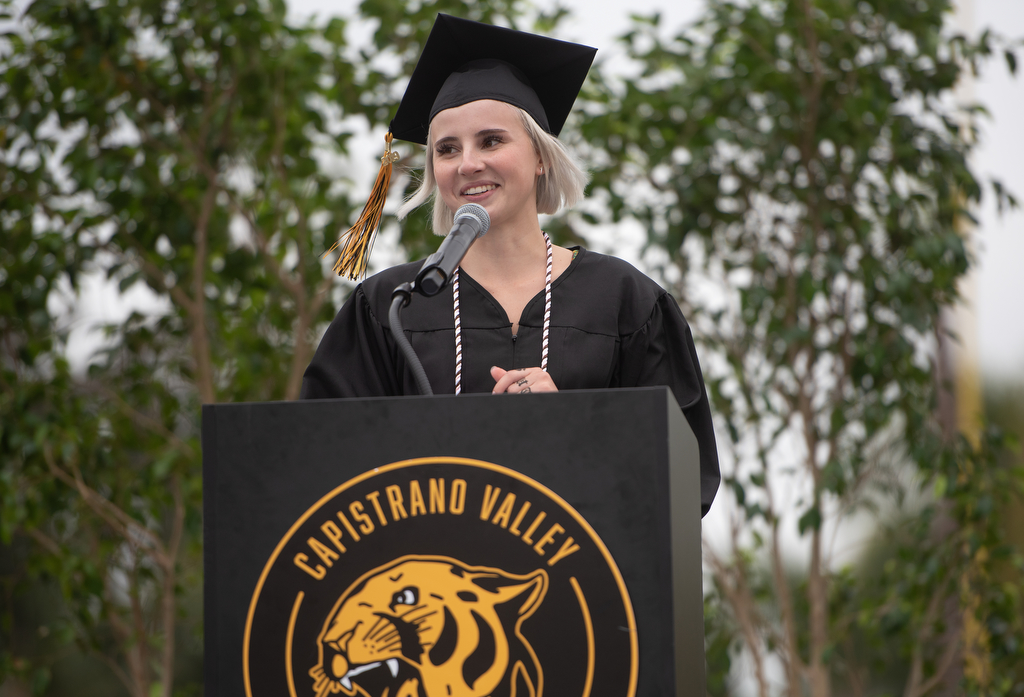 Honardoust, a member of the National Honor Society and other prestigious school clubs, told her classmates to avoid the temptation to be defined by outside accomplishments or affiliation with a specific group.
"Class of '19, I am here to tell you, there are so many things that make us great, but these do not have to be our defining factors," Honardoust said. "We must look deeper. I'm powerful, you're powerful, and it's not because of the reasons you may expect. You are you because you are here, right now, graduating despite the obstacles you have been presented with and the tiring hardships you have faced. You made it. Your growth is who you are."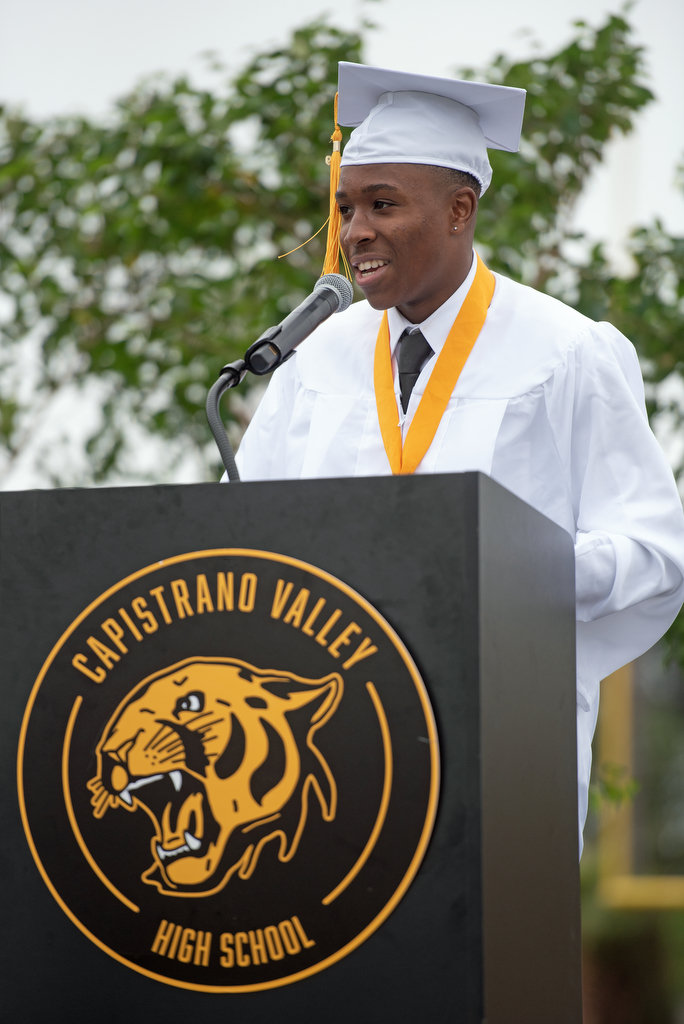 Burkes encouraged his graduating class to be curious and take risks and Kazemi told them to cherish their individuality.
"I was scared of whether I could fit in, whether I could make Capo my home," Kazemi said of her freshman year. "But what I came to realize is that Capo isn't about fitting in. Everywhere I turned, I met fellow Cougars that were embracing their own distinct passions and personalities, and encouraging me to do the same."
Dignitaries in attendance included Capistrano Unified School District Board Member Judy Bullockus, Superintendent Kirsten Vital, and Mission Viejo City Council members Wendy Buckman and Trish Kelley.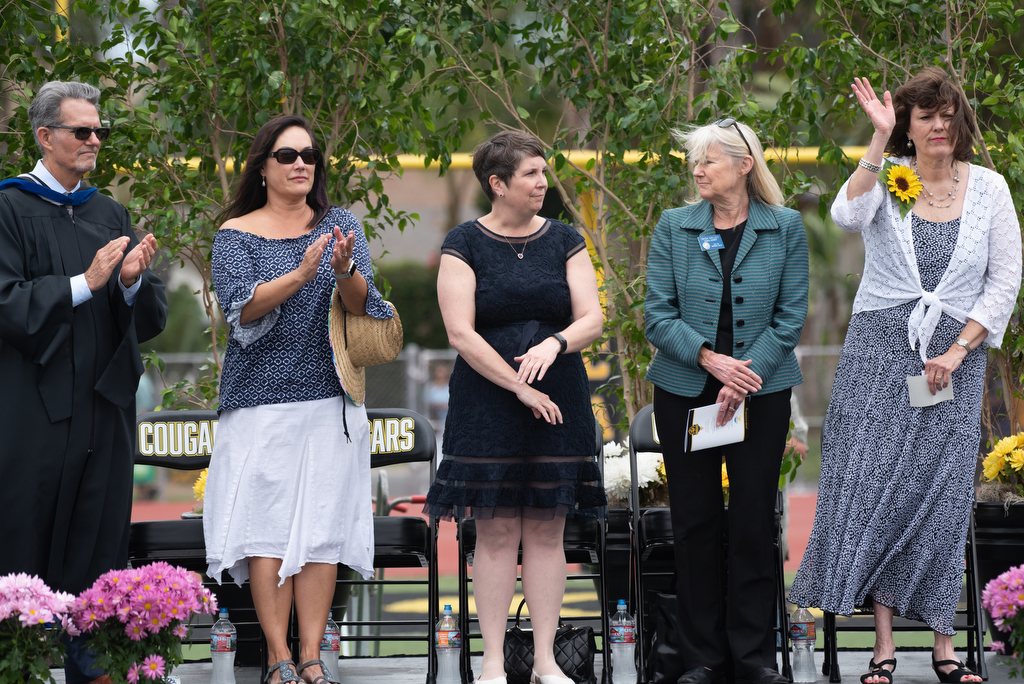 The Capistrano Valley High School Camerata and Tapestry choirs performed during the ceremony and the Camerata choir performed the National Anthem.
Principal John Misustin shared parting sentiments with the 2019 graduates.
"Regardless of what you do or where you go next, there will be those who question and challenge you," Misustin said. "All too often your voice will be disregarded, cast aside or marginalized because of your age, as if what you believe in only matters when you reach a certain age. I challenge you to not fall victim to this negativity, what you believe in matters, your voice matters now in this world."
For more graduation coverage, visit CUSDInsider.org.