SPANISH VERSION
By Greg Mellen
It took going to the 11th hour and then some, but Team 5199, the Robot Dolphins from Outer Space representing the Capistrano Unified School District, are on their way to Houston.
In their last competition of the season, the Aerospace Valley Regional in Lancaster, the Robot Dolphins needed an appeal and a rematch to edge its rival, the Millennium Falcons from San Diego, to claim the top spot in the regional and qualify for the 2022 FIRST World Championships.
The Robot Dolphins were expected to bring a team of more than 70 players, family members and supporters to the competition on April 20 to 23.
Going into Lancaster, the Robot Dolphins, who had lost in the semifinals in tournaments in Port Hueneme and Orange County, were distinct underdogs behind the Falcons and High Tide of Ventura. Only a victory at Lancaster would guarantee a spot in Houston.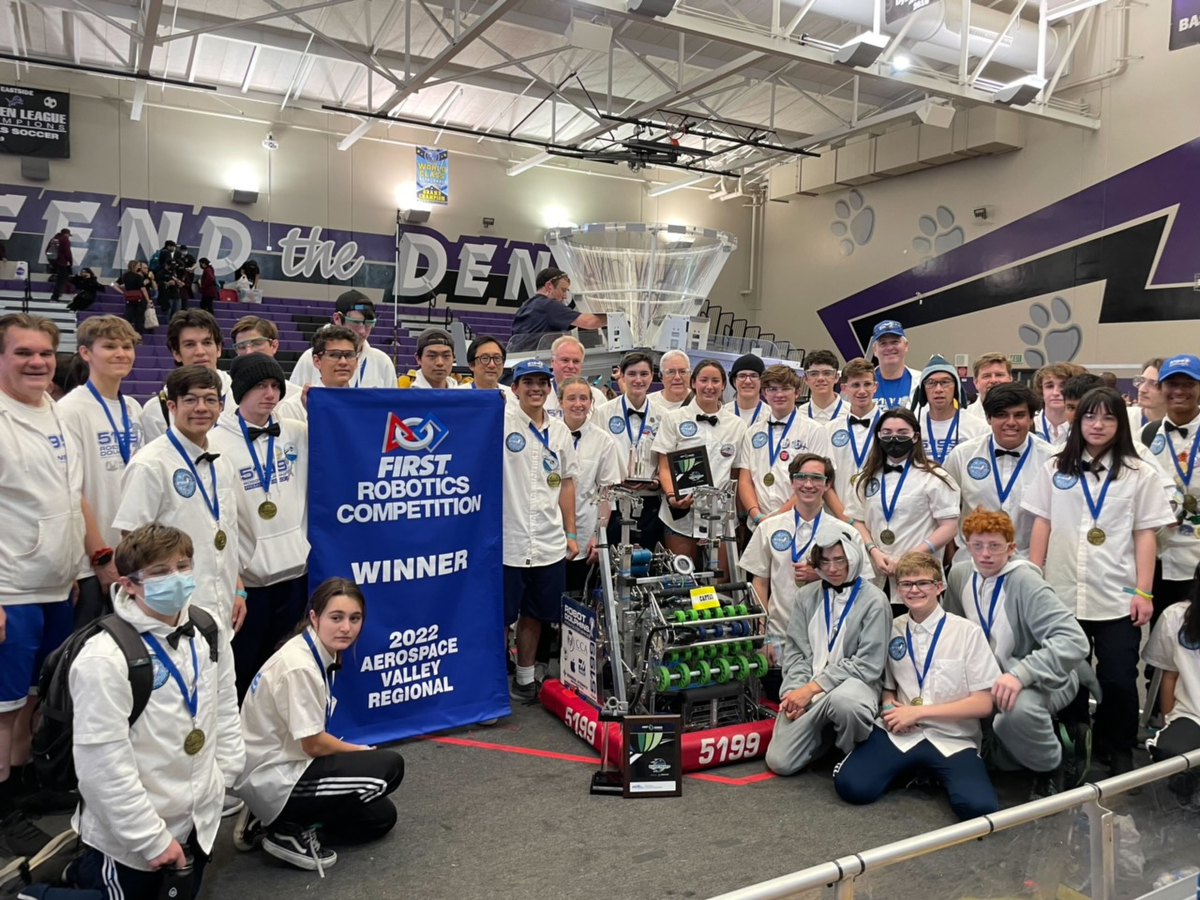 Team Coach Richard Jung said the team approached the season hoping to learn from its first two matches and shore up deficiencies as it went along.
"We knew it would be a process," Jung said, "but we set our goals for later in the season."
After being overmatched twice, it seemed a long shot.
"We went in thinking we'd come in at No. 3," Jung said. "As it worked out, the team fought hard not to lose any (unnecessary) points in any of the matches."
Jung credited Team President Morganne Malloy with driving the team.
"We put everything into it," he said.  "She pushed everyone beyond their limits."
Jung said Brandon Litchner greatly improved the robot's autonomous programming for the start of the match, and the team added to the robot's climbing ability.
This year's Robot, Hermit, short for Hermit Crab, has a tough legacy to follow: Nessie, the team's 2020 'bot, and the record-setting Kraken. Hermit has been a reliable competitor. At Lancaster, the robot and its team showed their resiliency.
After a 3-2 record beginning in qualifying, including losing in a head-to-head match-up with the Falcons, Hermit won its final 13 matches to emerge with the best record in the competition and punch its ticket to Houston.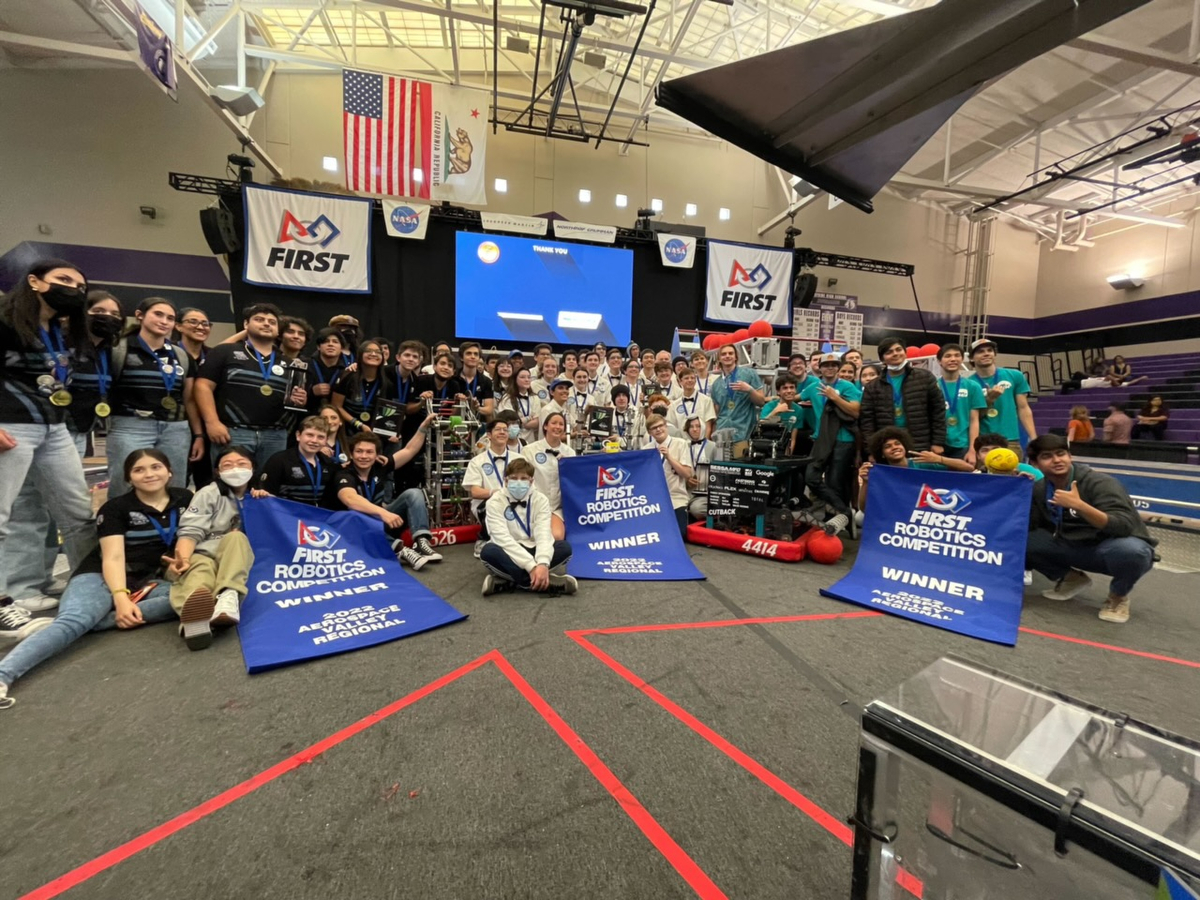 Competitions are round-robin matches in which teams, or alliances, of three robots each square off. In the finals, the Dolphins and High Tide were paired with Penoles, of Mexico, and defeated a trio that included the Falcons in straight games.
This year, only the top two teams on the winning three-team alliance were assured spots in Houston, although Penoles earned a wild-card invitation. This year's World Championships will feature a smaller, but much deeper, field of competitors.
"This will be the toughest World's ever," Jung said.
The Robot Dolphins have been building a solid regional and national reputation in recent years. Last year, Nes managed to claim second place in its category in a virtual competition in which teams were only allowed to send in videos of their robots completing solo tasks.
In 2019, the last year of live World Championships, Kraken won two state regionals for the first time, and went into Houston as one of the top teams in Southern California. However, Kraken broke down in the playoffs after qualifying 2nd in their division.
Each year the team gives its robot a nickname. In keeping with the Robot Dolphins theme, the robot is always given a maritime name. Past robots have been Kraken, Leviathan, Tsunami, and Poseidon.
Robotics has become a mainstay in the Capistrano Unified School District's Science, Technology, Engineering, and Math (STEM) education, from high school down through primary education. Robotics combines engineering, building, programming and strategy.
Each year, students from across the country and internationally build robots to compete in games designed by FIRST (For Inspiration and Recognition of Science and Technology). According to the company, FIRST reaches about 679,000 students in 110 countries annually.
Video shared by Richard Jung.