By Greg Mellen
Two boys basketball programs in the Capistrano Unified School District went where they had never gone before.
After the pandemic played havoc with their schedules, teams throughout the area were finally able to get back onto the court for full seasons in front of cheering fans in something resembling normalcy. And for at least two of these teams, it vaulted them into the stratosphere.
The San Juan Hills High School boys basketball team won its first-ever CIF Southern Section Division 2A championship after having never reached the third round in previous years.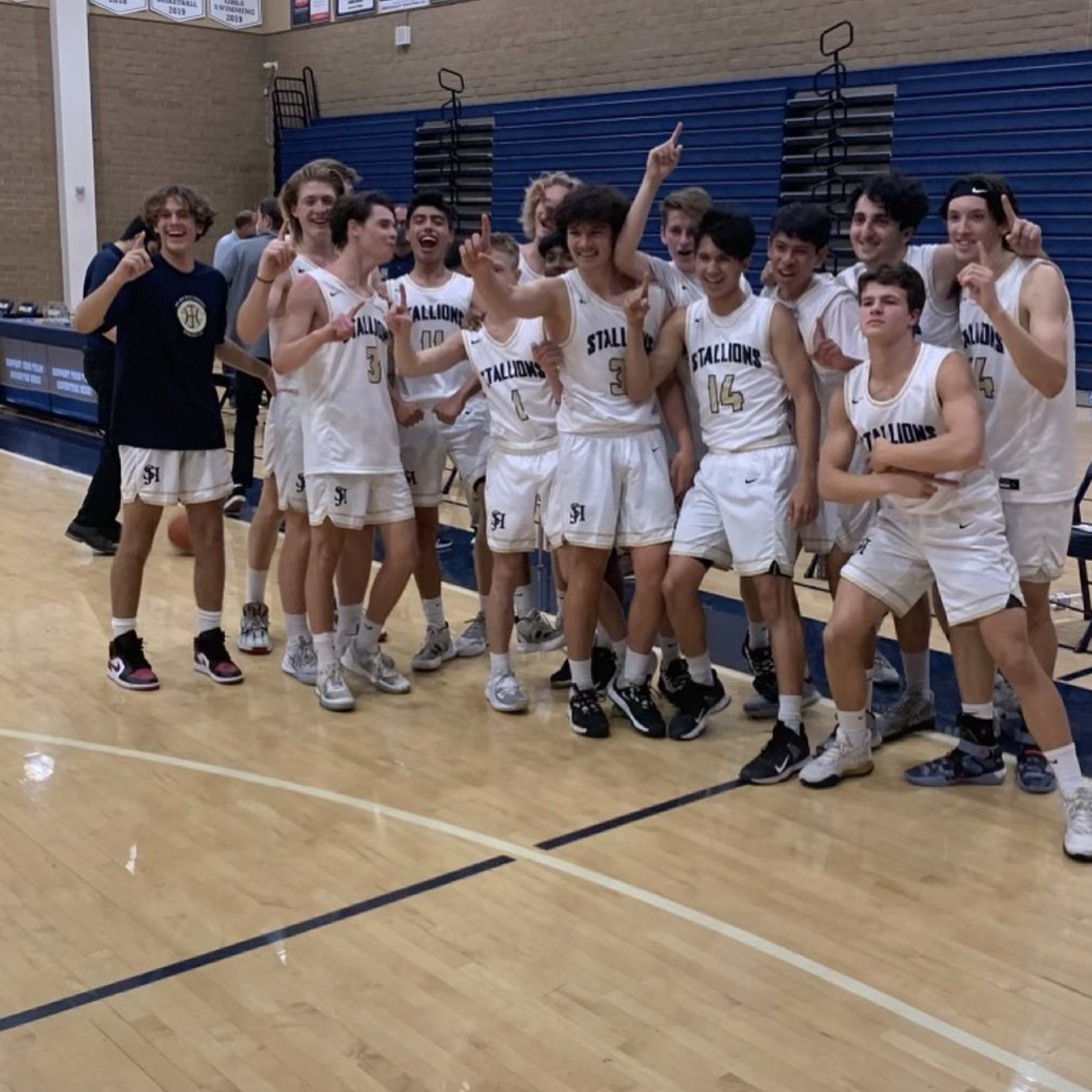 Meanwhile, Sea View League rival Dana Hills High School's boys basketball squad reached its first CIF-SS Division 3A title game in Coach Tom Desiano's career before losing by a bucket in the finale.
Both teams also earned their way into the CIF state playoffs.
Stallions stampede
San Juan Hills High School (27-5) and its senior-dominated team reached the culmination of a steady climb not just for the players, but for their coach, Jason Efstathiou, who has been battling a rare, debilitating side effect of diabetes.
The Stallions, led by a phalanx of sharp shooters, won their second consecutive Sea View League title and advanced to beat La Mirada, 59-49, to win the 2A championship.
"It was a new experience for the school and a lot of fun," Efstathiou said.
"I tell the guys, 'This is forever,'" he added. "Truly, it's like a dream come true."
Senior John McFadden, who shared All-CIF Player of the Year honors with senior teammate Mark Reichner, led the way in the title game with 22 points, seven rebounds, two blocks and four steals.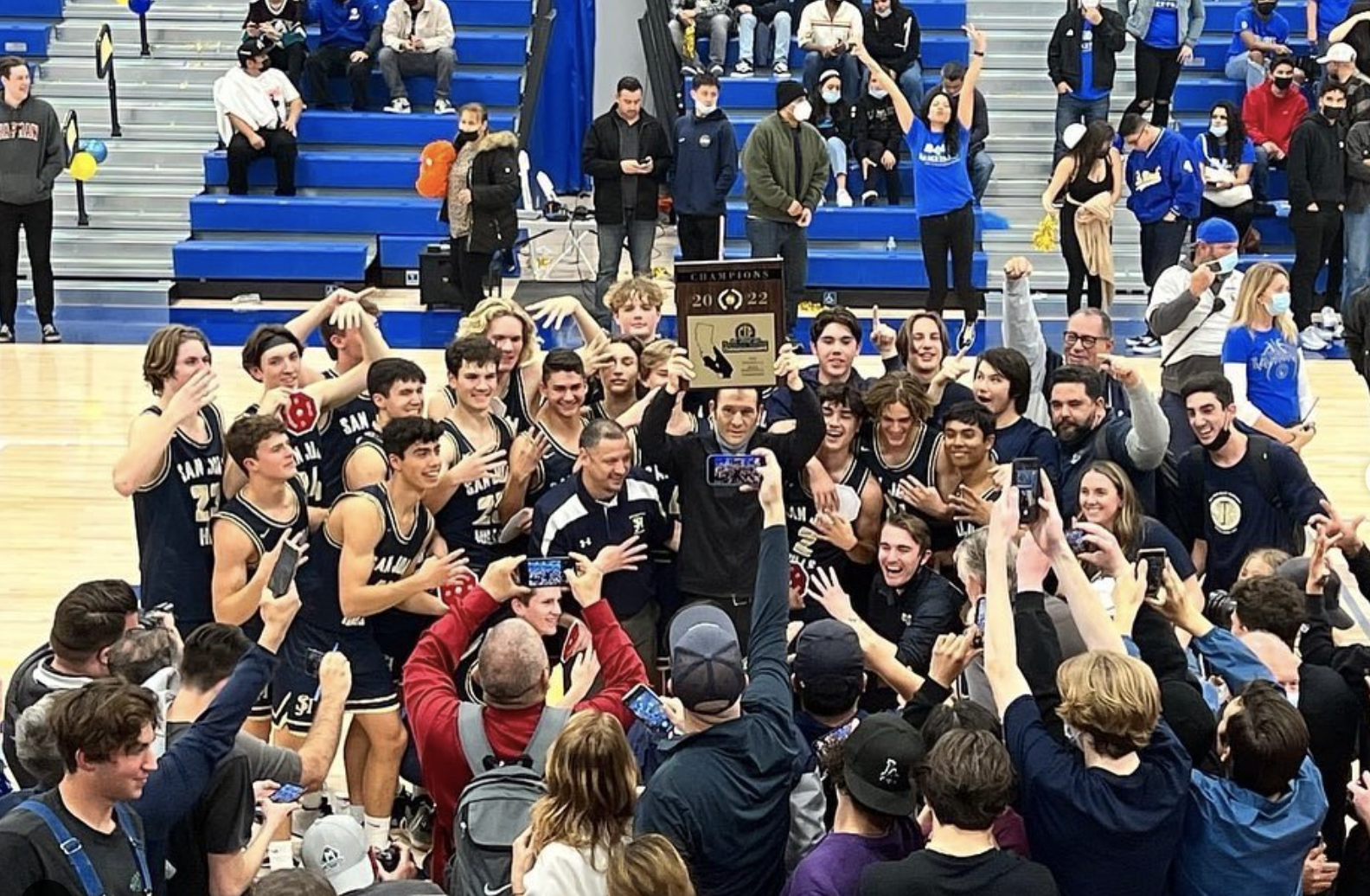 Reichner added 12 points, while fellow senior guards Marcus Parks and Jacob Simon scored eight points each. Eight different Stallions scored.
"I was super fortunate," said Efstathiou, who earned Coach of the Year honors. "This was a homegrown team – not one of them was recruited. I have never recruited a player."
All year the Stallions relied on an incredibly deep squad with 11 seniors. McFadden, Reichner and Simon each averaged in double figures for the season. The top nine scorers on the team were seniors.
"I never had that kind of depth," Efstathiou said. "My 10, 11, and 12 players in any other season would have played heavy minutes."
Four days after their historic title-game win in a packed gym at La Mirada, the Stallions' miraculous run ended in the state playoffs.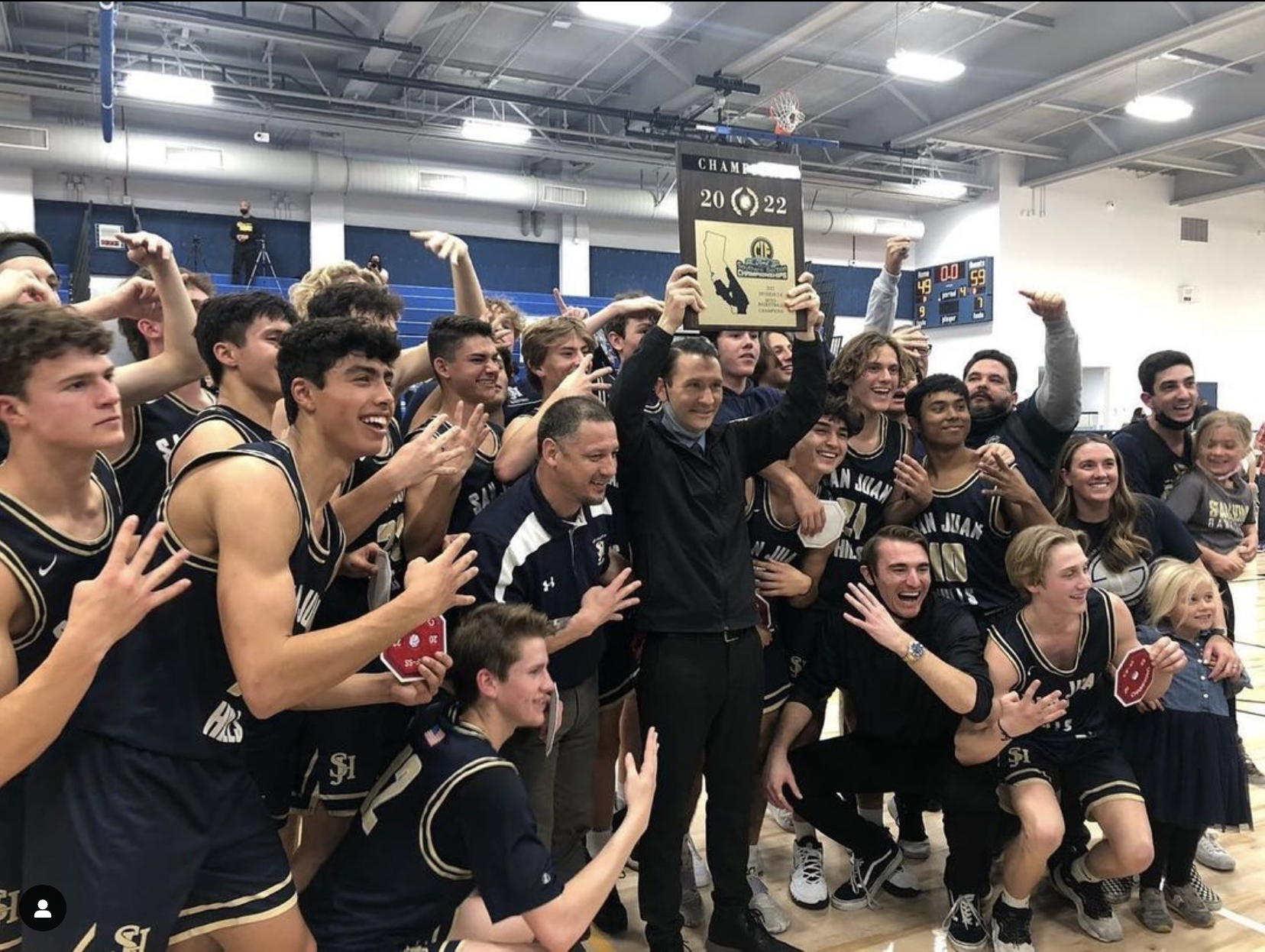 Despite a game-high 23 points from Reichner, the Stallions were plagued by 2-for-25 shooting from 3-point range and fell, 64-56, to Birmingham in the first round of the CIF SoCal Regional Division II playoffs. Birmingham (18-8) was co-champion of the rugged West Valley League.
The Stallions return seven players to the team next year, plus a number called up from JV for the playoffs. Efstathiou believes the seniors' influence and exposure to a playoff atmosphere will pay dividends next season.
"I'm hoping it rubs off on them," the coach said of the playoff experience.
Brotherly love lifts Dolphins
In Dana Hills, the shooting show put on by brothers Griffin and Collin Haugh spurred the Dolphins (19-11) to a memorable season.
Highlighted by All-Southern Section 3A senior guard Griffin Haugh's 25 points, including six 3-pointers, the Dolphins defeated host Millikan, 61-56, in the CIF-SS Division 3A semifinals, sending them to the championship game. Griffin's brother, freshman Collin Haugh, chipped in with three 3-pointers. Seniors Adam Pellini and Christian Boehmer added 11 and 10 points, respectively, and contributed hard-nosed defense.
"They did a good job," said Desiano, who completed his 19th year at the helm for the Dolphins and his 30th year overall in coaching.
Although the Dolphins have had better overall records in previous years, this was their first trip to the section finals. In 2014, they advanced as far as the semifinals. This year was doubly impressive coming on the heels of last season's 2-10 record.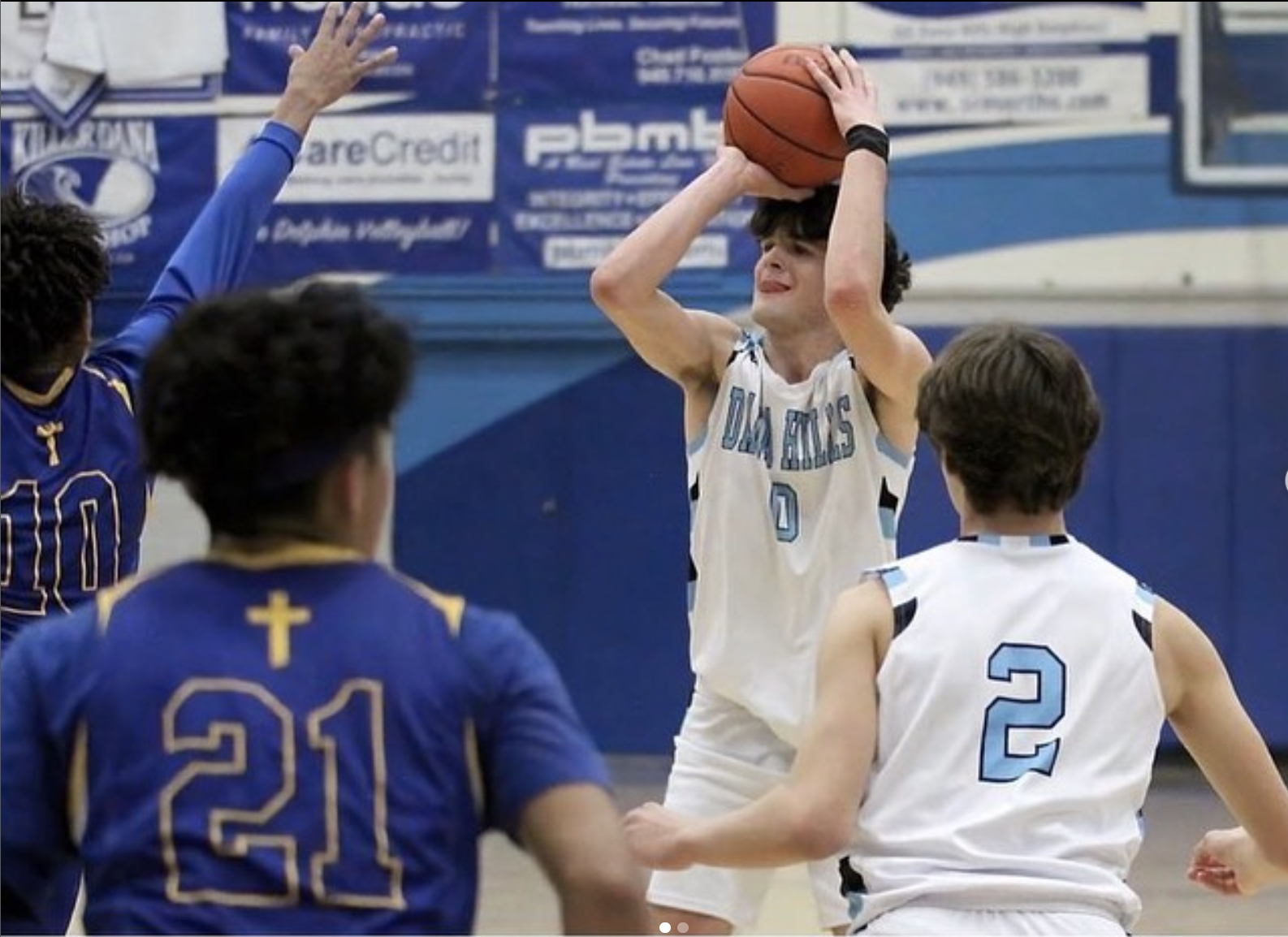 "We're pretty proud," said Athletic Director Carrie Pierce Ross.
The Dana Hills boys basketball team's quest for its first Southern Section title fell short in a 54-52 loss to Bishop Diego in the Southern Section Division 3A championship game before a packed house at Bishop Diego High in Santa Barbara.
It's often said that you can't ask for more than a shot in the air from your best player to win the game, and that's how it ended for the Dolphins.
"We got the ball in Griffin's hands and ran an (isolation) play," Desiano said. "I just said, 'Make the shot.'"
Griffin was well defended and put up a 21-foot fadeaway that was a little off the mark.
"We just get it into his hands and live or die with it," Desiano said. "I'd do it again."
Collin Haugh led the Dolphins with 16 points, and Griffin pumped in 14 points.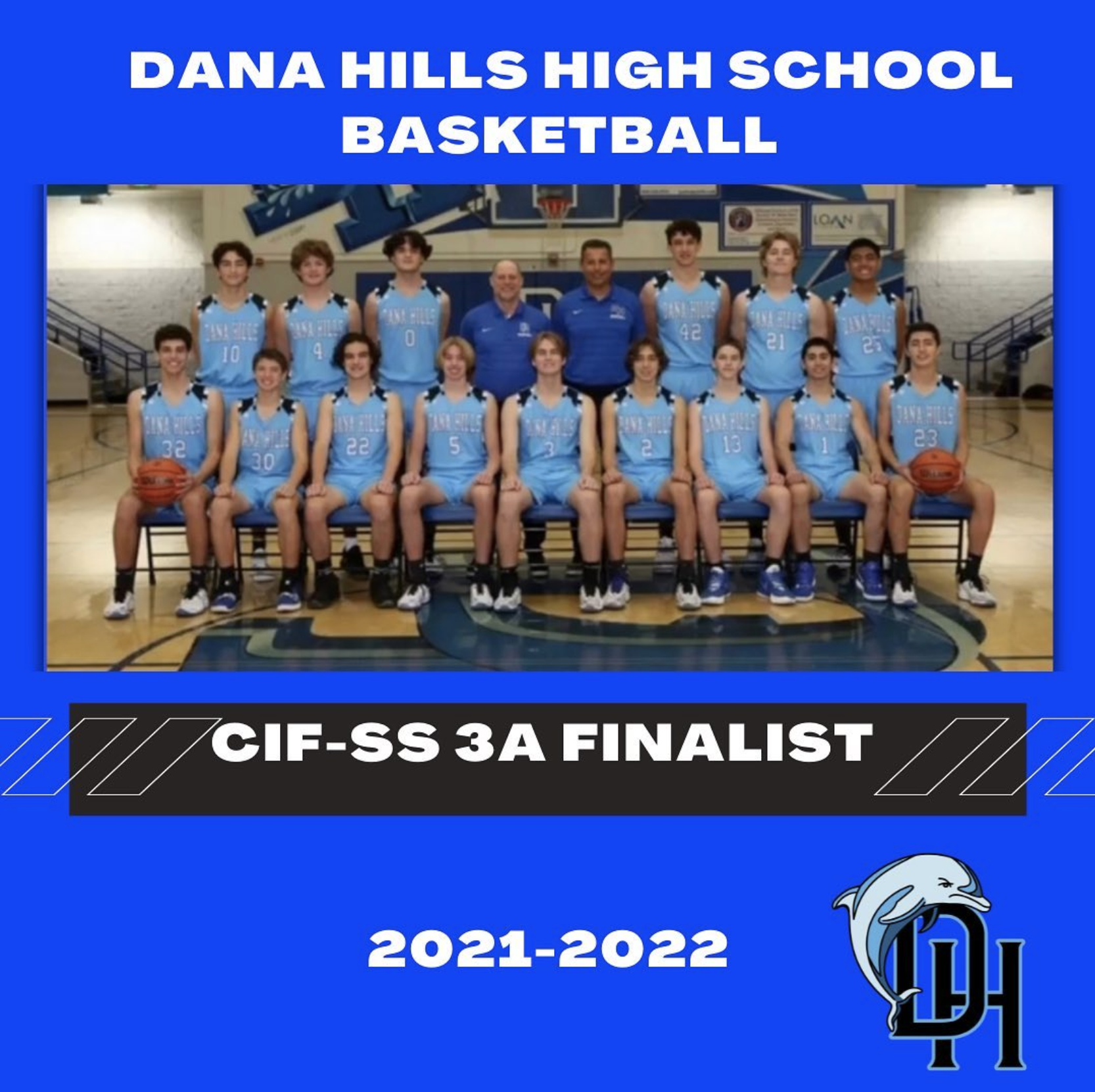 The Dolphins received standing ovations upon leaving the locker room from friends and family, according to the Dana Point Times.
Pierce Ross said the Dana Point boosters, including the POD squad, provided raucous support throughout the season. Desiano said having fan support after the previous pandemic-affected season was particularly gratifying.
Next year, the team will return Collin Haugh as its leading scorer with several of this year's rotation players.
"I think we'll be pretty young," Desiano said. "It's hard to say how good we'll be. We won't be very big, but we'll have good guard play."
The strong season concluded with a 66-52 loss to Mt. Carmel in the first round of the CIF state playoffs.
"It was fun. I love this team so much," Griffin Haugh told the Dana Point Times. "To say that we got up on a banner in our home gym, it's cool."