By Greg Mellen
It was an evening of applause, hugs, flowers, and some moments of amazing poignancy as the Capistrano Unified School District celebrated its own at the 2023 Teacher of the Year Celebration in the auditorium at San Juan Hills High.
Referred to as the EGOT — Emmy, Grammy, Oscar, and Tony — celebration of the year for CUSD, the district honored 59 individual school teachers and education professionals.
The evening culminated in the celebration of the district-wide Elementary, Middle School, and High School Teachers of the Year, who advance to the Orange County Teacher of the Year competition.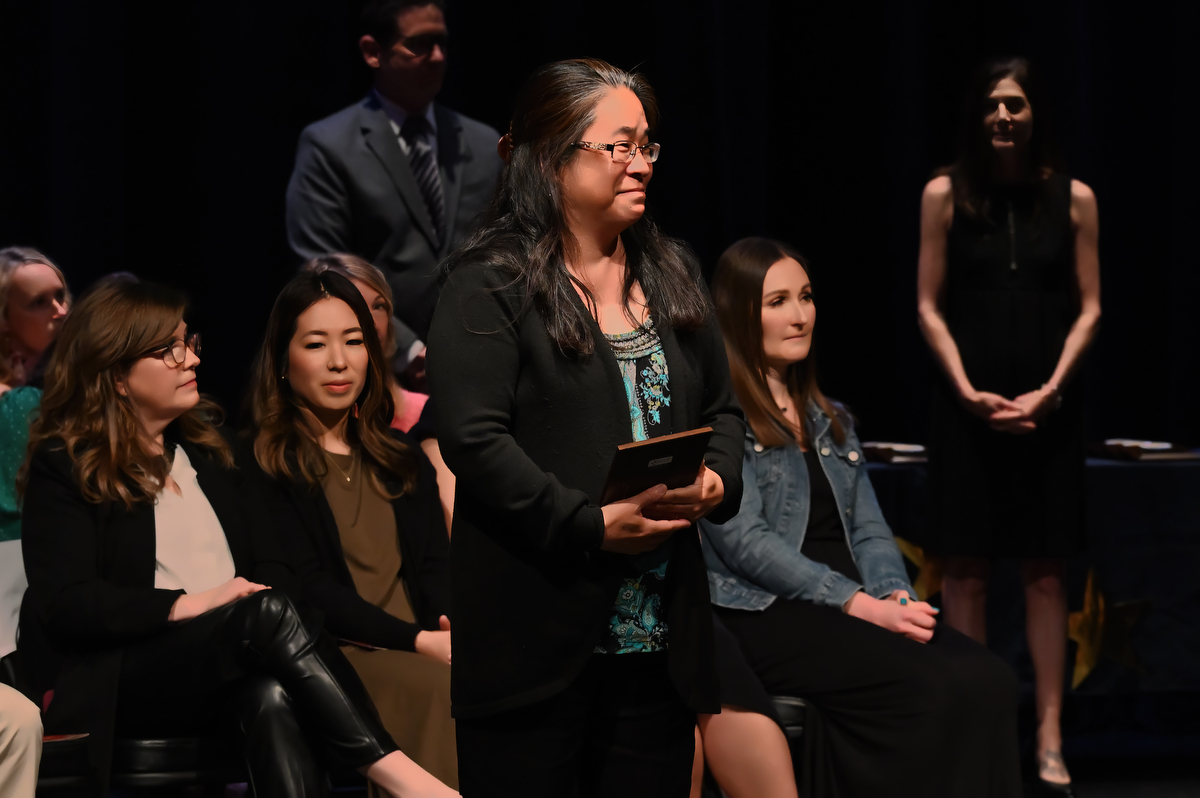 Leslie Whitaker of Esencia K-8 School, Yesenia Hogancamp of Carl Hankey K-8 School, and Fernanda Villalba of San Juan Hills High were the elementary, middle school, and high school winners, respectively.
Each had a video presentation played from the surprise announcements of their awards at their schools, with comments from fellow teachers, administrators and students.
Leslie Whitaker
Principal Greg Hauser of Esencia said Whitaker, a third-grade teacher, was key from the beginning in helping him integrate into the school as a first-year principal.
"Since then she's only improved my opinion of her," he said.
Whitaker, whose classroom door is almost always open, took little notice when students began remarking about the large group assembled outside her room.
"I told them it was just people walking through school," she recalled of the day she received the surprise visit. It was only when she saw the banner and flowers that Whitaker realized what was happening.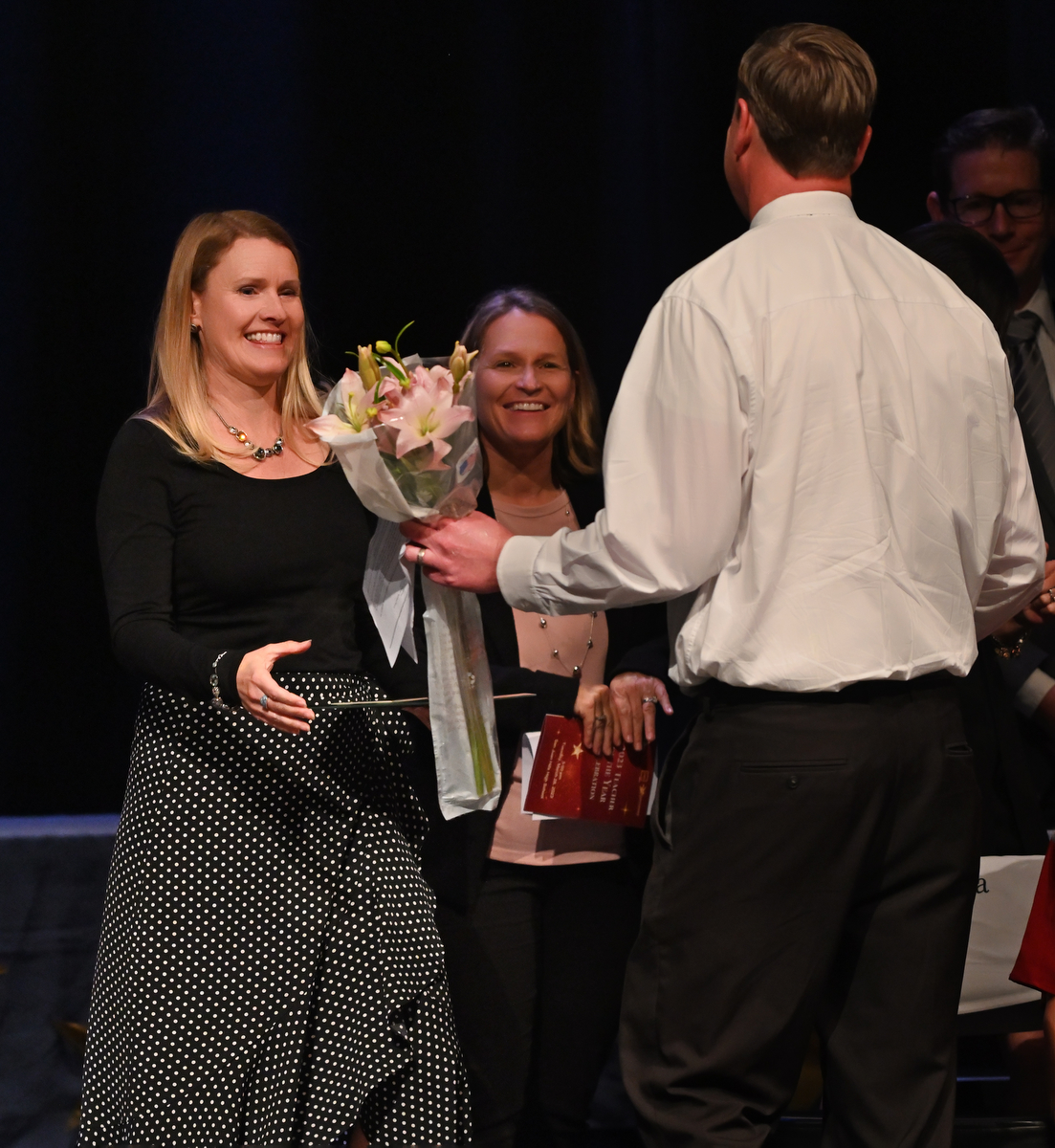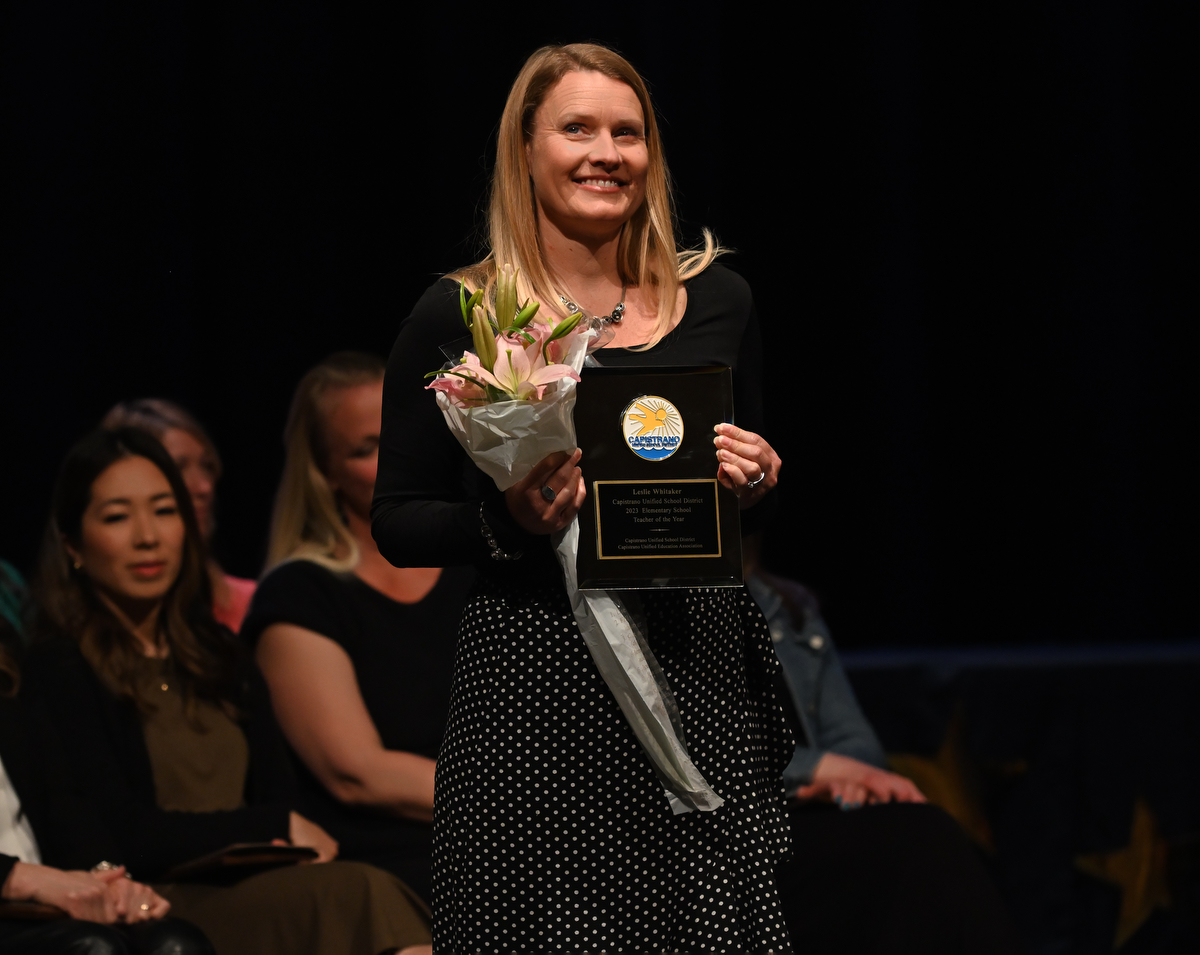 Yesenia Hogancamp
Hogancamp was a student English Learner in CUSD, and now teaches as a Spanish English Language Development (ELD) teacher for sixth through eighth grades.
"Language opens all doors in the present and the future," she said.
While Hogankamp was surprised, her daughter Samantha was not. In a message to her mom, Samantha said, "I've always thought of you as the teacher of the year every year."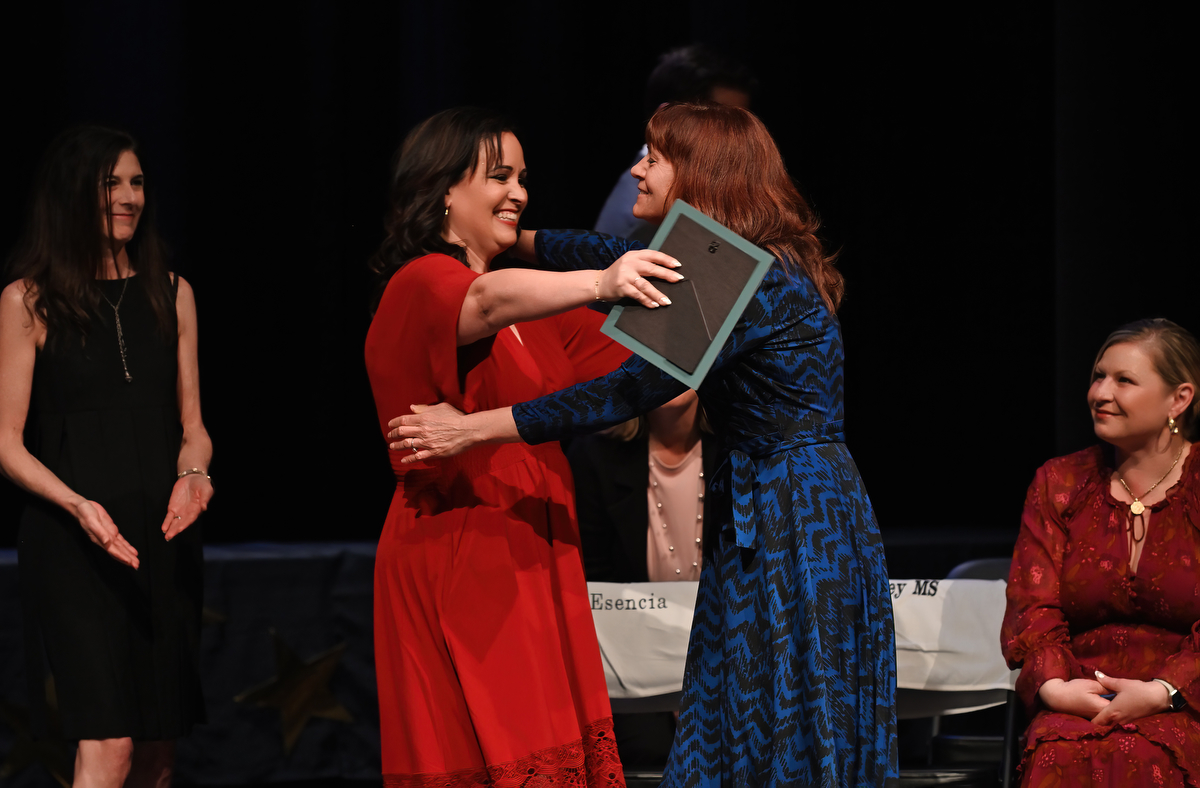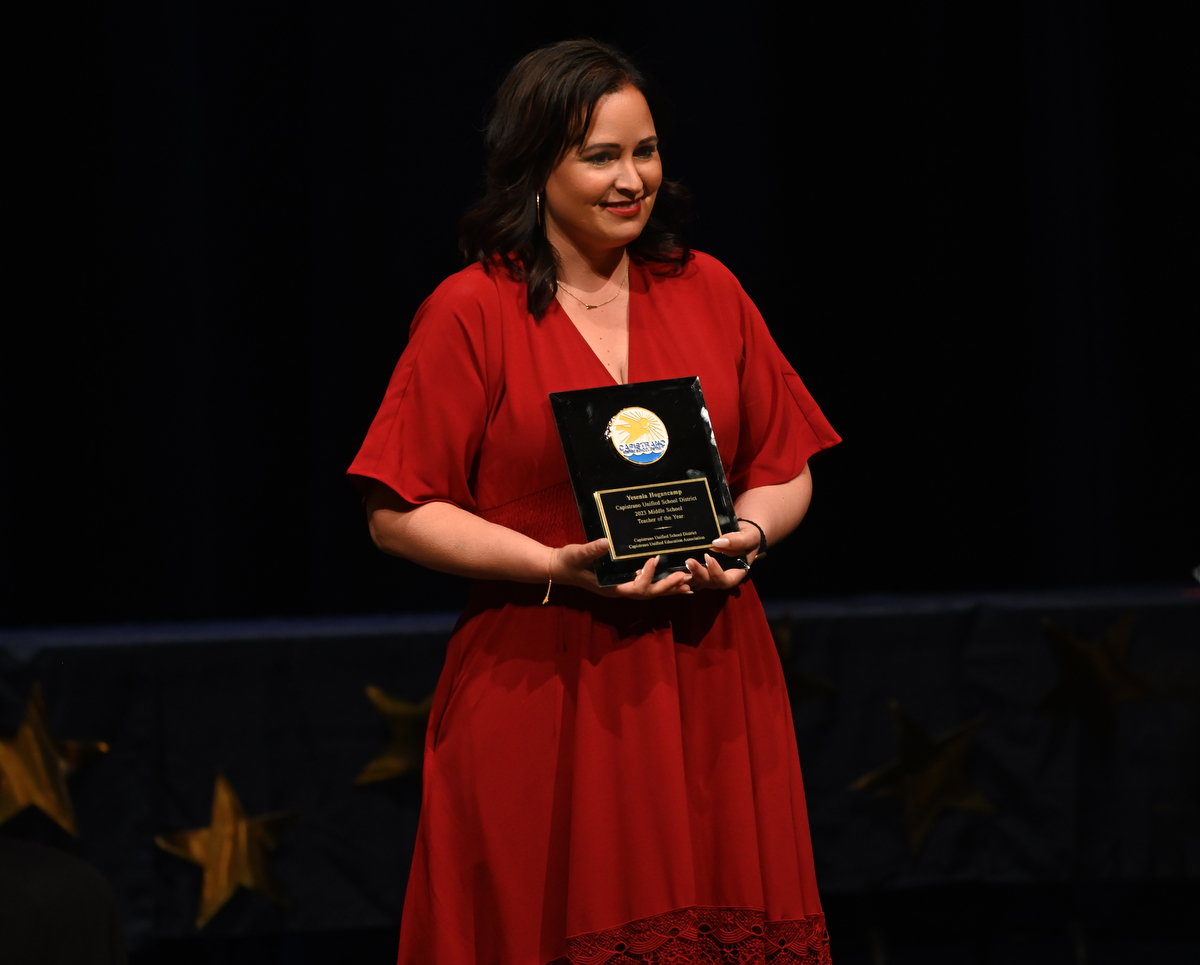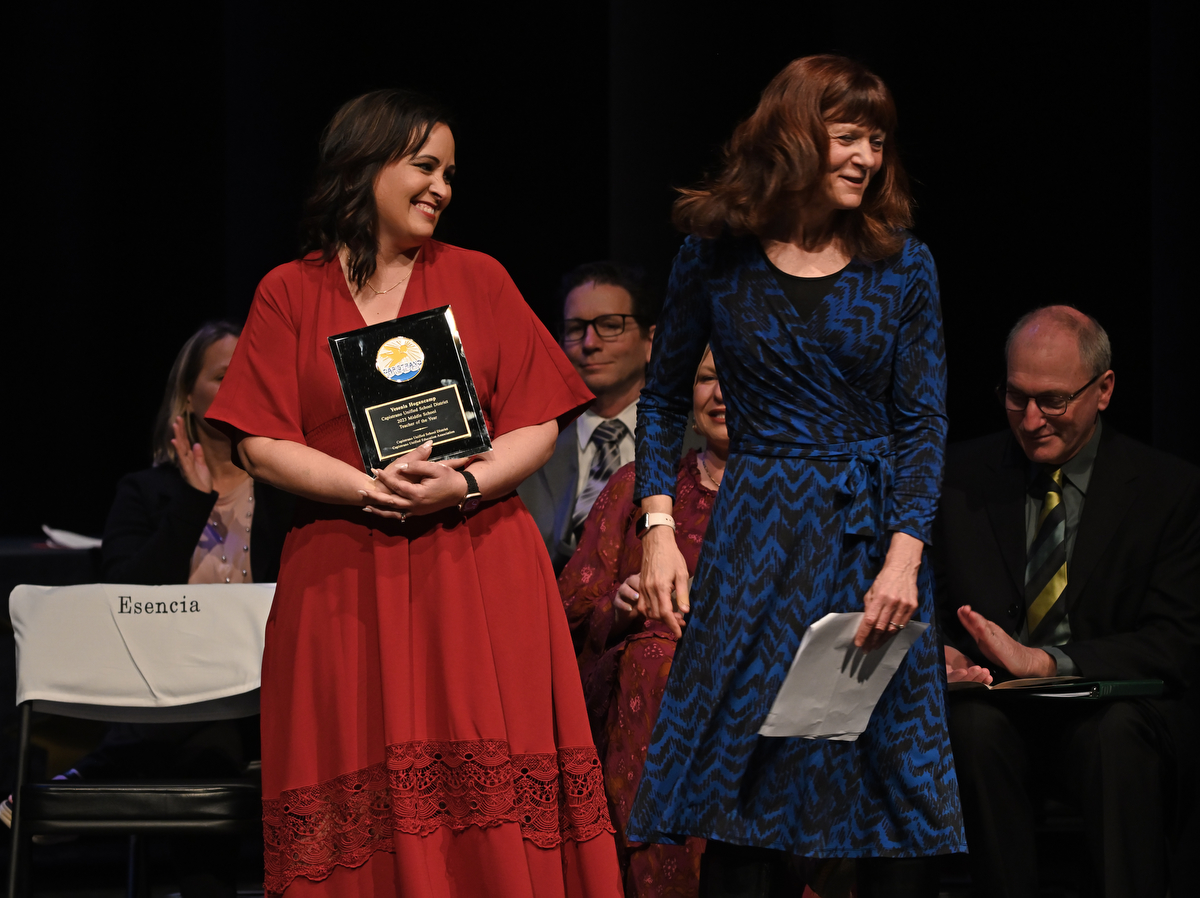 Fernanda Villalba
Villalba, a former CUSD student as well, has been a key faculty member at San Juan Hills High since its creation in 2007.
"She made the school better for everyone and she made me a better principal," said Jennifer Smalley, a principal at San Juan Hills until her recent promotion to Assistant Superintendent.
Looking back on her 23-year tenure, Villalba said, "Many of my students became teachers and are now my colleagues and their kids are now my students."
During the presentations of the individual school awards, the honorees accepted their awards on stage while brief narratives they had written about themselves were read. More than 50 of the 59 honorees assembled on stage for individual recognition, while nearly 500 friends, family members, and supporters filled the auditorium to near-capacity.
The winners ranged in experience from four to nearly 40 years. Their comments and recollections ranged from comic interactions with students to touching commentaries about former students returning to thank them for what they meant in their  lives.
And then there was Shannon Halbert, who teaches at Union High School and its Alternative To Suspension program. Halbert said in the past year one of her children died in a plane crash. When Halbert returned to school, she recalls a student approaching her to say "you've always been there for us, now it's time for us to be there for you."
Dr. Bob Presby, Associate Superintendent, Human Resource Services, said in his opening remarks that the celebration served as a reminder that much more goes into teaching than just reading, writing, and arithmetic. That teachers are experts in the art and science of learning. That students are more than just test grades. And that schools are safe places of encouragement for children.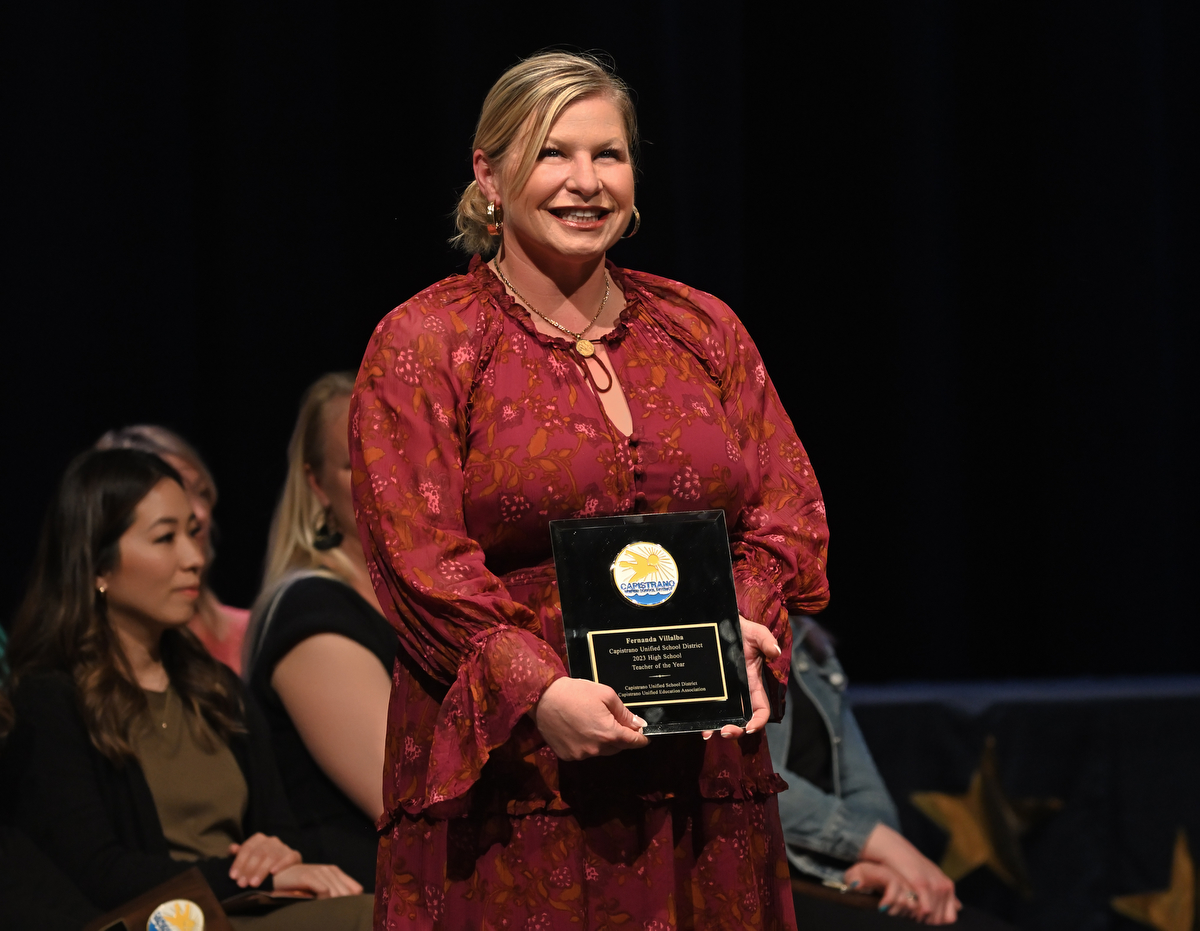 Here are the honorees:
Elementary School
Whitney Trejo, Harold Ambuehl Elementary
Sue Paschall, Arroyo Vista K-8
Samantha Yahr, Bathgate Elementary
Dorothy Farrell, Truman Benedict Elementary
Annie Chi, Marian Bergeson Elementary
Pam Taylor. Canyon Vista Elementary
Macey Salazar, Castille Elementary
Trace Wilcox, Chaparral Elementary
Kristen Bisch, Concordia Elementary
Maria Arbelo, R.H. Dana Elementary
Kaylie Gustafson, R.H. Dana ENF
Heather Hockersmith, Del Obispo Elementary
Erica Camarena, Don Juan Avila Elementary
Leslie Whitaker, Esencia K-8
Carol Slade, George White Elementary
Angela Cantacessi, Carl Hankey Elementary
Jennifer Hatfield, Hidden Hills Elementary
Monika O'Kane, Kinoshita Elementary
Jennifer Kovaleski, Ladera Ranch Elementary
Anna Erwin, Laguna Niguel Elementary
Frances Mackay, Las Flores Elementary
Barrie Fitzgerald, Clarence Lobo Elementary
Dina Darsow, John S Malcom Elementary
Dr. Sarah Fontanes, Marblehead Elementary
Laurie Hansch, Moulton Elementary
William Cox, Elementary School Music
Sherrie Embry, Oak Grove Elementary
April Micklin, Oso Grande Elementary
Bryn Stamos, Palisades Elementary
Daniella Nieto, Philip Reilly Elementary
Isela Diaz, San Juan Elementary
Terrence Snodgrass, Tijeras Elementary
Theresa Chaverot-Campos, Viejo Elementary
Anne Faris, Vista del Mar K-8
Carol Tsai, Wagon Wheel Elementary
Quinn Bishop, Wood Canyon Elementary
Middle School
Sara Campbell, Aliso Viejo Middle
Matthew Engelken, Arroyo Vista K-8
Bridget Burke, Bernice Ayer Middle
Matt McKoy, Don Juan Avila Middle
Christine Abuharoon, Esencia Middle
Yesenia Hogancamp, Carl Hankey K-8
Rose Antonatos, Ladera Ranch Middle
Shelley McClusker, Las Flore Middle
Michele Barnaby, Marco Forster Middle
Brianna Vanderwal, Fred Newhart Middle
Marcy Hamilton, Niguel Hills Middle
Jenny Goit, Shorecliffs Middle
Jenny Contant, Vista del Mar K-8
High School
Carol Harlan, Aliso Niguel High
Heather Cintas, Capistrano Valley High
Nicole Lovett, Dana Hills High
Marc Popovich, San Clemente High
Fernanda Villalba, San Juan Hills High
Rick Brail, Tesoro High
Amber Mills, Cal Prep Academy/Capo Virtual
Shannon Halbert, Union High
Traci Conner, Adult Transition