By Greg Mellen 
As the ball bounded harmlessly into the penalty area, UCLA women's soccer goalie Lauren Brzykcy plopped on it and could finally rest as the final seconds bled off the clock preserving a 1-0 victory for the Bruins over rival Stanford.
It had been a bruising affair, with Brzykcy (pronounced Briz-key) facing consistent pressure from the Cardinal and taking her share of lumps in scrums near the net. But Bryzykcy's trademark toughness, tenacity and talent held up as she recorded her ninth shutout of the season — since expanded to 10 — and helped keep the No. 5 Bruins unbeaten and on track for a Pac-12 title showdown with USC.
This was the kind of performance that has become emblematic of San Clemente High and Capistrano Unified School District alumna. But shut-outs and hard fought victories on the soccer pitch only shine a light on one part of Brzykcy's grit and perseverance.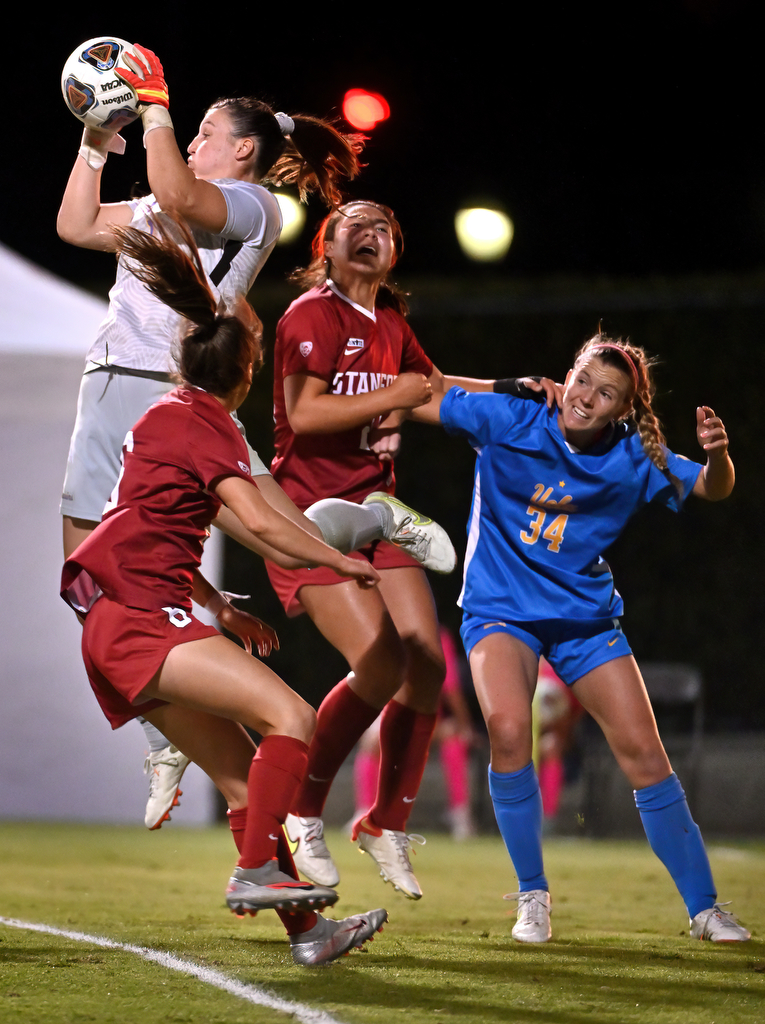 Brzykcy has overcome much more.
Despite earning high grades throughout her academic career, the senior goalie says, "I have learned I have a disability with reading comprehension."
She discovered she had the disorder while in college. Brzykcy said only that it affects how she processes information and that she was diagnosed after six hours of concentrated testing.
Going into college she said she expected courses to be harder, but not like this.
"I said 'I'm going to take super hard classes,'" she recalls. "When I got here, I didn't know if school was supposed to be that much harder."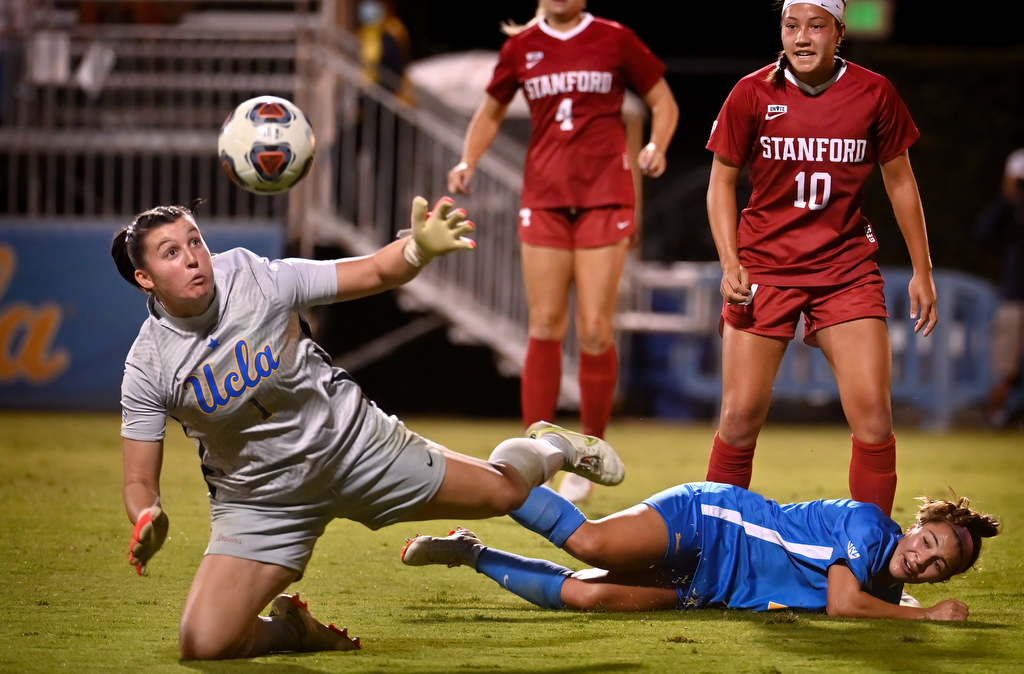 According to Brzykcy's mother, Andrea, there was no indication of a disability. Her daughter always got good grades and never complained about workload.
"It just shows her tenacity," Andrea Brzykcy said. "She's just so driven. She always worked three times as hard as everyone else."
Brzykcy said she is given extra time for her course work and that does the trick. The disorder has not stopped Brzykcy from being named a first-team scholar All-American and twice making the Pac-12 Academic Honor Roll.
The diagnosis has also given Brzykcy purpose, she says, for after her playing days are done. Although she's a senior, Brzykcy plans to stay with the team for a remaining year of eligibility and pursue a master's degree in education.
"I would love to help people with disabilities," Brzykcy said. "A lot of the people in society think there's just one way to do a task."

As she knows from first-hand experience, people with disabilities or on the autism spectrum are often able to solve problems in unique and surprising ways.
"I would like to help them find what that way would be," she said.
While in high school, Brzykcy's interest in working with people with disabilities was fueled when she volunteered with Best Buddies International, which helps people with intellectual and developmental disabilities.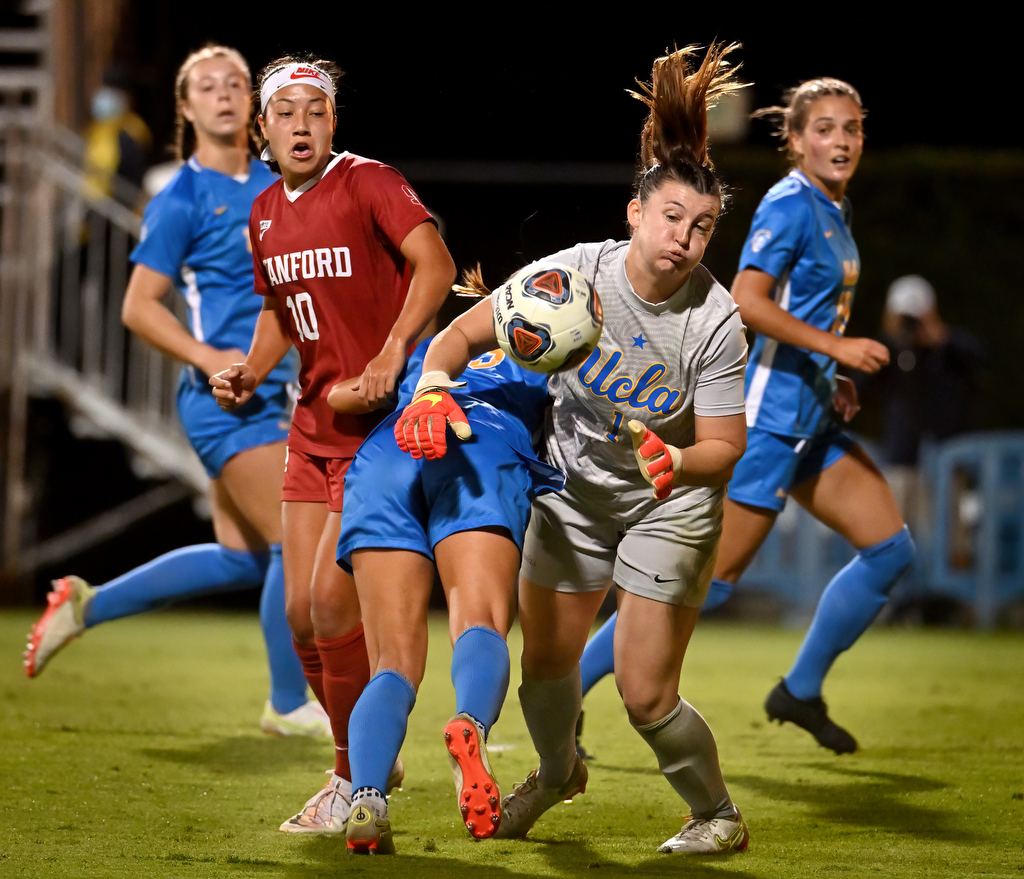 UCLA's women's head coach Amanda Cromwell said Brzykcy's perseverance in overcoming her own challenges is inspiring.
"I think that's why she engages so well," Cromwell said. "She understands everyone needs attention and she wants to give back."
"Her parents lead the way and you can see that's where she gets it," Cromwell said.
Andrea and her husband, Bill Brzykcy, are fixtures at UCLA home games. Mom, draped in a blanket, sits in the back row of the stands with other parents while Bill roams down near the endline with a camera chronicling his daughter's exploits.
Brzykcy inherited athletic genes. Her grandfather, Roger Rubendall, was a Big 10 Conference Men's Golf individual champion at Wisconsin and her great-grandfather, Harry Rubendall, was a PGA golf pro, member of the Illinois College Hall of Fame, Illinois Intercollegiate Athletic golf champion and three-sport letterman.
Her dad is an avid surfer and her lifelong "surf buddy."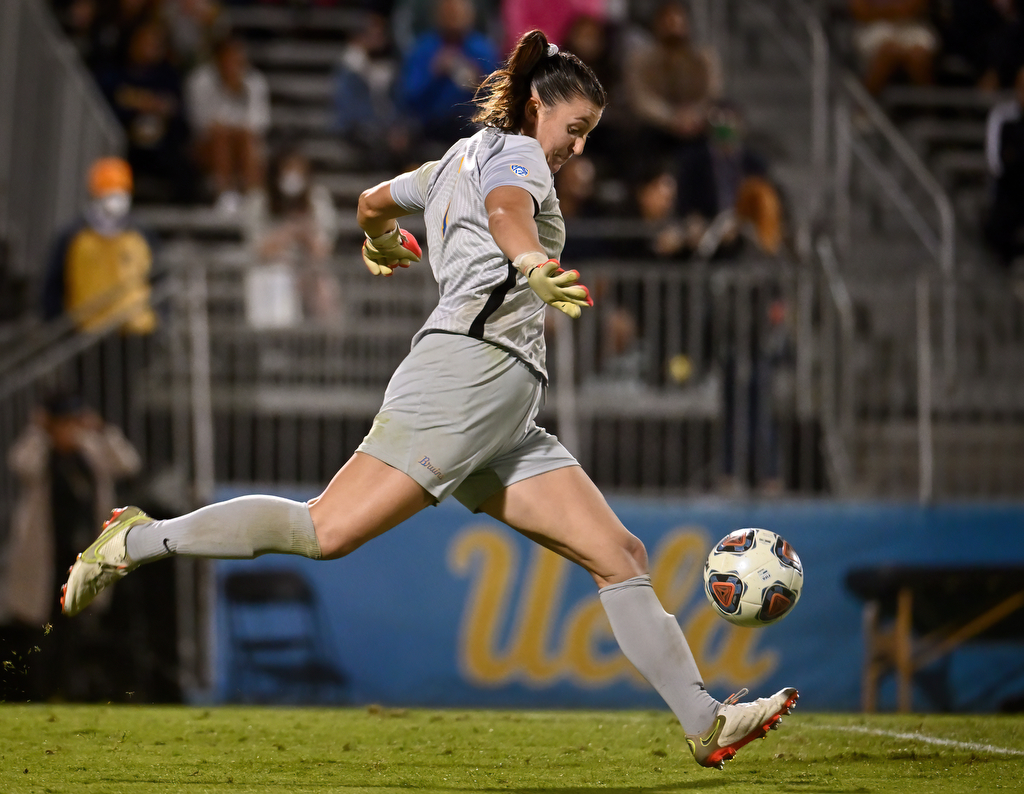 On-field accolades
Brzykcy has received a long and growing list of honors for her play. A third-team United Soccer Coaches All-American, first-team All-Region and Pac-12 Goalkeeper of the Year, she has won three Pac-12 goalkeeper of the week awards this year.
Brzykcy and the Bruins had a remarkable string of eight consecutive shutouts early in the season, including a shared shutout, and two more heading into the weekend title tilt with USC.
She has allowed nine goals this season and more than one goal only once, for 0.498 goals against average and her .878 save percentage is eighth in the NCAA.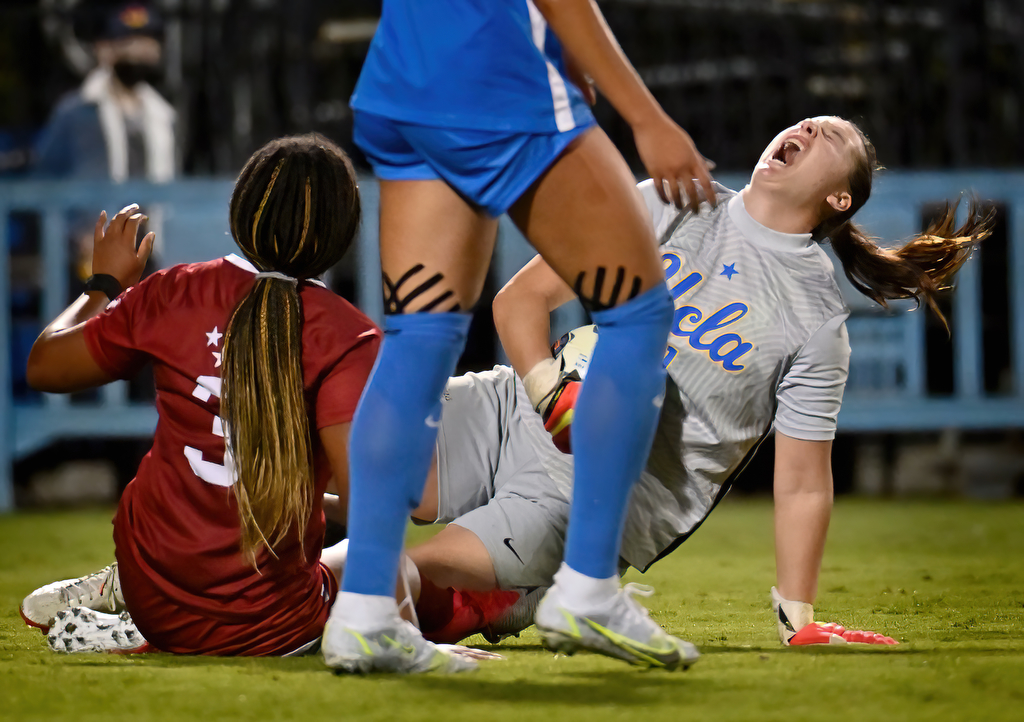 During the eight-game shutout run across 740 minutes, Brzykcy stamped herself as a candidate for the Hermann Trophy, awarded to the NCAA's top player. 
"We were all just ready. We were all in a zone," she said of the streak. "I feel it helped with my mental strength."
In high school, Brzykcy was two-time National Soccer Coaches Association of America All-American and was named to the elite 32-member list.
Her San Clemente High team was not particularly stout defensively, and Brzykcy jokes, "it made me a better shot blocker."
While club soccer is where elite players gain recognition from college programs, high school CIF soccer was about enjoyment for Brzykcy.
"This is just sport, let's have fun," Brzykcy said of her attitude at the time. "I just loved being out there with my friends."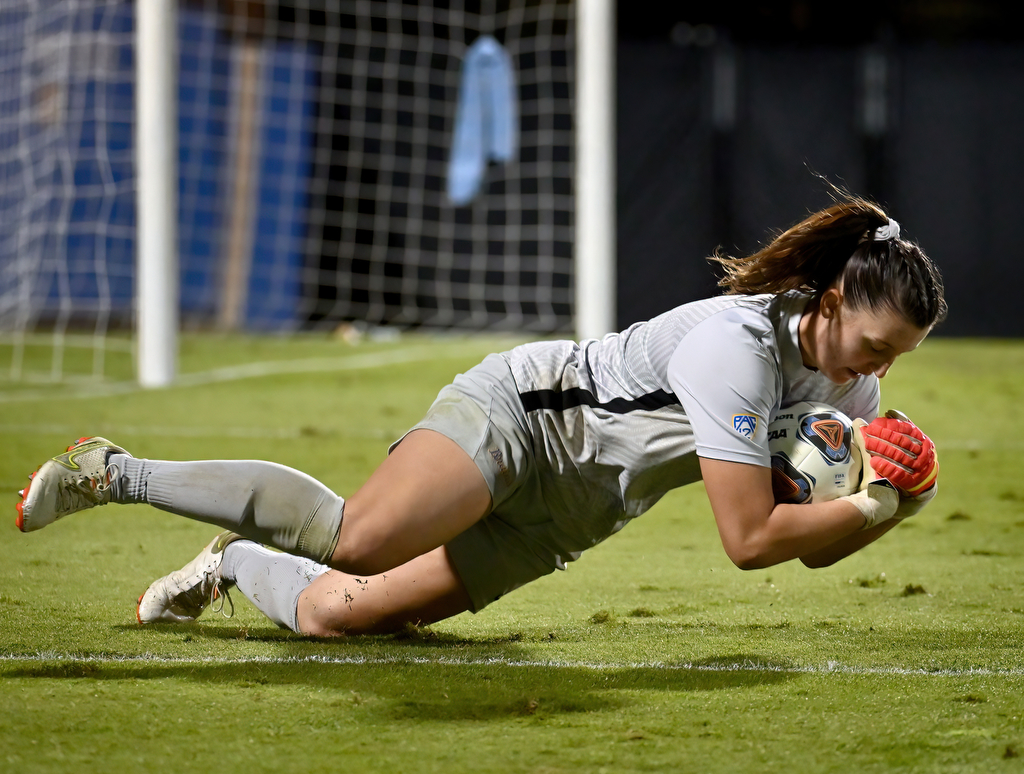 Even so, Brzykcy's coach, Lauren Leslie, saw stardom in her keeper, telling the San Clemente Times that Brzykcy would go down as one of the best, if not the best, goalie in school history.
"(Brzykcy) puts 100 percent into every training day. She never backs off," Leslie told the San Clemente Times.
As a Triton, Brzykcy was named to the All-South Coast League first team three times and was league MVP her junior season.
At San Clemente High, Brzykcy was a schoolmate of Sam Darnold, who would go on to be a star player at USC and is currently an NFL quarterback with the Carolina Panthers.
Brzykcy and Darnold lifted weights together informally and Darnold's mom, Chris, was one of Brzykcy's PE coaches in middle school.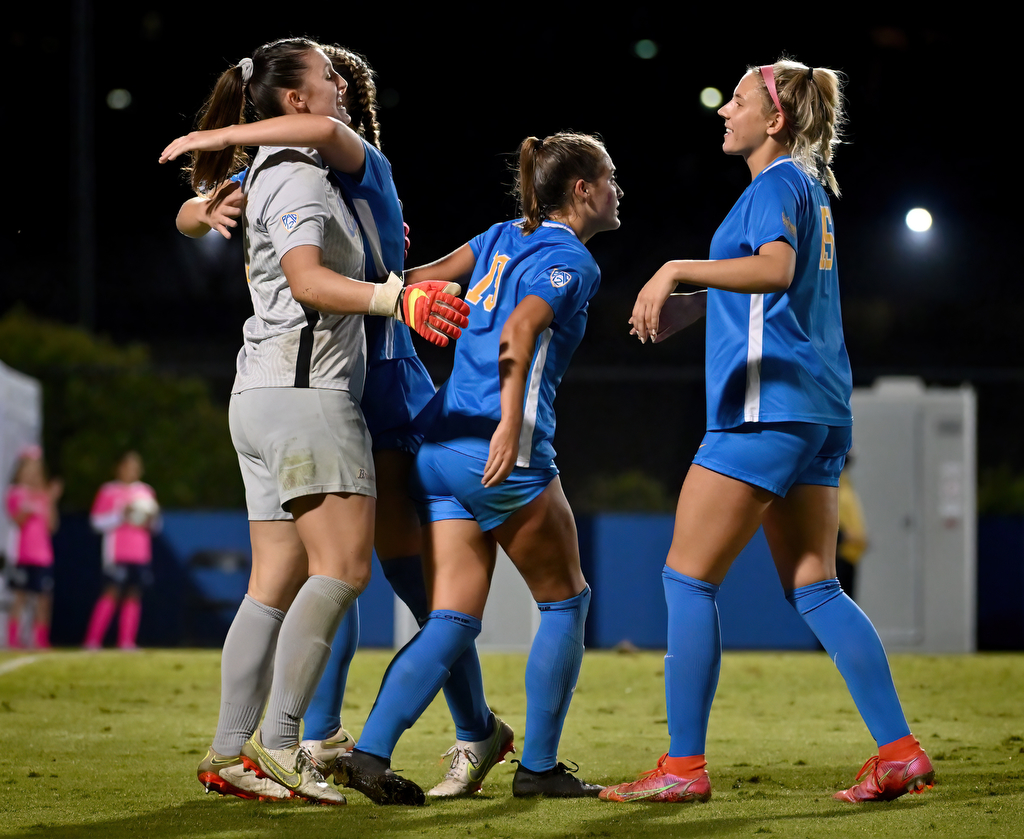 UCLA from the start
There was never much doubt where Brzykcy would matriculate.
"I remember writing in grade school that I wanted to go to UCLA and play soccer, which was crazy," Brzycky says.
Although she had trips to Notre Dame, Pepperdine, Santa Clara and USC, "UCLA was always No. 1," Brzykcy says.
Her tenure has been all the coaches could hope for. Last year, the Bruins won the Pac-12 title, going 9-1-1 in league play, and advanced to the NCAA playoffs before being eliminated in the third round on penalty kicks.
As a sophomore, Brzykcy played in six games, started four, and had two solo shutouts.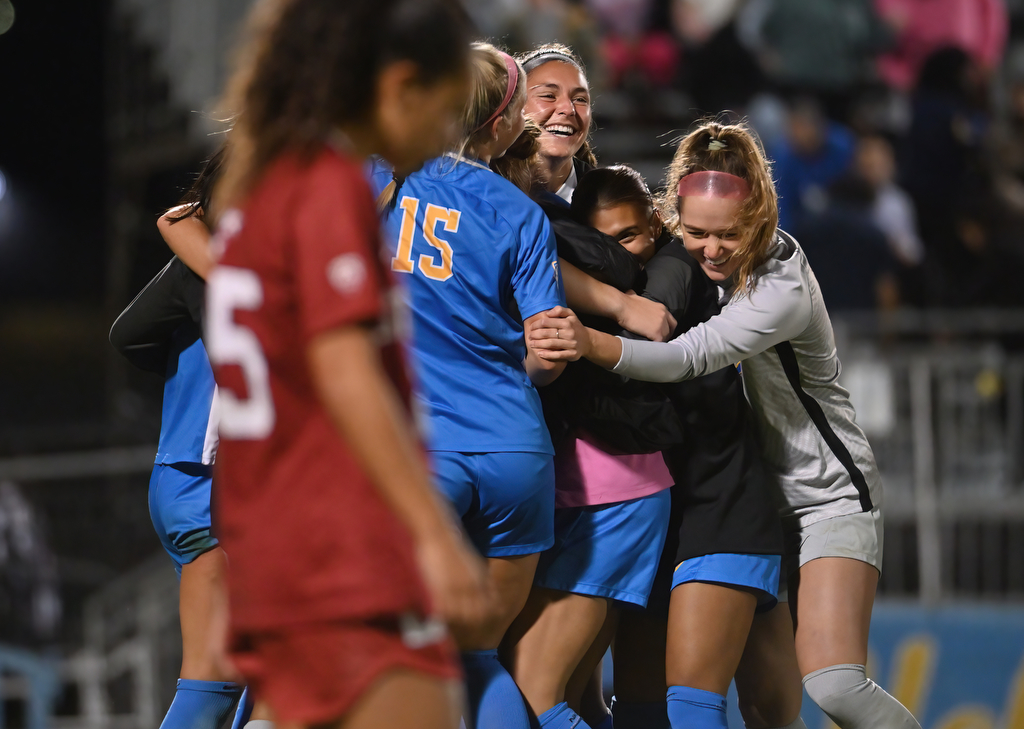 Her coaches say Brzykcy not only has the potential to play and star professionally, but that she could develop into a United States women's national soccer team member if she desires.
"Playing in the pro league will be a benefit," Cromwell said. "She's quick, athletic and a tremendous shot stopper."
Goalkeeping coach Saskia Webber agrees.
"She's a sponge. She keeps getting better and she wants to be better. She's never satisfied to be the best (college) goalie in the country," Webber says. Webber believes she is the top goalie in the NCAA.
Both coaches say Brzykcy is young and still learning and improving, though she has played the position since the U-9 league, according to her mom.
"She's got such a competitive mentality all the time," Webber said. "She's fearless, but not reckless."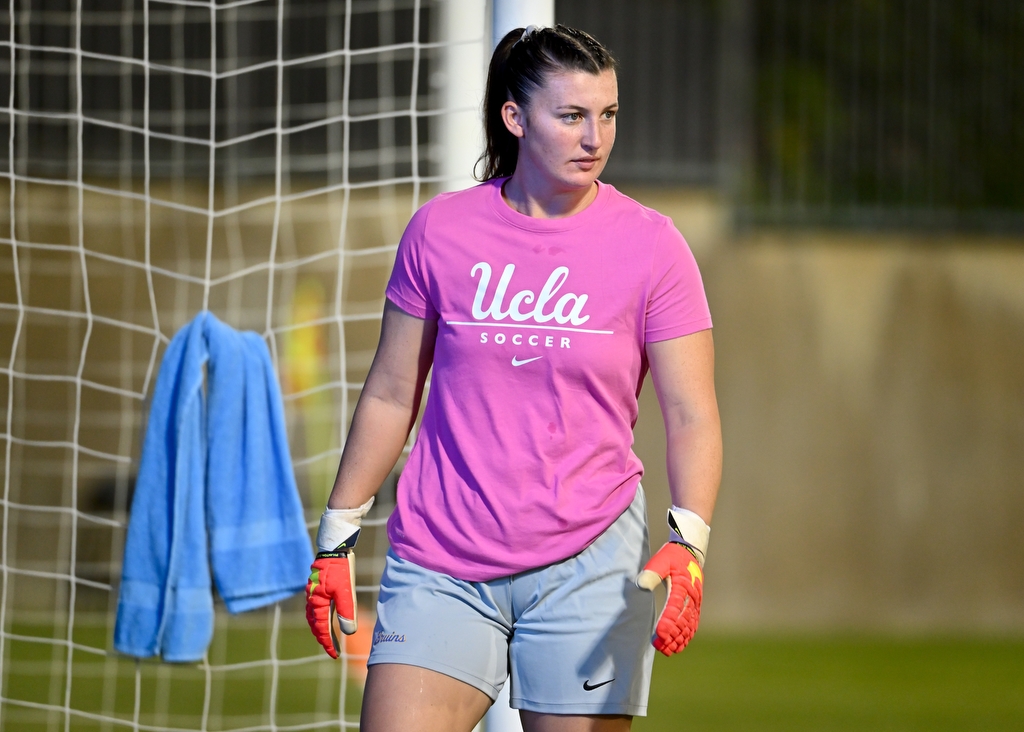 That was on display against Stanford, when Brzykcy went into scrums in front of the net, paying the price with several knee and shin shots that left her limping with an ice pack after the game. 
Webber said Brzykcy continues to add to her arsenal with her kicking game and ball distribution.
"We always teach that you're the first pass in the attack," Webber said. "If there's a weakness, we break it down. We'll fix it."
Webber says Bryzkcy will not relent until she gets it right. 
"She makes me look like a brilliant coach," Webber said. 
Before every game, Cromwell said the team's expectation is a shutout. So, perfection is merely living up to expectation, which is just fine with Brzykcy.