By Fernando M. Donado
Growing up in a family full of professional and collegiate athletes would be difficult for any sports competitor to live up to, but for Aliso Niguel High School senior volleyball outside hitter Jessica Smith, she has thrived under those expectations and is writing her own legacy. And not only as an athlete, but as a high-achieving student and positive member of her community.
In early May, Smith was announced as the recipient of the 2020-21 Gatorade California Volleyball Player of the Year, an award which recognizes not only outstanding athletic excellence, but also high standards of academic achievement and exemplary character demonstrated on and off the field.
Simply put, Smith was considered the best high school volleyball player in California.
"I am so grateful to have been awarded such a prestigious award that has been given to so many amazing players before me. I've grown up looking up to all those players and hoping to be like them someday, so to be given this award which not only recognizes athletic excellence, but also academic achievement and exemplary character, is an amazing accomplishment," said Smith, who in 2020 received the Amateur Athletic Union (AAU) Beach Player of the Year award, and in 2021 also won the Orange County Volleyball Player of the Year distinction.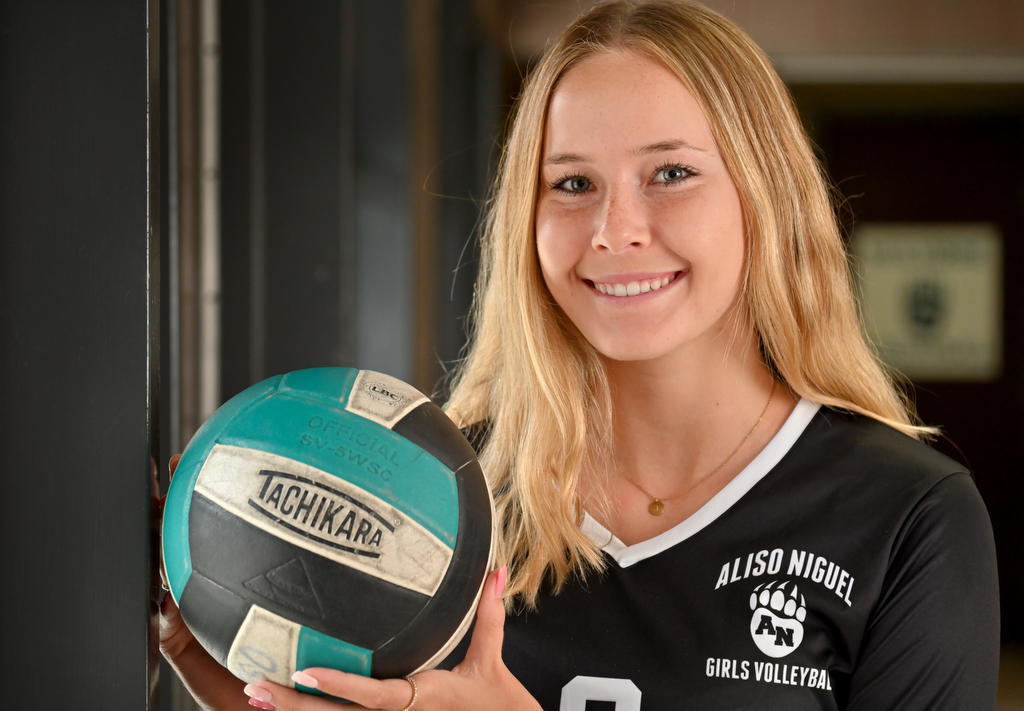 "I don't think that this adds any pressure from here on. If anything I think that it motivates me to continue to work hard both in the classroom and on the court to be the best version of myself that I can be."
Talent comes natural for Smith, who first picked up a volleyball when she was 12 years old, following a long line of volleyball players in her family.
Her father, Scott, and his identical twin, Steve, played collegiate volleyball and for the Canadian National Team. Her uncle played professionally for 10 years in Europe. Jessica's brother, Ethan, is a sophomore who plays for Harvard's men's volleyball team, while her twin sister, Katelyn, will be playing volleyball for USC this upcoming fall.
"Lucky for me, I have a built-in support system where we all push and motivate each other to be the best that we can be and to have fun while competing at a high level," Jessica said. "My family has been very supportive and my parents have always encouraged me to do my best and to be well-balanced. They've emphasized the importance of school and have encouraged me to give back to my community. My twin sister, Katelyn, and I have also been on the same team for 7 years now, and having someone by your side to constantly push you to be your best and support you has been very beneficial."
Her twin sister may have been at her side all these years, but it won't be that way in the fall. While Katelyn will play with USC, Jessica signed a National Letter of Intent to play beach volleyball on scholarship for UCLA.
"For me, UCLA is the perfect balance of strong academics and a top beach volleyball program," Jessica said. "I wanted to be able to compete for national championships while also getting a meaningful degree that would set me up for the future. Additionally, the coaches at UCLA are not only amazing coaches but also amazing people and I knew that I would be able to learn a lot from them both as a player and a person."
The senior currently has a grade-point average of 4.36 and is a valedictorian of the Wolverines' Class of 2021.
Despite all of her success during her shortened senior season, which included a perfect (4-0) record in the South Coast League, 2021 was difficult due to the COVID-19 pandemic. Smith said there were elements that she and her teammates missed out on, like spending more time on the court and getting to compete for CIF and state championships with a talented and top-rated Wolverine volleyball team that had five starters returning and were one of four schools projected to possibly win state.
"It was a bummer because I think that this year could have been our year," Smith said. "We had a really talented and hardworking group with great connections and I wish that we could have had an opportunity to prove that. However, although it was short, I am extremely grateful for the season we had and that I got to play next to my best friends one last time."
Although Smith's high school season was cut short, she did manage to play fully for her club team.
"I was still able to have a relatively normal club season and we were still able to travel for tournaments closer to the end of our season and compete at a high level," she said. "However, beach volleyball competition was much slower to return to normal but thankfully I was still able to get a lot of training in with a couple of other great players."
When asked which kind of circuit (indoor or beach volleyball) she prefers to play, Smith admits she likes to play in both, but her preference sides with the court where she has more control and action.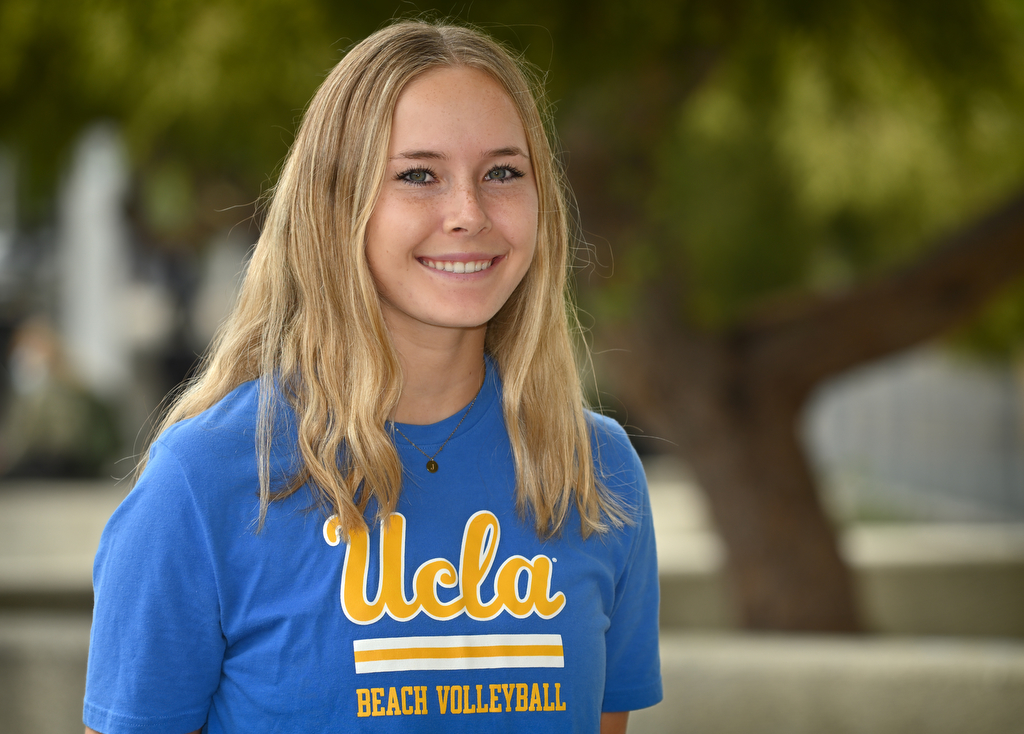 "While I love both indoor and beach volleyball, I would have to say that I prefer beach volleyball," Smith said. "Since there's only two players on the court, I get to be involved in every play and playing the sport I love on the beach is a huge perk. There's nothing like running into the ocean water to cool off after finishing a long tournament!"
Jessica's father (and former coach), Scott, said he has always encouraged his family members to dream big, always give 100 percent and don't take anything for granted.
"I was lucky enough to coach Jessica in a handful of sports, including volleyball," Scott Smith said. "She is a coach's dream. If you asked her to do something or try something new, she would give a smile and a thumbs up and get to work. She loves to compete. Jessica works very hard in practice, but also puts in a lot of work on her own time. She is a student of the game. She would watch videos of other teams and scout players and their tendencies before every match and come to every game with a plan. Jessica is also very humble and the most positive teammate and supportive captain."
Jessica's varsity volleyball coach at Aliso Niguel High, Richie Whiting, also can attest to the qualities that she brings to the court and her teammates.
"She (Jessica) is a fierce competitor and that shows in her day-to-day work," Whiting said. "She doesn't just fight to win games, she fights to be great in practice as well. Jessica holds herself to such a high standard that it makes everyone else around her better. Her high volleyball IQ and steady leadership helps the team remain calm and play with confidence. Jessica absolutely deserves this award.
"California is such a competitive state and since we didn't have a CIF season, I think we were all surprised (about the 2020-21 Gatorade California Volleyball Player of the Year award), but I think it's a testament to her high academic accomplishments and her long list of club and beach accolades."
In addition to the hard work focusing on her academics and on-the-court performances, Smith finds the time to do plenty of community service. She has volunteered locally for multiple food banks, the Special Olympics, a Challenger Basketball league supporting people with physical and intellectual challenges and a beach clean-up initiative.
"Time management has been very important in balancing sports with my school work and community service," Jessica said. "Sometimes I have to sacrifice missing out on social events because of practices or tournaments, but for me it is worth it. In the end, it's not much of a sacrifice because I enjoy what I do and it's very rewarding when all my hard work pays off, especially in big moments like national championships."
When she is not playing volleyball, she opts to go to the beach, surfing, or going out for a dessert.
"I'm a sucker for ice cream and Crumbl cookies," she said.
With graduation around the corner, the topic of conversation was about her upcoming new steps in life, and her new collegiate adventure at UCLA.
"I'm not really sure what I want to major in at college yet, but I hope to continue playing beach volleyball professionally after college," Jessica said. "I plan to take a variety of courses my freshman year to explore some options and help me figure out what I'm most passionate about."