By Cathi Douglas
Patsy Takemoto Mink, the first woman of color elected to the U.S. Congress and the namesake for Title IX, continues to inspire young people nearly two decades after her death.
The proof came on March 29, when more than 80 students from Don Juan Avila and Aliso Viejo middle schools attended a virtual luncheon lecture by UCI American Studies Professor Judy Tzu-Chun Wu, whose latest book project explores Mink's political career.
Wu is the director of UC Irvine's Humanities Center. Her book is a collaboration with political scientist Gwendolyn Mink, Patsy Mink's daughter.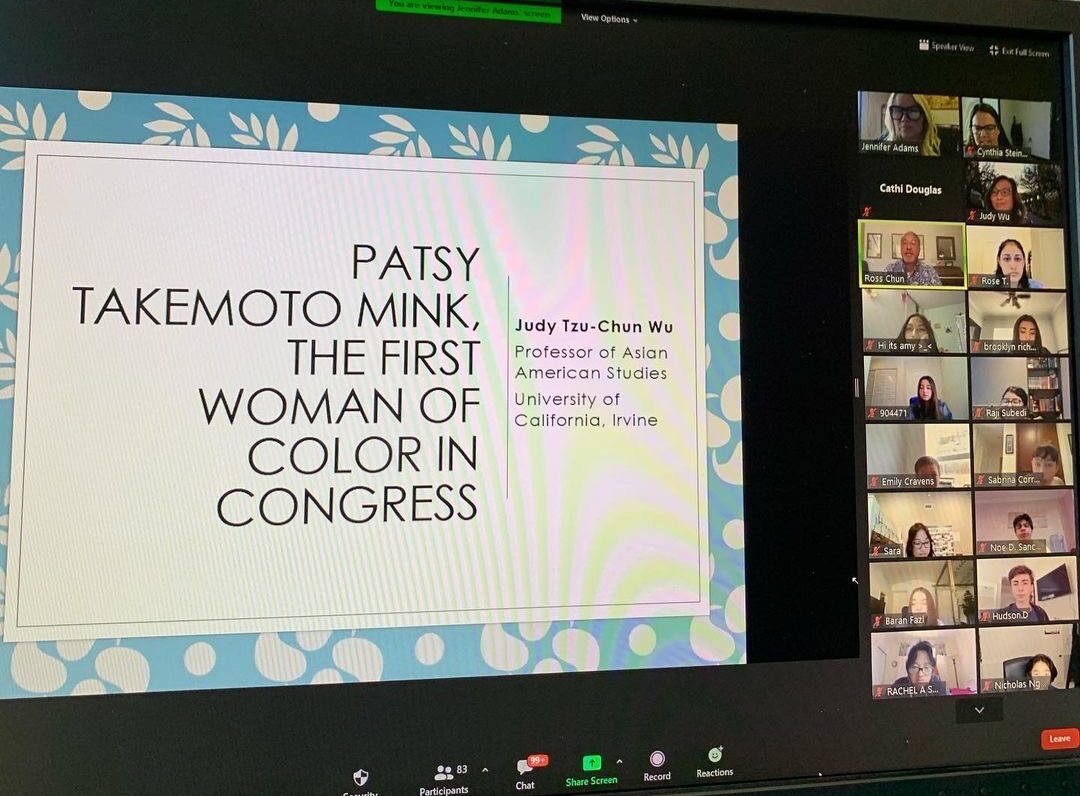 At the virtual luncheon, she was introduced by Ross Chun, Aliso Viejo Mayor Pro Tem. Don Juan Avila Principal Amy Varricchio and Aliso Viejo Principal Cynthia Steinert were co-hosts.
"Patsy Mink grew up in the sugar cane fields of Maui," the documentary Ahead of the Majority states about Mink. "She had no patience for injustice or intolerance."
Born in 1927, Mink grew up during the Great Depression with aspirations of becoming a doctor. When her applications to medical schools were rejected, she instead studied law, graduating from the University of Chicago. Setting up a firm in her native Hawaii, she became the first Japanese American woman to practice law there. She was already married and had a small child.
"She was disappointed many times in life, but Patsy never quit," Wu said. "The entire political system was against her, but she believed that what she was doing was right."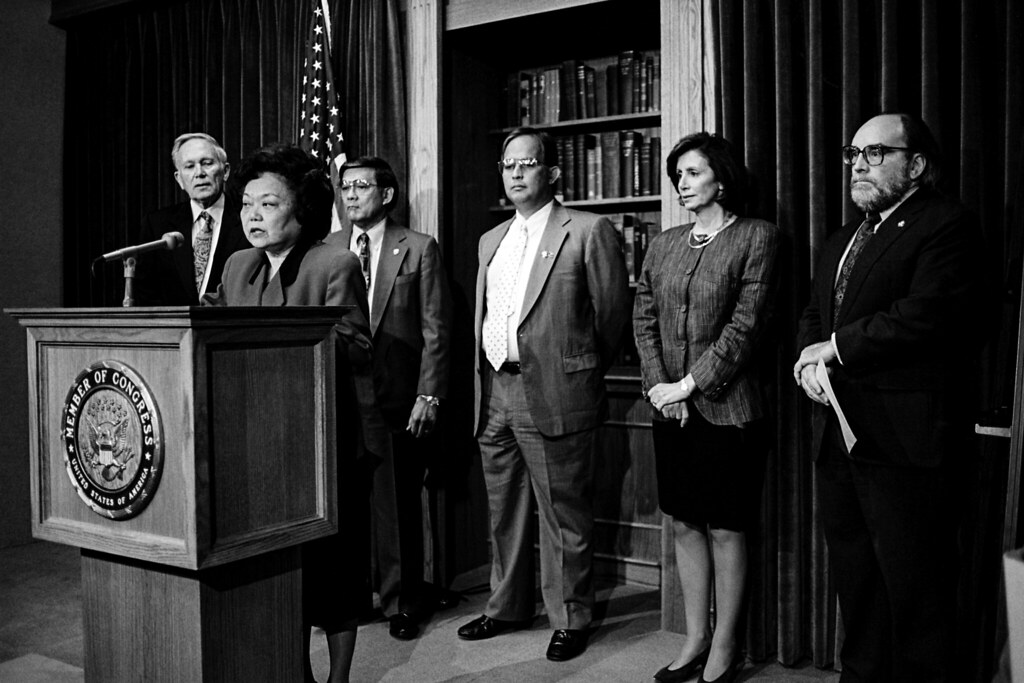 "She kept on trying, moving forward," she continued, "and that is an important lesson for all of us."
Mink first was stymied in her attempts to win public office, but succeeded in 1965, when she was elected to Congress. In 1972, she ran unsuccessfully for president against then-President Lyndon Johnson. Her campaign was based on her opposition to the war in Vietnam.
"She was asking troubling questions about what we were doing as a country, as a society," the professor noted. "She brought questions of morality to the forefront."
Mink's political role model was President Franklin D. Roosevelt.
"He was someone who thought about how we can use the force of the government to help people get jobs and economic support," Wu said. "There are some parallels to COVID-19 in that there are discussions amid the losses and death about what our country can do."
"She believed that government should play an important role in people's lives"
One of Mink's most significant lasting legacies is Title IX, the 1972 law that states: No person in the United States shall, on the basis of sex, be excluded from participation in, be denied the benefits of, or be subjected to discrimination under any education program or activity receiving federal financial assistance.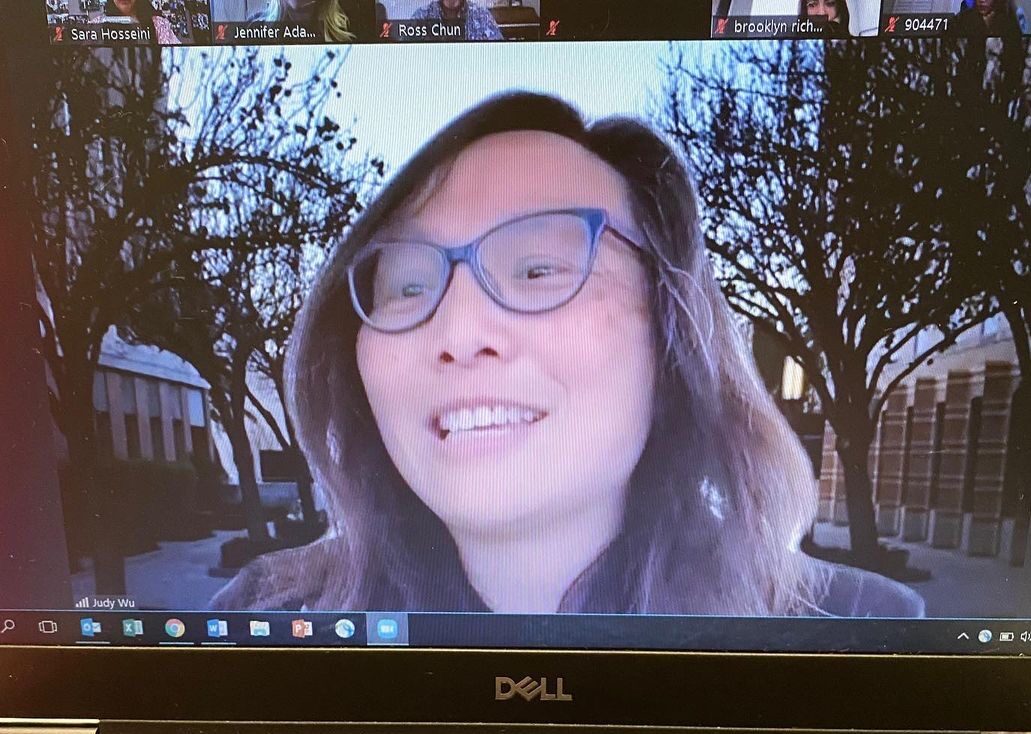 Though Title IX is best known for leveling the playing field for female athletes, the law goes much further, notes Wu.
"It not just guarantees equal access to sports, but to housing, education, and many other programs. It laid the legal foundation for gender equality in the United States," she said.
In response to a question from student Olivia Noble, Wu said her research for the book began with examining the contents of more than 2,000 boxes on Mink stored in the Library of Congress. The primary source of information is Mink's daughter and her co-author.
"I knew that Patsy wanted her daughter to write her biography, so the book begins with her memories of growing up," Wu said.
When student Belma Isiklar asked, Wu observed that Mink's political career in Hawaii continued into the late 1970s and 1980s, when she ran for city council.
"She was worried about wages, housing, and responsible citizenship," the professor said. Though serving on the city council seemed like a step down after being in national politics, Mink "just kept going no matter what venue she was in. She always did what she thought was right."
Responding to student Grace Hirakawa, the professor said that the most rewarding part of writing the book has been bringing attention to a woman who is largely unrecognized.
As Women's History Month wrapped up, she noted, "I'm honored to write about Patsy Mink's passionate commitment to creating social change."