By Cathi Douglas
As fifth graders wrap up their time in elementary school and prepare for the challenges of middle school, they often feel intimidated.
The persistent isolation mandated by the coronavirus pandemic makes it even more profound.
So the sixth graders at Shorecliffs Middle School thoughtfully hatched an innovative plan to welcome next year's incoming class: They designed and personalized postcards for each of the 250 new students.
"To get something in the mail they can actually hold to feel part of the school next year made them feel especially welcome," observes Stephanie Zenisek, who advises the group of SOAR Ambassadors. "We wanted them to feel welcomed, excited, and to show what it's like to be a Shorecliffs student."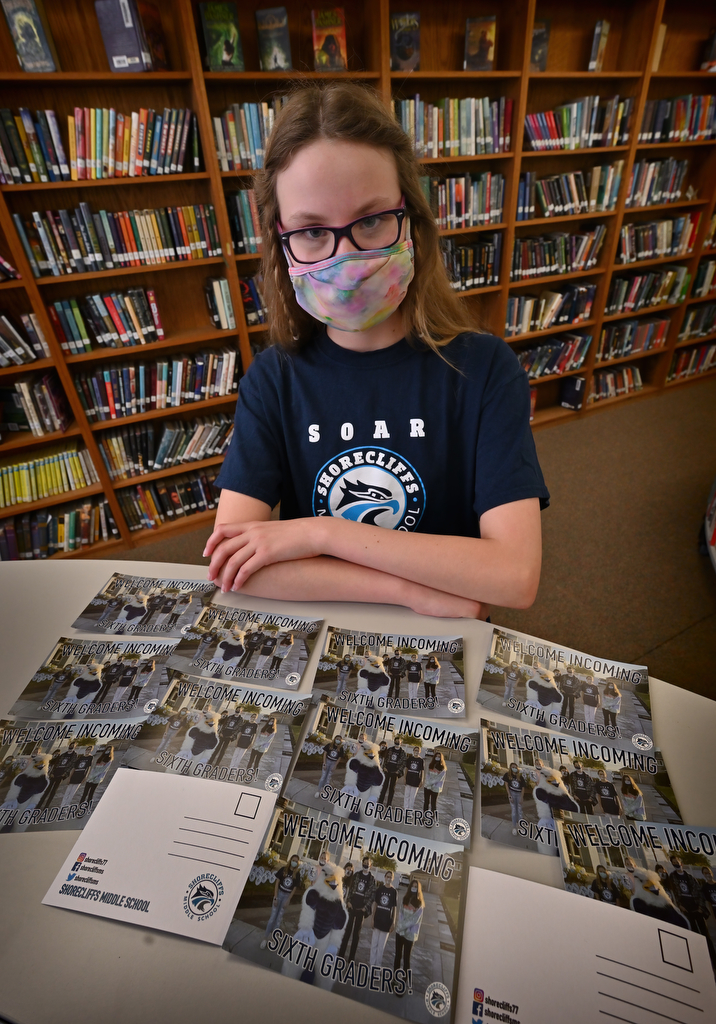 "It really caught a buzz," she adds.
SOAR Ambassadors promote Shorecliffs expectations and generate school pride. SOAR stands for Safety, On Task, Achieve, and Respect.
Students Andrea Freeman and Angelina Gendall, together with their fellow SOAR Ambassadors under the direction of Zenisek, designed the cards.
Once the group came up with ideas and designed the cards, Shorecliffs Principal Dr. Chris Davis tweaked them using Adobe Illustrator and Zenisek managed the printing. The students spent several lunch hours writing personal messages on the cards. Once the cards were stamped and addressed, Zenisek took them to the district office to ensure they were properly distributed.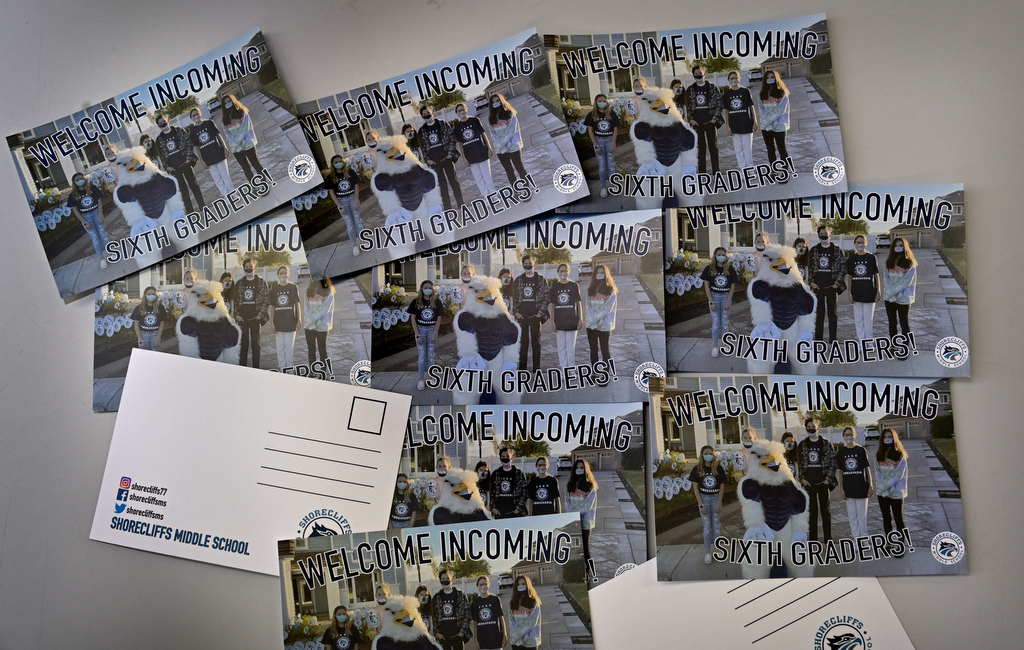 While the process was time-consuming, the students enjoyed writing the messages, Freeman and Gendall recall.
"The postcards are important because it's good to see the future sixth graders smiling," Freeman says. "I hope that they come to school happy and ready to learn."
Middle school places new students into six different classrooms with a teacher for each subject, Davis notes. Students have lockers and they navigate a larger campus — a big change from the elementary school experience.
"It can be a scary time," Davis says. "We wanted to debunk that, and show that it is a place where they are welcomed. We care about them and are excited that they are here."
If a child feels connected to their school, they do better in their classes, Davis adds, as they see their friends and get excited about what's happening on campus.
Gendell remembers being really nervous when she first entered sixth grade.
"I think it's important to greet the students and make them feel welcome," she says. "It was really fun and cool to do something for them."