Since its founding 12 years ago, San Juan Hills High School sports teams achieved a record number of league championships this year with 8 teams advancing further in the playoffs than years past.
This 2018-2019 school year, 12 student-athletes will be continuing their athletic careers at the collegiate level. San Juan Hills High School Athletic Programs won 8 league championships including girls tennis, football, boys surf, girls volleyball, girls water polo, girls basketball, girls swim and boys golf.  Our team success was capped with a Division 3 CIF Championship won by the Boys Tennis team.
Such achievements point to the athletic department's commitment to establishing highly-competitive programs where coaches celebrate student-athletes and encourage multiple sport participation, said Farrel Moore, athletic director.
"We promote quality coaching and mentorship to develop our students both on and off the field," Moore said.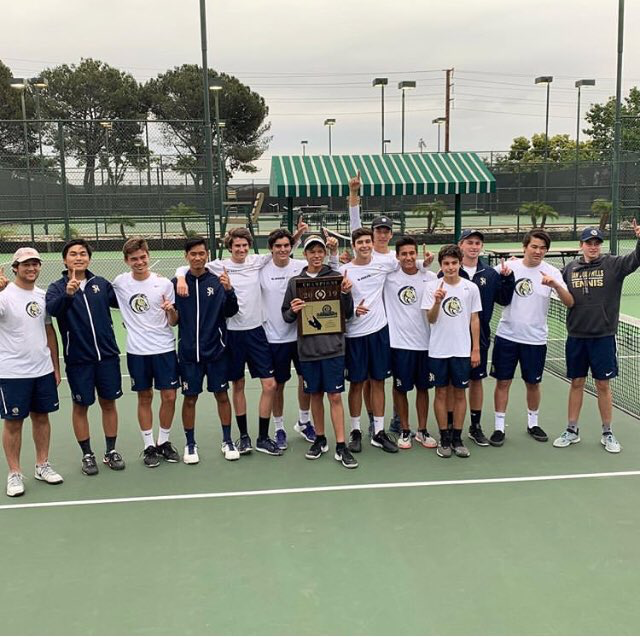 Three particular seniors successfully standout for their commitment to the sport:
Sean Rhyan is a three-year letter winner in football and track. He is a three-time all-Conference, two-time all-Orange County, two-time all CIF, and two-time all-State award recipient for football. Rhyan was ranked the #1 Offensive Lineman in California and was named to the 2019 High School All American Team. In track, he is a three-time Sea View League Shot Put Champion and he also is the Division 1 Shot Put Champion and finished 3rd in the CIF State meet. Sean is the San Juan Hills High School Male Athlete of the Year, the CVAA Male Athlete of the Year, and the OC Register's Male Athlete of the Year. He will be competing in football and Track & Field next year at UCLA.
Lacey Hall is a three-year letter winner in water polo and swim. She is a two-time CIF Division 1 swim finalist and was instrumental in leading both water polo and swim to league championships this 2018-2019 school year. Lacey was a First Team All Sea View League award recipient in water polo during her junior year. As a senior, she set the school record for most number of goals scored in a single season in water polo, was named the Sea View League Most Valuable Player, and earned all CIF honors. Lacey has a 4.40 GPA and will be competing in water polo next year at CSU Northridge.
Abbey Dayton is a four-year letter winner in volleyball. She is a two-year All League First Team award recipient and South Coast League Most Valuable Player. Abbey was selected All-Orange County First Team, All-CIF First Team, and All-State Second Team. She is a four-time league champion and four-time scholar athlete and will be competing in volleyball next year at BYU.
San Juan Hills High School student-athletes who have signed letters of intent to continue their athletic careers at the collegiate level are:
Abbey Dayton, Girls Volleyball, BYU
Amanda Haimes, Girls Soccer, Minnesota State University
Angelica Gonzalez, Softball, Iowa State UniversityCade Albright, Football, BYU
Carson Lewis, Football, University of San Diego
Case Ostrom, Football, Claremont McKenna
Josh Rauterkus, Baseball, Whittier College
Lacey Hall, Girls Water Polo, CSU Northridge
Madison Beebe, Girls Volleyball, Biola University
Phoebe Popplewell, Softball, Ottawa State University
Rachel Hall, Girls Soccer, Colorado State University
Sean Rhyan, Football, UCLA