As Capistrano Valley High School celebrated its 41st anniversary, athletic director Chad Addison looked back at the tremendous students and coaches who have been an integral part of this year's athletic accomplishments and history.
"We are a traditional high school that neighborhood kids attend and many of our parents are Capo alumni so we want the community to be proud of us and believe in what we do to make Capo proud," said Addison, who is in his seventh year as athletic director.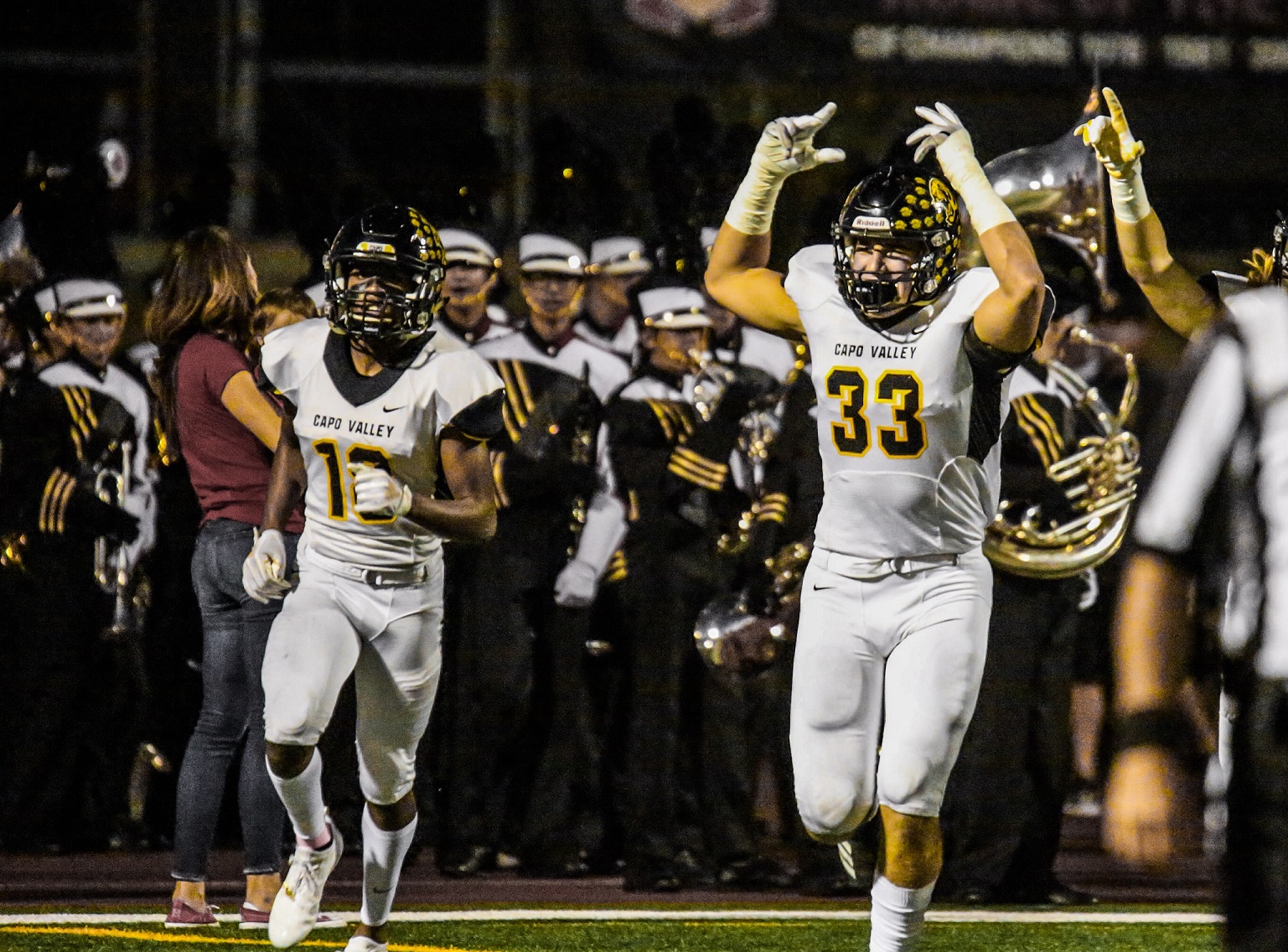 This 2018-2019 schoolyear, the school won three league titles, and an estimated 40 athletes will play at the collegiate level with 22 student-athletes receiving scholarship money for athletics.
Student athletes achieved league championship wins in boys water polo, girls track and baseball, and football made it to the CIF Semi-Finals for the third year in a row. A very special class of seniors helped the school win 17 league titles, two CIF team titles and four Individual CIF Titles during their four years at Capistrano High.
Addison said the most notable of moments this year in the school's athletics department was when two Capo Valley water polo players helped save the life of San Diego coaching legend, Randy Burgess.
During preparations for a summer tournament in July 2018, Capistrano Valley High teacher Kendra Yancey urgently summoned Capistrano Valley water polo player Julien Coco, a seasonal lifeguard and one of her former students who was in the middle of a match the pool, to assist in caring for Burgess on the pool deck. Coco called his teammate, fellow lifeguard and senior Jason Seitz for help.
Coco and Seitz, both 17, assisted in the care of Burgess and teamed with coaches and paramedics to save the life of the 60-year-old coach who suffered ventricular tachycardia, a dangerous type of rapid heart-beat.
"People call them heroes and they really are," Burgess told the Orange County Register in October. "But to them, I guarantee you, they're not heroes. They just did what they had to do. I'm here because everything lined up."
Addison said individual accomplishments of Cougar athletes include Markie Hopkins, a Northwestern-bound senior who put on an impressive diving performance at the CIF-SS Division 1 girls championships. Hopkins scored five 8.0s in the 11th and final round on a difficult forward 1 ½ somersault with two twists on the 3-meter springboard.
The National Football Foundation/Orange County Chapter held its 49th annual Scholar-Athlete Awards Banquet, honoring Orange County football players who maintained a 3.5 grade-point average or higher while receiving all-league or all-conference first team recognition. Capistrano Valley High honorees were Thomas Dickman, James Giles and Nathan Manning.
Manning finished fourth among Orange County quarterbacks in passing yardage with 3,497 and achieved 49 touchdown passes. He signed with Cal Berkeley as a baseball player, as he was All-CIF in baseball too, as an outfielder last spring. An excellent defensive center fielder, he batted .392 with 40 hits and 13 RBIs last season.
"High school athletics and the overall experience is special," Addison said. "I feel privileged to be a part of the journey for these athletes and I just want to do my part to support the student-athletes, families and coaches in providing the best experience possible for the kids."
The athletes who so far have signed letters of intent declaring where they will play at the next level are:
Ally Taylor, Softball, Seton Hall
Blake Morgan, Football, Southern Oregon
Chad Call, Baseball, Cal State Northridge
Elena Wenger, Tennis, Westmont
Ethan McCrary, Volleyball, Harvard
Garrett Broussard, Baseball, Utah Valley
Hayley Montague, Diving, Louisiana State
Jamie Brown, Volleyball, University of Alabama
Jayce Hunter, Football, Drake
Jolie Robinson, Track and Field, Northern Arizona University
Kamran Eslami, Water Polo, Johns Hopkins
Maddie Griggs, Soccer, Westmont College
Madison Werner, Soccer, Loyola Marymount
Markie Hopkins, Diving, Northwestern
Megan Short, Soccer, University of Colorado, Boulder
Michael Morizono, Water Polo, Chapman
Nathan Benefeito, Baseball, Concordia
Nathan Manning, Baseball, UC Berkeley
Rhys Stevens, Baseball, Cal Poly Pomona
Sarah Thieroff, Softball, Cal Baptist
Ty Savely, Cross Country and Track, Colorado State University, Pueblo
During the school's Senior Awards, Capistrano Valley High staff recognized eight student athletes including James Giles, Randy Arriaga, Josh Puchalski, Markie Hopkins, Ally Taylor and Blake Morgan. Jolie Robinson and Nathan Manning were named as the 2019 female and male Athletes of the Year.