By Lou Ponsi
The first taste of high school football for the roughly 80 San Juan Hills freshmen who've been practicing since July has been anything but conventional.
Because of the novel coronavirus, the Stallion first-timers have been practicing all year, wondering if they'll get to face off against a team with different colored jersey.
But despite the uncertainty, the commitment of the freshmen class has been unwavering, San Juan Hills varsity football coach Rob Frith said.
"We haven't lost any kids," said Frith, whose varsity team entered the year as the defending CIF SS Division 4 champions. "Even though (the pandemic) is going on, they are here every day. They must be having fun. They must be feeling like it's beneficial. It means that we are doing something right and they are continuing to find ways to be here."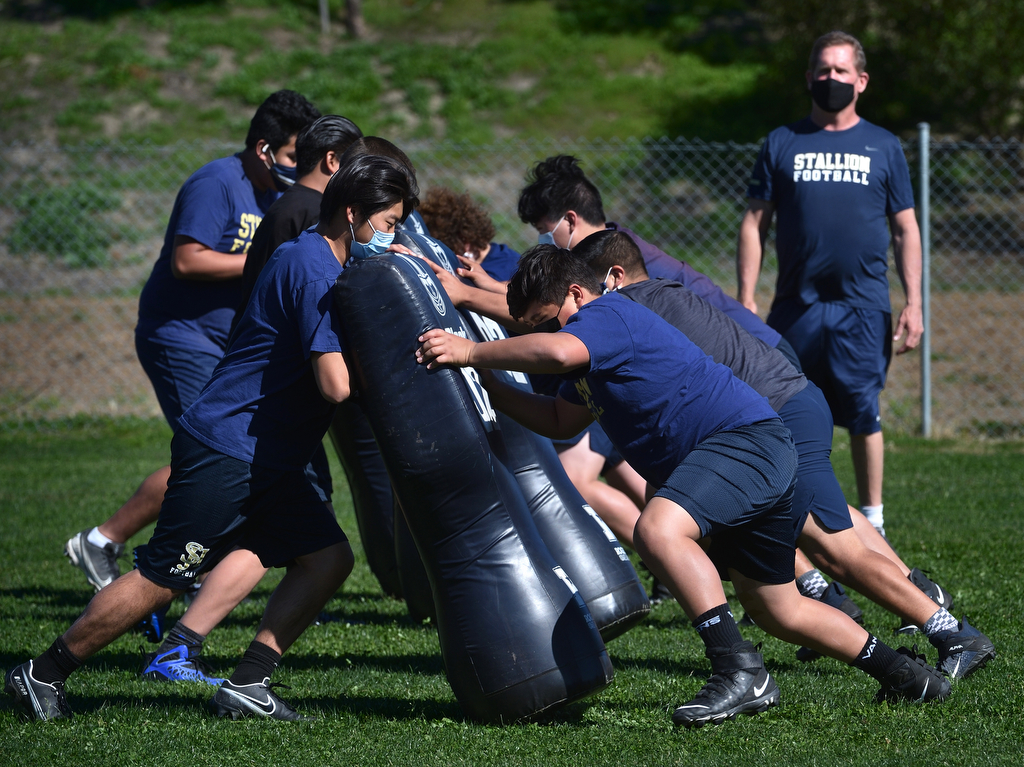 Practicing during the pandemic is necessary and beneficial since this may be the only time the kids get to be with their friends and teammates, Frith said.
"They need this because this gets them out of the classroom," the coach said. "They miss their friends. There is so much positivity that goes on with them being here, mentally and physically. There are mentorship opportunities that are out here for us. This is something that we have to continue. These kids need to be here."
Freshman tight end/linebacker Jake Javorsky said participating in a sport has helped take his mind off some of the stresses associated with school.
"I get so see all my teammates, friends and coaches and get to bond with them," Javorsky said. "I find it fun to support my school."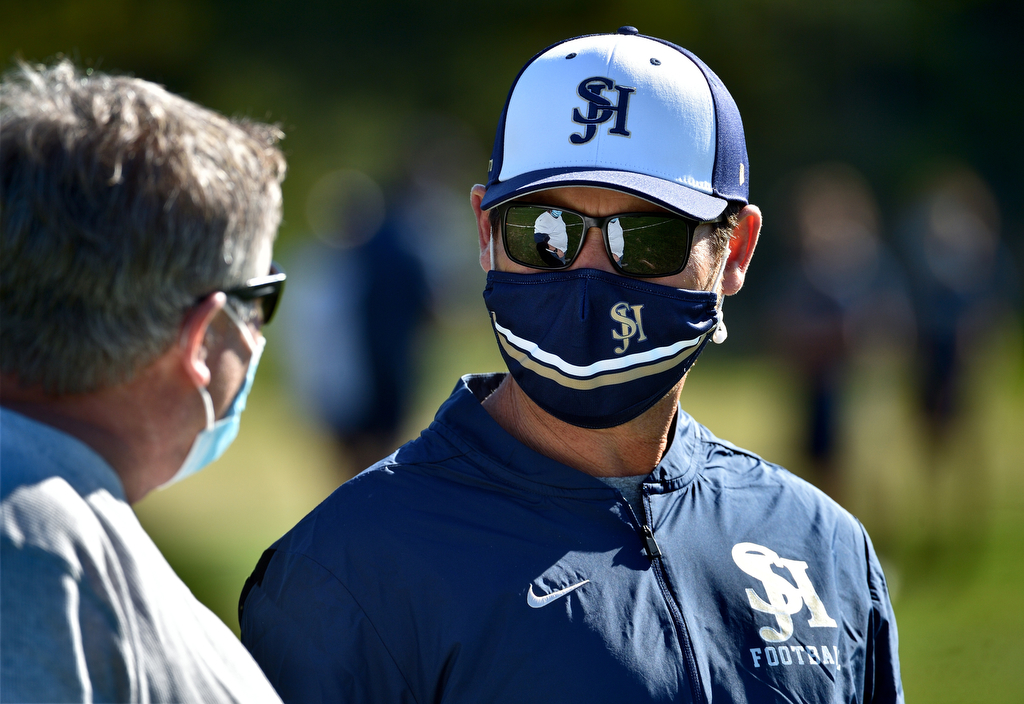 Frith attributes the freshmen team's dedication, in large part, to their first-year coach Brandon Gabriel, a volunteer whose only coaching experience is at the youth football level.
Gabriel and Frith were introduced through a mutual friend, and when the pair met the first time, the conversation didn't center around Xs and Os.
Instead, they spoke about values and philosophies, recalls Gabriel, who is the son of retired Los Angeles Rams quarterback Roman Gabriel.
Frith told Gabriel that the freshmen squad may be the most important component of the football program.
"It's to get these guys to have a great experience … make sure they are having fun," Gabriel said. "Some kids may never play, but being a part of the team is going to make their day and make their year."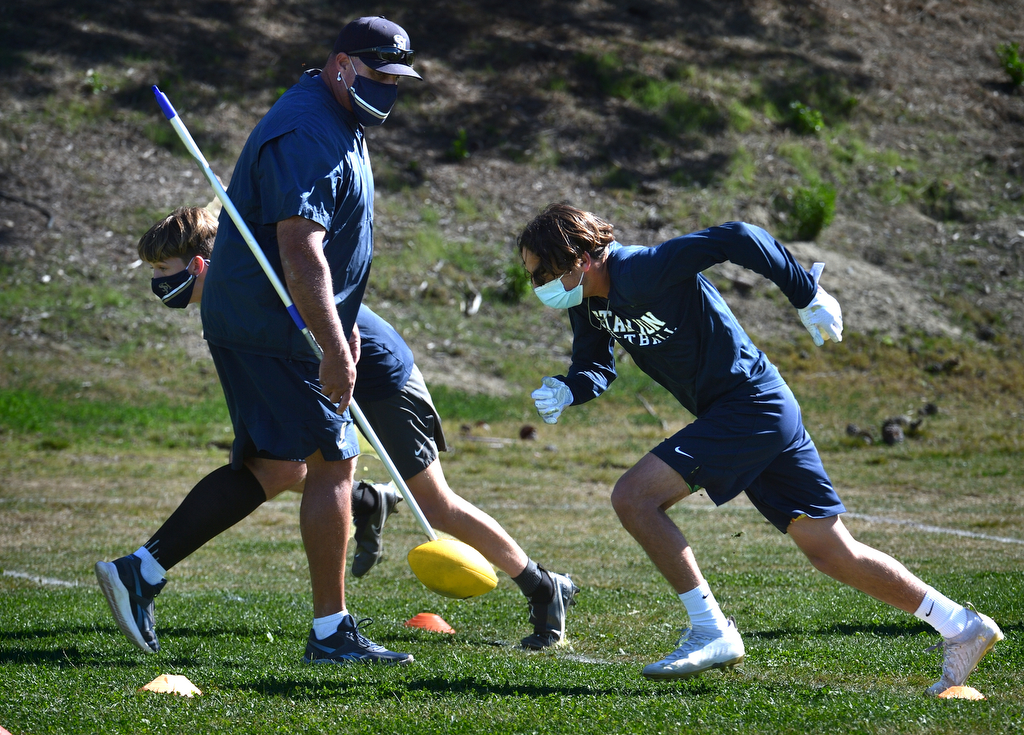 When the season started last summer, the Stallions fielded about 60 freshmen, Gabriel said.
Word started to get around that SJHHS is doing something right, he said.
"It became 70, 80, 90 kids," the coach said. "There is something about being on a team in any sport, especially through these hard times. You can lean on your brother. It's about how many of these guys are going to make friendships that last a lifetime."
The players have stuck around for a variety of reasons.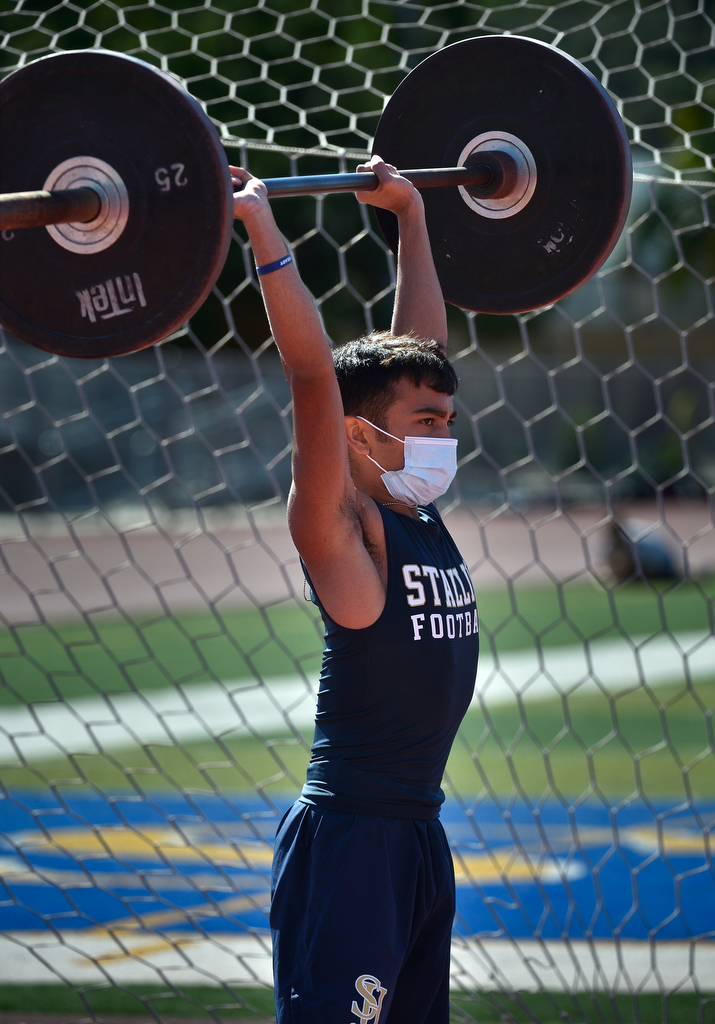 Most understand the fact that both their time as freshmen and the pandemic won't last forever.
Games will definitely be played at some point.
They also cherish the camaraderie that comes with being a member of a team.
"I'm going to play next year and I'm going to play throughout high school, so why not just stay and get some experience," freshman receiver/defensive back Ben Ahmer said. "It's been pretty great. I've made good friendships. The coaches are great. I love playing here."
Freshman Blake Berry, a receiver and defensive back, simply loves the game of football and everything associated with the sport.
"It's just something that motivates me and keeps me busy," Berry said. "It's just so helpful to see everyone …. from lifting to running routes, and doing something. It just keeps me motivated to keep going to practice every day."