By Lou Ponsi
For the San Clemente High School surfing team, winning championships is as predictable as a sunset over the Pacific Ocean.
Over the past 15 years, the Tritons have been the most successful athletic team in the Capistrano Unified School District, capturing 12 state championships and seven national titles.
The Tritons varsity and junior varsity squads won their latest National Scholastic Surfing Association (NSSA) state championship the weekend of March 6 at Seaside Reef at Cardiff by the Sea.
Eleven individual Triton surfers placed among the top six of their respective categories.
"It goes back a long way and we've been pretty dominant since 1999-2000," Triton surf coach John Dowell said. "Our winning rate is pretty significant."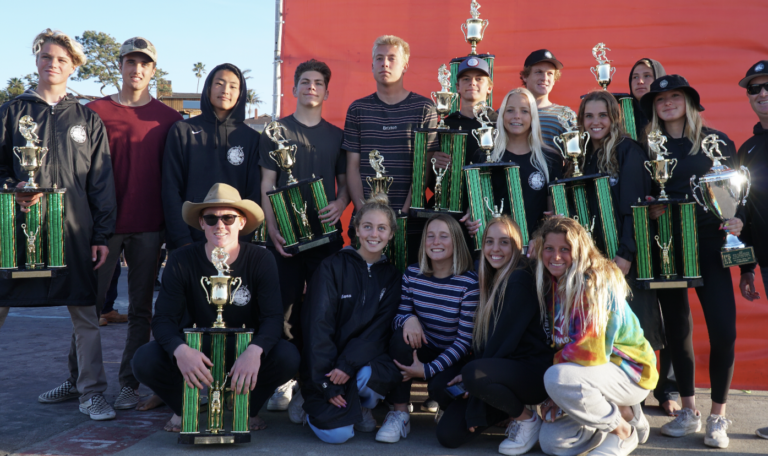 Senior surfer Jack Hopkins, who has been part of three of San Clemente's state championship winning teams, said he loves the camaraderie and the competitive nature of his teammates.
And the fact that the Tritons are so dominant is also pretty cool, Hopkins said.
"We probably have one of the best teams throughout the whole nation and it's really fun to compete with the other kids," Hopkins said. "You cheer for your own guys which is cool and you root for them and you could be in the same heat with them. You see stuff new every day. It's a good time overall."
A surf team consists of six male short boarders, two female short boarders, and one long boarder.
Each surfer competes individually against other surfers and is given a score for each wave.
"The further you progress, the more points you earn for your team," Dowell said.
Six points are awarded for first place, five for second place and four for third. Waves are scored based on speed, power, flow, the approach and technique on the wave, Dowell said.
"It's kind of the speed, power and flow is what they are looking at," the coach said. "What the kids are doing on the waves and the turns they are able to accomplish at certain parts of the wave."
Arguably the most successful Triton in recent seasons is sophomore Julia Guild, who was named NSSA Surfer of the Week the week of March 15 after her second consecutive Junior Varsity Women's State title at Seaside Reef.
"It was a good weekend," said the 16-year-old, who was in fourth grade when her family moved from Las Vegas to San Clemente and has only been surfing since sixth grade.
"I love to be on the ocean," Guild said. "It's so relaxing and nice to just escape to the world. It's always been a family thing too. My dad does it. My brother does it. I have fun with people that I like."
Freshman Braden Burch is well aware of the high bar that's been set by his predecessors.
He also realizes that many surfers pursuing a pro career will sometimes turn to home schooling in order to have more time to pursue surfing.
"My goal is to stay in school all four years," Burch said. "I want to be like these guys and win championship all years."
Triton surfers may spend more time together than athletes in other sports, Dowell said. They surf together nearly every morning and many compete in events on the weekends.
"They're pretty tight," Dowell said. "They are in the water. They are hanging out afterwards. They're always together… They are in the water a lot more than a lot of other sports because they love it."