San Clemente High School held a special commencement ceremony for its graduates on July 24, 2020.
Students and their families drove up to the school in their various vehicles, — trucks, limos, cars, and even a trolley — waited in line until their turn, and then the graduates walked up one by one to receive their diploma from school officials and pose for photos. Many families decorated their vehicles or made signs to cheer on their graduates.
Students posed on stage and in front of the school's iconic statue to commemorate the unusual and memorable graduation.
The graduates are listed in alphabetical order following the photo essay.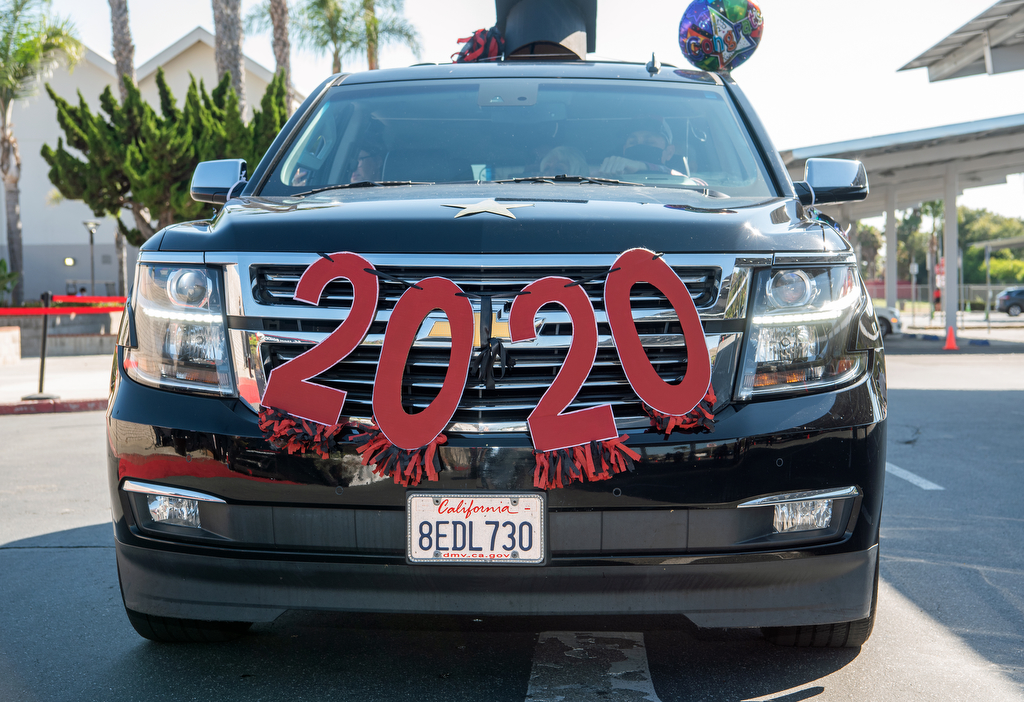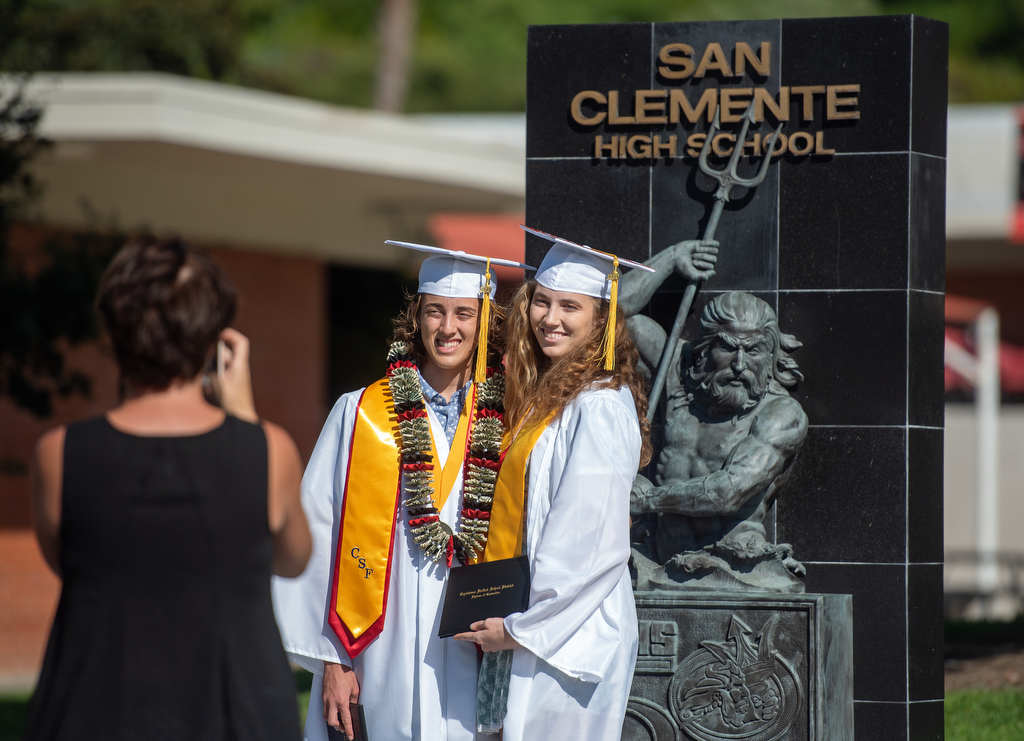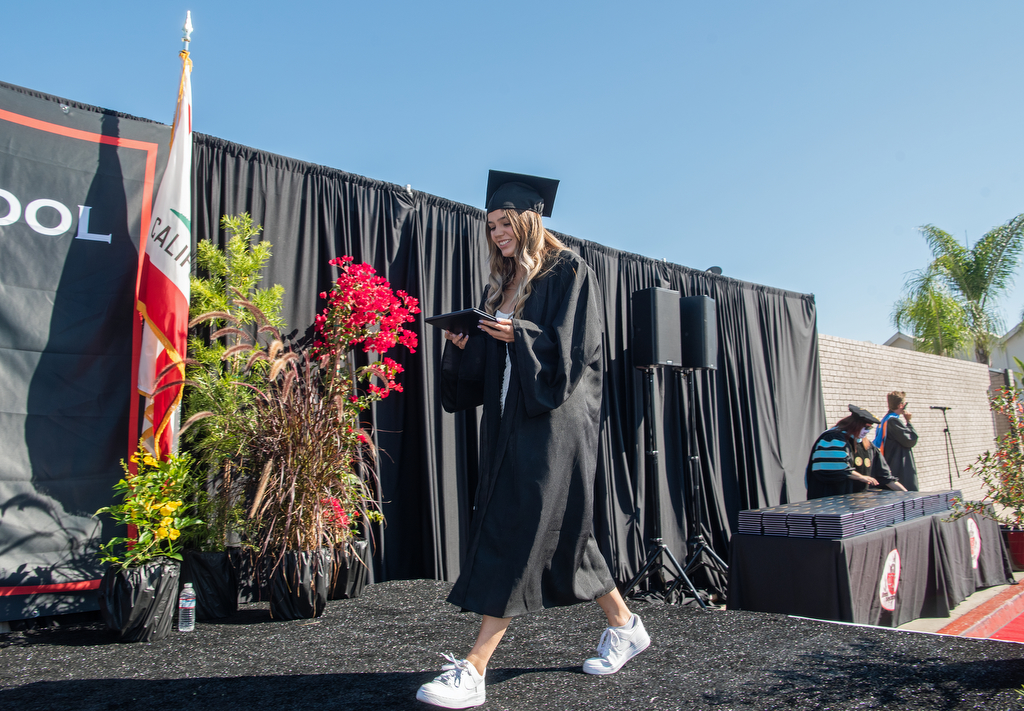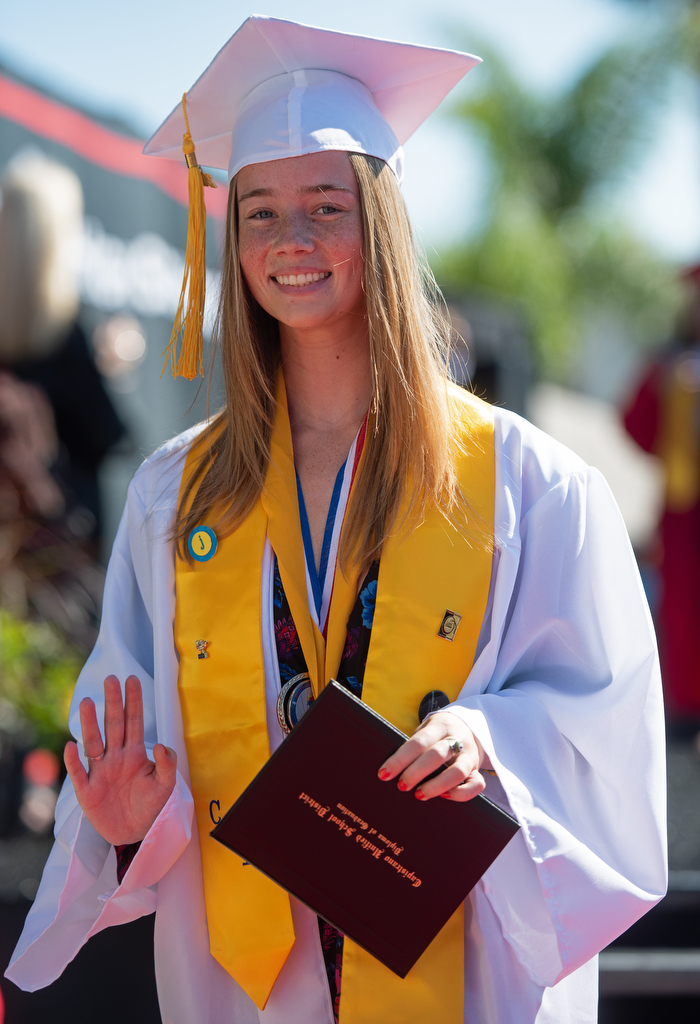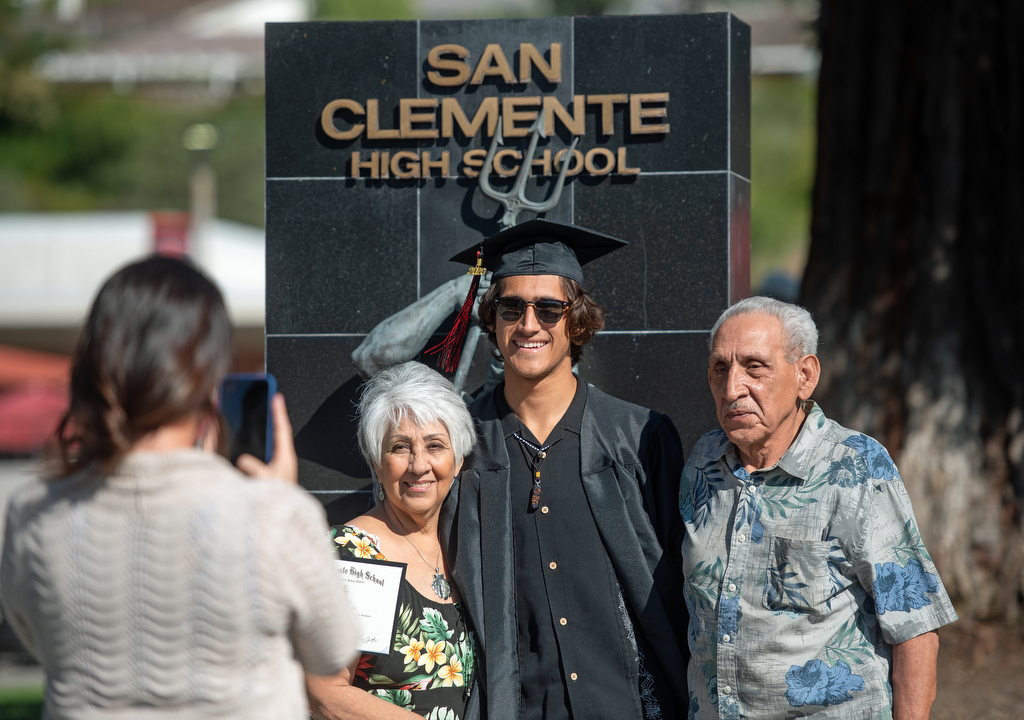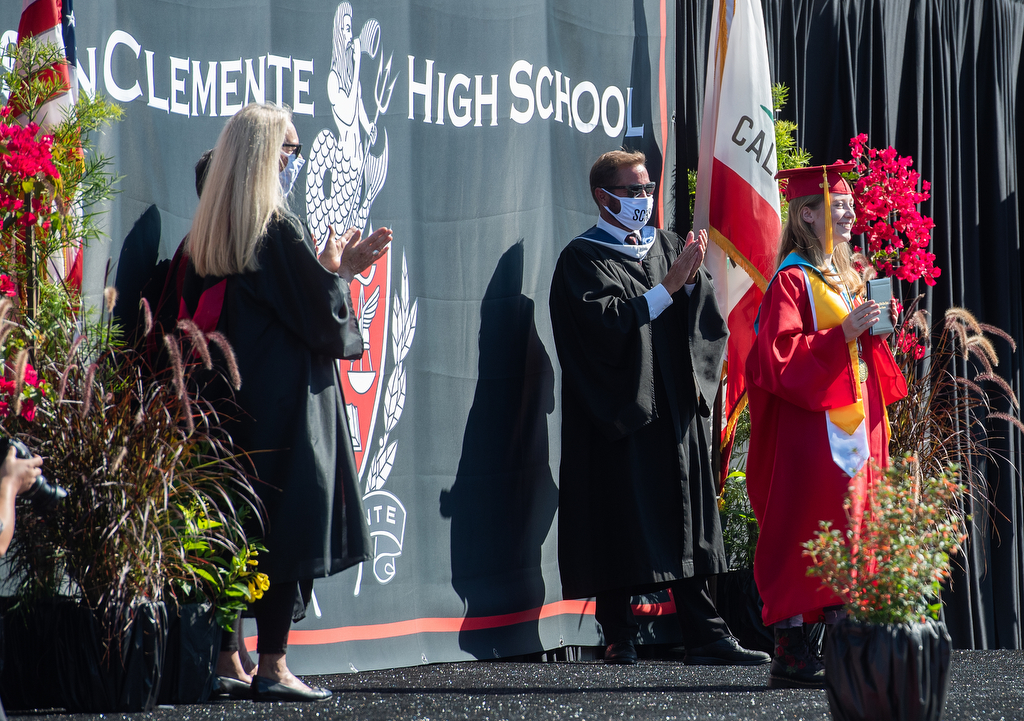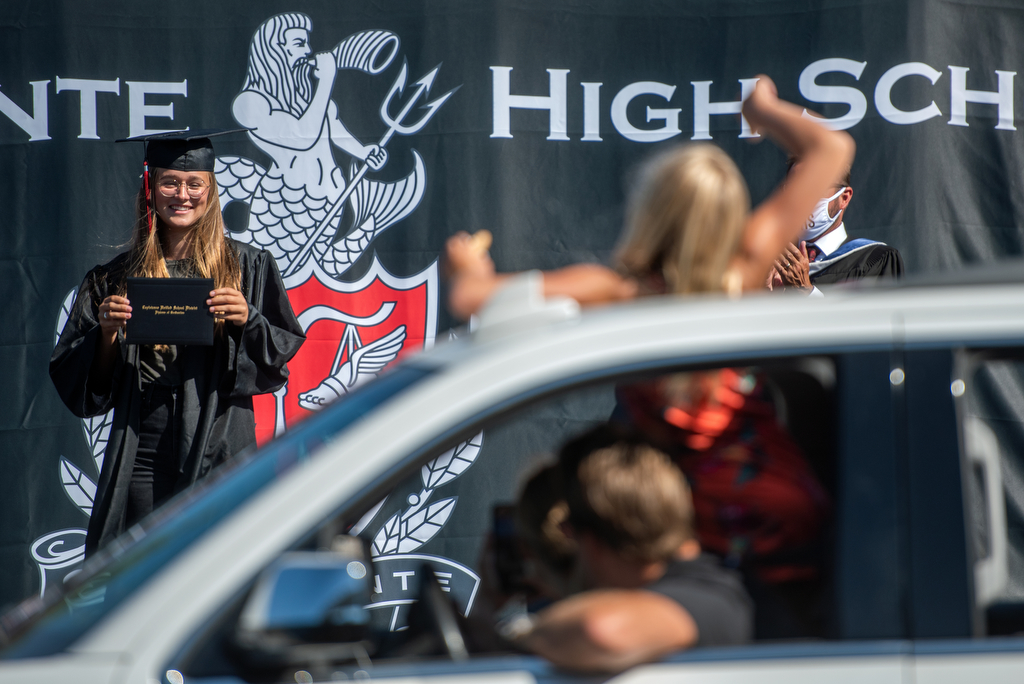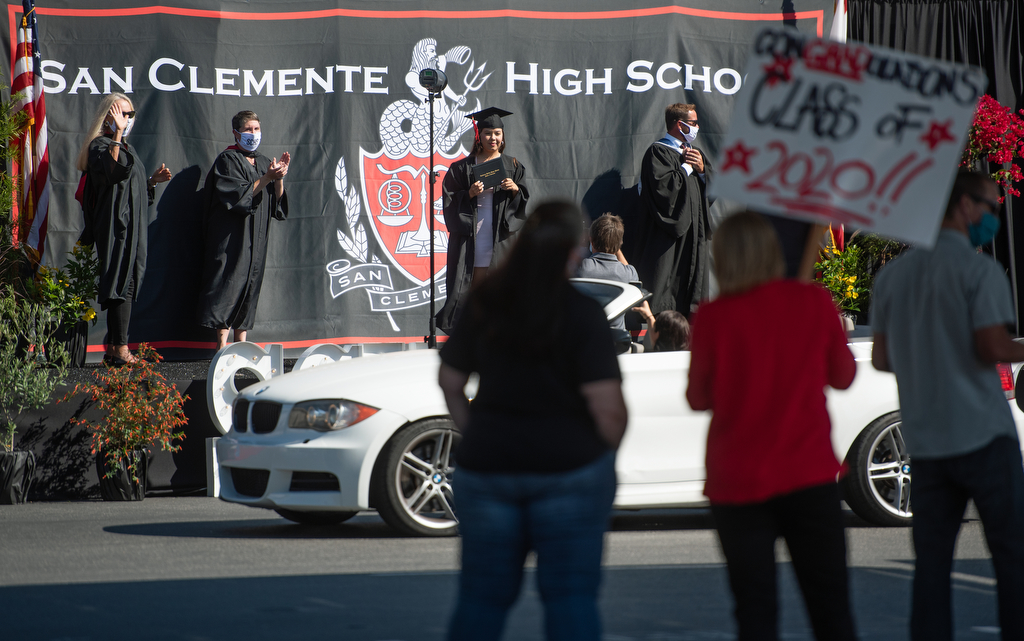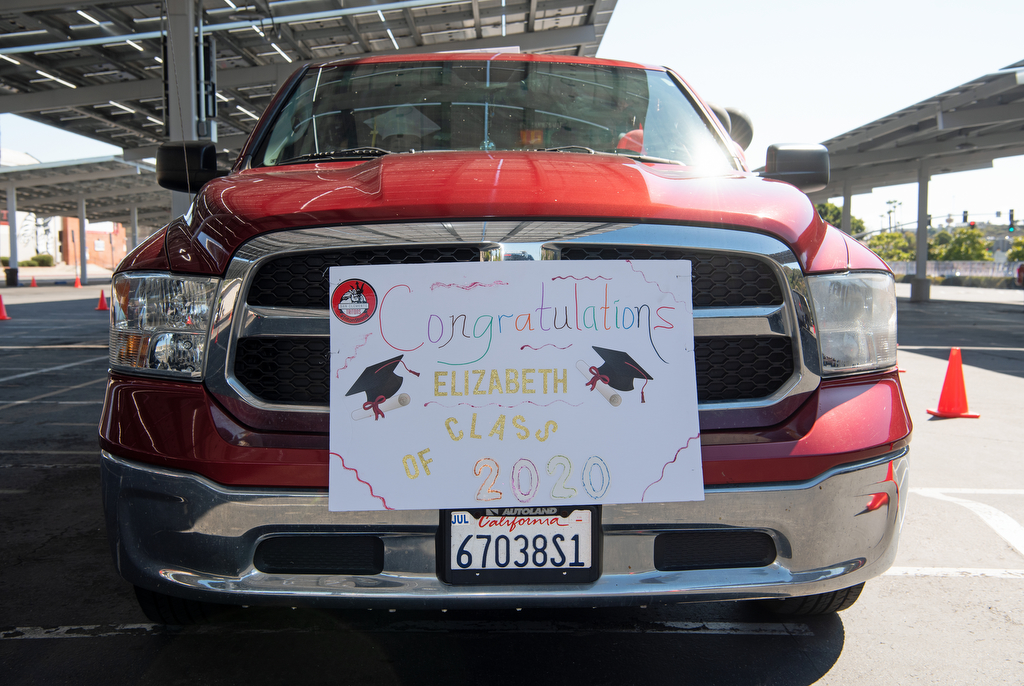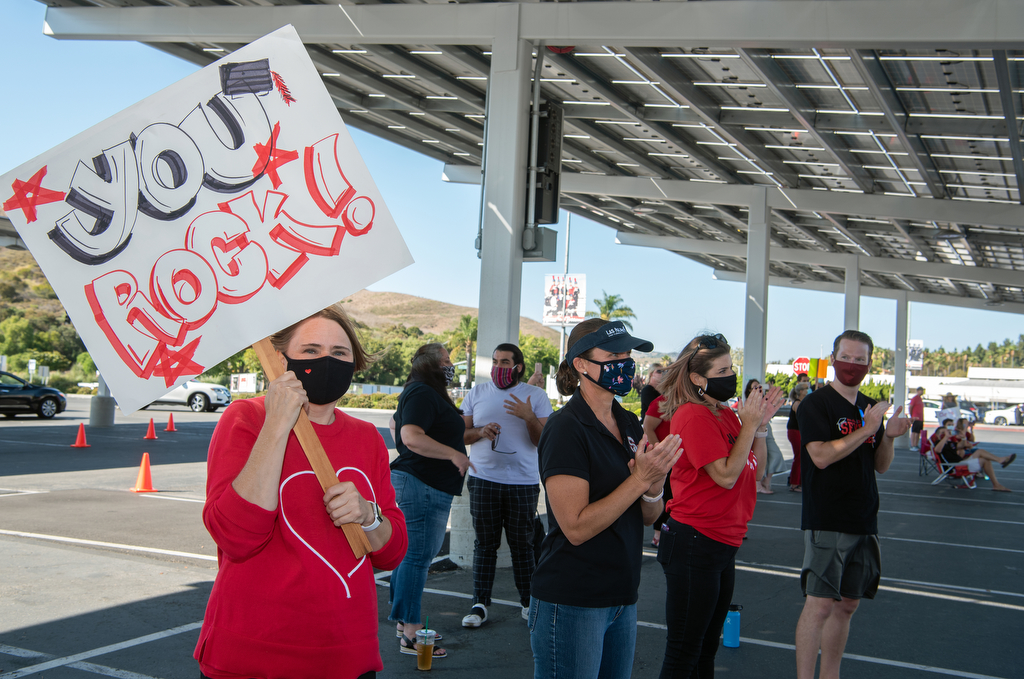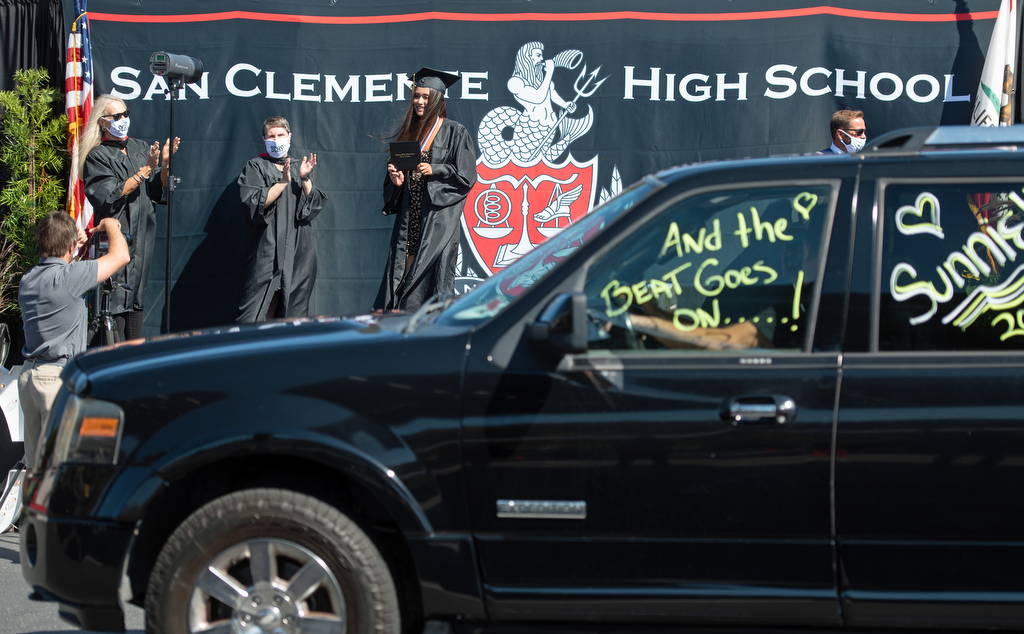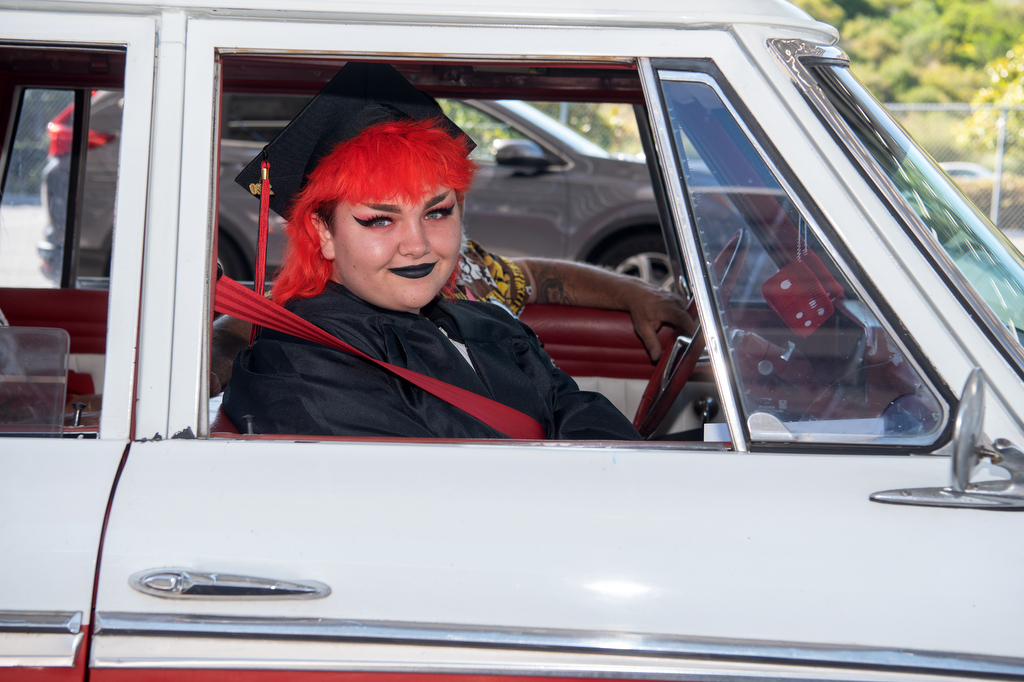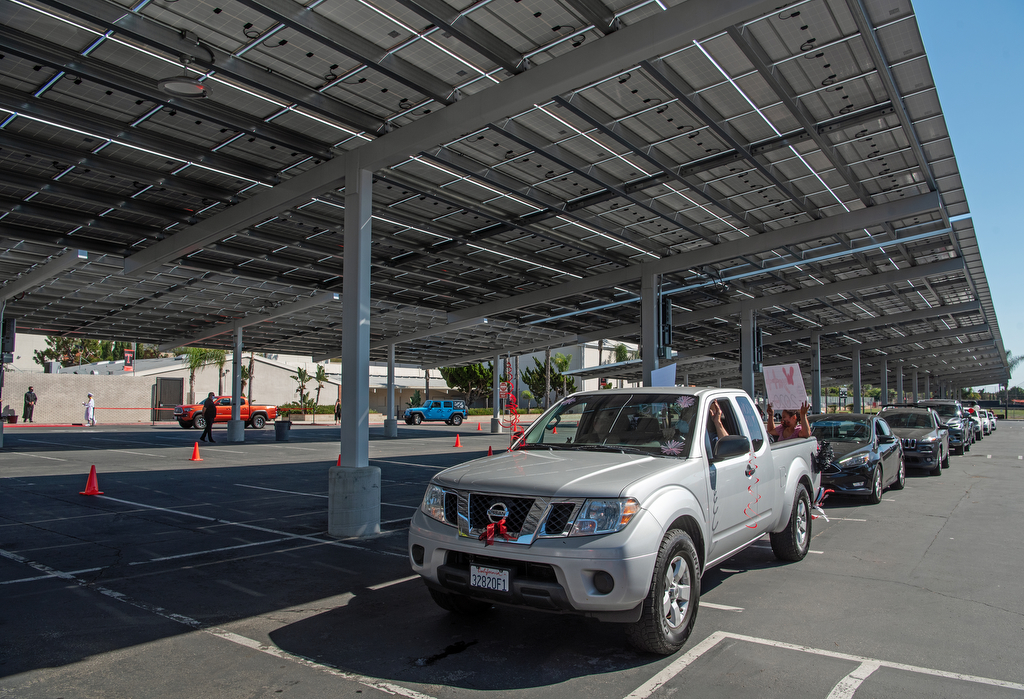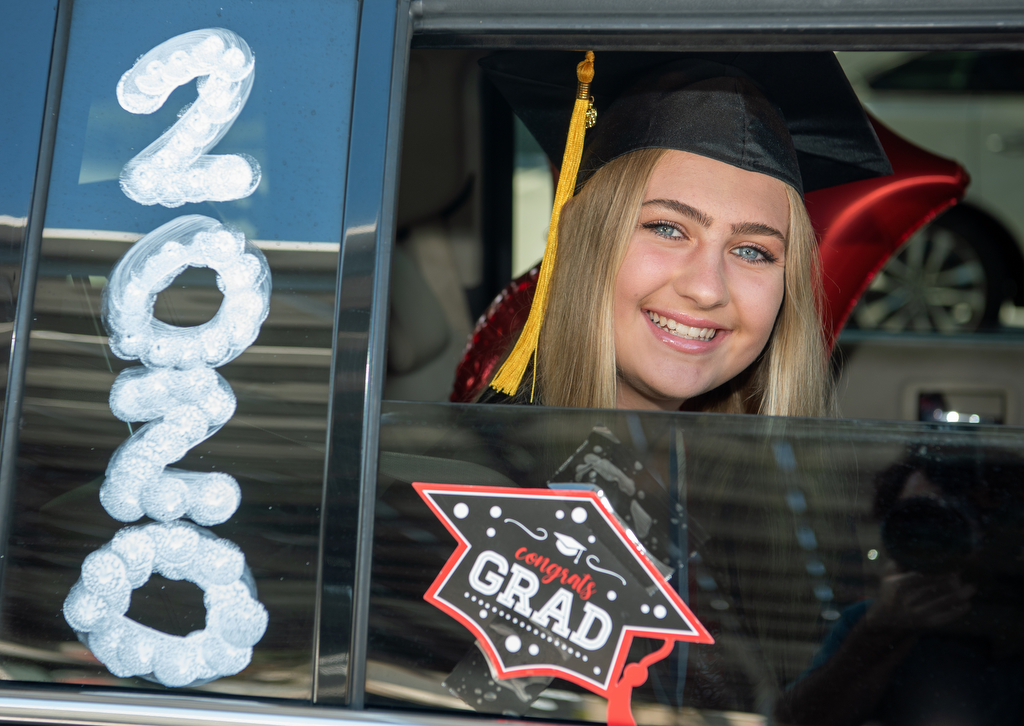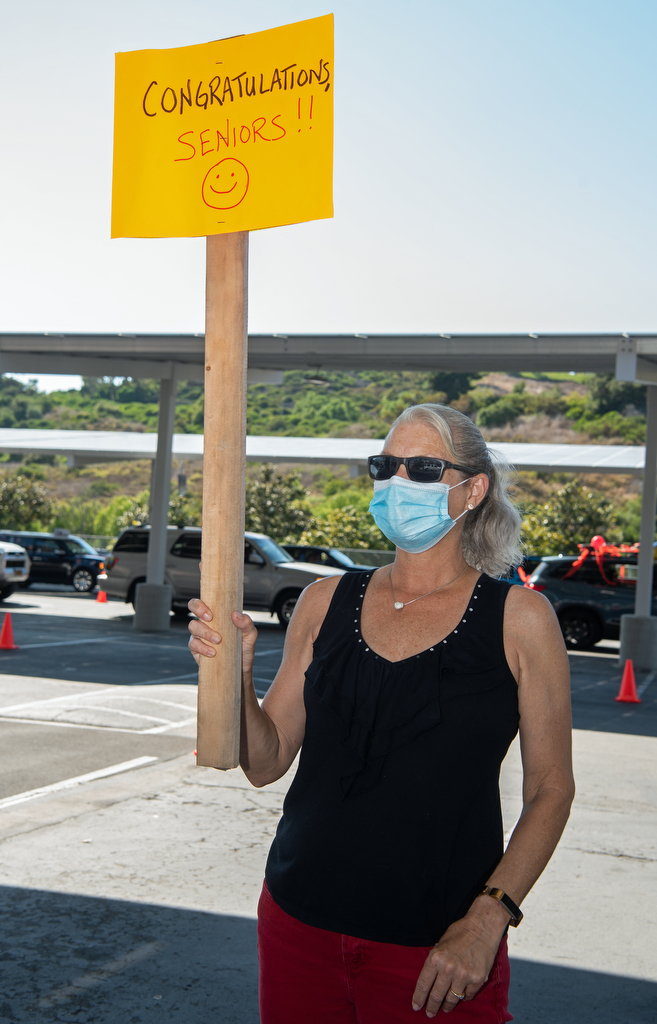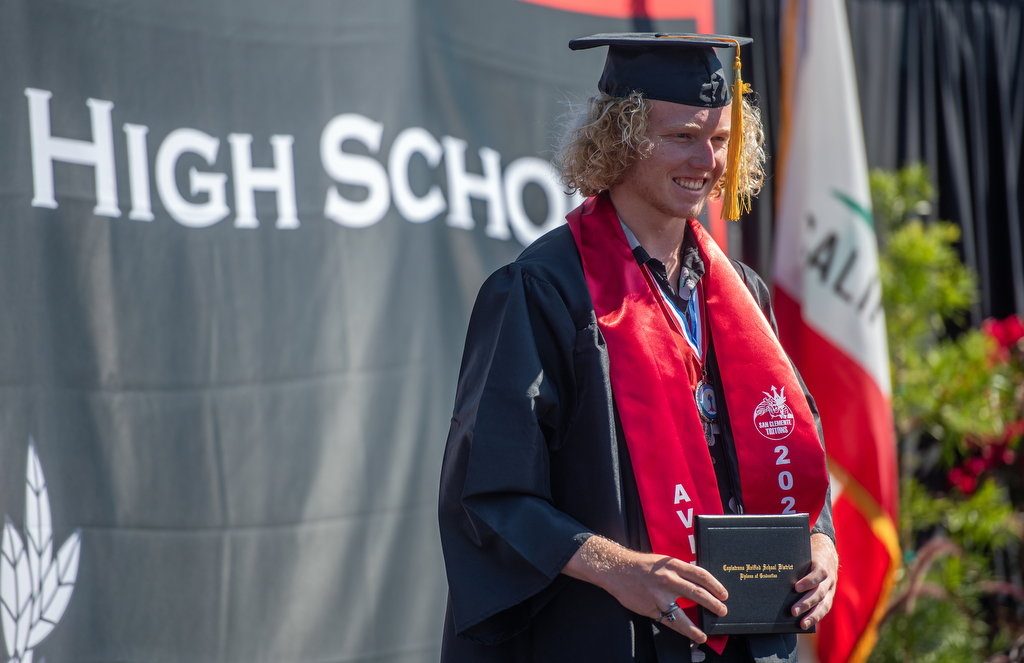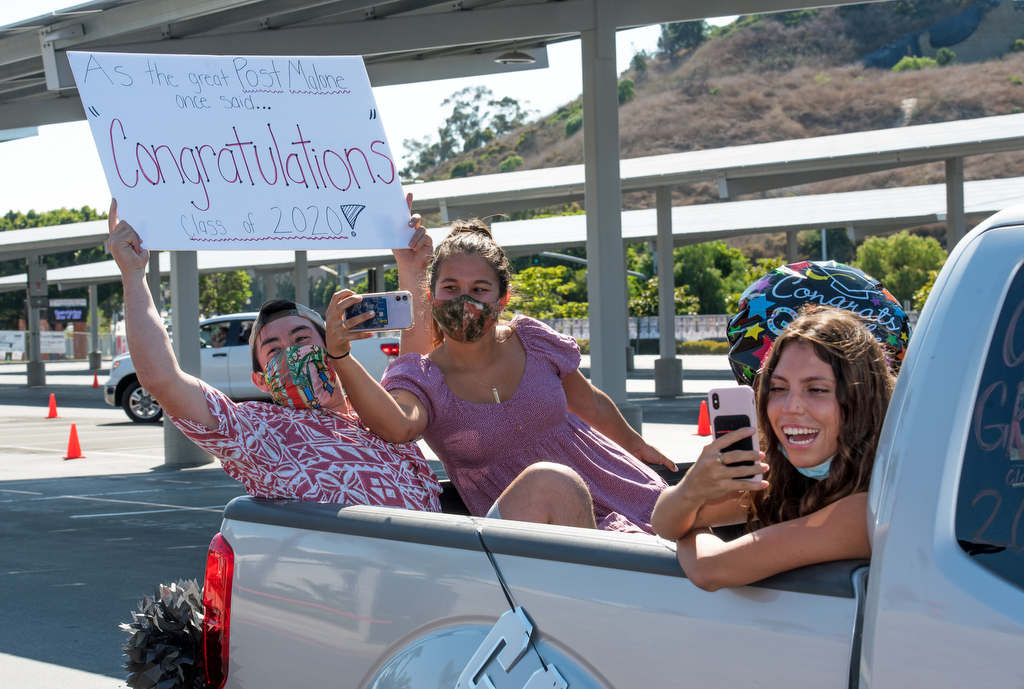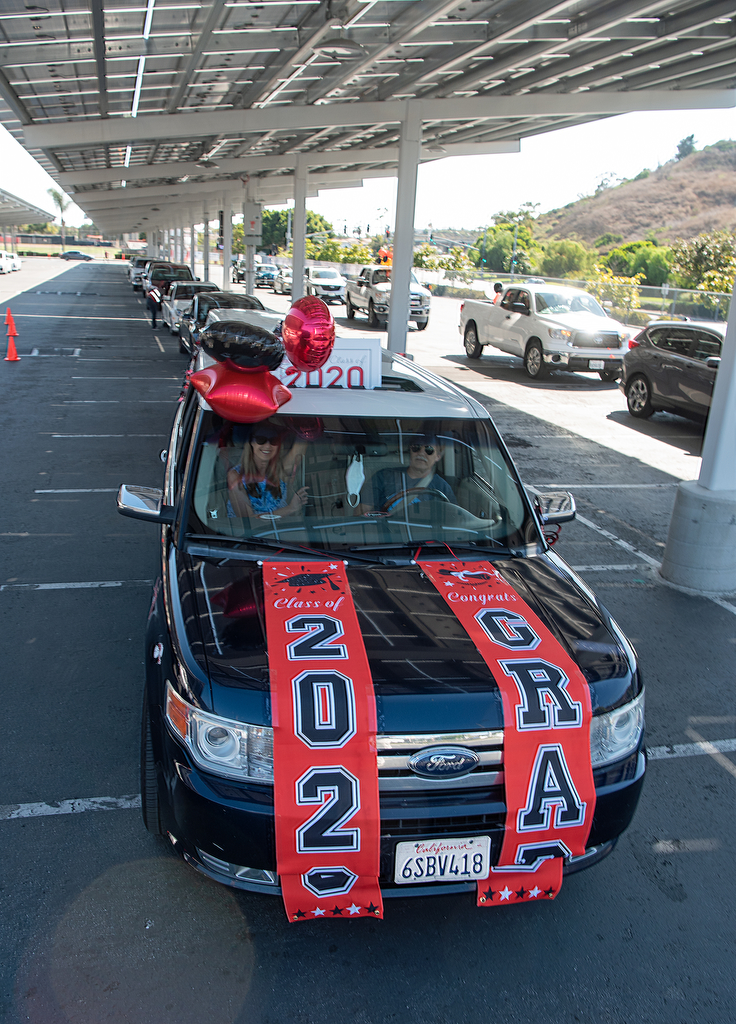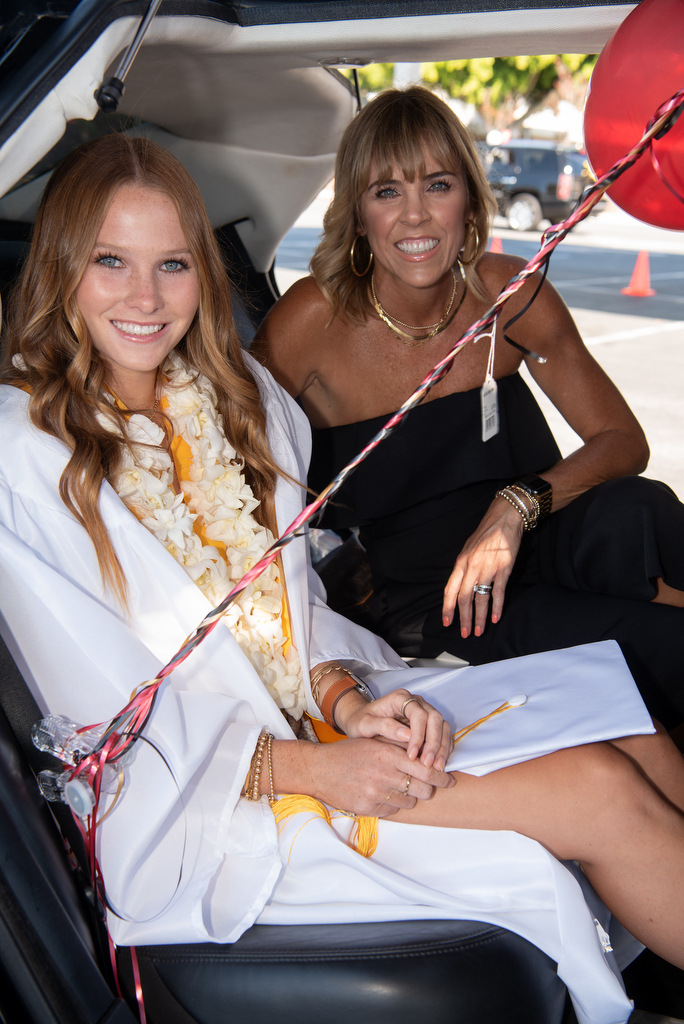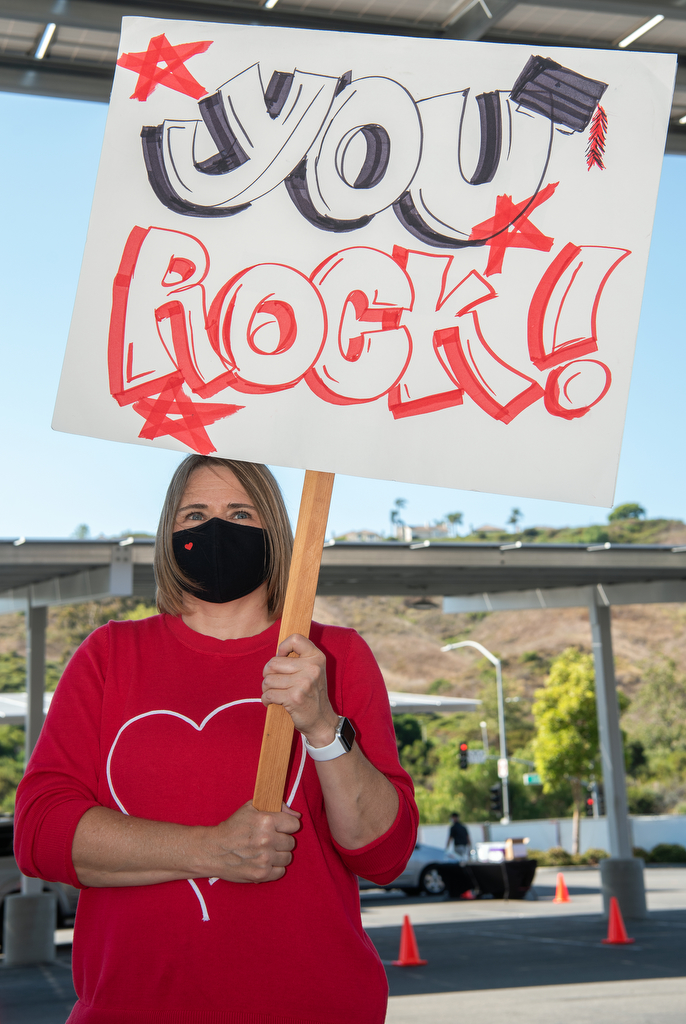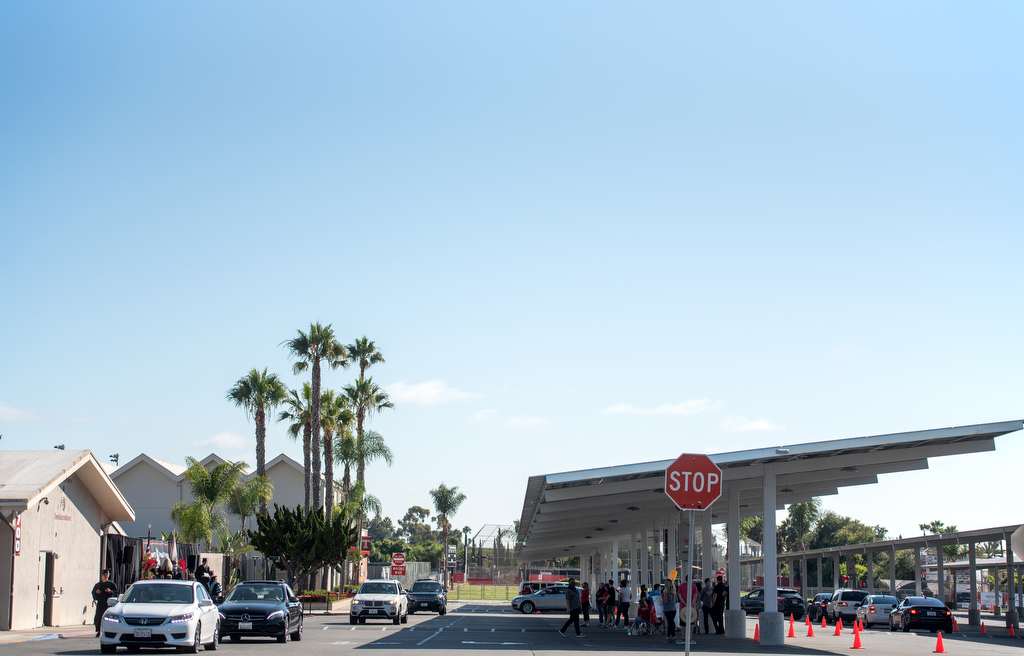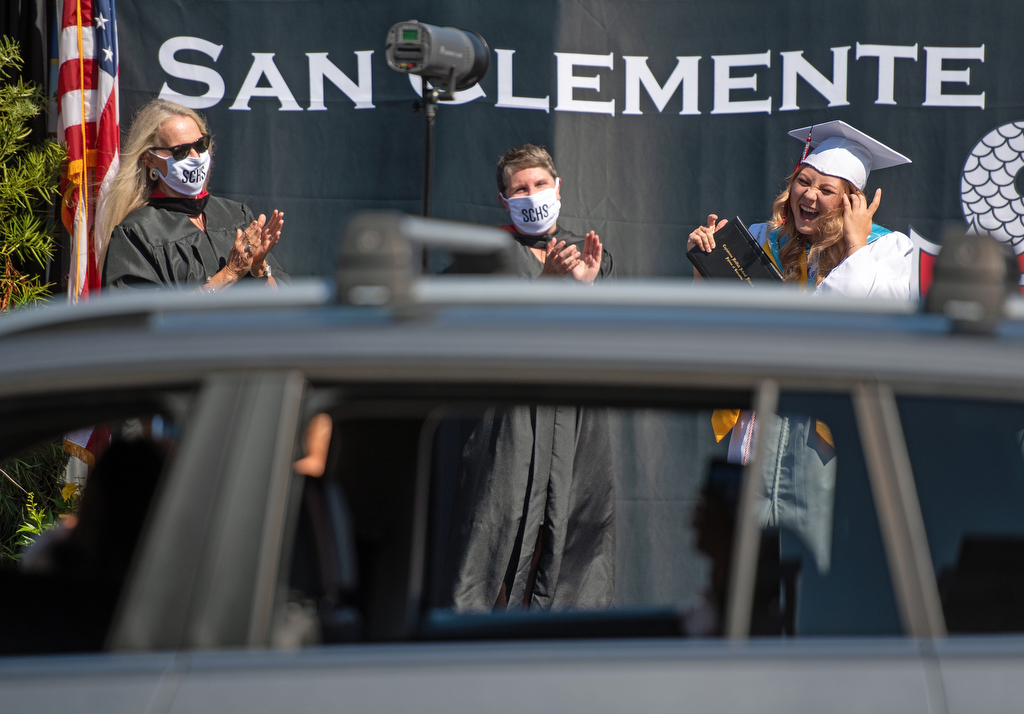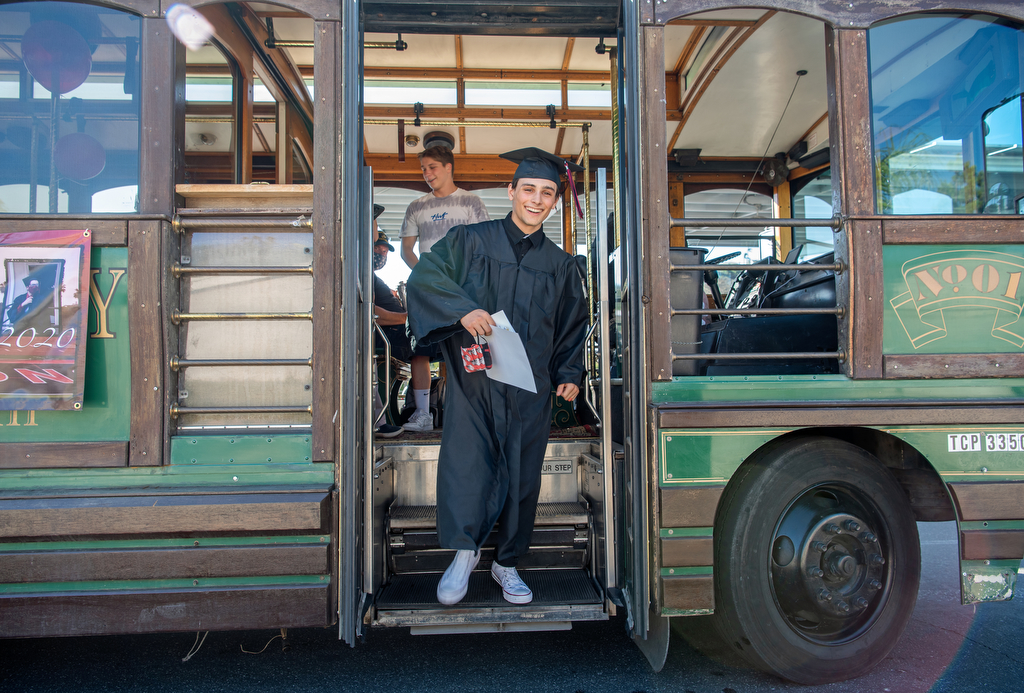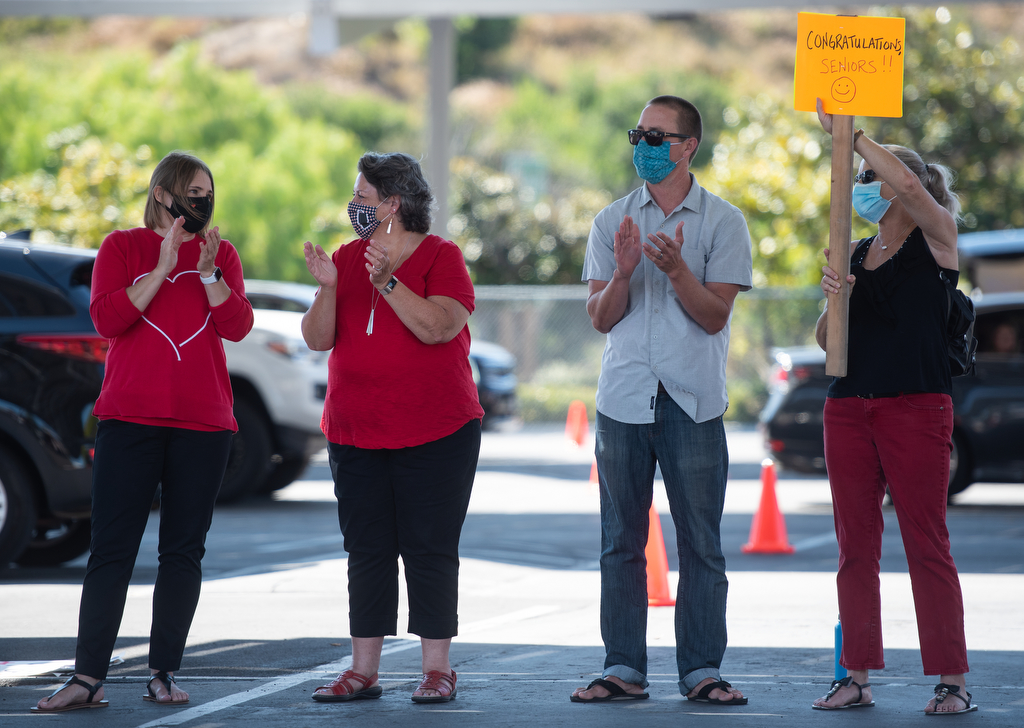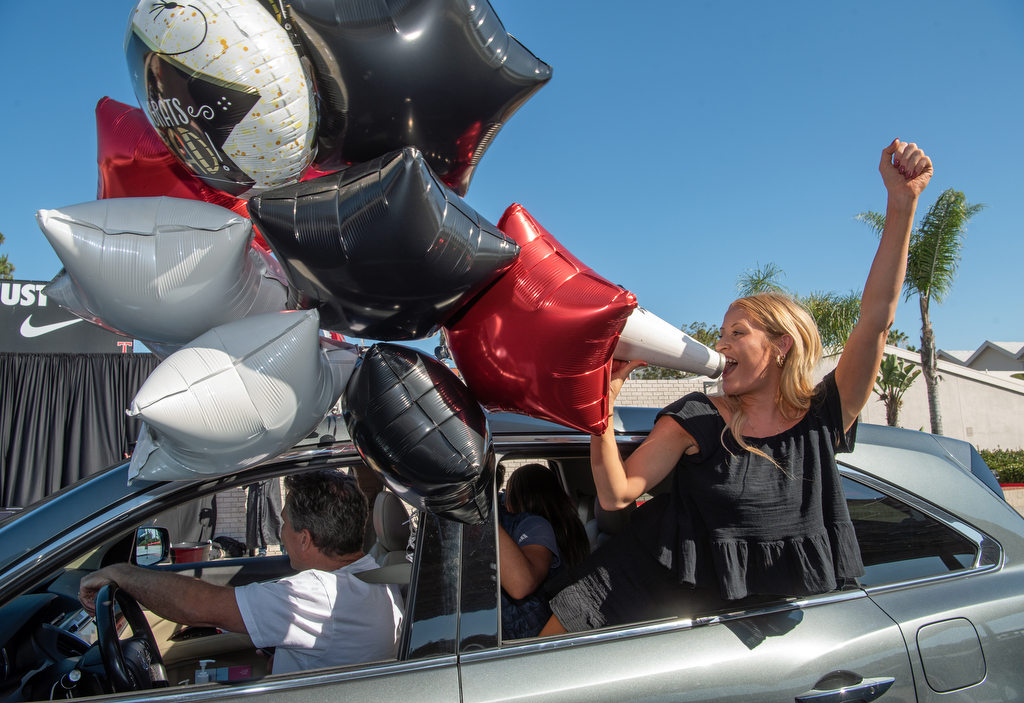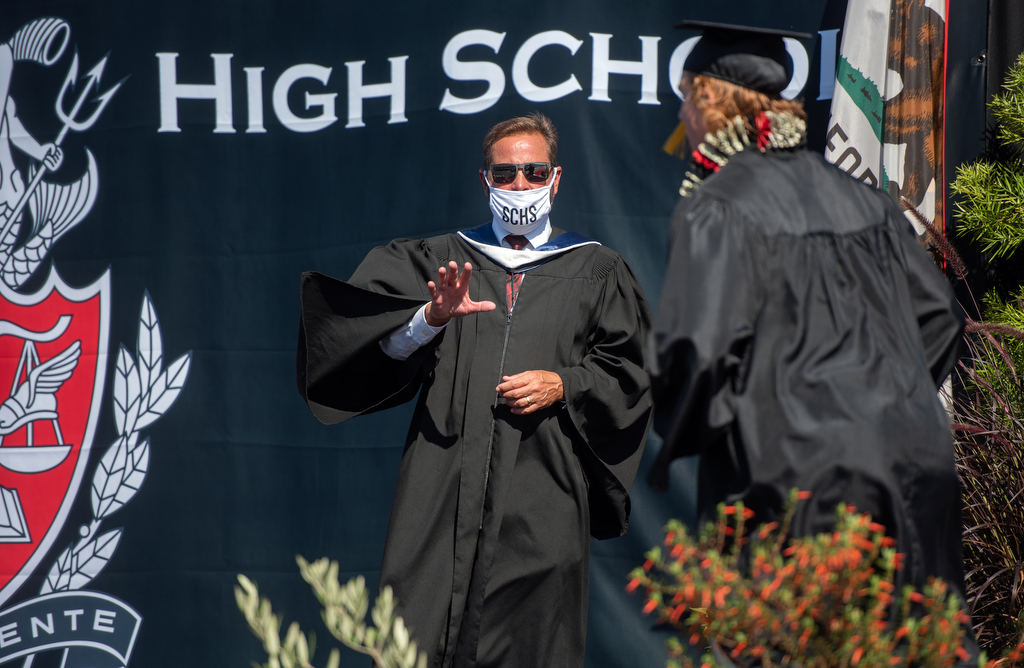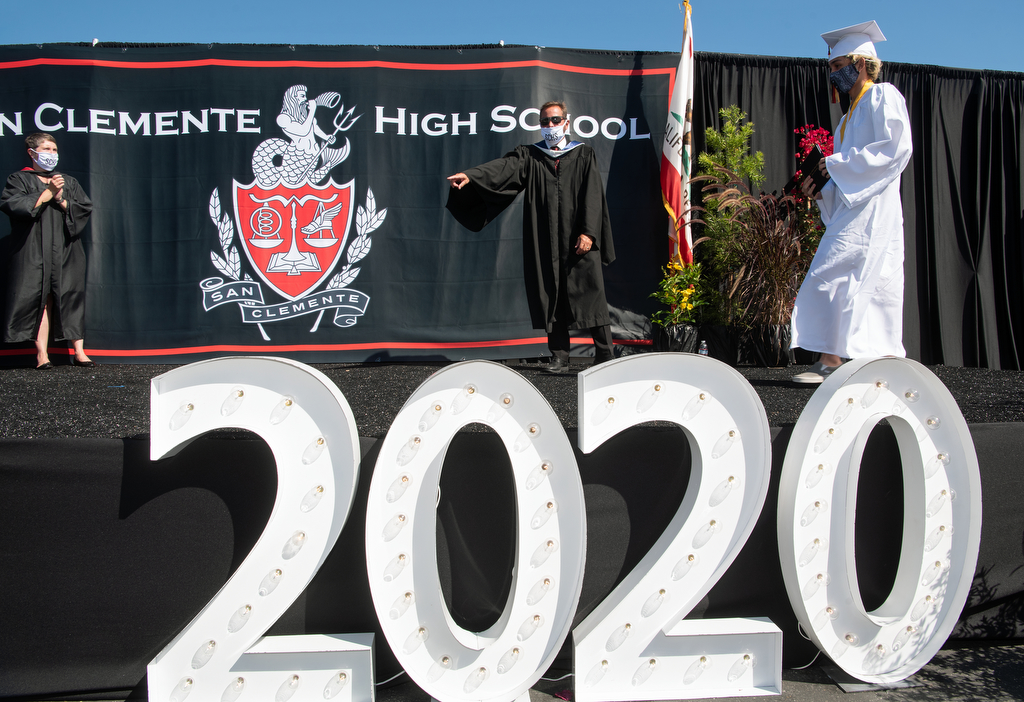 The San Clemente High School graduates are, in alphabetical order: 
Montserrat Abarca
Trinity Rose Crisostomo Acfalle
Eric Adame
Leila Akhondzadeh
Jasmine Nicole Alfaro
Brady Elway Allen
Michael D'Angelo Alonso Murillo
Lillian  Rae Amaral
Tanner Kanoa Amigleo
Alexander Gene Anawalt
Ivan Antonio Anderson
Corey John Angeli
Daniel  Christian Armijo
Charlotte Lee Armistead
Vanessa Arredondo
Adam Thomas Atkins
Ethan Thomas Audet
Adelina Marie Awtry
Oyuky Bahena
Julea Elizabeth Ballard
Ethan Scott Baloun
Alysse Laurel Banks
Jennifer Barajas-Rojas
Eva Senia Barreira
Maile Irene Bartow
Trey Hendreick Bastien
Ashley Mae Bates
Trevor Joseph Bay
Kayden Camille Baziak
Wolf Beeuwsaert
Elizabeth Marie Begil
Sydney Christine Belden
Trey Steven Benedict
Trevor James Benge
Malia Geniveve Benson
Maile Lynn Benumof
Francesca Sophia-Nozaki Best
Kainan Scott Bever
Nicholas Derrick Billoups
Maia Kathlyn Bingham
Piper Lee Biolos
Gabriel Aaron Aftie Birk
Danny Nabil Fayez Bishay
Carter  Ly Black
Grace AnnMarie Blair
Al Rikin Asay Bodino
Makayla Lynn Bodo
Jacob Simon Boland
John Raymond Bost
Skyler  Teagan Boyd
Alexandra Lyn Bracamonte
Brooke Kalea Bradish
Trenton Richard Brail
Sunnie Rita Brawner
Anelalani Kiana Breshears
Jack Robert Brewer
Oliver James Brewer
Richard Charles Bright
Jake Warren Brown
Macie Ray Brown
Jessica-Ruth Blair Buchan
Cindy Thi Bui
Michelle Bui
Maryssa Burgos
Sophia August Burick
Keoni Armel Burke
Emily Nicole Burks
Crystal Joy Busacay
Kiley Elizabeth Butkus
Riley Coleman James Byrd
Cady Scarlett Byrd-Cabelka
Zachary Barnett Cadoff
Abigail Marie Calandra
Victor Calderon
Emily Rose Campbell
Paige Campbell
Wyatt Lawrence Cann
Taylor Noelle Carlone
Hannah Jeanne Carter
Kaia Elise Carter
Kayleigh Robin Cassidy
Reese Renee Castle
Hana Jane Catsimanes
Daniela Cervantes
Citlali Cervantes Perez
Rory Cecile Chambers
Joseph Keoni-David Chan
Nolan  Ryan Chappell
Yesabella Sonia Charley
Katie Weston Chriss
Anna Christensen
Serena Esther Chuc
Amanda Lynn Cichewicz
Christopher Cisneros
Jackson Matthew Clark
Brian Clarke
Charles Wilson Clifford
Hailey Madison Cobb
Paloma Caterina Francine Coche
Anthony James Cochrun
Jaxon Lee Cochrun
Halston James Colbert
Samantha Rae Cole
Shannon Christine Cole
Alexa Star Coleman
Ty Gordon Connelly
Garrison Wayne Conte
Zane Royal Cook
Natalie Cooke
Ronan Henry Andrew Corey
Jessica Esther Cornelius
Zachary James Cox
Juliana Wells Craft
Eli Isaac Crane
Melinda Marie Cratty
Julia Star Croft
Nathan Daniel Cross
Juan Carlos Cruz-Ramirez
Gavin Rey Cuevas
Bryna Kaley Cunningham
Areli Yamile Curiel
Gavin Alan Curtner
Chloe Gail Alexandra Dahlquist
Burke Ambrose Dambly
Adrina Alexis Daniel
Isabella Maria Davis
Samantha Angelique Davis
An'johlie Paige Marie Day
Natalie Ann De Collibus
Jose Rafael De Jesus
Margarita Edith De Jesus
Andrew Jarrett de Koeyer
Pascal Edward De La Pena
Kiara Lyn De Varona
Jordyn Makayla De Veer
Carissa Jane Delahooke
Jesus Jared Delgado
Bianca Antonette DeMoss
Cristobal Dena
Nicole Noel Denney
Cade Dewey
Zachary David DiBaggio
Bailey Rose Dill
Reagan Elise DiMeco
Cambria Lynne Ding
Gage Harding Dobos-Bubno
Samantha Dominguez
Caiden Stephen Donham
Sydney Noelle Donovan
Kylee Nicole Dore
Nathan Peter Dorsey
Alexi Dragotto
Savanna Sunshine Drumwright
Evelyn Celeste Dudley
Paul Kenneth Duke
Dominique Marie Duncan
Julia Marie Arian Dye
Lance Frederick Eades
Liam Alexander Echeverria
Matthew Michael Economos
Erika Patricia Effenberger
Jake McGregor Eklund
Bryce Alexander Erickson
Jay Joseph Esquivel
Caden Schofield Evans
Jose Guadalupe Ezquivel
Matthew Samuel Fabrikant
Matthew William Fairon
Aiden Michael Fallon
Carter Royce Fann
Katie Ryan Faris
Lauren Teresa Farrell
Christina Farrow
Autumn Grace Ferguson
Zachary Tyler Ferguson
Briana  Noelle Fernandez
Lucky Caden Fiegener
Madison Fields
Blake William Finney
Brandon Scott Fischer
Drake Grant Fish
Marley Flandro
Tyler Andrei David Florea
Steven Edgar Flores
Hector Omar Flores Robles
Tyler James Folsom
Jenna Ann Fomenko
Cyril Keolanui O'lani Foster
Alexi Rae Francis
Nicholas Riley Francis
Gerald Warren Freibrun
Nancy  Jocelyn Frutis
Emily Rose Furlotte
Kristin Lynn Gabriel
Jack David Galeotti
Finnegan John Gallagher
Adriel  Sebastian Gallardo
Ana Lorena Gallardo Lopez
Dylan Michael Gallegos
Kai Joseph Gallette
Sheyla Galvez
Mariana Isabella Gandia-Mak
Andrew Patrick Gansel
Aldo Rolando Garcia
Alejandro Robert Garcia
Annalee Rose Garcia
Ricardo Garcia
Ryan Joseph Garcia
Ella Suzanne Gardiner
Brennen Lehner Garff
Salomon Gatica
Melina Mendenhall Gault
Sidney Cristina Gehret
Jacob David Gellatly
Evan McGill George
Carson Matthew Geyer
Asa Edwin Gibson
Payton Michelle Gillett
Faith Elizabeth Gilman
Jacob Reed Giranda
Ana Celina Girard
Ryan Michael Glenn
Adria Elizabeth Golembiewski
Fatima Monserrat Gomez
Gael Gomez
Leonel Verduzco Gomez
Melvin Gomez
Madeline Gomez Bonilla
Celina  Darlene Gonzalez
Garrett Thomas Gonzalez
Alexa Noelle Gormick
Clayton Montgomery Gott
Seth Michael Gould
Cade Richard Gray
Matthew William Greene
Pierce Jackson Greinke
Garritty Hayes Grise
Aleck Tosh Groth
Ethan Kalani Grush
Alexia  Kenndal Gruszczynski
Brodyn Scott Gruszczynski
Brian Gutierrez
Jennifer Gutierrez
Jesus Ruben Gutierrez
Lensy Gutierrez
Alexander Guzman
Chase Klane Hales
Katherine Eleanor Hammargren
Camie Hampton
Bryony Hope Hanks
London Scott Hannah
Delany Jane Hanning
Sydney Kay Hanning
Krysta Noelle Hansell
Steven Spencer Hansen
Ryan Robert Harlow
Camryn Alexa Harrell
Hannah Harris
Morgan Berkeley Harris
Rachel Paris Hartnett
Blake William Harvey
Collin Layton Harvey
Austin Patrick Hatfield
Jorjiana Mo'ani Keala Haumea
Brendan Scott Hayes
Makai Ryan Haynes
Jason Pendleton Hefft
Evan Robert Heidel
Clarissa Lynn Henry
Carson Gregory Herlean
Gabriela Hernandez
Isabella Hernandez
Jacqueline Liliana Hernandez
Laura Arleth Hernandez
Marline Hernandez
Gisel Hernandez Telesfor
Matthew Romney Herrod
Brady Daniel Hicks
Riley Ashton Hines
Connor Michael Hirou
Cooper James Hogan
Jack Raymond Hogan
Kennedy Lee Hogan
Joshua James Hoggatt
Kellen  Rolf Hollibaugh
Jack Nelson Hopkins
Amanda Sylvia Hopton
Christian Nakai Hosea
Jeffrey Hoss
Tyler Matthew Huefner
Avery Rose Hughes
Russel Logan Hung
Cheyenne Bly Hunter
Anadalay Victoria Hurtado
Leslie Hurtado-Cazares
Mark Philip Iglesias
Davis Raiden Ireland
Connor Joel Ivancik
Gwenyth Neisen Jacobs
Isabelle Jenine Jacobsen
Katelin Ann James
Nathan Ray Jamieson
Andrew Lee Jarman
Scott Charles Jarman
Thomas Robert Jennings
Alicia   Jimenez
Bjorn Ola Johansson
Scott Darren Johnson
Aubrey Johnston
Kennedy Jones
Lyndi Kathleen Jones
Roma DiSera Jones
Bennett Lee Jorgensen
Drayton David Joseph
Makenna Nicole Kaczmarczyk
Hayden Stuart Kahn
Olga Lubov Kajdas
Chloe Grace Kamp
Collin Will Karns
Luke James Karns
Luca Kasai
Nyah Ruth Kaysen
Jack Michael Keefe
Nathan Joseph Kelleher
Leila Marin Kennedy
Kyle David Kerr
Caroline Soo Kim
William Riley King
Jacob Donald Klucken
Makenna Roxanne Klucken
Rylee Irene Knapp
Genavieve Della Koenigshofer
Koa Michael Kosco
Brooke Rayne Krufal
Nathan Nolan Kuhn
Roxy Kay Kuhn
Shiva Kumar
Ryann Nicole Leff
Taylor Reine Lemons
Serena Giselle Lepe Diaz
Gabriela Janet Licea
Emily Elizabeth Lindquist
Blake Lipofsky
Nathan Brandon Lo
Ariel Rolando Lopez
Karcher Jonathan Losey
Landon James Losey
Emily Noelle Lowe
Brooke Lauren Lucero
Dylan Christopher Lynch
Esther Lutaya Mafouta March
Zoey Michelle Mahl
Sophia Freitas Mains
Luke James Makshanoff
Juan Emiliano Maldonado
Caedyn Andrew Mander
Corinne Julia Mannen
Mary Deborah Manning
Roland Scott Mantecon
Lorenzo Joseph Marino
Zoe Ann Marino
Sofia Rose Marquez
John Thomas Martin
Kiki Grace Martin
Nicholas Steven Martin
Jose Antonio Martinez
Matthew Christopher Masotto
Nicole  Michelle Massau
Bianca Munhoz Materna
Xavier Agustine Math
Sophie Kathleen Matossian
Christina Peapea Maugaotega
Samantha Grace Mauldin
Kassandra Joy McDaniel
Kelly Lynn McDonald
Cameron James McKerlie
Katherine Glynn McKernan
Julia Kathleen McNeal
Caden Chase McVey
Jennifer Medina
Taegan Elizabeth Mehrens
Kaylie  Anne Mejorado
Maya Michele Melendreras
Chad William Menden
Lindsay Michelle Mendez
Briana  Guadalupe Mendoza Sosa
Christopher Allen Merkle
Beau Daniel Merritt
Caleb Lawrence Mettler
Zachary Edward Meyler
Delaney Grace Miller
Miles Paul Miller
Dylan Patrick Mills
Jacob Xavier Miranda
Samantha Miranda-Flores
Ishaan Rashesh Mody
Izak Richard Moe
Molly Erin Moe
Viviana Rey Moiso
Mario Molina
Jane Katherine Moran
Alexis Pililuaikekaiohilo Morgan
Connor Jeffery Morin
Zoe Emma Mortensen
Clayton Alexander Mosher
Cole Aidan Mott
Nailea Mota Muniz
Rafael Murillo
Francisco Daniel Najar
Logan Ryan Nau
Aaron Jacary Nelson
Andrea Lee Nelson
Grace June Nelson
Mikaela McClure Nelson
Samuel Benjamin Nelson
Michelle Vy Nguyen
Emalei Elaine Nickle
Joe Dylan Nonaca
Devin Sarwar Norden
Spencer David Normandin
Leilani Star Oehlert
Greta Riley Oldham
Julian Jacob Olivares
Jonah Thomas Olson
Lauren Riley O'Neill
Daniel  Ethan Orantes
Marian Oropeza
Vanessa Ortiz
Kainoa Scott Oshiro
Evy Osorio
Enrique Albert Oviedo
Jack Michael Page
Spencer Page
Tyler James Paige
Giselle Paniagua
Gillian Skye Paredes
Isabella Renee Paredes
Jane Christine Parry
Emily Virginia Patterson
Christiana Zaneta Patton
Joseph Pedraza
Grace Nicole Pelkey
Martin Tomas Pereira
Cynthia Perez
Gabriela Paige Perez
Isabella Marie Perez
Jonas Rain Perez
Samuel Perez
Roberto Angel Perez Vivar
Bailey  Camerin Perkins
Jacob Wyle Pesicka
James Earle Peters
Erin Catherine Petersen
Gavin Ross Peterson
Chandler Deane Petri
Nicholas Kai Petrocelli
Devin Mitchell Pevehouse
Megan Rae Phelan
Savannah Dale Pittman
Alexa Faith Polk
Asher Andrew Porter
Ethan Fisher Potts
Everett Dale Prussak
Fabio   Josef Pschaidt
Salma  Pulido
David Kainoa Ikaika Puuohau
Annalee Jayne Quigley
Jacob Arthur Quintana
Juan Diego Quintero
Gavin  Thomas Raab
Damien Shawn Iabel Ragas
Luisa Fernanda Ramirez
Genesis Ramirez-Fontes
Leslie Ramos
Heidi Juliette Ramos-Ochoa
Alyce Maria Raumin
Clementine Lila Magnolia Ray
Sophia Grace Reason
Reese Reda
Micah  James Regalado
Gabrielle Marie Reilly
Danielle Chandler Reinicke
Preston Joseph Rex
Luis Angel Reyes
Esmeralda Anaid Reyes Moreno
Ashlyn Riley Rickard
Gwyneth Jade Ringor
Fernanda Renata Rios
Jaxon West Ripley
Stephany Rivera
Kevin Rivera Rodriguez
Harold Spencer Robertson
Perla Rodriguez
John Lamers Rogel
Aidan Joseph Rogers
Chalice Annemarie Rogers
Eshona Monea Rollins
Preston James Rooker
Gustavo Jesus Rosales
Marcello Carlo Rossi
Shanna Victoria Rowe
Christian James Rowland
Cole Anthony Rowland
Emma Meghan Ruby
John Edward Rudnicki
Alexandra Savannah Ruiz
Jaime Andres Ruiz
Luis Uribe Ruiz
Daniela Ruiz Maldonado
Max Robert Rumph
Nickolas Runge
Isabelle Francis Sachse
Nicholas Scott Sage
Edwin Salgado
Samuel William Salgado
Trevor Steve Salman
Logan Ryan-Stone Sambrano
Isabelle Rose Sanchez
Preston Scott Sanders
Amarii Sandoval
Noah John SanPaolo
Andrea Santana
Mckinsey Nicole Sattel
Alanna Marie Sayer
Kolby Forrest Schiffer
Brayden Schmitz
Amelia Kristin Schundler
Caroline Kiana Schwartz
Benjamin Aidan Schwartzman
Dillon Lawrence Scott
Carter Lee Sestak
Matin Shams
Porter James Shanas
Delaney Nicole Shanley
Dana Shany
Zoe Rose Sharp
Tara Faith Shaw
Michael Dean Shea
Conner Joseph Sheaks
James Hirrum Shetrone
Jeremy Silverman
Olivia Anne Skyba
Cian Hunter Hayes Smith
Jamon Smith
Joshua Santos Smith
Sophia Kate Smith
Spencer Jackson Smith Snow
Colin Reid Snyder
Jack Michael Sorenson
Cody Randall Sowle
Austin Michael Speakman
Andrew David Spillan
Kyle James Sroka
Abigail Anne Staffieri
Madelyn Jane Staffieri
Ashley Janiece Stafford
Ian Hunter Stanley
Noli Eugene Stark
Tabitha Stark
Brooke Elizabeth States
Kambria Shuri Stephen
Haley Elizabeth Stephens
Presley Shay Stevens
Abby Stewart
Destiny Kaye Stivers
Connor Josef Stoll
Nathan Grant Streuter
Jaiden Michael Studer
Chanel Sud
Alan Dean Swann
Seth Michael Swenson
Mauricio Tamariz Jones
Shelby Renee Tarnow
Garrett Edward Taylor
Lillie Anne Taylor
Drew Parker Thibault
Dylan Connor Thibault
Michael Alonzo Thomas
Cole Joseph Thompson
Hadley Lyn Thorsell
Jackson McKindred Todd
Nathan Joseph Tolosa
Kobe Michael Toney
Daniela Eve Tonokaboni
Mackenzie Torres
Kimberly Juana Torres Caudillo
Philip Iselin Torticill
Tyler Noah Tracy
Carson Trager
Genevieve Tranter
Emma  Elizabeth Trigwell
Eric Dechant Trinh
Jane Marie Tritt
Kellan  Michael Tucker
Maxwell Harrison Tumbrello
Daniel  Francis Tuscano
Precious Juliet Ulloa
Beau Kaden Ulrich
Micah Reef Usui
Rachael Lee Valdez
Daniel Valle
Grace Kendall Van Kampen
Tessa Rose Van Winkle
Sophia Bryn Vangell
Alexa Rae Vano
David Vazquez
Madison Taylor Vega
Edgar Velazquez
Emanuel Reginald Velez
Josue Velez
Elijah Joseph Verdery-Tomlinson
Mariaestela Villalobos
Clark Vincent Visca
Rafael Vizcaya
Theodore Anthony Von Bitner
Keoni   Liam Wagner
Christian Clay Wallace
Delaney Grace Wallace
Tristen Leigh Wallace
Christian Klaas Walters
Spencer Kyle Walters
Rylan Matthew Ward
Kyla Mackenzie Welch
Julia Kathryn Wengier
Dean Allen Westerberg
Sophie Aislinn White
Kylah Tiair Whittaker
Cameron Wesley Wildman
Jackson Phillip Wilson
Julia Sophia Wilson
Peyton Mariah Wilson
Elijah James Winn
Paige Marie Winters
Zachary Charles Wittreich
Rachel Anne Wohl
Griffen Trey Wolfe
Vivian Joy Worthington
Tristan Dana Yang
Jenna Sohee Yeam
Marlee Geneva Yost
Justin Tyler Young
Ashley Karmari Yu
Marcus Anthony Zanzonico
Gabrielle Malea Zeni
Cadyn Wayne Zeutenhorst
Mia Love Ziesmer
Ashley Hunter Ziomek
Kara Jeanette Zobrist
Justin Cole Zulauf