By Greg Mellen
Most every school has athletic booster clubs. However, a broad academic booster club is something different. It may not be Friday Night Lights, but it is equally valuable.
The San Clemente High School Educational Foundation has been advocating and raising funds to support academic excellence across San Clemente High School's curricula since 1997.
"I believe we're probably the only school with a program based solely on academics," Principal Chris Carter said. "We were the first in South County, for sure."
Among the Foundation's offerings are four days per week of after-school tutoring across all subjects, as well as college and career planning, college admission and application workshops, plus support for advanced high school academic programs.
According to Foundation literature, "No other high school in our district is able to offer this kind of attention to its students for college and career preparation."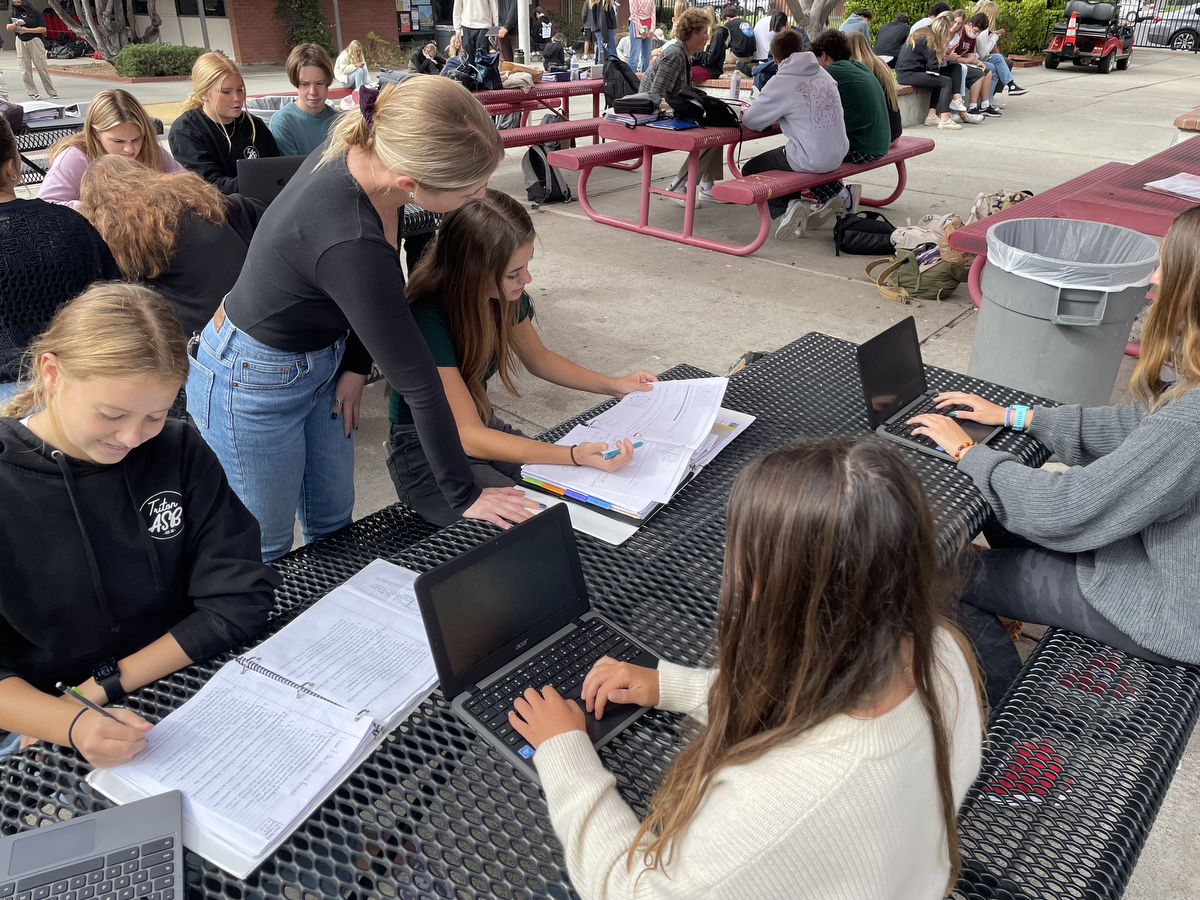 In addition to teaching and tutoring, the Foundation supports several capital projects. In recent years, 640 Chromebooks have been purchased for classrooms, with a goal of purchasing 1,200. This year, in recognition of the 25th anniversary of the group, the Foundation is raising funds to remodel and upgrade the school's aging and outdated library.
The Foundation is staging Triton Night,  its primary fundraiser for the year, from 5 to 10 p.m. Saturday, Nov. 12 at Stance in San Clemente. The event features dinner and refreshments, silent and live auctions, and live entertainment by the Cholulas, a San Clemente-based rock band. Tickets are $125 per person; $100 for SCHS staff.
Although in past years Triton Night has been held in the spring, the Foundation moved the event to earlier in the year. Each year, the group raises about $150,000, according to Foundation President Garry Green, a third of which comes from the dinner.
The Foundation was created with the goal of "World Class Education" at SCHS. And while San Clemente High School consistently enjoys high rankings across the board, the school needs funds to make up for state funding shortfalls and lift the school to the next level.
"As a suburban district, we are sorely underfunded," Carter said. "We don't have the same revenues as some of our neighbors to the north."
Without the Foundation, he said, San Clemente would have to forego some of its after-school academic programs. The largest portion, about 28 percent, of the Foundation's budget goes to after-school tutoring, which is staffed by school teachers for an hour-and-a-half four times a week.
"That costs about $40,000 a year," Carter said.
And while peer tutoring is available, the teachers are vital for their expertise and experience in identifying needs, bridging gaps and teaching methodologies.
"Kids can help," Carter said, "but they need the adults."
Each year, Foundation programs provide about 10,000 hours of tutoring at no cost to students. And it's not just for college-bound kids or those trying to buff their Ivy League pedigrees.
"I think that's the thing that sticks out to people as a real benefit," Green said. "It's for all students."
College admission, application and essay counseling, and advice for seniors receives about 18 percent of the budget. Freshman and sophomore planning and advice are offered. Funding also goes to Advanced Placement, International Baccalaureate, and AVID programs.
As anyone who has looked into private tutors and academic support programs knows, those can range to upwards of thousands and tens of thousands of dollars for one-on-one instruction, planning and college preparation programs. San Clemente's school administrators and faculty prioritize the programs the Foundation supports.
As a fully volunteer 501(c)(3) effort, the Foundation is able to donate all funds raised to programs with minimal overhead costs.
"We are 100 percent funded by the community, residents, parents and businesses," Green said.
The San Clemente High School Educational Foundation says it is the first educational foundation in the area and is a model for a number of middle and elementary school educational foundations.
At Concordia Elementary in San Clemente, the SPLASH Foundation provides educational support programs, and Shorecliffs Middle School has likewise created an education foundation.
Education and nonprofit foundations are nothing new, but have become more popular in an era when school funding is in increasingly short supply. Most often these foundations are district wide and their focus can be dispersed over a wide area of interest and concerns.
The San Clemente High School Educational Foundation is about one thing — and it delivers to any kid interested.
"Here, every kid has the opportunity to be served," Carter said.