By Theresa Cisneros
Hundreds of students from across Southern California convened at Capistrano Valley High School recently to battle it out in a rigorous robotics competition that helps them build confidence, gain real-world experience, and fine tune their machines during the off-season.
Forty-two teams, from as far away as Boise, Idaho and Waialua, Hawaii, faced off Nov. 3 to 5 at Beach Blitz, the region's premier FIRST (For Inspiration and Recognition of Science and Technology) off-season robotics event.
During the tournament, which was described by participants as the biggest high school robotics competition on the West Coast, teams worked to get robots they've spent all year building to place game pieces in strategic positions on the playing field to yield the most points.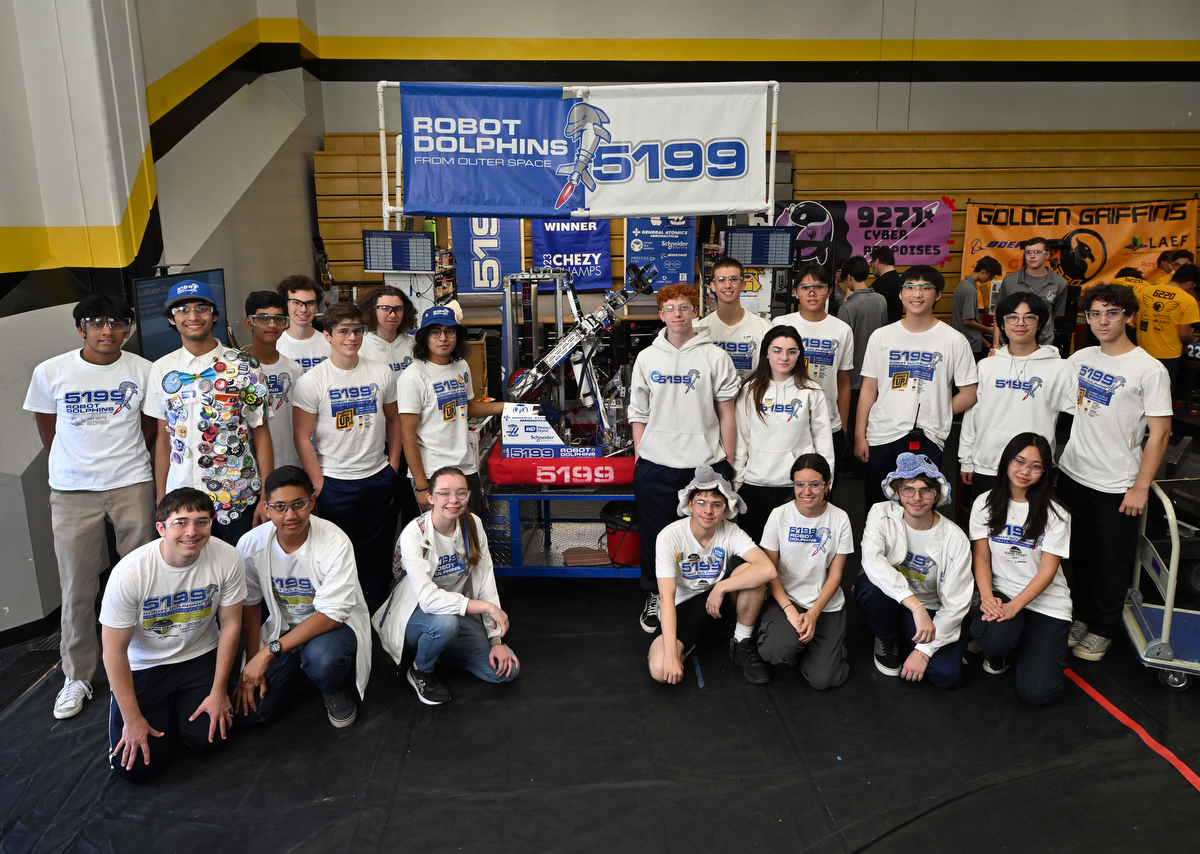 Representing the Capistrano Unified School District during the competition was varsity Team 5199 Robot Dolphins From Outer Space. The team, made up primarily of 38 upperclassmen, is based out of a robotics class that meets at Capistrano Valley High School and is open to students from high schools across CUSD and Laguna Beach.
The team ranked third in the competition after the qualification matches. The team made it to the semifinals, the latest feat in a string of successful wins in the last six weeks, said instructor and head coach Rick Jung.
Competing in the off-season makes students more competitive by giving them the opportunity to develop a strong work ethic, build leadership skills, and improve their robots before the season starts in January, he said.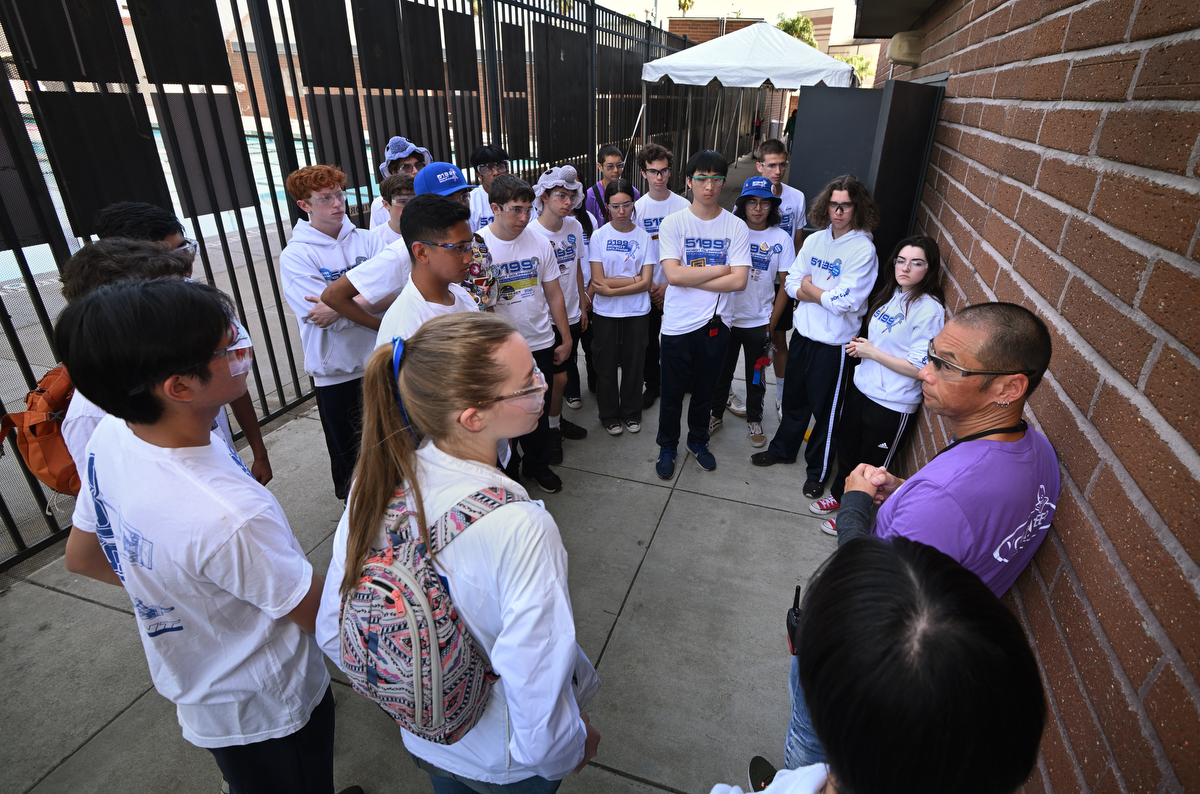 Going up against talented students from across the country also helps Team 5199 members up their game, said Joshua Duncan, the team's build lead and driver. Participating against challenging opponents gives students the chance to learn from their mistakes and ask other teams for tips, he said.
"It's stressful, but it's really fun," said Duncan, a junior at San Clemente High School who wants to get into mechanical engineering and industrial design. "It's intense, especially during finals if it's a close match against people who you know are really great competitors."
Members of Team 5199 said that competing in Beach Blitz and other robotics competitions helps them gain critical real-life skills like building camaraderie with other students, interacting professionally with judges and other adults, and working with tools they'd otherwise only see in textbooks.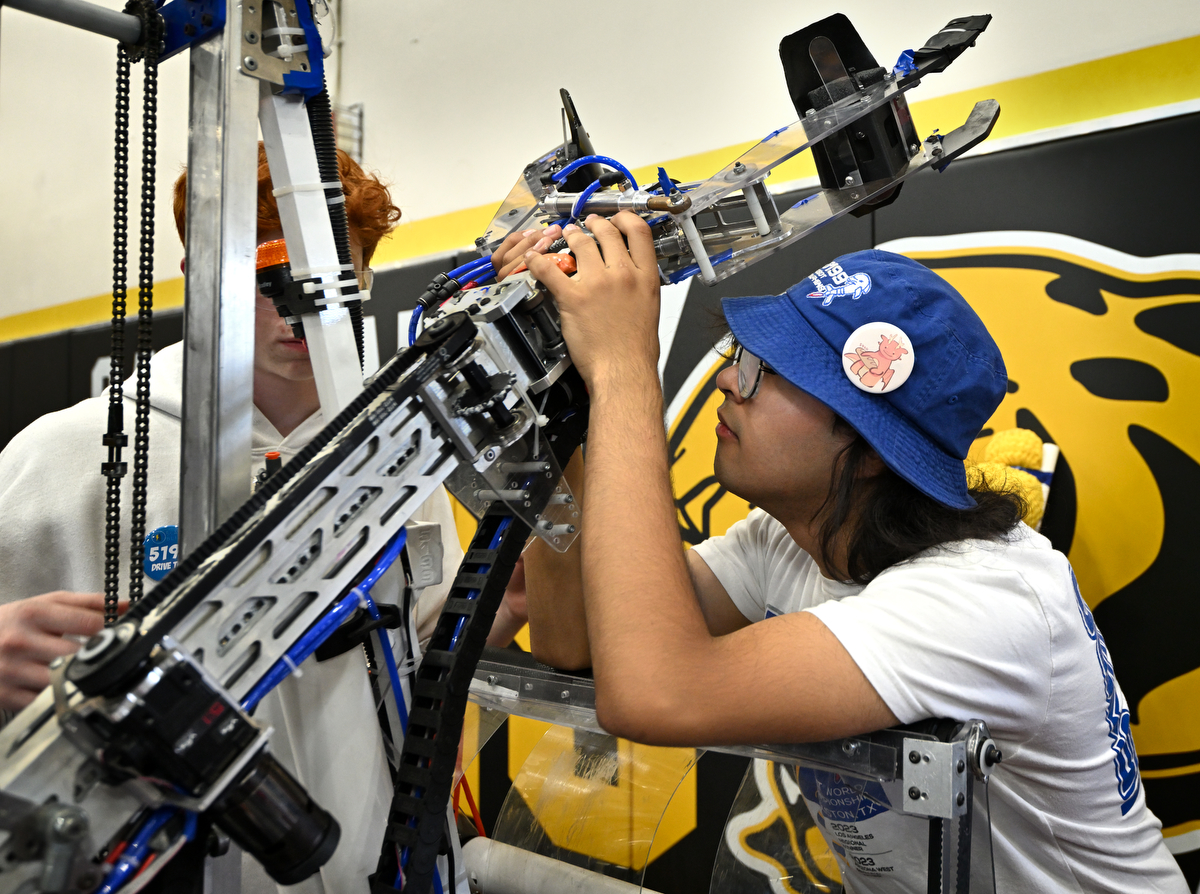 Sammy Poppen, president of Team 5199 and a junior at San Juan Hills High School, aims to attend a four-year college and become a mechanical engineer. He says participating in robotics competitions prepares him for scenarios that he may face later in work or college.
"These opportunities are incredible," he said. "You don't get this anywhere else. Most people know the name of a tool but don't really know how to use it. It's just words on a resume. This opportunity gives you that chance to have an expertise in using tools and thinking critically in the design process."
His sentiments were echoed by parent Robert Castillo, who was on site Saturday to support the team. Castillo has been a mechanical engineer for about 26 years. His son, Ryan Castillo, a senior at Capistrano Valley High School, also aspires to become a mechanical engineer. Robert said participating in robotics competitions helps prepare his son for the future.
"It's a great opportunity for him to learn about STEM and science and get excited about engineering," he said. "I'm excited that my son is able to participate and learn about how to solve a complex problem in a team, and grow, and get ready for the real world as an engineer."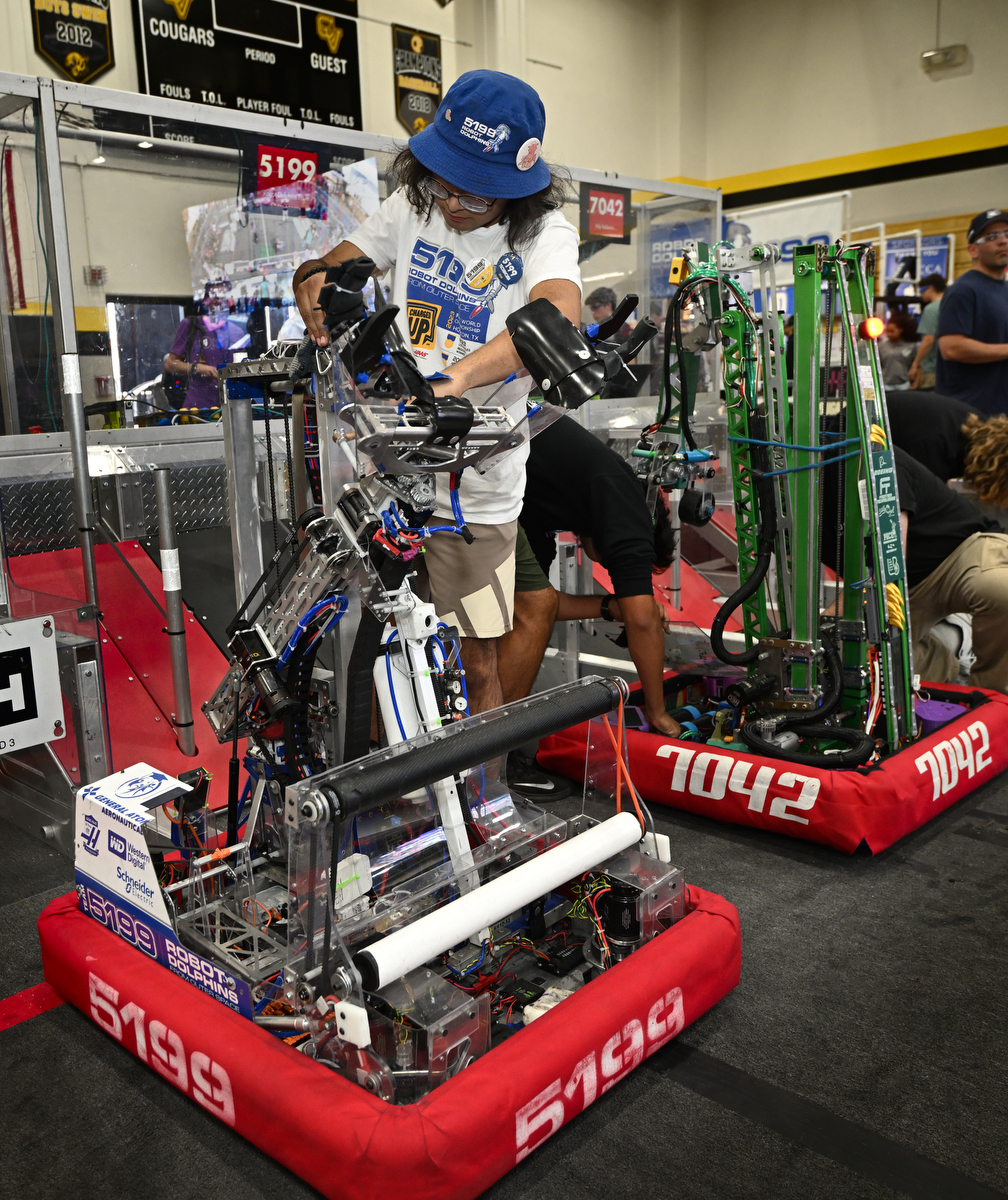 The robotics program at Capistrano Valley High School is designed to do just that, said Jung: Prepare students for success in college and their career.
The program started in 2015 with about 12 students, he said, and has grown into one of the top teams in Southern California. The team has garnered support from industry professionals and companies like Apple, Boeing, and Northrop Grumman over the years.
The robotics program has become so popular that it has expanded to include two additional classes of underclassmen, some of whom also represented CUSD during Beach Blitz on Team 9271, Cyber Porpoises.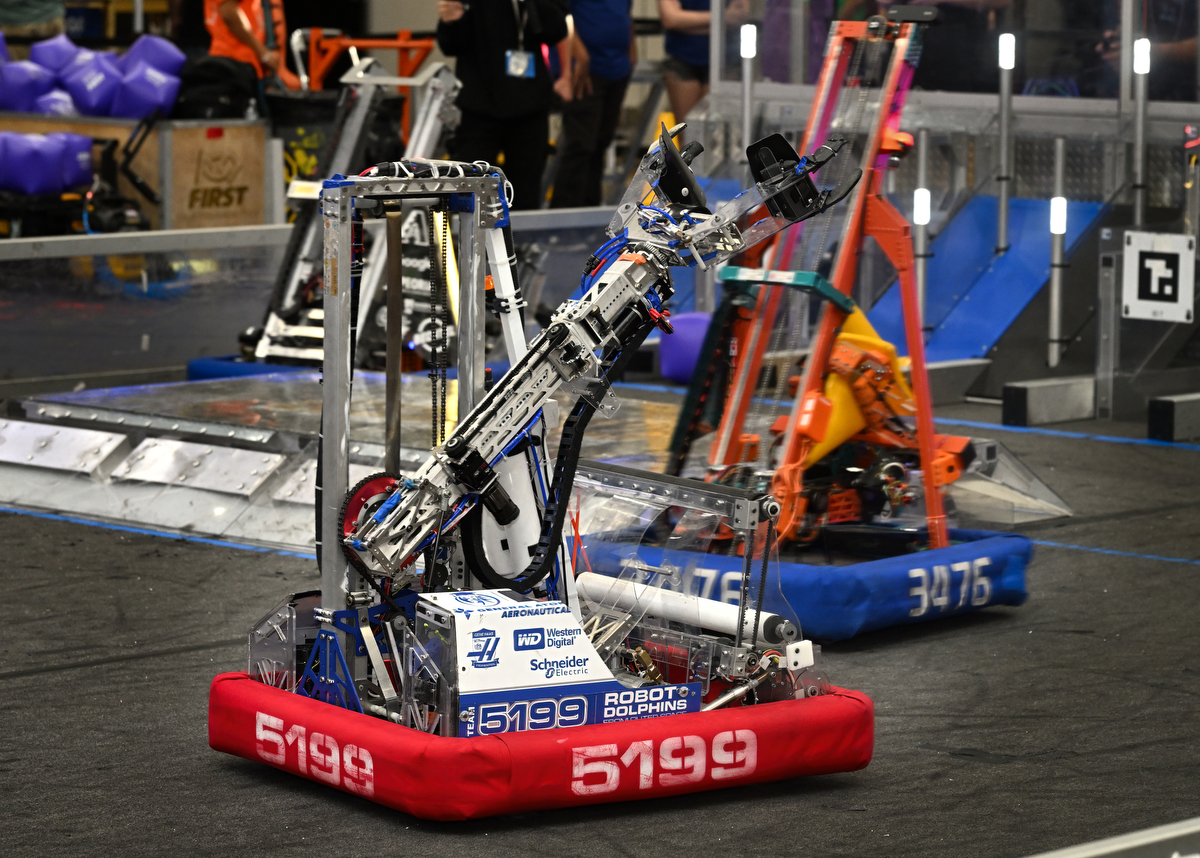 Jung says alumni have gone on to attend colleges like Rice, Duke, UCLA, UC Berkeley, UC Irvine, Vanderbilt, and CalTech, and credit the program with equipping them with the skills they need to succeed.
"We've seen so many graduating students say that when they get to college they are so much more prepared for their first year engineering or business courses because they are much better at problem solving and time management, and engineering skills like CAD and manufacturing," said Jung, who is also a professional industrial designer.
"The great thing about this being a public school district is that you're competing against the best private academies and magnet schools that specialize in engineering. We're able to do just as well or better. You're getting really almost a private school experience at a public school level," he said.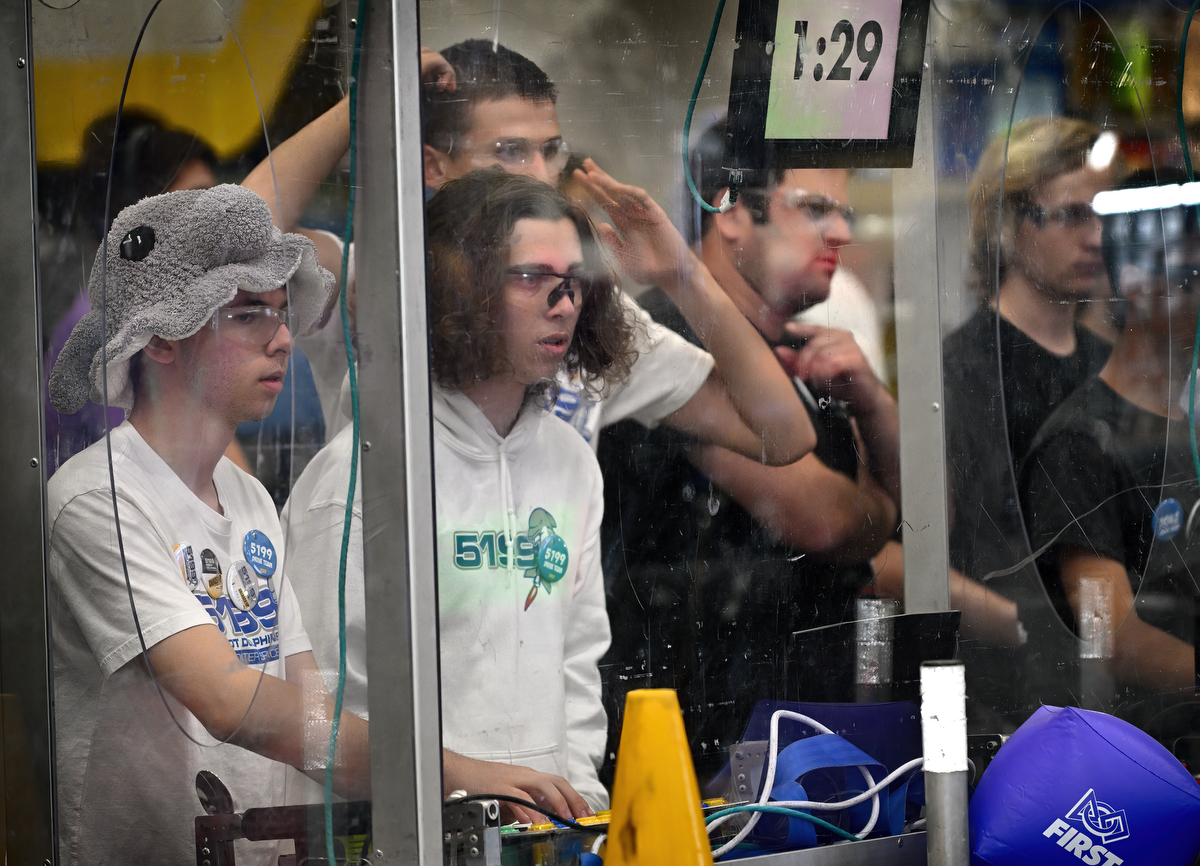 While high school teams participated in the robotics competition on the school's lower level, another 22 teams made up of students in grades 4 to 8 participated simultaneously in a FIRST LEGO League competition on the upper level.
Hosting events of this magnitude reflects the District's substantial investment in STEM, said Jung. With support from CUSD Trustees and College & Career Advantage, the District was able to mobilize and provide facilities and staffing for both events, in addition to volunteer meals, equipment rentals and more.
"It shows that the District is a leader in STEM and establishes the District as a leader in technology," said Jung.
To learn more about Team 5199 Robot Dolphins From Outer Space, visit the team on Instagram.