Did your student try any of the spooky fruits on the school menus this month? Sites were treated to Kiwi Berries the week of October 16. What's a kiwi berry? Kiwi berries are mini kiwis without fuzzy skin. They are eaten whole just like grapes and blueberries! Cut them in half and they look like miniature kiwis with green flesh and small black seeds. These spooky fruits were a big hit at elementary, middle and high schools! Blood oranges were available at all sites the week of October 23. Don't be tricked by their scary name – blood oranges get their name from their bright, red interior. They taste like an orange with a hint of berry flavor.
In addition to spooky fruits, California grown organic produce was also available in October:
Organic Persian Cucumbers from Terra Bella Farms in Arvin, CA

Organic Bartlett Pears from Scully Packing Co in Lake County, CA

Organic Fuji Apples from Viva Tierra in Lodi, CA

Organic Asian Pears from Homegrown Organic Farms in Kingsburg, CA
The CUSD Central Kitchen was very busy in October with new House-Made recipes:
Chili Con Carne served with Tostitos Chips at elementary schools

Chili Con Carne Walking Tacos served with Fritos Chips at middle and high schools 

Chicken Yakisoba at Elementary Schools

Chicken Alfredo Pasta at Elementary Schools

Filipino Chicken Adobo with White Rice featuring Mary's Chicken at elementary schools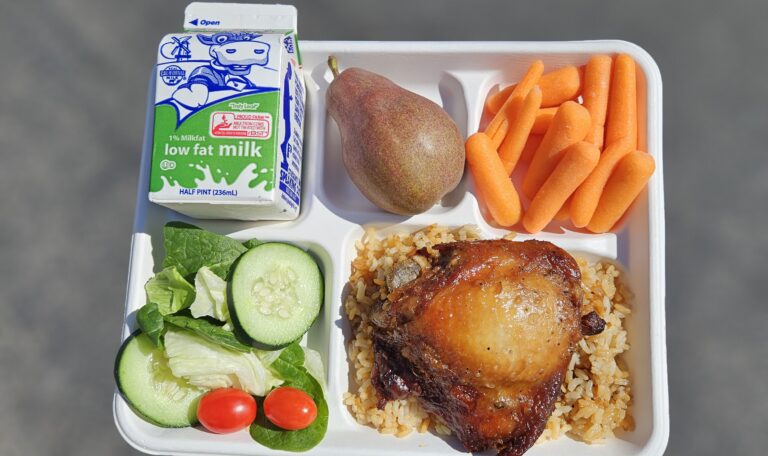 In November, we look forward to:
House-made Turkey & Cheese Sandwich on the elementary lunch menu featuring all natural nitrite and nitrate free turkey, Amish style white bread from Sadie Rose Baking Co., cheese, lettuce and tomato.

Brunch for Lunch Maple Waffle Sandwich with Chicken Sausage on the middle school lunch menu featuring a chicken sausage sandwiched between two whole grain maple flavored waffles.

Fall Turkey Burger on the high school lunch menu featuring locally baked potato brioche bun from Sadie Rose Baking Co., all-Natural turkey patty, green leaf lettuce, tomato, red onion, and blue cheese dressing.
For menus and more information, visit the Food & Nutrition Services website capistrano.healtheliving.net, follow on Instagram at CapoFood or call 949-234-9509.