By Greg Mellen
Dana Hills High junior Parker Fox stopped at a table for the Pacific Marine Mammal Center, picking up promotional literature, talking with staff, and even taking out his phone to scan the nonprofit's QR code. Then he moved on and repeated the process with Stand Up To Trash, another local nonprofit.
"I saw some organizations I was interested in," Fox said after preregistering to vote with the OC Voter Coalition. "I want to be in marine sciences. I'm definitely thinking of signing up with the Marine Mammal Center and Stand Up to Trash."
This is precisely the kind of interaction organizers hoped for at the inaugural district-wide Community Engagement Fair, presented by the student-led ENGAGE team and the school at Dana Hills High.
A couple dozen nonprofits and more than 100 students from the Capistrano Unified School District gathered in the high school's mall area for the event, inspired by Dana Hills High senior Sophie Andersen, founder of ENGAGE.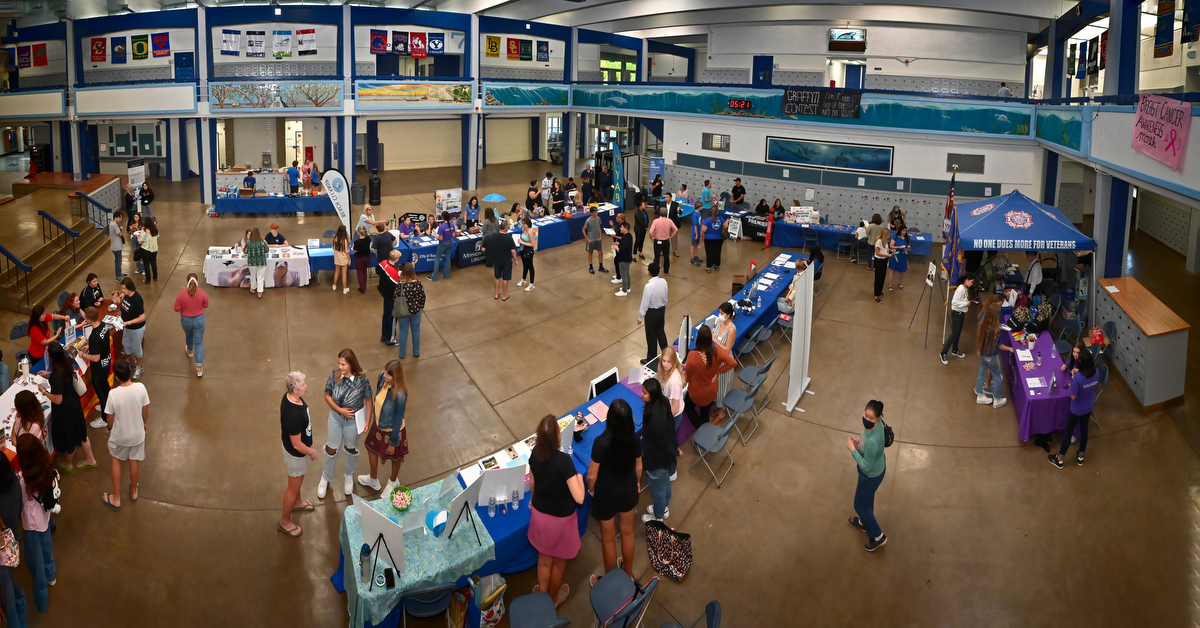 Andersen debuted the idea last year with a lunch-time engagement featuring two nonprofits and followed in spring 2022 with a larger lunch-time event.
However, this year's fall event, with the backing of the school and help from sophomores Anusha Misra and Apoorvi Singh, the event was kicked to the next level.
For the first time, the event was open to students and nonprofits from across the district.
"I realized in sophomore year during the pandemic that the connections with the community were lost," Andersen said of the genesis for the Community Engagement Fair. "A lot of my friends wanted to be involved but didn't know where to go. I thought, 'Why not bring (nonprofits) to Dana Hills?'"
Andersen comes to volunteerism naturally. Her mother, Katie Andersen, is president of the Dana Hills High PTA.
Dr. Brad Baker, Principal of Dana Hills High, was impressed by the event, the turnout, and the effort Andersen put in.
"She's an incredible student. She did this on her own," he said. "To advocate for students and their involvement in our community is huge."
Civic engagement pilot program
Baker was doubly pleased that the event dovetails perfectly with a pilot program the school unveiled this year to build student-community connections.
For the first time in 2023, graduates of Dana Hills High can have a Seal of Civic Engagement added to their diplomas. The pilot program could be expanded to the Capistrano Unified School District in coming years.
Although Dana Hills High does not require students to do volunteer work to graduate, this has been a trend in many school districts. Los Angeles has required community service hours for public high schools since 1997 and Long Beach enacted the requirement in 2007. Many colleges and scholarship programs, such as the California Scholarship Federation and National Honors Society, expect or require public service from applicants.
"Colleges want to see well-rounded kids," Baker said.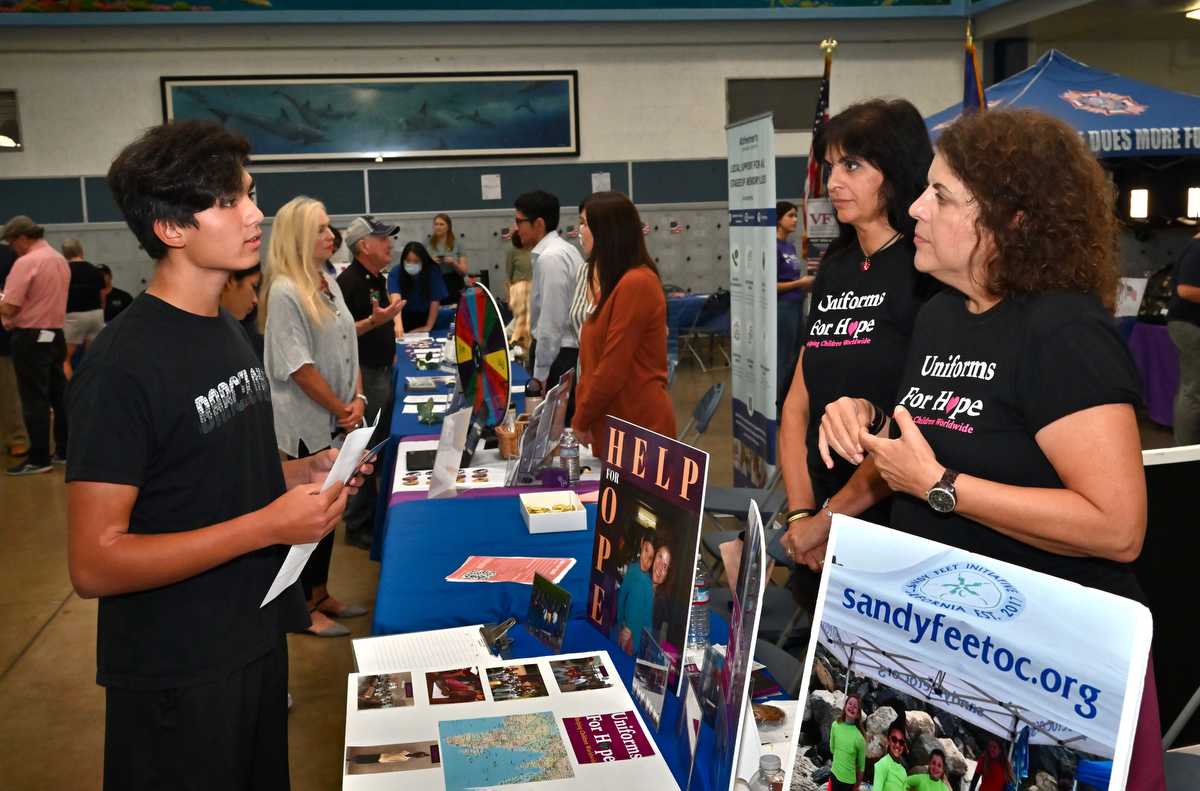 "As this gets going it will be a wonderful complement to the (district's) College Fair," said Amy Hanacek, a member of the CUSD Board of Trustees.
The engagement event offered students a wide array of volunteer and civic opportunities. And there weren't just volunteer gigs. Some of the attending organizations, such as the YMCA, were even taking employment applications.
Andersen said her goals for engagement were not merely for students to meet certain requirements.
"I hope this encourages students to engage in their passions rather than just checking a box," she said.
Opportunity of nonprofits
Stephanie Gilroy is the Volunteer Manager for the Pacific Mammal Center, which rescues, rehabilitates, and releases marine mammals. She hoped that in addition to promoting awareness of her "little hidden gem in Laguna Beach," she could attract volunteers. The nonprofit recently expanded its volunteer opportunities to students 14 and older.
Vickie Patterson, President of Stand Up to Trash, participated in Andersen's spring event and was impressed by the Community Engagement Fair.
"Everyone here has a heart for good," she said.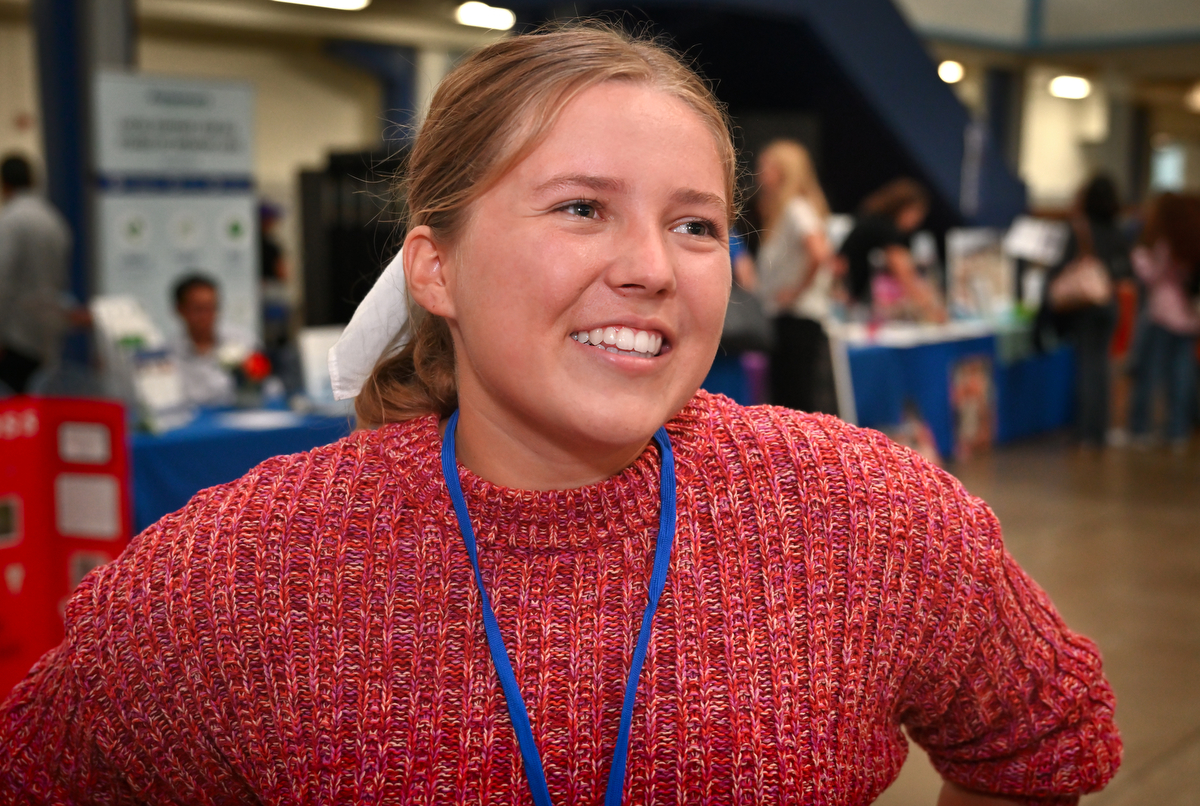 Plenty of adults are involved with her nonprofit, which offers environmental education and monthly beach clean-ups followed by lunch-time presentations from environmental experts. However, Patterson said youngsters add something special.
"I love the student connection," said Patterson.
The fair had a diversity of groups big and small. These ranged from Alzheimer's Orange County, to the Mission Viejo Library, to Providence Mission Hospital and its Student Auxiliary, to the Laura's House nonprofit for victims of domestic abuse. The Veterans of Foreign Wars Post 9934 were even in attendance with a large canopy. They were promoting an essay contest for students on patriotism.
Keeping it going
While the debut of the district-wide Community Engagement Fair was a breakout success, it will fall on Misra and Singh, a pair of can-do sophomores, to keep it going. The pair look to Andersen as a mentor and inspiration.
"I feel the idea (of ENGAGE) is something I always looked up to," Singh said. "We're looking forward to keeping the legacy and to keep making it bigger and better."
"I think they've done a great job," Andersen said, noting the sophomores have been able to get "very different communities involved."
As Fox collected his brochures and prepared to leave, he smiled.
"I think it's super impressive," he said of the event.
He was happy he had made the effort to return to school in the evening for the event, saying, "I believe you regret all the opportunities you don't take."