By Greg Mellen
Play and recess should be available to every child. Often the best part of the day in elementary school is recess, when children are released to the abandon, delight, and life lessons of playtime.
Sadly, too often certain children, whether due to cognitive, physical disabilities, social anxieties, or other reasons, are excluded.
When Amanda Hicks, a paraeducator and parent at Clarence Lobo Elementary, saw her two special needs kids unable to join in, as well as a child in a wheelchair, it nearly broke her heart. Her son occasionally wanders near the playground and watches the others at play.
"That was my drive," she said of changing things.  "We need a space where everyone can play, even if it's parallel. This puts all kids in the mix."
Hicks now has the school, Capistrano Unified School District, fellow parent and PTA member Michelle Zeigler, and a recently created nonprofit working toward the goal of building a playground at Lobo Elementary that's accessible to all.
One morning, Hicks says, while scouring the internet at about 3 a.m., she found on TikTok of all places, a recently launched nonprofit called The Recess Project, whose mission is to increase inclusion during recess periods by providing equipment.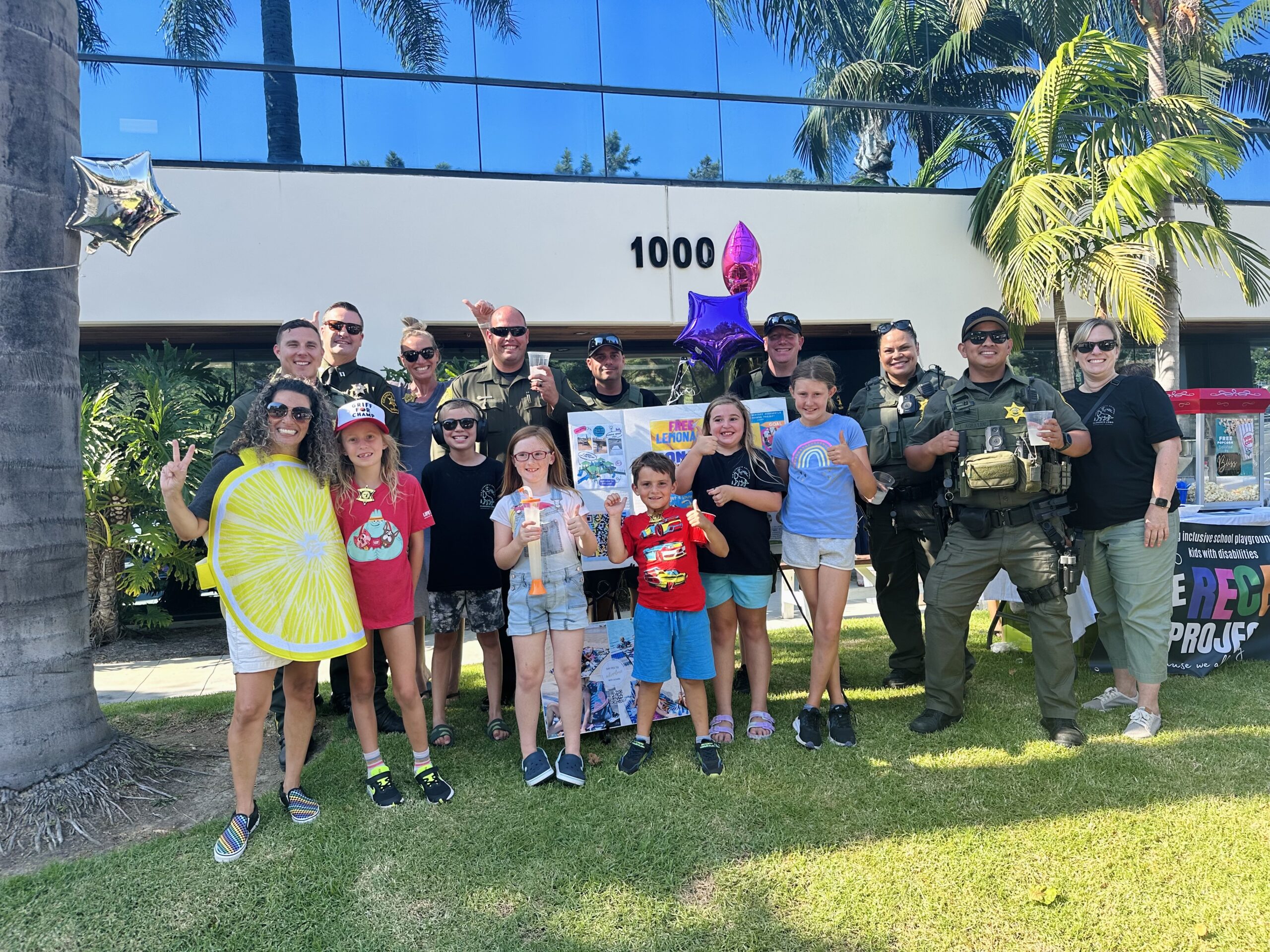 "I was one of 100 followers," Hicks said of connecting on the ground floor. Later, the growing nonprofit announced it was accepting applications for its first project and Lobo was selected from a field of 30 nominees.
Katrina Placzek, president of The Recess Project, said Hicks' passion immediately stood out in her application, and was supported by about 20 others including school parents.
"She was driven to help this school," Placzek said. "That was a green flag for us."
In Clarence Lobo Elementary, the group has found a worthy recipient. The K-5 school in San Clemente has 350 students. The playground for older children dates back to 1994, before the inclusive playground concept took hold.
"We're a very inclusive, kind and caring community," said Principal Laura Kindron Coy, noting that 40 percent of the student body have Individual Education Plans, which are required for school-aged children with disabilities that qualify for Special Education.
Coy feels a personal kinship for children who are excluded, explaining that as a child her anxiety was such that it kept her from participating in recess.
"When students don't have that (interaction) they feel isolated," she said.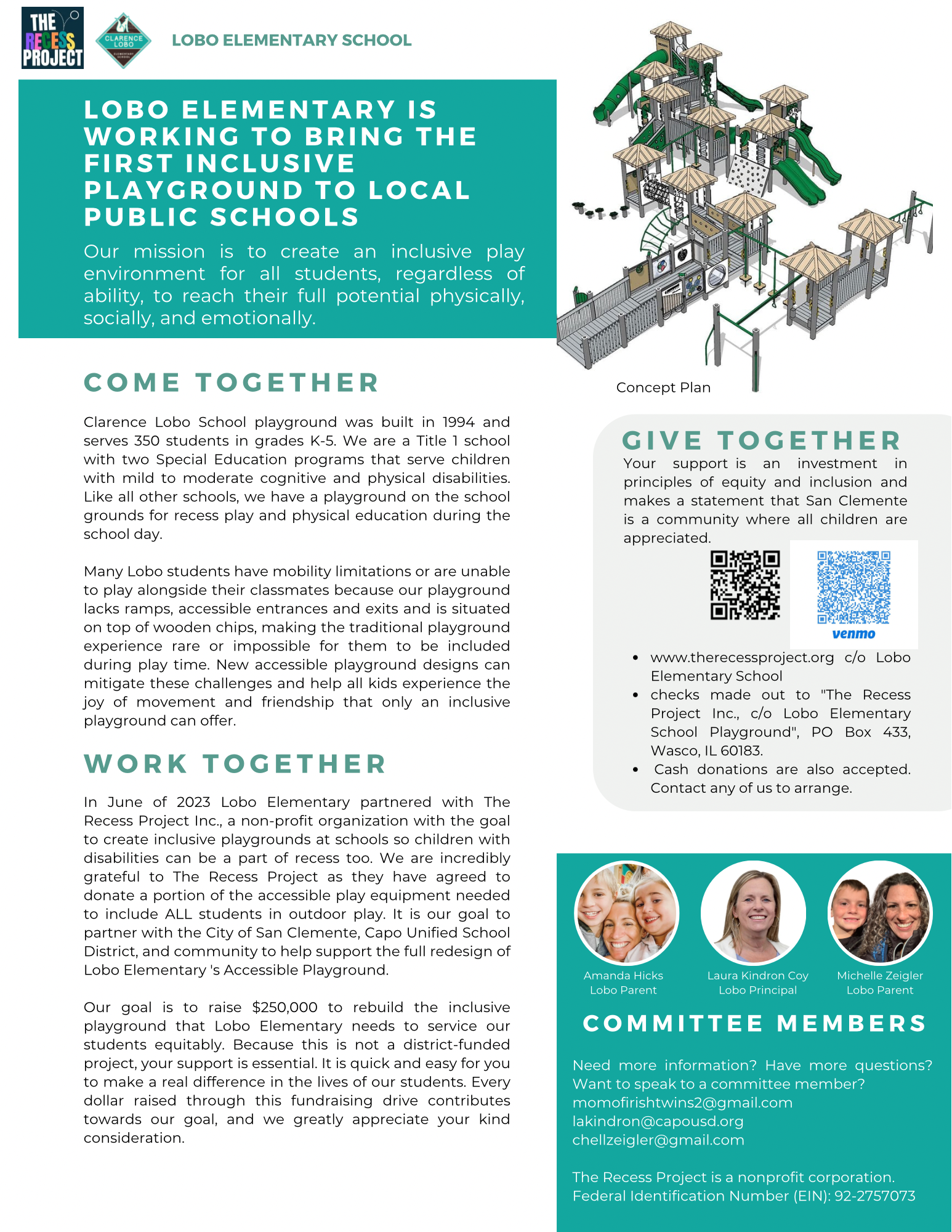 Gaining momentum
Hicks has been making the rounds to local businesses, arranging fundraising events. The Recess Project has already committed to donating between $17,000 and $25,000 in new playground equipment, including a merry-go-round with space and access for a wheelchair, and a second piece for a "quiet zone."
In conjunction with the Recess Project and with the help of Zeigler, a Lemonade Stand fundraiser was held recently at Beach Kids in San Clemente, a physical and occupational therapy organization. At the event, participants had the opportunity to partake of lemonade and popcorn and donate to the project.
The Recess Project launched the lemonade project nationally, with all proceeds supporting Lobo Elementary. Organizers are also planning book fundraisers with children's authors.
Closer to home, Hicks and Zeigler are working with Surfin' Chicken Grill and Crunch Fitness in San Clemente for future events. Also on the board are a spare change and recycling drive.
Zeigler told the San Clemente Times that the national effort has already paid off and that it was "amazing" to see children in places such as Texas and Wisconsin helping to benefit the school.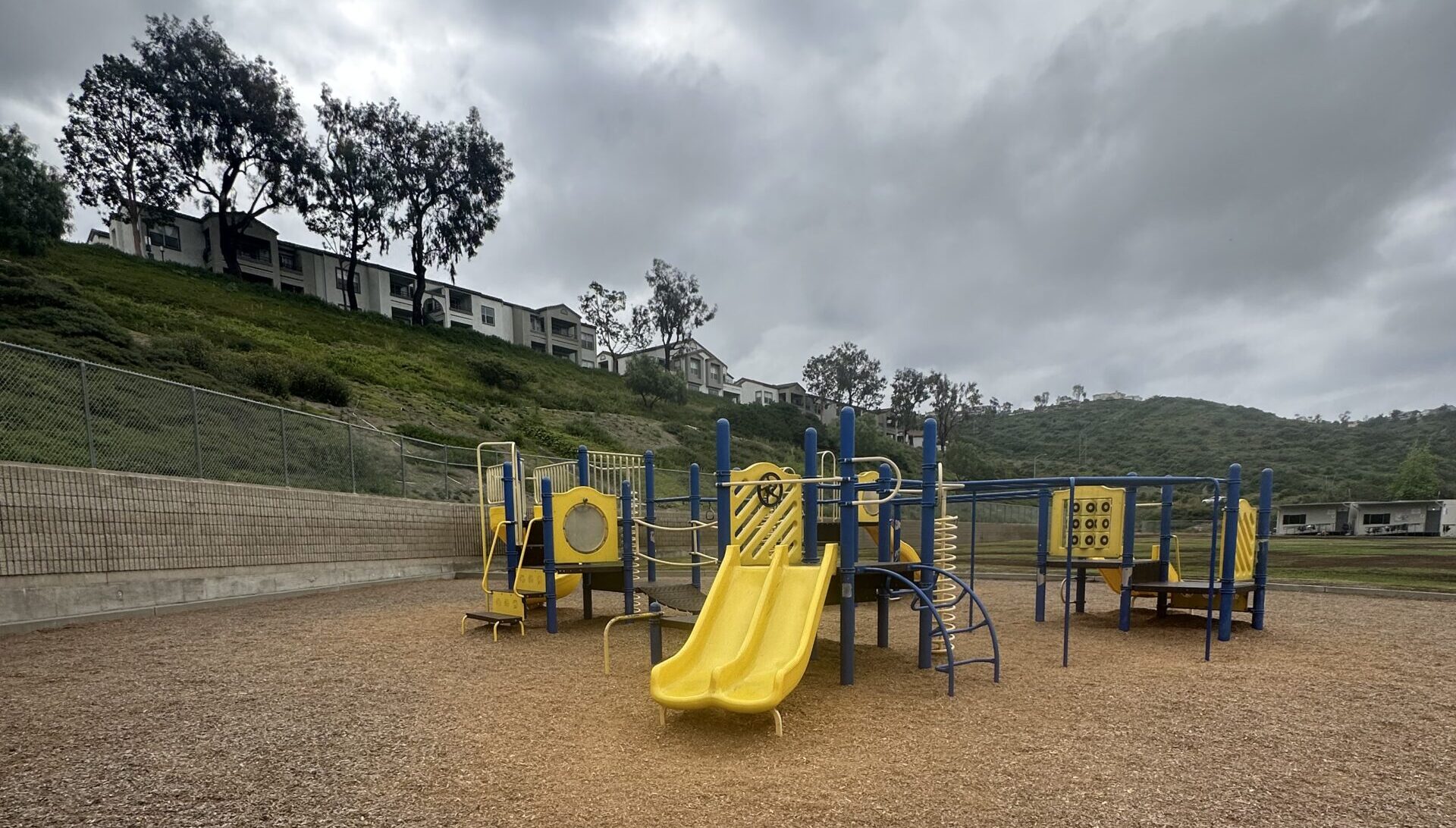 According to The Recess Project website, more than $16,600 has been raised toward a goal of $250,000.
Among the group's goals is to have the entire area covered with padded flooring rather than wood chips, which are problematic for kids with certain mobility, tactile, or pica (eating) disorders.
"It's just kind of taken off," Hicks said of the fundraising efforts.
The School District has also chipped in. The school's kindergarten playground structure was replaced due to wear and rust. In addition, activity panels, also known as playground learning walls, have been installed. The panels provide a developmentally stimulating experience for children with interactive and multisensory activities and elements.
Coy said the panels are particularly intriguing to students on the autism spectrum.
"They gather at the panels," she said.
Hicks said a "quiet zone," near the play area with equipment that children can climb on or underneath allows them to feel included without being thrown into the mayhem.
A national trend
Inclusive playgrounds have become a growing trend, particularly since 2010, when the American Disabilities Act developed design standards to make play areas more accessible.
However, the vast majority of these playgrounds and the nonprofits that build them are found in park playgrounds rather than on school property.
Experts say making recess and playgrounds available to all has widespread benefits for children. These include:
Promoting social interaction and building friendships, awareness, and acceptance between children of diverse backgrounds and abilities;
Instilling a sense of independence and confidence in all children;
Teaching children without disabilities how to work out conflicts peacefully and respectfully, and following rules set by the group;
Helping children with disabilities try new activities, end isolation, be included in play, and develop social awareness.
Such lessons should not be underestimated.
As "Mr. Rogers," Fred Rogers, said, "Play is often talked about as if it were a relief from serious learning. But for children, play is serious learning. Play is really the work of childhood."
According to experts, despite its huge popularity with kids and growing scholarly research on the benefits of recess and play, schoolyard spaces have been given little priority or funding.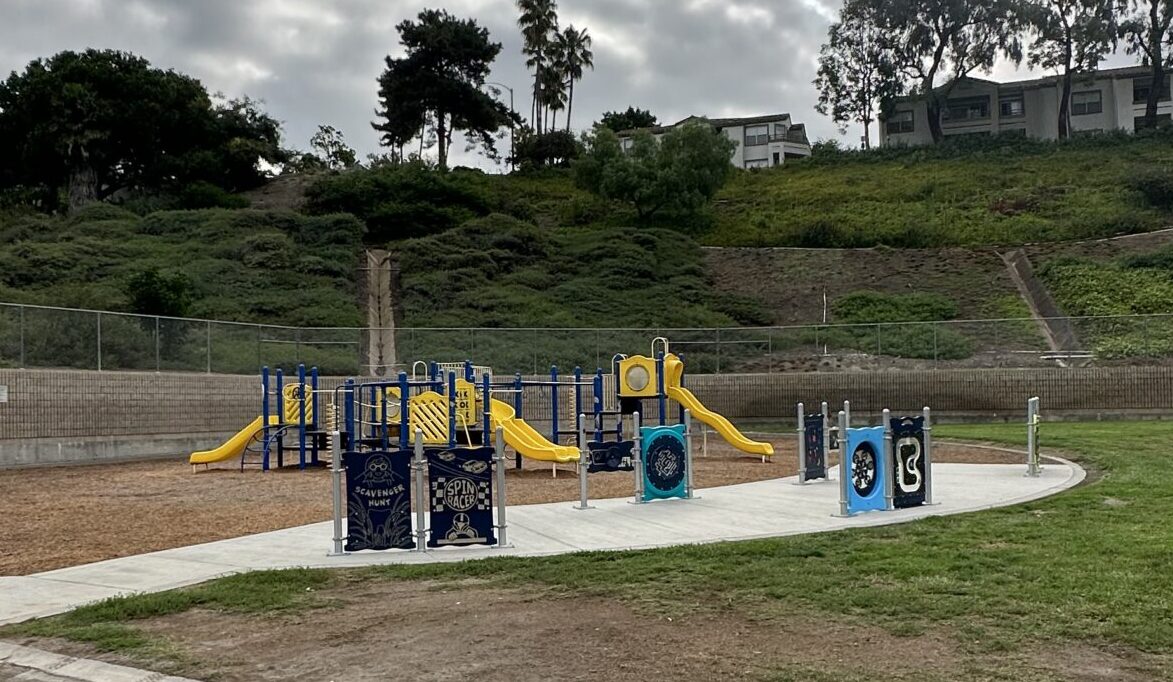 Placzek estimates that around 90 percent of public schools lack accessible playgrounds, relegating certain children to be excluded.
"We believe we are one of the first nonprofits focussed entirely on school programs," she said.
Coy says a new playground would fit into her overall goals, which are all about, "creating systems of equity."
"When you see recess, it's where children build social skills and friendships," Coy said.
Hicks hopes it will remove another of the barriers her children face in their everyday life.
Maybe it will reduce instances like a recent one in which she said, "My son asked me the other night, 'Mom, why do I have to be different?'"
To support The Recess Project and the project at Lobo School, visit therecessproject.org.