By Fernando M. Donado
For any young baseball prospect, the dream scenario is to come through with the game-winning hit or strikeout for their team in a clutch situation while playing inside a big-league ballpark.
For former Dana Hills High School standout Luke Williams (Class of 2015) that dream became a reality on June 9, 2021.
With his team, the Philadelphia Phillies, in the verge of a 0-1 shutout defeat, Williams belted a walk-off two-run homer off closer Will Smith to edge the Atlanta Braves 2-1 in Citizens Bank Park in Philadelphia. His parents were in the stands as he rounded the bases in jubilee after crushing the ball 359 feet to left center field.
"It's everyone's dream. You definitely dream about it. Sometimes you think it can never happen, and for things to work out and happen this way, it's incredible," Williams said in an exclusive phone interview with CUSD Insider.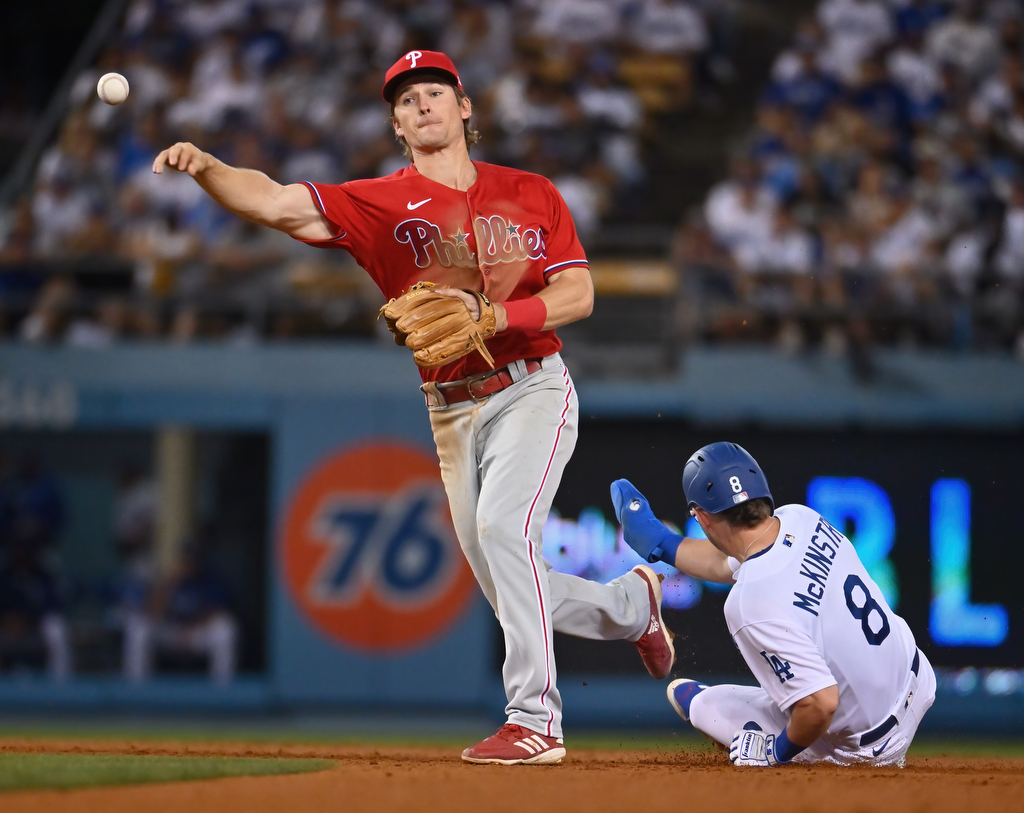 A few days later he doesn't want to wake up from this reality. His stats and performances don't indicate so, anyways.
Williams hit .474 with 9 hits in 19 at bats during his first eight Major League games, which was highlighted by a three-game series against the Dodgers in Chavez Ravine — not far from his parents' home in south Orange County and a bit of a homecoming for him.
"It's been quite the road. It's still hard to believe that I am having the opportunity in the big leagues. … It's hard to believe. I'm still digesting it," said Williams, who hit 5 for 9 against Los Angeles pitching in that road stand. "I haven't quite digested it just because it has been happening so quickly. Just trying to roll with it. I have teammates telling me: 'Hey, Luke, don't wake up.'"
Although the spotlight has struck just recently for Williams, his 2021 season has been a constant. The 24-year-old caught the Phillies attention by hitting .352, 25 hits, and scoring 15 runs for the Lehigh IronPigs, the Phillies Triple-A affiliate.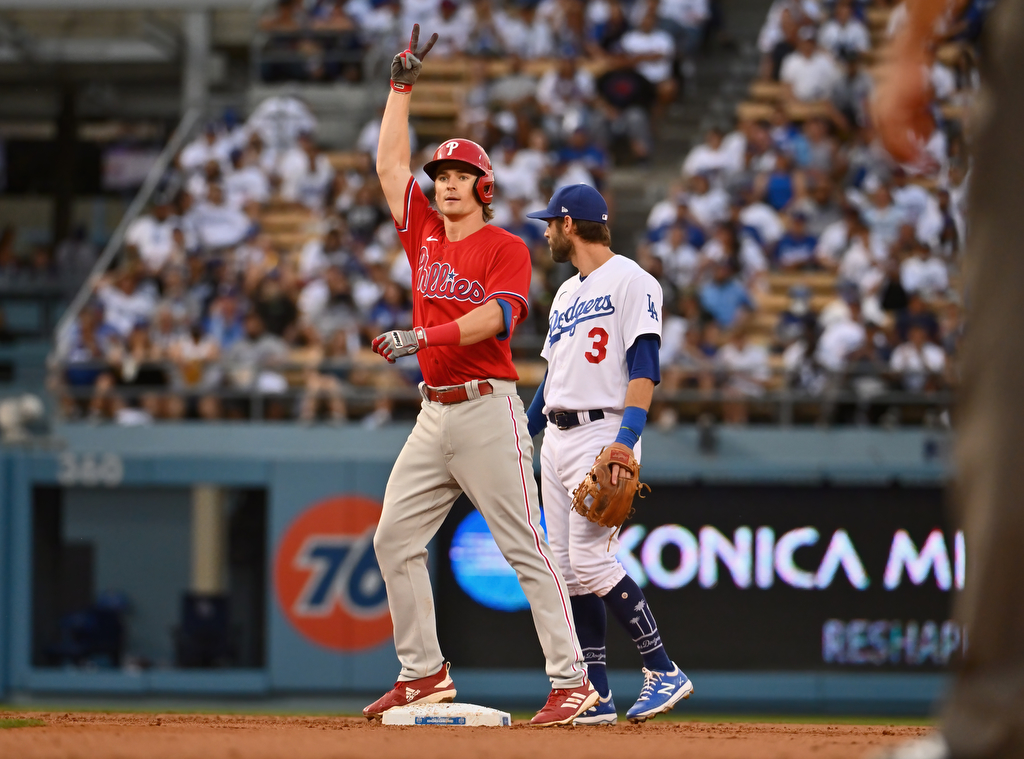 But perhaps his biggest showcase was the Road to Tokyo qualification to the Olympics Team USA, a tournament that was played in Florida and included opponents from North, Central and South America as well the Caribbean.
The Americans, managed by Mike Scioscia, won the tournament posting a 4 wins, 1 loss record. Williams was the leadoff hitter in that lineup. He hit .444 in 18 at bats while posting 8 hits, 6 RBI, and a home run against Canada in the U.S. 10-1 win over Canada on June 5. Williams was 2 for 5 that night, while hitting for double, a homer, and drove in three runs that day.
"Getting to play for Scioscia was an awesome experience. It's a dream come true because of the connection that Mike Scioscia has with Southern California and him having won a World Series (in 2002) with the Angels," Williams said.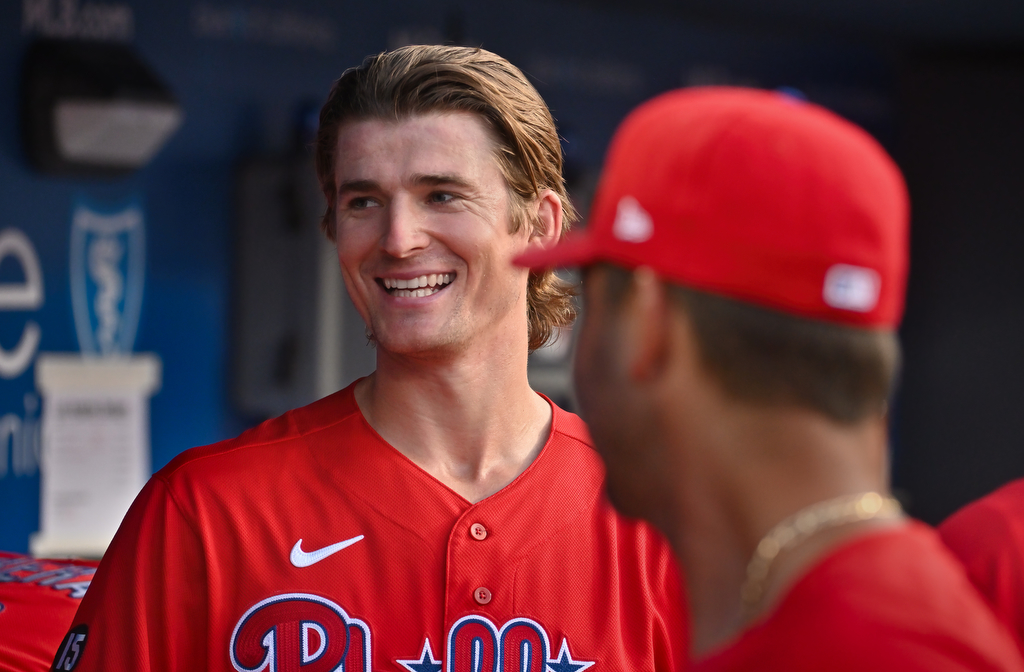 For Luke's father, Mark, and his mother have been traveling while enjoying the ride along with their son. During the last few weeks they've traveled to Florida to see Williams perform in the Olympic qualifiers, returned to California, flew to Philadelphia to see him debut in starting fashion against the Braves, and then flew back to see him play in Dodger Stadium.
"It's great. It's pretty exciting to be at the game and see the home run. It's very exciting to be in Florida and see how the team clinched a spot in the Olympics. It's been happening very fast. It's been exciting and rewarding to see him do well for his family, friends and his community," said Mark Williams, who said he is proud of his son representing his country in starting fashion.
"It was a real treat to see him play as leadoff hitter for Mike Scioscia and to win together for one final purpose with a great group of players. Luke played a huge role in that outcome," Mark Williams said, adding that by virtue of getting called up to the Phillies' 40-man roster he forfeits the chance to make the Olympics.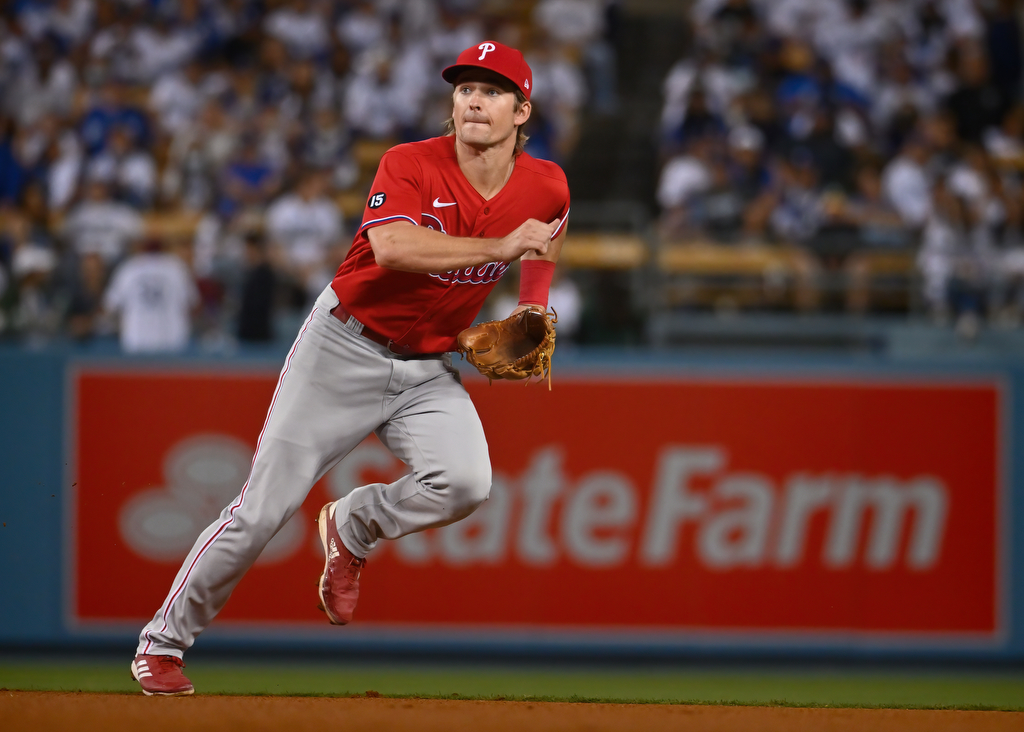 Things haven't come easily for Luke Williams.
Prior to his recent success, he's had to pay his dues and improve on his game while playing in the different stages of the Minor League system and, in some cases, winter ball seasons in the Dominican Republic, Colombia, and Australia.
"Minor League is definitely not a luxury," he said. "Piling up four to five players in an apartment. Staying in motels. Food isn't that great. But you have to keep fighting through it. Once you fight through it, you get through it, and you're fortunate to get to the Majors. It definitely makes you appreciate it a bit more."
One of the experiences Williams has enjoyed during his course to the Major Leagues is the traveling he's been able to do while improving on his skills. In 2018, while playing for the Toros of Sincelejo in Sucre, Colombia, he witnessed the struggles of the Latino ball players to reach their goals of one day playing in the Majors.
"All I wanted was to get more opportunities. Aside from baseball, it's a chance to see the world. The experience that I lived in Colombia was great because it was a way to open my eyes and see the hard experiences of Latino players living in the struggle to get to the Major Leagues. I got to experience that feeling in the Minors as well. It was a culture shock and a situation in which I had to adapt," said Williams, who posted respectable stats while playing in South America: three home runs, 44 hits, and eight stolen bases while playing for Sincelejo.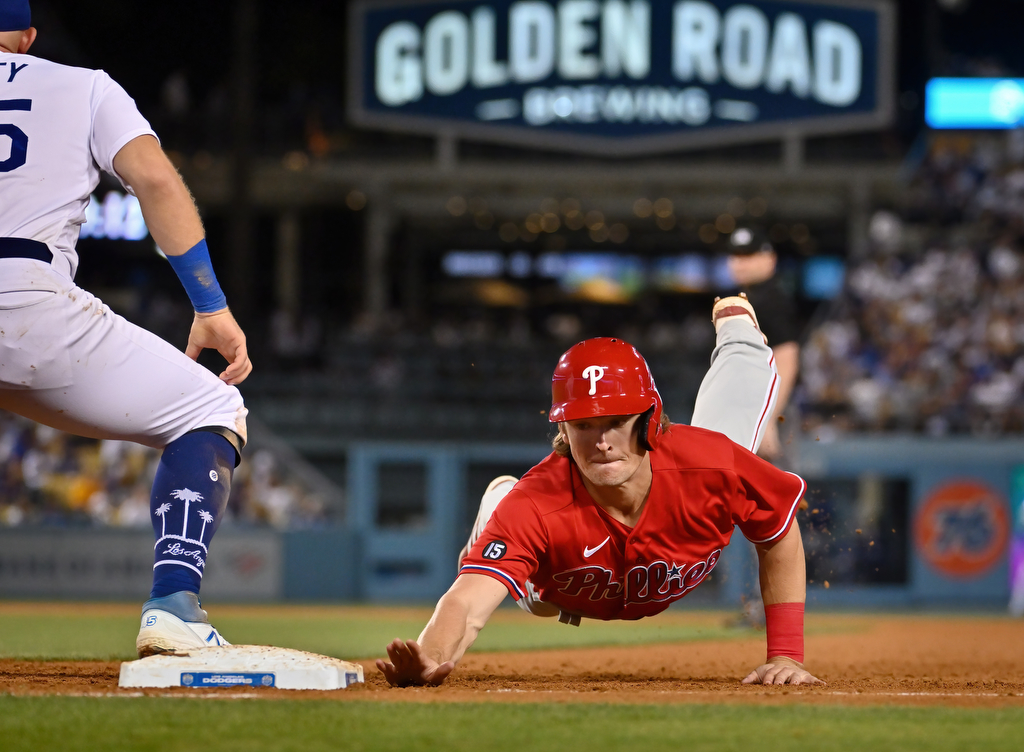 One of the key components of Williams' success is centered around the support of his family. And in spite of moving around while hunting for a prosperous baseball career, the now Major League rookie says having family around him is what helped him.
Williams got started on his career right after graduating from Dana Hills High School, when the Phillies selected him in the 83rd overall pick of the third round of the 2015 draft, and had to move immediately to Florida to play rookie ball.
"I got drafted at age 18. It was a lot moving to Florida right away. I lived by myself in a motel during that time. It was a big adjustment, but my parents raised me right, and that prepared for the situation. It was a matter of ignoring distractions," said Williams. "To me, the concept of family is huge. It's everything. For my parents to fly out with a snap of a finger, go to Florida, come back home and back to Philadelphia. I wouldn't be here where I am if it hadn't been for them. We've had our ups and downs, but we've gotten through those times and they definitely play a huge role in my life."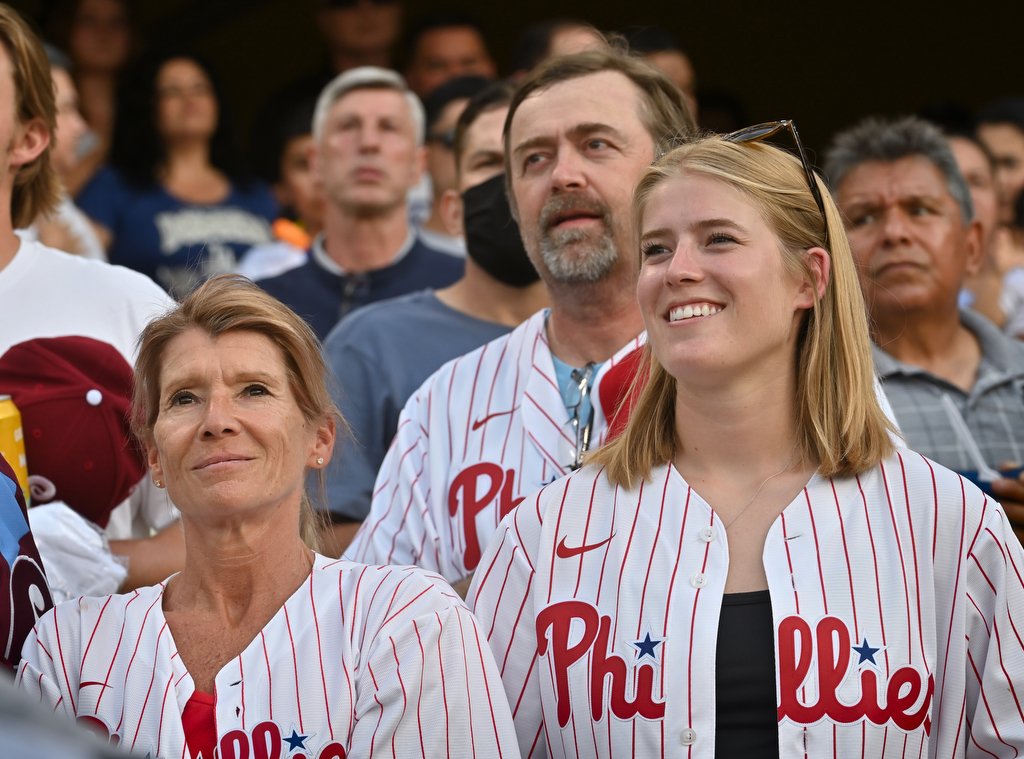 Williams says he would like to remain with the Phillies for the remainder of the season, and he's conscious that the goal goes side by side with the consistency of his performances, but he's willing to do anything to help the ball club compete, and keep performing for manager Joe Girardi to keep him in the lineup and roster.
"I'm here to help the team in any way, shape, or form. Fortunately, I've been able to perform here. If Joe (Girardi) wants to keep me in the lineup, it's great. If I have to pinch hit, double switch or whatever he asks me, I'll do it for the team," said Williams, who has played multiple positions for his team and is confident the Phillies can make a run at the playoffs with more than half of the season still to be played out. "You can't count us out, that's for sure. It's the Major Leagues. Anyone in this league is really good. I'm confident with the team that we have, the players we have, and pitching staff we have. Baseball is a funky sport. Once the boys get in a hot streak, you better watch out."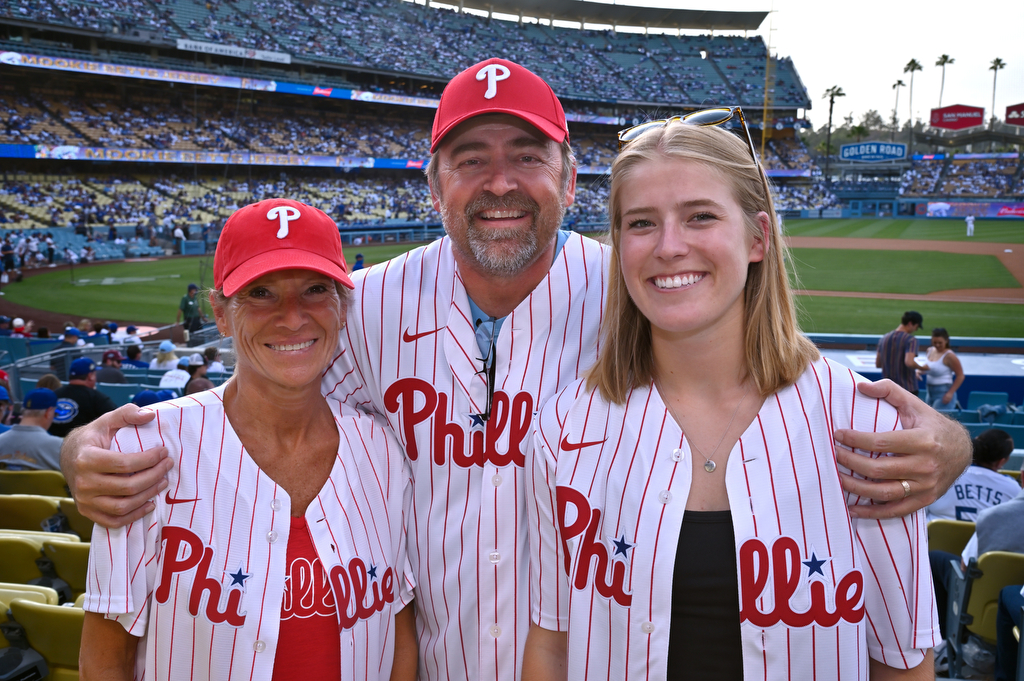 His father is also confident that Williams can achieve that goal with his team.
"I think he is doing what he loves to do. We encourage him, but not much because he is such a great worker. Keep in mind that he is still fairly young. He got drafted straight out of high school. He is a very versatile player and he is certainly trying hard to make the most out of his opportunity. He is hoping to stay in the big club and help the team win, and get to the playoffs," said Mark. "We all know that everyone wants to compete to play on big stages. At the moment, he is just one of 26 players in that team. Professional baseball is a very challenging thing. He loves to play the game and you have to love the game to succeed at this (professional) level."
In terms of how he is handling his fame, Williams says his life and his style of practicing haven't changed since getting called up to the big leagues.
"Training is still the same, but you have more eyes on you," Williams said. "I'm still Luke. I'm the same guy. I certainly have more attention on me. I have time to talk to people like family and friends. A lot of people from high school try to reach out to you, and try to become best buds with you just because you found fame. Nice that they're being friendly, but I just try to be myself every day."