In celebration of National School Counseling Week, CUSD Insider is showcasing profiles of the fantastic counselors we have throughout the District.
Today we are highlighting Jenna Perry, School Counselor – Alternative to Suspension (ATS).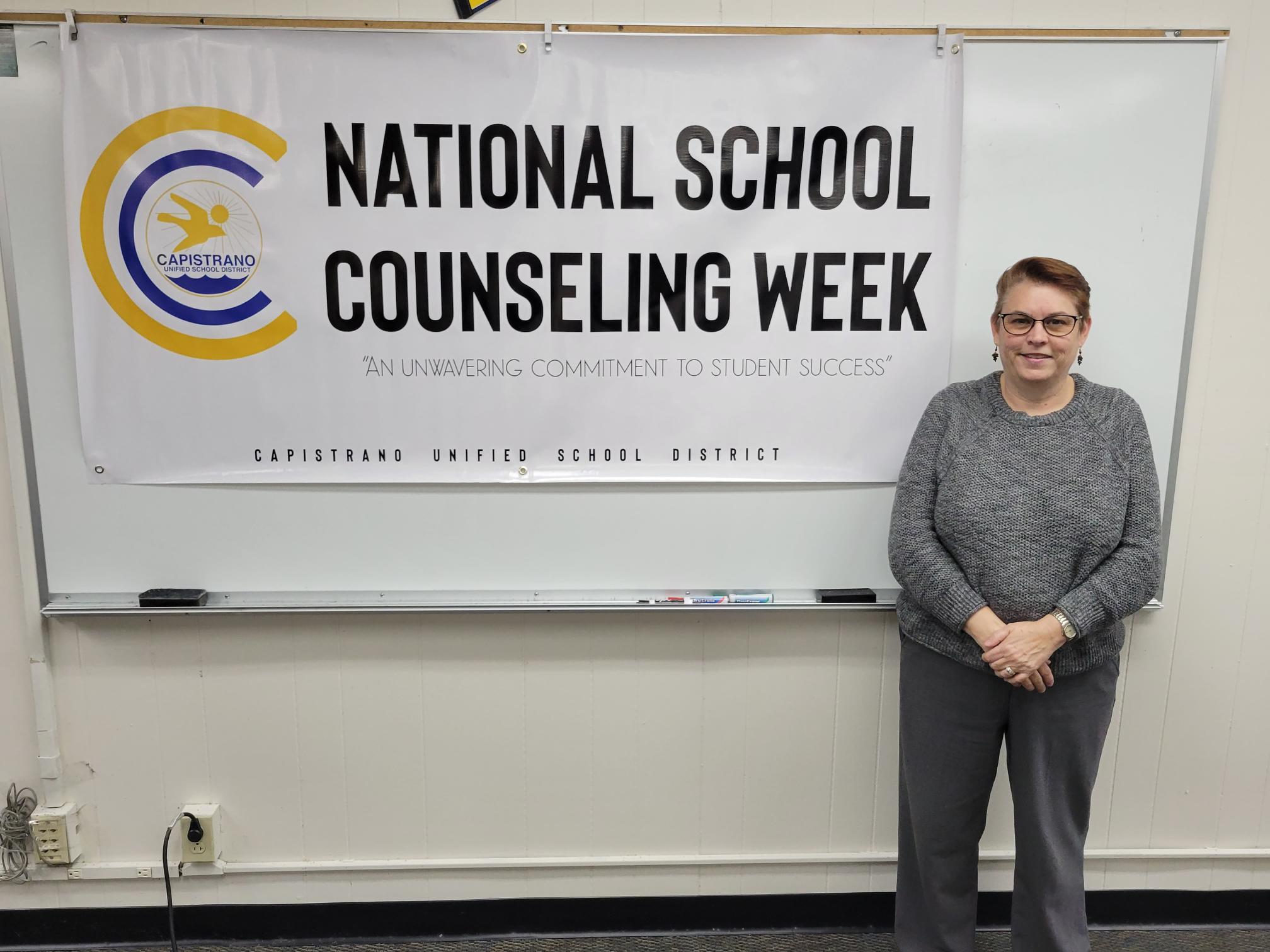 Q: How long have you worked in CUSD?
A: 25 years
Q: Describe your role in supporting student success at your school or in your department.
A: My role as the counselor at the ATS program is to support students who are currently suspended. I do this through individual counseling and life skills presentations. I am able to work with the students who come to ATS, encouraging them to discuss their actions and the root causes of them. I am able to assist students in evaluating their individual behaviors and academic progress and give them tools to move forward towards success. I am able to encourage and inspire them to identify and consider their positive characteristics and goals.
Q: What role do you play in the MTSS framework? How does this program benefit students in your opinion?
A: The students I work with are in Tier 3 of the MTSS framework. My role is to assist students in reflecting on their behavior and identifying ways they can change their behavior thus moving out of Tier 3. I feel that the MTSS framework benefits students by focusing on all students, providing them with support at whatever level that may be. I feel it is an inclusive framework that results in the delivery of appropriate interventions for each individual student.
Q: How long have you worked professionally in school counseling? 
A: I have been a school counselor for 28 years. I worked in San Diego Unified for three years and then in Capo Unified for 25 years at Aliso Viejo, Niguel Hills and Las Flores Middle schools before coming to the ATS program 11 years ago.
Q: What college degrees and professional certifications do you hold?
A: I hold a B.A. in Sociology; a Masters in Education-Guidance and Counseling and a PPS credential.
Q: What do you find most rewarding about counseling work?
A: What I find most rewarding about counseling work is getting to know such a wide variety of students, listening to their hopes, dreams and struggles and being able to provide support, resources and encouragement along their life path. As I always tell my students, I learn more from them than they do from me.
Q: Is there a program that CUSD utilizes that is especially beneficial to student support?
A: From my perspective, the fact that CUSD is providing the opportunity for students who are suspended for alcohol/drugs to attend the Juvenile Alcohol and Drug Education Program (J.A.D.E) on their first offence has been a game changer for many. It allows students to only be suspended from school for one day rather than 5 and receive alcohol/drug education from a fantastic comprehensive program. I believe this encourages and helps many students to move toward sobriety and keeps many from repeat suspensions. In addition, it educates parents on the lasts drug trends so they are better able to help their children.
Q: When you were in school, did you have an impactful experience with a counselor?
A: The reason I became a school counselor is because when I was in the 5th grade, my father passed away suddenly and there was no counselor at my school. In the midst of the upheaval in my home, I experienced first hand what is was like to be child experiencing trauma and feeling like I didn't have anyone to talk to. My goal is always to be someone students feel comfortable taking to and a safe place for support.
Q: How do counselors in CUSD help support one another?
A: I have always felt very supported by my fellow counselors in CUSD. We have counselor meetings both as a whole group and by school level every other month. We email and call each other to get ideas, best practices and to give and get support. We celebrate weddings, child births, awards and recognitions within our counselor cohort. I feel like because we share common experiences, we are an open and willing support system for each other.
Q: What is the one thing you would want families to know about your role in student success that they might not be aware of?
A: I want families to know that I see our ATS program as a positive intervention for those students who are having behavior problems. That our goal is to encourage students to think about their actions and to give them tools to handle things differently in the future. ATS is not a punishment but a supportive resource for students who find themselves in the suspension or expulsion process. I see my role as someone who listens to students, doesn't judge them and tries to pull out the positive in them and encourage them to move past their current negative situation and to move forward in a positive way.
Q: Please add anything additional on any topic not covered in previous questions.
A: I am a proud product of CUSD, as I attended CUSD schools from 1st-12th grade. I am honored to be a CUSD counselor.