By Greg Mellen
As Marian Bergeson Elementary School Principal Greg Hauser and several visitors enter teacher Jie Gao's first grade class, they receive an enthusiastic greeting.
"Ni hao," the 20 children call out, followed by a Chinese New Year's blessing.
With that, Gao returns to her Chinese word recognition lesson.
Soon after, the students are singing "Gong Xi, Gong Xi," a New Year's song.
And so it goes in the children's Mandarin Chinese Immersion class.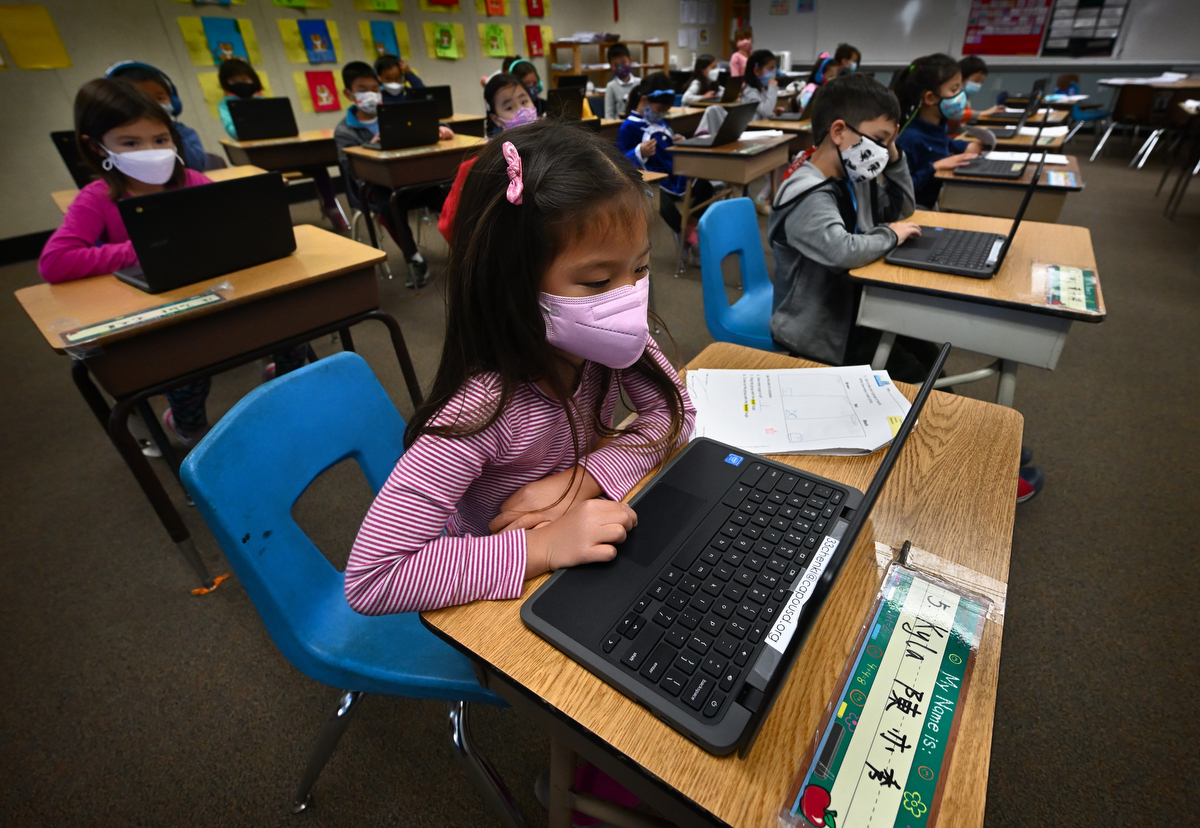 Gao is one of three teachers in the school offering lessons to first graders that are completely in Chinese during about 80 percent of the day.
In addition to speaking, children learn to read and write in Chinese. They also learn about Chinese culture and traditions, such as celebrating the Lunar New Year, this being the year of the tiger.
Ruth Gyllenhammer and her family moved into the Capistrano Unified School District specifically so they could take advantage of the program.
"We really wanted (Noah) to have early language exposure," she said of her son, Noah, who enrolled in kindergarten in 2020. "It was important to give him that opportunity."
The family is also prepping younger brother Judah for the program.
Gyllenhammer said when she worked at UCLA she learned about the benefits of multilingual learning from building communication skills to an appreciation of cultural awareness.
Studies also show second-language study develops stronger reasoning skills which support the problem-solving necessary for academic success. Second-language study also positions students for future careers utilizing or requiring multilingual skills.
Students interested in international relations, diplomacy, or business with Mandarin Chinese proficiency have a huge advantage, particularly as Chinese influence continues to grow throughout the globe.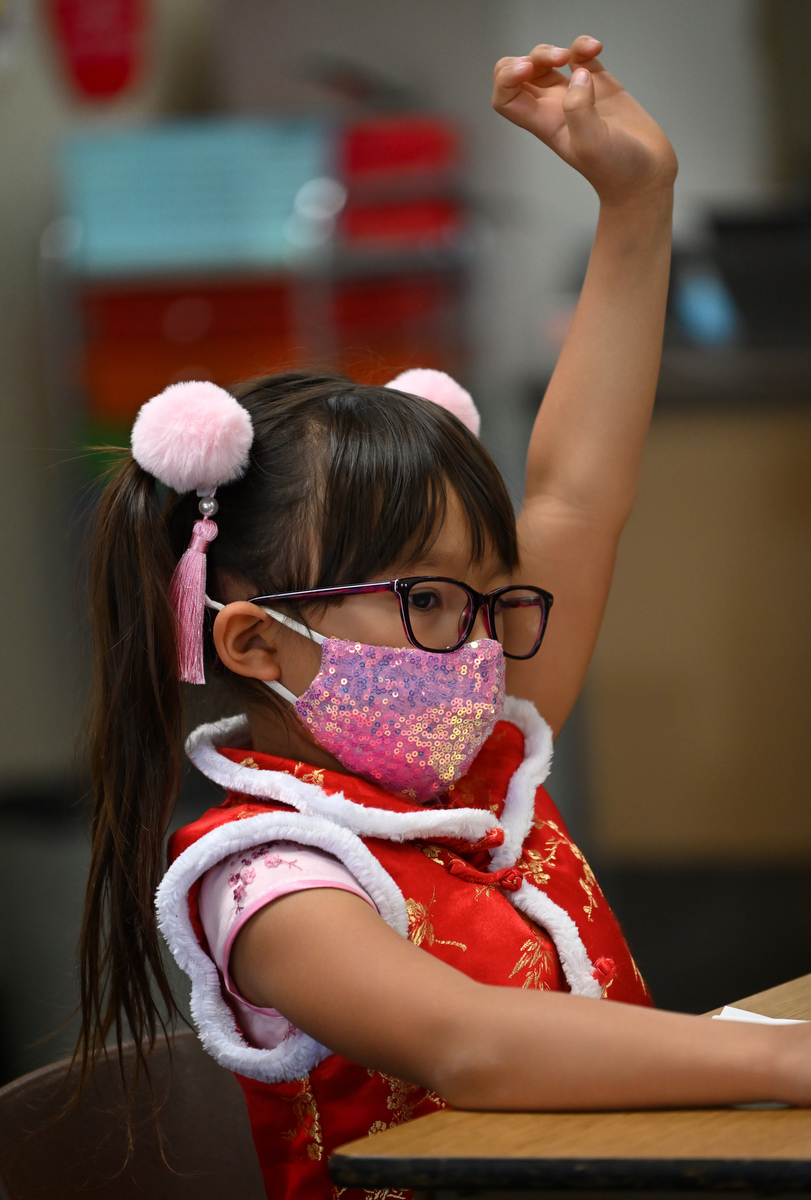 An exploding field
Eleven years ago, a group of forward-looking parents successfully lobbied to have a Mandarin Chinese option added at Marian Bergeson Elementary School in Laguna Niguel, making Bergeson the first public school with the program in Orange County.
Although Capistrano Unified School District already had a well-developed Spanish Immersion program that started in 1992 that has expanded to five elementary schools, three middle schools, and four high schools, in 2011, Mandarin Chinese was a rare second language to tackle, especially at the kindergarten level.
Among the approximately 400 public elementary schools in Orange County, the only other public elementary schools with Mandarin Immersion are Fletcher Elementary in Orange and College Park in Costa Mesa. Woodbury Elementary in Irvine recently added an after-school immersion program and the Irvine International Academy charter school also has Mandarin immersion.
Capistrano Unified School District remains the only public school district in Orange County to offer a Mandarin Chinese Immersion option from kindergarten through high school.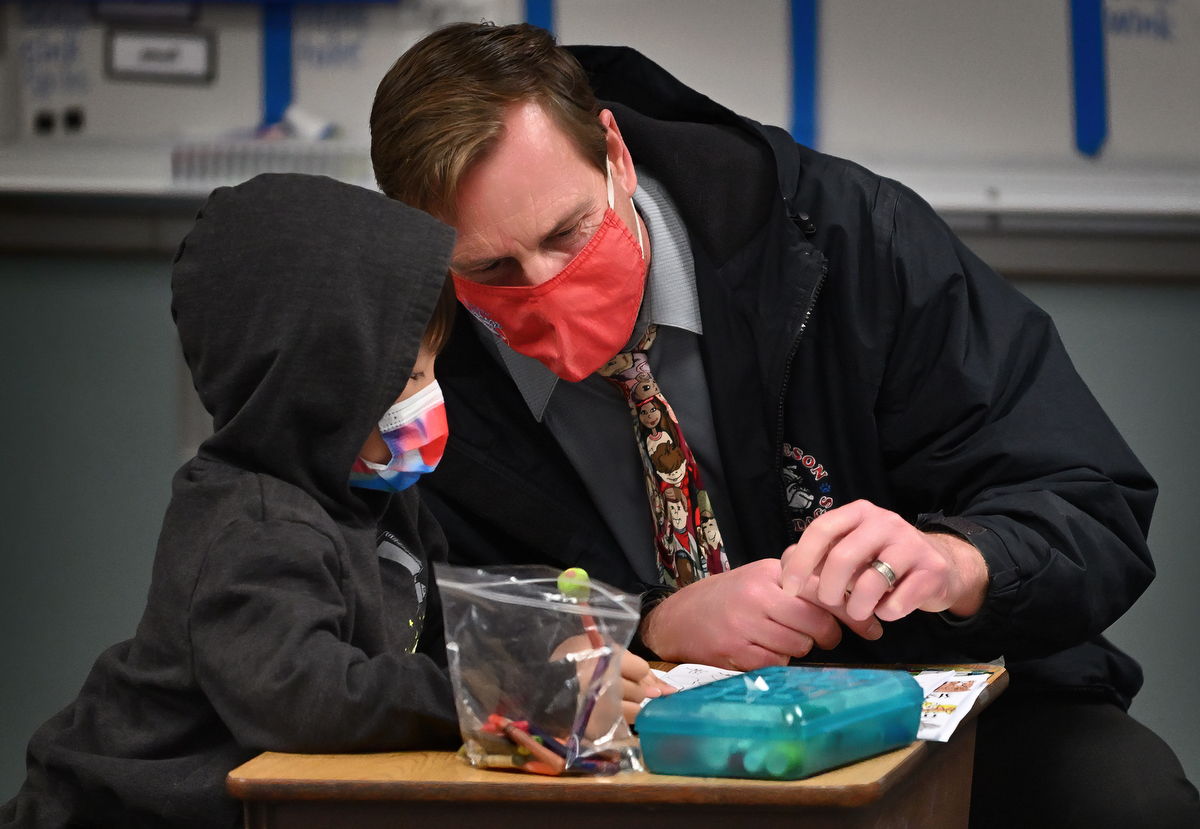 Mandarin, spoken by more than 1 billion people worldwide, has risen in prominence to challenge English as the universal language of international trade and diplomacy.
As a result, Mandarin language and immersion classes have taken off in recent years in California. More than 85 public, private, and charter schools offered Mandarin language and immersion as of 2021, according to the Mandarin Immersion Parents Council. More than 70 percent of the classes are in public and charter schools, with more than 20 new classes created since 2017.
Capistrano Unified School District expanded the program in 2016 from Bergeson to Newhart Middle School and later carried the program forward to Capistrano Valley High School.
The students from the inaugural immersion class at Bergeson are now sophomores at Capistrano Valley High School.
Principal John Misustin at Capistrano Valley High School says the students and families in the program are thriving.
"Culturally it's really rewarding for them," he said. "It's a good fit for our high school. We've always been a school with a world vision."
"When we started, we were the only (public school) immersion program in Orange County," Hauser said.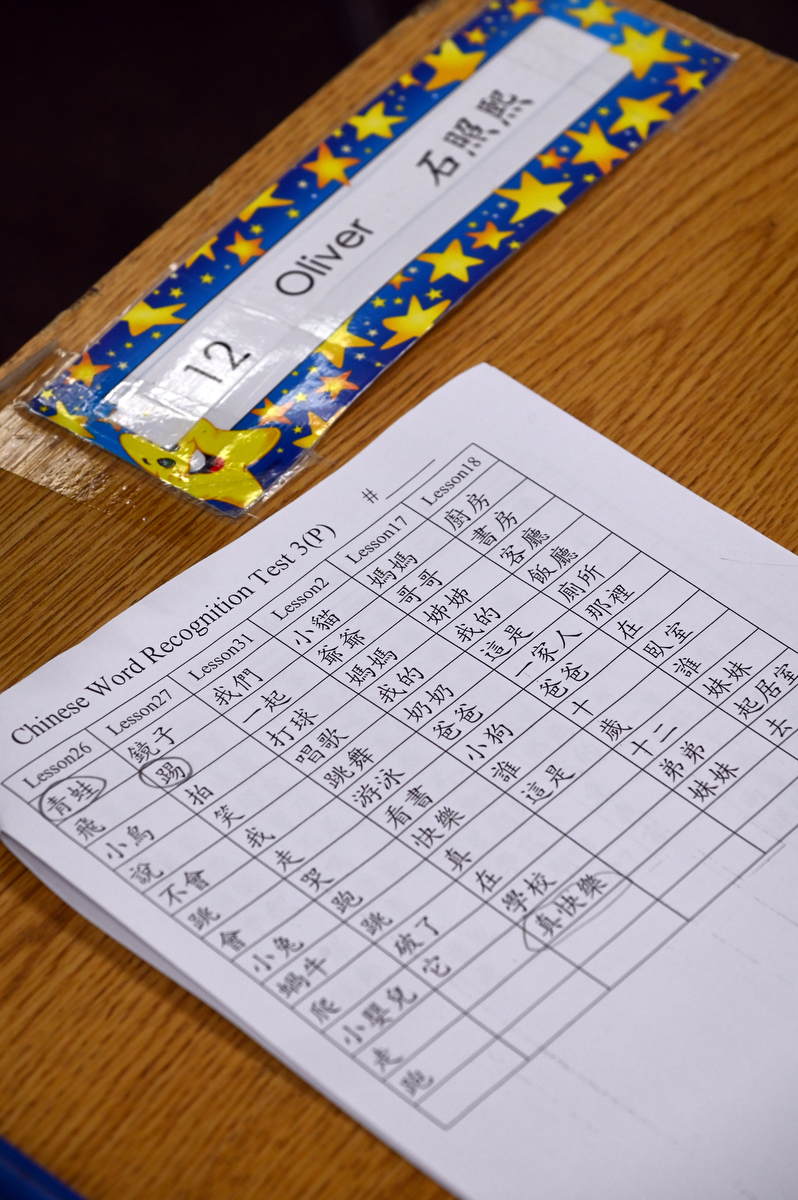 At the time, Hauser said, teachers and officials from Capistrano Unified School District visited other schools in the state and country with immersion programs to learn how they operated.
"Now people are coming to us," he said with a chuckle.
A big commitment
Parents enrolling their kids are asked to commit to the program through their tenure at the school.
"We ask the parents to make a six-year commitment," Hauser said.
Students are taught completely in Mandarin for about 80 percent of the day in kindergarten, with the percentages eventually leveling out to 50-50 in fifth grade.
At Newhart Middle School, students are offered language and social studies in Mandarin.
At Capistrano Valley High School, Mandarin Immersion students can take Advanced Placement and International Baccalaureate language classes as well as world history in Mandarin.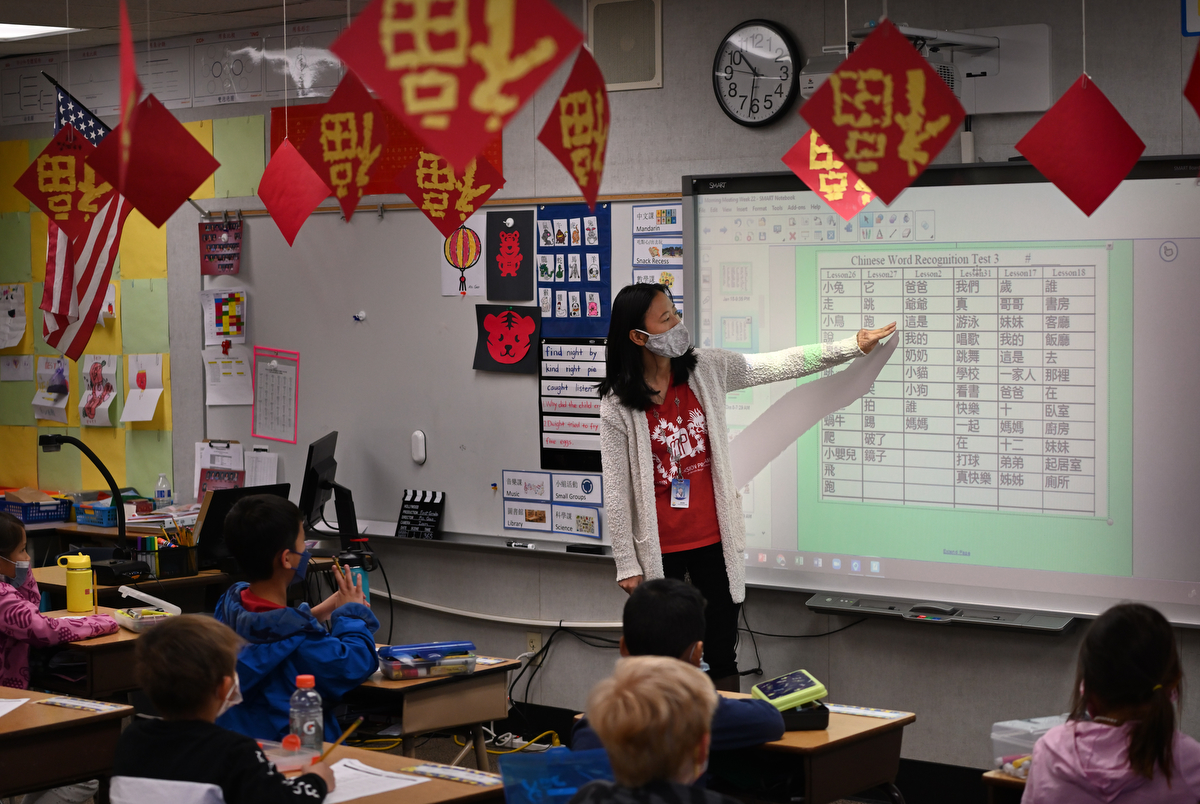 Although some of the students taking immersion classes are from Chinese households, Hauser said only about 20 percent speak Chinese at home. He added that it is important that parents read to their kids in English at home.
Despite the concentration in Chinese, the students are able to pick up English and thrive. Hauser said the immersion students test high for proficiency in both languages, and students in the program regularly outperform the district average.
"That was nice to see," Hauser said. "That was one of our first concerns."
While learning Chinese may seem to adults a difficult task, children don't have the same sense of limitations or preconceptions.
"They feel, this is just my school work," Gao said. "They enjoy learning."
Gyllenhammer has seen the same thing with her son.
"He has a group of friends and they don't know any different," she said. "They just grow into the program."
She also believes it is important for children to get heavy doses of the new language from the outset.
"With Chinese, it's really difficult to take on without immersion," Gyllenhammer said.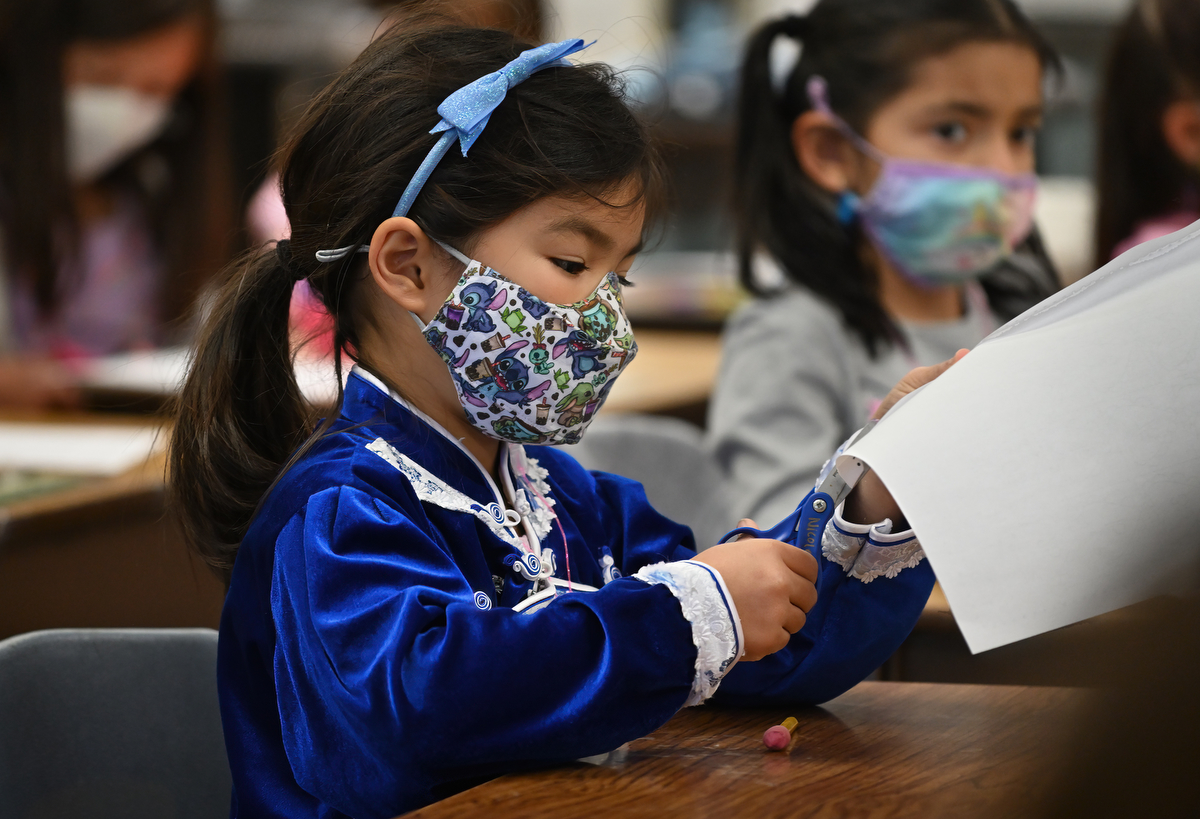 Because Chinese is so difficult and different from Western languages, Misustin said the students come in well-suited for high school.
"The kids come in with pretty developed critical thinking skills," he said.
Making learning fun
In the earlier grades, teachers make sure to include play and ways to make learning fun.
To celebrate the year of the tiger, the class played a game in which personal tigers were created and each child described what their tiger "liked."
A favorite for the kids, next to "my tiger likes soccer," was "my tiger likes dumplings."
Spoken Chinese is a tonal language, meaning words can have different meanings depending on tone and inflection. Interestingly, Gao said children adapt quickly and enjoy it because "it's like singing." The students emerge with excellent diction, Gao said.
Gyllenhammer and her husband lived in Shanghai briefly before moving back to the United States. She joked that when either she or her husband speak in Chinese, her son has already started to correct them.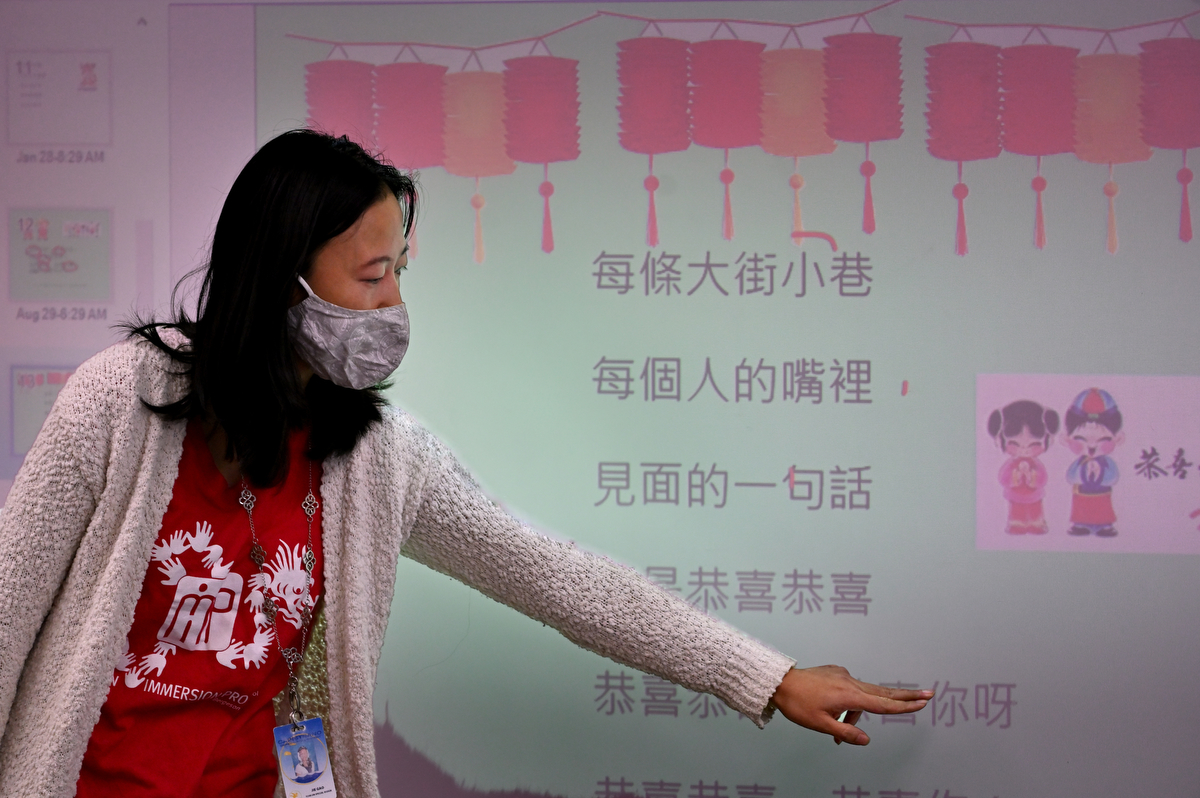 Teachers have done such a good job, the principal said, that when native Chinese speakers visit they often say, "Oh, my gosh, they don't even have accents. It's amazing what the kids understand and learn."
Written literacy is also important. Chinese is very different from most Western languages as it doesn't have an alphabet in the same way. Instead, Chinese often uses intricate figures.
"Kids love pictures and drawing," Gao said, adding that in Chinese sometimes the figure looks like the thing it represents, which children enjoy.
Although the kids in the immersion classes have a different educational experience from their peers at the school, Gao says the school stresses inclusion outside the class.
"We emphasize 'we,'" she said, noting that children from all classes play together during recess.
In addition, in-class diversity is important.
"I have children from very different backgrounds," she said.
Gao said she derives her greatest pleasure from seeing the children carrying their lessons outside the classroom.
"I feel so excited when I see them using it in their life," she said, recalling overhearing a student excitedly telling a parent about a recent lesson.
"I was so happy she was talking about it," Gao said.