Capistrano Valley High School set the stage for graduation with "CAPO2020" signage as the backdrop for students to walk up and receive their diploma.
Students approached the red carpet to the stage one at a time, with family staying in their vehicles at a safe distance while cheering them on. Many decorated their cars or trucks and brought balloons, signs, and flowers to honor their graduates.
"What makes this class stand out to me is:  They had nearly an entire semester, perhaps the one that most high school students look forward to the most, and there was not a single complaint from them," Principal John Misustin said. "Every student I spoke with offered and asked if there was anything they could do to help each other, their teachers and their school. I think it really demonstrates what an amazing group of people they are, I really saw how much they value and want to support each other in their school community. As I look back it was really great to see them confident in using their voice for what they believe in."
The graduates are listed in alphabetical order following the photo essay.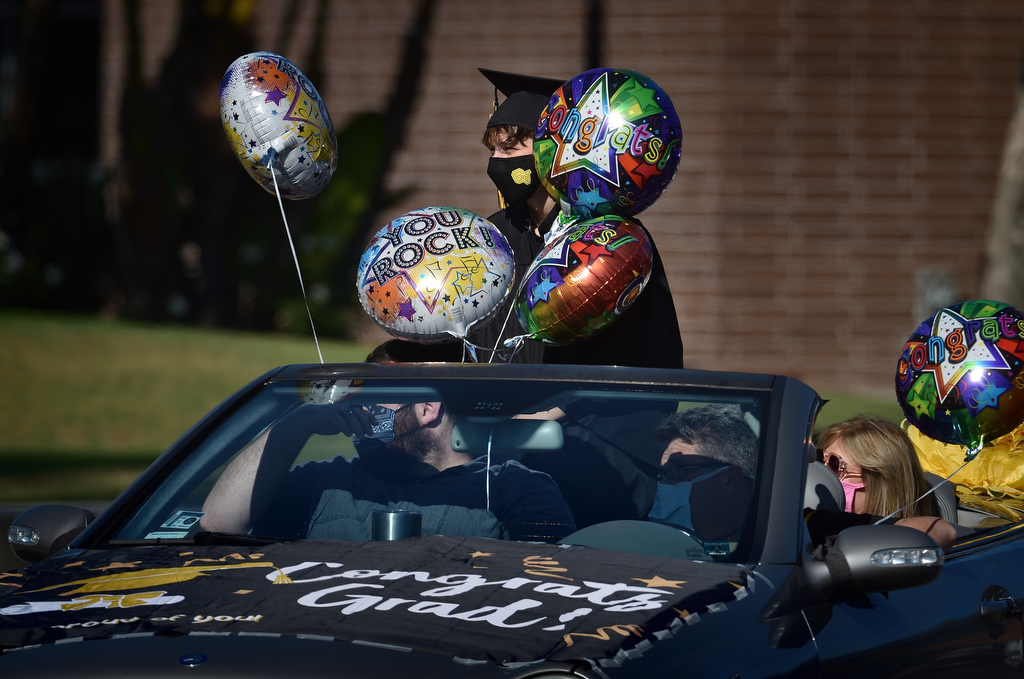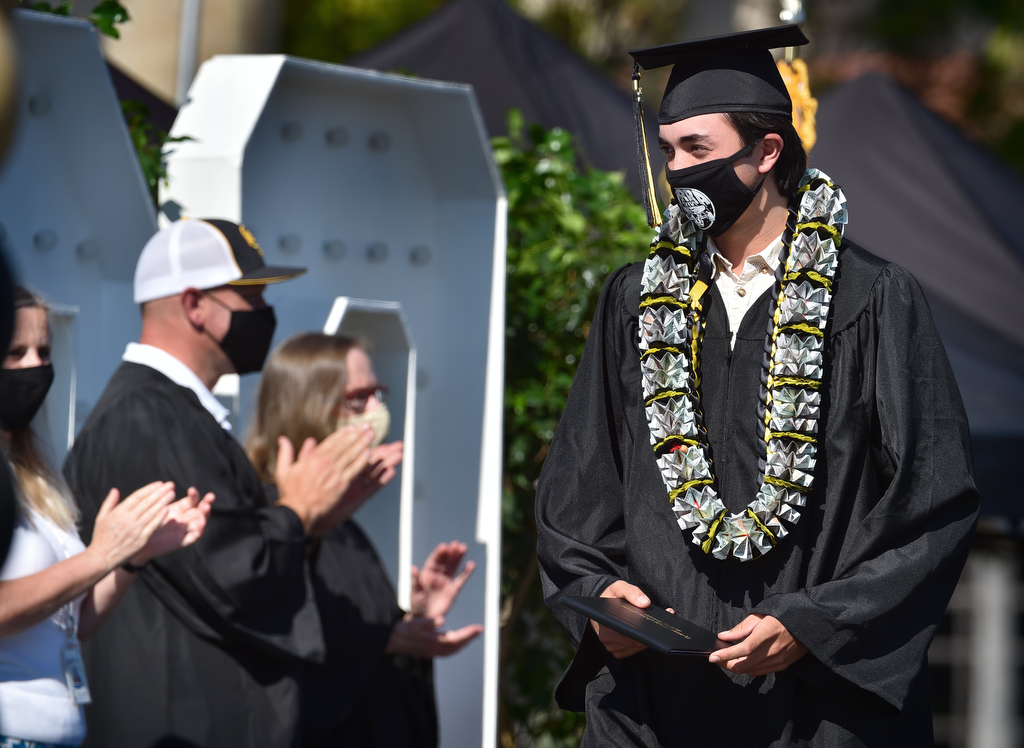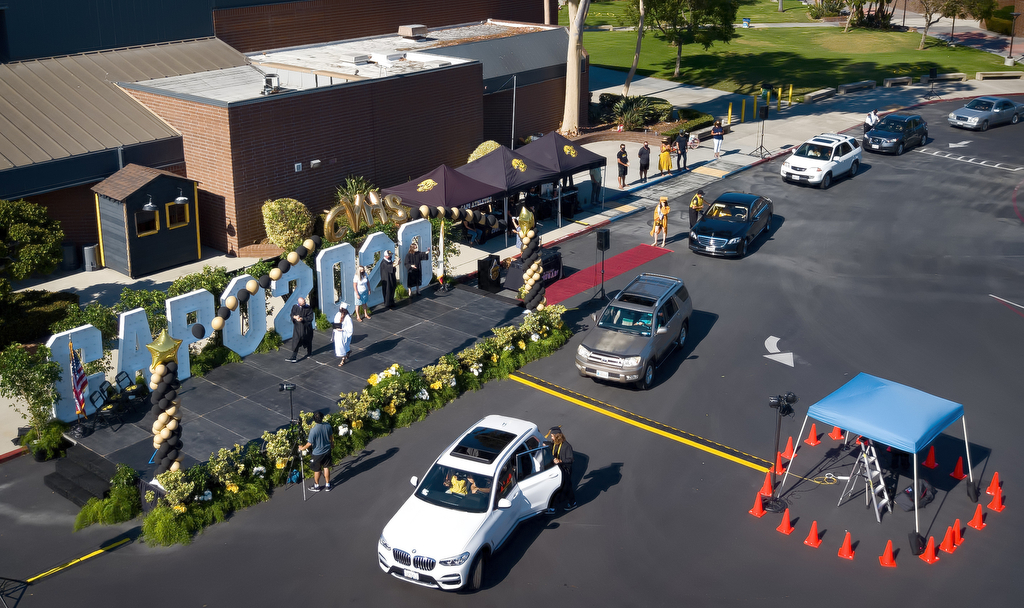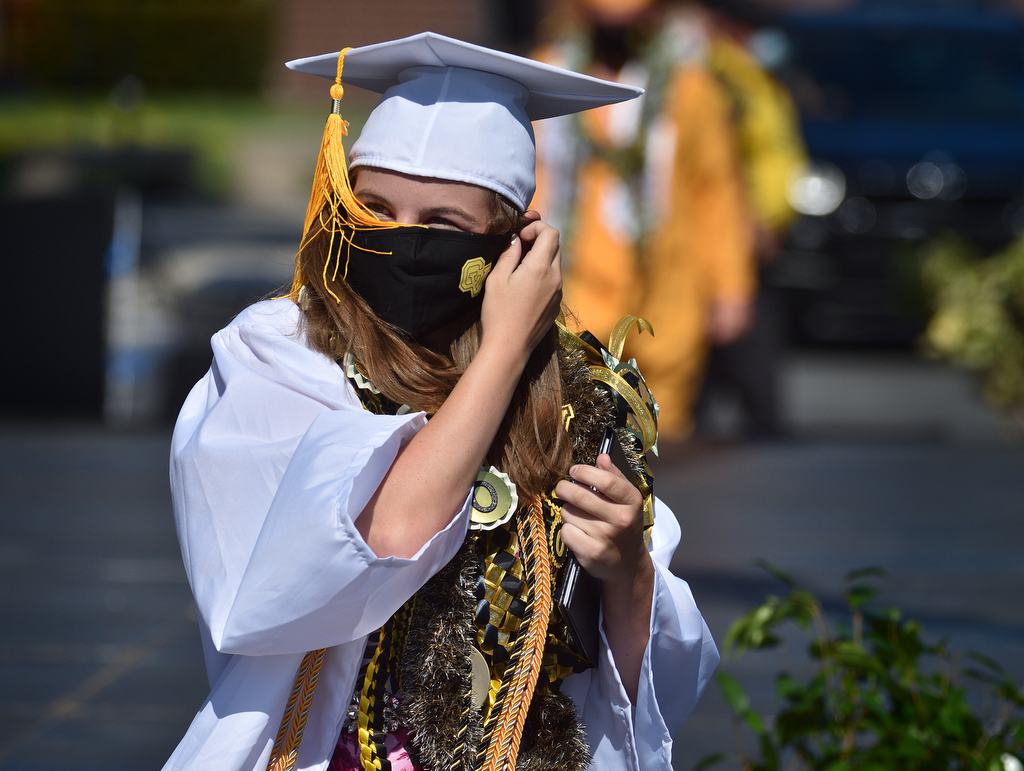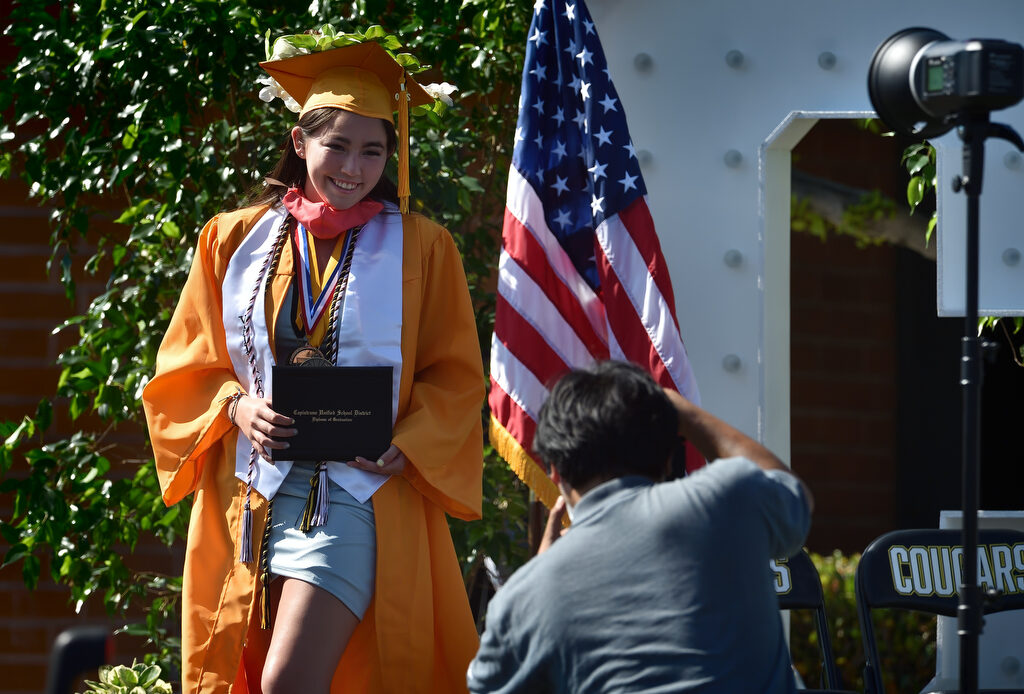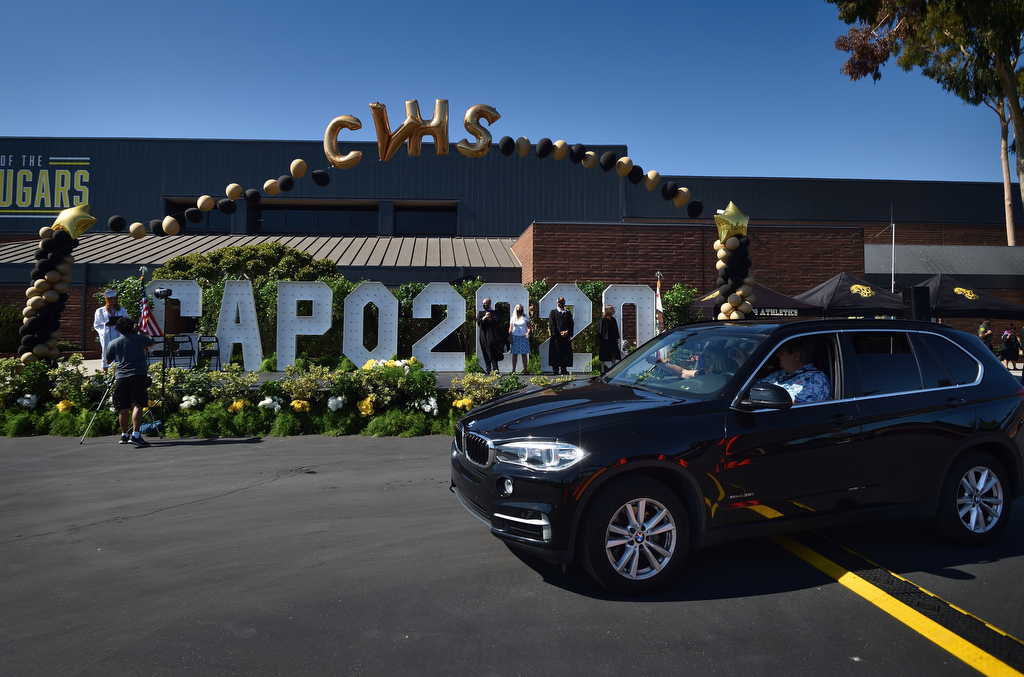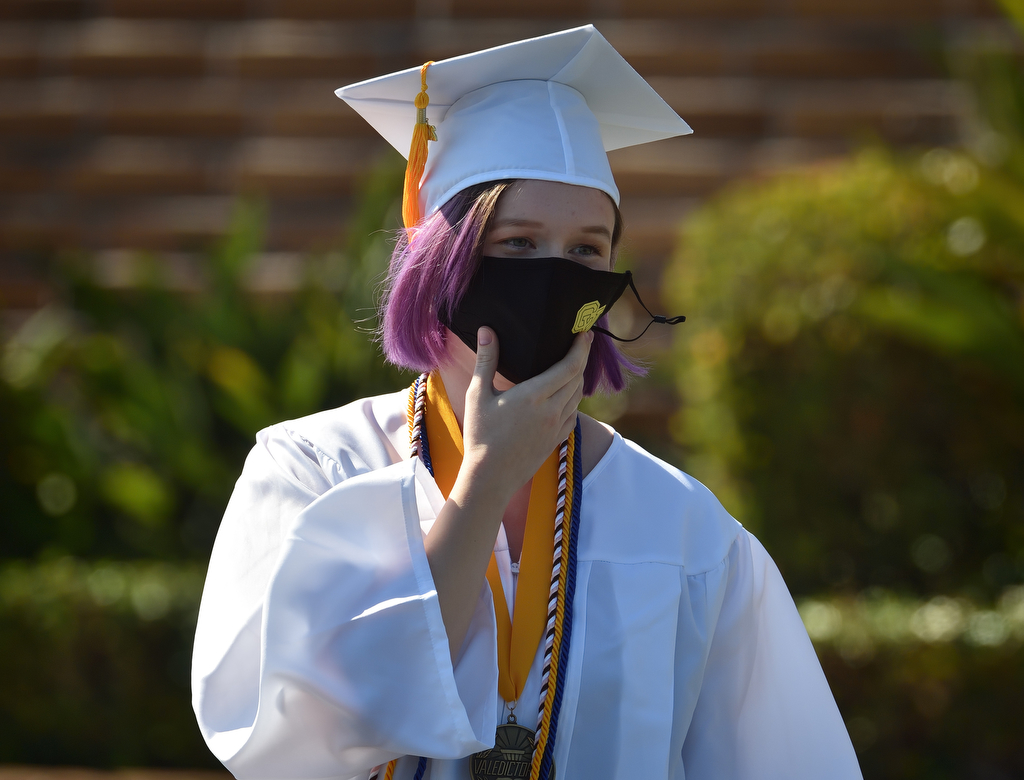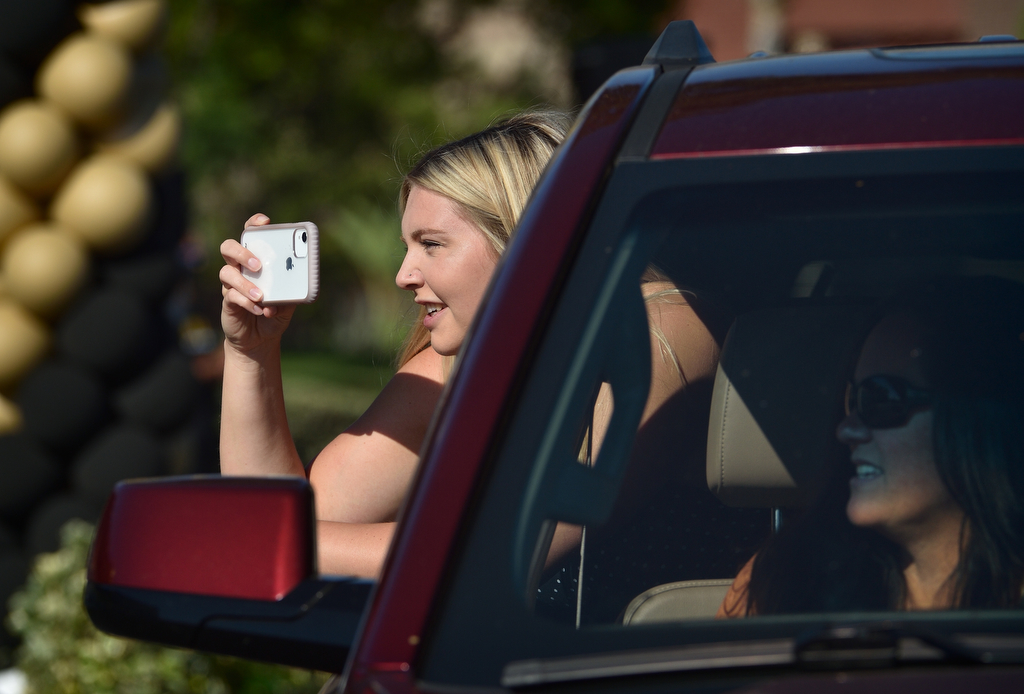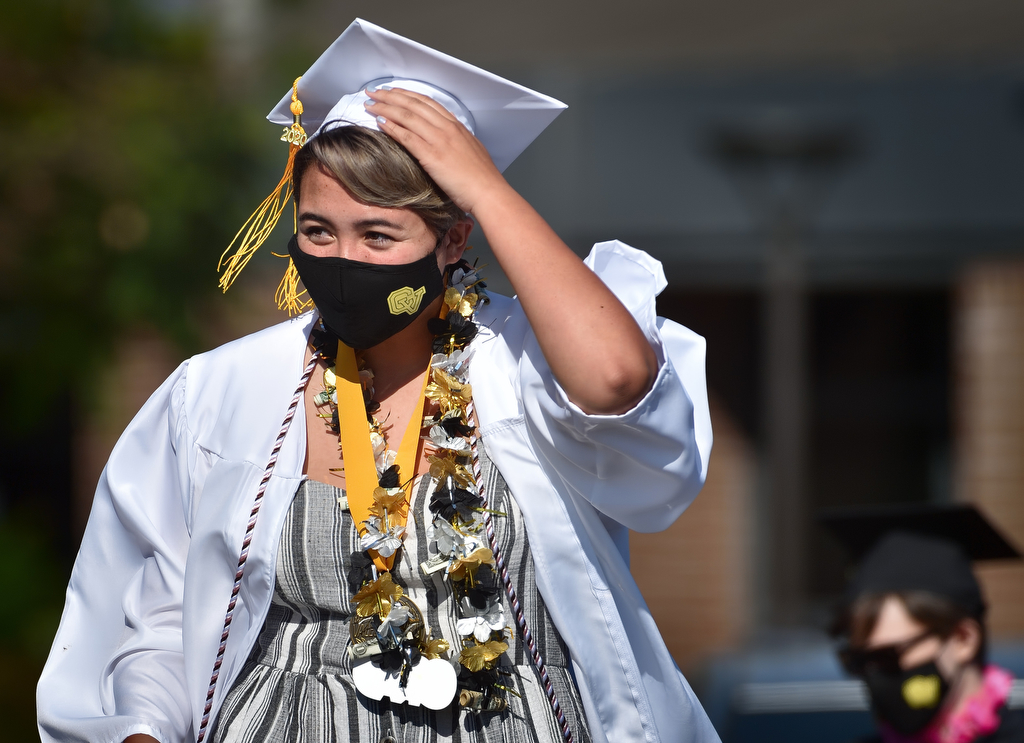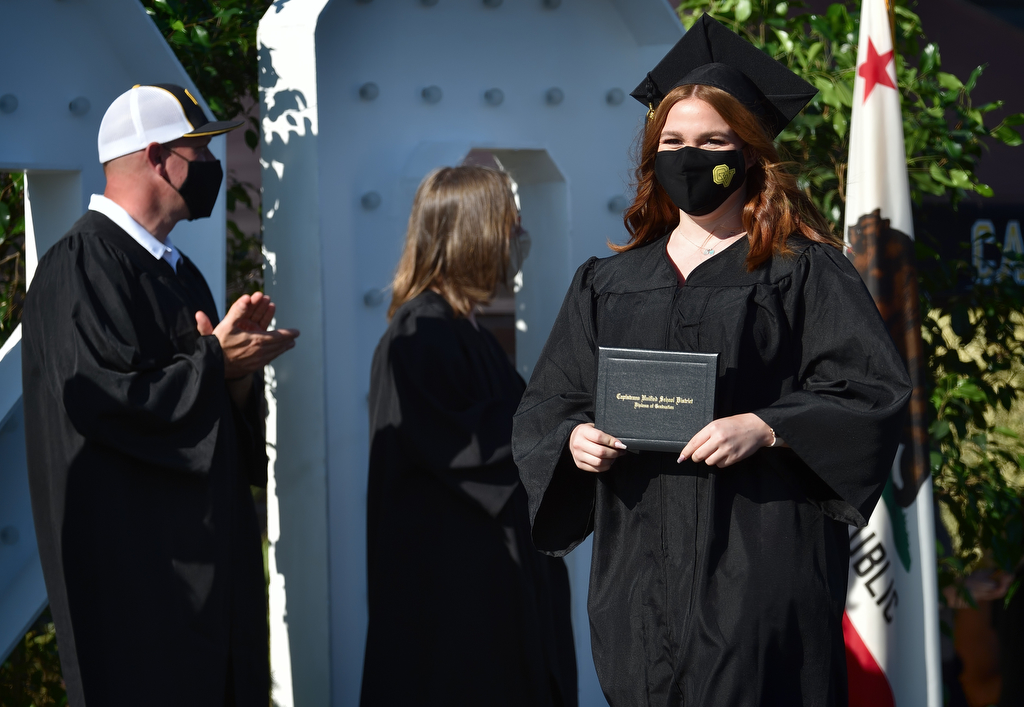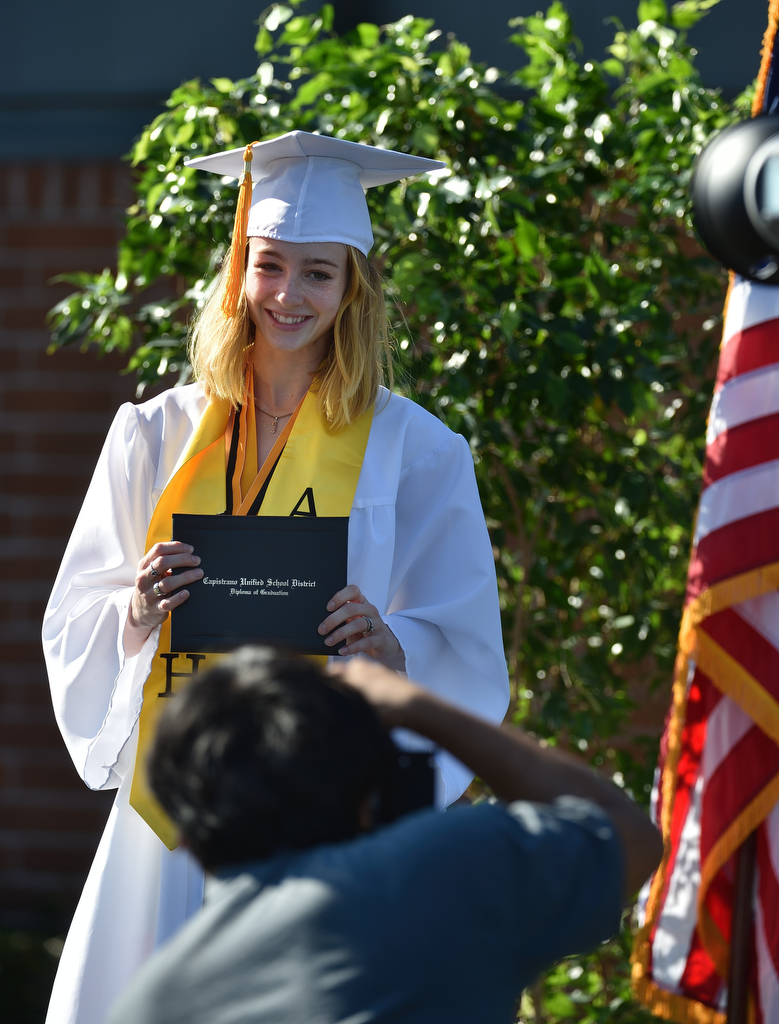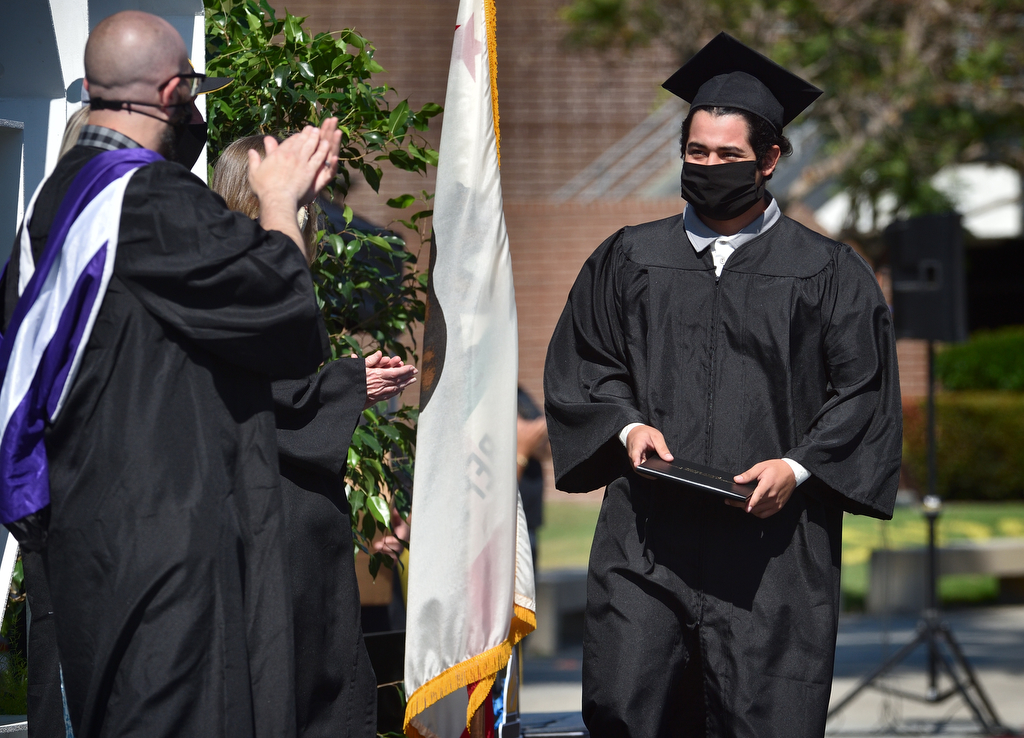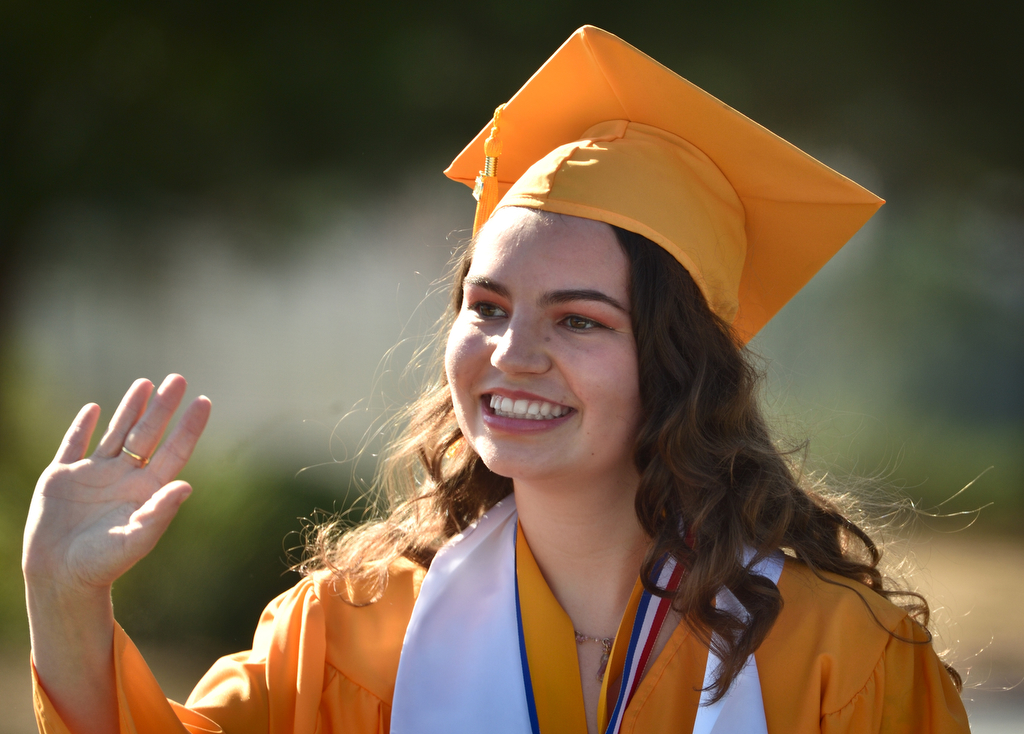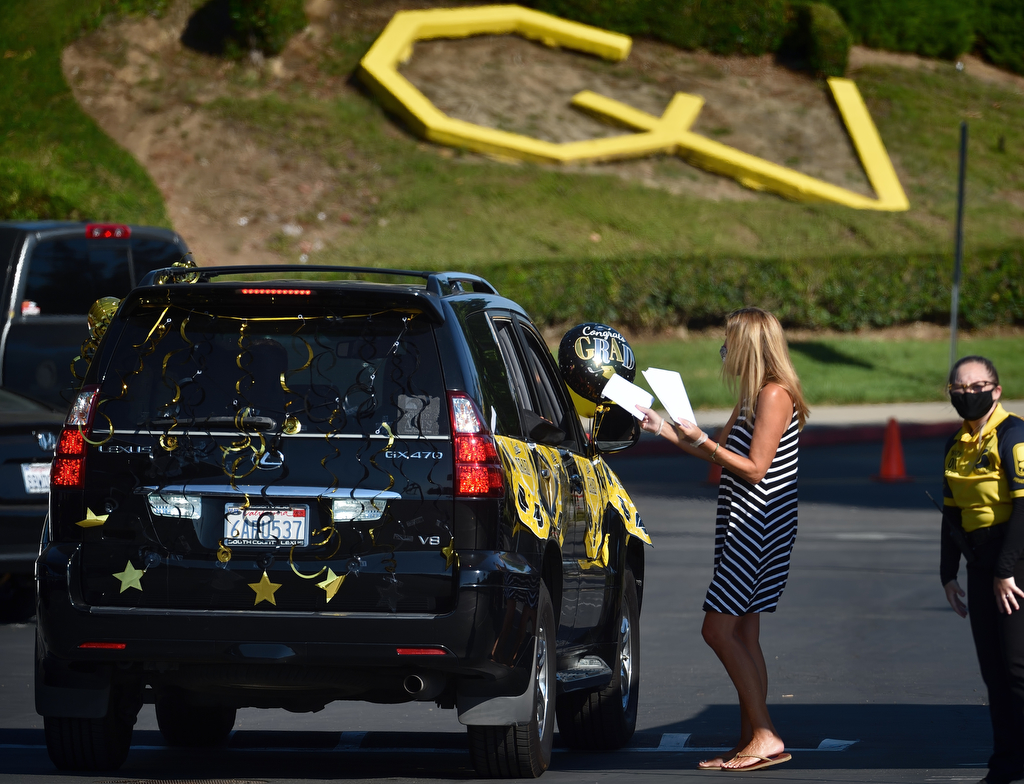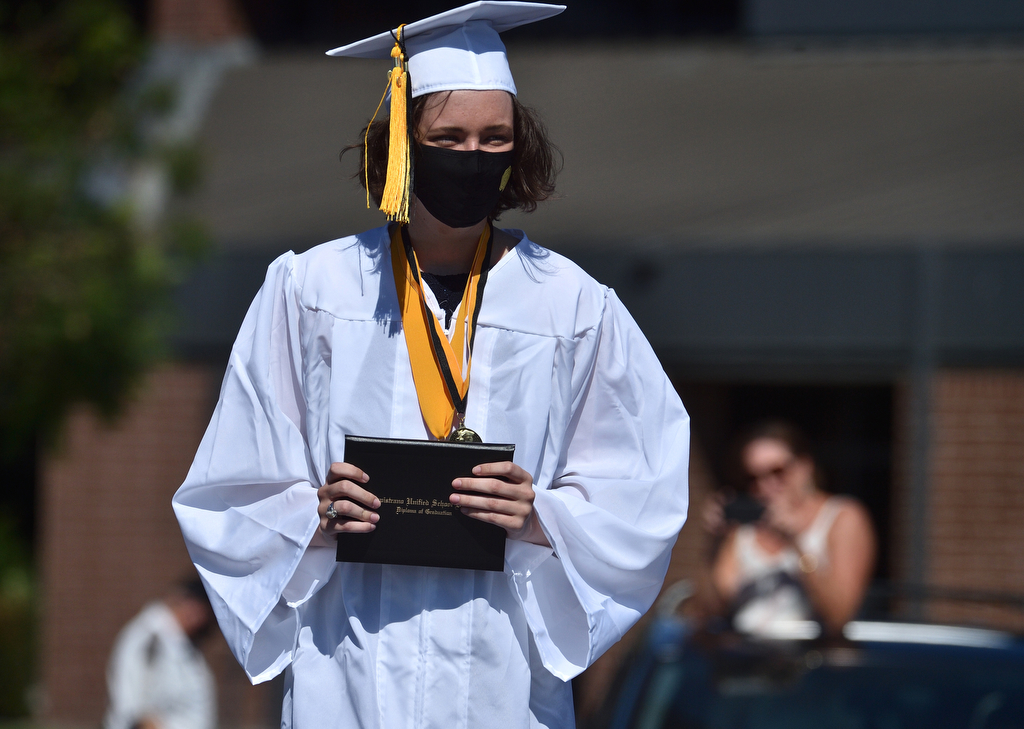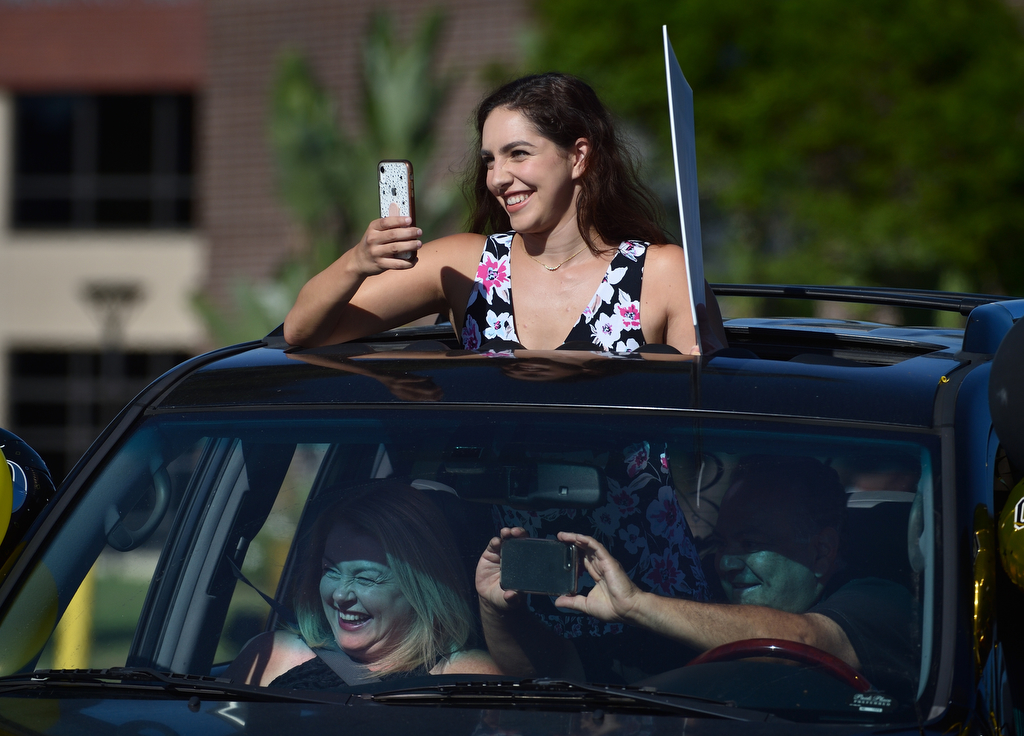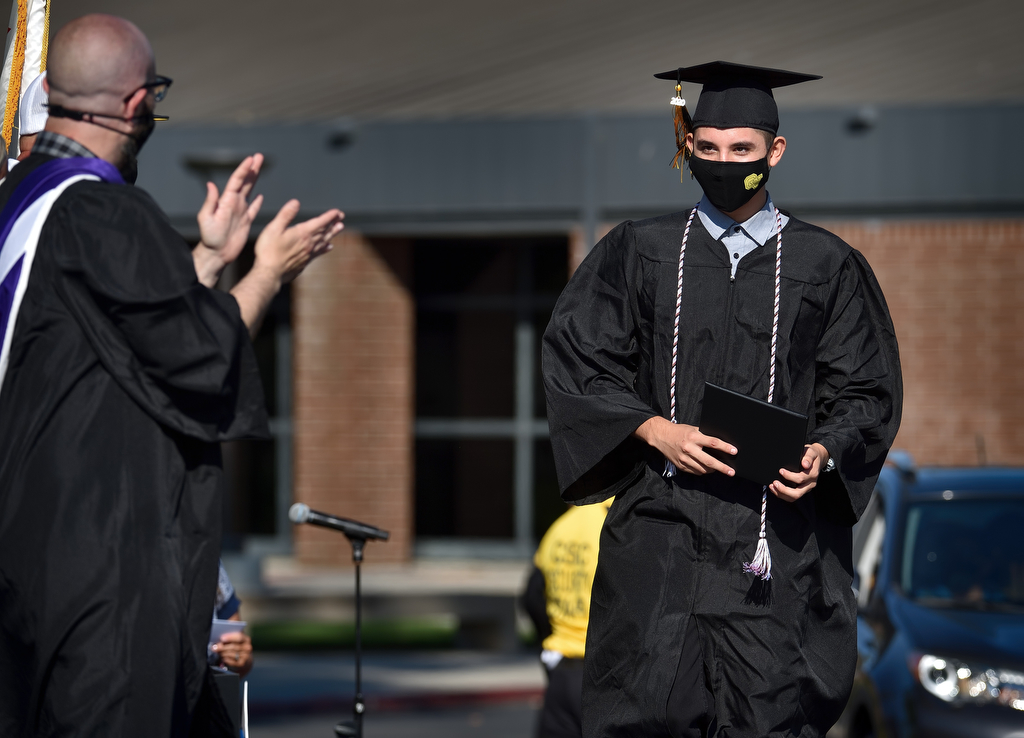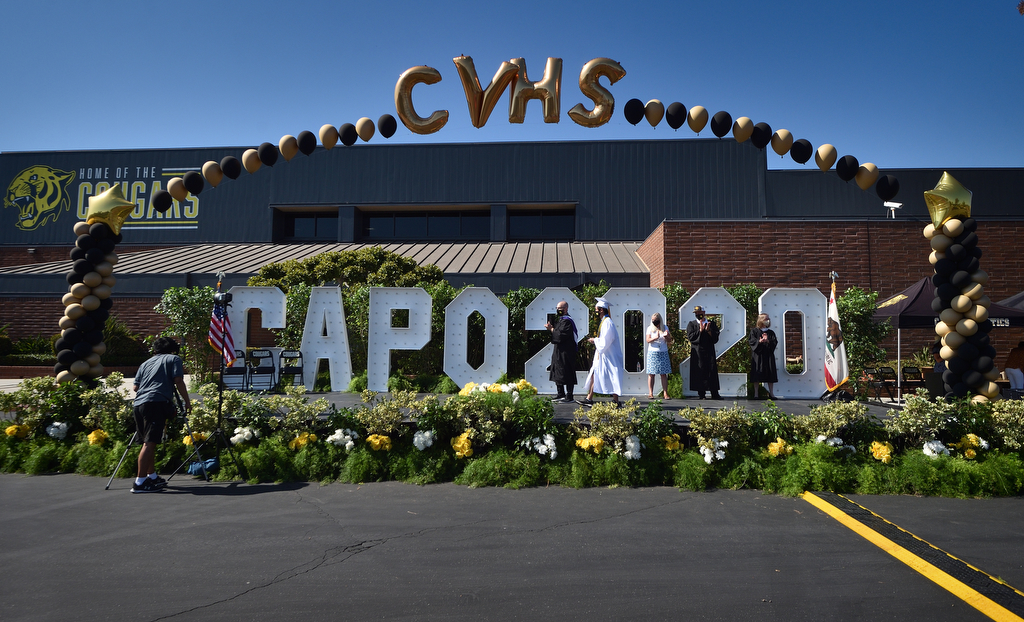 The Capistrano Valley High School graduates are, in alphabetical order: 
Marco Abarca
Reese Soleil Abbott
Rozhia Abolghasemi
Leah Nayeli Acosta
Michael Jonathon Acosta
Abigail Aguilar
Shayan Riaz Ahmad
Isabella Alcaraz
Gabriel Martin Valmonte Alegre
Omar Tahsin Alkhairi
Cinthya Melanie Alvarez-Barrera
Helai Amiri
Noah Austin Anderson-Clausen
River Quartez Anwar
Leila Ivette Araiza Luna
Ajay Arangan
Edu Argumedo
Adam Sam Arroyo
Daniel Waleed Ayache
Marco Antonio Ayala
Itzel Alejandra Ayala Gonzalez
Alondra Ayala Montesinos
Joshua David Backy
Joanna Bahena
Sean Edward Baker
Emmalie Payton Balsis
Daisy Andrea Banda
Ashley Lynn Bane
Rosebunny Baptiste
Anthony Barrera
Zaina Batniji
Michael Thomas Baugh
Andrew Scott Bautista
Jack Douglas Beach
Blake Richard Beckley
Brennan Jack Beckley
Kevin Beltran
Nathan Ben-Hamo
Rebecca Mariko Bernstein
Jordyn Gabriella Bitton
Angel Bonilla
Annie Olivia Boon
Brandon Thomas Boon
Noah Elie Bouscatie
Marin Anita Bowe
Aidan Jeffrey Bradshaw
Taylor Morgan Brown
Bridget Hadassah Brunnett
Kayla Elizabeth Bryant
Nathan Jack Buneta
Aidan Gerald Burakoff
Nathan Andrew Burger
Jacqueline Burgoon
Austin Lyn Burke
Abigail Morgan Burrows
Joshua Busta
Luis Raul Caballero
Cristian Enrique Cabral
Joseph Michito Cahill
Rigoberto Ramos Camero
Jensen Campbell
David De Dios Canales Ebeirus
Rey Alejandro Cano
Makaila Marie Cardello
Juliet Marie Cardenas
Brandon Andrew Carlotta
Aimee Juliet Carlson
Daniel Francisco Castro
Kevin Gildardo Castro Estrada
Andy Bryan Catalan
Nallely Caudillo Pimentel
Brandon Luis Ceballos
Andrew Joseph Cesario
Nicole Erin Chai
Seth Chamley
Jamie Michelle Chamsay
Cauy Anthony Chaney
Renee Eva Chen
Cooper Morgan Christen
Andrew Kevin Christensen
Preston Andrew Christian
Jazmin Cifuentes
Hailey Shea Cole
Brittany Adilene Colon Carmona
Natalie Margaret Coniglio
Kevin Paul Conklin
Sienna Loren Conner
Riley Anne Cook-Tate VaVerka
Elizabeth Marie Corne
Taylor Ray Cornelia
Diego Israel Correa
Carly Aleese Corsinita
Amy Cortes-Martinez
Daphne Jane Crother
Avery Cunningham
Gabriel Esteban Curiel
Alexis Anna Cybulski
Dorothy Elizabeth Dade
Haik Sean Dadras
Mya Renee Daniels
Matthew Mateen Danishgar
Bryce Darland
Trent Allen Darsow
Shane Marko DaSilva
Josmar De La Cruz
Abigail De Los Santos
Whitney Marie Dean
Leslie Anne Lorraine Alcayro Descanzo
Ryan Dialameh
Vanessa Diaz
Brianna Katherine Diaz Diaz
Julia Christine DiGangi
Hailey James Dimaano
Keely Dittrich
Bryn Corbitt Doalson
Gabriela Barbosa Dodd
Ethaen Doebler
Alexis Mitchell Dominguez
Zachary Lloyd Doyel
Jasmin Duarte
Kyra Michelle Duncan
Payton Elise Dunham
Martina Durancik
Garrett Lucien Duval
Austin Christopher Eames
Nakat Ebrahimi
Kimberly Eckes
Jaden Anthony Edwards
Spencer Egbert
Celine Akram Khalil El Hammamy
Wrigley Jacob Ellis
Jacob Easton Emmens
Brandon Enriquez
Yazmin Montserrat Escamilla
Mariela Espinoza Gonzalez
Parker Jeffrey Evans
Yousef Farah
Vicente Farias
Elena Farzin-Nia
Kevin Michael Fedoruk
Ivan Fernandez
Dylan Patrick Flynn
Jules Jean Fortin
Maggie Foster
Makena Anne Franks
Daria Rose Fritts
Alyssa Lynda Fuentes
Ben Adam Fuller
Eduardo Galicia
Christina Renee Galietto
Osman Joel Gamez
Elizabeth Nancy Garabedian
Elianna Nicole Garcia
Enya Vianey Garcia
Karla Marcela Garcia
Verenice Garcia
Ankara Garcia De La Vega
Tyler Robert Gardner
Sarah Frances Garreton
Hannah Gecgil
Richard David Geiger
Sophie Renee Gessler
Grace Marie Ghitea
Kiana Gholami
Kristina Lee Giles
Olivia Mae Gilgen
Erik Mathew Gjertsen
Connor Franklin David Gleason
Brandon Eric Gleneicki
Tatum Joannah Going
Joanna Danitza Gomez
Ashley Nicole Gonzales-Vazquez
James Gonzalez
Raquel Gonzalez Munguia
Jacob Matthew Grahn
Edgar Josue Granados
Dylan Robert Granberg
Jenna Marie Greenly
Camryn Simone Shirleen Gregory
Jane Madeline Griffin
Patrick Kenneth Griu
Camila Guerrero
Jesse Alexis Guido-Carmona
Alejandra Jessica Gutierrez
Daniel Gutierrez
Linzee Ariadne Gutierrez
Joy Hellen Haddad
Jack Douglas Haley
Michael Ray Hall
Celine Rayna Hamidjaja
Spencer Akira Han
Brooklyn Taylor Hardin
Kendall Grace Harper
Jacob Steven Harthill
Frederick Jaden Hasselkus
Joy Michelle Heller
Ally Jaye Herbers
Nathan Herrera
Hayden Hidalgo
Natalie Hill
Olin Daniel Hoffman
Sean David Holland
Samantha Shane Holley
Jacob Turner Holt
Brooklyn Grace Hoobler
Thomas Jacob-Langkilde Howe
Charles Hsu
Charles Alexander Huber
Hunter Michael Huetter
Mya Nicole Huetter
Kylar Huynh
Omar Ibarra
Megan Keiko Ichinose
David Rosario Ilano
Lauren Rosario Ilano
Ashley Jordan Intveld
Ryan Joseph Irwandy
Mackenzie Dea Iserman
Crystal Islas
Ryan Grant Jackson
Zoe Aniela Jackson
Brandon Tod Jacobson
Samantha Michelle Jameson
Vincent Janssen
Austin Carter Johnson
Coral Marie Jones
Jagger Michael Jones
David Alexander Jung
Elise Marie Jung
Sara Kadkhodai
Amirarshia Kalantari Rad
Alicia-Mya Kamai
Seyedehmaedeh Kamali
Gabriel Kane
Loren Kane
Sean Kane
Neil Kardan
Dylan Thomas Kargari
Brennan Jerome Karsh
Brady James Kasper
Emily Lynne Kassorla
Carmel Matti Kazemipour
Ella Elizabeth Kehlenbeck
Olivia Renee Keller
Isabella Marie Kenton
Kelsey Taylor Keuning
Shayan Khazand
Jasmine Danielle Kinney
Skyler Chiharu Kinomoto
Jasmine Nicole Kint
Alexander Steven Kirilenko
Valentin Kevin Kirilenko
Jack Thomas Klosinski
Cameron James Kohls
Chloe Konoske
Giulia Metaxia Vitti Koutsoyanopulos
Sonja Alexis Kozak
Hailey Kyong Kroger
Baily Mathew Krowel
Cody Brett Laderman
Nathan Lahaderne
Sailor Lane
Brooke Larsen
Travis Laskey
Debonaire Margaret Valle Laxamana
Brendan Le
Alexander Nicholas Leara
Daniel Jisoo Lee
Ryan Kazuhiro Lee
DeAndre James LeNard
Noah Aldrel Leyco
Isaiah McCain Lindsay
JiaYing Liu
Frida Yanet Loza
Sebastian Macias
Shanelle LaTreace Maiden
Elise Alexandra Maillefer
Sean Chang Mairs
Blake Lynn Makuuchi
Anthony Nicholas Maleta
Valerie Malfavon
Jacob Christian Mallari
Cameron Christian Mallonee
Anthony Maltsev
Rafael Cortez Mancilla
Elie Marciano
Nicholas Marella
Ethan Cole Markham
Eduardo Martines Pineda
Luisa Elizabeth Martinez
Sarah Nicole Martinez
Miriam Martinez Sanchez
Kiana Elaine Martins
Claire Massick
Alyssa Ann Mata
Benjamin James Mayer
Allison Michelle Mays
Luisa Fernanda Mazuera-Miletich
Justin McCarthy
Riley Patrick McNair
Sean Ryan McNair
Fernanda Melendez-Lopez
Savannah Mendoza
Kassandra Mendoza Acevedo
Philip Menez
Jolie Alexa Metzger
Brooke Mackenzie Mezak
Cole Matthew Mezak
Ellie Maile Mezak
Elijah Campion Michinock
Jessica Mourad Mikhail
Jazzlyn Kaye Miller
Nathan Scott Moebius
Erin Ann Moore
Brenda Morales
Lynette Isabel Morales
Diego Armando Moreira
Sobhan Moshtagh
Jacob Thomas Muller
William Mundell
Tyler Murray
Israel Najar
Sean Ryo Nakamura
Mike Anthony Navarro
Blake Jensen Nelson
Nathaniel Danh-Pan Nguyen
Tuan Hoang Anh Nguyen
Noah Michael Nieva
Taylor John Null
Conor Richard O'Brien
Naomi Ocampo
Samira Zinat Ocampo
Connor Joseph O'Donnell
Leonardo Salvador Olvera
Alexander Scott Oppermann
Emily Ortega
Jaiden Kyler Ortega
Jacen Heath Ortiz-Allread
Griffin Patrick O'Shaughnessy
Ethan Palatics Owen
Anjali Raveendran Palaniappan
Axel Parada Rodriguez
Lucas Parenteau
Neal Parimoo
Ciara Lynn Park
Jennyfer Joseline Parra
Alexa Nicole Parvaneh
Rohin Kaushik Patel
Christian Pedraza
Maya Altair Peredo
Lesly Monique Perez
Emilee Noel Perry
Kendall Alicen Perry
Tyler John Phan
Emily Lynn Phu
Aileen Jessica Phuong
Kyle Francis Pierron
Ghazal Pirouznia
Christopher Colin Porter
Emily Anne Pottinger
Hannah Pourmand
Kendall Elizabeth Power
James Francis Powers
Kiana Julie Pring
Jason Keith Pulfer
Brandon Ramos
Ashley Parisa Rayner
Matthew Ian Reimers
Joshua Nikolas Rey
Abilene Reyes
Nicole Reyes-Galvan
Nayeli Reyna Lopez
Lincoln James Rhonemus
Lauren Christine Richards
Amanda Catherine Ringwood
Yesenia Jasmine Rios
Jimena Rivera
Paula Rivera-Villagomez
Zachary Jerome Roberts
Emma Christine Robertson
Sean Richard Robertson
Iliana Marie Robles
Dylan Thomas Robson
Andrew Jerry Rodriguez
Anthony Yoshue Rodriguez
Brenda Rodriguez
Crystal Renee Rodriguez
Katie Rodriguez
Ashleen Roham
Ryan Daniel Roozen
Melissa Sabrina Rosario
Reine Maegan Perez Roxas
Sophie Rudolph
Connor Ruef
Chanel Alexandria Rydel
Olivia Fay Saalberg
Danial Sadat Darbandi
Cesiah Sagastume
Victor Ruben Salceda
Dafne Saldivar
Maya Ali Salem
Elizeh Salimi
Jordan Ethan Sanchez
Taylor Nicole Scalzo
Timothy Corinthian Scarlett
Slater Schaaf
Benjamin Grant Schaefer
Elijah Ethan Michael Schell
Matthew David Scordato
Maria Fernanda Secundino Garcia
Carlos Denilson Segura
Mira Antoine Semaan
Sophie Rein Sepulveda
Nicole Serna Frianeza Serna
Saul Serrano
Sheila Sharifi
Andrew Denis Sharp
Julian Michael Shea
Kaitlyn McKenna Shepard
Jenna Tamiko Shimogawa
Cole David Shissler
Amanda Ramez Shohdy
Dana Kusai Shokair
Michael Shott
Katrina Silva
Jessica Marie Simpson
Brennan Donald Sivcovich
Ethan Michael Slaman
Charles Smith
Isabella Martina Sobrero
Mauricio Antonio Soriano
Yessenia Soriano
Jose Angel Sotelo
Jack Garrett Spangler
Crystal Alexandria Spears
Trevor Speetzen
Anten Thomas Stelovich
Claire Madeline Stevens
Mason Alexander Stotts
Brody Mark Sumner
Rylind Randall Sutphin
Blake William Tanner
Megan Elizabeth Taylor
Tanner Thiercof
Gwenyth Mary Thompson
Ashley Skye Thorlin
Jamela Andrea Tisbe
Carli Olivia Torres
Kayanni Torres
Nicholas Cruz Tresser
Dario Trevino
Hannah Trojacek
Mason Robert Trost
Ian Christopher Troutt
Reese Allen Trujillo
Sandra Elizabeth Trumbly
Shae-lin Chynna Turner
Alexandro Uribe
Alexis Brianna Urquhart
Taylor Valverde Chavez
Kobe Lee Van Dyke
Hunter Lloyd Vasin
Alyssa Marie Vaughan
Tahlia Grace Vayser
Donathiu Vazquez
Alexander Vazquez Flores
Geovanna Penelope Vences Perez
Daffne Georgina Vera
Roberto Erick Vergara Ponce
Kaden Giovanni Vinciguerra
Brandon Chan Vinh
Lesly Guadalupe Vizcarra Parra
Lacey Elena Waggener
Ina Wagner
McKenna Marie Walsh
Ryan Wang
Garrett Jennings Webb
Santana Michelle Wellington
Vanessa Danielle West
Gabrielle Marie Whitcomb
Cameron Taylor White
Kristina White
Maxwell Scott Wilkens
Zane Wilson
Kasandra Goldine Wood
Diane Louise Worsley
Emma Leighanne Wright
Katherine Grace Wright
Jenna Yagi
Teresa Isabel Yannini
Megan Elizabeth Yates
Donya Yazdanmanesh
Ethan Taylor York
Benjamin John Young
Colin Joshua Young
Elen Zakharyan
Sahar Zaki
Audrey Lucia Zimmer
Matthew Basil Zogob
Camilla Nicole Zorrilla
Riley Zundel