By Elysse James
This week, CUSD is honoring the school lunch employees whose heroic actions keep students fed even when school isn't being held on campus.
Capistrano Unified's Food and Nutrition Services employees are school lunch heroes. To honor them, the district is asking families to give a special 'thank you' by decorating their car, dressing up as a superhero, making posters and cheering when they pick up meals on Monday, May 4.
Now in their seventh week of distance learning, the district's Food and Nutrition Services department served 34,614 meals, including breakfast and lunch, bringing the total number of meals served thus far to 186,807, said Food and Nutrition Services Director Kristin Hilleman. That's 562 more meals compared to last week.
The district is providing lunches on Mondays and Wednesdays. Each child receives two breakfasts and two lunches on Mondays and three breakfasts and three lunches on Wednesday. All local children are invited to receive meals from the Capistrano Unified distribution sites.
Any child age 18 and younger can receive the meals as long as they are in the vehicle; if children are not in the vehicle adults must hold documentation up to the window, such as a letter or email from the school showing the child is enrolled, a report card, attendance record, student ID card, or birth certificate for a child not in school.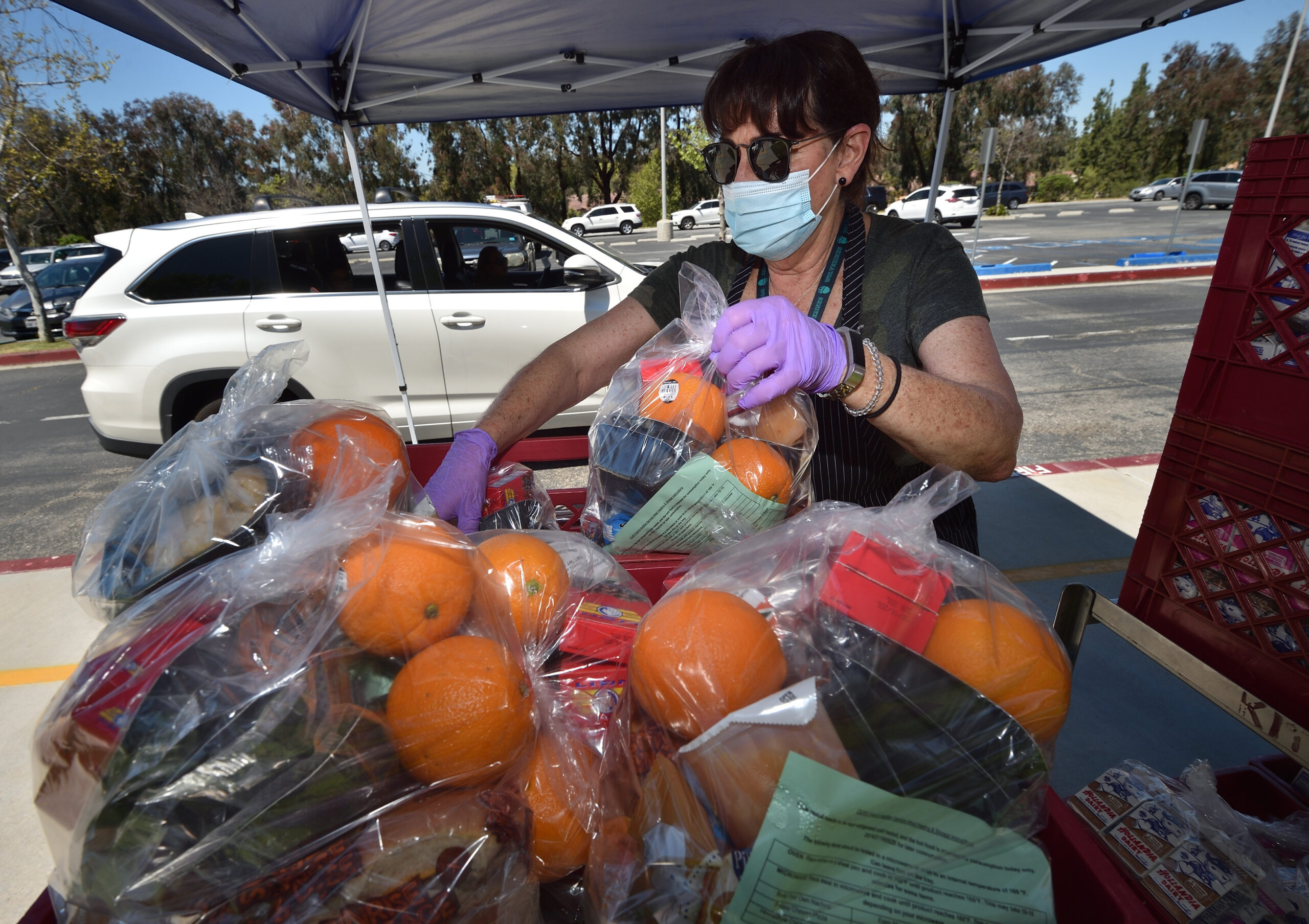 To pick up meals, people stay in their vehicles and line up at the participating school sites. As the vehicles approach the curb, signal how many meals are needed by holding up that number of fingers. Staff then place meals on a cart next to the curb, and step away at least 6 feet before the person gets out of their vehicle to collect the food, doing their best to not touch the cart. If the cart is touched, it will be sanitized before the next meal is placed.
This keeps everyone a safe distance apart to protect both employees and families.
Meals are served between 11:30 a.m. and 1:00 p.m. Mondays and Wednesdays.
This service takes place in the parking lot or bus lane at these campuses:
Carl Hankey K-8: 27252 Nubles, Mission Viejo
Castille Elementary: 24042 Vía La Coruna, Mission Viejo
Hidden Hills Elementary: 25142 Hidden Hills Rd, Laguna Niguel
Las Flores Elementary: 25862 Antonio Pkwy, Rancho Santa Margarita
Las Palmas Elementary: 1101 Calle Puente, San Clemente
Marblehead Elementary: 2410 Via Turqueza, San Clemente
Marco Forster Middle School: 25601 Camino Del Avion, San Juan Capistrano
Marian Bergeson Elementary: 25302 Rancho Niguel Rd, Laguna Niguel
Dana Elementary: 24242 La Cresta Dr, Dana Point
San Juan Elementary: 31642 El Camino Real, San Juan Capistrano
Wood Canyon Elementary: 23431 Knollwood, Aliso Viejo
Visit the Food & Nutrition Services Department website for more information.