After enduring the hardships created by COVID-19, school closures and distance learning, the Class of 2020 at Aliso Niguel High School should be well-prepared for what lies ahead in their future.
That was one of the messages conveyed during the school's drive-through graduation ceremony at Aliso Niguel High School on Friday, July 24, 2020.
"Aliso Niguel is proud of the Class of 2020, who have not only demonstrated perseverance in the face of adversity, but have shown their unity and spirit as a class," said Meredith Hosseini, activities director at Aliso Niguel High School. "We have every confidence that our graduates are equipped to lead with empathy and intelligence, and we wish them every success!"
During the ceremony, graduates stayed in their cars while driving through the school's parking lot, then got out to walk on stage, receive their diploma and take pictures of the moment.
The graduates are listed in alphabetical order following the photo essay.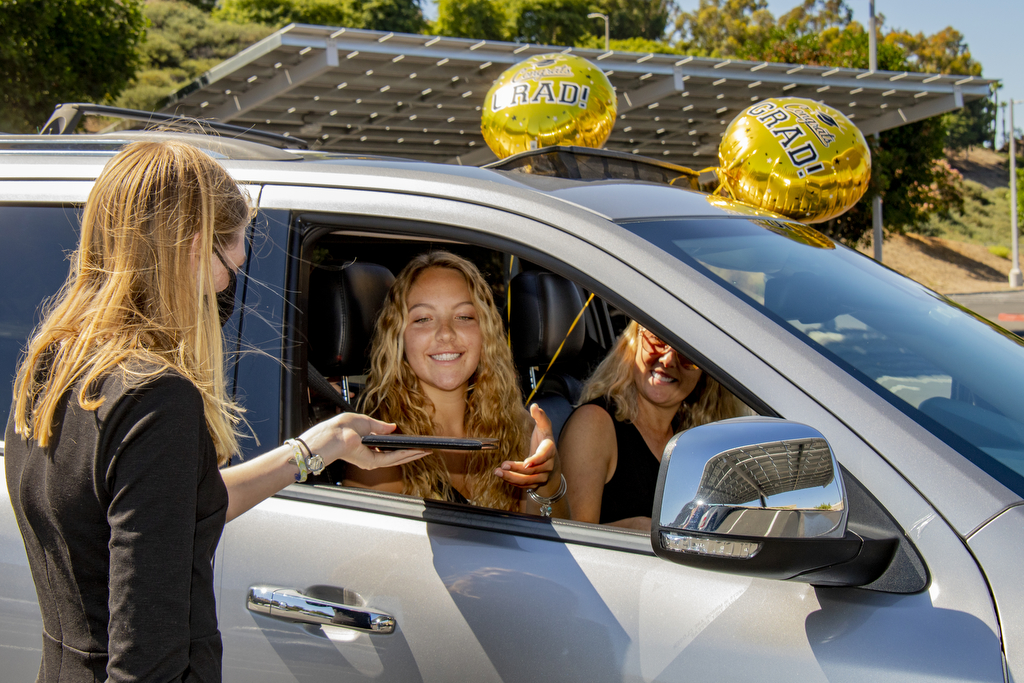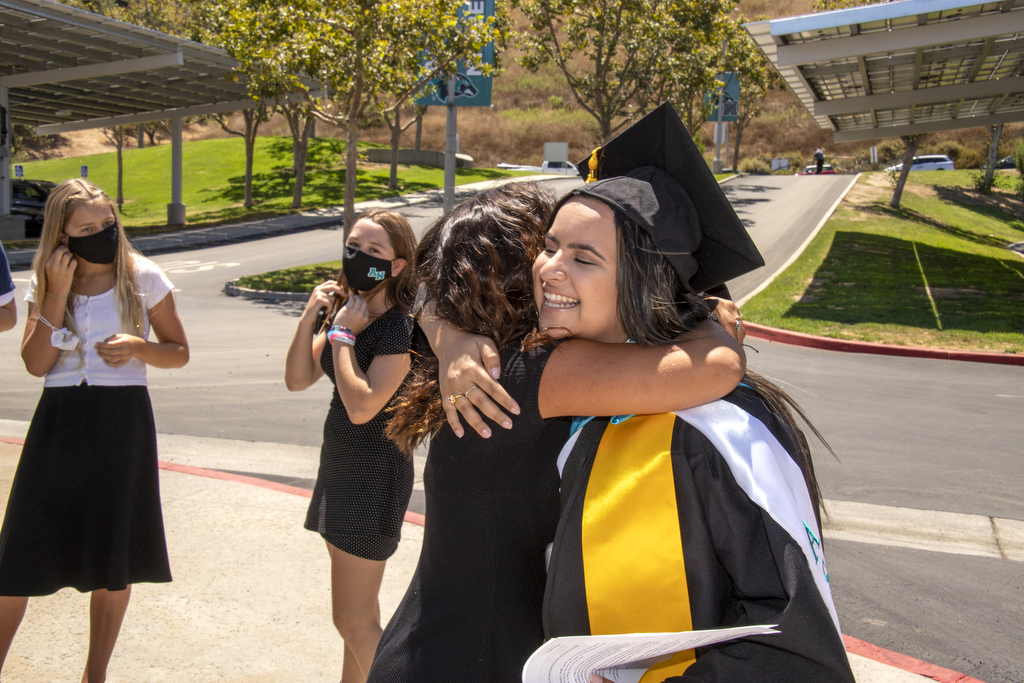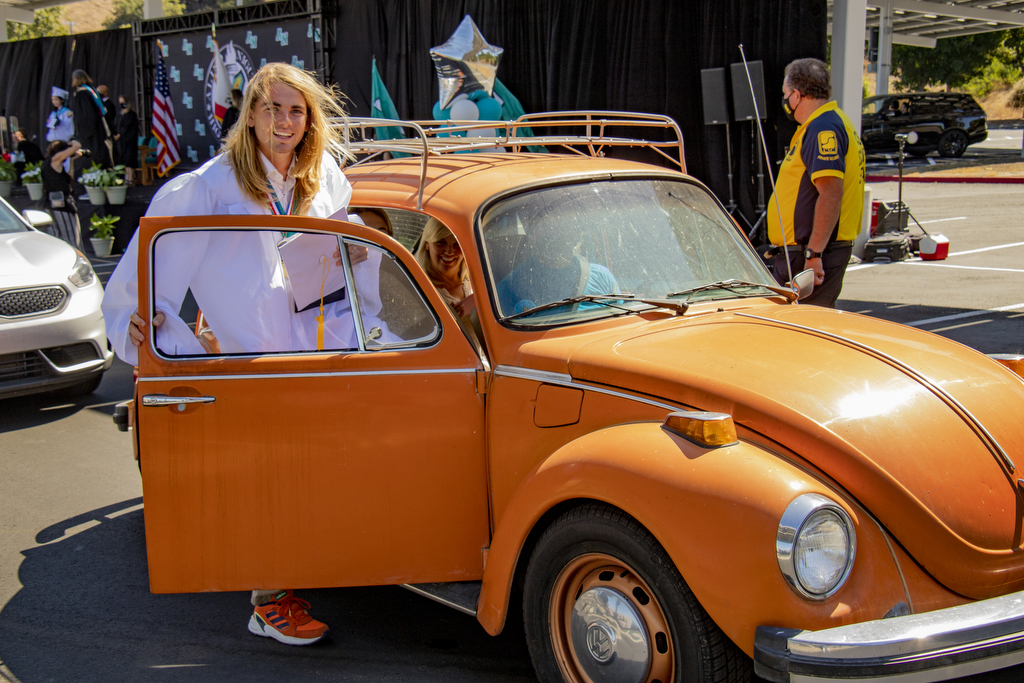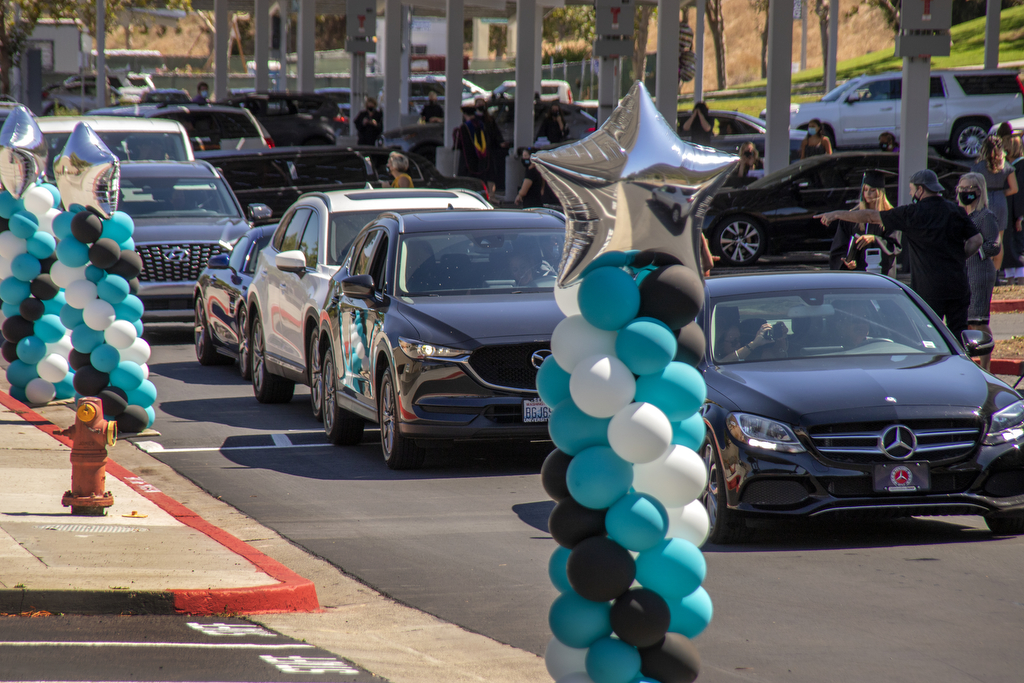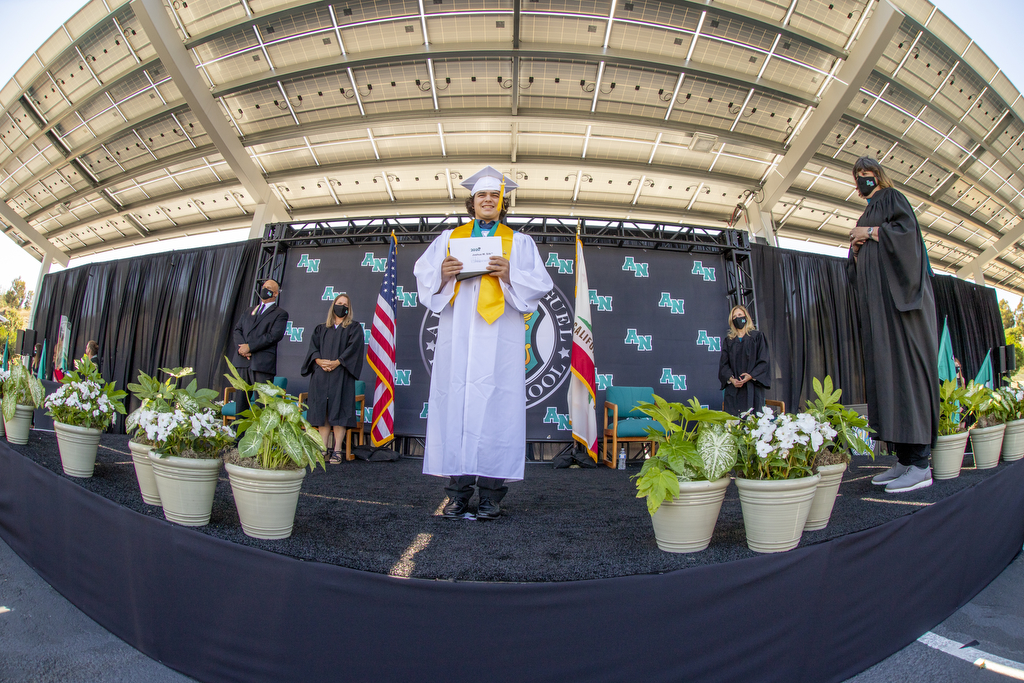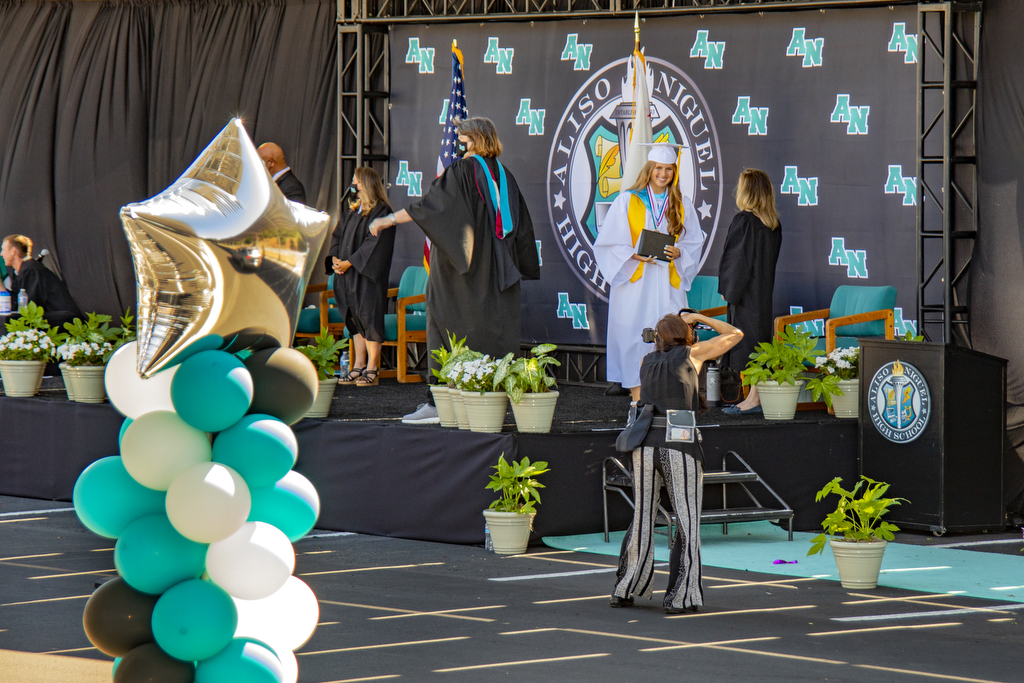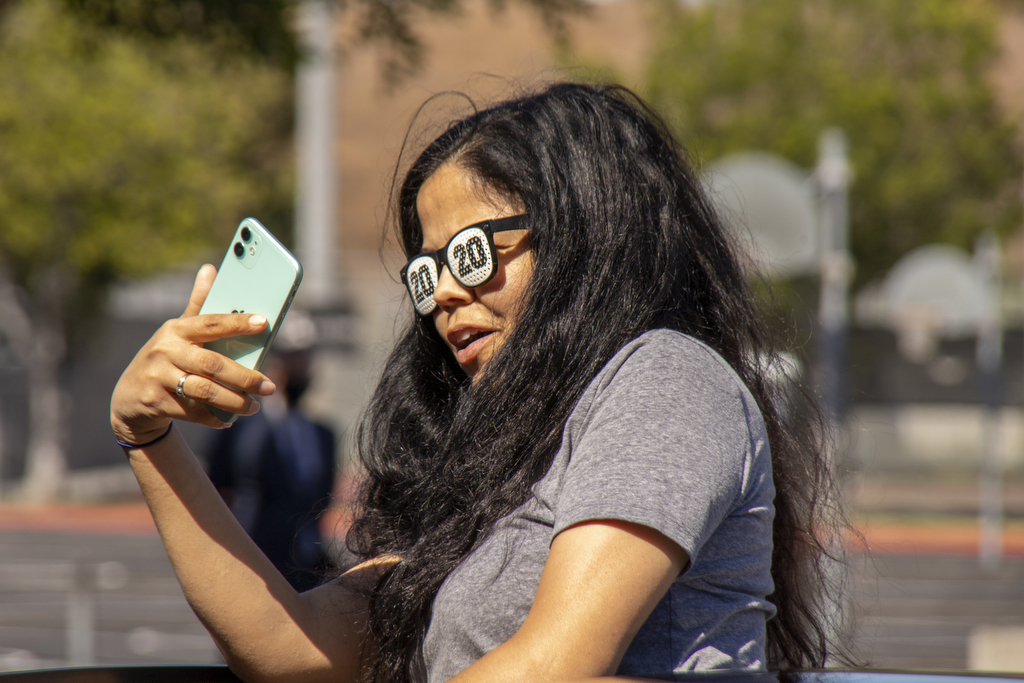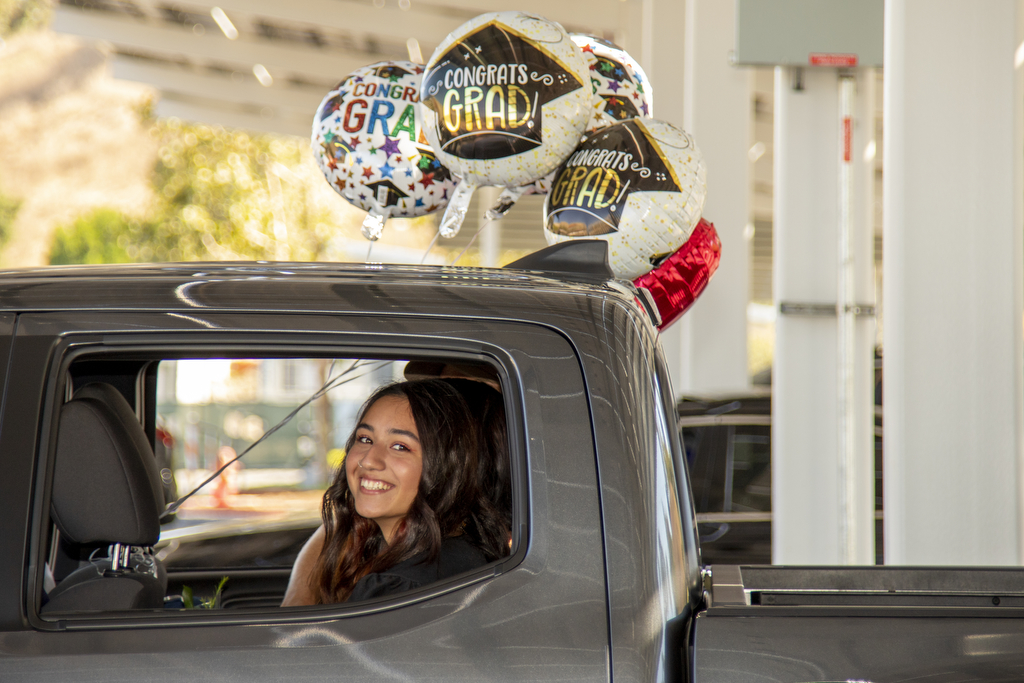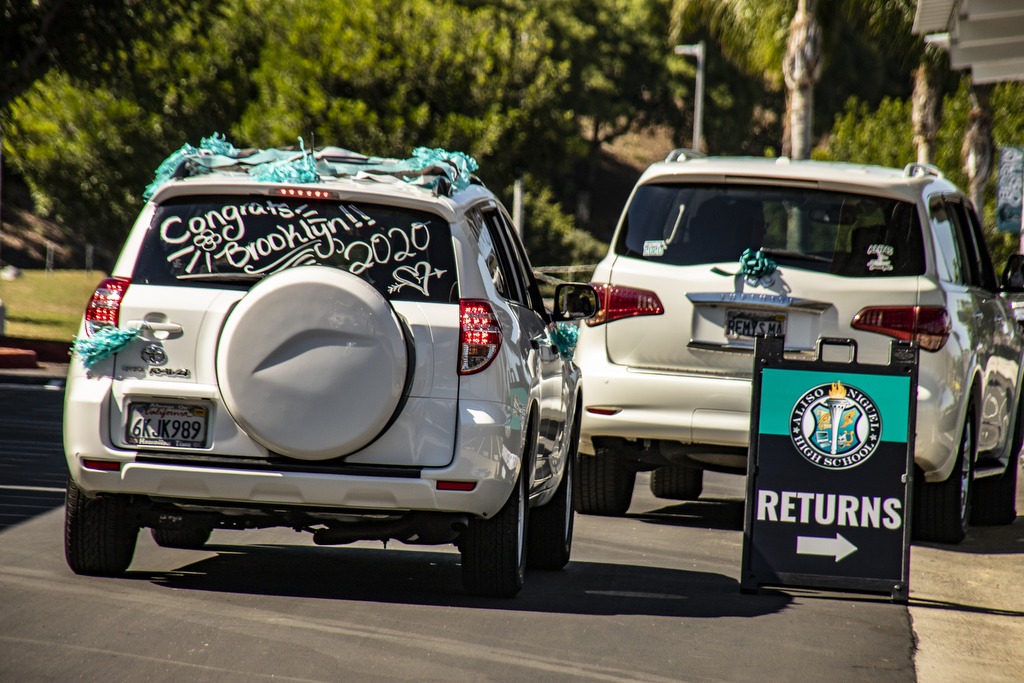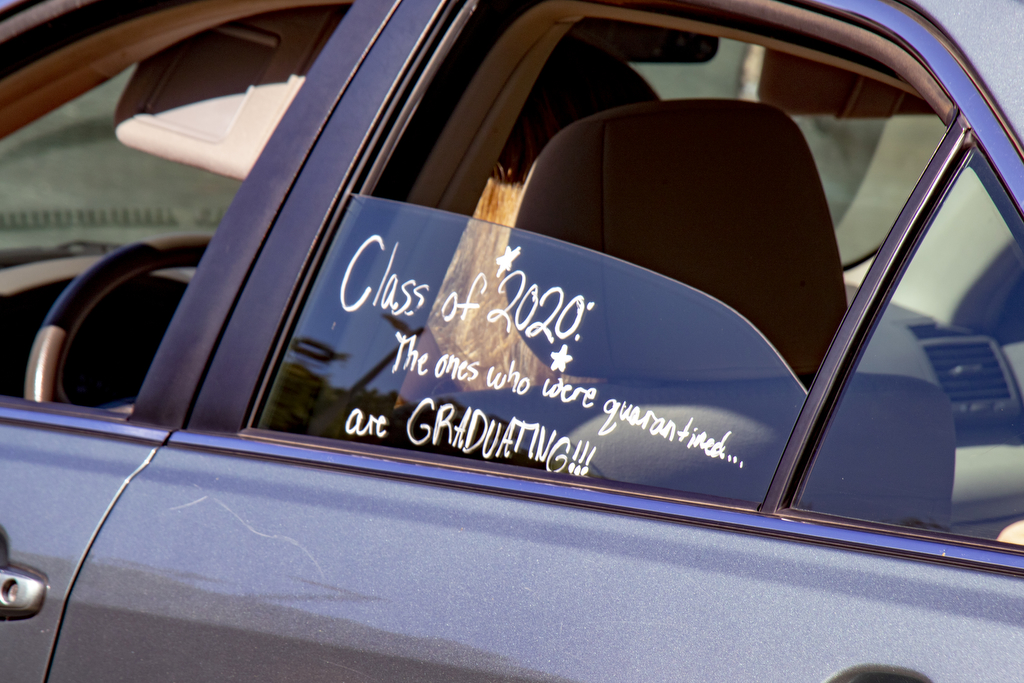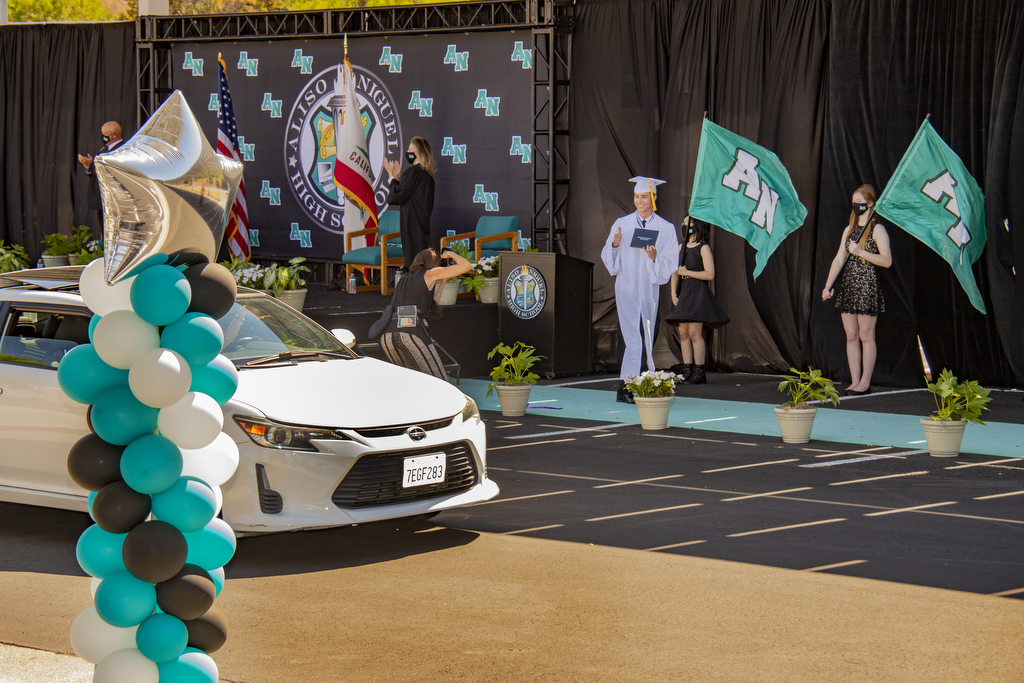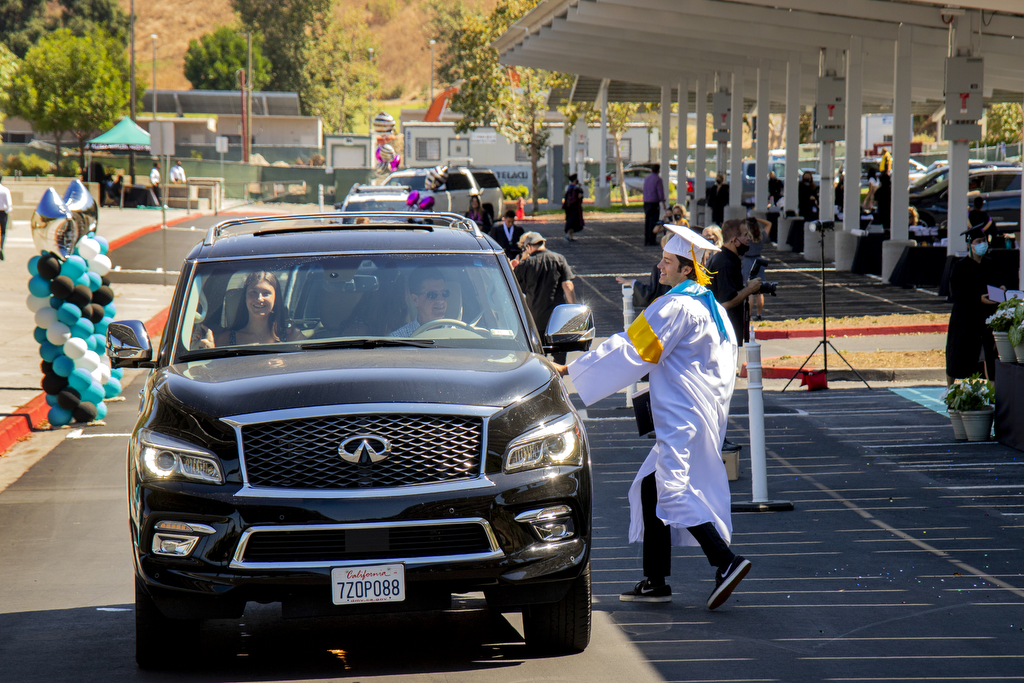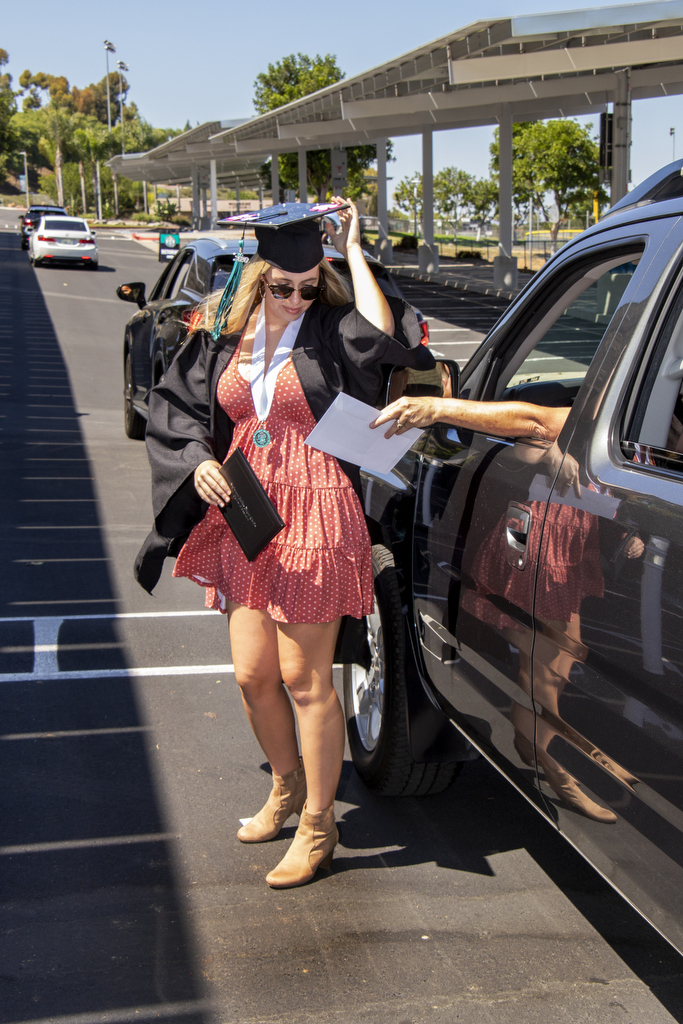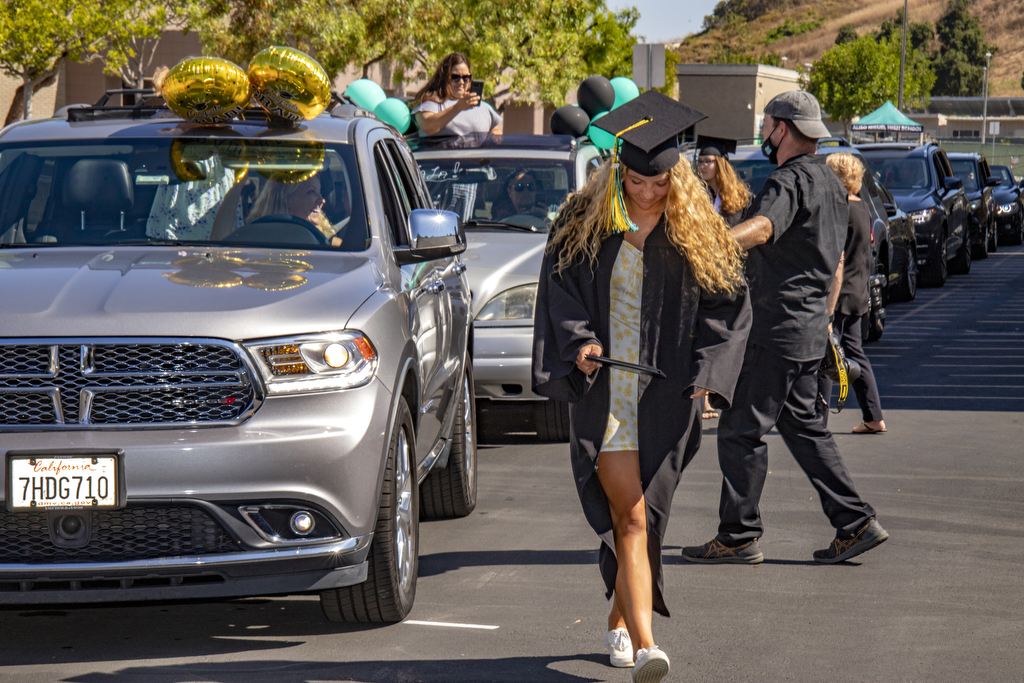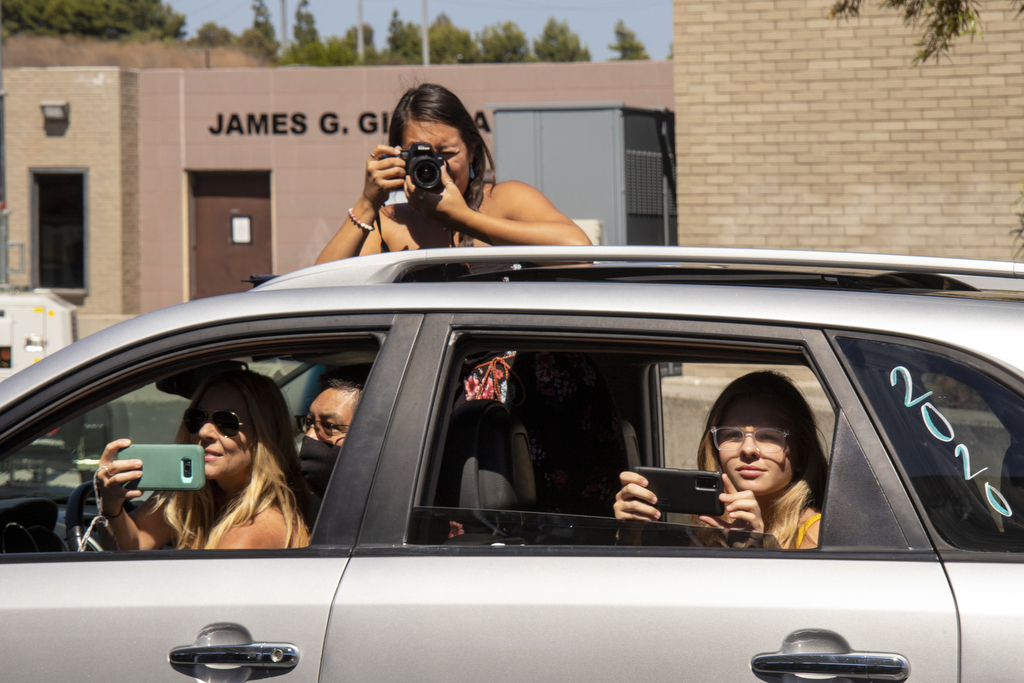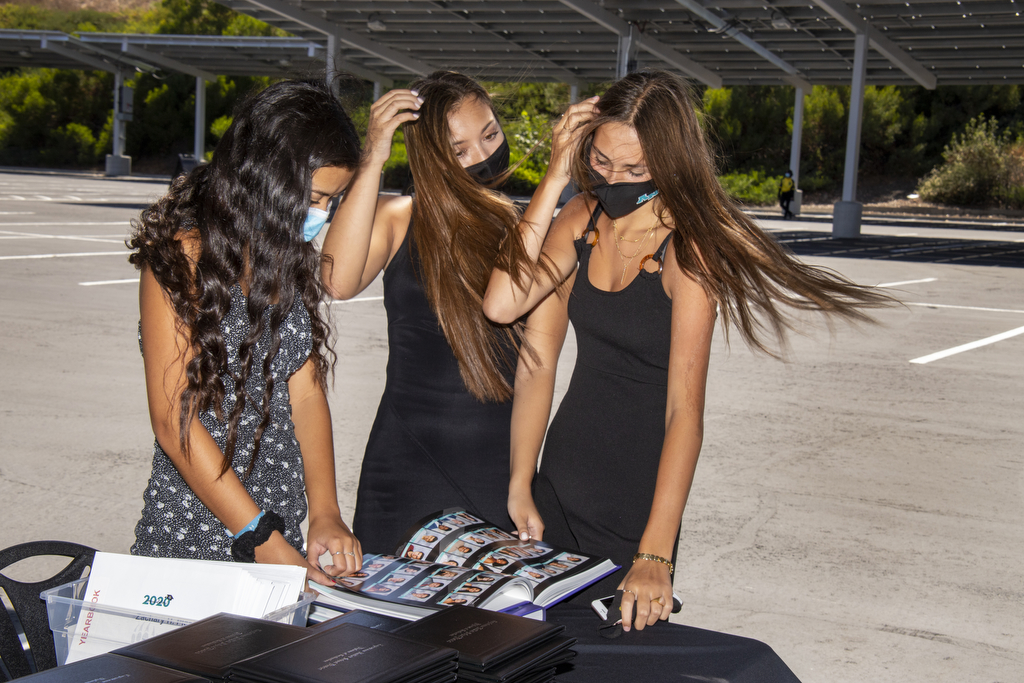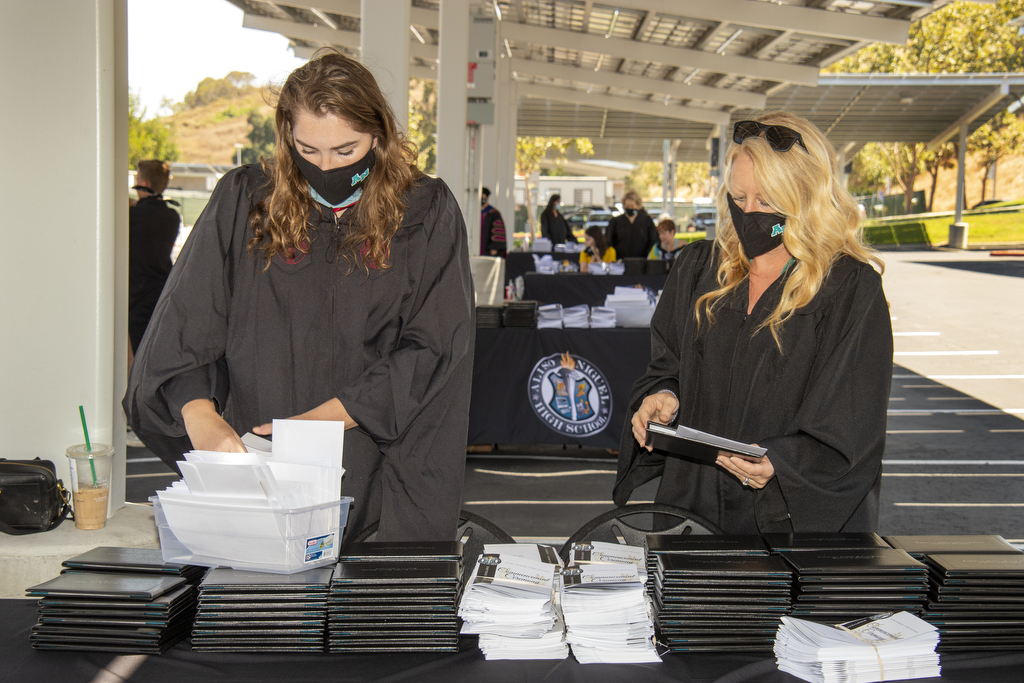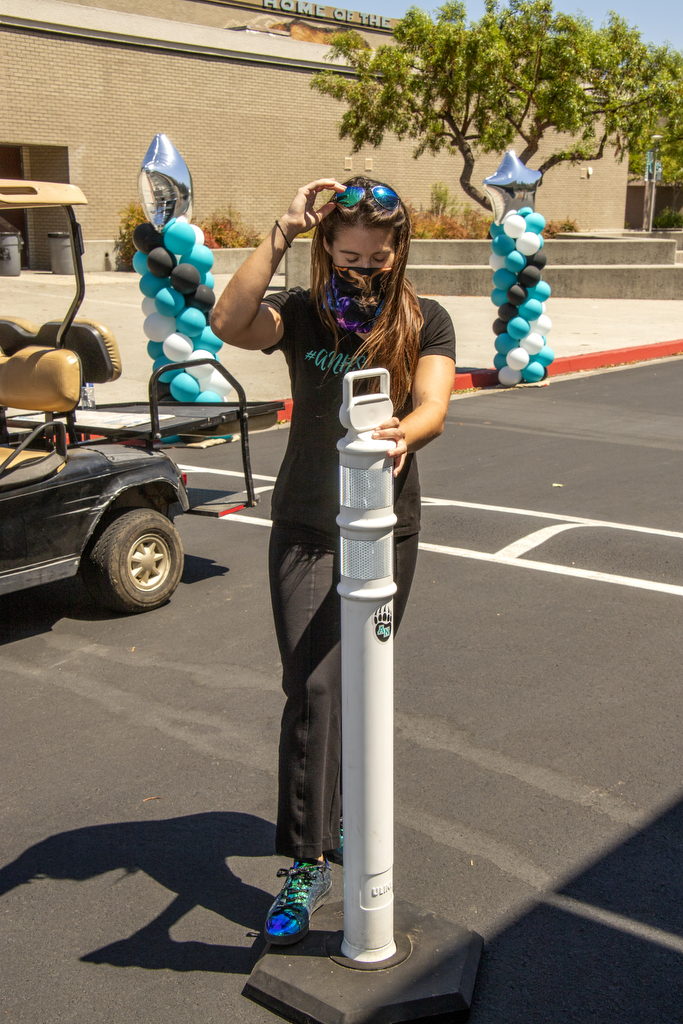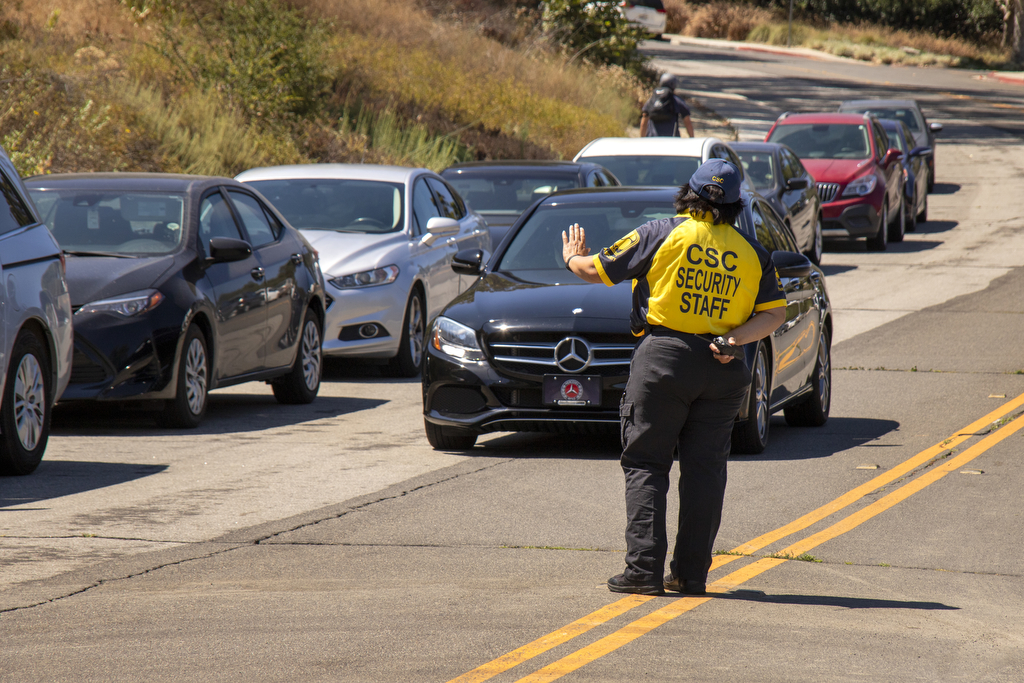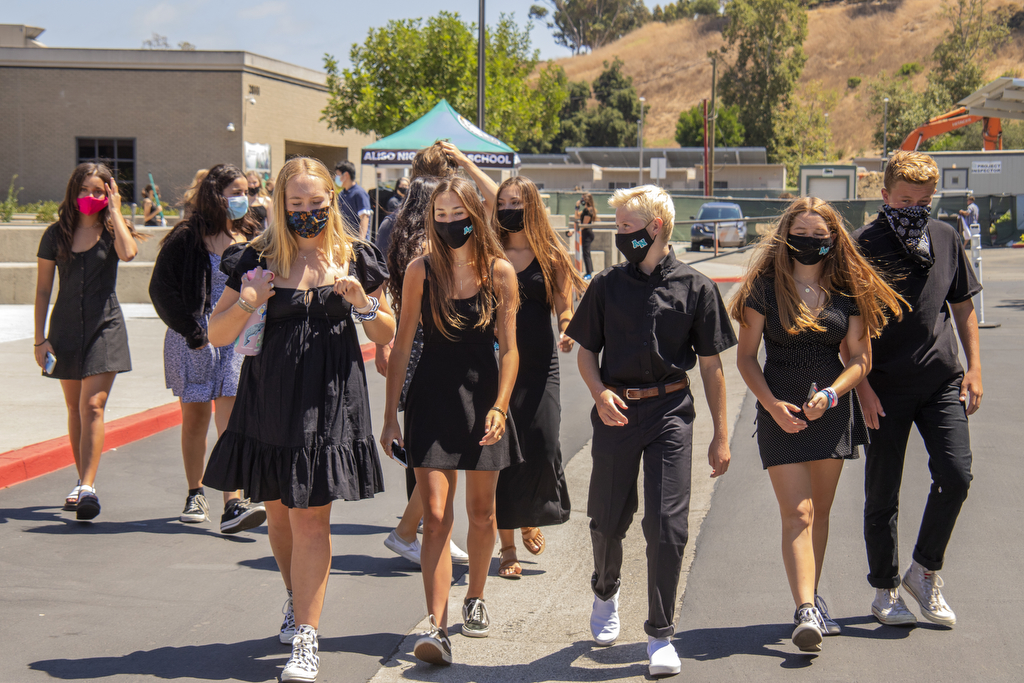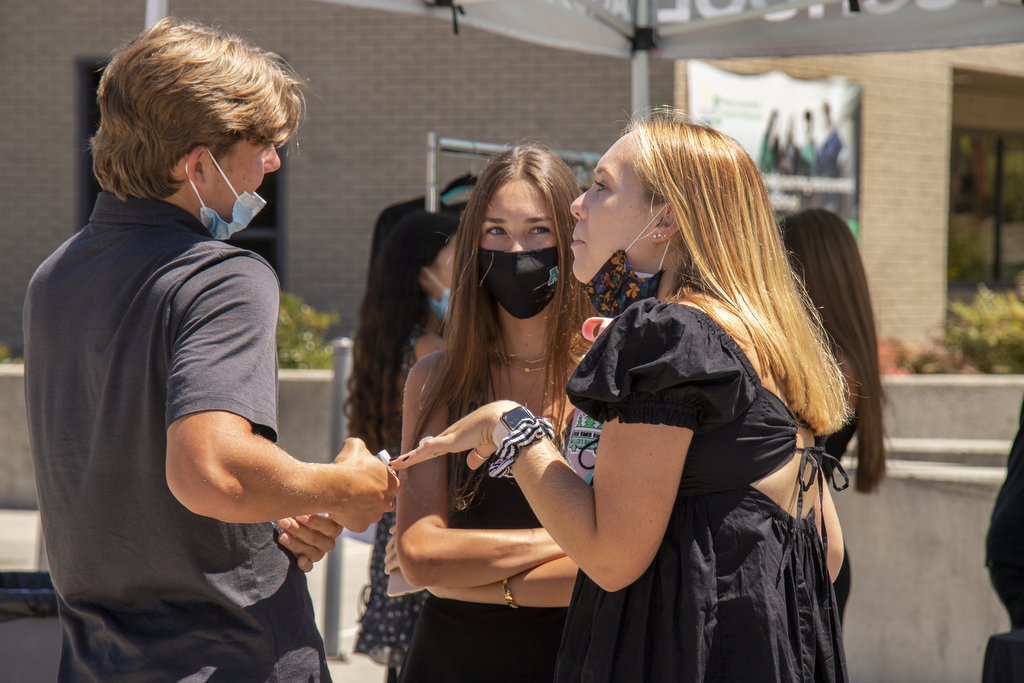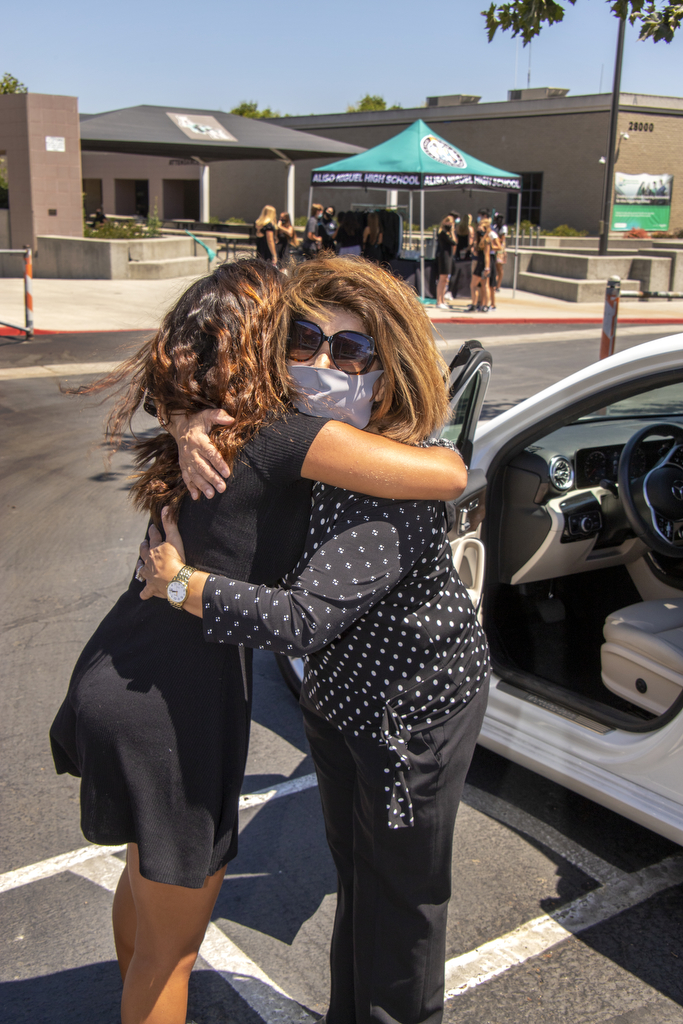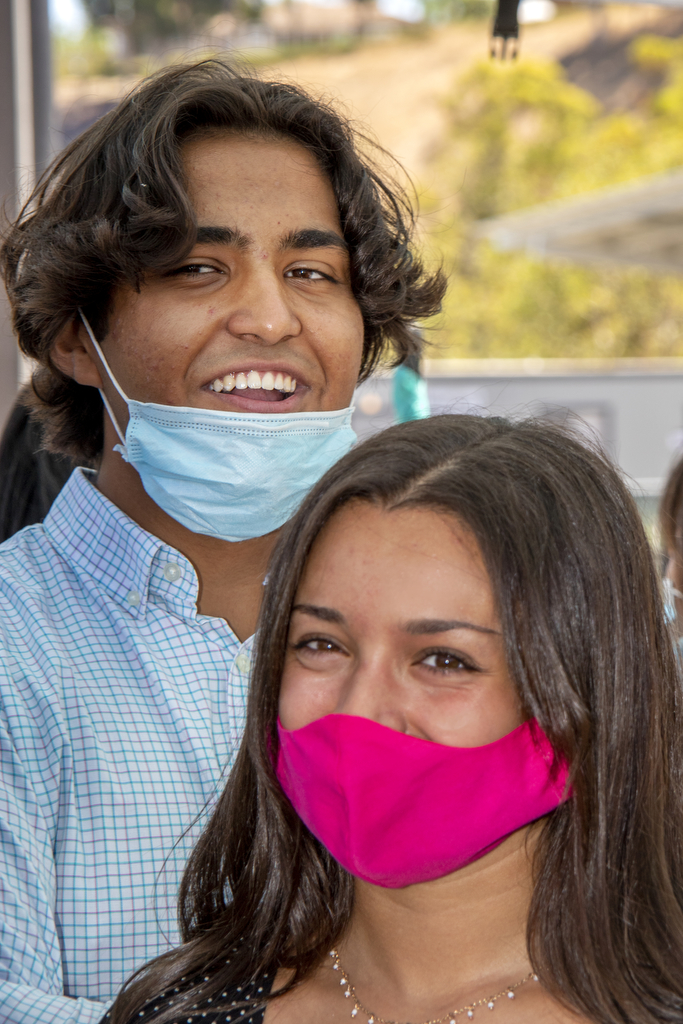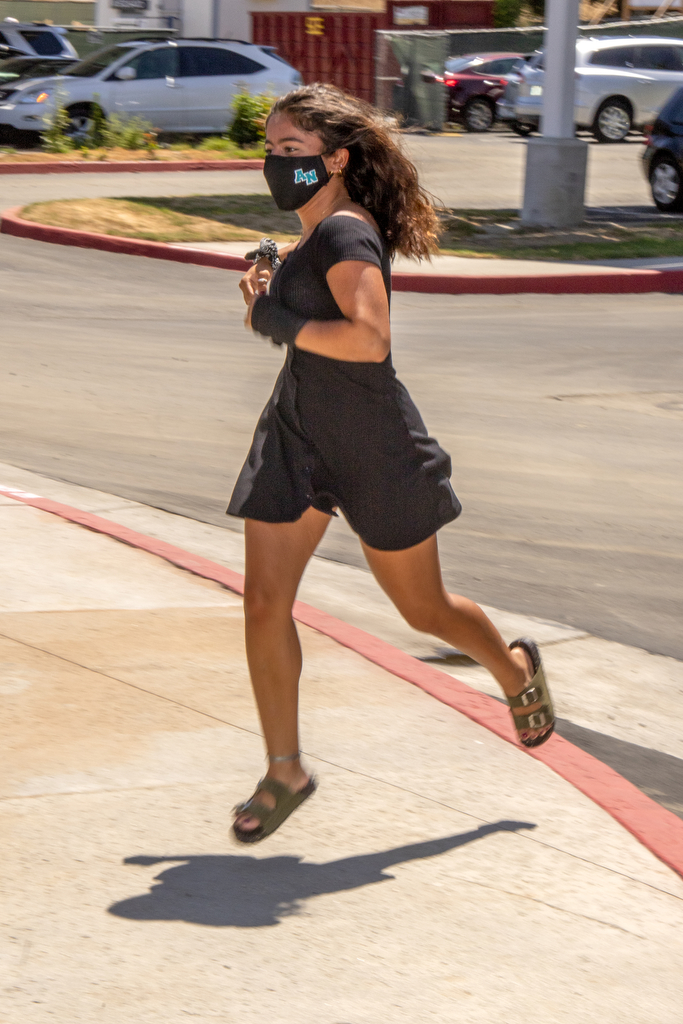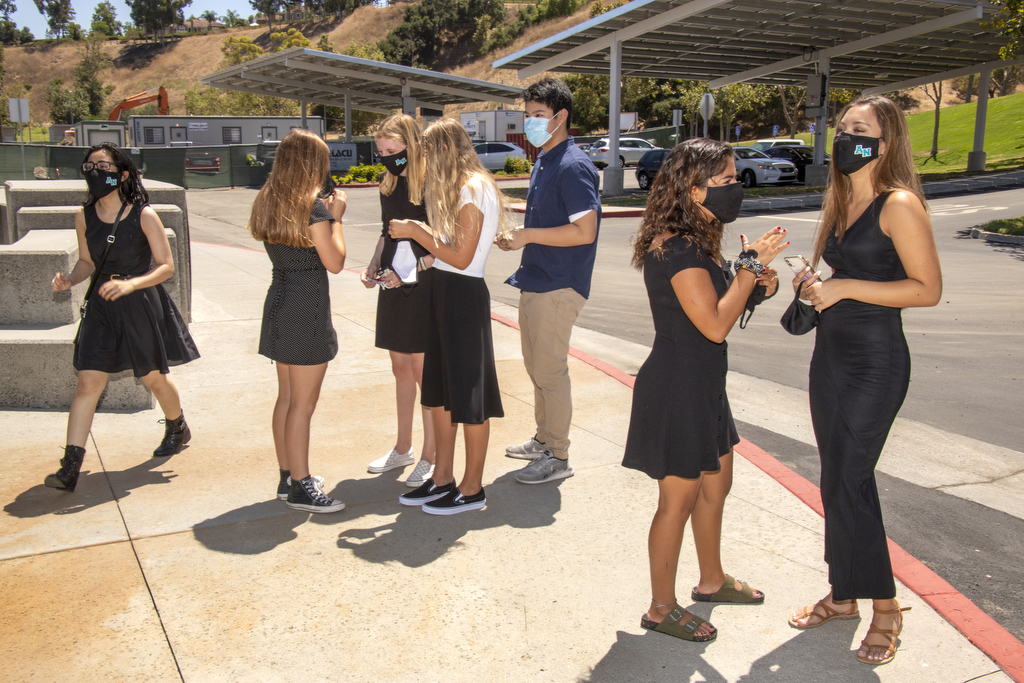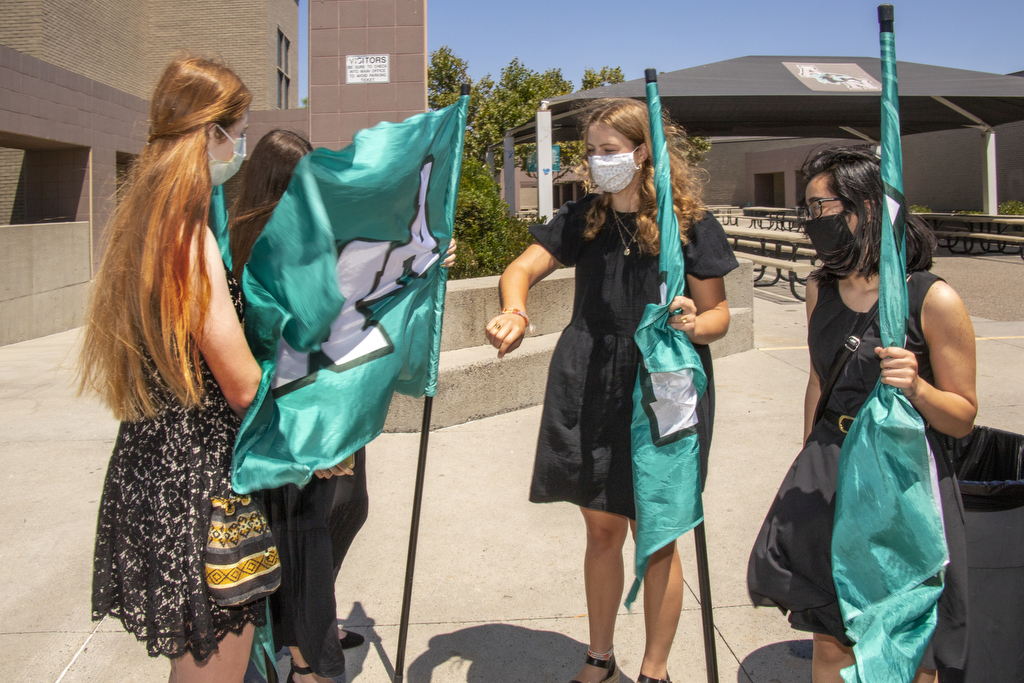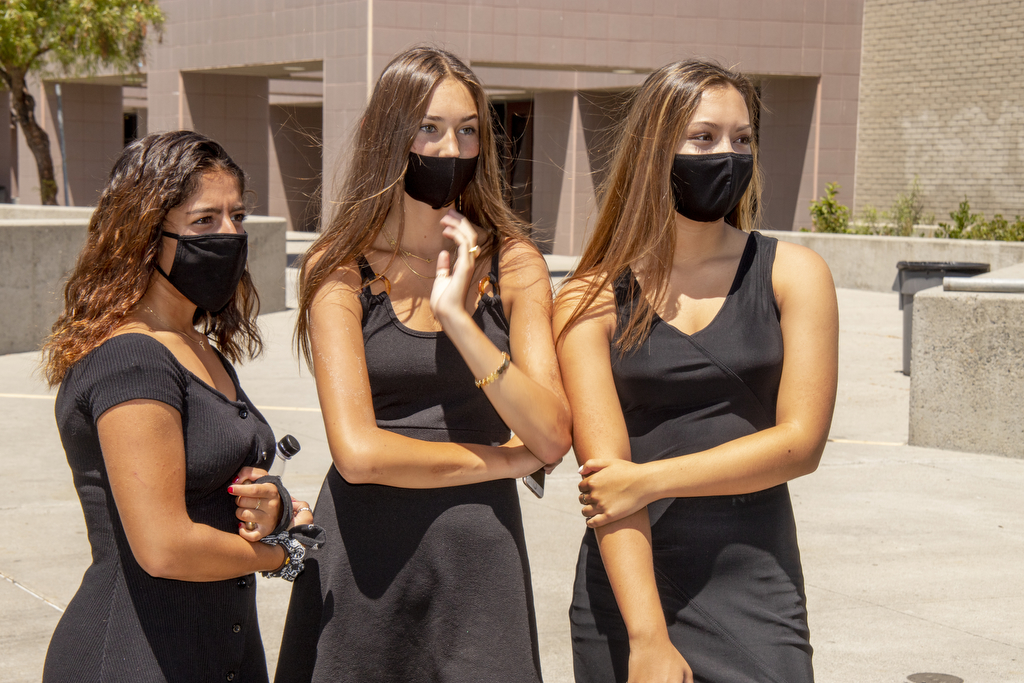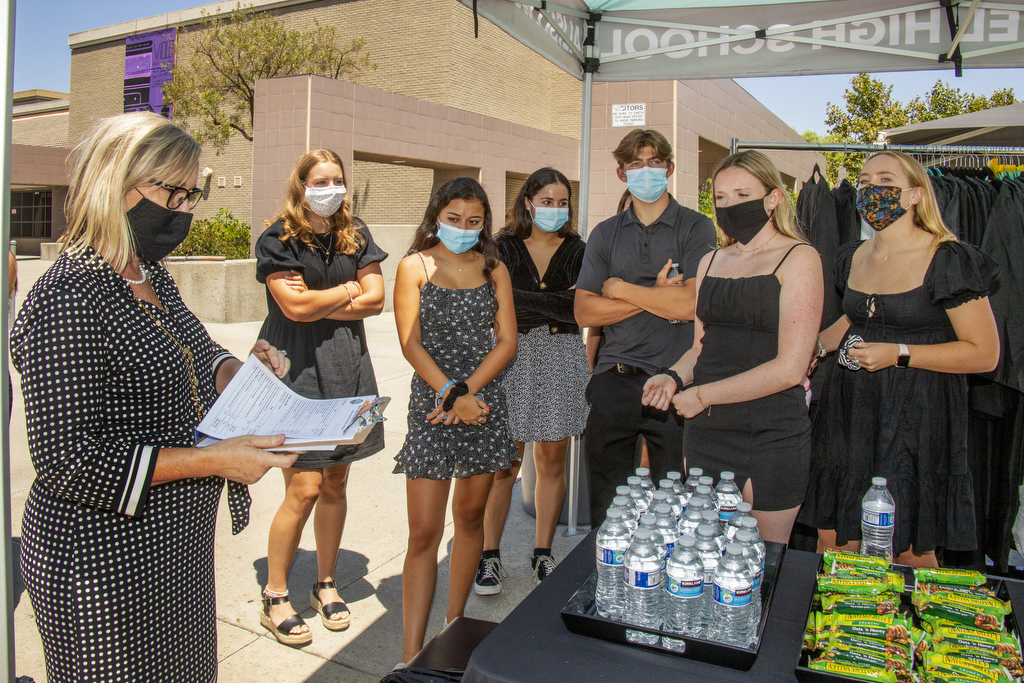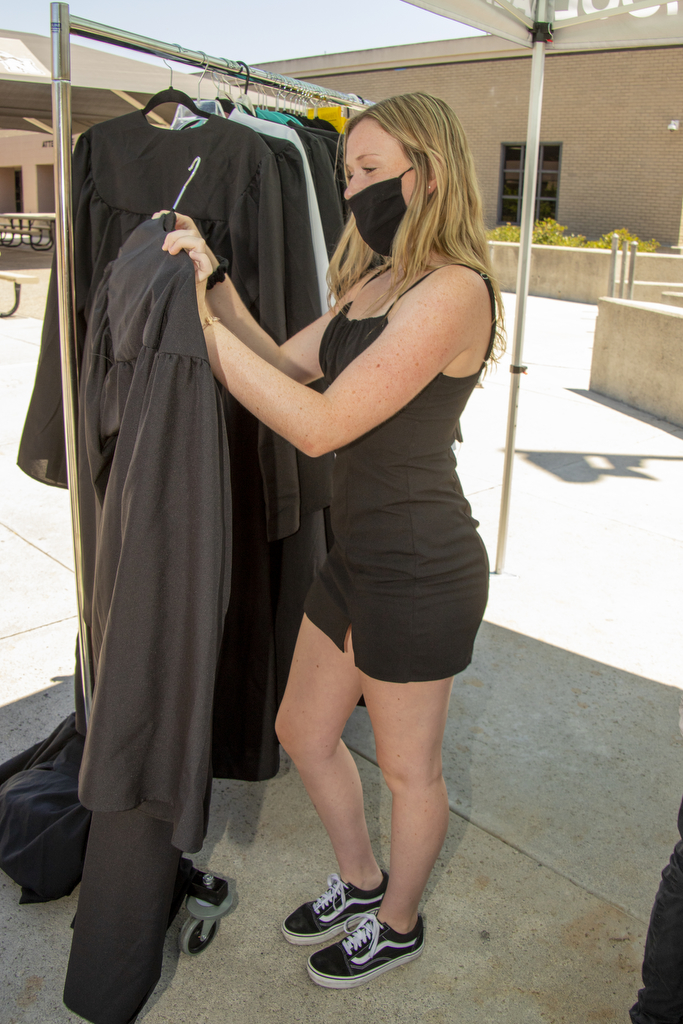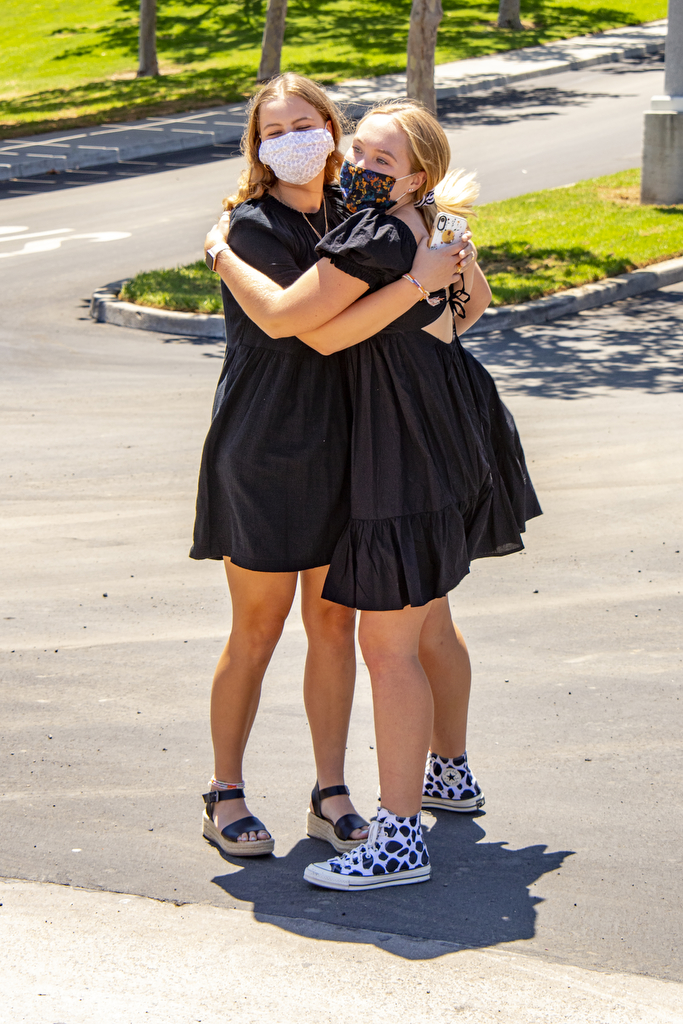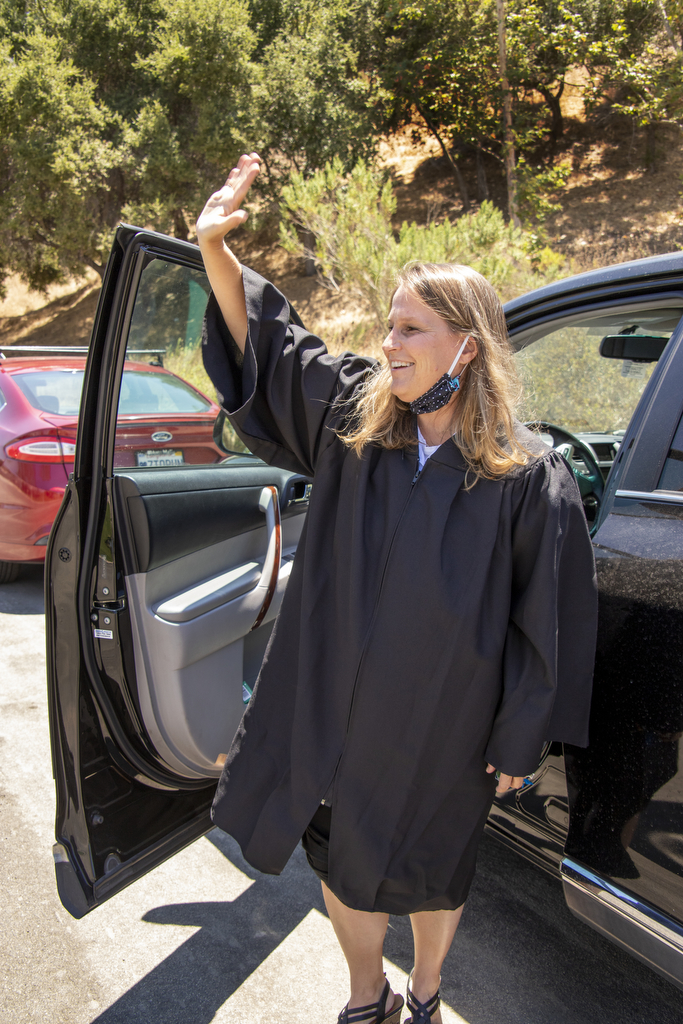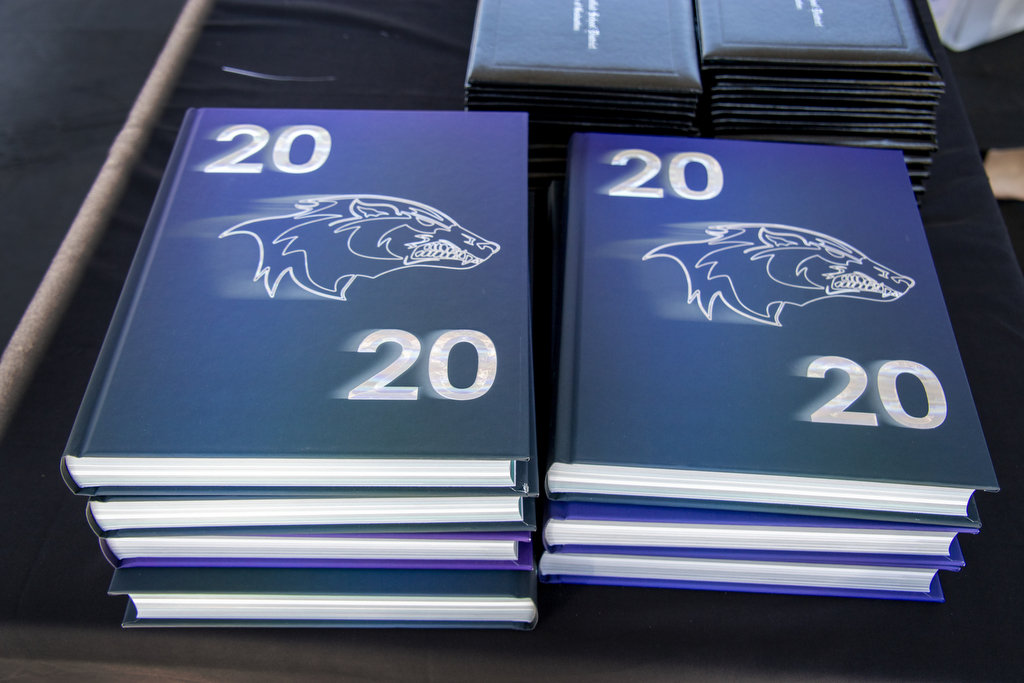 The Aliso Niguel High School 2020 graduates are, in alphabetical order: 
Christopher Sergio Abac
Han Kamal Abdali
Jennah Hazem Abdellatif
Katelin Ryanne Abrahams
Mahmoud Abuwarda
Jack Wade Adams
Daniel Tulloch. Affleck
Alexa Rae Affsa
Vienna Marcella Agnew
Ireneo Macalintal Agojo
Taylor Nicolas Aguirre
Tamaki Aida
Marina Jordan Aiyed
Arash Akhlaghi
Nixia Monserrat Alcala Espinoza
Jonathan Aldana
Aidan James Allinson
Bridget Anne Xavier Alves
Shane Daniel Alvis
Adrian Elijah Amador
Aidan Marc Amesse
John Ryan Amy
Christian David Anderson
James Samuel Anderson
Adam Antoine Aoun
Connor Lee Aragon
London Ray Archer
Alexis Sky Archuleta
Ellie Cass Armstrong
Noah Bruce Armstrong
Devin Jordan Arribas
Ian Troy Asencio
Zairy Izzul Aslam
Matthew Elias Atilano
Nicole Marie Aubort
Genesis Guadalupe Avila
Alexandria Victoria Avila-Griffin
Karen Maged Tadros Awad
Allee Marie Ayers
Aissata Amadou Ba
Abbygayle Alexis Abarquez Bajarias
Mark Stephen Banks
Gavin Charles Barbee
Aubrey Joy Barker
Britain Sharp Barker
Marquille Aurelio Barnes
Niccolas Raul Basurto
Pedram Bazargani
Noah Eric Beato
Jaeden Alexandra Beimer
Hallie Diane McKeefry Bell
Gouri Bellad
Byron Rafael Beltran
Antonella Gianna Benenati
Cole Benning
Grace Alison Bentley
Joshua Brandon Mana Atua Bentley
Spencer Addison Berney
Tolegen Betts
Jillian Dierdre Bienemann
Catherine Blackmore
Justin Boberg
Claudia Isabella Boghdady
Kendall Jean Bohne
Melika Bolourchi
Brian Yahya Bouzari
Luke Karl Bowen
Keerti Boyapati
Abigail Eileen Bradley
Marlena Danielle Brand
Brady Alan Brooks
Lindsay Shea Brooks
Jaden Lynn Brown
Justin Thomas Brown
James Michael Buchs
Lucas Edward Buratti
Oliver Leo Burdin
Janan Eyad Bustami
Jenna Eyad Bustami
Zaid Eyad Bustami
Olivia Callaghan
Talia Brianna Calvert
Ariel Elizabeth Campos
Ashley Jennylee Campos
Alexandra Magdalena Cannady
Carly Elizabeth Cantos
Gianna Suzanne Cara
Samuel Joseph Carducci
Olivia Mackenzie Caselles
Ryan Patrick Casey
Ivan Humberto Castillo
Joseph Alessandro Catalano
Kevin Cerda Marquez
Kevin Shu-Rei Chang
Noah Riley Chastain
Oliver Ponce Chavez
Amber Jessica Chen
Jun Ao Chen
Anabella Cheong
Chanel Raye Cherow
Kristie Cheung
Noelle Childs
Olivia Dione Chilvers
Bryan Youngjoon Choi
Kyle Anthony Christner
Hayden Schott Chronister
Brett Zachary Chy
Ryan Harper Cichowski
Zachary Jordan Claar
Dante Lee Cofano
Alexander Battaile Coletto
Kathryn Rose Collins
Luke Joseph Columbero
Ewa Victoria Cook
Micaela Angela Cook
Drew Daniel Corbo
Anthony Ruben Cordero
Ryan Benjamin Padiernos Cordova
Daniel Cosmano
Maki Logan Cotter
Scott Stewart Couper
Kyle Jeffrey Cousino
Anthony Michael Cracchiolo
Marcus Emmanuel Cross
Sydney Alexa Croy
Brandon Javier Cruz
Daniel Christopher Cruz
Juliana Cubias
Victoria Elizabeth Dacko
Kyra Irene Melinda Daffron
Jaide Alexandria Dains
Kai Hayden Stuart Dalton
Dominique Kathleen Danze
David Dao
Michael Nicholas Davinni
Cole Davis
Haley Rose Davis
Dylan Art de Cuna
Jennifer Rae de Lugo
Andrea Dealmonte
Nino Gerardo Roque Deang
Joshua Hunter Denk
Anne Katherine Denney
Marcus Anthony Denton
Isabella Anika-Dorothea Depew
Wynonna Gelly Detuyato
Rency Pareshkumar Dhaduk
Lauren Michelle Di Scala
Taylor Kay Diaz
Amelia Isabelle Dolbee
Nicholas Adam Dollberg
Joseph Alexander Dominguez
Isabelle Donnell-Crume
Joshua Ignacio Dormaier
Kara Celeste Draper
Luc Henri Dubray
Jasmine Nicole Dunn
Jeanna Jolie Edrei
Charles Colby Edward Routh
Chloe Jean Marie Eilers
Charlotte Caron Einhorn
Sheridan Ashley Elkins
Curren Kenneth Ellsworth
Ethan Jacob Engler
Claire Elise Engstrom
Christian Diego Espinoza
Sarah Olivia Esquivel
Wendy Alondra Estrada
Maximilian Christian Etienne
Anthony Childs Evans
Kian Falatoonzadeh
Sepehr Farahmand
Madeline Alexa Feibush
Halle Feng
Samantha May Finley
Matthew Fiske
Kevin Chandler Fitzer
Jireh Fleming
Aaron Andres Flores
Jocelyn Marisol Flores Espinoza
Morgan Noelle Flynn
Taylor Alexis Fong
Hayley Campion Frame
Alejandra Leanne Frank
Anthony Brett Frasco
Isaiah Vladimyr Frazilus
Keegan Jaidan Fredriksen
Isabella Susanna Freeman
Nicole Monique Friedman
Hikaru Fujii
Jalen Paul Gadhavi
Caytlin Whitney Gallardo
Truman Robert Galmeister
Franchezca Louise Delos Santos Gan
Landon Gannon
Enrique Javier Garay
Adrian Phillip Garcia
Celeste Andrea Garcia
Joscelyn Isabella Garcia
Madison Deanna Garcia
Rees Garcia
Gonzalo Garcia Castillo
Lexi Ann Gardner
Seth Simeon Garrett
Braden Joseph Garvey
Michael John Garza
Navid Gashti
Drew Cameron Gaudette
David Hany Georgy
Shawn Ryan Gharib
Seyed Davoud Ghassemiyeh
Jared Ryan Ghetian
Talia Sage Gierut
Trent Thomas Giffin
Eduardo De Castilhos Gimenis
Natalie Brianne Glennon
Eiger Gliozheni
Joshua Ryan Gluck
Ariel Madison Goalden
Alexandra Jai Goldberg
Luke Aaron Goldberg
Matthew Parker Goldman
Sean Avery Goldschmidt
Alissa Dyan Gomez
Brianna Danielle Gomez
Brooke Lauren Lee Gomez
Jesus Gomez Flores
Ryan Alexander Gonda
Sydney Cahill Gonzales
Joseph Charles Gonzalez
Monica Alexis Gordon
Tyler Reed Gordon
Jacob Alexander Gorlato
Aakash Goswami
Matthew Josh Gozon
Evan Michael Graham
Jacob Cole Green
Mason Wesley Grier
Alana Monet Gross
Annicka Elisabeth Grosz
Isabella Faith Guinto
Sophia Dorothy Gunn
Yareli Gutierrez Gonzalez
Ericka Serrano Guzman
Caroline Ann Guzylak
Morgan Sloan Haberlin
Aseell Hamid
Mason Elijah-Dean Hanko
Matthew John Hannon
Taylor Grace Hannon
Nicholas Enrique Hanson
Jordan Daniel Hansted Kuntz
Zaccariah Kaden Hardin
Rian Thomas Harrell
Andrew Brennan Harris
Bradford William Harris
Zachary Ryan Harrison
Connor James Haslinger
Shaye Yoshiko Hasuike
Trent Susumu Hasuike
Dennis Croix Haughawout
Jackson Dean Hayes
Arianna Cheryl-Lyn Head
Isabella Danyel Head-Bates
Nathan James Hellewell
Ryan Wade Helman
Amy Hernandez
Natalia Isabella Hernandez
Nicolas Stephen Hernandez
Alleah Elizabeth Herrera
Jordy Herrera
Ethan Terrence Hill
Reagan Lee Hill
Duncan Aleksandar Hilligoss
Jeffrey Lawrence Hoang
Blake Michael Hodges
Madelynn Marie Holloman
Thomas Marx Holman
Taylor Kimiko Hom
Emiko Christina Honda
Yejin Hong
Avery Cecilia Hormuth
Benjamin Robert Horner
Lauryn Ann Horner
Nicholas Michael Horner
Zachary Allen Horner
Cyrus Hosseinpour
Jeffrey Yu Huang
Gabriella Michelle Huffaker
Cooper Hull
Salma Sayed Hussein
Thomas William Hutchinson
Jodie Le Huynh
Eugene Hwang
Marlee Elizabeth Hynek
David Ibarra
Karissa Marie Ibrahim
Oliver James Illerhues
Madeleine Thi Ishibashi
Kiana Isquierdo
Maryam Izadshenas
Cole Kourosh Jafari
Tameem Jalala
Kaitlyn Ana James
Hailey Noelani Jamora
Parker James Jilke
Dillon Matthew Jimenez
Jillian Irene Johnson
Kaden Luke Johnson
Parker Raye Johnson
Wesley Evan Johnson
Isaac Mekhi Jones
T-Jay Anthony Jones
Sandra Jovanovic
Simon Jovanovic
Madison Susannah Judd
Bright Ezra Jung
Conrad Johann Kamper
Kaira Mieko Kanamori
Sydney Jun Karimi
Rojan Abrishami Kashani
Aaron Joseph Kasper
Brandon Michael Kaufman
Delaney Anissa Kavadoy
Jordan Maxwell Keetch
Annabelle Elizabeth Keiser
Ege Keles
Marina Yuki Keller
Jaida Lee Kelley
Sameeha Fairuz Khan
Jiin Kim
Justin Jeongjoon Kim
Mark Kim
Matthew Jay Kim
Yeonsu Kim
Yuna Kim
Olivia Virginia-Lee Kinnick
Gabriel Scott Kipers
Joshua Nathan Klein
Samuel Benjamin Kneale
Madeleine Rosanne Kopf
Sumari Kritzinger
Kabir Srinivasan Kwatra
Emily Mei Lei Kwong
Kyle Lee Kyckelhahn
Julianne Chua Lacambra
Haley Marie Lage
Mariana Lagrava
Ethan Benjamin Lake
Britney Lam
Noelle Rebecca Large
Ella Lee Latham
Aidan Michael Lauda
Ethan Garreth Lavenstein Bendall
Megan Riley Lawritson
Benjamin Cohen Lazo
Ryan Corban Leake
Aaron Chester Lee
Bangee Lee
Benjamin Jongwoo Lee
Bella Naima Leibovitz
Emma Claire Leisner
Ikaika Leite
Rachel Lewis
Tara Sage Lewis
Adrian Xavier Ley
Saige Payton Leyendecker-Beck
Jingyang Liang
Skyler Libby
Joshua Harry Licata
Jack William Light
Estella Lee Lindsey
Sophie Marie Lindskog
Hailey Jasmine Lino
Miles Dylan Lipschultz
Jonathon Maxwell Lobbins
Cooper Edwin Lobe
Gavin Richard Lockman
Genesis Ferell Long
Megan Long
Zachary Long
Alex Jay Lopez
Chloe Lorenz
Aubrey Shae Lovewell
Calyxa Patao Lumanlan
Jacob Benjamin Luna
Amber Jordan Lyle
Troy Glen Maas
Ozmond Miles Macaraeg
Skylar Ann Machnikowski
Eilyssa Anne Maclean
Shaylee Lynn Madrigal
Tricia Panes Maglaque
Oliver Walker Maher
Allison Constance Major
Andrew Thomas Major
Niloofar Malekan
Zoha Lehrasab Malik
Danielle Grace Malter
Allyson Juan Manansala
Phillip Manchik
Marlie Paige Manier
Hannah Manoochehri
Nika Mansouri
Iris Elsbeth Mantecon
Emilie Joi-Aliesse Manville
Brooklyn Jade Margarit
Radhika Manish Marolia
Maren Nicole Marshall
Amelia Jacqueline Martin
Jeremy Martin
Jonathan Connor Martin
Megan Marissa Martono
Setarra Matin
Sarah Lynn Matossian
Ryan Fadel Mawlawi
Lily McCann
Samantha Nicole McCarter
Brady James McCormick
Terrence Joseph McGaughan
Sydney Gwendolyn McGregor
Sarah Katelynn McIlravy
Connor Jacob McIntosh
Jodie Maxine McKendry
Benjamin Paul McKenna
Kylie Alexis McMasters
Aubrey Anne McMichael
Amber Nicole McNicol
Sanaya Menghani
Nicolas Mesa Bedoya
Bernadett Mesholzadeh
Jake David Michelsen
Malia Daly Miles
Jessica Susan Miley
James Milks
Jamie Heeay-Joon Min
Nolan Scott Miner
Major Kramer Mischel
Sassan Abraham Mishkanian
Ayush Misra
Giovanna Ferreira Mitchell
Maxime Mobayen
Arya Mofidi
Nina Olivia Mogadam
Seena Mohajeran
Ruiz Momongan
Isabella Dawn Monroy
Tiffany Montes
Rosemarie Montoya-Ochoa
Travis Alexander Mooney
Gracelyn Elizabeth Moore
Jax Lucas Moore
Justin Taylor Moore
Alexa Franchesca Morales
Maximillian Louis Morales
Zachary Luke Morcos
Taylor Marie Morgan-Funaro
Jacob Emmett Morris
Kenneth Li Morris
Emily Shayne Morrison
Aaron Thaddeus Morton
Taha Moshfeghi
Cassidy Layne Mount
Jada Pomaika Moylan
Mona Cherrise Mozayanfar
Maeve Carey Mueller
Adam Muhtar
Hana Misaki Murphy
Nolan Kazuki Murphy
Jack Jerome Nadon
Nabil Andre Namy
Mia Jade Nash
Natalie Rose Navarro
Amanda Lauren Nelson
Matthew Alexander Nelson
Joshua Mason Nero
Jillian Mai Nguyen
Nicole Anh Nguyen
Rianna Christine Nguyen
Mahrou Nia
Maximus Li Nie
Joseph Gregory Noble
Zohal Nourzia Noorzayee
Jaeyoung Oh
Nathan Daniel O'Hara
Colin Tadashi Okura
Skyler Nicole Olis
Vianne Ellora Olsen
Kathy Michelle Oraha
Marshall Houlden Ordish
Nadia Dominique Cimafranca Origenes
Daniella Rose Orrante
Brooke Isabel Orrill
Avril Ortega
Alan Francisco Osuna Ramirez
Emily Grace Otero
Nicholas Owen
Justice Ka'anela Okalani Sam Pacheco Gladden
Chloe Elaine Padilla
Sydney Paige Palma
Joshua Pao
Sophia Shamsi Parizadeh
Jaehyeon Park
Alexis Lacy Parker
Malia Grace Patopoff
Lauren Noel Pattee
Carissa Renee Pattschull
Jordan Elizabeth Paulson
Andrew Alexander Pavlovsky
Smith Robert Peart
Sierra Ashley Peckins
Juliana Eliza Perez
Samantha Perez
Devin Perlow
Raven Nicole Perone
Caleb Jeffery Peterson
Aria Hamid-Reza Pezeshkfar
Emily Lenea Phan
Alex Timothy Pimentel
Giovanna Pineda
Sicilly Arianna Piza
Zachary Herschel Plosker
Cale Brandon Plummer
Sarah Silvia Porrello
Prada Pothong
Mia Minez Powell
Jessica Nancy Prete
Joseph Jackson Procsal
Jonnathan Matthew Quijada
Kayla Rad
Logan Bleu Radewahn
Maximus Rafaniello
Sam Rafizad
Kjartan Johann Ragnarsson
Nicholas Maximus Ramirez
Remy Spiro Ramirez
Caprice Makayla Ramos
Devean Raul Ramos Campos
Hamood Ahmad Rana
Jacob Cory Rangel
Chloe Patricia Raygoza
Oliver James Reader
Thomas Joseph Reagan
Neuman Jeremiah Reed
Nicole Riley Referente
Avery Megan Reiter
Jennifer Reyes
Mahrad Reyhani
Kaden Thomas Reynolds
Aaron Thomas Rice
Natasha Elise Riding
Adam Blaze Rigney
Mario Rivera
Kyle Alexander Roath
Cooper Jacob Robie
Alan Robles
Angelina Rose Rodrigo
Santiago Rodriguez
Tristan Martin Rodriquez
Benjamin Luan Roebuck
Anastasia Stacy Rogachevsky
Rena Rae Rogers
Robert Raymond Rojo
Maia Storm Rollins
Isaiah Romero
Olivia Marie Romero
Kayne Kennedy Ross
Taylor Jan Rossman
Amirali Rostami
Jarmaine Louie De Guzman Roxas
Natalie Mela Rudin
Ivar Cruz Rydstrom
Justin Ryoo
Victoria Marie Sachse
Yas Saffar Darkiyani
Diego Salas
Nathan Cole Salas
Ixchel Tonansin Camacho Salazar
Kevin Saldana
Robert Jacob Saldana
Madeleine Lily Salehi
Ishika Ramdas Sameth
Zeth Isak Sandoval
Kaitlyn Grace Santala
Jason Travon Scarbrough
Skylar Reese Schlicht
Christopher Wayne Schrader
Carly Marie Schuerger
Adam Joseph Schwab
Jadyn Dominique Scott
Triton Garet Scott
Sydney Alaine Seder
Dahlia Brittany Serratos
Morteza Ali Shahab
Madelin Elaine Shepard
Helena Bella Shoar
Armand Noah Sicat
Sydney Leigh Sienes
Joshua Winston Silk
Praneeta Sirigiri
Lauren Annemarie Skiba
Keith Allen Smith
Spencer Sae-Chan Smith
Kaila Ann Snelling
Aidan Martin Snider
Michaela Rose Snook
Jay Manoj Solanki
Elijah Makai Solomon
Arash Soroushiani
Giovanna Soto
Sierra Isabella Soto
Jazmine Esmeralda Speiginer
Nicodemus Isaiah Spinarski
Samantha Elizabeth Springer
Andrew David Standen
Parkere Harrison Starnes
Joel Eero Matti Steenari
Zackary Gene Steinberg
Kristen Clare Stelzner
Skyler Nicole Stephan
Evelyn Mae Stevens
Skylar Isabella Stevens
Zachary Andrew Stevens
Connor Dallas Stewart
DeVonta Tremaine Stewart
Sierra Joy Stewart
Michelle Analeigh Story
Devin Berkan Stothers
Jillian Kiyomi Stowe
Tyler Patrick Styskal
Noah Scott Sudyka
Ramtin Sufipur
Michihiro Irvine Sumimoto
Catherine Elizabeth Swanson
Kelcie Marie Tacea
Jessica Tadokoro
Galen Kealoha Tagupa
Carter Ryan Tangard
Amani Rose Taraman
Cyrus Ali Tavakkoly
Trevor William Taylor
Aidan Noah Thomas
Kyle Thomas
David Merriweather Thompson
Tanner Dennis Thorp
Alexander John Thurston
Ethan Dylan Tozek
Cameron Cole Troup
Maria Trueba Heyser
Emily Lauren Turner
Haeun Um
Alexander James Umberger
Romina Valizade
Connor Evan Valle
Samuel Robert Valley
Avalon Skye Valousky
Roos-Marijn Yvette Victoria Van Den Berg
Julia Mae Van Grol
Ashley Nicoll Van Hoften
Noah Declan Vardoulis
Milana Vasilevskaya
Michael Charles Vees
Christopher Vega
Mathew Vega
Daniela Velez
Olivia Gianna Ventura
Delia Elise Vera
Victoria Maria Vernaza
Angelo Antonio Vescovi
Kaitlyn Avery Vetica
Shardul Srikrishna Vijay
Isaac Valdivia Villa
Karen Villagomez Diaz
Brandon James Villines
Lauren Elizabeth Vincent
Alejandro Vouilloux Vega
Kevin Antonio Vu
David Primo Walker
Alexa Greyson Walsh
Thomas Reese Walsh
Daniel Ralph Wanderling
Joan Wang
Abigail Marie Ward
Sophie Ella Warth
Carter Thomas Watson
Nathan Casey Weber
Taylor Grace Wedlock
Hunter Garrett Weedman
Hayley Ora Weidhaas
Charles Roman Weiler
Carley Ann Wellen
Erin Marie Werkmeister
Dylan Lars Wihelmsson
Emma Catherine Wilkie
Akiko Williams
Amber May Williams
Kazuko Williams
Tamu Tiruneh Williams
Tyson Izear Williams
Christian Joseph Willis
Aidan Joseph Wilson
Rachel Ann Wilson
Cristian Scott Wimberly
Kyndle Ann Winchester
Ariel Isaac Winograd
Sophie Faith Wojcicki
Micah Nathaniel Wong
Richie Raymond Wong
Ethan Davis Woods
Kayla Monee Wortham
Audrey Xia
Margaret Xu
Nikki Yaminrafie
Ernest Liwhy Yao
Danya Sara Yassine
Ibrahim Ali Yassine
Stephan Art Yegorov
Mateo Anthony Yepiz
Ryan Kaimana Young
William Yeogon Yun
Ali Shahram Zaki
Aaron Matthew Zeccardi
Parsa Mehrabani Zeinabad
Amanda Nour Musa Zeitawi
ManFei Zhao
Megan Suzanne Zolinski
Jackson Troy Zuckerman