By Dominique Kirton
Walking into Oak Grove Elementary School's front office, visitors are greeted with an unusual sight: one big, red golden retriever, and one young golden retriever puppy, lounging around and lapping up attention from students and staff passing by.
Swenson, a 16-week-old puppy wearing a Guide Dogs for the Blind training vest, is energetic and eager to learn. Trinidad, the older, more mature golden retriever, has a keen sense for students with special needs and for times when students may need extra care. He tends to comfort students by placing his paw on their hand and sitting quietly with them.
"When I was sad, I went over to him and snuggled with him," said third-grader Ruby Waite, who has known Trinidad for two years. "He comes into class and makes me feel better."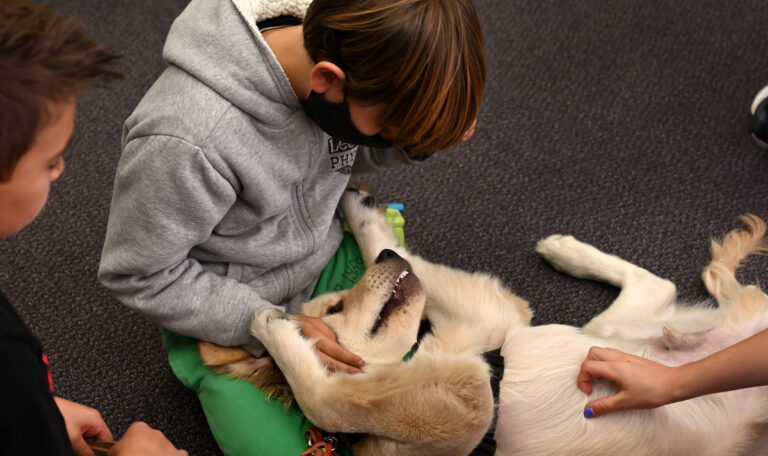 Trinidad is a fixture on the campus, having been adopted by Oak Grove Office Manager Montse Gray after he just fell short of passing certification with Guide Dogs for the Blind.
"Dogs lower the stress levels of students," Principal Jill O'Connell-Bogle said, adding that the animals act as a resource for students' overall mental well-being. "The dogs are extremely empathetic, and he (Trinidad) just loves on them."
Trinidad is known for "making us happy and snuggling with everyone," says 8-year-old Ethan Carbajal, who has known Trinidad for three years.
When Ethan broke his ankle and had to sit out during outdoor play time, he was comforted by Swenson, a 16-week-old puppy in training, who gave him companionship and lots of playful licks during what would otherwise have been a hard time.
Oak Grove Office Manager Montse Gray began volunteering with Guide Dogs for the Blind in 2016, not long after she began working at Oak Grove. While she was working with her first dog, Trinidad, she asked O'Connell-Bogle if she would be open to having the dog join her at school during the day. O'Connell-Bogle immediately agreed.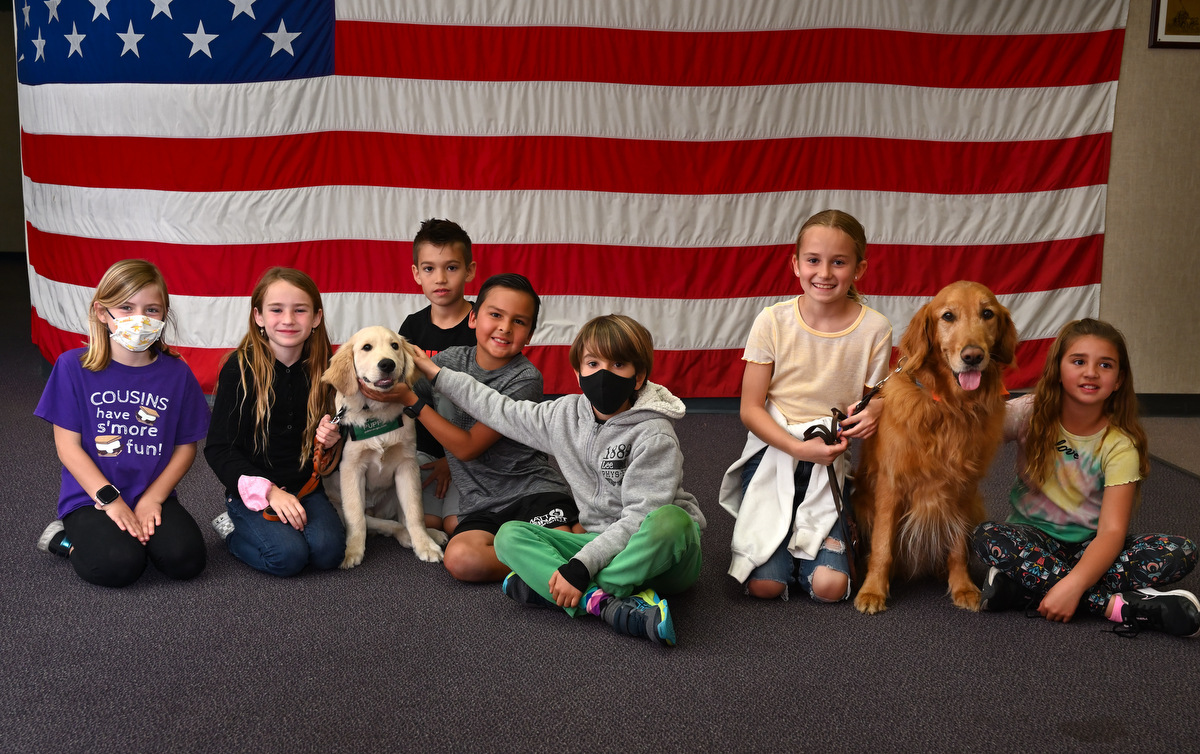 Oak Grove students can earn a "puppy pass," which allows them to visit the dogs during the school day.
"(The students) do such a great job — they help not only guide them, but socialize them and keep them company — it's unbelievable," Gray said.
Third-grade teacher Katie Weirath welcomes classroom visits from Trinidad.
"Seeing the dogs is usually a reward," Weirath said. Occasionally Trinidad will visit classrooms and walk around each of the students' desks, lingering at a desk when he can feel a student is anxious or having a hard time.
In Weirath's classroom, students know they are expected to continue doing their work while the dog visits.
"[Trinidad] supports their social emotional learning. It makes them feel calm, it changes their mood, which affects their academics in a positive way," Weirath said.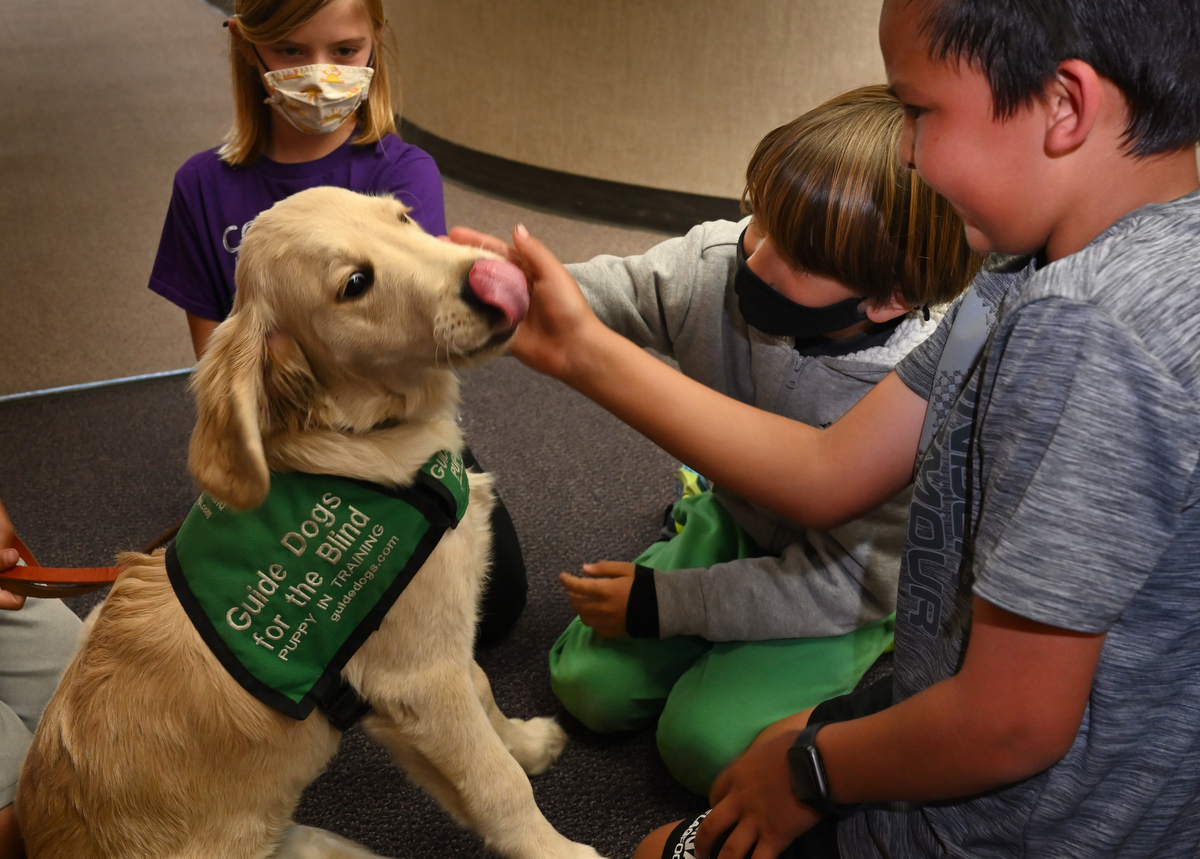 Due to the impact of the COVID-19 pandemic, children need emotional support more than ever.
In October 2020, research from the Kaiser Family Foundation showed that 31 percent of parents said their child's mental or emotional health was worse following the pandemic.
Indy Campbell, 8, goes to the front office to see Trinidad and Swenson when she is feeling frustrated.
"The dogs help keep me calm," said Indy, an aspiring dog trainer who has her own golden retriever, Hank the Tank, at home.
The dogs inspire the students so much that one girl — Ruby — even built a likeness of Trinidad as her craft project. She was inspired by him and created a fun box for her Valentine's cards. She used a cut-out drawing of Trinidad's face at the front of the box, and glued paper dog legs to the sides.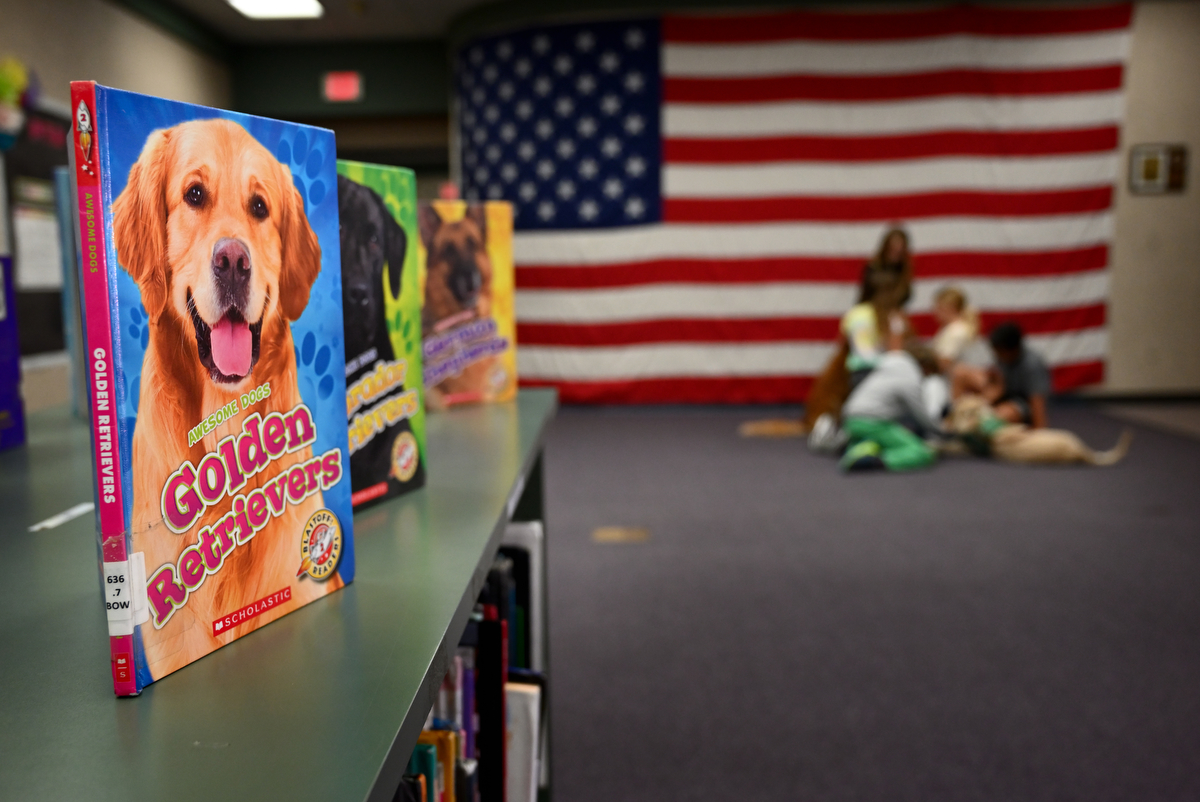 Oak Grove staff encourage students to spend time with the friendly animals, even reading books to them or sitting near the dogs while they study.
"Studies show that reluctant readers benefit from practicing reading to dogs," O'Connell-Bogle said. "Trinidad is a great listener and doesn't interrupt or make corrections… he patiently listens."
The Early Childhood Education Journal conducted a study on The Impact of a Therapy Dog Program on Children's Reading Skills and Attitudes toward Reading. All educational staff noted improvements in reading, and the study noted "10 of 12 participants felt those gains were specifically due to the reading programs… Areas of improvement included vocabulary, oral fluency, expression, and reduced errors".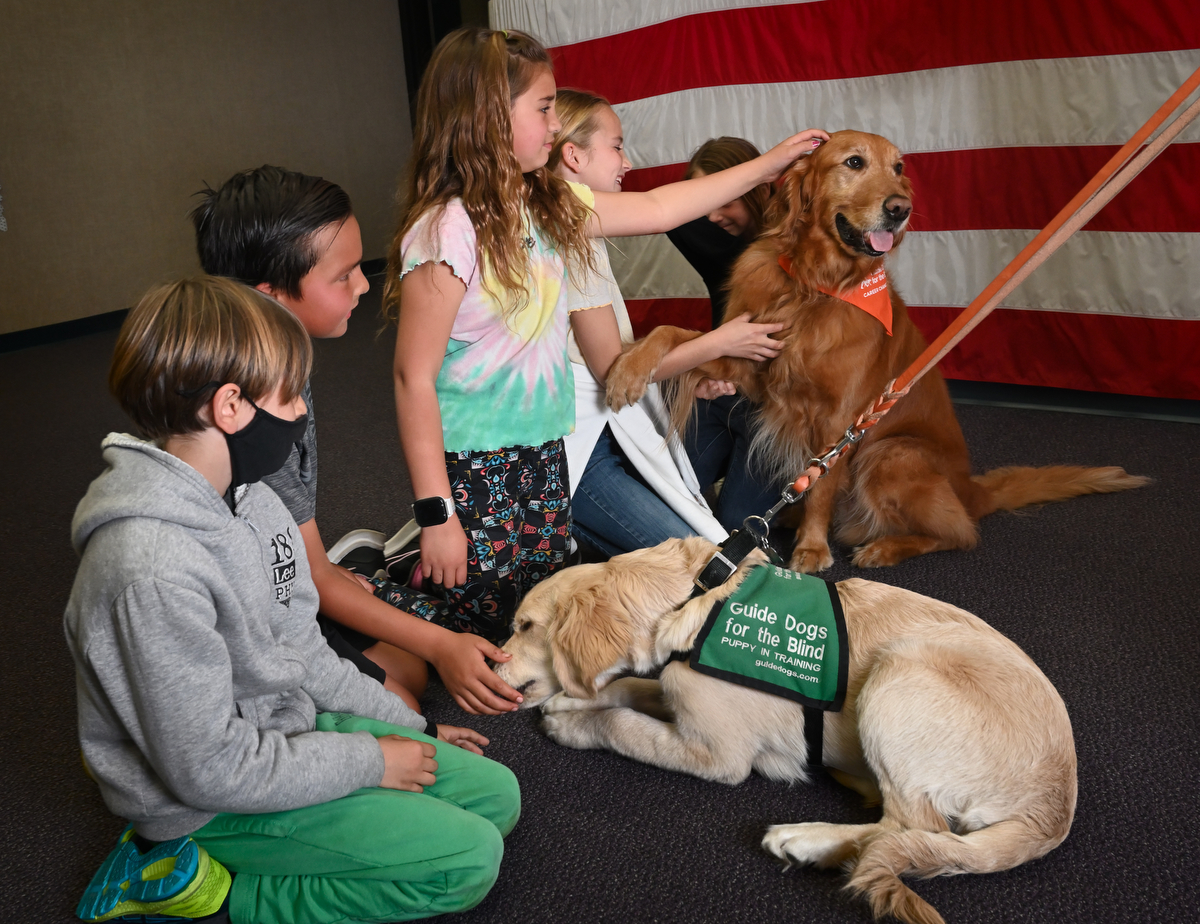 Gray is now training her fifth Guide Dog for the Blind. Two of the dogs she trained are now serving blind or visually impaired people in New Mexico and Toronto.
Located in San Rafael, Guide Dogs for the Blind is celebrating 80 years of guide dog training, in which the organization has helped 16,000 guide teams graduate from the program. The dogs go through eight levels of intense training before landing a spot by the side of a blind or sight-impaired person. Not all the dogs make it, however. Some dogs, like Trinidad, fall short of their certification and instead transition into new roles. Guide Dogs for the Blind calls these dogs "career changed."
Gray's second trainee, Pete, was also a career changed dog, and was adopted by the O'Connell-Bogle family. Pete now serves as the "Trinidad" of Oso Grande Elementary.
Learn more at https://www.guidedogs.com/.