By Greg Mellen
Led by the San Clemente Sparkle Squad chanting, "Let's go Sunshine," and dancing to the Barbie song "Get Your Sparkle On," the seventh annual Sunshine Awards for Exceptional Educators kicked off in rousing fashion.
This year, the Capistrano Unified School District let the sun shine in on one of its premier annual awards ceremonies for those who work with students with special needs. For the first time, the event was staged outdoors, at the recently rejuvenated Capistrano Restorative Garden and Learning Center.
In addition to offering literal sunshine, the setting provided a nice metaphor for the school district emerging from the shadows of the COVID-19 pandemic.
Since its inception, the Sunshine Awards have been presented in the confines of a boardroom at the district offices. The COVID-19 pandemic forced the awards event to go virtual.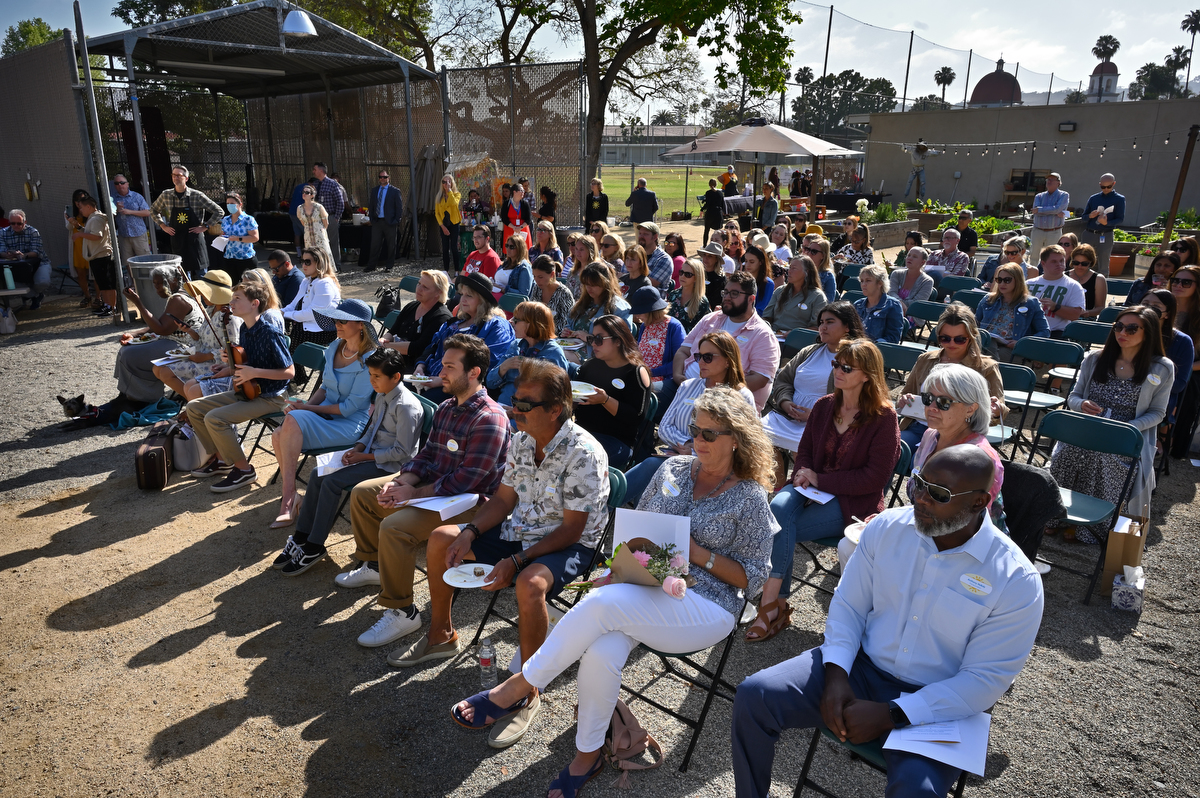 Rachel Sutherland, Chairperson of the Executive Board for the Community Advisory Committee for the Special Education Community, or CAC, loves both the setting and its symbolism.
"I fell in love with the garden the first time I saw it," she said. "Many of our special education students will end their CUSD journey in this place."
The garden is a joint project of the Adult Transition Program, Bridges Community Day School, and Continued Learning Adult Special Services (CLASS). Teachers, volunteers, and students rescued an under-used plot of land behind the playing fields at San Juan Elementary School and restored it into an operating garden.
The trio of education programs provide vital services to students and the school district. Bridges is an alternative to residential treatment centers; the ATP is for students up to 22 years old with moderate to severe disabilities; and CLASS is a voluntary program to help students who did not obtain their diploma after four years of high school earn diplomas and employment.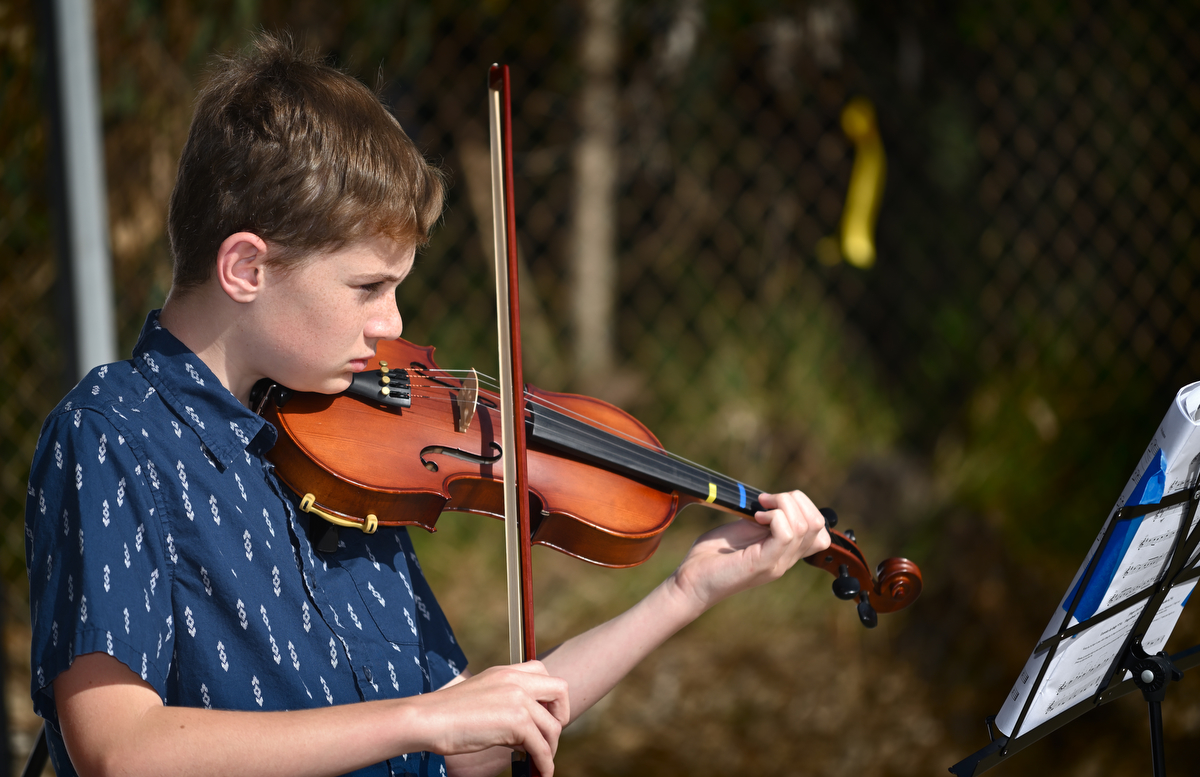 The Sunshine Awards ceremony is a special educator recognition event. Parents or family of students with special needs can nominate any staff member who has made a positive impact in their child's life. All that is needed is a letter from the family nominating the staff member and they earn a Sunshine Award. Some staffers are nominated more than once. This year, about 150 staffers across the district ranging from teachers to aides to bus drivers were recognized.
At the event, permanent banners celebrating the 42 schools and organizations festooned fences surrounding and leading into the event.
Testimonials
At the awards ceremony, sample letters were read aloud and students entertained with special performances. Honorees received a certificate, gift, and the letter from their nominators. The permanent banners returned to the schools with the winners.
One sample letter was written by Rory Moore.
"Ms. Elyse has been a hero of my son, Henry," Moore read from her letter about Elyse Morrow, a teacher at Moulton Elementary. Moore went on to praise the teacher's compassion and attentiveness, saying it has been "life changing" for her son.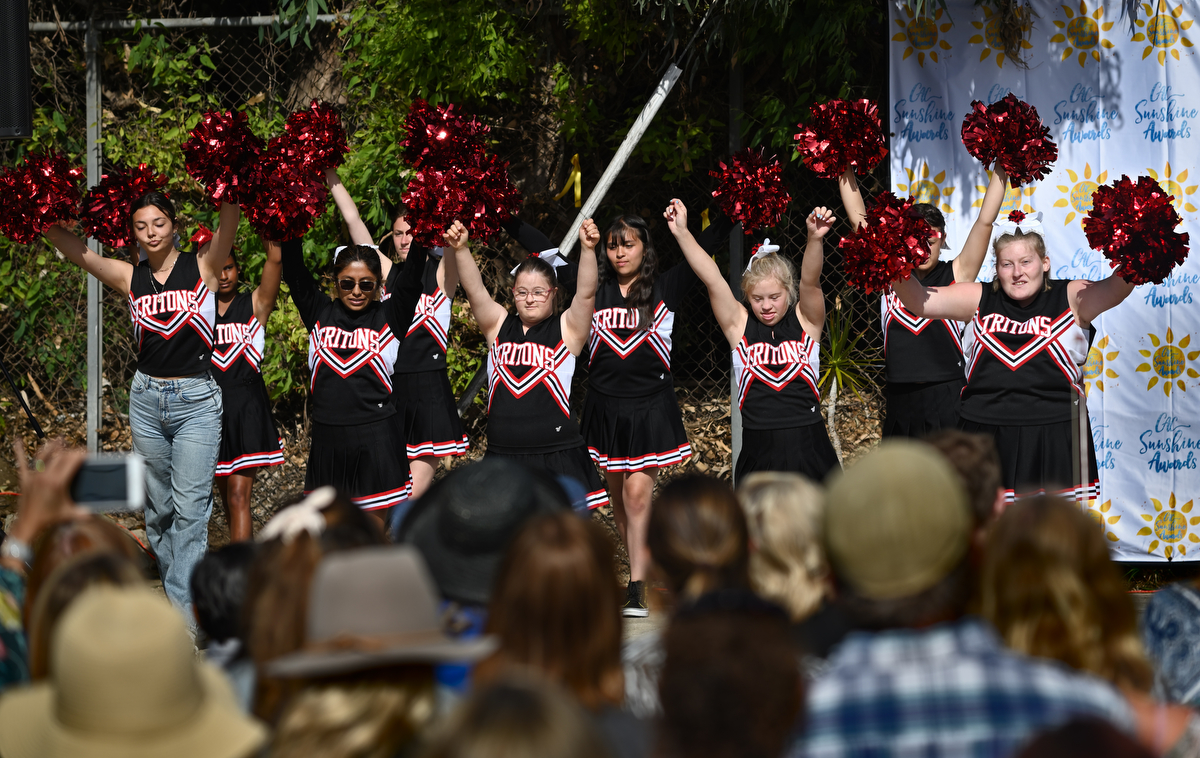 Four students performed during the ceremony: Jacob Mathews of Bernice Ayer Middle School performed a Brahms Waltz on violin; Finley Bloom of Marblehead Elementary read "Invictus," by Ernest Henley; Mark Wagner of Dana Hills High danced energetically to "Natural," by Imagine Dragons; and Charlie Horner rocked the house singing along to "This is Me," by Demi Lovato.
Horner, 21, sporting a "Fear the Deer" t-shirt, has performed at every in-person Sunshine Awards ceremony and has won a number of awards for his vocal stylings. Wagner, 17, says "I love dancing," and has proved his ability by winning a 2020-21 National PTA Reflections award for Dance Choreography.
Several special honors were given as well, including the inaugural "Big Kahuna" to Barbara Kakuda, a longtime volunteer, and Caitie Atencio, an education specialist at Shorecliffs Middle School and multi-parent nominee. Kakuda, who has been a behind-the-scenes workhorse for years and calls herself "just a parent,' was taken by surprise with her award.
"I appreciate it because we all love this event," she said. "I've been happy just to be a part of it."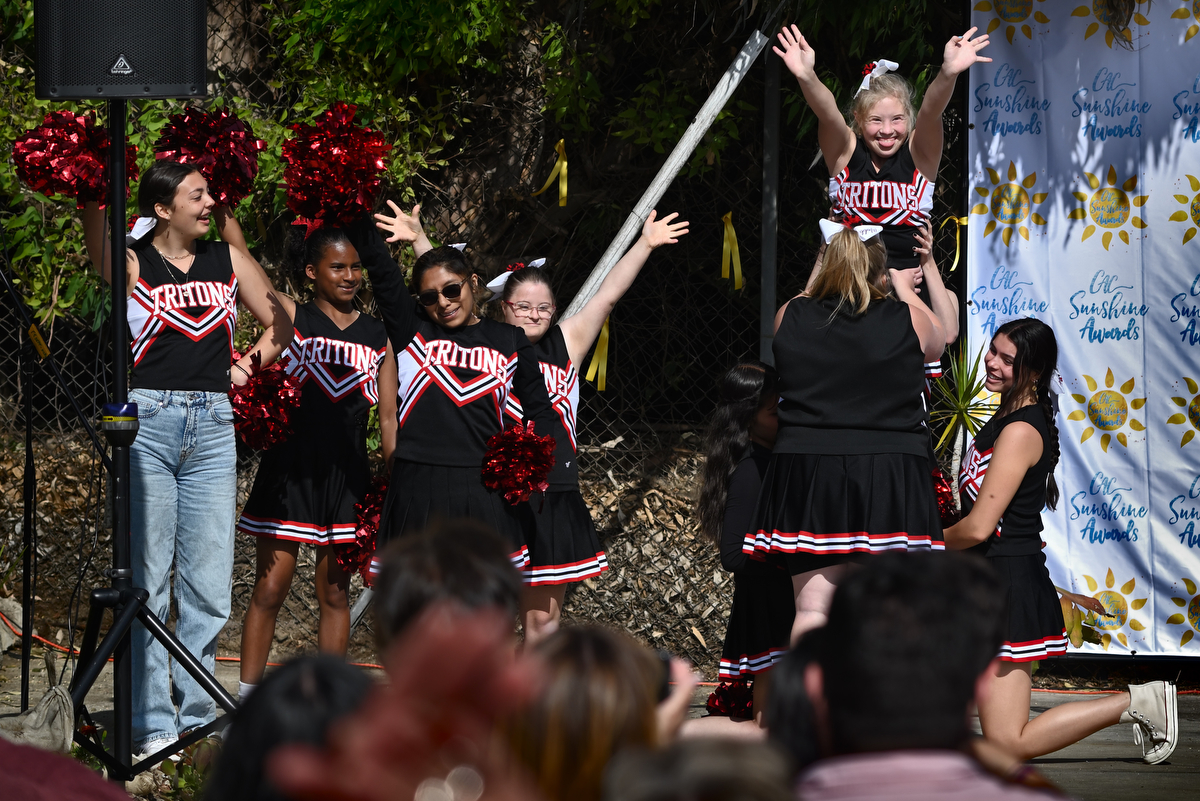 Also recognized with A Very Special Sunshine Awards was Amy Hanacek, a CUSD board member, who donated to and supported the project, and Mina Carson, Vice Chair of the CAC Board.
Reclamation
The land's journey to its current state is its own tale that traces back to Michele Dorn, a former education specialist with CUSD, who spotted the weedy plot of land and a languishing orchard on her daily walks after she became an instructor at Bridges.
Over the years, Dorn tilled the legislative soil and cleared away the administrative underbrush to start the process of restoring the garden and orchard. Since then the physical tilling and clearing have been done mostly by students from ATP with plenty of help from teachers and community volunteers.
The reclamation has had its share of bumps, particularly during the pandemic, but now is back to nearly full flower. A number of raised beds and planters cultivated by students and teachers greet visitors. In the boxes are assorted produce and flowers. In the past the planters have yielded onions, tomatoes, peppers, and eggplant.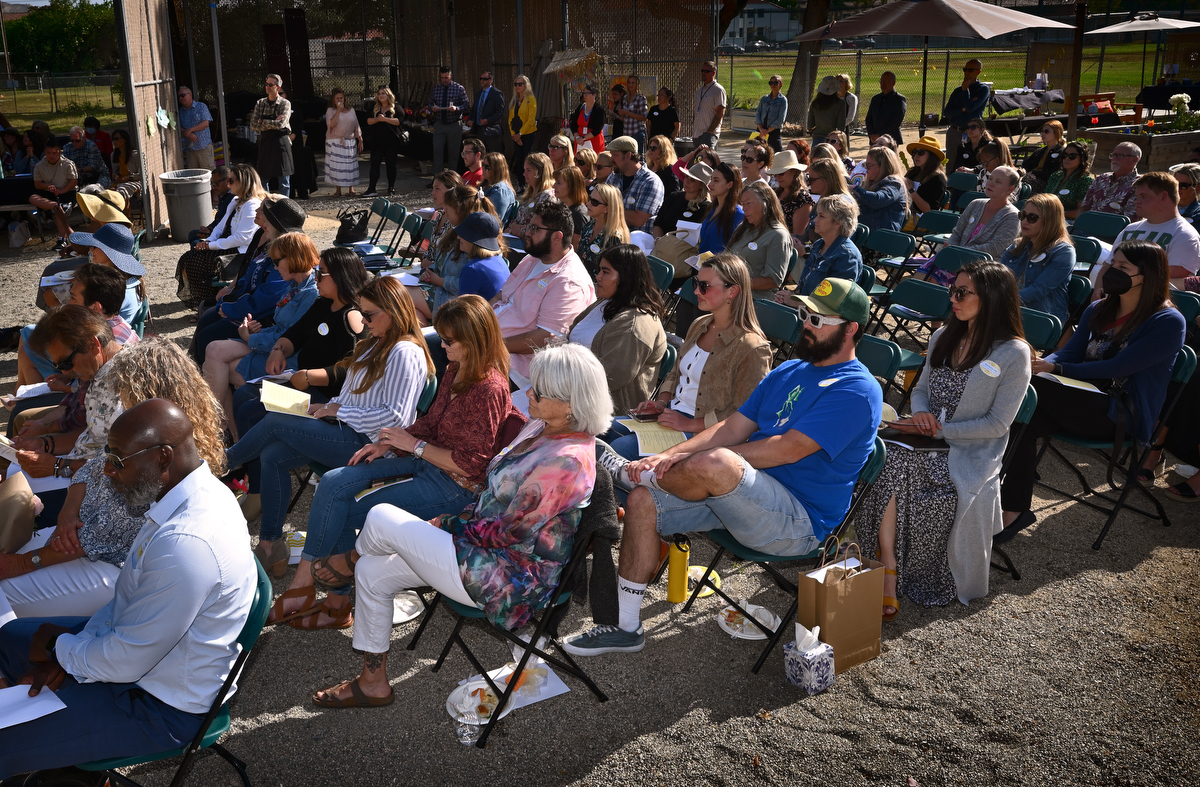 Along the fences are stainless steel planters where rosemary, sage, lavender and lettuce are taking root. Along another fenceline corn has been planted. In one corner is a new succulent tropical garden, adorned with a manhole excavated during the cleaning of the lot. There is a landscaped memorial bench and garden where visitors can sit and reflect. There are plans to set off another area to recognize the indigenous Acjachemen people, possibly with a replica home and local floral.
At the center of it all is the orchard that first caught Dorn's eye. Originally planted and cared for by Alfonso Gutierrez and later tilled by students in the local Regional Operational Program (ROP), the orchard now boasts more than a dozen trees and saplings, many from cuttings donated by area residents, according to Brian Howell, an education specialist with ATP. Dominating the orchard is a mature loquat tree, the first one planted by Gutierrez, along with a fig tree and a Mexican lemon-lime hybrid.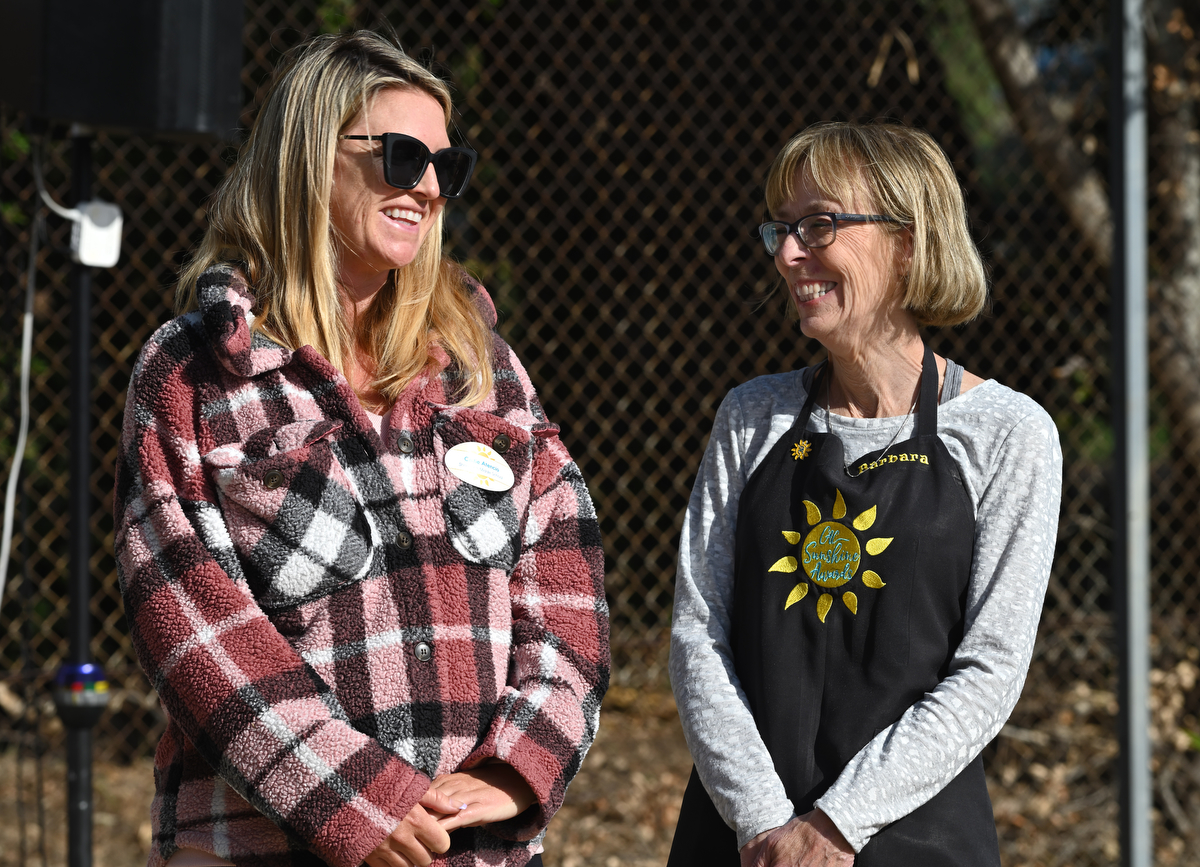 Over the course of the spring, Howell said he has easily eaten hundreds of the loquats and would like to see jams and salsas from the orchard prepared and sold locally.
Seated in a wheelchair and watching the proceedings from the rear of the crowd, Gutierrez enjoyed seeing the orchard being brought back to life as he invited an attendee to join him as he plucked a couple pieces of ripe fruit from the tree.
Asked what thought about it all, a smile spread across Gutierrez's face.
"I thought it was a great idea," he said.
Howell summed up the restorative healing nature of the garden and using it for events like the Sunshine Awards.
"Students come out and they listen to the wind in the trees and the birds and it changes them," he said. "It changes everyone."