By Avery Edward
Every spring the Los Angeles Angels of Anaheim recognize standout AVID students from all over Orange County.
This year, eight eighth-grade AVID middle school students in Capistrano Unified are being recognized: Yara Hernandez of Shorecliffs, Nick Lankford of Carl Hankey, Charles Brittingham of Don Juan Avila, Cade Spinello of Ladera Ranch, Natalie Ramirez of Marco Forster, Janet Gonzalez of Newhart, Ashley Galeana of Niguel Hills, and Gilberto Tapia of Vista del Mar.
Each student will receive a laptop computer provided by Angels Foundation.
These students were chosen from more than 3,000 eighth-graders from AVID schools and 17,000 secondary AVID students in Orange County.
In a typical recognition, the awarded students, their families, friends, and teachers gather in Angel Stadium, sitting behind the dugout and stepping onto the field to watch their names and photos displayed on the jumbotron and garner much deserved praise for their achievement.
But this year, the festivities were cancelled amid social distancing measures.
Yara Hernandez, Shorecliffs Middle School's standout student this year, may not have realized the festivities she would be missing, but her AVID teacher, Robbin Carter, did.
Recognition under the bright lights of Angel Stadium "shows them that they are worthy and that they can accomplish so much," Carter said. "In my heart I wanted her to realize what an accomplishment this was."
Carter called Shorecliffs principal Dr. Chris Davis and rallied Yara's teachers, friends and family to create a socially distant celebration at the Hernandez home.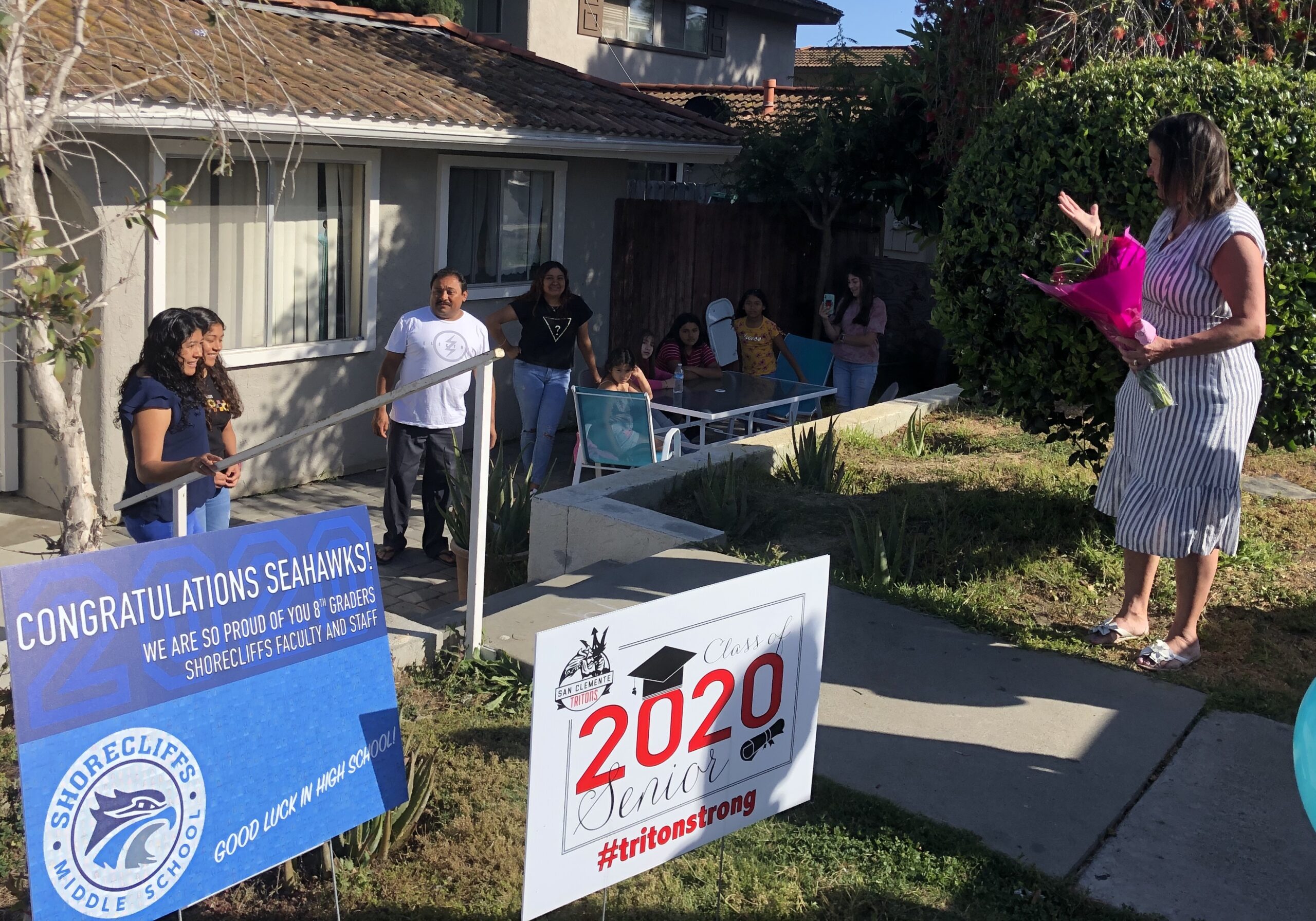 Carter and Davis, along with teachers Tammy Graham, Chris Darnold, Cherie English, and CUSD Trustee Amy Hanacek, met outside the family's San Clemente home. Yara's biggest fans brought signs, smiles and sincerity to congratulate her on being Shorecliffs' standout AVID student of the year.
While Yara is described as a "quiet, humble presence," her hard work, diligence and kind heart are unmatched. School leaders say this standout Seahawk epitomizes intelligence, sincerity, and perseverance. Yara's parents left Mexico in order to provide a better future for their children. Yara, the second of four daughters, understands the importance of that sacrifice and strives to make her parents proud and set a stellar example for her younger sisters.
Yara says that being in AVID has helped her to become the person she is meant to be. Through her work in AVID, Yara has expanded her problem-solving and organizational skills, and received opportunities to give back to her community. Recognition of this hard work, Yara says, has helped instill in her a greater sense of confidence.
"It was a great feeling when my teachers celebrated my victory because they took time out of their day to celebrate me," Yara said. "The best thing about AVID is that they are a family to you."
Yara says that best thing about AVID is that "you can make mistakes and they help you grow."
The best thing about her AVID teachers?
"They're helpful, funny, kind and they encourage their students to do their best. They always find a way to help a student," Yara said.
Yara aspires to attend the University of California, Berkeley and pursue a career as an immigration lawyer after she graduates from San Clemente High School.
Nick Lankford of Carl Hankey Middle School also received the honor. Principal Dana Aguilera describes him as caring, honest and responsible. Always striving to give his best effort, Nick's energy and strong work ethic earned him the honor and distinguish him as a leader in the community, Aguilera said.
"He has an excellent sense of humor and he has the ability to think outside the box and solve problems effectively," Aguilera said. "He's kind and respectful and thoughtful."
From Don Juan Avila Middle School, Charles Brittingham embodies an exceptional AVID student, school leaders said. His ability to go above and beyond to create a positive environment for his peers, his strength in mathematics and calm leadership style make him an optimal AVID Standout.
"His most impressive characteristic, though, is his leadership," said teacher Casey Campbell. "He knows how to exude a cool, calm demeanor that helps his teammates focus in any challenge. They feel more confident and at ease when they know they have him as a teammate."
Cade Spinello of Ladera Ranch Middle School was named a standout for his good grades and countless hours of community service, as well as his positive attitude and for being a role model and leader to those around him.
"Cade has tremendous grit and is an asset to our class and our school," teacher Shari Suda said.
Natalie Ramirez received the honor for Marco Forster Middle School. Natalie has an impeccable GPA, works with ASB, is an athlete on the school marathon team, and volunteers by tutoring elementary students and packing food for families in need through the San Juan Capistrano Mission.
"Natalie is loved by her classmates and respected by everyone," AVID teacher Kevin Gerow said.
Newhart Middle School's AVID Standout was awarded to Janet Gonzalez. Always taking initiative and striving to improve, school leaders said Janet's perseverance and growth mindset make her an exceptional leader and team player both on and off campus. She is kind to others and has a positive attitude.
"She is determined to succeed with every challenge without letting obstacles deter her," teacher Lora Harvey said.
Ashley Galeana has grown immensely during her time at Niguel Hills Middle School, English teacher Denene Freeman said. Her extraordinary improvement academically and her development as a leader makes her an inspiration to all Niguel Hills students and an exemplary member of the AVID program. Her perseverance earned her this year's AVID Standout award.
"She is a leader, she has found her voice, and has become such inspiration to all students," Freeman said.
Vista del Mar Middle School awarded the honor to Gilberto Tapia. Described as representing everything an AVID student should, Gilberto knows when to ask for and offer help. His willingness to work hard and consistent helpfulness make him an AVID standout.
"He is determined to overcome adversity, he leads by example, he asks for help when needed, and he is always willing to help his peers," teacher Margaret Dubel said.