By Nicole Berkman, College and Career Advantage
In April 2023, over 4,000 students from 160 schools, 18 states, and 6 countries will come together in New York City for the Virtual Enterprise Youth Business Summit. To qualify for the national summit, students must earn top rankings at both their local and regional competitions. Mr. Wooten and his Virtual Enterprise classes at San Juan Hills High School are no strangers to the intense 3-day event in New York, having competed and placed in the past. According to the event's website, it is "a dynamic week of business competitions, leadership events, and professional networking, rising talent from middle and high schools around the world display the professional skills and business acumen they have developed by running a Virtual Enterprise company during the school year." To Mr. Wooten's 1st-period class, it is a chance at redemption.
This year, Mr. Wooten's Virtual Enterprise classes started as always–Mr. Wooten posed a simple question, "what is a problem that needs to be solved? How can we create a product to solve this problem?" The students brainstormed and used a process developed by Intuit called Design for Delight to narrow down their responses and focus on a plausible solution. Each class chose one problem to focus on, then they got to work. The two companies that came out of this process were Neo and ParadICE.
Team Neo from Mr. Wooten's 3rd period posed the question, what happens when we throw wetsuits away? They are not biodegradable, so they fill our landfills when they are no longer usable. What if we could recycle neoprene into something new? The team researched their idea and found a UK-based company called Circular Flow to partner with. This company takes wetsuits and through a proprietary method, turns them into sheets of fabric. Neo can now take the fabric made by Circular Flow and turn it into whatever clothing they want, however, they are currently looking at outerwear options such as waders for fishing and jackets. Their proposal is simple–create a product that will make people feel good about what they're buying while keeping material out of our landfills. Neo's CEO is senior Rachel Warner. She is a veteran Virtual Enterprise competitor and is heading to New York for the second time in her high school career with a clear vision– Neo will stand out from the competition by utilizing their real-world connections and experience working with other start-ups like Circular Flow. Rachel said of the competition, "everyone comes prepared for the 10-minute presentation. It is the Q & A session that is a testament to how well you know your company", and she feels confident that they are prepared.
Mr. Wooten's first-period class company also solves an environmental issue–waste from desalination. ParadICE CEO William Meshkin was inspired by a story he heard about the Nuclear Generating Station in San Onofre being converted into a desalination plant. Growing up, he only heard good things about desalination–the process of removing salt from seawater to make it drinkable –it was going to save California from the drought. But, when you remove salt from the water, what happens to the brine that is left over? This is where Team ParadICE got their idea. ParadICE is a consumer cooler, much like an Igloo or Yeti, but the materials are comprised of a mixture of resin and the brine taken from the desalination process. It sounds too good to be true, however, the team has the scientific research to back it up. Unfortunately, the originality of their idea was their pitfall this year. Cade Holland of ParadICE said, "Almost all of the questions [from the regional judges] were asking whether or not it is a viable business model and can it actually be done… rather than asking questions about the fundamentals of the business and how we operate." William added, "The hardest part about our company this year is how innovative it is because this has never happened before. No one has taken the brine salt [from the desalination process] and used it to make a product–so a lot of people are confused when we tell them about our company." All is not lost, however. While ParadICE did not advance to the finals in New York with their business plan, they did make the top 30 in the US with their QuickBooks video submission– earning them their coveted spot at the conference.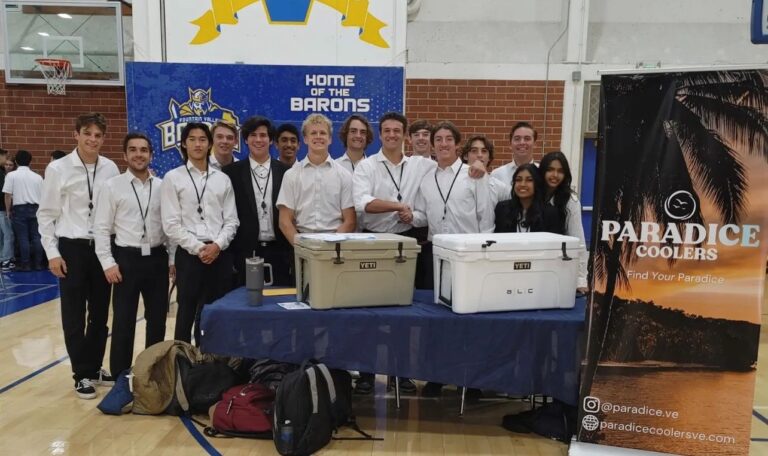 We look forward to seeing both of Virtual Enterprise's companies compete at the National Youth Business Summit in New York, and we will be looking for these products to hit the shelves of our local stores in the future.