"The Class of 2020 is an unforgettable class in an unforgettable year," said Brooke Valderrama, activities director at San Juan Hills High School.
San Juan Hills High School held a walk-through graduation procession on Friday, July 24, 2020 at the school campus.
The high school's graduating seniors sat in the passenger side of their family vehicle to await their graduation time, when they could walk the navy blue carpet to officially graduate and receive their diplomas. From a distance, family members were able to document the moment with photos and videos. All graduates wore face masks at all times, except when on the stage for the ceremony.
Graduation speakers were broadcast online so that everyone could listen.
"The challenges and adversity they faced have no doubt taught them how to persevere, think critically, and build character," Valderrama said. "My hope is the Class of 2020 reflects on the good times that did occur their senior year: Homecoming, cheering at games, a CIF football championship, pep rallies, plays and performances, clubs, dances, teachers, classes, and friends."
The graduates are listed in alphabetical order following the photo essay.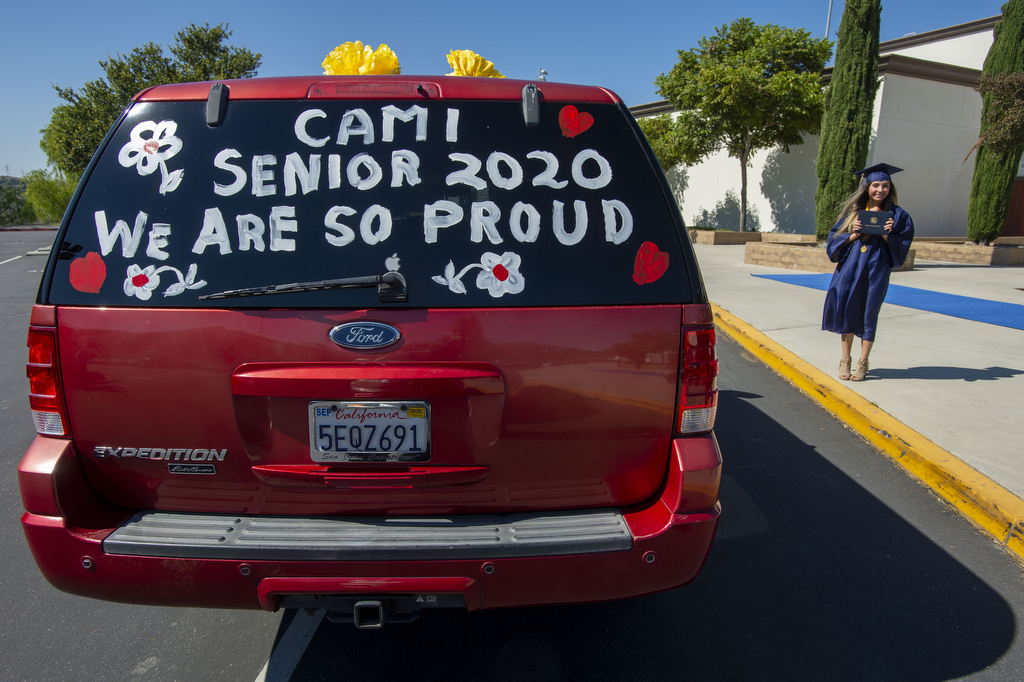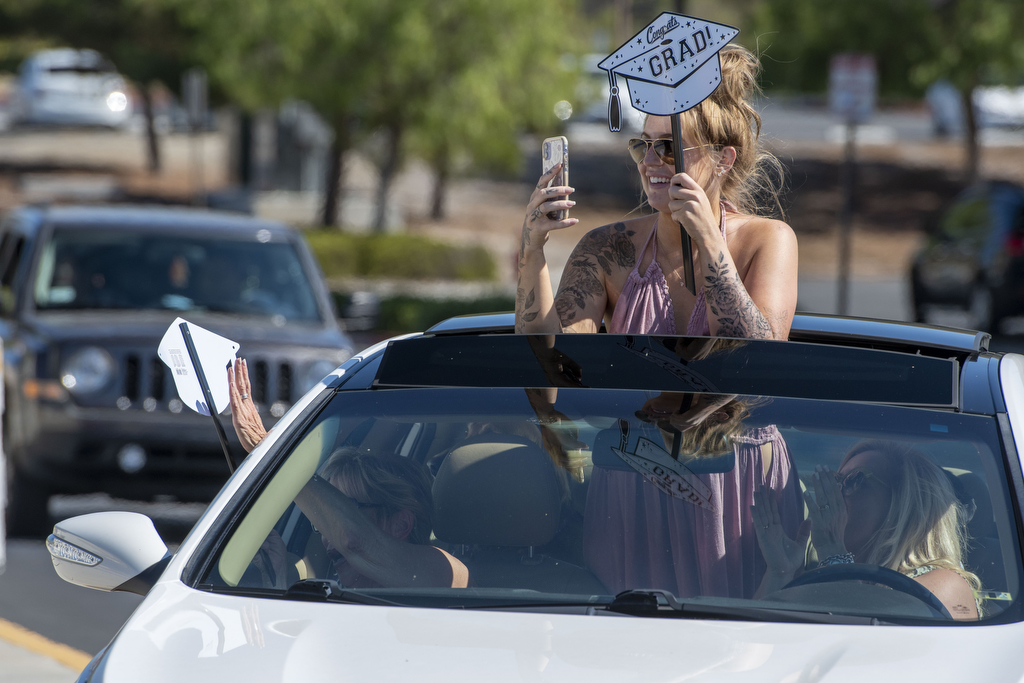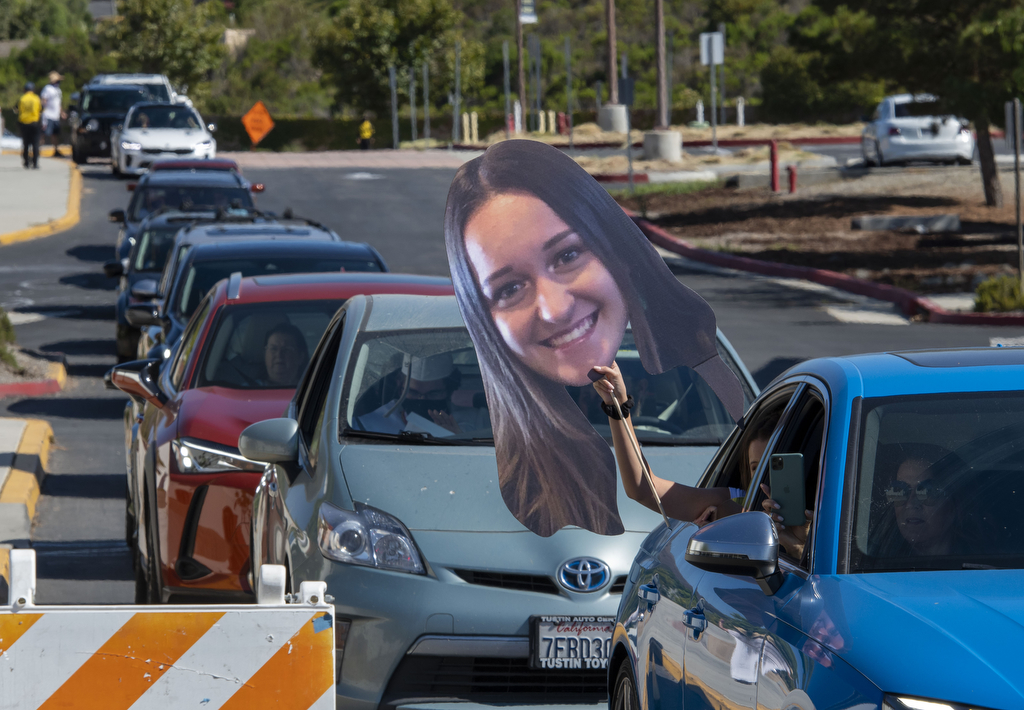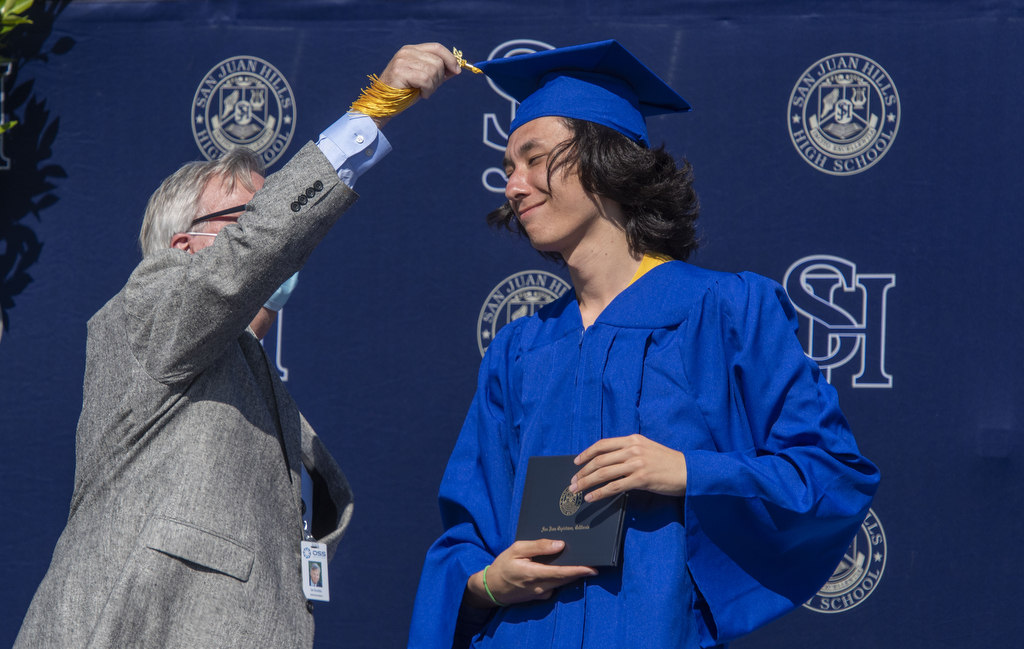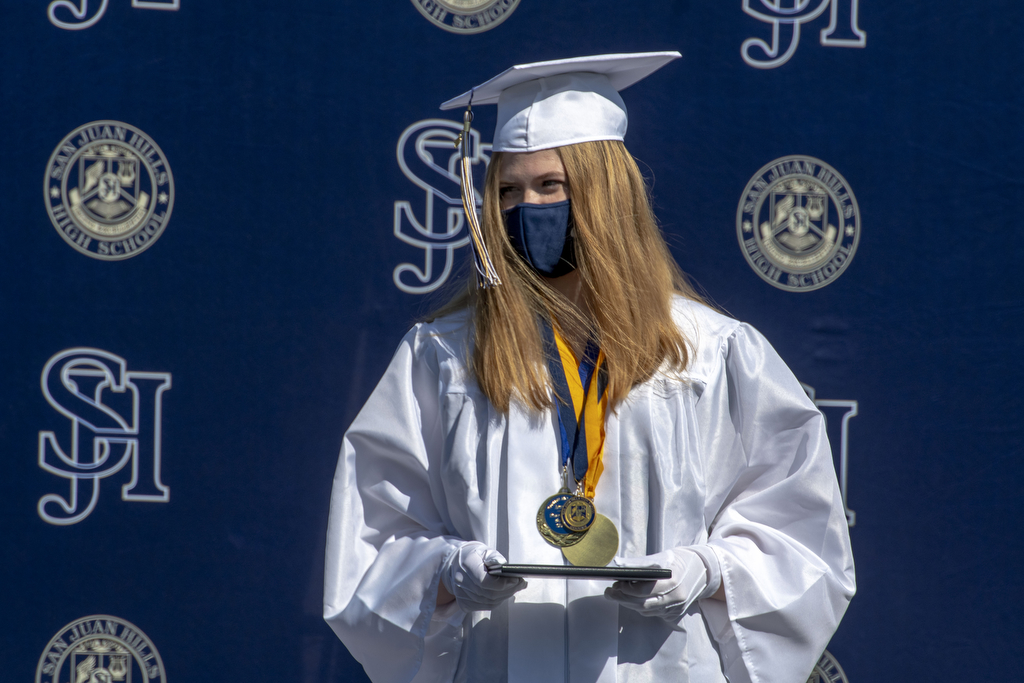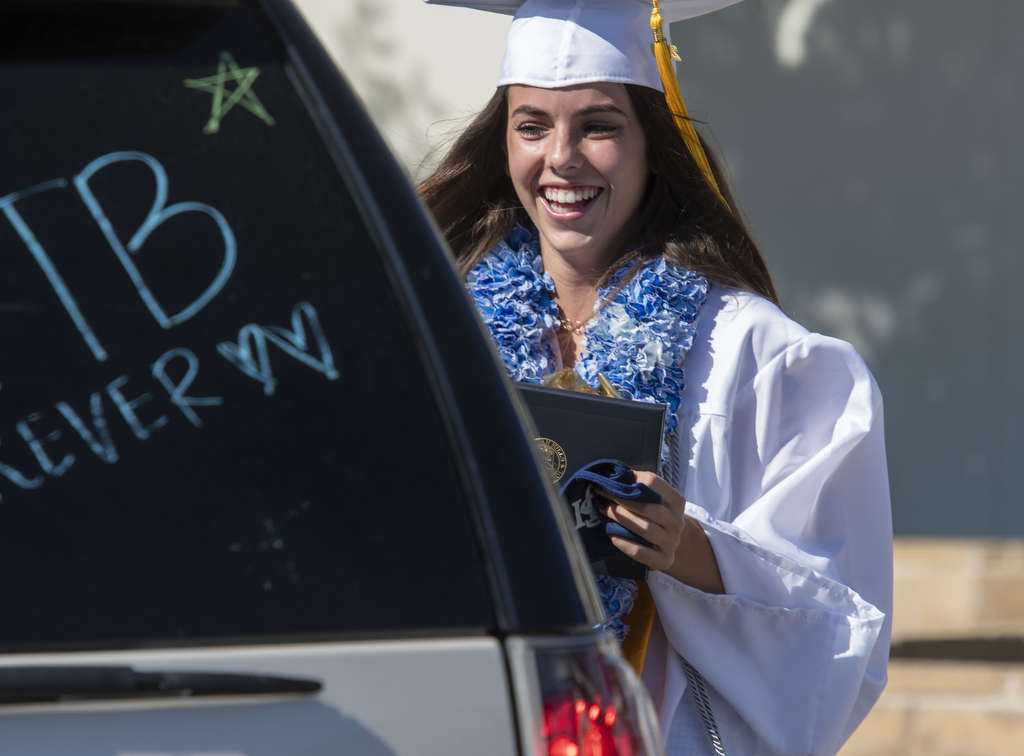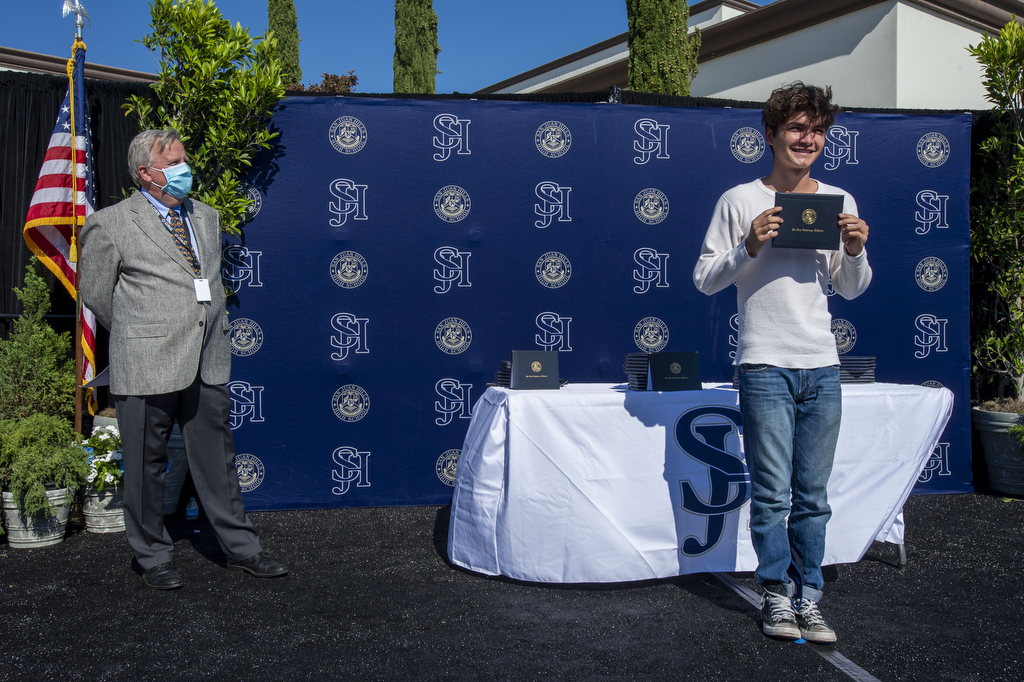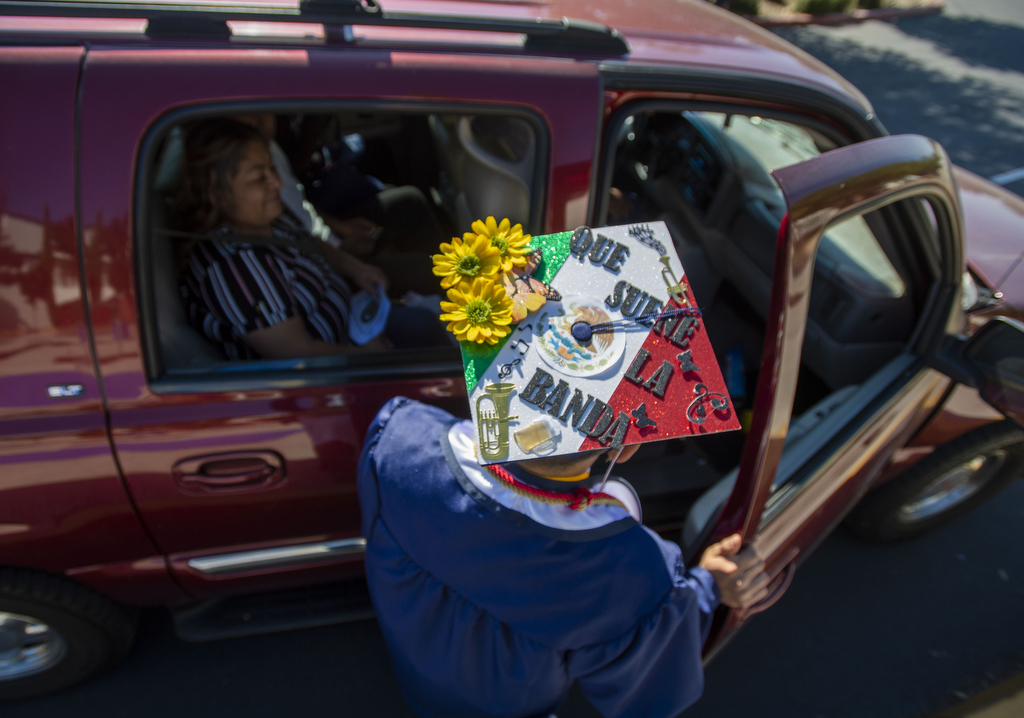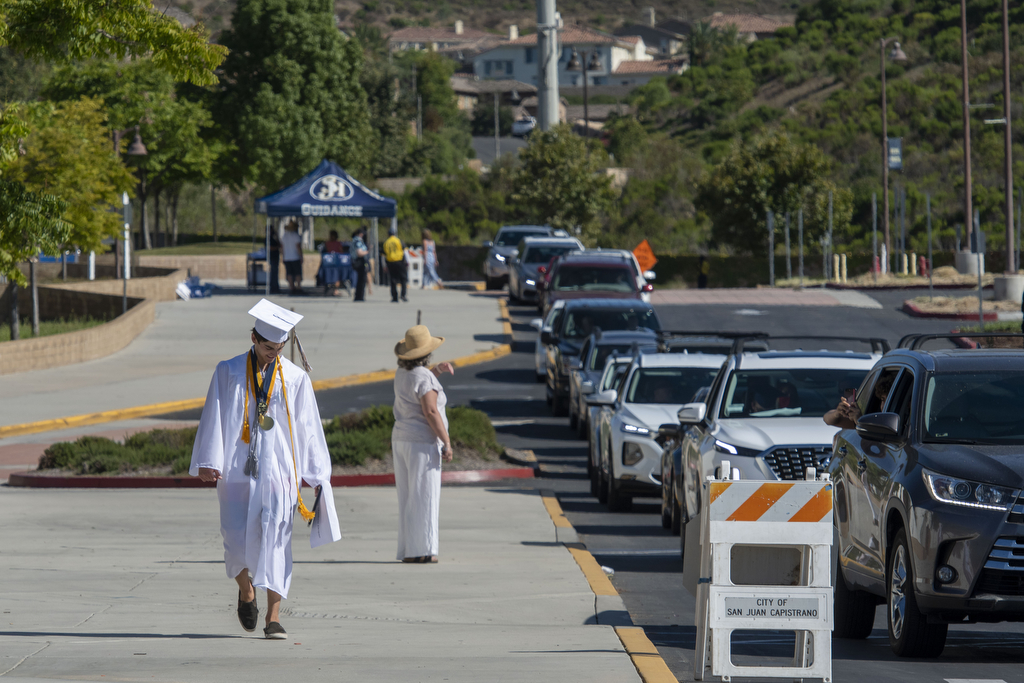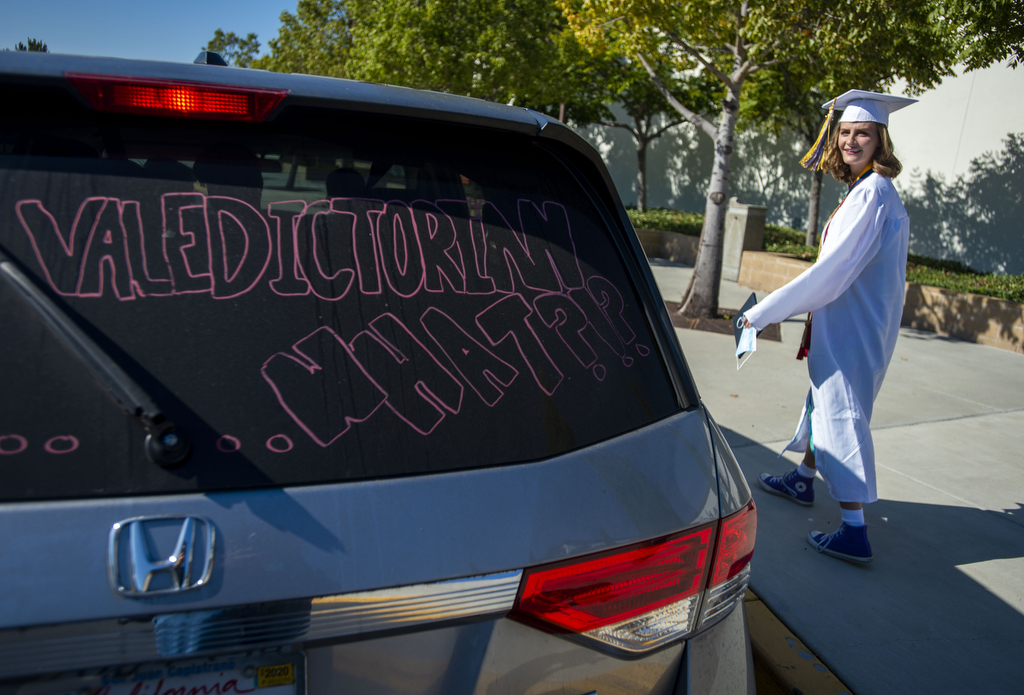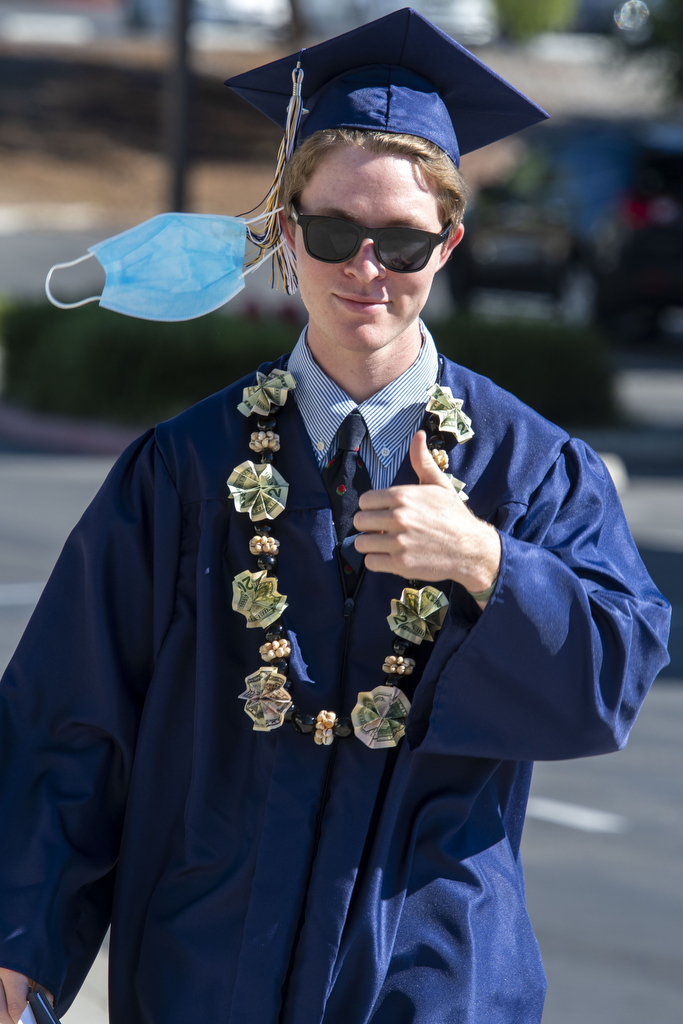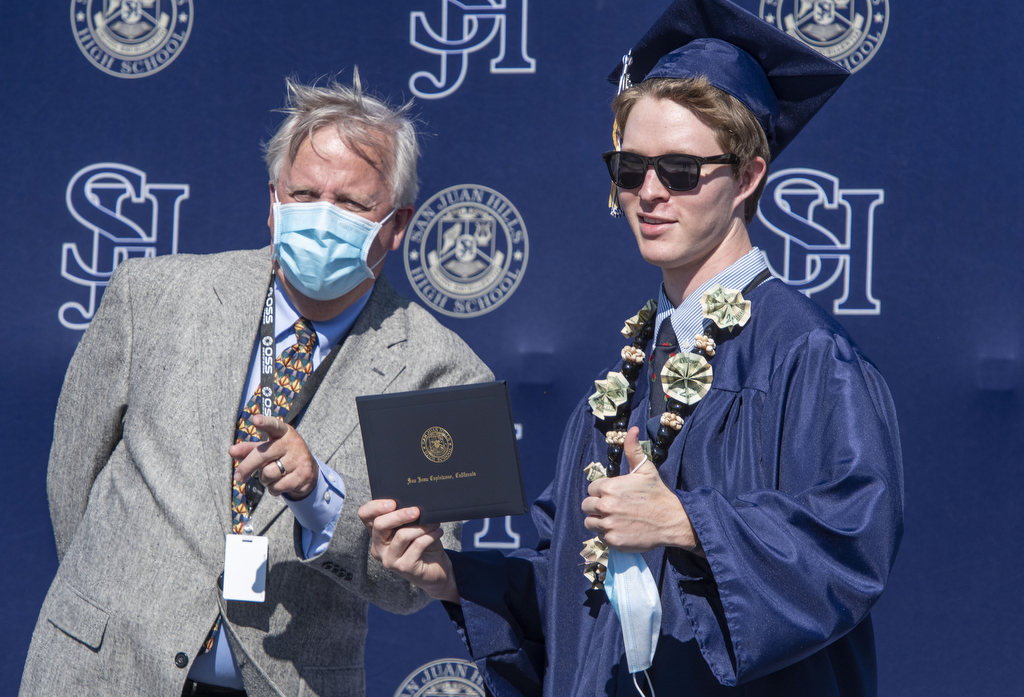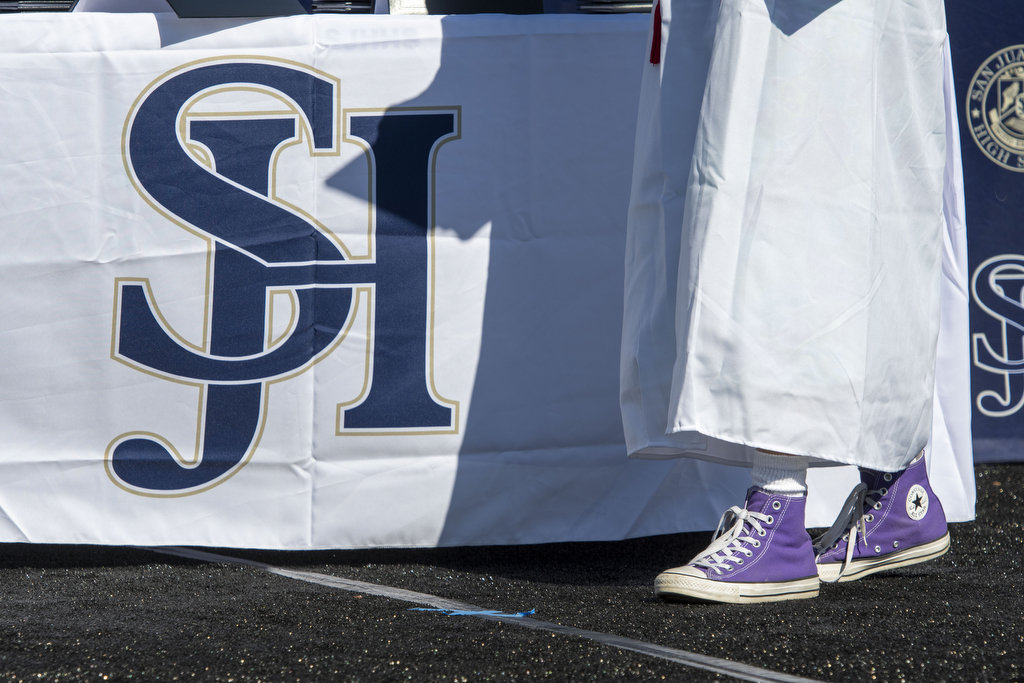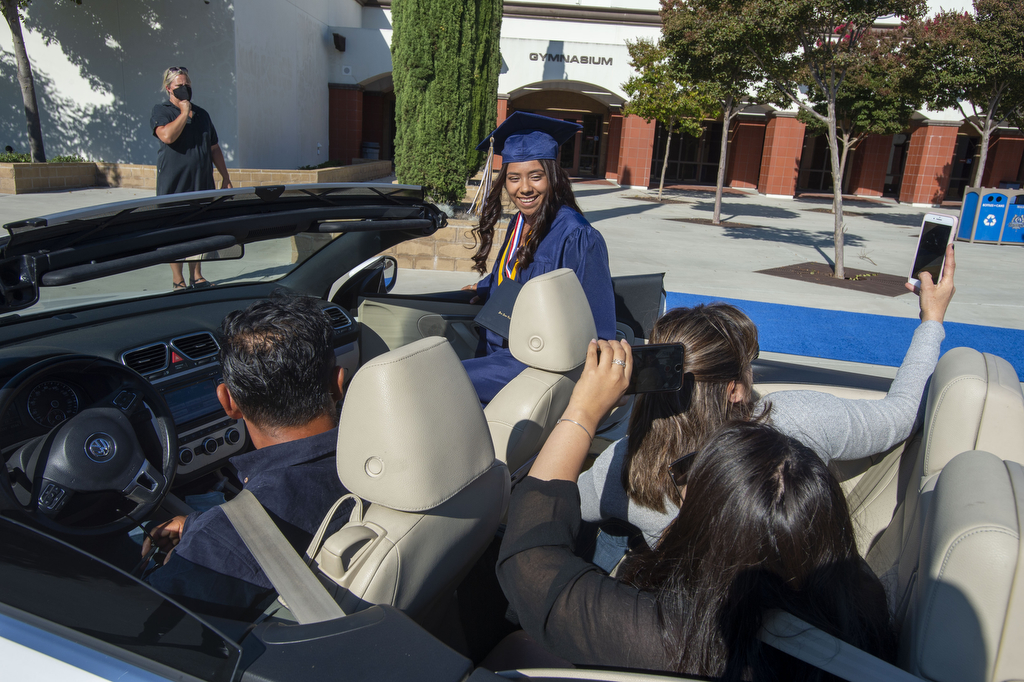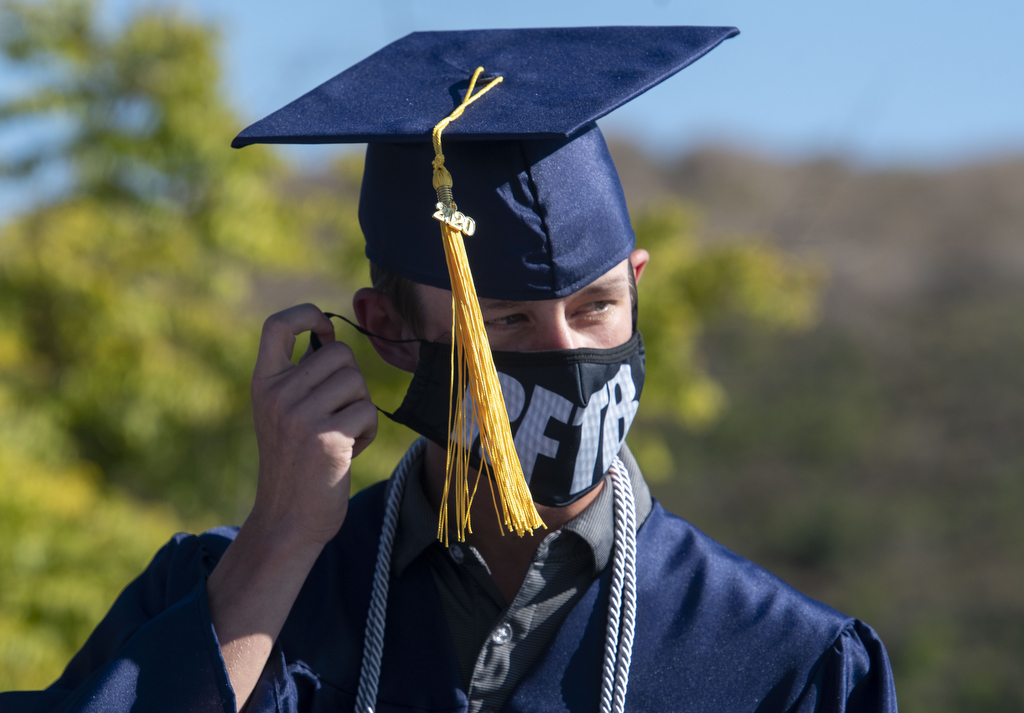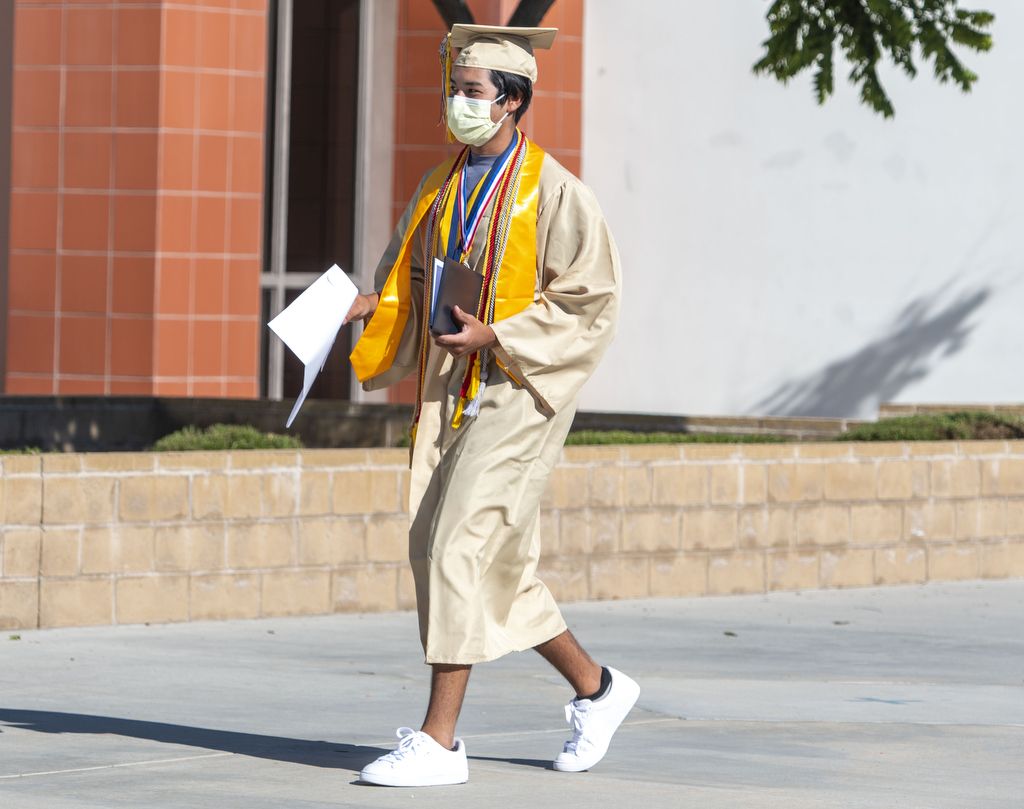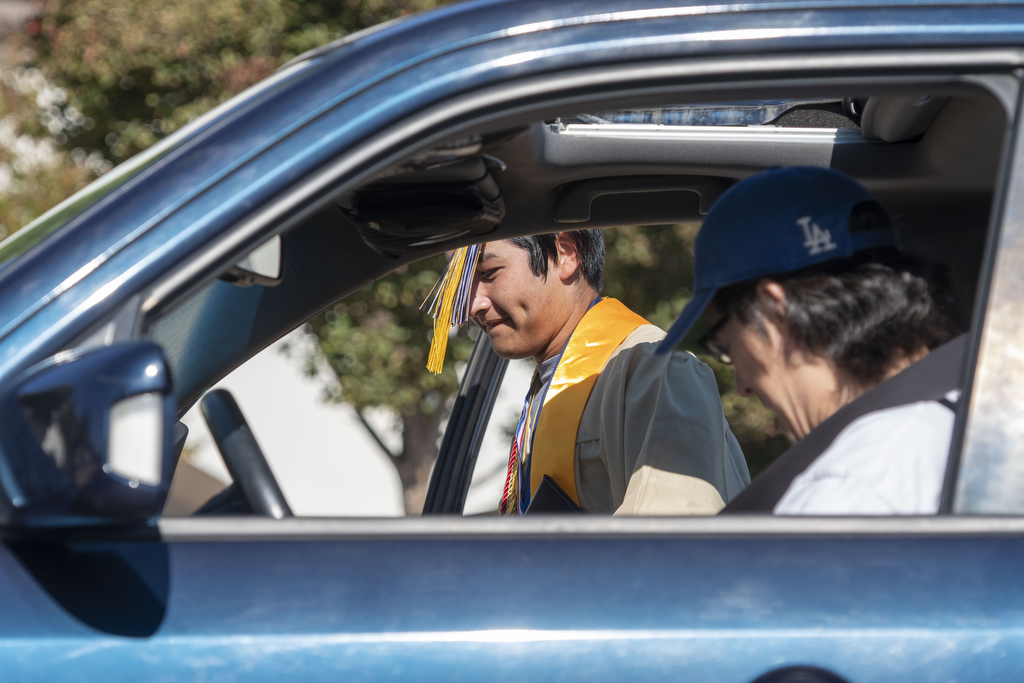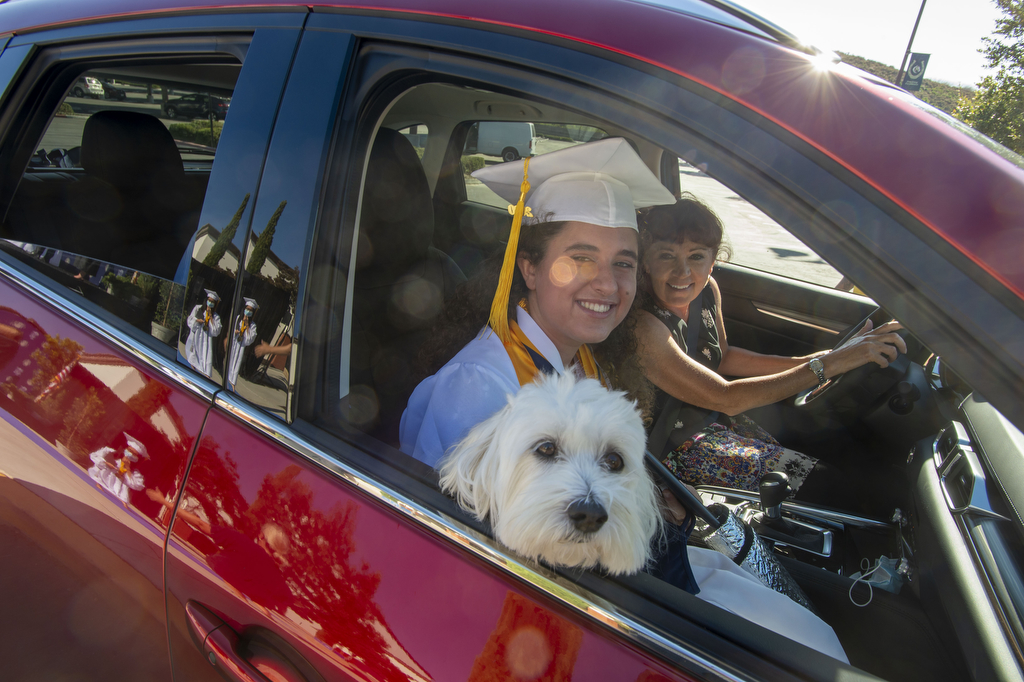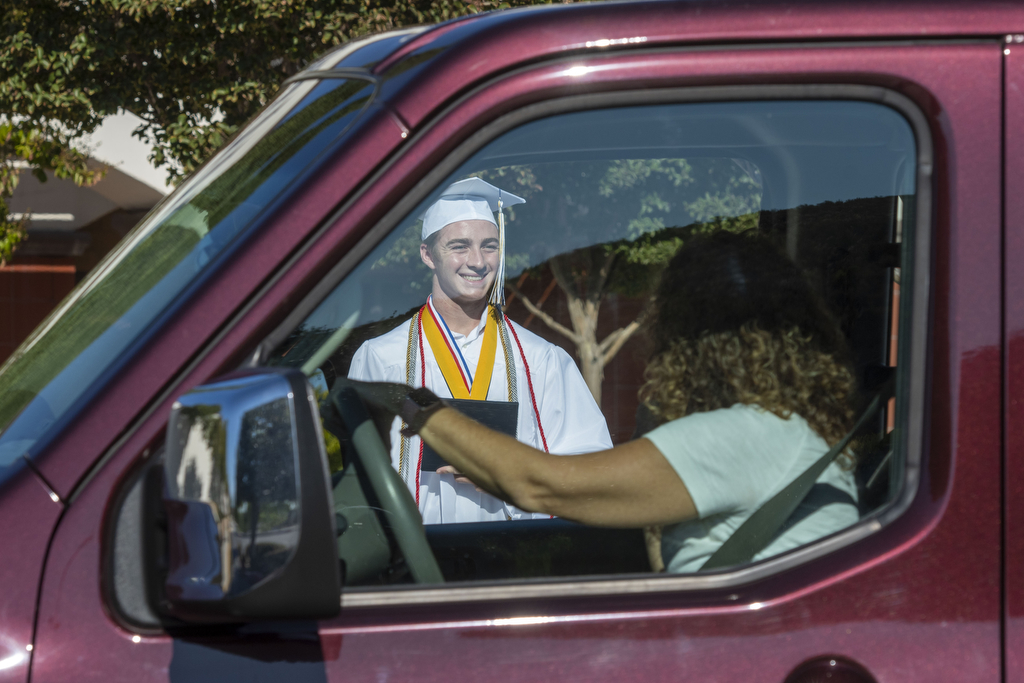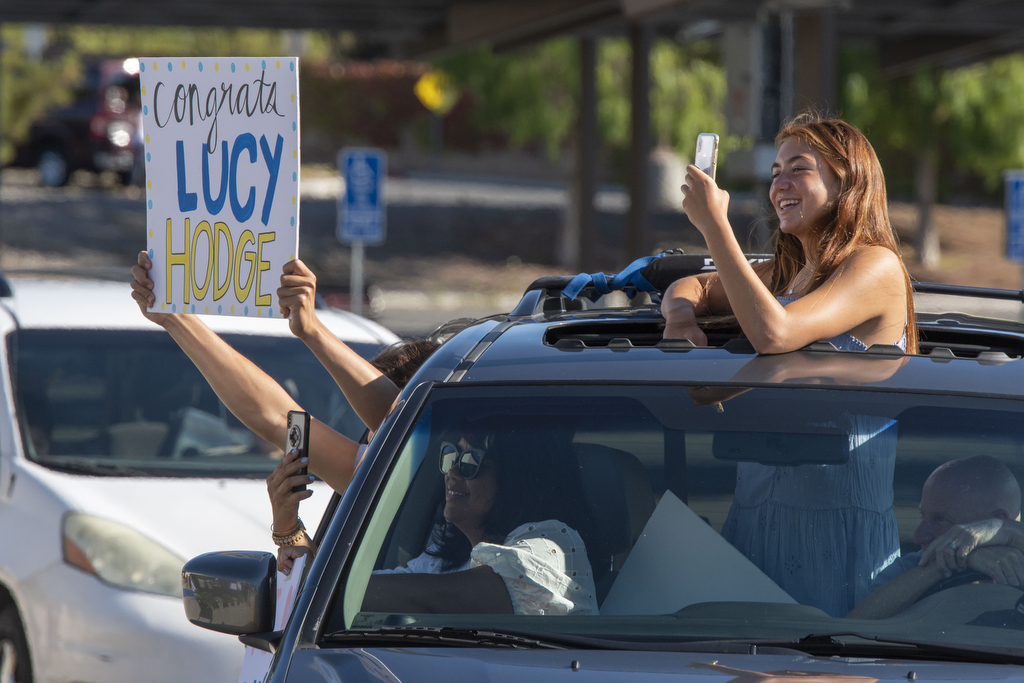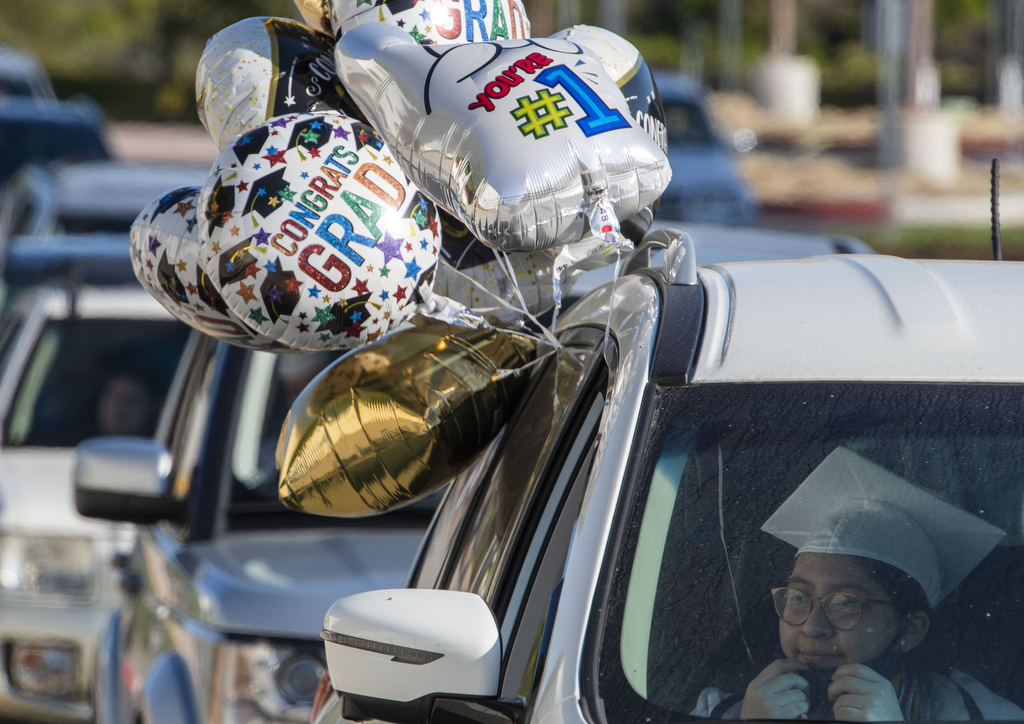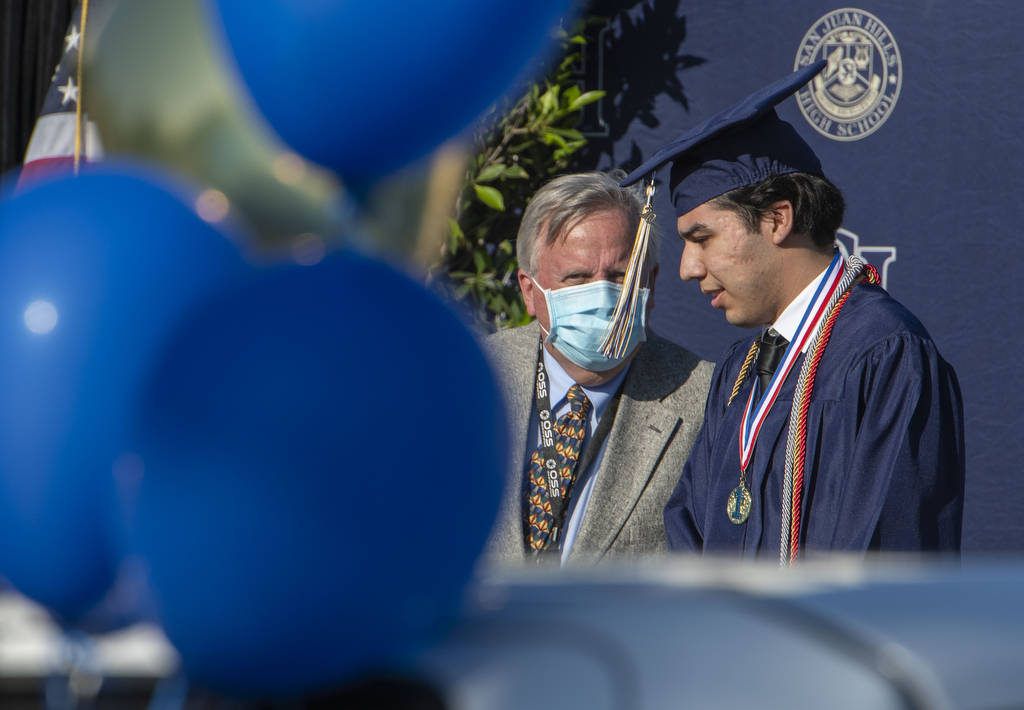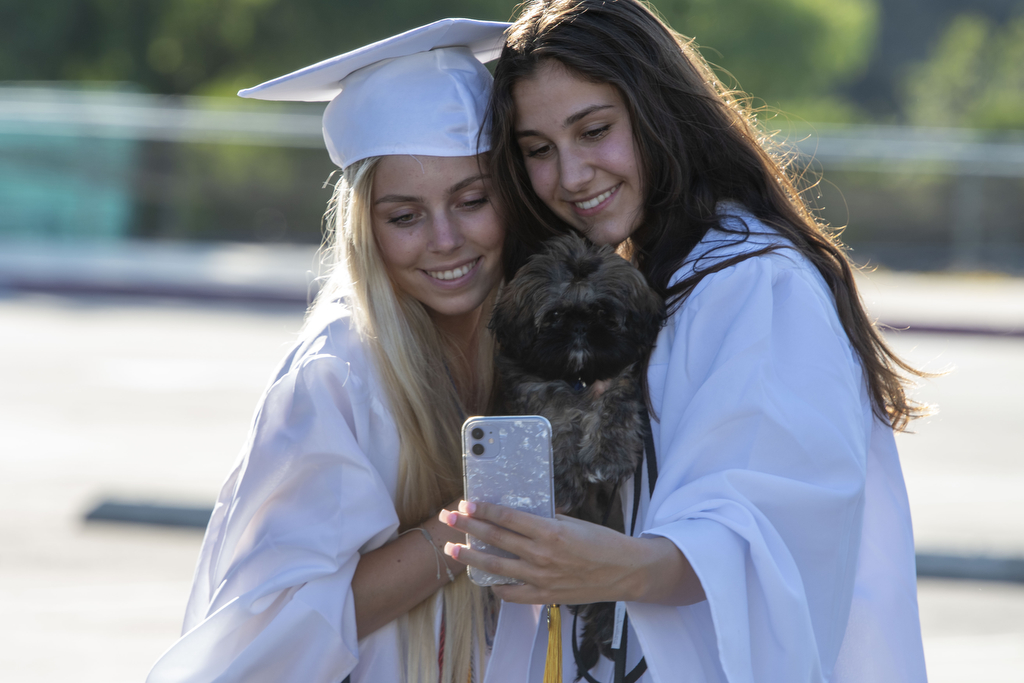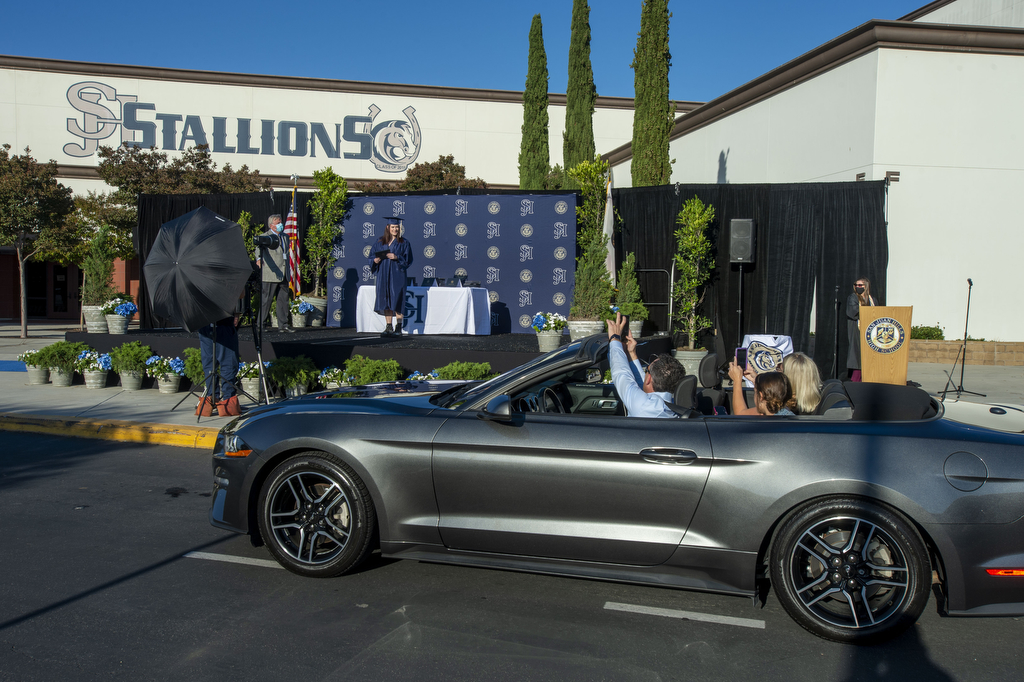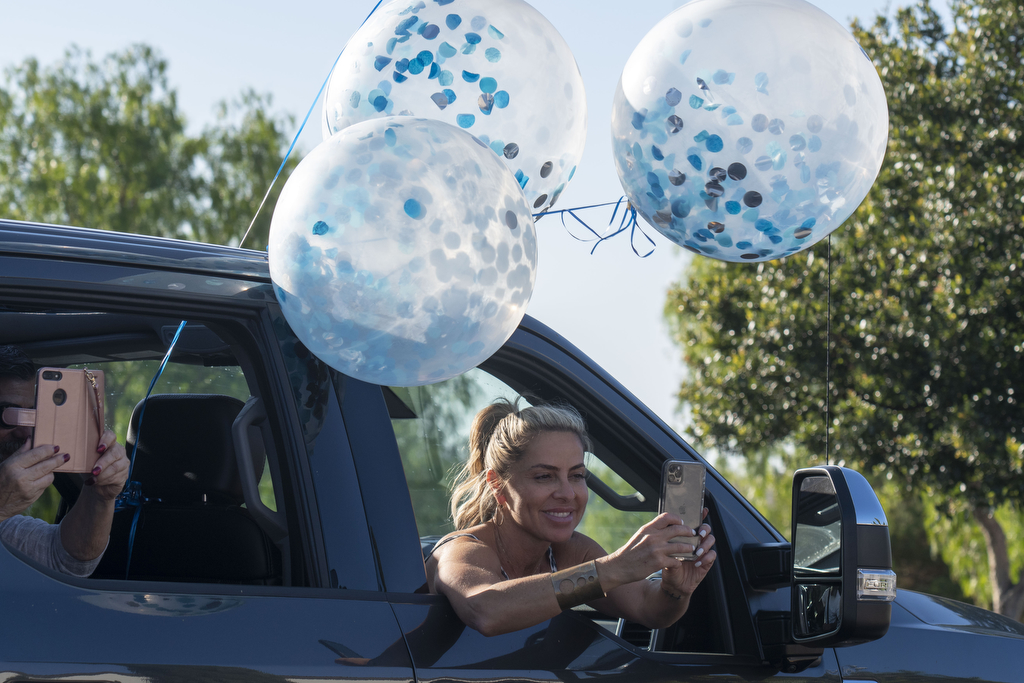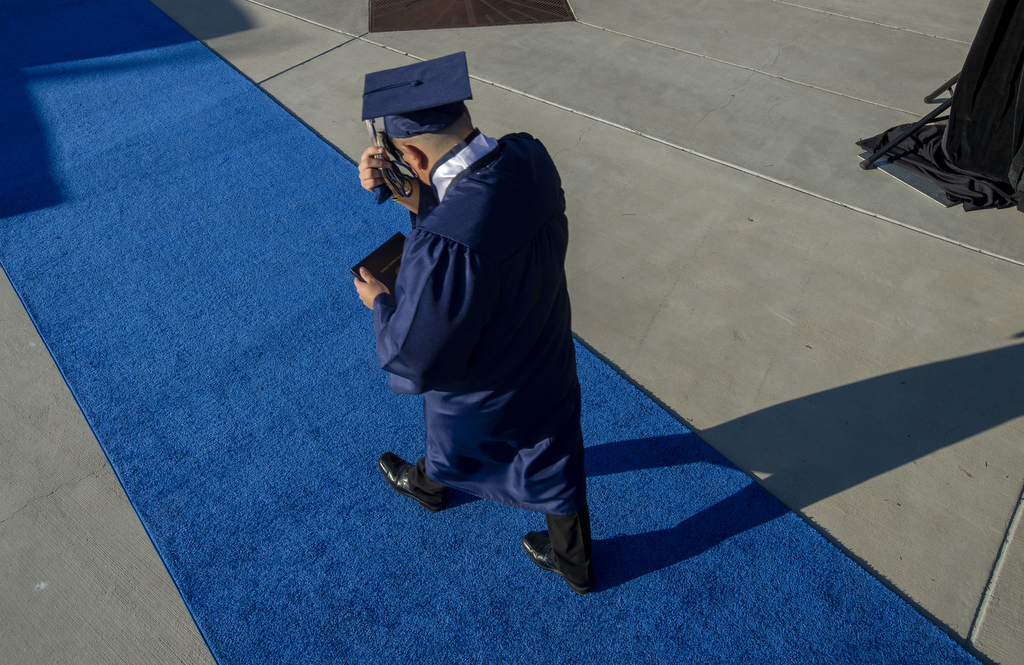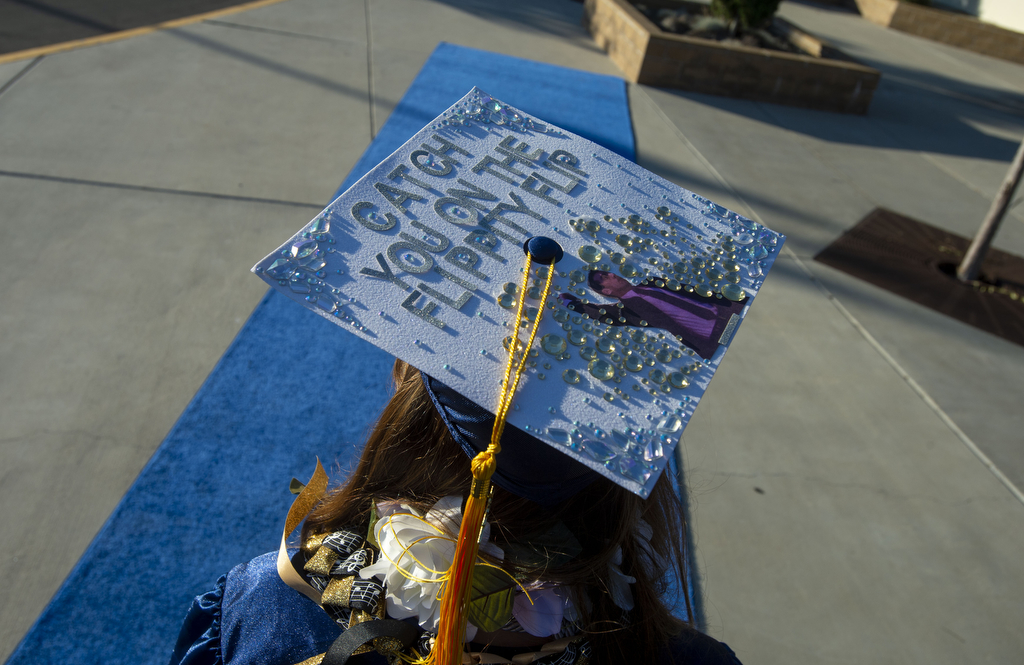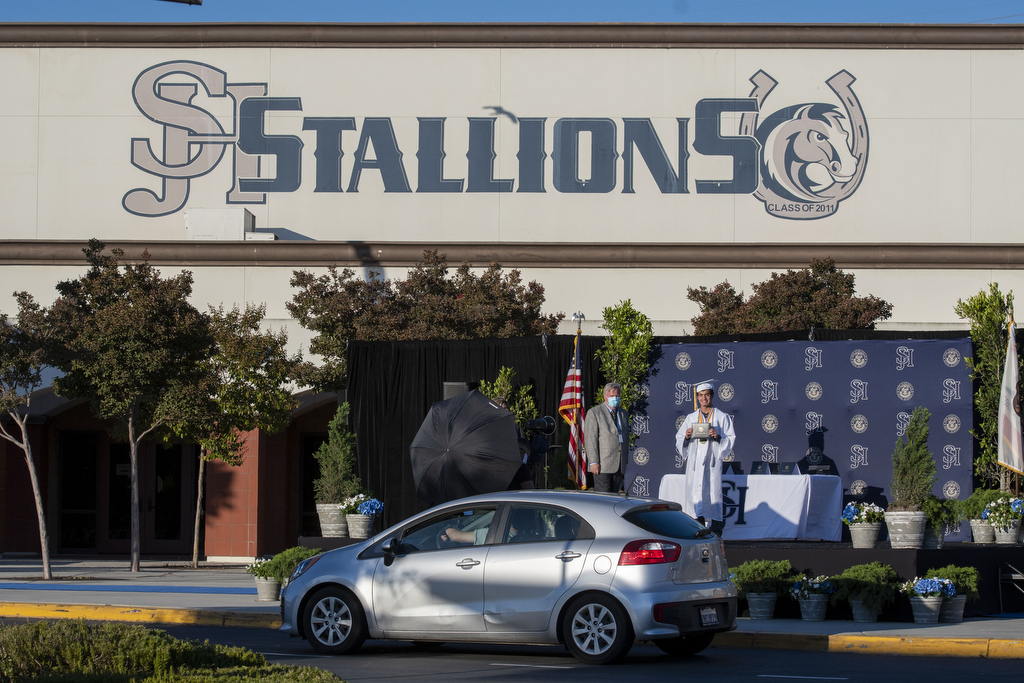 The San Juan Hills High School graduates are, in alphabetical order:
Emanuel De Jesus Abad
Diana Natalia Acero
Sebastian Efren Aceves
Nancy Belen Aguero
Anthony Justin Aguilar
Lexa Angelina Aguilar
Arika Ashanty Aguirre
Juan Angel Aguirre
Liam Charles Aguirre-Stanton
Grace Michele Aitken
Grant David Alarid
Maxwell James Ambrosino
Alina Apostolache
Jordyn Apostolache
Cristiano Frank Arbiso
Andrew Tyler Arizala
Ethan Scott Armstrong
Mandy Nicole Arzetti
Tarik Assami
Avery Kathleen Austin
Pablo Ayala Mendez
Sabrina Marie Aylor
Daniela Ray Bagan
Camryn Grace Baker
Marisella Lucielle June Banda
Alan Banos Penaloza
Regan Alexandra Barclay
Brian Alexander Barfield
Gisele Barough
Edgar Barrera
Eloisa Barrera
Jazmyne Isabel Barriga-Ortiz
Lucas Barrosa
Marissa Renee Barry
Lauryn Nicole Barys
Ava Jolie Basson
Juliana Elisabeth Bauccio
Jack Thomas Baughman
Miles Grayson Bearbower
Laurence Tanner Beck
Jennifer Jeane Becker
Nina Lee Benjamin
Allison Cate Berger
Race Mason Bernal
Merino Giuseppe Bertola
Ajay Bhatia
Luke Emmanuel Binoya
Brady Robert Blackwell
Kaia Marie Bogue
Connor Robert Bonnell
Avery Lee Bonnette
Amir-Hadi Boroumand
Jacob Alexander Boshman
Alexandre Cruz Bouquet
Cole Andrew Bourne
Garrett Walker Bowman
Mia Michelle Brady
Kirsten Nobuko Brehmer
Lochlan Brett Brown
Grace Elizabeth Brummell
Jaden Thomas Bryan
Lily Kate Buchanan
Charlotte Reese Bushman
Samuel Noll Kai Butler
Sarah Cahill
Andres Benito Cain
Ethan Gallagher Cappasola
Alexis Alexander Cardenas
Jesse Cardoso Cruz
Jake Nils Carlson
Araceli Tan Carreon
Bryan Ulises Carrillo
Tommi Justine Carvalho
Jaiden Castellanos
Juan Pablo Castorena
Jackson Richard Catalano
Nereida Ceja Barroso
Jimmy Celedon
Skylar Richard Celer
Cinthia Guadalupe Cervantes
Emma Lauren Chase
Ryan Thomas Chase
Mia Sharon Chavez
Kaila Calysta Chen
Logan Shane Childs
Sara Yuri Chong
Brynn Marie Christenson
Noelle Christenson
Christiana Penelope Tui Chua
Benjamin Lee Chung
Avery Scott Clark
Ethan Christopher Clark
Konner Steven Clarson
Marti Yael Cohen
Grace Joanna Colburn
Anastasia Patricia Collins
Matthew William Collins
Julia Elizabeth Conover
Alexander Contreras
Mckinzie Lorraine Cook
Reilly Allen Cook
Marissa Marie Cooper
Kaden Thomas Cordero
Jack Corral
Samuel Josef Cowan
Andrew James Cox
Sarah Ann Cox
Bryce Douglass Crider
Jose David Cruz Gutierrez
Emmanuel Cruz Mendez
Kyle Christian Cullers
Lauren Elisabeth Culwell
Dylan James Curialle
Brayden John Currier
Travis Owen Dade
Ashley Ann Darden
Beau Daniel De La Torre
Allen Francis Dela Cruz De Leon
Sofia Marie De Leon
Brenda Delgado
Jimena Delgado
Brooke Natalie DeLorenzo
Charlie Randal Dempsey
David Paul Denayer
Natalie Ann DeStefani
Jason Torres Diaz
Ernesto Diaz de Leon
Conner Michael Difilippo
Maximilian James Difilippo
Allison Lynn Dimler
Gage Carlton Doble
Teoman Matthew Dogan
Quinn Elise Dohman
Jeremy Michael Dostis
Jillian Grace Dostis
Joshua Ian Dostis
Dylan Jax Doubleday
Ellie Rene Dowling
Kyle James Duffield
Kyle Robert Dugan
Madolyn Rachel Duplanty
Matthew Odell Duplissey
Krystal Guadalupe Duran
Micah James Edgerton
Weston Kent Eichner
Howard Mark Emond
Sebastian James Engels Cabrera
George Arthur Enriquez-Castillo
Addison Dean Epp
Kiley Elizabeth Espineira
Valentina Etchepare
Stephanie Everastico
Bradley Alan Faanes
Aidan Christopher Falk
Kimora Antonina Farry
Kiana Mae Felix
Bethzy Zugey Felix Iyescas
Isabel Marie Fernald
Nylah Mireya Fernandez
Morgan Danielle Finelt
Julia Grace Finman
Jacy Fischbeck
Jade Larkin Fischbeck
Christian Tyler Fisk
Valeria Fitz Jimenez
Porter Jonathan Flake
Karina Lopez Flores
Stephanie Flores
Ryan Dana Forbes
Tina Lilian Fotouhi
Cameron Charles Fox
Asher Foy
Ella Leigh Friess
Eric Harper Fritz
Isabella Natalie Frutos Sanchez
Italie Juliette Frutos Sanchez
Ian Fu
Fernando Fuentes
Noemi Daniela Fuentes Morales
Delaney Rose Fuller
James Raymond Gaines
Edlin Garcia
Jagger Steven Garcia
Juliana Garcia
Kyrin Marcel Garcia
Renzo Andres Garcia
Carolina Garcia Camas
Alexia Garcia Ocampo
Abigail Garibo
Luiza Sartorio Gava
Grace Emily Gentry
Lauren Ann Gleason
Eric Rudy Goerner
Gilbert Yair Gomez
Niles Eliseo Gonzalez
Riley Ann Goodfellow
Lia Ashley Goodwin
Isabella Ida Gorlick
Jaden Tate Gorman
Giselle Aurora Grajeda
Ivan Granados
Jocelyn Granados
Sage Cassidy Groves
Gabriella Rose Guarino
Mel Bataglin Guidorizzi
Vagelie Marco Guillen
Izabella Rose Gula-Beard
Erika Gutierrez
Rolando Gutierrez
Alexandra Noel Guzik
Miguel Angel Guzman
Elyse Breanne Hall
Jake Ryan Hall
Madeline Grace Halliburton
Gracie Kate Hammond
Noelle Wrigley Hansen
Misha Harneja
Christopher Kyle Harrison
Haley Ann Hassmann
Sophie Eva Hasson
Brix Hazen
Sarah Kathleen Heaton
Ryan Stephen Hellwege
Ashley Hernandez
Cira Isabel Hernandez
Nicole Isabella Hernandez
Vanessa Hernandez
Aaron Hernandez Diaz
Lorena Guadalupe Herrera Alvarez
Jaxon Charles Hill
Jackson Noble Hirchag
William Joseph Hobert
Lucy Ryan Hodge
Austin James Hogan
Victor Holcberg
Sophie Kirsten Holland
Omid Hosseini
Aubrey Ellyn Howell
Tyler James Hsieh
Vincent Sabino Huaracha
Courtney Anne Hudson
Eric Huerta
Corinne Hunnicutt
Sean William Hutchinson
Kyler Isaoglu
Anthony Ray Israel
Angelie Victoria Jackson
Tessa Elizabeth Jacobs
Daniel Nkuse Jakana
Helena Marie Jefferson
Malea Kristen Jenkins
Julia Makayla Jeralds
Amanda Elaine Johnson
Hannah Britt Johnson
Jonah Burr Johnson
Megan Grace Johnson
Noah Ronald Johnson
Riley Andrew Johnson
Isabella Jones
Trevor Ryan Jones
Maximiliano Juarez Mendoza
Aimae Elizabeth Kehler
Taylor Nicole Kellermann
Edward William Kemp
Jason Kepple
Amber Aline Khamis
Cooper Kitaen
Lillian Kate Kloepfer
Kenzie Kosco
Evan William Kovaleski
Edward Ernest Kreutinger
Keri Carissa Kruger
Skylar Jade Kutnyak
Kayley Rose Lafreniere
Nicholas William Lagestee
Jake Andrew Lambrakis
Payton Christian Landaas
Jessica Young Lee
Nicole Amber Leick
Ronald Joseph Levesque
Jaxon Colin Keikialii Lewis
Skye Alexandra Lewis
Hannah Lindeman
Erin Kate Lindsey
Reynalyn Poblete Linis
Ashley Lorene Lopez
Jessica Lopez
Chloe Nicole Loughnane
Zayda Lozano
Matthew Alexander Luzuriaga
Malia Robyn Lynde
Cassidy Reese Lyon
Nolan Matthew MacDougall
Daniel Alexander Magana
Charlotte Mona Magee
Anabelle Rose Mahshi
Madelyn Clare Mallen
Rachel Manea
Haley Nicolle Maniscalco
Lucy June Mansell
Vanessa Manzano
Kevin Marin
Ingrid Noemi Martinez
Jessica Martinez
Joshua Tyler Mastropaolo
Ashlynn Mathews
Emily Paige Mattera
Isaiah James Matthews
Shayla Christine Murphy Mauerman
Sean Michael Maurer
Maxwell Thompson Maver
Nicholas Ryan McCarty
Melissa Marie McElroy
Claire Madeline McLeroy
Madison Marie Mede
Diego Medina Vega
Rahul Amar Mehra
Emmanuel Mejia
Deyvi Anderson Melendez-Santos
Hayden Dana Melin
Daisy Mena
Alejandro Menchaca
Skyler Jane Mermelstein
Leilani Xanthal Miklos
Garrett Reese Miles
Jeffrey Daniel Millan Rosales
Maxwell Miller
Isabella Joy Mincer
Milana Nikki Molnar
Makenzie Ann Moncrief
Brooke Elizabeth Montgomery
David Nathan Morales
Noah Andrew Morales
Ethan Jacob Moreno
Jessica Bailey Morey
Shamir Manasseh Ephraim Moy
Michelle Moz Vivanco
Martha Berenice Muniz Gomez
Anna Elizabeth Munoz
Devan Parker Murphy
Cooper Bernard Murr
Nicolas William Myers
Nicole Stephanie Nalbandian
Eden Amelia Nedelykovic
Cameron Marie Newman
Cassandra Rose Newman
Toby Ngoy
Hailey Cecilia Nicoloff
Alyssa Niedziela
Jillian Nicole Nine
Michael Ochoa Delgado
Fiorella Ochoa Espinoza
Chloe Marie O'Connell
Ivy Rose Ondo
Drake Daniel Orr
Diana Catherine Osorio
Can Oz
Iman Alexander Palizi
Abraham Michael Palmer
Julianna Lyn Paris
Hailey Kristan Parker
Lucas William Henry Pattinson
Savannah Rose Paxton
Matthew Thomas Payne
Enrique Isaac Paz Gonzalez
Isabelle Sterling Imatani Peloso
Evelyn Pena
Tania Michelle Pena
Anthony Steven Perez
Isaac Jeremiah Perez
Sebastian Thomas Perez
Margaret Lynn Perry
Kylie Alexis Peyton
Lauren Marie Philpott
Amanda Sierra Picariello
Mia Marie Pietrowski
Nicolette Roya Pirghibi
Laila Jesus Ponce
Ethan James Pope
Sadie Lynn Port
Kamryn Elise Price
Maya Lea Prokopowicz
Gianmarco Joseph Psotka
Cole Michael Quillin
Amanda Nicole Quinn
Ariana Julia Quinonez
Megan Susanne Radley
Aileen Ramirez
Gabriela Ramirez
Rosa Maria Ramirez Torres
Alfredo Ramos Lopes
Cristian Michael Ramsey
Sophie Raubach
Juliette Maxine Raubolt
Grace Kelly Rea
Ashli Marie Reichner
Andrea Restrepo
Mireya Reyes
Dylan Michael Reynolds
Natalie Ximena Reynolds
Cassady Laine Richey
Grace Anne Ridgeway
Bailey Nicole Ridley
Carl Riker
Madison Riley
Tyler Stevenson Ripperger
J Viken Roberts
Lauren Brooke Robertson
Madison Elizabeth Robertson
Mikayla Paige Robertson
Jacob Connor Robinson
Logan Maria Robinson
Marycarmen Rodrigo
Annette Daniela Rodriguez
Christian Jacob Rodriguez
Claudia Angelica Rodriguez
Hugo Emmanuel Rodriguez-Garcia
Mercedes Nicollette Roel
Kylee Anne Rogers
Raymond Diaz Rojas
Alexander Robert Roland
Holland Jarrosiak Rolapp
Wendy Paola Rosales
Joshua Garret Rosen
Kallihan Genevieve Ross
Kensington Patricia Ross
Zachary Allan Rothman
Isabel Antoinette Royal
Kylie Amelia Rucker
Oliver Stewart Rudolph
Audrey Nicole Ruiz
Eduardo Ruiz Cisneros
Kevin Diego Ruvalcaba
Edward Chase Rydell
Avery Nicole Rylance
Mark Anthony Saba
Bellise Marianna Sacchetto
Gloria Nathalia Saenz
Brisa Melinda Salgado
Samantha Sujey Sanchez
Tatum Renee Sanchez
Uzziel Eduardo Sanchez
James David Sanders
Augustine Stephen Sandoval
Julien James Sanseverino
Lauren Elena Poblete Saradpon
Una Patricia Sarayba
Sophie Angelene Schlesinger
Zoe Maria Schmitzer
Evan Gabriel Schrimp
Victoria Christine Schultz
Taylor Anne Schwalbe
Jordyn Elissa Schwartz
Caleb Heninger Sedgwick
Zakary Porter Seewall
Mohona Sen
Alondra Servin
Hanna Zulaikha Sharq
Claire Elizabeth Sheehan
Kaylin Leann Shepard
Paul Jee Min Shin
Austin Nicholas Shreeve
John Michael Shukur
Gil Mar Abug Sia
Kathy Denise Sigala
Janeth Silva-Mercado
Keaton Scott Silver
Sydney Jade Simon
Prabhleen Singh
Kiley Maree Skousen
Colin James Smith
Aryanna Brooke Soares
Angelica Sosa
Sierra Renee Starnes-Stafford
Royston Stenlake
Grace Renee Stephenson
Andrea Olivia Stone
Sophia Alyssa Swigart
Jordyn Elizabeth Tagle
Hanna Talieh
Alondra Michelle Tapia
Grace Elizabeth Taylor
Luke William Taylor
Alejandro Tellez
Anthony Tellez
Rhiannon Souviney Thelander
Abigail Joy Thorstenson
Emily Grace Thrall
Bernard Montano Tillano
Makena Tinney
Emily Ann-Katrin Tme
Jessica Kimiko Tonai
Kayvon Torabzadeh
Zachary Noel Torgeson
Cheyenne Marie Torres
Cam Nicholas Traverso
Jake Alexander Traverso
Cole Robert Trotta
John William Anthony Uhl
Daniel Cristobal Urdaneta-Carrera
Maren Janean Ure
Anne Elizabeth Urman
Zachary John Van Blarcom
Aileen Vargas
Skyler Teagan Vargas
Stephanie Jacqueline Vargas
Jorge Luis Velazquez
Lucas Vo Verde
Suraay Verma
Nathan Dee Vigil
Christopher Carlos Villafana
Citlaly Villagran
Jesus Daniel Villanueva
Maria De La Paz Viveros
Bronson Brody Voss
Clayton Andrew Walburger
Emily Jenn Wale
James Seddon Wale
Kade Patrick Ward
Sophie Annelise Weber
Brenden Douglas Webster
Tyler Jason Wegis
Adam Joshua Weingard
Ivana Marisol Weintraub
Schaefer Thomas-Allen Welch
Jayden Seth Wells
Karlee West
Brandon Michael Weston
Sofia Whitaker-Quiles
Alexander John White
Isabella Victoria White
Parker David Whitham
Joshua Alexander Williams
Shayna Brieann Williams
Carly Lauren Wilson
Savannah Catherine Wilson
Owen Wine
Lucas Gavin Winkler
Cayla Christine Wood
Avery Elizabeth Woolbert
Julia Elizabeth Wright
Cameron Jospeh Wyckoff
Nicholas Ray Wyckoff
Jessica Ann Yaccino
Cameron Davis Yartz
Madelin Jeeyun Yi
Trent Zabrocki
Lian Zhu
Rylie Marie Ziff
Annie Lorraine Zollinger
Kyarah Zuniga