By Lou Ponsi
The San Clemente boys cross country team accomplished so much this season, it's hard to know which achievement stands out the most.
Was it San Clemente High's first-ever Southern Section cross country title?
Or the Titons' No. 1 runner winning the Orange County Championships for the first time in nearly 30 years?
Maybe it was finishing second at the CIF Division 1 state championships?
Regardless of the answer, the team's success was helped by how close the runners were – both in competition and off the course.
"We're successful because we team-run really well," Tritons coach Dan Johnson said. "We pack run really well. Our scoring guys are always really close together. That's what we've pretty much done all year."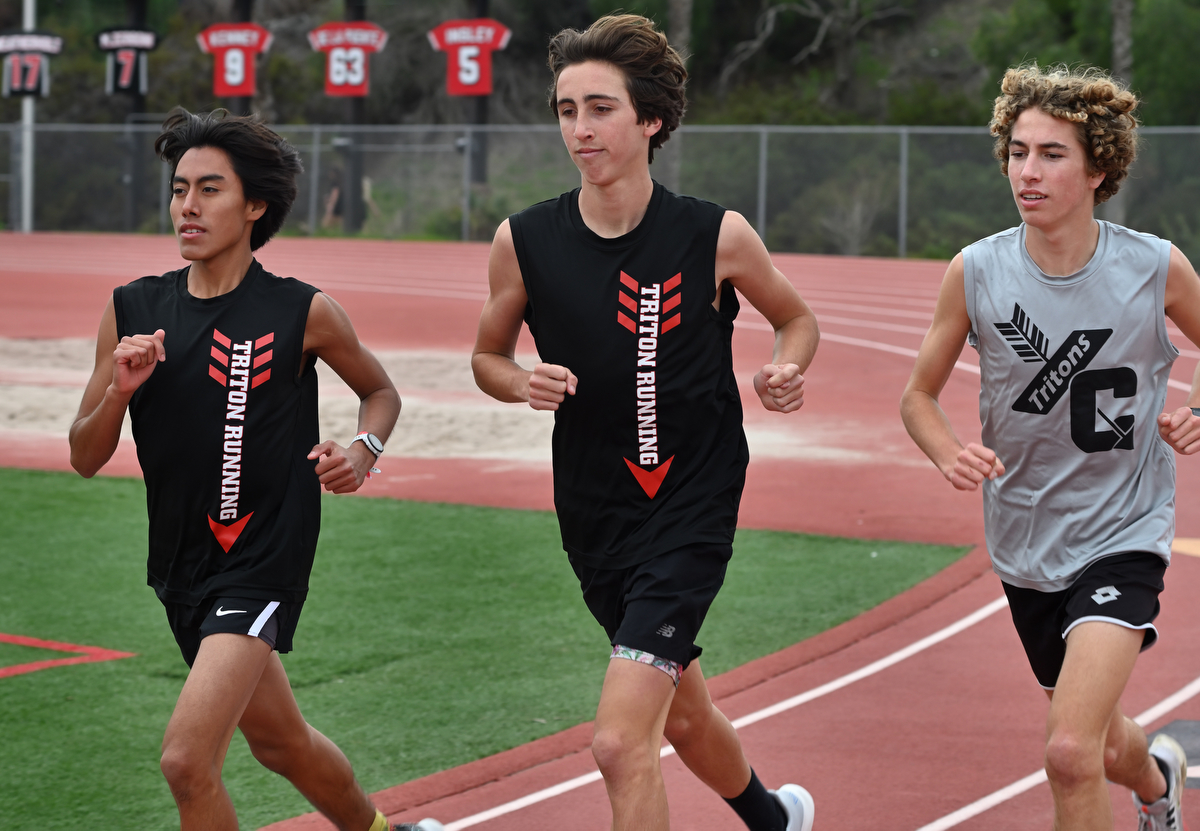 One could argue that San Clemente's first-place finish at the CIF SS Division 1 Championships at Mt. San Antonio College on Nov. 19 was the Tritons' proudest moment, especially since they earned the first Southern Section cross country title in the 58-year history of the school. Senior Juan Chantaca finished second and teammate Rory Catsimanes was ninth to lead the Tritons to a 73-95 victory over second-place Great Oak.
In October, the Tritons captured the team championship at the Orange County Championships at Oak Canyon Park for the second year in a row. On that day, Chantaca finished first, edging Evan Noonan from rival Dana Hills by four-tenths of a second. Chantaca was the first Triton to win the race in nearly 30 years.
"Winning the Orange County championships was probably one of my biggest highlights," Chantaca said. "When my coach said I have the opportunity to win, I really took that to heart."
Brett Ephraim, Catsimanes, and Pierce Clark finished third, fourth, and 13th, respectively, at the Orange County Championships.
The Tritons placed five runners among the top 10 finishers to easily win the South Coast League Finals on Nov. 1 at Irvine Regional Park.
A week after winning the CIF SS Division 1 title, the Tritons traveled to Woodward Park in Fresno, where they finished second in the CIF Division 1 state championship race. To top off their successful season, the team received an invitation to compete at the Nike Cross Nationals on Dec. 3 in Oregon, where the Tritons competed against the best teams in the nation and finished seventh.
Chantaca, Ephraim, Catsimanes and Sestak were named to the Orange County Register's all-county cross country team as well.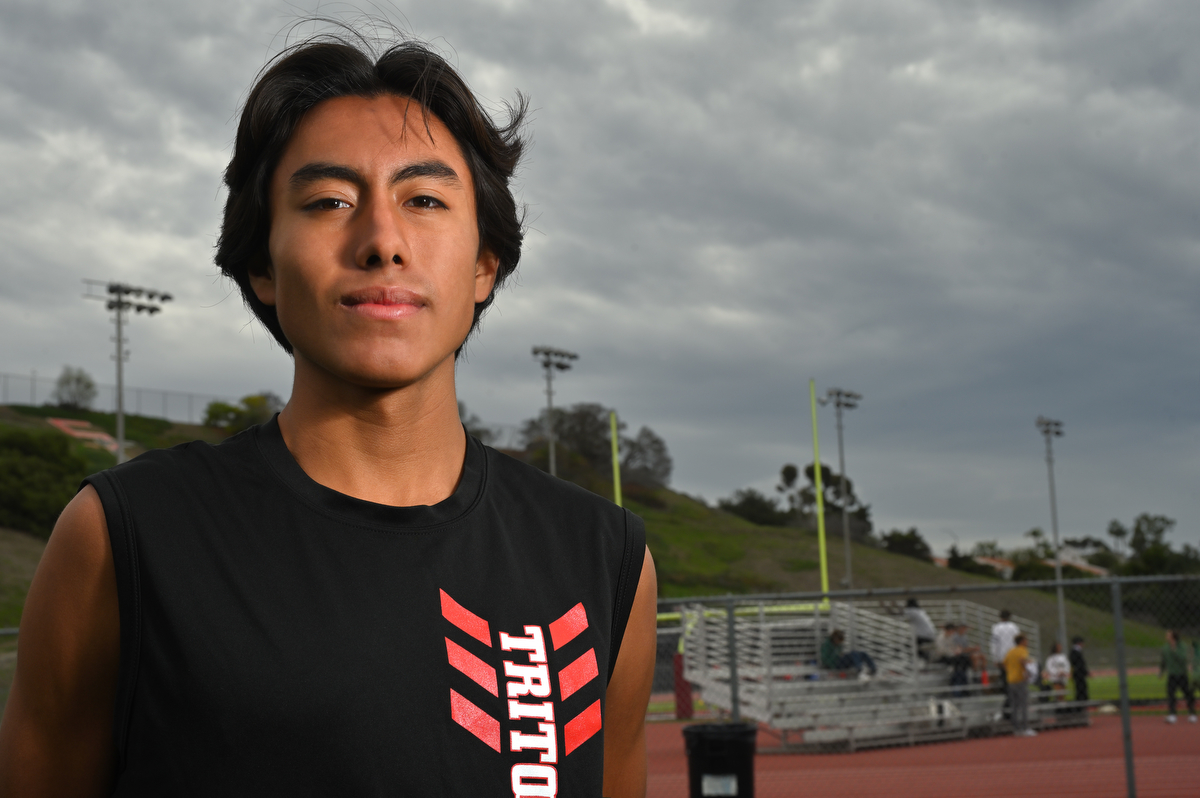 Running is his greatest joy
For Chantaca, who started cross country as a freshman, running is one of the greatest joys in his life. Chantaca is one of the county's top runners, despite being born with a gastrointestinal condition that causes stomach pains and cramps.
"Over the years, I've managed to run through the pain," he said. "I figure out what foods and what stuff triggers the pain center."
Chantaca, who will likely receive a scholarship to compete in college, said he'd be lost without running (and surfing).
"It's been really important to my life," Chantaca said. "It's one of those (mainstays) that I can't take out because if I do, I'll just crumble. Same thing with surfing. Running has really helped me build a foundation in my life, something I can do and focus on and fall back on whenever I have a bad day."
Johnson said his No. 1 runner is gutsy and tenacious.
"He is just super dedicated to being as healthy as he can all the time," Johnson said. "Beyond that, he's got a real fighting spirit. He's a really tough kid. He hates to lose."
Chantaca, Catsimanes, Ephraim, and Clark are looking forward to adding more hardware to the Tritons' trophy case as well as their own collection of medals.
A solid season for the girls
Because of its youth, the San Clemente girls cross country team wasn't as deep as it has been in past years, but still managed to hold its own in most races while competing in the South Coast League, perhaps the toughest in the county, San Clemente Coach Dave Proodian said.
All five South Coast League teams advanced to the CIF SS Division 1 finals.
"It's great to have good competition because you know good competition from other schools rises your program as well," Proodian said.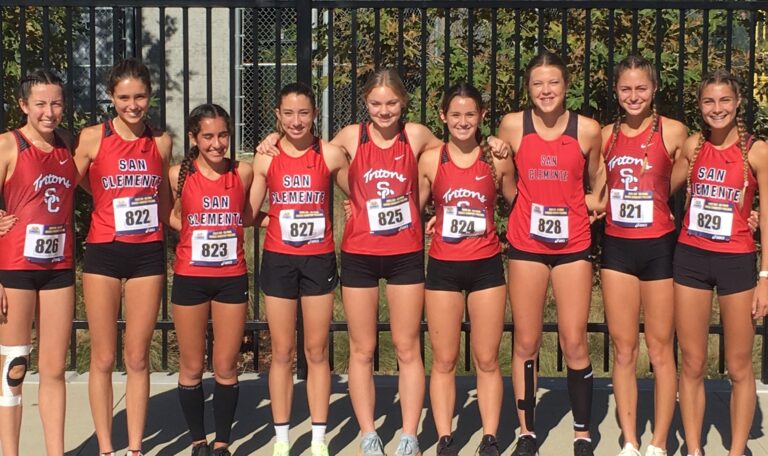 The Tritons' top runner was junior Lyza Yetter, who was among the 10 best runners in the league.
"Next year when she comes back, she'll compete for the top league runner," Proodian said. "She's just a solid and steady runner."
Proodian said sophomores Kennedy Banks, Madison Kerrigan and Abby Howard were the team's anchors and looks for all three to improve as juniors.
Both San Clemente's boys and girls teams will be fierce competitors to watch in upcoming seasons.