Capistrano Unified School District is proud to once again partner with Paper Tutoring to provide students FREE online tutoring resources. Paper Tutoring is available for all 3rd-12th grade students to use as much as they want, in all subjects.
Paper Tutoring is a secure, online tutoring service that provides students with unlimited, 24/7 academic support. Whether they're stuck on homework, studying for a test, or need someone to read and make suggestions to their essays, there will always be experts available online to assist students in over 200 subjects and more than four languages. Paper tutors have been specially trained to conduct expert, academic support in a secure, chat-based platform. With a commitment to helping students learn, they'll never give students answers, but rather interact with them in an encouraging tone to lead them forward.
Accessing Paper Tutoring is easy on all platforms.
Login on a web browser – CLICK HERE
Integrate Paper on Canvas, Google Workplaces and Chrome (instructions below)
Engaging with Paper is easier than ever, and FREE for all CUSD students to help improve their academic performance. Parents and families can find helpful resources to get started here.
Canvas Integration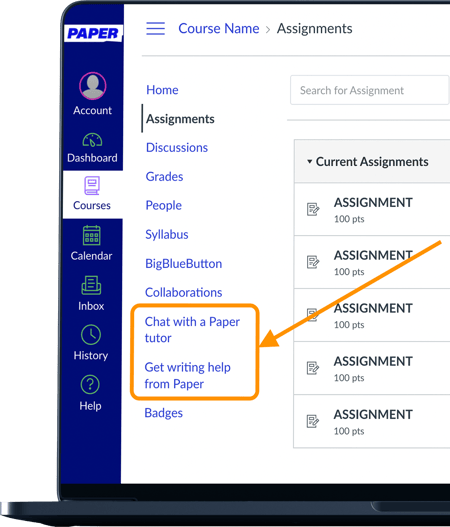 After installing both apps, students will see two links on their Canvas dashboard: "Chat with a Paper tutor" and "Get writing help from Paper." Clicking "Chat with a Paper tutor" will open a new tutoring session on topics related to the Canvas LMS course page. If a student clicks "Get writing help from Paper," they will be redirected to Paper's Essay Review page.
→ Download Paper's Canvas LMS integration overview
Google Integrations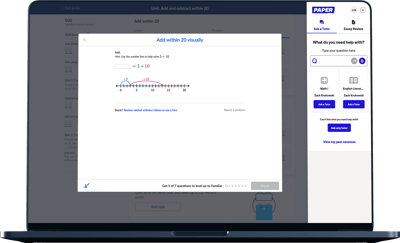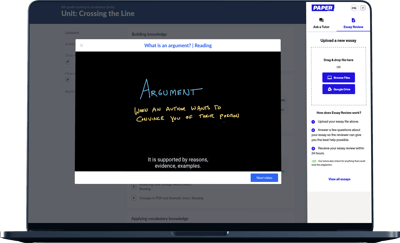 Chrome Extension
While browsing the web, students can instantly seek help from Paper tutors by clicking the "Ask a Tutor " button on the Paper Chrome extension or by using the question matcher. Students can also quickly submit their written work for review by clicking the "Essay Review" tab.
→ The Chrome Extension is available now [Free Download]
Essay Review integration with Google Drive
We've created a more thoughtful integration between our Essay Review feature and Google Drive—now, students can upload their work without ever leaving the Paper platform. When a student uploads an essay, they're able to select files from Google Drive after authenticating their identity on Google Workspace. This simplifies the Essay Review upload process for students by eliminating the need to search for and upload PDFs of their work.