By Greg Mellen
There were times he almost wished for death. His legs encased in ice, the exhaustion nearly unbearable as he fought for an hour of fitful sleep. He couldn't even accept the touch of a loved one, not from his daughters, not from his wife.
Jason Efstathiou silently begged for relief from the fire that raged through his body
"I was in bed most of the time, barely eating, not sleeping at all," he recalls. "I wouldn't wish it on anyone."
Three years later, the coach of the San Juan Hills High School boys' basketball team is able to talk about what he endured with a certain amount of dispassion. Although the pain has diminished, it's never gone. Supplements, prescription drugs, traditional, and alternative therapies all help.
So too, the curative powers of faith, hope, joy, and accomplishment.
Efstathiou, the CIF Southern Section 2A boys basketball Coach of the Year, is fresh off the greatest season in school history after leading the Stallions to their first Southern Section title and undefeated Seaview League season.
Three years ago, one goal helped sustain him as he battled through acute burning pain and unrelenting exhaustion.
That goal was returning to the bench.
A terrible sight
Kim Kitaen, a mom of three boys who played high school basketball for Efstathiou at San Juan Hills High, visited him one day at his house. She remembers being shocked to see the disciplined, tough-as-nails coach looking emaciated and weeping as he received electronic treatment on his feet.
All she could think to do was sit, pray, and cry alongside him.
"I didn't know where this journey would take him," she said. "Thankfully, he never gave up."
Efstathiou was suffering from a kind of agonizing rare form of nerve damage called treatment-induced neuropathy of diabetes, which has only recently become more recognized as a side effect, striking about 10 percent of patients. Efstathiou said his doctors misdiagnosed it early on.
"I was in pain all day, every day," he said.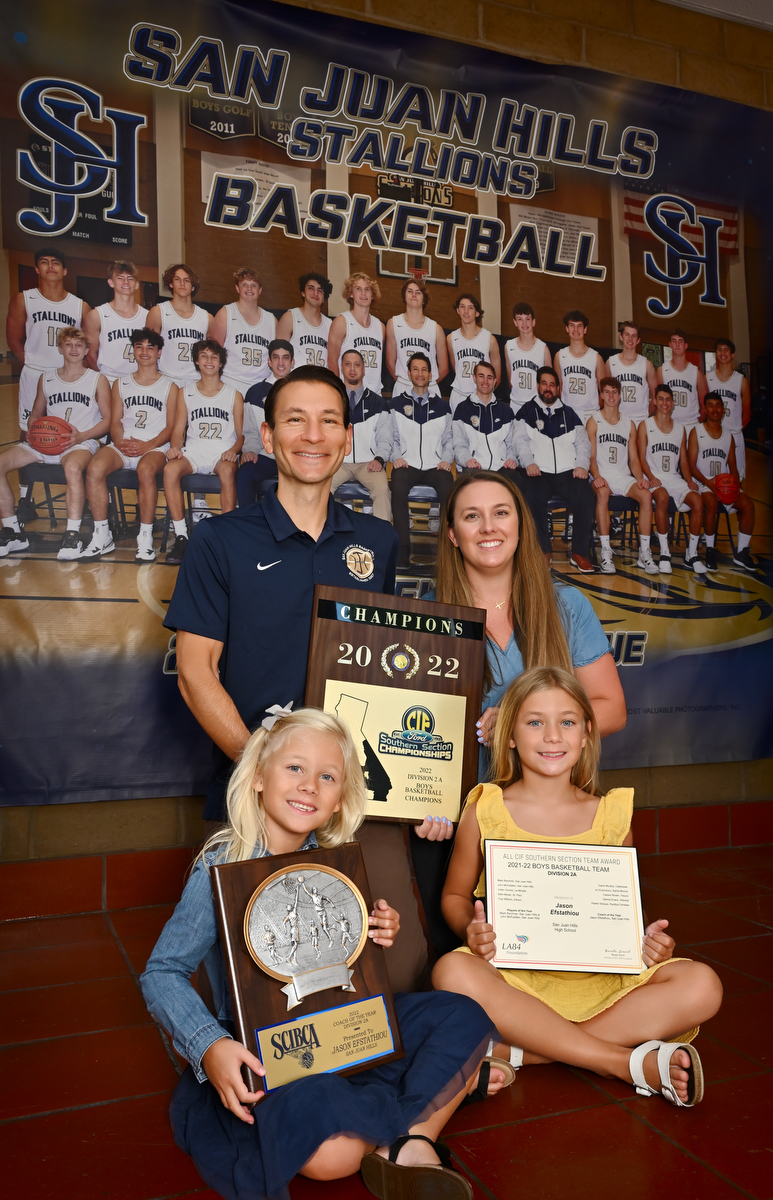 Efstathiou spent his days closeted in a bedroom. His wife, Heather, had to explain to his daughters, ages 2 and 4 at the time, why Daddy couldn't play.
His mom, Alicia, father, Nikos and brother, Jorin, all pitched in to help Heather with the children and offer their support and encouragement.
Thanks to various treatments, Efstathiou is again able to coach and hold his daughters in his lap. He attends church services at Harbor Point Church in San Juan Capistrano more regularly and prays for a day when the pain goes away and he can sleep through the night.
Though he may never be pain free, his symptoms are manageable and that is enough to provide hope.
Grinder ground down
Physically strong and with no family history of the disease, Efstathiou didn't fit any of the known risk factors for diabetes. Although the cause of the disease remains unknown, lifestyle and dietary choices can exacerbate or lessen its effects.
A self-described "grinder," Efstathiou attacked the disease the way he would a flaw in an opposing defense in basketball.
He may have done too GOOD a job with diet and exercise. People with diabetes need to control their blood sugar to lower the risk of complications such as blindness, heart disease, and nerve damage. For six months, Efstathiou was a poster boy for attacking the disease.
In that time, he dramatically reduced the sugar level in his blood, bringing it down to nondiabetic levels.
"But as it was happening I was feeling more and more pain," Efstathiou said.
He later learned that improving dramatically after a long time with high levels of blood sugar can set off the adverse reaction. As a result, when Efstathiou should have been getting better, he was getting much worse.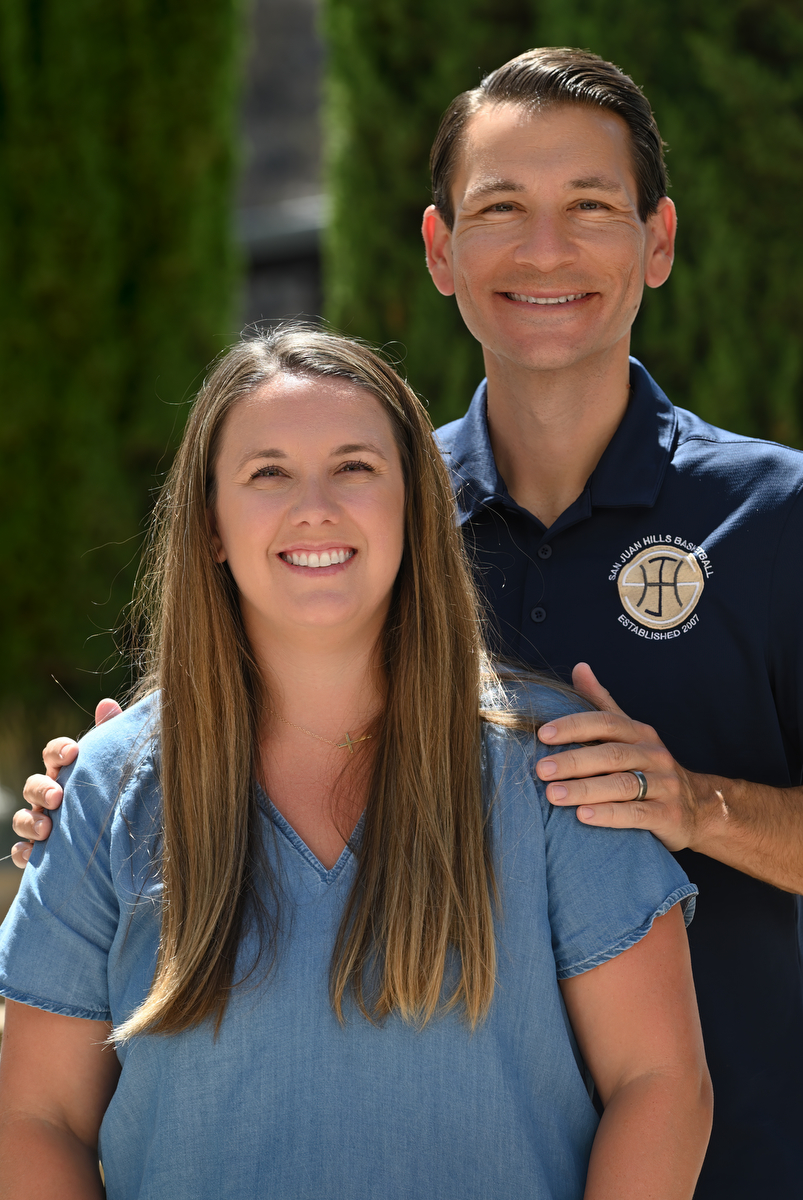 In the summer of 2019, doctors were baffled. They began looking at all possibilities, including cancer or multiple sclerosis.
"I had all kinds of CT scans and MRIs," he said. "No one knew what was going on. I was jaundiced by then and had a pretty bad limp."
As the pain worsened, Efstathiou was forced to his bed where he spent most of his time in the summer of 2019. He was now a year into experiencing intense pain.
"I was too sensitive to everything. It got to the point where I couldn't be touched," he said. Even combing his hair hurt.
Slow return
Heather, a physical therapist, first realized what was wrong after doing internet research. Through recommendations from the parents of players, Efstathiou sought out alternative treatments.
"My basketball family is everything. They completely had my back," he said.
Efstathiou met Steve Hanoian in Huntington Beach, who is also known as "Steve the Nerve Guy."
"He was probably in the worst shape I've ever seen," said Hanoian. "His color was horrible. He had no energy. I thought he was on his deathbed – no joke."
Hanoian is a nerve therapist specializing in synapse therapy. Hanoian developed manual manipulation methods that he says stimulate damaged nerves.
"There's no one in the world that does what I do to get nerves firing," Hanoian said.
"We joke that he's like magic hands," Efstathiou said.
Through massage and manipulation, Hanoian worked on the guy who at first couldn't be touched and got him back on his feet.
Efstathiou was also referred to Cheryl Feng, who has been a licensed naturopathic practitioner since 2005. Feng practices a whole-body approach to healing, which includes homeopathic supplements and remedies.
Efstathiou said Feng's thoroughness made a huge difference. Feng's approach includes concentrating on mental and emotional well-being, and for Efstathiou, that leads to one place – the gym.
Returning to school
By October, the treatments had reduced the pain to a manageable threshold. After taking a semester off and depleting his benefits, Efstathiou returned to campus in December 2019, and returned to the bench in January 2020.
He was still so weak he couldn't stand through a game and brought a stool to lean on. He needed a megaphone during practice to be heard.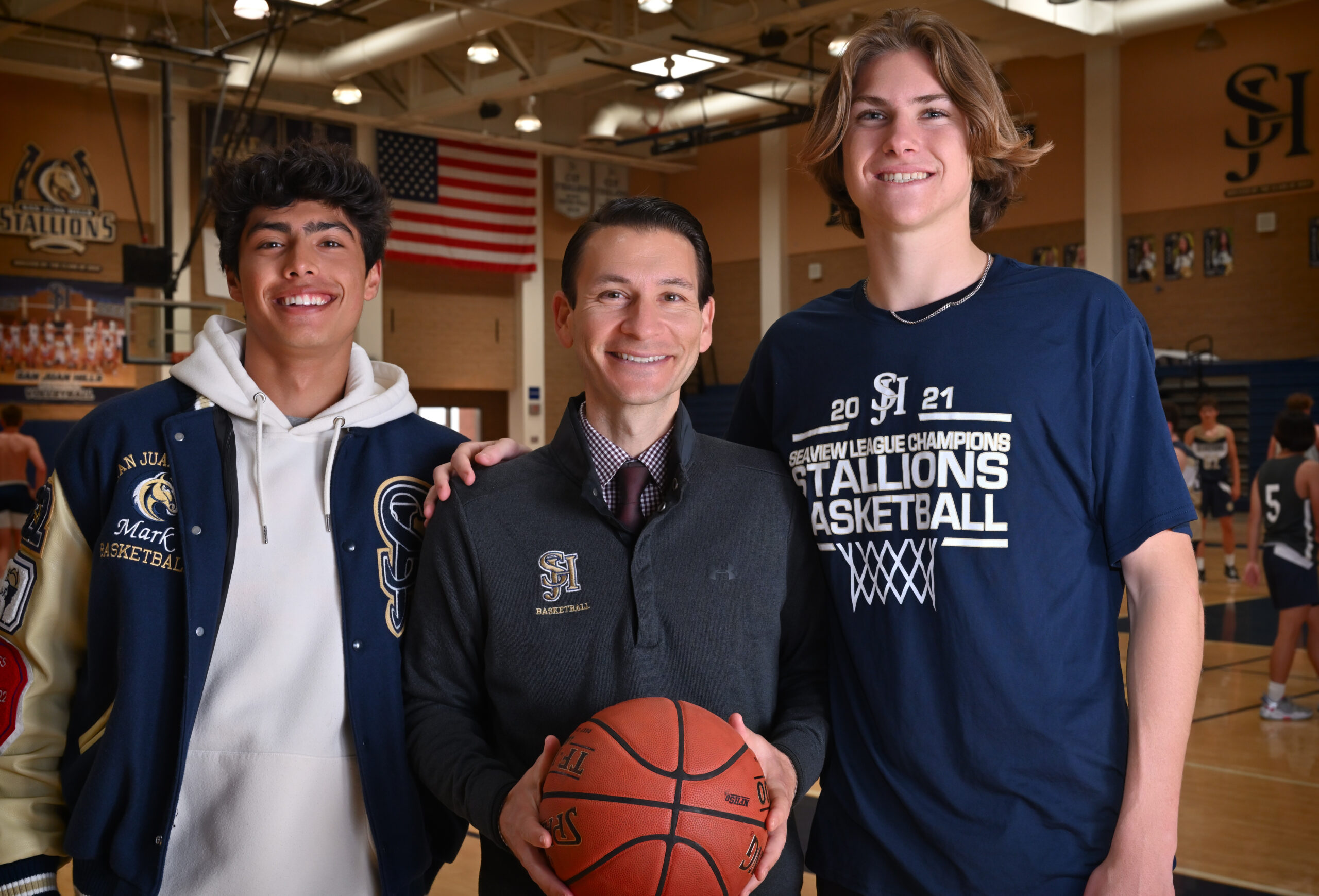 Assistant Varsity Coach Art Carrido had his doubts at first. A coach with a solid resume, including leading the Trabuco High girls' team to a couple league titles, Carrido wouldn't accept the second seat next to just anyone. Carrido was hired by Efstathiou in the spring of 2019 and the pair coached just one game together before Efstathiou got sick. 
He would see Efstathiou limping through the day, but said, "He would muster the energy for games. By the end of practice, he was spent. At one point, I didn't think he'd make it through the season."
Efstathiou's persistence and passion convinced Carrido to stick around.
"I got to know him, to understand his health and the pain and the grueling time he was going through," Carrido said. "My outlook is this dude's a warrior."
Through his fifth season in 2019-2020, the team scuffled to an 11-18 record. 
Their luck was about to change.
The turnaround
The years Efstathiou spent building the program, including summer programs and youth camp, finally began to coalesce while the coach's health held steady.
In March 2020, the COVID-19 pandemic struck and school activities were canceled or curtailed. However, inspired in part by the doggedness of their coach, who endured so much to be with them, the team wasn't to be derailed.
The Stallions were able to play a shortened season in spring 2021 and began to show promise, posting a 10-4 record. They tied for the Seaview League title.
In 2021-2022, it all came together. The team won its league title outright and progressed to claim the Division 2A CIF Southern Section championship, finishing 27-5.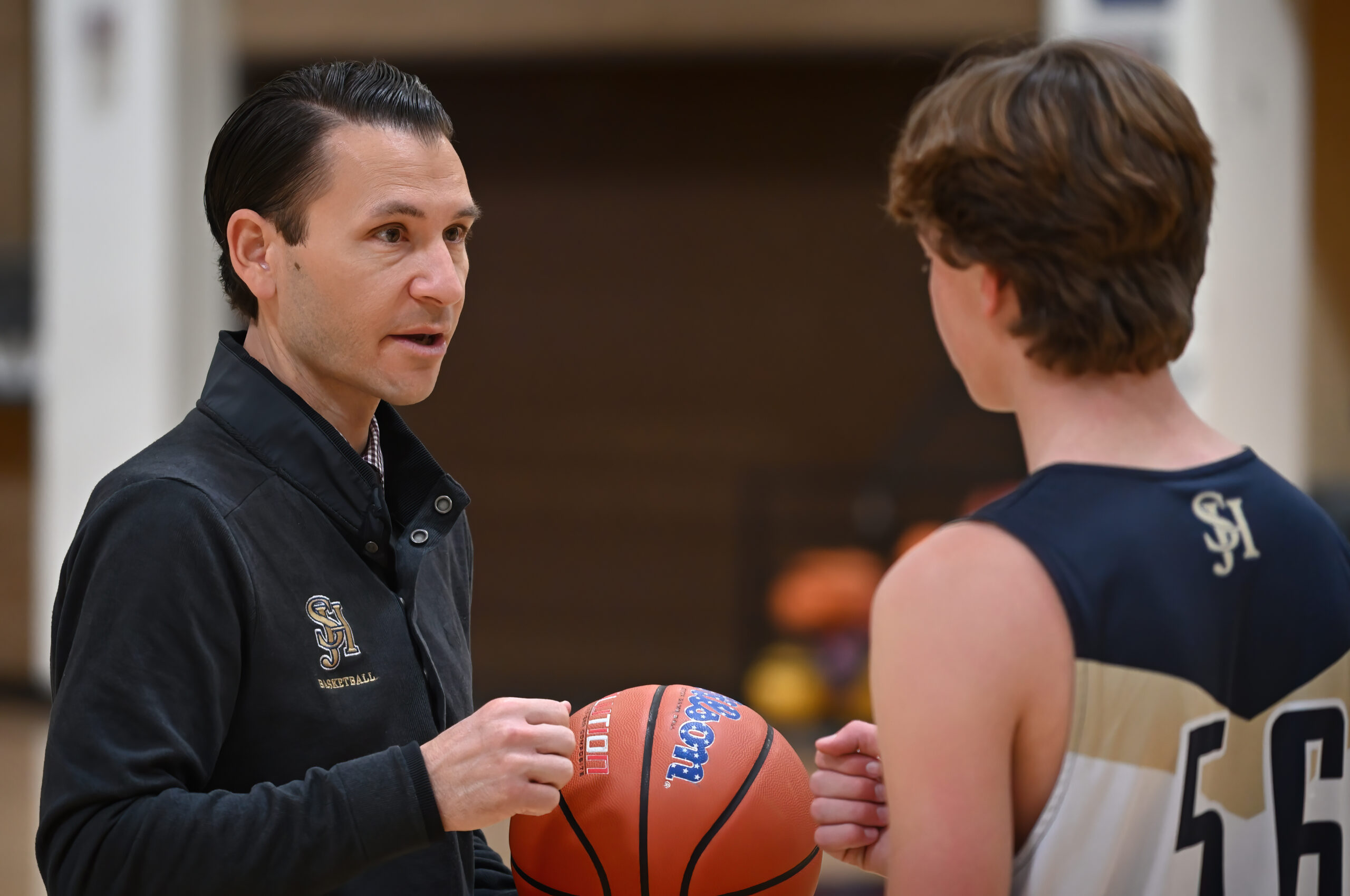 Players John McFadden and Mark Reichner developed into the co-CIF-SS 2A Players of the Year.
"Our team philosophy built off family and team," McFadden said. "That's one of the reasons we did so well."
Like their coach, the players learned all about perseverance.
"My sophomore year he got sick. We just fought through it," McFadden said. "Last year, we had a goal, we had a vision when we started the year."
Efstathiou deflects the praise to the kids.
"I don't want to win it for myself. It's all about them," he said. "I tell the guys, this is forever. We have to understand that. Truly it's like a dream come true."
When thinking of the life lessons Efstathiou is passing along, Kitaen is brought to tears.
"He taught all the players and their families what you can do if you put your mind to it," Kitaen said. "He teaches a lot about life and men of character and to never give up."
Life goes on
While the championship provided the sports dream ending, real life is a little more complicated.
"He's not out of the woods," Kitaen said.
Sometimes she notices the coach hopping from foot to foot trying to hide his discomfort.
"I'm better than I was. I've had other side effects. It's not great, but it's better," Efstathiou said. "I've not had a day when I don't have pain in four years."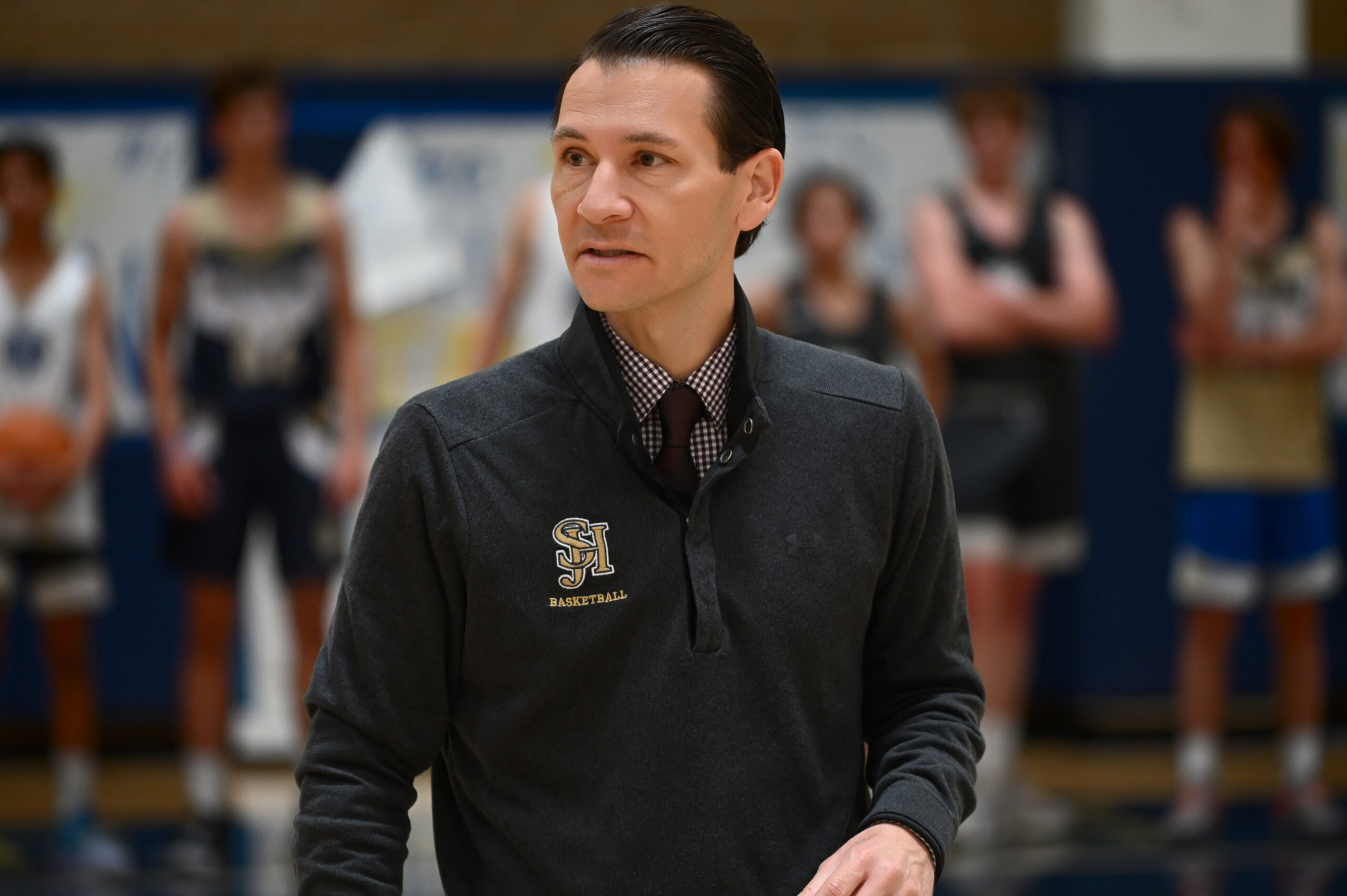 Heather noted that recently the family went to Disney World and her husband was able to walk throughout the day. She says the ordeal has had its upsides.
"It's brought us closer together in faith and in our relationship," Heather said. "It's awesome to be able to do things as a family."
Life goes on for Efstathiou, who continues to grit through the days, some better than others. He hopes for a day when he can run and play with his now 5- and 7-year-old daughters. He keeps in the back of his mind that there's always hope. Science improves. Discoveries are made. Faith endures. Miracles happen.
There is still joy to be had. Championships to win. Caresses to share. An entire world outside the physical that can sometimes overcome bodily pain. And a day free of pain, an uninterrupted night's sleep, may still lie ahead.
Until then, Efstathiou says he will live by his basketball team's one-word motto.
He will be "unstoppable."