By Greg Mellen
The distance running tradition runs deep at Dana Hills High School. Both the boys and girls teams have a strong sense of identity and a legacy of strong performances.
"We have built a culture of success," said Nic Smith, in his fifth year running the girls program after three years as an assistant with the boys team. The coach traces the school's success to "consistent leadership."
The vagaries of demographics also played a role. This year, Dana Hills High School was dropped from Division II to III based on enrollment. Also this year, the Dana Hills girls team finished fourth in CIF State Championships at Division III, after several years in Division II and a Division I power before that.
Graduate Allura Markow, who committed to run at the University of Oregon, led a deep squad, taking eighth place individually, with a time of 18 minutes, 8 seconds, followed closely by incoming junior teammate Annie Ivarsson in 11th (18:23).
In 2019, the year before the pandemic paused racing, Markow also finished in eighth place in Division II.
"At the outset of the season we had a pretty good idea of what we could do," Smith said. "Allura and Annie set the tone on race day," Smith said.
A week before the state meet, Markow won the CIF SS Division III girls race, leading the Dolphins to the team title. The Dolphins swept the boys and girls individual and team titles.
Looking at the team's strength, Smith said the defining characteristic this year was, "their ability to show up in the big moments. The character of the girls is that they rose to the challenge."
That held up into the state finals in Fresno where, despite their solid performance and first top-five finish in the meet since 2016 as a Division I team, a number of the runners felt they fell short of expectation.
"I didn't do what I hoped," Markow said. "Nothing ever goes perfect. I just had an off day. I went out a little too fast. I really wasn't really having it that day."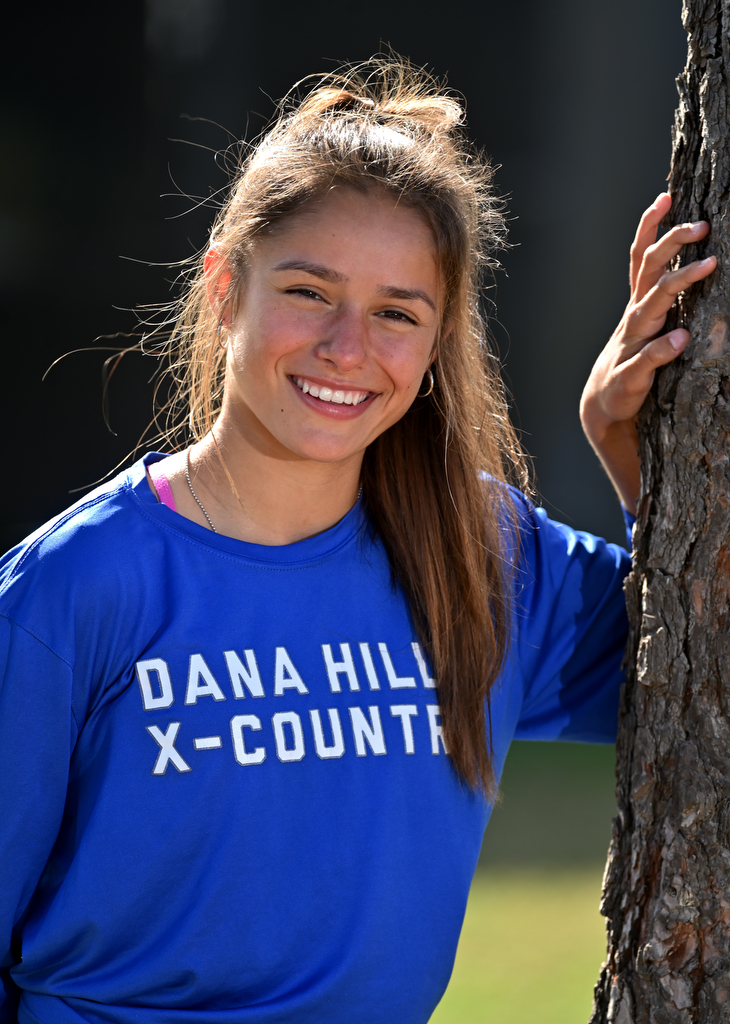 Ivarsson is still getting her distance legs under her after picking up the sport in high school and following in the footsteps of an uncle and grandfather who were also competitive distance runners. Ivarsson is also a soccer player with the CFA Brasil club team.
"I thought I finished pretty well," she said. "It wasn't the goal we had."
Markow thought having tough League and Section meets and compressed training schedules heading into the state meet took its toll.
"I like to plan out my races. It was really hard," she said. "We had to be at our best back-to-back-to-back."
At the state meet, according to press reports, Markow went out with the leaders through the first two miles and was in fourth place at each marker before dropping back.
Cross country is not the only specialty for Markow, who has been running competitively since she was seven years old. During last spring's track and field season, she was a South Coast League champion at 800, 1,600, and 3,200 meters and second in the CIF-SS championships in Division II. She won the 3,200 at the CIF-SS meet as a sophomore.
"Since the moment she joined the team, she set expectations high," Smith said. "She's tenacious. You know you're going to get everything out of her."
The coach said Markow has a high "racing IQ" and came to Dana Hills with an impressive resume in age-group running.
Building team culture
Although track and cross country are, by their nature, individual sports, the team aspect and camaraderie are important.
"I tell them the culture of the team is primary, the results are secondary," Smith said.
Cooper Murphy, a junior, revels in being part of the team.
"I think we're all best friends," she said. "We have such a close team, it helps us perform."
Although Ivarsson had no idea what to expect walking onto the cross country team from the soccer pitch, she said she was quickly accepted.
"I thought they were all really nice and welcomed me," she said.
The team's history and tradition also gave runners something to strive for.
"I think it helps," Murphy said. "I knew they had a strong team. That built up our team, just knowing Dana Hills had this history. It gave us confidence."
In cross country, the top five runners on a seven-person team are scored. With depth throughout its line-up, the Dolphins were able to make up points should the top runners falter.
In addition to Markow and Ivarsson at the head of the pack, graduates Zoe Ott and incoming seniors Paige Scheer and Murphy added crucial depth, not to mention leadership and spirit. They took 65th, 73rd, and 76th, respectively, at the state meet.
"Those three gave us a margin for error," Smith said.
The team's depth was strong enough that in most of its meets, Smith said Dana Hills could have won even without Markow's times. Smith hopes to build on the team's success this year and the slightly less tough sledding of Division III to continue to build.
Ivarsson, Murphy and Scheer all return, with room to improve, plus a deep well of returning talent. And, as coaches realize, you never know when the next Ivarsson is going to wander on as a freshman phenom.
Catching the "Ruthian" record of success of the boys team may be impossible and would take generations, but the road map exists. Since 2001, the Dolphin girls have captured nine top-5 finishes since 2001, including a State title in Division I in 2008.
Smith says he will take it as it comes.
"You don't know until the first week of September and they show up," he said.