By Elysse James
A caravan of Capistrano Unified School District officials had the pleasure of visiting three Capistrano Unified campuses on Wednesday, Feb. 10, to surprise school Teachers of the Year with the great news that they have been selected as Teachers of the Year for the entire district.
The winning middle school Teacher of the Year is Margaret Dubel of Vista del Mar Middle School. 
Click here to read about the winning Elementary School Teacher of the Year.
Click here to read about the winning High School Teacher of the Year. 
Dubel teaches English and social science to students in sixth through eighth grade.
"From teaching English grammar and sentence structure to regaling in the events of the American Revolution, she imparts a passion for the material and learning," parent Dawne Clarke wrote about Dubel.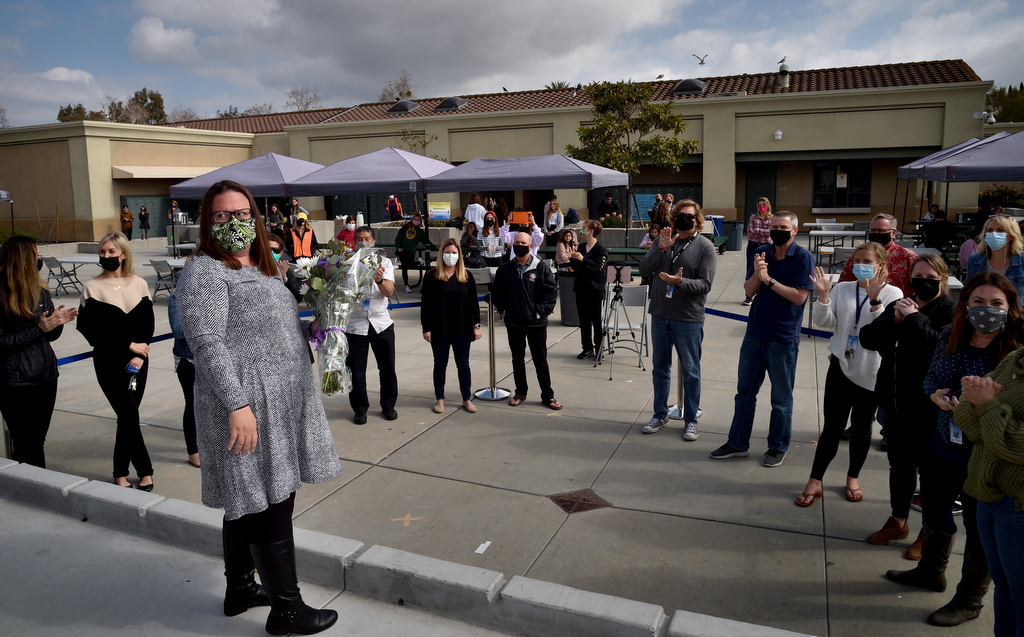 She is a teacher-ambassador for CUSD, helping students participate in community service through canned food drives and toy drives. Students in Dubel's AVID class wrote letters of gratitude to their teachers, campus support staff, and senior citizens in assisted living. Students in her eighth-grade class wrote letters to World War II veterans.
"She is a phenomenal educator, person and colleague," Teacher on Special Assignment Stephanie Bartlett wrote. Dubel has 16 years of teaching experience.
"This Teacher of the Year truly cares about our students, school and community. She is a teacher leader, an advocate for students and a partner to administrators," Bartlett wrote.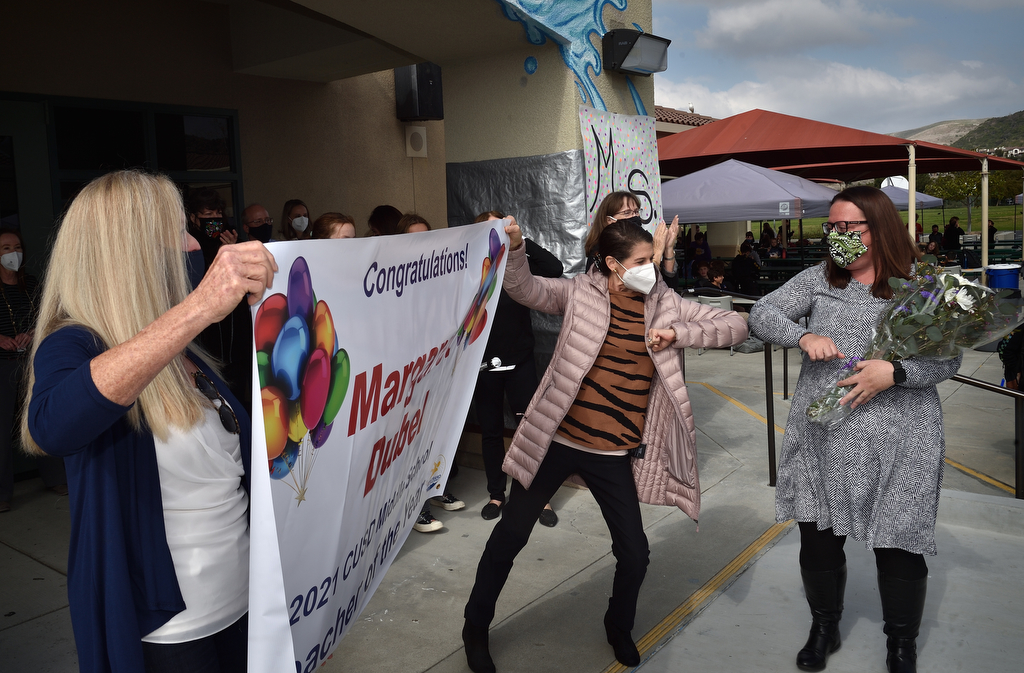 Dubel is co-chair of the committee for the English department's parent-student book club, where she assists with choosing the books, recruiting students to lead book discussions, recruiting adults to sponsor students, and developing discussion questions.
She holds weekly book conferences with her sixth-grade class, inviting community members to talk about books with the students (this program has been paused during the pandemic). In addition, she has chaperoned every school dance since she joined the Capistrano Unified School District in 2016.
"I firmly believe that all students have the ability to access challenging curriculum and that they should be encouraged to take academic risks," Dubel wrote. "I want my students to be critical readers, writers, and thinkers and thoughtfully consider how they can make a positive impact on the world around them."