By Elysse James
Para ver la versión en Español, por favor haga clic aquí.
Capistrano Unified announced its three districtwide Teachers of the Year on Thursday, Feb. 3 in three uplifting visits to school sites where the teachers were given the great news.
A group of Capistrano Unified School District officials, colleagues, friends and family visited each school site Thursday morning to present flowers, hugs, and support to the newly minted District Teachers of the Year.
The winning educators were selected as their school site's Teacher of the Year, making them candidates for the award at the District level. These three winning teachers go on to become candidates for Orange County Teacher of the Year, which will be announced later this year.
The Capistrano Unified Teachers of the Year are chosen by a panel that includes the Capistrano Unified Education Association, former Teachers of the Year, administrators from all levels, and Capistrano Unified School District staff members.
The candidates must fill out an application, respond to four essay questions, and provide their resume and two letters of recommendation. In the application, teachers describe their community service activities, personal teaching philosophy, describe the major issues in public education and provide a possible resolution, and describe their greatest accomplishment in education.
Click here to view the 2022 Teacher of the Year for elementary school.
Click here to view the 2022 Teacher of the Year for middle school.
The 2022 Capistrano Unified School District High School Teacher of the year is:
Marie Finman, San Juan Hills High School
As a Spanish teacher and English Language Development teacher at San Juan Hills High School, Marie Finman gets to have a role in fostering an atmosphere of inclusivity in the community.
During the summers, Finman has worked as a Breakthrough San Juan Capistrano instructional coach managing a group of teaching fellows and supporting their professional development.
This level of dedication to all aspects of her students' lives has earned Finman the title of 2022 High School Teacher of the Year in the Capistrano Unified School District.
It was fitting for Finman to be presented with the award while in the middle of teaching a class, as San Juan Hills Principal Manoj Mahindrakar, CUSD District Superintendent Kirsten Vital Brulte, administrators and members of the CUSD Board of Trustees entered the classroom to make the announcement.
"I feel humbled," Finman said upon receiving the award, "because everyone here is so great and that I would be selected by them is humbling. I just come and do my job."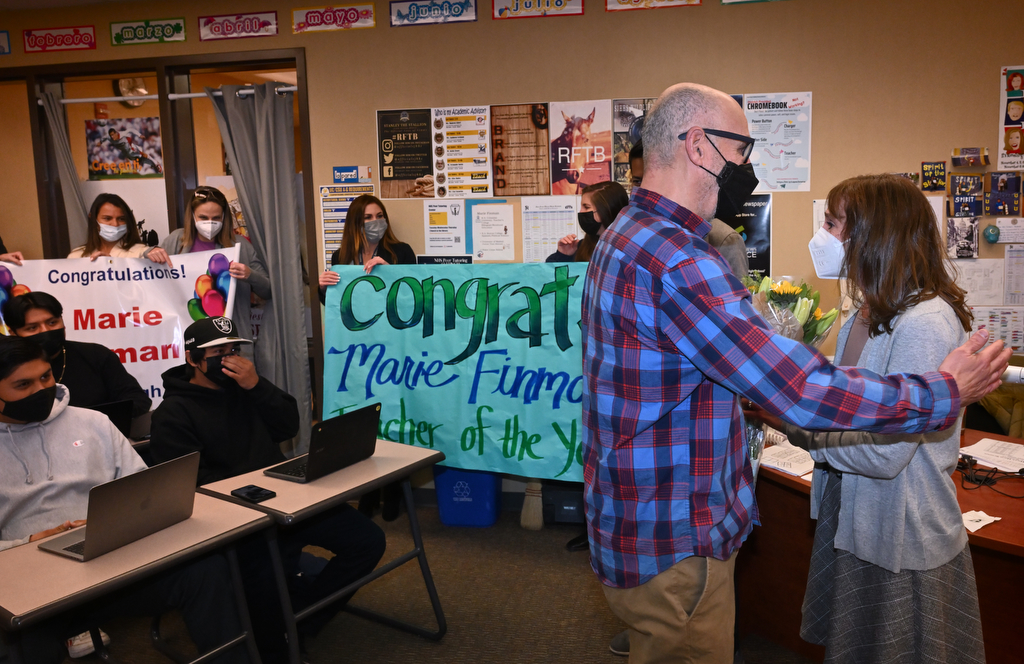 Finman has also served as the secondary teaching assistant principal and as a Spanish and English language development teacher at Bernice Ayer Middle School, and as a math/science teacher at Marco Forster Middle School.
Prior to joining Capistrano Unified, she worked as a bilingual elementary teacher and as an adjunct college professor in the Bronx, New York. She also has taught at an American International School in Bolivia and was in the U.S. Peace Corps in Bolivia.
"In all my years of education I have never met a more deserving person for Teacher of the Year," wrote one colleague. "Simply put, [Finman] is incredible."
Vital Brulte described Finman as an "innovator and leader who inspires and motivates our young people to learn."
Another colleague wrote: "I have never met a more effective, knowledgeable, and caring individual. She is a pleasure to work with and an inspiration to all of us."
Finman started teaching at San Juan Hills eight years ago, when her daughter was a freshman at the school. Both of her daughters went on to graduate from San Juan Hills High School.
"I love my job!" Finman wrote. "The fact that I get to come to work every day and interact with young people is a gift."
Click here to view the 2022 Teacher of the Year for elementary school.
Click here to view the 2022 Teacher of the Year for middle school.